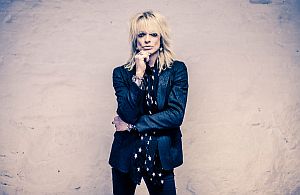 Michael Monroe, one of rock 'n' roll's most iconic frontman, was presented with the coveted
'Inspiration' Award
at Metal Hammer's annual
'Golden Gods'
event, held last night – June 16th – at Indigo (at the O2 Arena) in London; he accepted the Award on behalf of legendary Finnish outfit, Hanoi Rocks. Monroe first came to fame as frontman of the ground-breaking group, renowned for their strong song-writing, flamboyant image (onstage and off), explosive live performances and punk spirit; over the years, Hanoi Rocks have come to be recognised as a huge influence on the more colourful / abandoned side of rock, with many of the genre's biggest names citing them as a prime source of inspiration.
It was fitting that Monroe – currently leading his own band of hand-picked players – should be invited to London to collect the Award (
"one of the most prestigious of the evening, only given to those whose role in our world will continue to influence for years to come
"); not only is original Hanoi Rocks bassist, Sami Yaffa, still a part of Monroe's live and recording band, but his touring set continues to feature choice moments from the revered Hanoi catalogue… Monroe:
"It's really nice to know that, we, Hanoi Rocks continue to have a positive impact on the rock'n'roll scene of today. This award is a great honour and truly appreciated. So, on behalf of Razzle, whose great spirit still lives on, Gyp Casino, Nasty Suicide, Andy McCoy, Sami Yaffa and myself - thank you!"
Monroe is currently playing the European festival circuit with his own band, performing extensively throughout the summer. His current album,
'Horns And Halos'
, is available now via Spinefarm Records.
Source: Press Release / Michael Monroe, pic credit: Ville Akseli Juurikkala