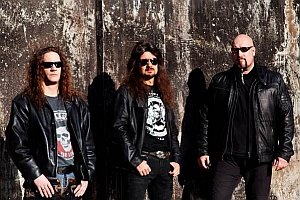 Having just celebrated their 30th band anniversary and the release of their exclusive song collection 'The Soundchaser Archives' in 2014, German Heavy Metal pioneers RAGE now announce the end of the band's lineup as it has been for the past 15 years. Guitarist Victor Smolski and bassist&vocalist Peter "Peavy" Wagner published the following statement:
"Hi Rageheads, urgend RAGE News: After thinking it over carefully, Peavy and Victor decided to stop working together in the future. This is due to musical and personal changes. We have developed in different directions in the last years, that much, that we cannot identify with the current band situation anymore. In this situation we will also part from drummer Andre Hilgers. The last 15 years were blessed with many highlights and great releases but this era is over now. Every extension would be untrue to ourselves and to our fans. We wish each other all the best! Thanx to all the fans for your trust and support!"
And Victor Smolski added:
"Dear friends, after 15 fantastic years, 10 records and countless live shows with RAGE, I have decided to focus myself on other musical challenges. I really want to thank all RAGE fans, who supported me all those years. In the future I will concentrate on the new LMO CD. The orchestra project I founded and formed in 2013 will continue with the same lineup, just without Peavy. New musicians, giving this creative band new input, but also a new name will be revealed soon. Composing and producing the last record was so much fun to me and I want to thank everyone who supported me doing this. With all the experience from the shows with LMO, I'm quite sure the new album will be even more exciting. Expect the unexpected!"
'The Soundchaser Archives' 2CD/DVD box, featuring 30 rare/new/unreleased tracks, plus bonus DVD was released on May 23, 2014 via Nuclear Blast.
To get an impression, enjoy the following clips:
'Anybody Home?' lyric video:
http://youtu.be/STGX9c3Ig-U
'Empty Hollow' live clip:
http://www.youtube.com/watch?v=33QOMm4Lcd0
Interview Trailer:
http://youtu.be/xwURRhn7Bt4
Planet Hollywood Interview:
https://www.youtube.com/watch?v=9LT6AShFX3U
Tour Trailer:
https://www.youtube.com/watch?v=-gKBsPonDxY
Order your copy of 'The Soundchaser Archives' at this address:
http://smarturl.it/RAGE-Soundchaser
Source: Press Release