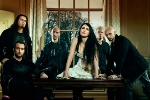 Here's the newest update from the band:
Great news! You can now hear a new song from our upcoming album "The Unforgiving", out in March 2011! Our first single of "The Unforgiving" will be released in January 2011, but we wanted to give you an early preview of our new album an d have you listen to one of the songs of this album. We have just launched "Where Is The Edge" with a video featuring exclusive preview scenes of the upcoming movie "Me & Mr Jones". Read all about "Where Is The Edge"
here
Together with this brand new song we're starting a very cool item on our Facebook page. Through a Facebook plug-in, you can share the video of "Where Is The Edge" on your Facebook profile and we register your name to be included in the packaging of the special edition of "The Unforgiving"! Starting today, the plug-in is available under the title of "Unforgiving" on
this page
. The duration of this campaign will depend on the response of the Facebook fans, so make sure to use this plug-in as soon as possible!

The Unforgiving
Our new album "The Unforgiving" is a concept album which is going to be based on a comic book series, written by Steven O'Connell (BloodRayne & Dark 48). We've asked comic artist Romano Molenaar (Witchblade, Darkness and X-men) to draw the characters and scenery and the results are stunning! Check out the first pages of the prequel to this series
here
.
Your news!
You can now add your own news to our website! Several fans have already been contributing frequently to the website and we look forward to reading your stories as well! Read all about it
here
, we look forward to your contributions on the WT website! If your articles are of high quality, you might even become an official WT Reporter!
Tour dates
As you probably already know, our tour has been rescheduled to the fall of 2011, due to Sharon's pregnancy. The tickets you have bought will remain valid for the new dates which can be found
on this page
. Please note that we were now able to add new dates to this tour, including additional shows in the UK, Germany, France, Poland, Holland (incl. the annual
Fanclub Day
) and Sweden and new dates in Portugal and the Czech Republic! All these shows are now on sale.
Check out all the new dates on
www.within-temptation.com
!
Source: Newsletter