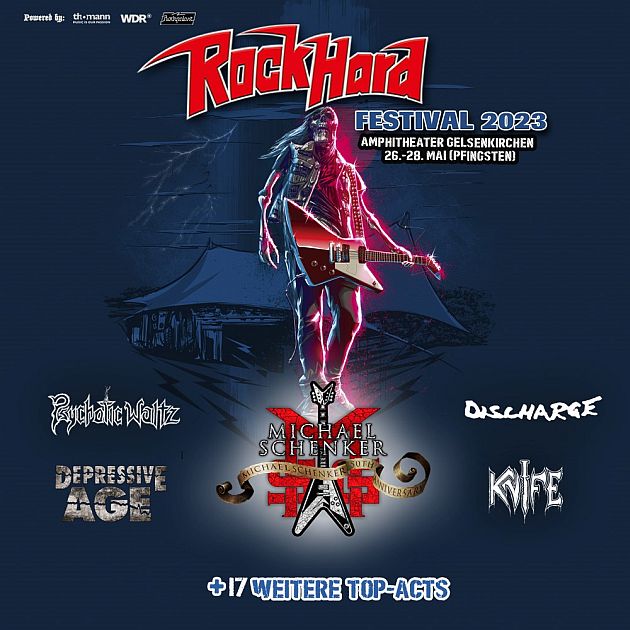 Rock Hard, Continental Concerts, Musikhaus Thomann and Wdr Rockpalast present:
ROCK HARD FESTIVAL 2023
AMPHITHEATER GELSENKIRCHEN
May 26 – 28, 2023
Anniversary edition!
40 years of Rock Hard, 20 years of Rock Hard Festival. If that's not a reason to celebrate! The first bands are already fixed. With MICHAEL SCHENKER, the most known Hard Rock guitarist in Germany, will once again deposit his calling card in Gelsenkirchen. "Watching Schenker is at least as exciting as it was forty years ago, he's in top form and we're looking forward to that!" Rock Hard publisher Holger Stratmann comments on MSG's commitment.
PSYCHOTIC WALTZ, on the other hand, are not only catching up on their canceled 2020 guest performance with the live premiere of 'The God-Shaped Void', but will certainly also be planning one or the other classic from their best phase in the early nineties. DEPRESSIVE AGE also had their momentum at this time, when the East Berliners convinced with top-class progressive Thrash shortly after the fall of the Berlin Wall. The performance at the RHF is the first reunion show since the band broke up in 1996.
Despite a strong last album, DISCHARGE have to be called legends first and foremost. The UK Punks ('Hear Nothing See Nothing Say Nothing') have been covered by countless well-known Metal bands (including METALLICA, ANTHRAX, ARCH ENEMY, MACHINE HEAD...) and are also celebrating their amphitheater premiere. Of course, the German Thrash beasts KNIFE also promise energy to the power of ten.
Anniversary or not - as always, it's a hand-picked program from the Rock Hard editorial team!
ROCK HARD FESTIVAL 2023, bands confirmed so far: MICHAEL SCHENKER GROUP, PSYCHOTIC WALTZ, DISCHARGE, DEPRESSIVE AGE, KNIFE
The 3-day tickets cost 119.90 euros including all fees.
Ticket link: https://shop.rockhard.de/de-de/rock-hard-festival/
Answer to questions about the tickets on +49 (0) 231 - 56 20 14 20 (10 a.m. - 5 p.m.) or via
This email address is being protected from spambots. You need JavaScript enabled to view it.
.
Current information, videos and interviews of the participating bands as well as impressions of the site can be found on the festival pages: www.rockhardfestival.de / www.facebook.com/rockhardfestival
Source: Press Release / Credit Festival-Illustration: Jan Meininghaus