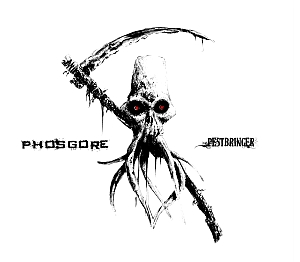 It has been six years since PHOSGORE rocked the electro scene to its very core with their debut album DOMINATION. In the year 2011 PHOSGORE came up with their second album WARHEAD and sparked acoustical warfare once again. Scarcely any scene club managed to avoid this electronic monster. When playing live, PHOSGORE demonstrated again and again that their project stands for uncompromising music in its purest form. PHOSGORE fans always got what they deserved – be it at the Wave Gotik Treffen, the Amphi, Etropolis or Resistanz festival or at one of PHOSGORE´s countless club shows.
2015, the time has come: The third album of the electro outfit hailing from Germany will hit the stores. With PESTBRINGER, the creative (and blasted) minds behind PHOSGORE – Flo and Sonja – managed to reinvent and augment their already hard-line noise. Brutal bass lines congregate with shattering drums and extremely aggressive melodies. This is music which infects its listeners like a virus. With PESTBRINGER, PHOSGORE are darker and dirtier than ever before. They don´t take any prisoners – PHOSGORE remain true to their relentless style, but also take a chance at some musical experiments.
You survived WARHEAD. For four long years, you have been feeling safe and sound. This is now a thing of the past. Expect agony and decay. PHOSGORE awake the PESTBRINGER. Embrace their gift.
Tracklist
01. Embrace Our Gift
02. Here Comes The Pain
03. Pestbringer
04. Dein Licht
05. Aggression Incarnate
06. Countdown To Destruction
07. Nightmare
08. Noise Monsters
09. Lobotomy
10. The Holy Inquisition
11. Tote Musikanten
Phosgore - Pestbringer
CD Digipak - Limited
PRONOIZE
CAT. Nr.: PN 071
EAN: 4250137209661
Rel. Date: 30th April 2015
Listen to HERE COMES THE PAIN:
https://soundcloud.com/darkdimensions-1/phosgore-here-comes-the-pain
S
ource: Press Release