Vivero, Lugo, Spain
7th to 9th July 2016
Resurrection Fest 2016 with Iron Maiden, The Offspring, Volbeat, Bring Me The Horizon, Bad Religion, Bullet For My Valentine, Gojira, Hatebreed, Abbath, Graveyard, Brujeria, Madball and many more

Get ready for the eleventh edition of the Resurrection Fest with the widest and the most complete lineup ever! Resurrection Fest is one of the largest festivals of Hardcore/ Punk and Metal music in Europe, with 40,000 visitors, more than 70 bands, and perfect location in idyllic environment of Viveiro coast.
Resurrection Fest will announce three big days of the festival with a killer warm-up party on the 6th July, inside the venue at Ritual Stage. The organizers of Resurrection Fest have always pushed the limits, going one step beyond to help and ease the stay during the festival, and provide the week full of activities. The official program consists of concerts and signing sessions, but there are as well skate and trial shows, and much more! Resurrection Fest's Market will gather important international brands, the best music stores and the most original complements providers. To please everyone, there will be gastronomy corners with delicacies from all around Spain. There is as well special program for the youngest ones called resukids. If it gets hot, sea is refreshment! If you are bored in the mornings, take a surfing lesson! It seems organizers have thought of everything, web page is full of useful info, one can find all about glamping and camping, resting areas, lockers, pandemonium tickets, resukids, transport sharing links, forum, mobile aps etc.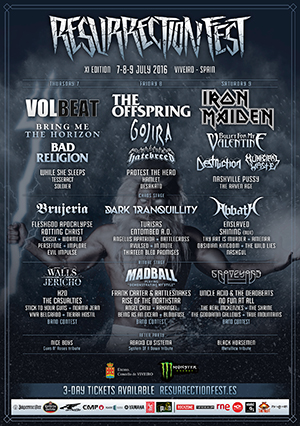 The most complete line-up of eleventh Resurrection Fest is bringing together new and old bands from different genres all around the globe. The legendary IRON MAIDEN will be the main headliner, while on the tour with their new album, 'The Book of Souls'. BAD RELIGION will return to Viveiro this year and together with THE OFFSPRING delight all punk-rock fans. The Mexican-American super group of extreme metal BRUJERA will be for the first time in the festival with their unique Grindcore and death metal. DESTRUCTION will play at the main stage premier of their new album, 'Under Attack'. French band GOJIRA will premiere their new album exclusively in Viveiro, as well. New albums from psychedelic rock are coming with UNCLE ACID & THE DEADBEATS from UK and THE SHRINE. Metal-heads will head bang with VOLBEAT, ABBATH, HATEBREED... while hard core punk lovers with H2O, ARKANGEL and BLOWFUSE. From Finland is coming one of the most important folk metal bands TURISAS, and from Spain mix of Screamo and Post-Rock with band VIVA BELGRADO from Córdoba.
Line-up

IRON MAIDEN, THE OFFSPRING, VOLBEAT, BRING ME THE HORIZON, BAD RELIGION, BULLET FOR MY VALENTINE, GOJIRA, ABBATH, HATEBREED, AMENRA, ANGEL CREW, ANGELUS APATRIDA, ARKANGEL, AVULSED, BATTLECROSS, BEING AS AN OCEAN, BLOWFUSE, CANNIBAL GRANDPA, BRUJERIA, CRISIX, DARK TRANQUILLITY, DESAKATO, DESTRUCTION, ENSLAVED, ENTOMBED A.D., ESKIMO CALLBOY, EVIL IMPULSE, FLESHGOD APOCALYPSE, FOR THE GLORY, FRANK CARTER & THE RATTLESNAKES, GRAVEYARD, H2O, HYDE ABBEY, HAMLET, IMPLORE, IN MUTE, MADBALL, MINOR EMPIRES, MUNICIPAL WASTE, NARCO, NASHGUL, NASHVILLE PUSSY, NEVER DRAW BACK, NO FUN AT ALL, NORMA JEAN, OBSIDIAN KINGDOM, PERSEFONE, PROTEST THE HERO, RISE OF THE NORTHSTAR, ROTTING CHRIST, SHINING, SKINDRED, SOLDIER, SIBERIAN MEAT GRINDER, STICK TO YOUR GUNS, STRIKEBACK, TESSERACT, THE CASUALTIES, THE GODDAMN GALLOWS, THE RAVEN AGE, THE REAL MCKENZIES, THE SHRINE, THE WILD LIES, THIRTEEN BLED PROMISES, THY ART IS MURDER, TIERRA HOSTIL, TRUE MOUNTAINS, TURISAS, UNCLE ACID & THE DEADBEATS, VIVA BELGRADO, WALLS OF JERICHO, WHILE SHE SLEEPS, WORMED, ABAIXO CU SISTEMA, NICE BOYS, BLACK HORSEMEN
Tickets

Festival 3-day tickets are 89% sold out! Saturday 9th July (Iron Maiden day) has only few tickets left, so hurry up! Full pass for all three days is 105 € and daily ticket 60 €, camping included. Tickets can be purchased online through festival homepage (
https://www.resurrectionfest.es/en/tickets
), or as physical tickets in Spain and Portugal (Viveiro, A Coruna, Vigo, Santiago, Gijón, Oviedo, Madrid, Porto (Portugal)). For more info, please contact
This email address is being protected from spambots. You need JavaScript enabled to view it.
Check festival homepage
https://www.resurrectionfest.es/en
Facebook event
https://www.facebook.com/events/188545738150514/
Supply yourself with festival merch
http://tienda.resurrectionfest.es/shop
Watch full concerts from previous years
https://www.resurrectionfest.es/en/tv