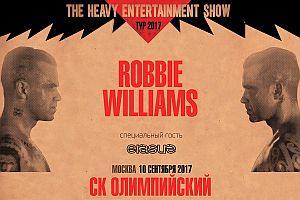 Olympic Stadium, Moscow, Russia
10th September 2017
Robbie Williams & Erasure
The most successful singer of the 21st century, the best pop singer in the world, the most recognizable British musician, ROBBIE WILLIAMS, goes on world tour in support of his new album 'The Heavy Entertainment Show'. In 2017, the world tour of 'The Heavy Entertainment Show' started within which WILLIAMS will come to Russia as well. On 10th September 2017, Robbie will perform in Moscow in the SC "Olympic". Special guest of all Robbie concerts is the British electronic duo ERASURE.
The world tour will include twenty-nine shows in eighteen countries. His opening was taking place on June 2th, 2017 at the Etihad Stadium in Manchester, United Kingdom. Robbie will visit Germany, France, the Netherlands, Belgium, Italy, Sweden, Norway, Denmark, Finland, Poland, Lithuania, Czech Republic, Hungary, Austria, Switzerland with his performances. The tour ends with a performance in Moscow's Olimpiisky Sports Complex on September 10, 2017. "The heavy entertainment show is every moment on earth," says WILLIAMS about the upcoming tour. "We are all part of this show."
ROBBIE WILLIAMS - a person truly legendary. He began his career as the most inconspicuous member of the British boy band TAKE THAT, but a solo career brought Robbie the title of the most successful British performer in the history of world pop culture. By his popularity, he outstripped many famous musicians, such as Justin Timberlake and Enrique Iglesias and many others.
WILLIAMS received the largest number of Brit Awards in its history, was included in the British Hall of Music Glory after being selected as the "best singer of the 90s". On his tour in support of the album 'Intensive', 1.6 million tickets were sold for one day, for which WILLIAMS was listed in the Guinness Book of Records. On November 7, Robbie will perform with the only exclusive show in the Troxy Concert Hall in London to celebrate the receipt of the most prestigious Brits Icon Award. Previously, this title was awarded only to ELTON JOHN and DAVID BOWIE. This award is given only to those artists whose work has had a strong influence on British culture. The BRITs Icon Award is a recognition of the highest level of achievements in music.
To Russia and the Russian fans, WILLIAMS has a special love and warmth, which was repeatedly acknowledged in the interview. On September 30, 2016, a new single, 'Party like a Russian', was released, whose popularity exceeded all expectations. The song received scandalous fame for its text, which tells about the indecently luxurious lifestyle of the Russian elite. But, despite this, the composition immediately hit the music charts around the world. The clip for the song covered our country with an avalanche and took the leading lines in the Russian charts. All TV channels and publications are in line for the personal comments of the singer with the question of what he wanted to say in his new creation.
Additional Concert Info
Doors: 6:00 pm
Start: 7:00 pm
Tickets: can be bought for 2,500 rubles at
http://rw2017.tci.ru/?utm_source=VKevent&utm_campaign=VKevent&utm_medium=link
Info Event: https://www.facebook.com/events/1828395834110917
Info Robbie Williams: https://www.facebook.com/robbiewilliams/
More on
Robbie Williams
and
Erasure