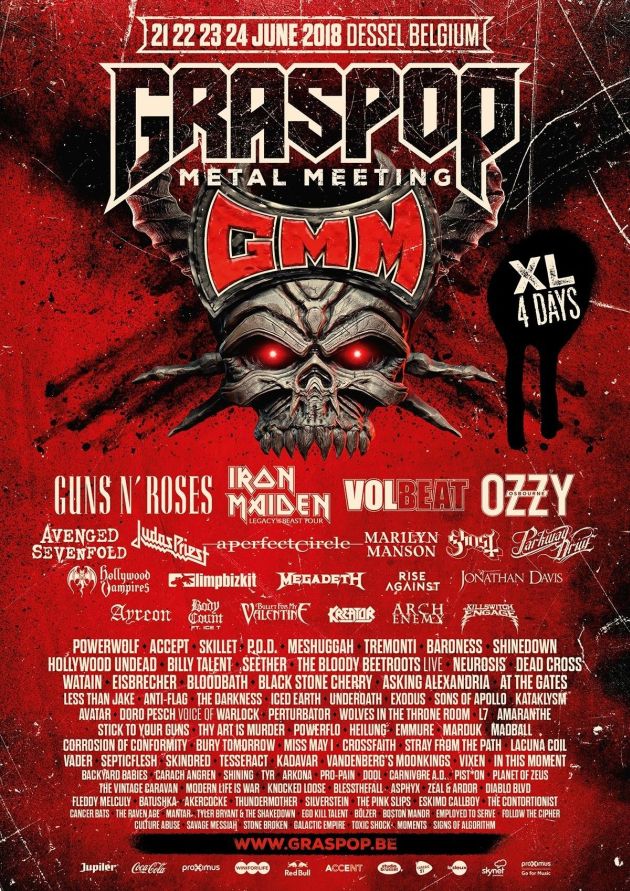 Dessel, Belgium
21st to 24th June 2018
Graspop 2018 with Guns n' Roses, Iron Maiden, Volbeat, Ozzy Osbourne, Avenged Sevenfold, Judas Priest, Marilyn Manson and many more

Scheduled to take place three weeks after the legendary festival twins ROCK AM RING and ROCK IM PARK, GRASPOP certainly has established itself as a more than worthy alternative. Especially as the aforementioned festivals seem to have embraced a very diverse interpretation of the term "Rock music" with the choice of their headliners, GRASPOP stays true to all rock and metal disciples.
This year, for the first time, the festival has added a fourth day to encompass the sheer abundance of big ticket names. It will make you wish for swift advances in reproductive cloning, as there will certainly be conflicting schedules for bands you have always longed to see. Thursday's headliner is no one less than GUNS N' ROSES. Friday will see IRON MAIDEN, Saturday VOLBEAT, and on Sunday the "Prince of Darkness" OZZY OSBOURNE will give you - or whatever is left of you - the well-deserved send-off.
Announced bands (in no particular order)

A Perfect Circle / Akercocke / Amaranthe / Anti-Flag / Arkona / Asking Alexandria / Asphyx / At The Gates / Avenged Sevenfold / Blessthefall / Body Count Feat. Ice-T / Bölzer / Bullet For My Valentine / Carnivore A.D. / Emmure / Exodus / Guns N' Roses / Iced Earth / Iron Maiden / Judas Priest / Killswitch Engage / Knocked Loose / Kreator / Less Than Jake / Limp Bizkit / Marduk / Megadeth / Miss May I / Modern Life Is War / Monuments / Ozzy Osbourne / P.O.D. / Parkway Drive / Pist*On / Planet Of Zeus / Powerflo / Powerwolf / Silverstein / Stone Broken / Stray From The Path / Tesseract / The Darkness / Thy Art Is Murder / Týr / Underoath / Vader / Vixen / Watain / Zeal & Ardor / Voltbeat / Ayreon, Black Stone Cherry, Bloodbath, Boston Manor, Bury Tomorrow, Crossfaith, Doro Pesch - Voice of Warlock, Employed To Serve, Follow The Cipher, Galactic Empire, Hollywood Vampires, In This Moment, Kadavar, Lacuna Coil, Madball, Marilyn Manson, Meshuggah, Rise Against, Savage Messiah, Seether, Shining, Sons Of Apollo, Stick To Your Guns, The Bloody Beetroots Live, en The Pink Slips.Accept, Arch Enemy, Baroness, Batushka, Carach Angren, Corrosion Of Conformity, Culture Abuse, Dead Cross, Diablo Blvd, Dool, Ego Kill Talent, Eisbrecher, Ghost, Hollywood Undead, Jonathan Davis, L7, Mantar, Neurosis, Perturbator, Septicflesh, Shinedown, Skillet, Skindred, The Vintage Caravan, Tremonti, Wolves In The Throne Room.Billy Talent, Kataklysm, Avatar, Heilung, Vandenberg's MoonKings, Backyard Babies, Pro-Pain, Fleddy Melculy, Thundermother, Eskimo Callboy, The Contortionist, Cancer Bats, Tyler Bryant & The Shakedown, Toxic Shock, Monuments en Signs Of Algorithm
Tickets: are currently sold-out, but there are some day tickets available for 99 Euros plus charges from
Ticketmaster
.
More Info: https://www.graspop.be