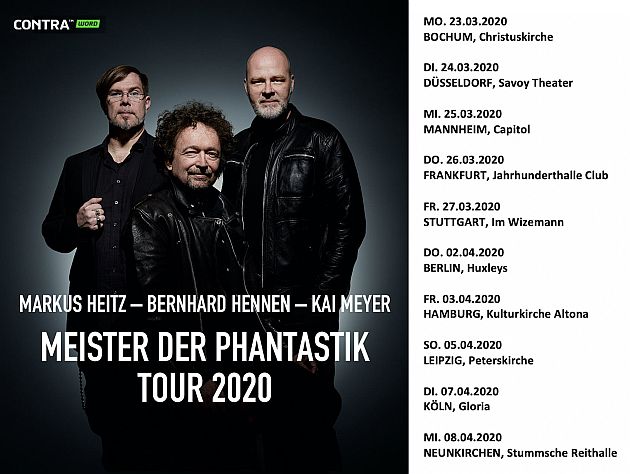 Christuskirche, Bochum, Germany
22nd February 2022
Meister der Phantastik - Tour 2022 - with Markus Heitz, Bernhard Hennen, Kai Meyer

Attention: Due to the Corona pandemic, this event is postponed from March 2020 to January 2021 and further to February 2022. Tickets remain valid!
For the first time, the "Meister der Phantastik" (Masters of Fantasy) go on tour together. All over the world, they enchant millions of people with their books. Now, the multiple award-winning authors go on a live tour to take away the audience to fantastic worlds. It's a tour never happened before.
Dwarfs, elves, bibliomania, vampires, shape shifters, space adventures, villains, heroes, and many more - the repertoire of the three most-known German fantasy authors is virtually inexhaustible. It's an event full of liveness and humour: they will read from their latest books, talk about their lives as an author, tell anecdotes, and have funny discussions with the audience - questions and impulses are explicitly welcome! Competent host will be author and lecturer Kathleen Weise.
Additional Concert Info
Doors: 19:00
Start: 20:00
Tickets: from 28.20 € (+ charges, additional shipping) via
Eventim
Info: https://concertteam.de/event.php?i=666
More on
Markus Heitz
,
Bernhard Hennen
,
Kai Meyer