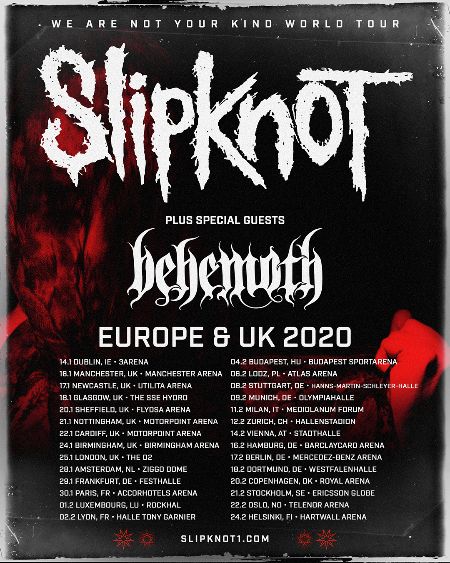 Rockhal, Esch sur Alzette, Luxembourg
1st February 2020
Slipknot - "Prepare For Hell" tour Europe & UK 2020 - Support: Behemoth

The multi-platinum, Grammy Award-winning, Heavy Metal band that is SLIPKNOT is set to make a long awaited return to the Rockhal on the 1st of February with their "Prepare For Hell" tour. BEHEMOTH will join as special guests on all dates.
SLIPKNOT shocked fans around the globe two years ago with the release of a brand new track, 'All Out Life', which was released as a stand-alone single. Reaction to the unrelenting track was staggering, with the official music video - directed by the band's own M. Shawn Crahan - trending Top Ten of all videos worldwide on YouTube in its first day on the band's official YouTube channel. 'All Out Life' has already racked up over 50 million streams worldwide across digital service providers and 51 million YouTube views.
But in August 2019, they released their sixth studio record 'We Are Not Your Kind'. Musically, 'We Are Not Your Kind' has been described as Nu Metal, Heavy Metal, Groove Metal, Extreme Metal and Hard Rock. 'We Are Not Your Kind' has been recognized by commentators and band members as one of the most experimental albums of SLIPKNOT's career. The album features moody instrumentals and electronic elements. During a pre-release interview with Daniel P. Carter on the BBC Radio 1 Rock Show, Corey Taylor claimed that "it is probably the furthest we've pushed the boundaries of creativity and experimentation", adding that "We not only went places that we've hinted at musically over the years, but never really went full-board, but we're also doing heavier things than we've ever done."
Another quality of 'We Are Not Your Kind' touted in the build-up to its release was the heaviness of the music. As early as June 2018, Taylor claimed that their sixth album would be "Iowa levels of heavy". He later reiterated the suggestion, claiming that the album contains one of the heaviest songs of their career. According to Taylor, 'We Are Not Your Kind' features some of his most personal lyrics to date. During the writing process, the band's frontman explained that "It's been a heavy couple of years for me personally. [...] I've been able to kind of grab hold of some of the depression that I've been fighting and kind of formulate the way that I want to describe it".
Early on in the process, he claimed that "It's probably the most autobiographical I've been in years", describing the lyrical content as "dark... really dark". One of the main influences on Taylor's lyrics was his separation from then-wife Stephanie Luby in 2016; in an interview with Loudwire, he explained that "The narrative [of the album] really came from me working my way through the repercussions of a really toxic relationship. And the fallout that came with finally extricating myself from that relationship". Another major influence on the album's lyrical content is that of global "divisiveness", which Taylor claims is fuelled by US President Donald Trump through "bigotry" and "racism".
Additional Concert Info

Doors: 18:00
Start: 20:00
Tickets: SOLD OUT
Info: https://www.rockhal.lu/events-tickets/metal-heavy/show/detail/slipknot-1/
More on
Slipknot
and
Behemoth