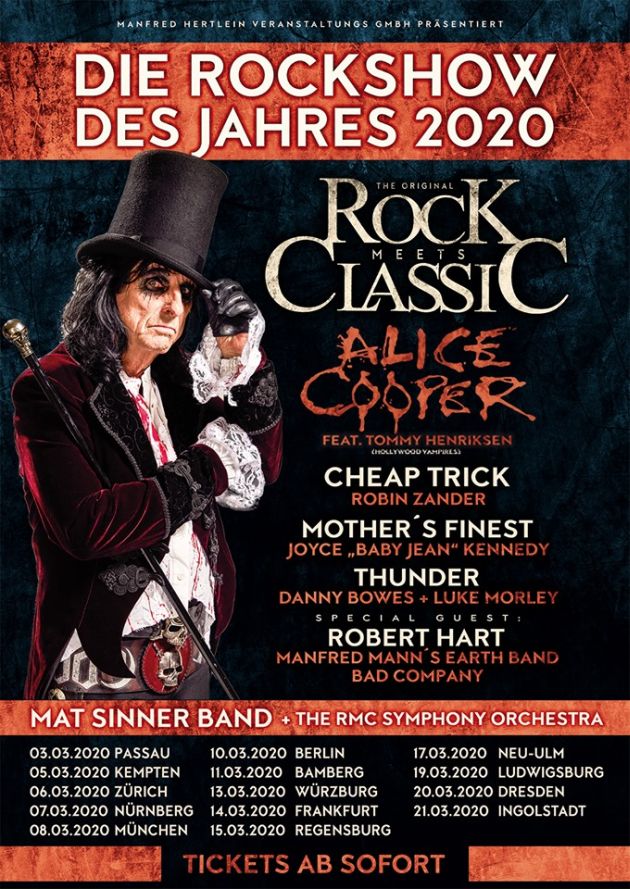 Organizer Manfred Hertlein is happy to announce right now and while the current Rock meets Classic Anniversary Tour 2019 is still in progress, that there will be a continuation of the successful concert series. First highlights for the tour 2020 can be named. Cult rocker Alice Cooper ('School's Out', 'Poison') will play as main act! Another big name is Joyce "Baby Jean" Kennedy, singer of MOTHER'S FINEST ('Baby Love')! Further on stage is Britain's best live rocker THUNDER! The line-up of Rock meets Classic 2020 makes an exceptional good reading…
Now, the Manfred Hertlein Veranstaltungs GmbH looks forward to announce another highlight of the 11th issue of Rock meets Classic: Robert Hart, current singer of MANFRED MANN'S EARTH BAND and former shouter of the legendary BAD COMPANY will thrill the audience as special guest.
Mat Sinner, the musical leader of RmC comments on Robert Hart's engagement. "Our audience has any reason to be happy to see one of the greatest classic rock singer ever. Lately, Robert gave a private concert - and blew us away with his performance. When he sings Earth Band classics like 'Mighty Quinn' or 'Davis on the road again', it is nothing but thrilling." Sinner adds: "And because Robert sung for the great Bad Company in the 90s, our audience can also look forward to a smash hit of this band." Hart himself says: "Right now I look forward to March 2020, when I go on tour with Rock meets Classic."
ROCK MEETS CLASSIC Tour 2020

With the heroes of rock music: Alice Cooper, Joyce "Baby Jean" Kennedy (Mother's Finest), Thunder, Robert Hart (Manfred Mann's Earth Band)
March 3, 2020 – Passau, Dreiländerhalle
March 5, 2020 – Kempten, bigBOX Allgäu
March 6, 2020 – Zurich (CH), Hallenstadion
March 7, 2020 – Nuremberg, Arena Nürnberger Versicherung
March 8, 2020 – Munich, Olympiahalle
March 10, 2020 – Berlin, Tempodrom
March 11, 2020 – Bamberg, Brose Arena
March 13, 2020 – Würzburg, s. Oliver Arena
March 14, 2020 – Frankfurt, Jahrhunderthalle
March 15, 2020 – Regensburg, Donau-Arena
March 17, 2020 – Neu-Ulm, Ratiopharm arena
March 19, 2020 – Ludwigsburg, MHPArena
March 20, 2020 – Dresden, Messe Halle 1
March 21, 2020 – Ingolstadt, Saturn Arena
Tickets for all concerts in 2020 available right now exclusively at www.ticketmaster.de,
Eventim
and all known ticket shops as well as at www.tourneen.com.
www.rockmeetsclassic.de