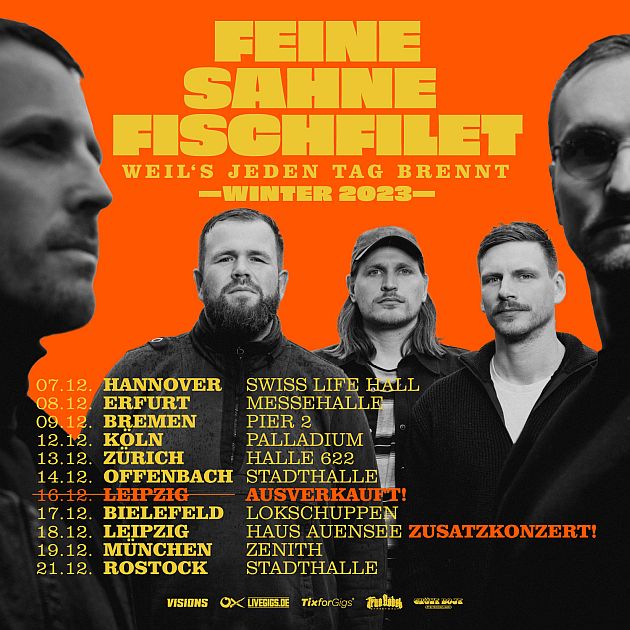 Palladium, Cologne, Germany
12th December 2023
Feine Sahne Fischfilet - "Weil's jeden Tag brennt - Winter 2023" Tour

"Siri, show a picture of unwavering attitude in the face of political backlash". If the large language model would be trained correctly, the AI assistant would bring up a picture of the German Punk band from Northeast Germany, as vocal opposition against racism, homophobia, and sexism is part of the band's DNA.
Just recently, FEINE SAHNE FISCHFILET thrilled over 9,000 fans in Hamburg, their biggest concert in the Hanseatic city to date. Also in Berlin, the band recently played in front of a previous record crowd of over 11,000 fans at the Wuhlheide. No question: after the release of the album 'Alles glänzt', which made it to No. 3 in the charts and was celebrated accordingly in the media ("The whole thing has a famous power" - Süddeutsche Zeitung, "The album 'Alles glänzt' is a portrait of a band that doesn't want to pretend for anything and anyone" - taz, "The five heart-on-sleeve musicians have recorded official punk rock again. 'Alles glänzt' is an album against indifference" - Rhein-Neckar-Zeitung), FEINE SAHNE FISCHFILET are in demand as never before.
Authenticity and honesty have always been a top priority for the band, their "making themselves straight" even in the face of headwinds, their constant offensive stepping out of their comfort zone even when it hurts, their unconditional sincerity combined with a stage presence that is second to none, all this has made FEINE SAHNE FISCHFILET one of the biggest and most important rock bands in the German-speaking world. Their followers love them dearly for it. After a successful summer tour, the band is now following up on popular demand and announcing new dates for the winter.
Additional Concert Info

Doors: 18:30
Start: 20:00
Tickets: are available from
Eventim
starting at EUR 50.25 Euros (plus charges pre-sale)
Info: https://prime-entertainment.de/veranstaltung/feine-sahne-fischfilet/