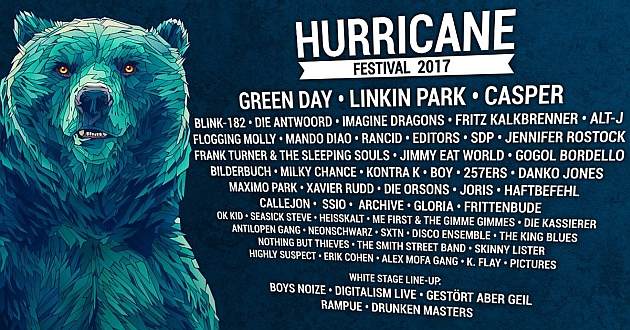 This year, it's for the 21st time that the Hurricane will be taking place at the Eichenring in Scheeßel, Germany. Over the past years, the festival has presented internationally successful artists, popular German acts, and a large number of newcomers, some of whom are now headliners themselves. Since 1999, the same line-up has hit the stage at the "twin festival" Southside in the South of the Republic. Every year over 130.000 visitors from all over Europe meet at the Hurricane and Southside Festivals.
Additional Festival Info

Date: 23rd - 25th June 2017
Place: Eichenring, Scheeßel, Germany
Line-up: Green Day, Linkin Park, Casper, Blink-182, Die Antwoord, Imagine Dragons, Axwell Λ Ingrosso, Fritz Kalkbrenner, Alt-J, Mando Diao, A Day To Remember, Royal Blood, Rancid, Clueso, Flogging Molly, Editors, SDP, Wolfmother, Halsey, Jennifer Rostock, Frank Turner & The Sleeping Souls |Jimmy Eat World, Gogol Bordello, Bilderbuch, Lorde, Milky Chance, Kontra K, Passenger, Boy, 257ers, Future Islands, Danko Jones, Maximo Park, Xavier Rudd, Die Orsons, Joris, Nathaniel Rateliff & The Night Sweats, Haftbefehl, Callejon, SSIO, Antilopen Gang, Archive, Of Mice & Men, You Me at Six, Gloria, Frittenbude, OK Kid, Seasick Steve, Baroness, Irie Révoltés, Heisskalt, Me First And The Gimme Gimmes, Die Kassierer, Kodaline, Kensington, LP, Neonschwarz, SXTN, Disco Ensemble, Montreal, Red Fang, The King Blues, Moose Blood, Nothing But Thieves, The Smith Street Band, Ho99o9, Skinny Lister, Highly Suspect, Counterfeit, Erik Cohen, Alex Mofa Gang, Tall Heights, K.Flay, Pictures
White-Stage Line-Up 2017: Boys Noize, Digitalism Live, Modestep DJ Set, Alle Farben, RL Grime, Gestört aber GeiL, Rampue, Drunken Masters
After movie 2016: https://youtu.be/Dizk4G4CG98
Hurricane-Resort: http://www.hurricane.de/de/wohnen/hurricane-resort/
Fees: http://www.hurricane.de/de/tickets/tickets-2017/
Ticket-hotline: +49(0)1806 - 853 653
More Info: http://www.hurricane.de
Tickets:
Hurricane
/
Southside
We are giving away several festival T-shirts and CDs. If you wanna take part in the raffle, please send an email with your FULL NAME, your POSTAL ADDRESS and your T-SHIRT SIZE until 31st May 2017 with the headline "Hurricane" to
This email address is being protected from spambots. You need JavaScript enabled to view it..
Good luck!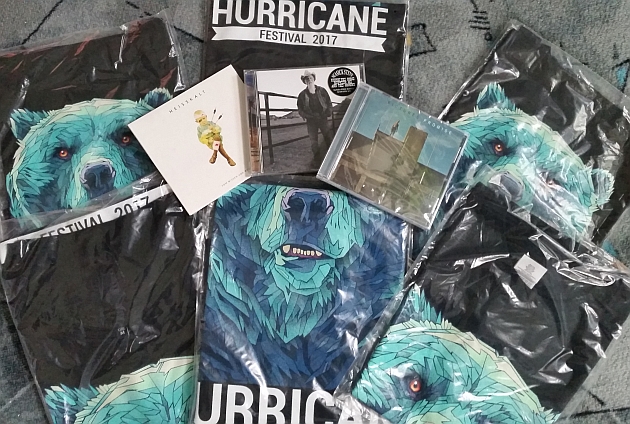 See also (all categories):