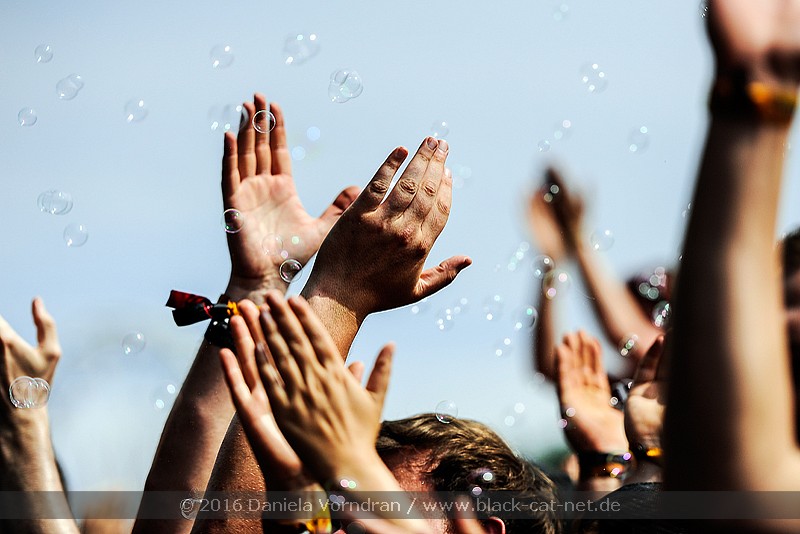 Eichenring, Scheeßel, Germany
249th to 26th June 2016
Hurricane Festival Day 1: Impressions, Chefket, Zebrahead, Chakuza, Royal Republic, The Hives, Annenmaykantereit, Dropkick Murphys, Trailerpark, Boysetsfire

2016 seems not to be a good time for festivals. First Rock am Ring which was cancelled due to heavy thunder storms earlier this month. And now, sister festivals Hurricane and Southside were affected. While Hurricane could be continued on the Sunday as planned after disruptions due to heave storms before, Southside was totally cancelled.
Tickets for the twin festivals never sold faster. Already end of February, 20th Hurricane and 18th Southside Festival were sold out. Sure that all ticket holders were very much looking forward to the events. Already on Thursday, the camp grounds for both festivals opened. Sadly, the course of both festivals was restricted due to storms. At the Hurricane, numerous concerts had to be cancelled and the festival was temporarily disrupted. Heavy storms with thunder and lightning, wind force of about 100km/h and heavy rains were leading on early Friday evening at the Southside first to an interruption. Since the situation did not become any better during the night and there was no prospect to weather improvement for the next days leading to security issues, the festival was totally cancelled on early Saturday morning.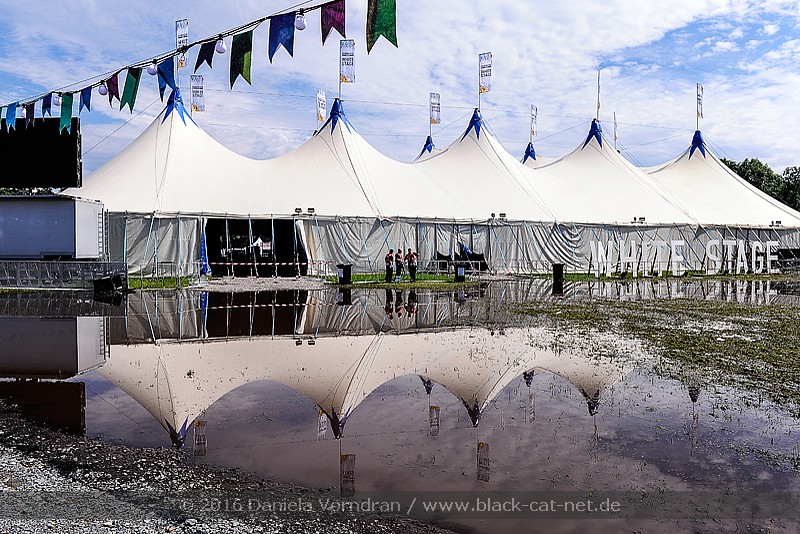 Besides, also the planned course of the Hurricane festival had to be changed on Friday and Saturday. On Friday, the schedule was interrupted short past 18:00 and the area evacuated for two hours since there was a heavy thunderstorm warning. At 20:30, the bands started to play again. Due to heavy rain falls, lasting until Saturday afternoon, there were heavy damages due to the water on the area which had to be removed before the show could go on. With the help of technical emergency service and fire brigade, the area was ready at 20:00 when again heavy rain falls hit the festival ground making the work of the helpers useless. So, the festival could not be proceeded during the whole Saturday and all bands were cancelled. Even though there were heavy damages due to the masses of water, the organizers managed to dry the area in the course of Saturday night. On Sunday, the planned concerts could take place and around 60,000 visitors, who waited patiently on the camp grounds, could enjoy the shows.
Folkert Koopmans, manager of FKP Scorpio, said that they imagined their 20th jubilee very differently. After on the last day all bands were performing and the mood was excited within the festival goers, the résumé of the festival is still positive. Anyone involved – promoters, visitors, helpers and bands – worked together to make finally the last festival day a good one. The collaboration with the authorities worked perfectly and the acquired package of measures took care for the security of the visitors during the whole festival.
Hurricane and Southside festival will take place from 23rd to 25th June next year. And now, please enjoy our pictures from the festival.
Impressions

Bands
All pictures by Daniela Vorndran (
http://www.vorndranphotography.com
/
http://www.facebook.com/blackcatnet
)
See also (all categories):