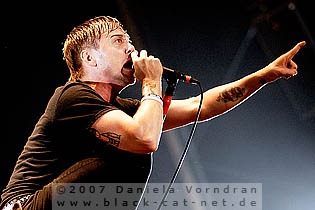 Flugplatz Borkenberge, Lüdinghausen, Germany
24th to 26th August 2007
Area4 Festival Day 2: Turbostaat, Itchy Poopzkid, Muff Potter, From Autumn to Ashes, Blackmail, Art Brut, The 69 Eyes, Juliette & The Licks, The Hives, Billy Talent 

After a very sunny - and partly, especially within the very you festival attendees, alcohol dominated - start on Friday, Saturday morning started fresh and quite foggy, very fitting to the view you had on the camp ground where first signs of life were visible too. After a few hours, sun returned anyway to help making another great festival day memorable for years.



Turbostaat

The first rehearsals of this band from Husum / Germany took place in January 1999. After the first written song - 'Blau an der Küste' - soon a demo was following. The first album 'Flamingo' was released in 2001. With their mix of Indie-Pop-Rock and Punk, the band soon discovered territories outside their home region. The second record 'Schwan' was released in 2003 followed by a third one - 'Vormann Leiss' - in 2007. TURBOSTAAT are Jan (vocals), Marten (guitar), Rotze (guitar), Peter (drums) and Robert (bass). http://www.turbostaat.de/ / http://www.myspace.com/turbostaat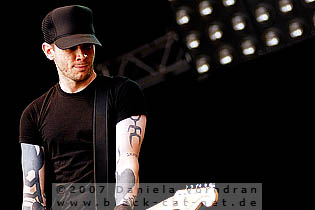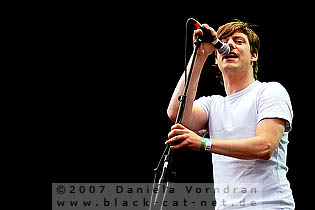 Music & Performance
That the sun was not burning that hot during noon probably was appreciated by one or another because of a hangover that was not gone so far. Also TURBOSTAAT were looking into tired faces when they entered the stage at twelve for their wakeup call. Well, as they said they were not really awake themselves. The band started with 'Der Frosch hat's versaut' from the band new album 'Vormann Leiss' followed by several more songs from the current album - besides 'Insel' also the danceable 'Nach fest kommt ab', 'Harm Rochel', 'Am Ende einer Reise' and 'Schalenka Hase'. Obviously the band became a bit calmer now; the new songs have not that heavy punk attitude as older stuff and go more into the Indie direction - what is not really a disadvantage. Also the audience seemed to be of this opinion and gave friendly applause.

Rating
Music: 6
Performance: 7
Sound: 8
Light: daylight
Total: 6.7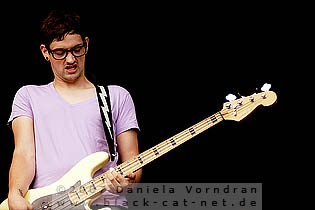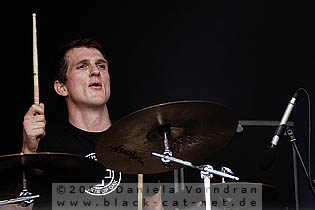 Itchy Poopzkid

The history of the band just starts as a typical school band covering songs of their favourite band. Luckily the way of the three guys from Eislingen / Germany did not stop there. The band toured its ass off in the region, recorded a demo CD and some thousand copies. They played concerts with DIE HAPPY, DONOTS or MUFF POTTER. Finally, the first CD 'Heart to believe' has been released. In 2007, 'Time to Ignite' hit the shops and reached number 84 of German album charts. ITCHY POOPZKID are Sebastian "Sibbi" Hafner (vocals, guitar, bass), Daniel "Panzer" Friedl (vocals, bass, guitar) and Saikov (drums). http://www.itchypoopzkid.com/ / http://www.myspace.com/itchypoopzkid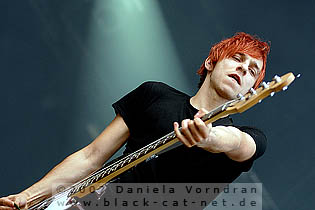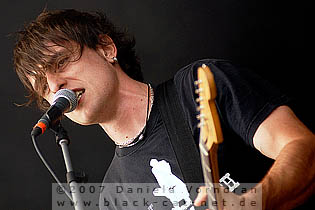 Music & Performance
On we go with punk music and the three guys of ITCHY POOPZKID. The band, who won the MTV band trip against MADSEN, was starting their show with the drumbeats of the Appolinaris commercial to follow right away vociferous with 'Take me back' from this year's 'Time to Ignite' CD. During the following 'And I'll walk away' the audience was asked to prove its dance abilities and so, it went on very fast after the calmer start of 'You don't bring me down'.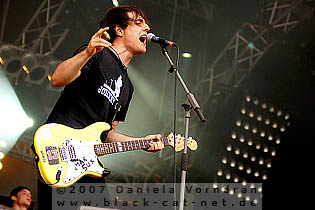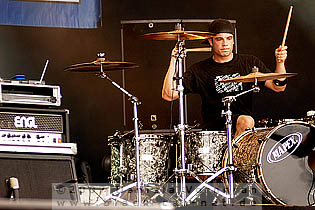 As the only band of the weekend, ITCHY POOPZKID did some festival game with the people in front of the stage, just asking them to split in two parts and than run into each other after a guitar solo. Worked quite well and was rewarded with 'Personality' even though Sibbi and Panzer were surprised than no one was injured. Both also would have loved to show some GUNS'N'ROSES airs and graces and use the outposts right and left of the stage, but the posing did not work out too well so, the boys just got back to the own repertoire - including several jumps - und played 'Silence is Killing me'. Than they finished the set with hints to the website, guestbook, upcoming tour and the sensationally cheap band T-shirts.
Rating
Music: 8
Performance: 9
Sound: 8
Light: daylight
Total: 8.4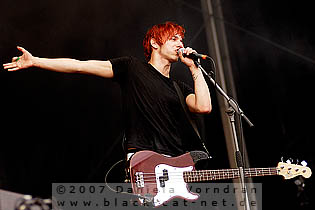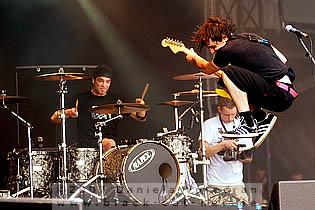 Muff Potter
The guys from Rheine / Germany (now living in Münster and Berlin) were long not 18 when the band was founded back in 1993. But anyway they started right away with an own label to be independent from the beginning. Punk Rock is not only the musical style of the guys but also their attitude. The first album 'Muff Potter' was released in 1996 followed by several more. 2007 saw the release of the latest album 'Steady Fremdkörper'. MUFF POTTER are Thorsten "Nagel" Nagelschmidt (vocals, guitar), Thorsten "Brami" Brameier (drums), Dennis Scheider (guitar, vocals) and Dominic "Shredder" Laurenz (bass).
http://www.muffpotter.net/
/
http://www.myspace.com/muffpotter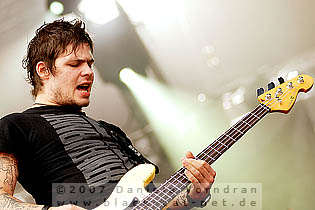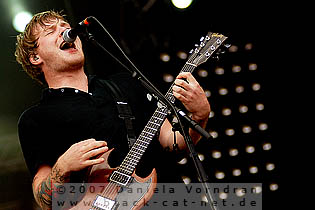 Music & Performance

Seems that Saturday noon was standing in the sign of Punk, even though MUFF POTTER call their music "Angry Pop Music". The band already was supporting DIE ÄRZTE and can look back to hundreds of live shows. The current CD was celebrated on stage with the single release 'Wunschkonzert' which told us that life is not a bed of roses or a bowl of cherries. The song 'Wenn dann das hier' from 2005's album 'Von Wegen' (btw. a song about un-catholic sex - what this is should be asked from NUFF POTTER) was dedicated to a writer from Lüdinghausen whose children's books were proofread by drummer Brami.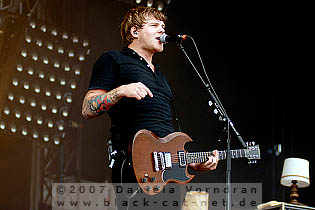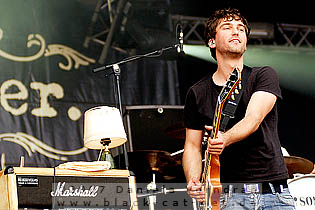 The show went on with 'Wir sitzen so vorm Molotow' from 2003's 'Heute wird gewonnen, bitte!' while singer Thorsten proclaimed that he was looking forward a lot to the BLACKMAIL show that were to follow later. Besides that, of course the title song 'Steady Fremdkörper' could not be missed which was dedicated to Felix Gebhard of HOME OF THE LAME. Another song being presented was 'Allesnurgeklaut' also connected with a hint to a band that was yet ahead on that festival - this time THE DRAFT was meant who were scheduled for Sunday and which whose predecessor HOT WATER MUSIC MUFF POTTER were recording a 7" Split EP in 2003. The gig, which was watched by an angel on a big backdrop, has been finished with 'Das halbvolle Glas des Kulturpessimismus' - a funny start into the afternoon.


Rating
Music: 7
Performance: 7
Sound: 8
Light: daylight
Total: 7.2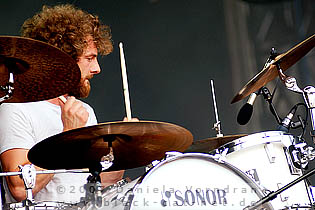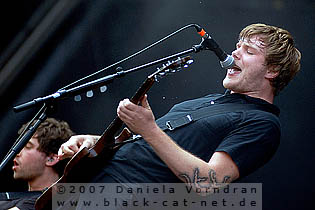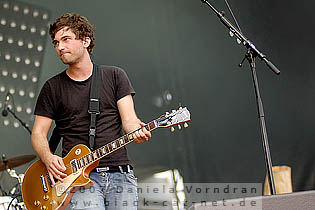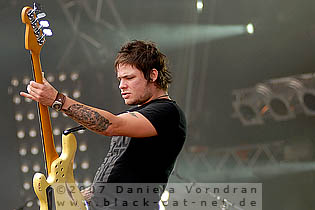 From Autumn to Ashes
Birthplace of the Hardcore band FROM AUTUMN TO ASHES (FATA) is the New York district Long Island back in 2000 when also the first EP was released. One year later, they released the full-length debut 'Too bad you're beautiful' on Ferret Records. Btw, the "Autumn" on the band name is not connected to the season but to the name of a fictive girl in some of the band's lyrics. After another album and several line-up changes, the band released a new song on mySpace at the beginning of 2007. The song is called 'Deth Kult Social Club' and was just a teaser for the in spring released album 'Holding a Wolf by the Ears'. FATA are Francis Mark (lead vocals), Brian Deneeve (guitar, vocals), Josh Newton (bass, vocals), Rob Lauritsen (guitar) and Jeff Gretz (drums).
http://www.myspace.com/fromautumntoashes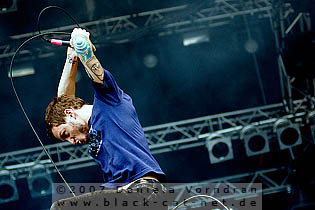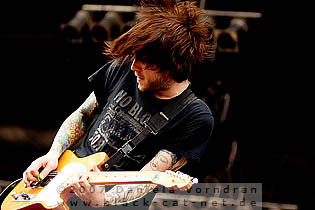 Music & Performance

After lots of Punk music the afternoon now went on with Post-Hardcore from New York. Since the millennium, FATA are making bone crunching music which they also presented on the Area4 festival ground. From the stage, you could hear the bloodcurdling screams of singer Francis Mark who was screaming his lungs out of the body during the whole set. But in-between all those screams and growls you could hear a very enjoyable deep voice which I wished to appear more often.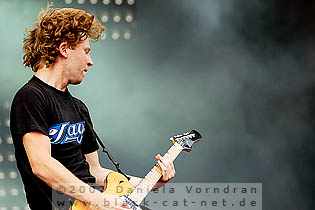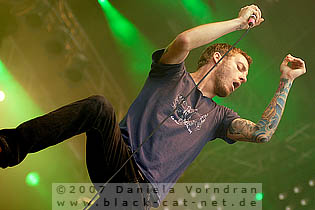 His colleagues on the other instruments were not standing behind and produced rough sounds accompanied by light-storms and guitar thunder. Songs like 'Where do you draw the line' ('Abandon for Friends' - 2005) and 'Travel' from the current album were highly appreciated by the audience which was unavailingly yelling for encores.


Rating
Music: 6
Performance: 8
Sound: 8
Light: daylight
Total: 7.1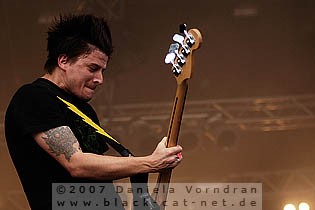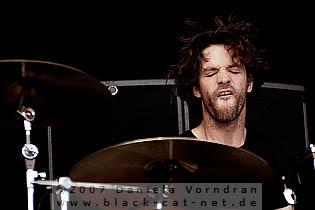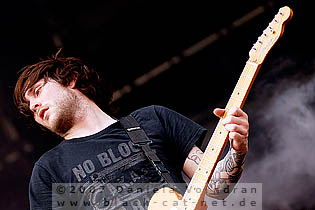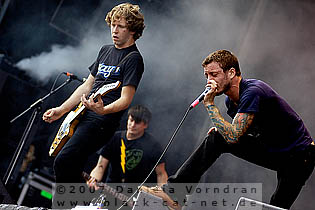 Blackmail
The self-titled firstling of the band was released in 1997 and you immediately knew that something big is coming up – guitar music with that much melody and verve was not too common in Germany. Second release was 'Science Fiction' in 1999 followed by a remix album and 'Bliss, please' in 2001. After one more album, the fifth long player 'Aerial View' was released in January 2006. BLACKMAIL are Aydo Abay (vocals), Carlos Ebelhäuser (bass), Kurt Ebelhäuser (guitars, vocals, keys) and Mario Matthias (drums).
http://www.blackmail.de/
/
http://www.myspace.com/thisisblackmail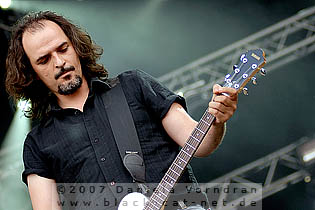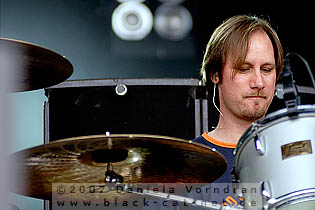 Music & Performance

BLACKMAIL from Koblenz / Germany, who came directly from Leipzig Game Convention to the Area4 festival, took over the spot of +44 who had the cancel their festival appearance. According to singer Aydo a visit at the Game Convention is not worth the effort, it is just "for the ass". Anyway, Aydo was very talkative during the whole set. So, i.e. he told us that he was on the toilet together with BILLY TALENT singer Benjamin Kowalewicz and that he was stinking. If his plans to get drunk or to get off with Juliette Lewis were successful, I cannot tell. In my opinion with first of both plans he already made good progress when standing on stage.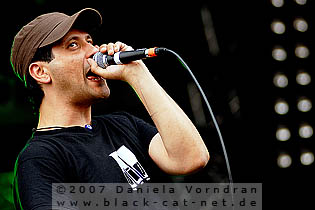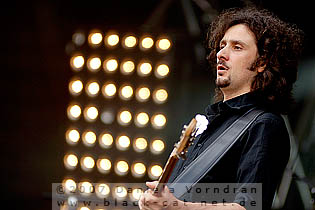 Well, the band did music too and that was once more excellent. The hymnal Indie Rock the guys are doing since 1994 especially suits when presented live and so, we could enjoy songs such as 'Amelia' ('Bliss, Please' - 2001), 'It could be yours' ('Friend of Doe?' - 2003) and 'Soulblind' ('Aerial View' - 2006). Besides typical Indie ingredients the songs contained also powerful Stoner and Prog Rock elements which were banging a lot. Besides the good music I found the whole show a bit boring and uninspired.  
Rating
Music: 8
Performance: 5
Sound: 8
Light: daylight
Total: 6.9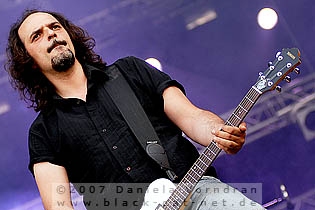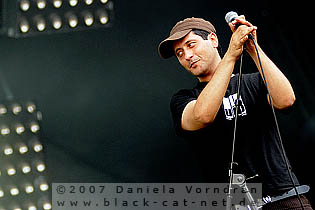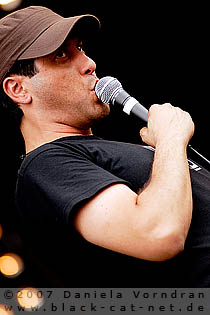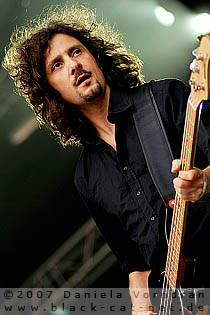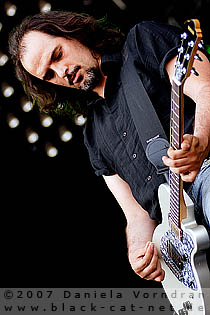 Art Brut
"Art Brut" is a certain art genre founded 1945 by French painter Jean Dubuffet and also is the eponym is this quintet from UK. A debut album was released in August 2005 followed by several live shows. The second German tour of the band is totally sold out what brought them several label offers. In January 2007, already a live DVD was released. ART BRUT are Eddie Argos (vocals), Ian Catskilkin (lead guitar), Freddy Feedback (bass), Mikey Breyer (drums) and Jasper Future (guitar).
http://www.artbrut.org.uk/
/
http://www.myspace.com/artbrut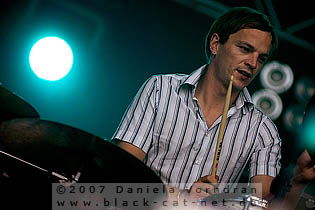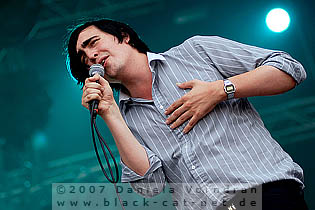 Music & Performance

With ART BRUT, a totally different musical direction came up now. Mr. Argos was meeting definitely the taste of the festival audience with his special spoken word chant and elaborate announcements. Besides that, you also cannot blame the band of not having given everything. After an hour of playing time, only the collar of Eddie's shirt was still dry and drummer Mikey, who was getting though the whole set standing, was climbing up his drum set at the end. In the meantime, front man Eddie was looking for close contact to the audience over and over again, even though that caused reduced his sound engineer to despair when he was jumping down into the pit and jumping though the crowd… always with his microphone on a long cable.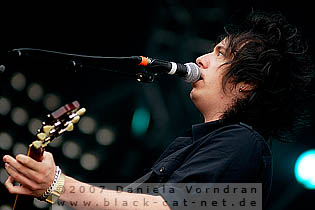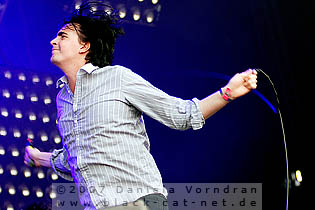 With the strange 'St. Pauli' from the current long player 'It's a bit complicated', ART BRUT will win the European Song Contest next year, that's for sure, as was as the fact already had number one hits in Disneyland and Narnia. And no questions are left open if you call a song just 'Direct Hit' – really a song making you move what also was fact for 'Jealous Guy' or 'Late Sunday Evening'. On audience request, the fast '18,000 Lira' from last year's album 'Bang Bang Rock'N'Roll' as been played on short notice. It went on a little bit calmer with 'Rusted guns of Milan' out off the same record which was dealing with the delicate topic "bad sex".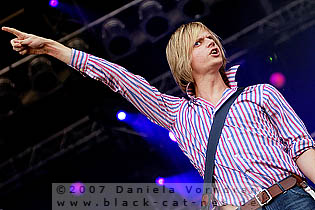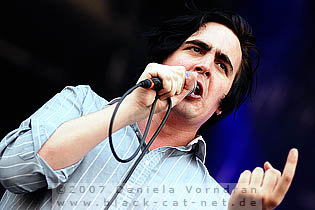 Basically, the number of beats was higher, as the title song 'Bang Bang Rock'N'Roll' or other tracks of this record like 'My Little Brother' and 'Moving To L.A.' proved impressively. No one in front of the stage could escape and so, people were dancing and clapping enthusiastically.
Rating
Music: 8
Performance: 8
Sound: 8
Light: daylight
Total: 8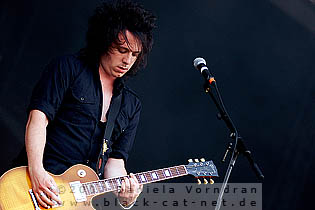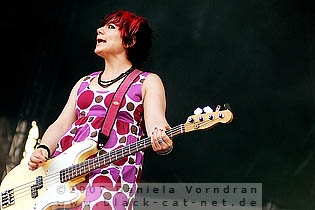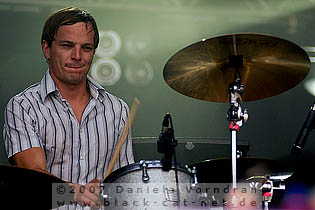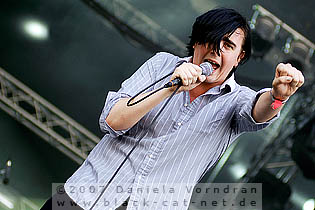 The 69 Eyes
This band seemed to cover the outsider role on this festival as only dark rock band. The Finnish Gothic Glam Metal band THE 69 EYES is already well-known guests on Goth festivals like the M'era Luna but rarely appears on this kind of alternative independent festival. With hits like 'Gothic Girl' (actually a top 10 single in Finland!) and 'Dance D'Amour' in their back catalogue, THE 69 EYES are surely one of the most popular Gothic Rock bands and I was quite curious how they would be accepted on the Area4 festival. THE 69 EYES are Jyrki69 (vocals), Jussi69 (drums), Bazie (guitar), Timo Timo (guitar) and Archzie (bass).
http://www.69eyes.com/
/
www.myspace.com/theofficial69eyes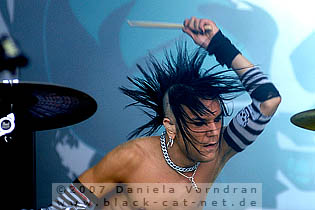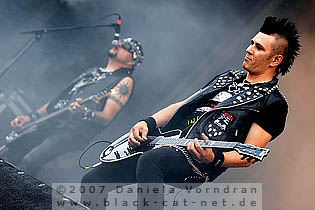 Music & Performance
The highest factor of darkness was - without any doubt - on the balance sheet of THE 69 EYES on this festival day. The "Helsinki Vampires" were the rare birds on the Area4, pardon, Area 69 as singer Jyrki69 was calling the festival later. So I did not really wonder that the room in front of the stage was little less filled than before, but anyway, one or another Goth rocker also could have been spotted in-between the crowd and also some fans might have come just for this band. You could spot a Finnish flag i.e. in the first row.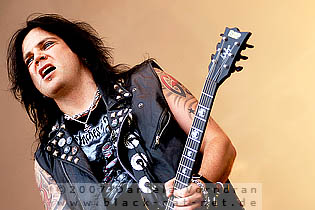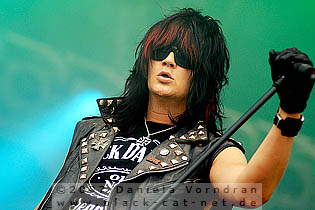 During the intro from the "Lost Boys" sound track, a lot of smoke was blown over the stage - maybe it was still too bright at seven for the dark guys from the north and the sunrays had to be filtered by the smoke. Then the set started with 'Framed in Blood' from the 2000 album 'Blessed Be'. Like always, the guys were wearing their Glam Rock outfits with leather jackets and pants, lots of chains and cloths. And as usually, the guys were born posers while singer Jyrki69 was holding back with making announcements today. Instead he was raising his sonorous voice and proved that songs like 'Never say Die' from the current album 'Angels', 'Dance D'Amour' ('Paris Kills' - 2002) or 'Devils' from the homonymous album (2004) were well received also by Alternative Rock fans.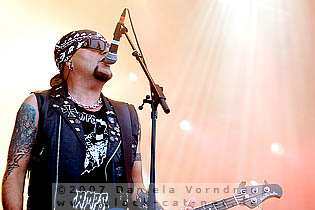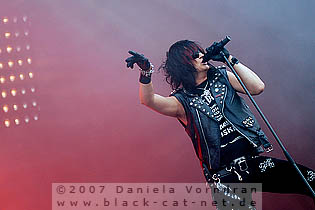 During 'The Chair' the area was covered in fog similar to the early morning. Finally Jyrki69 was talking to the audience, but the words were more for Juliette Lewis, who was the coming song 'Rocker' dedicated for because Jyrki69 just saw her as exactly that - a rocker! Obviously, Juliette was in great demand within her male colleagues. Well, you must admit that she was nearly unrivalled on this festival where female musicians were very rare. Besides that, she has enormous sex appeal too. Still, the Nordic Goth rockers were holding the sceptre in their hands and celebrated a melodic black mass including thunder, choral chant and ringing bells during 'Sister of Charity' accompanied by light crossed painted by the spots. Alike the M'era Luna two weeks ago, the set was finished with 'Lost Boys'.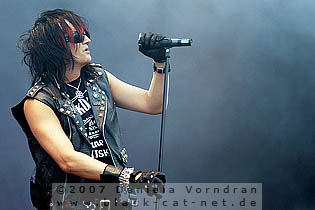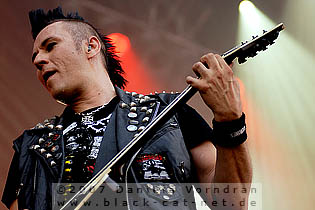 Surely, one or another, who did not know the band before, enjoyed the band and maybe the guys could enlarge their fan basis with this festival show. Besides an impressive light show THE 69 EYES also offered appealing sixty minutes of Dark Rock in an interesting look.
Setlist

01. Intro "Lost Boys"
02. Framed In Blood
03. Never Say Die
04. Dance D'Amour
05. Devils
06. The Chair
07. Rocker
08. Feel Berlin
09. Los Angeles
10. Wings and Hearts
11. Sister of Charity
12. Brandon Lee
13. Perfect Skin
14. Lost Boys
Rating
Music: 8
Performance: 8
Sound: 8
Light: 10
Total: 8.3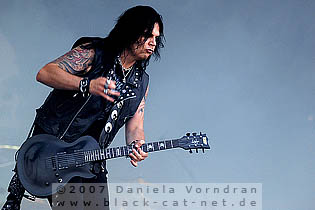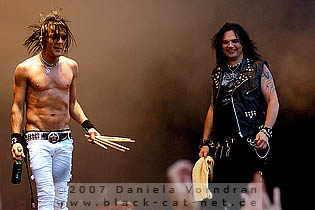 Juliette & The Licks
In the age of 20, Juliette Lewis has reached more in the show business than most people in the same age. As actress she was playing together with big names such as Woody Allen, Robert De Niro or Leonardo Di Caprio. Besides her acting career, she also started a musical career very early when she got several singing parts in movies and later was acting as rock singer in the movie 'Strange Days' where she was singing all parts on her own. After cocaine misuse and following rehab, she turned her back to show biz for a while. Finally, 2003 she came up with the idea of founding a band on her own and JULIETTE & THE LICKS was born. A debut album was released 2004 and one year later she came to Europe for some first shows. 2006 saw the release of 'Four on the Floor'. JULIETTE & THE LICKS are Juliette Lewis (vocals), Todd Morse (guitar), Jason Womack (bass) and Ad Davis (drums).
http://www.julietteandthelicks.com/
/
http://www.myspace.com/julietteandthelicks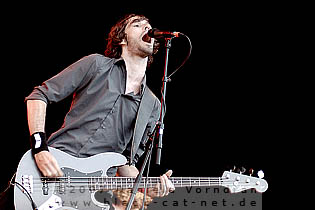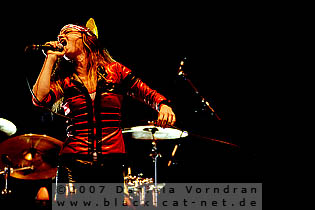 Music & Performance
A singing actress seemed to be a crowd puller. At least this would explain the huge amount of people waiting for the show of JULIETTE & THE LICKS. And the crowd should not be disappointed of the show presented in the coming hour by curly whirly Juliette who was rocking the stage as there was no tomorrow. While during the sounds of IGGY POP's 'Nightclubbing' the band was taking its places, short after Juliette was storming the stage in tight PVC pants, red PVC top and a yellow feather in the hair (according to the album cover of last year's 'Four on the Floor') and was presenting her unbelievable agility on stage.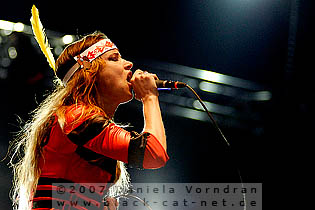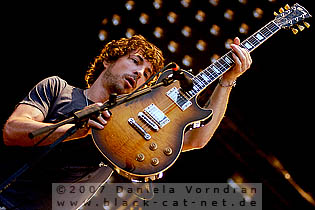 The lady twists that much that you might think she will fall over any moment; or she is crawling on the floor in a way you're wondering where she gets the breath to sing still. Obviously such activities were making her heat up and so, soon the red top had to go and she was going on in a white muscle shirt. Mademoiselle Lewis, also know from movies such as 'Natural Born Killers' or 'From Dusk Till Dawn', dispelled all doubts if she was in good voice. Also like at the Hurricane Festival in June, she was just spitting out her songs that is was pure joy to see her performing on stage.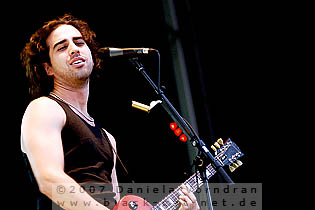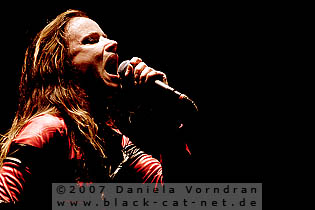 Burners like 'Inside the Cage', 'Bullshit King', 'Get Up' (the story of the LICKS, where she also presented some parts a-capella), or 'Purgatory Blues' (all from the current album) were made to make the ground boil and accentuated the rough voice of Juliette very well. For all "Disco Motherfuckers", the band presented a great cover version of DONNA SUMMER's hit 'Hot Stuff' followed by a common drumming of the whole band before the band finally left the stage again.
Rating
Music: 8
Performance: 9
Sound: 8
Light: 7
Total: 8.2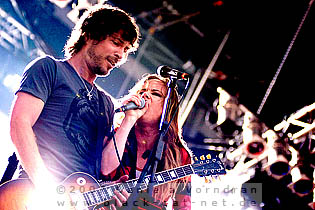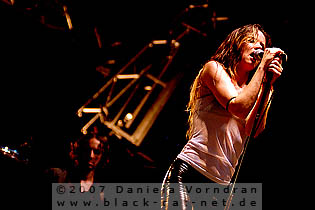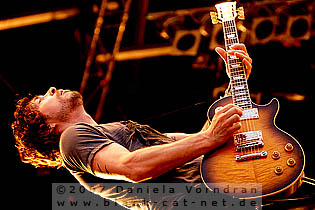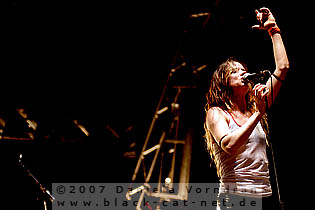 The Hives
Swedish THE HIVES, founded in 1993, are celebrating straight Garage Punk Rock in stylish suits and ties. The first mini CD, 'Oh Lord! When? How?', was released 1996 followed by 'Barely Legal' on the famous Swedish Burning Heart label and several live appearances. 2000 saw the release of the second album 'Veni Vidi Vicious' again followed by a tour, this time with Swedish colleagues THE (INTERNATIONAL) NOISE CONSPIRACY. After changing the label (Polydor Universal), THE HIVES released 'Tyrannosaurus Hives' in Summer 2004. At the Moment, the band is ready to release 'The Black and White Album' where also several songs at Area4 were presented of, yet unreleased though. THE HIVES are Pelle Almqvist (vocals), Nicholaus Arson (guitar), Vigilante Carlstroem (guitar), Dr. Matt Destruction (bass) and Chris Dangerous (drums).
http://www.hives.nu/
/
http://www.the-hives.de/
/
http://www.myspace.com/thehives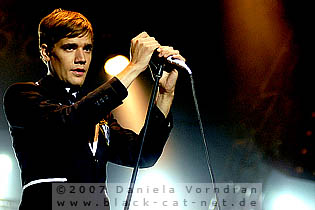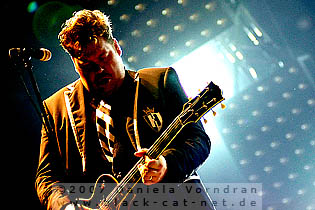 Music & Performance
Who's coming next was proclaimed long before the set started by red neon lights showing "The Hives" in front of a black backdrop. The Swedes call themselves, very modest, often the "best band of the world" and appear on stage only in custom-made black and white suits. Latest since their album 'Veni Vidi Vicious' from 2002, the quintet was conquering the hearts of many alternative fans. So, it was not surprising that it became very crowded in front of the stage when first drummer Chris Dangerous, than Nicholaus Arson, Vigilante Carlstroem (both guitar and vocals), Dr. Matt Destruction and last but not least front man Pelle Almqvist entered the stage.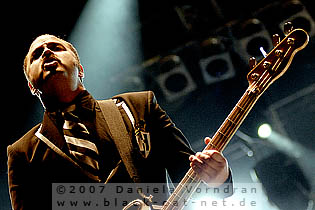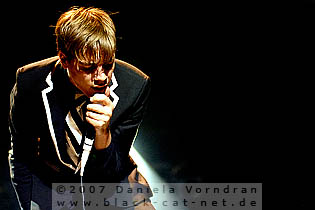 Currently, the clothing of the guys consists of black suits with white collar and pocket borders, combined with black and white stripes ties and white shoes. On combination with the emblems on the chest pockets came along "very British" and would have fitted very well to an English high-class college. Different to the rigid clothing was the music and invited to collective celebration. The show started with 'Abra Cadaver' from the three years old 'Tyrannosaurus Hives', followed by a furious Rock 'n' Roll show with the title 'A little more for little you'.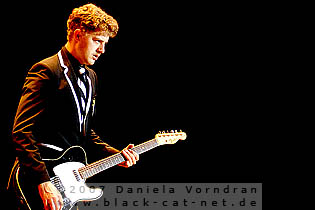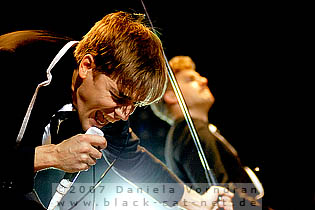 The audience was asked to scream and clap which they happily did and enjoyed it a lot when Pelle after a few songs jumped down to the pit to move closer to the first rows, just to freak out to the hymn 'Walk Idiot Walk' right afterwards. After introducing the band, the fast 'No Pun Intended' followed before the audience got to hear new stuff of the band. THE HIVES are currently producing a new record set to be released on 12th October. All in all, three new songs, including the single 'Tick, Tick, Boom' and a track called 'Try It Again', were presented. All were real burners and increased the anticipation for the upcoming album.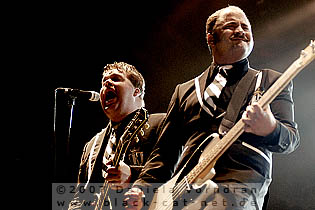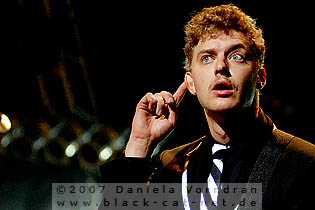 Also smash hits like 'Hate to Say I Told You So' could not be missed. During 'Diabolic Scheme' the music suddenly stopped and the band stopped any motion too and all guys remained in the position they just were in. It was just as you have pressed the "Pause" button. Some time, the "Play" button was pressed again and it went on with 'Two-Timing Touch and Broken Bones' into the last round of the set. Of course the band could not leave without an encore and so, 'Main Offender' was marking the end of a great show consisting of a pushing sound mix in Sixties and Seventies style.
Rating
Music: 9
Performance: 9
Sound: 8
Light: 9
Total: 8.9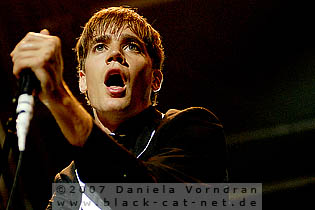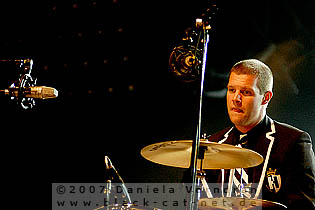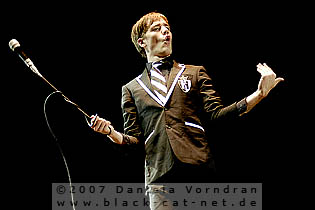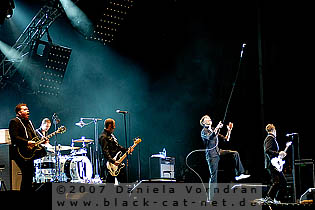 Billy Talent

Ben Kowalewicz (vocals), Ian D'Sa (guit), Jon Gallant (bass) and Aaron Solowoniuk (drums) started making music together in 1993 in Streetsville, Ontario, under the name PEZZ. For many years they performed in their local area under this flag and even released an album called 'Watoosh!' in 1999. Due to legal problems with another band that was also named PEZZ, the four-piece changed their name to BILLY TALENT, taken from a movie character, shortly after the first album. But not only the name changed, they also changed their musical direction. While PEZZ was much more Ska-oriented, they now combined elements from Screamo, Punk, and Alternative, with a soft spot for great hooks and melodies.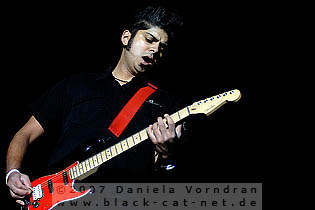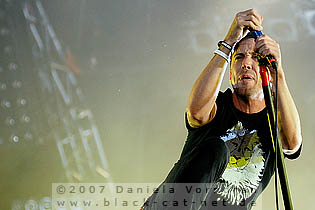 In 2001 BILLY TALENT released their first EP 'Try Honesty' (which saw a re-release in 2003). The band toured the whole North-American continent supporting other bands, and finally released in 2003 their first (and self-titled) album. It became a huge success in their homeland Canada, where it even reached double-platinum status, and it set the root for their world-wide success. Songs like 'The Ex', 'River Below' and of course 'Try Honesty' became club favourites and huge hits among the young Indie/Emo crowd. Worldwide tours and festival appearances followed and founded BILLY TALENT's reputation as an excellent live band.
http://www.billytalent.com/
  /
http://www.billy-talent.de/
  /
http://www.myspace.com/billytalent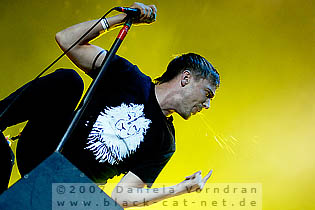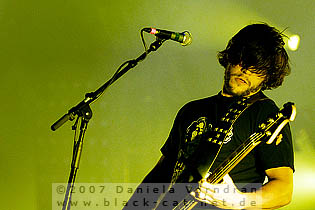 Music & Performance
Two albums and three years - it seems that BILLY TALENT's career went through the roof in a relatively short time. But BILLY TALENT is not a brand new, young band as it may seem. Actually the band started more than 13 years ago and gained also a lot of live experience during the past years. So no one was surprised that the band gave a fabulous performance on Saturday night at Area4. The tension before BILLY TALENT started their show got on a new high, and when the band finally appeared on stage, a big roar of excitement showed that the audience was ready to rock with those guys. The first guitar licks came in and guitarist Ian D'Sa appeared first on stage followed one after another by his band mates, singer Ben being last.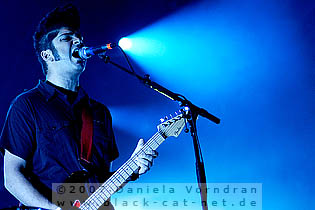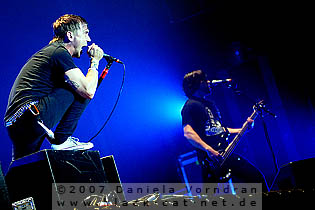 The band played the highlights from both yet released albums, 'Billy Talent' and 'Billy Talent II', such as 'Try Honesty', 'The Ex', 'Devil in a Midnight Mass', 'Red Flag', Fallen Leaves' and of course the beautiful 'Surrender'. The show itself was very energetic from the beginning and front man Ben gave the crowd what they wanted. He ran across the stage like a lunatic, of course later in the show with bare chest presenting his sweaty and muscular body - for the pleasure of the girls in the crowd.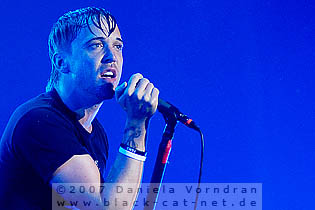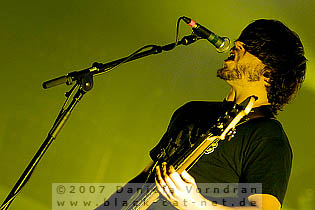 As experienced on shows before, there was a close connection between BILLY TALENT and their audience - surely one of the greatest strengths of the band. The tight and dynamic musical performance of all four BILLY TALENT members is of course another one. This impressive performance made it clear why BILLY TALENT have such an excellent reputation as a live act!

Rating
Music: 9
Performance: 9
Sound: 8
Light: 10
Total: 9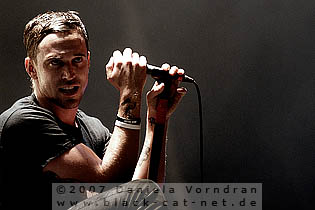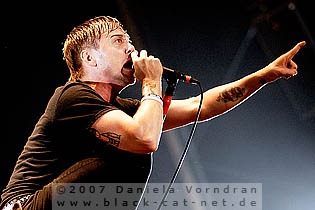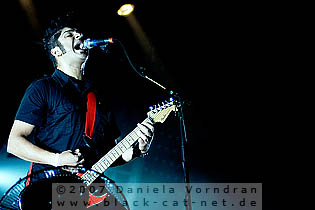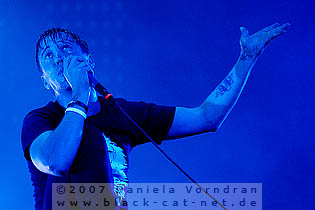 Written by Daniela Vorndran with friendly help of Ulrike Meyer-Potthoff (Terrorverlag)
All pictures by Daniela Vorndran (
http://www.vorndranphotography.com/
/
http://www.black-cat-net.de/
/
www.myspace.com/vorndranphotography
)
{jos_sb_discuss:18}
See also (all categories):