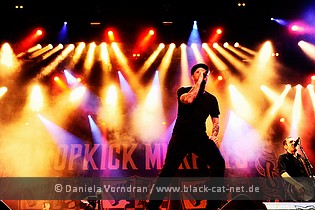 Airfield Borkenberge, Lüdinghausen, Germany
19th - 21st August 2011
Area4 Festival 2011 Day 2: Dropkick Murphys, Blood Red Shoes, NoFX, Deftones, Panteon Rococo, No Use For A Name, Feeder, Zebrahead, The Bouncing Souls, Tusq, The Bronx, The Blackout, Escapado

The second day of Area4 festival came with what we all hoped for: Sunshine and only sunshine with no hint of a cloud in sight. To be honest, a cloud once in a while wouldn't have been so bad, especially when staying at the main stage.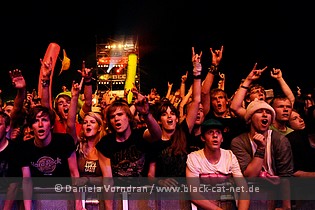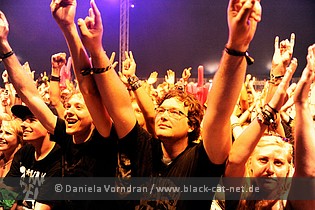 Escapado (Main Stage)

ESCAPADO was born when band members of QUAINT wanted to give their shift into hardcore music a proper name. A first demo CD , named 'Lass' deiner Sehnsucht freien Lauf' was recorded the same year which roused the attention of labels. That would lead to the first album 'Hinter den Spiegeln' in 2005. Following a few line-up changes the band started recording their second album 'Initiale', released in 2007. Even before the third album could take shape more changes occurred, seeing the complete line-up changed except drummer Christoph Voss. 'Montgomery Mundtot' was released then in October 2010. http://www.escapado.com / http://www.facebook.com/pages/Escapado/112821028731712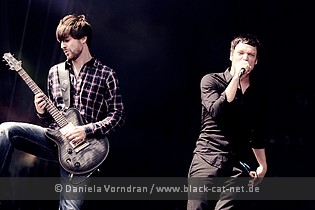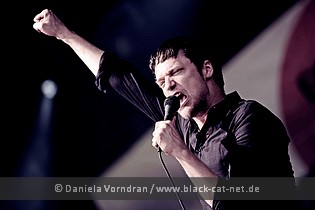 Music & Performance
By the time the first band ESCAPADO from Germany hit the stage what gathered in front of the stage hardly could be called a real audience. Those who were staying there though, were treated to a Screamo wake-up call that couldn't have more effect. The band started with 'Weil es so einfach ist' and singer Felix opted for getting close to the audience right away here which appreciated that very much. Later songs of the set brought a little side-blow to Jared Leto and a little fitness to wake up the bones tired of partying all night. Turns out that even with a little crowd the band could create a big ban din the morning on this Area4 Saturday. Congrats.

Rating
Music: 6
Performance: 7
Sound: 6
Light: - (daylight)
Total: 6.4 / 10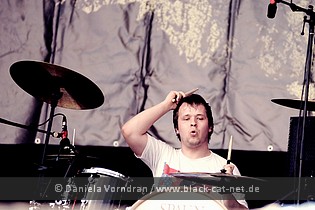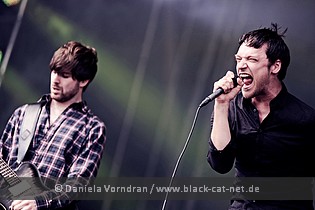 Airship (Tent)

AIRSHIP is coming from the suburbs of Manchester, the home of many great bands and have build quite a reputation already with what they've accomplished so far. Their newest album 'Stuck In This Ocean' is going to be released in early September. AIRSHIP is Elliott Williams, Marcus Wheeldon, Steven Griffiths and Tom Dyball. http://www.facebook.com/Airshipband / http://www..airshipband.com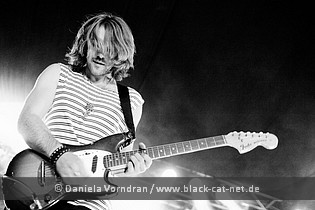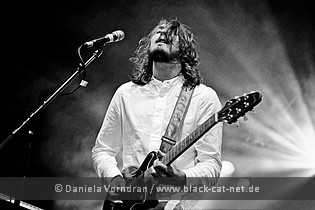 Music & Performance
Even though they had quite reputation with calm music lovers those seemed to have been still in bed when the band started their show at the tent. The band's music differed a lot from what was just delivered at the main stage. While ESCAPADO lined one eruption with the next, the music of AIRSHIP was rather building up to an eruption. Melancholia was covering most of the compositions presented, but never the oppressive kind. An uplifting nod was present at all times. The guitars the guys were playing were acting more like textures, layered upon each other . Those who came to watch AIRSHIP rewarded them with steady applause and I guess one or the other fan they might have won over that day. A few more people attending some of the forthcoming shows of the guys. Well deserved.

Rating
Music: 7
Performance: 8
Sound: 7
Light: 7
Total: 7.3 / 10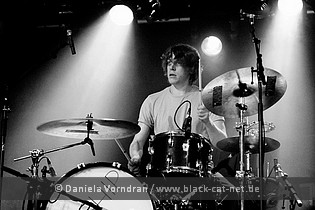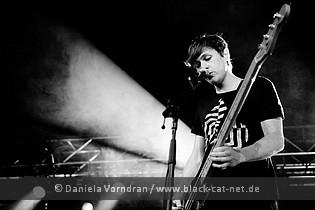 The Blackout (Main Stage)

Welsh band THE BLACKOUT formed in 2003 and initially made themselves a reputation by playing a lot of gigs. The band released their first mini-album 'The Blackout! The Blackout! The Blackout!' in 2006. Hardly a year later, the band put out their debut full-length with 'We Are The Dynamite' followed by a headlining tour of the UK. To the present day THE BLACKOUT have released two more albums with which they were able to expand their following even more. THE BLACKOUT is Sean Smith, Gavin Butler, Matthew Davies, James Davies and Rhys Lewis. Gareth Lawrence http://www.theblackout.net/ / http://www.facebook.com/theblackoutband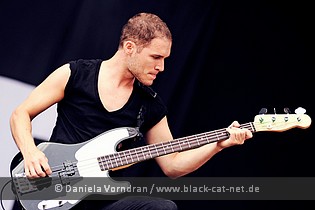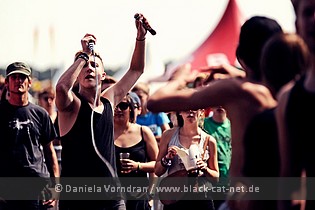 Music & Performance
Well, I remember THE BLACKOUT and their jokes very well from a few years ago when they were playing the festival for the first time, and have they grown up since that time? Not a single bit. Still loving the obscene. At the same time though they haven't lost a single bit of the energy they'd brought to the stage back then. Just like many other bands they're utilizing two singers. Actually it's one singer and a screamer. Playing with the contrasts is their game and they're quite good at it, just like with having their microphones swirling around like a whirlwind. Something THE HIVES' Pelle Almqvist was quite good at either. The other part that makes their show as energetic as it was, was them constantly running around in the heat of the day. I for one was already happy I didn't have to move that much right now. The track 'Shut The Fuck Uppercut' closed the set full of sweat.

Rating
Music: 6
Performance: 8
Sound: 7
Light: - (daylight)
Total: 6.9 / 10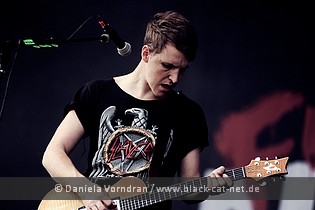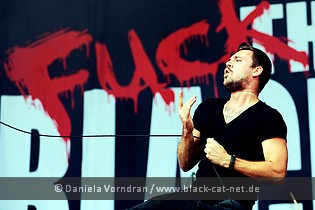 White Denim (Tent)

WHITE DENIM were formed in 2006 in Austin, Texas. With a bunch of self-released EPs and albums they've already made a name for themselves in addition to enthuse audiences on tour. Their newest album is called 'D' and has been released in this year's May. Their music draws influence from dub, psychedelic rock, blues, punk rock, progressive rock, soul, jazz, experimental rock with home-based recording, jamming approach, intense looping work and unusual song structures. WHITE DENIM is James Petralli, Josh Block, Steve Terebecki and Austin Jenkins. http://www.whitedenimmusic.com / https://www.facebook.com/whitedenimmusic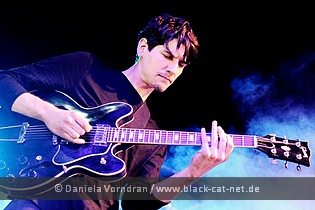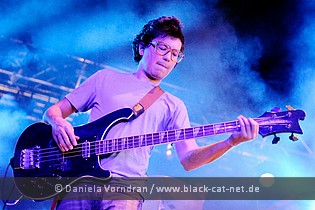 Music & Performance
The style we were treated to now with WHITE DENIM at the tent was somewhere between Blues, Rock, Punk and Garage but with a distinct hint of improvisation within. In fact, the first minutes of the show were just one big song, or I just missed the break at some point. As good as it was, and it proved strong musicianship with all the band members, perhaps it was just too much and too exhaustive for that time of the day. I'm used to listening to longer tracks but even I had a hard time focusing on those lengthy pieces. Despite some folks rocking to the admitted rhythmic charm of some parts, the crowd was rather small when the band played. Too demanding stuff I suppose at this time of the day.

Rating
Music: 7
Performance: 9
Sound: 7
Light: 6
Total: 7.5 / 10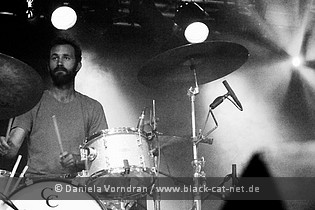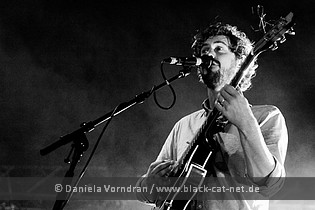 The Bronx (Main Stage)

THE BRONX started out in California in 2002. Having just played two live shows they'd already secured themselves a manager and a label deal. However the band rather decided to set up their own label for their first recordings which were an EP and several singles to support the first, self-titled album released in 2003. The major label debut was their second, self-titled album in 2006. In 2007 the and announced to record two albums at a time, the first one being a rather classic punk rock album, the other one being a mariachi album. A style of music originating in Western Mexico. They obviously have come to love that style of music since they've released another set of mariachi tracks on the album 'Mariachi el Bronx' this August. THE BRONX is Matt Caughthran, Joby J. Ford, Jorma Vik, Ken Horne and Brad Magers. http://thebronxxx.com/ / http://www.facebook.com/thebronx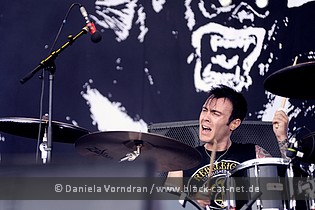 Music & Performance
Catching some fresh air was just the thing I needed right now after the heathen atmosphere in the tent. THE BRONX were up next on the main stage first announced by a huge gorilla backdrop saying "The Bronx - The Beat That Kills". That was in quite stark contrast to the introductory song that served as the lead-in for THE BRONX with Mexican mariachi sounds coming out of the PA. That alone wouldn't be too weird, considering the band having released a few albums with that kind of music. The first song though following the intro was anything but mariachi. Straight and hard punk rock with a pinch of hardcore sound. It was the old school variation of that style. They surely took no prisoners with any of the songs. The crowd however were all in the mood for some uncompromising sounds and used the time THE BRONX were on stage extensively for jumping and moshing. Couldn't say that was really up my alley.

Rating
Music: 5
Performance: 7
Sound: 6
Light: (daylight)
Total: 5.9 / 10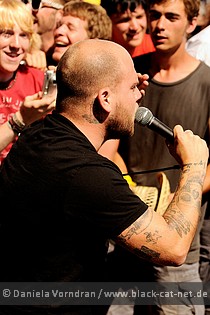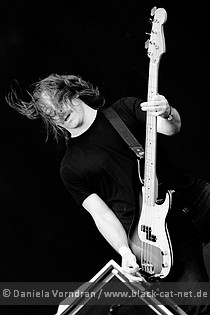 Tusq (Tent)

The history of TUSQ is a pretty short one. The band members founding it in 2009 have all been in involved in other musical endeavours. In early 2010 they recorded their debut album "Patience Camp" in Finland together with producer Jürgen Hendlmeier, which was released in fall 2010 via Strange Ways / Indigo. Since then, they have played several shows, i.e. with KASHMIR or DR. DOG. TUSQ is Uli (vox, keys), Timo (guitar), Paul (bass) and Holger (drums). http://tusq.net/ / http://www.facebook.com/tusqmusic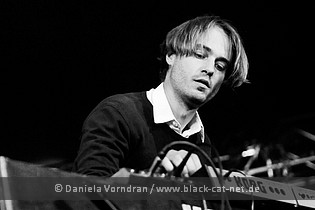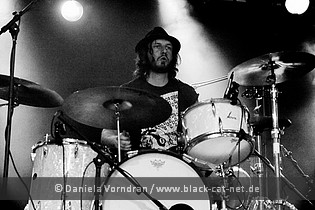 Music & Performance
Not so long ago that I've seen TUSQ performing as support for KASHMIR on a tour. The German band's music in no way could be compared to the stuff THE BRONX were hammering out before. Their love is the melancholy-filled Indie rock that comes with great melodies and vocals. Needless to say I was really looking forward to that. The only awkward thing as singer Uli still wearing a long shirt. Awkward because the heat was on inside the tent. If you wanted a free Sauna visit this was the place to go. 'Urban Spaces' opened the band's set and right away the catchy melodies caught you. Most of the time Uli was treating the keys while doing the vocal duties but once in a while he switched to the harmonium that added another nice dimension and timbre to the songs that even though they were upbeat in parts never really the rocking type - strictly speaking. Anyway, I enjoyed that performance very much so thanks for a few minutes of calm.

Setlist
01. Urban Spaces
02. You And I
03. Love vs. Reason
04. Let The Fairies Lead The Way
05. Full Scale Retreat
06. Fortune

Rating
Music: 8
Performance: 9
Sound: 8
Light: 7
Total: 8.2 / 10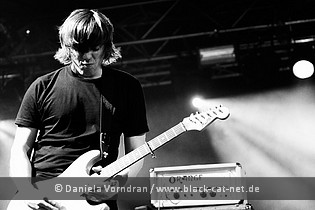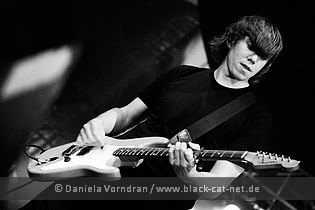 The Bouncing Souls (Main Stage)

THE BOUNCIN SOULS, founded as early as 1992 in New Brunswick, would grow to become a trademark for modern, rather poppy punk rock music that inspired lots and lots of epigones in the genre. Their first album, a collection of previously released EPs, entitled 'The Good, the Bad, and the Argyle' was released in 1994. The tour supporting their second album 'Maniacal Laughter' got the attention of famous punk label Epitaph Records who offered them a deal. Following their signing in 1997 the third, eponymous album was released, showing a significant leap in recording quality. By the time 'How I Spent My Summer Vacation' came out in 2001, the band had become the aforementioned epitome of a new wave of punk music with an international fan base. Their latest album 'Ghosts On The Boardwalk' has been released last year. Currently the band is writing new material for an album tentatively slated for a release in 2012. The band consists of Greg (vocals), Michael (drums), Bryan (bass) and Pete (guitar). http://www.bouncingsouls.com/ / http://www.facebook.com/bouncingsouls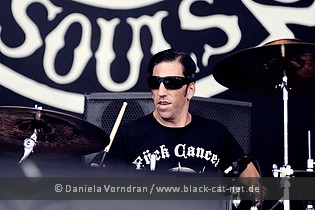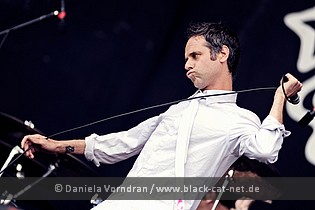 Music & Performance
The next punk rock band was already preparing everything for their assault at the main stage: THE BOUNCING SOULS from New Brunswick who were delivering a rather poppy kind of punk rock with one constant element: The speed! Both in regards to the songs tempo and their shortness. As you can see below the setlist is quite a lengthy one. Following the intro the track 'Sing Along Forever' made first contact with the audience who cracked up immediately. I guess they didn't really realize that songs were actually changing as quick as they came from the band. The peak of speed was reached with the track 'Never Say Die', even if I didn't think that would be possible up to that point I have to admit. At some point Greg Attonito chose to visit a few people in the crowd by entering the photo pit while afterwards the mentioned crowd got some refreshing out of some water tubes. As a special surprise, the band invited DROPKICK MURPHY's guitarist James Lynch for the song 'True Believers' which was frenetically celebrated before the show's end.

Setlist
01. Intro
02. Sing Along Forever
03. Hopeless Romantic
04. That Song
05. Private Radio
06. Bullying the Jukebox
07. The Something Special
08. No Rules
09. East Coast! Fuck You!
10. Hybrid Moments
11. Kids and Heroes
12. Never Say Die / When You're Young
13. Gone
14. Lean On Sheena
15. Manthem
16. Anchors Aweigh
17. K8 is Great
18. True Believers
19. Here We Go!

Rating
Music: 6
Performance: 8
Sound: 6
Light: - (daylight)
Total: 6.4 / 10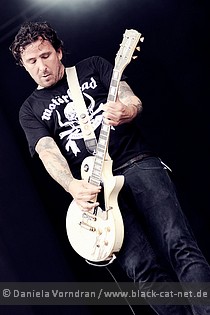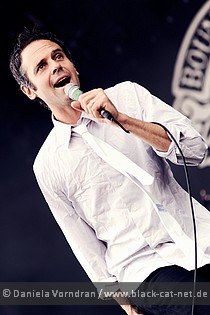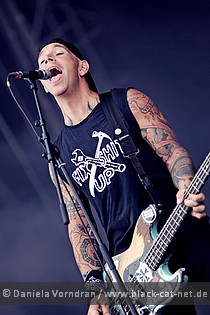 Kakkmaddafakka (Tent)

The Norwegian rock band was formed in 2004 to play just a one of show. The response was that great, the band started playing more gigs around Norway and in 2006 released their first EP 'Already Your Favourite EP'. The first album 'Down To Earth' came out in 2007. Their second album 'Hest' followed earlier this year. KAKKAMADDAFAKKA is Axel Vindenes (guitar, vocals), Pål Vindenes (cello, vocals), Jones Nielsen (piano, vocals), Stian Sævig (bass, vocals), Kristoffer van der Pas (drums), Martin Sande (choir / dancer), Lars Helmik Raaheim-Olsen (choir / dancer) and Sverre Sande (choir / dancer). https://www.facebook.com/kakkmaddafakkamusic / http://www.kakkmaddafakka.com/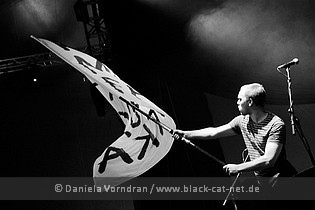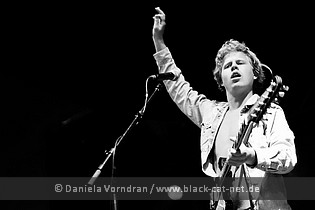 Music & Performance
Obviously KAKKMADDAFAKKA had quite a reputation around attendees of the Area4 festival since nearly all who just were present at the main stage plus 6 handful more were now invading the tent to see the Norwegian band playing. Despite other assumptions of what the meaning of the band's name could be it's actually "Party Animal". A term of a self-created fantasy language called "Ballabang". If that's not enough to assume the band's completely nuts I don't know what is. But let's get back to the music here, and the music had a surprisingly hefty effect on the crowd this time. The band who were partying the entire show in stage inflicted a party virus upon the crowd that wouldn't stop dancing until the morning light...ehm, wait. I think I was carried away a bit too much. The would've done it if it weren't for some other bands playing at the tent. The influence of KAKKMADDAFAKKA is just too strong to resist.

Setlist (Incomplete)
01. Make The First Move
02. Cool
03. Crazy On The Dancefloor
04. Your Girl
05. Is She
06. Gangsta
07. Restless

Rating
Music: 7
Performance: 9
Sound: 8
Light: 7
Total: 7.8 / 10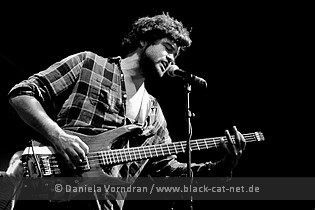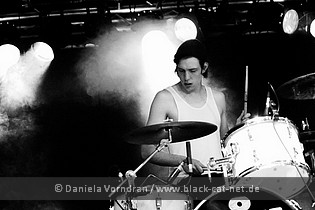 Zebrahead (Main Stage)

ZEBRAHEAD, based in Orange County, California started their career in 1996, because the future band member's former bands all shared the same practice space at that time and during sound exploring sessions they became friends eventually. After the release of their self-titled debut EP in 1998, the band signed to major label Columbia Records to release their first full-length 'Waste of Mind' later the same year, followed by their sophomore 'Playmate of the Year' in 2000. Another EP was issued before the band embarked on a European tour with GREEN DAY. Equipped with a new vocalist following their former one's departure, they put out their fifth album, named 'Broadcast to the World'. In 2009 the band released a cover album with the title 'Panty Raid' and just this year the new album 'Get Nice' followed. ZEBRAHEAD is Matty Lewis (rhythm guitar, vocals), Ali Tabatabaee (vocals), Greg Bergdorf (lead guitar), Ben Osmundson (bass), Ed Udhus (drums, percussion). http://www.zebrahead.com / http://www.myspace.com/zebrahead / https://www.facebook.com/Zebrahead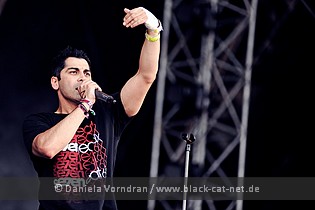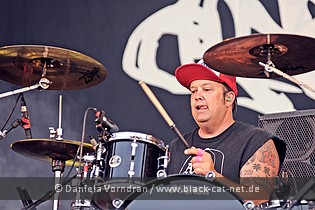 Music & Performance
The fun part of the festival continued at the main stage with ZEBRAHEAD being on the schedule next presenting their melodious songs inflicted with a lot of audience interaction. While the songs on stage were presented flawlessly from a technical point of view I think they could've included some new stuff for the audience. I mean the "Muschi" sign' or the wall of death aren't exactly brand new stuff. It worked for the crowd though as it worked when the band played here the last time. The set had a nice pacey start with the well-known 'Rescue Me' that immediately had a few partying, just like the song with the catchy title 'Two Wrongs Don't Make A Right, But Three Rights Make A Left'. Since the guys have a new album out in the stores with 'Get Nice' it was quite clear a few new songs were presented. At least I expected it to be a few. But they ended up playing just one new song with 'Get Nice'. Was a solid show, though a few new things included would be fine next time.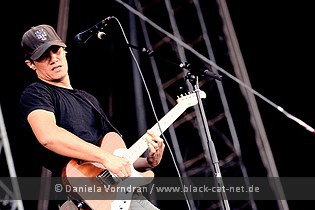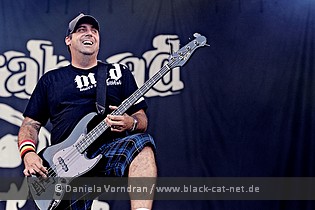 Setlist
01. Rescue Me
02. Two Wrongs Don't Make A Right, But Three Rights Make A Left
03. Jag Off
04. Ricky Bobby
05. Hello Tomorrow
06. Anthem
07. HMP
08. Playmate of the Year
09. Falling Apart
10. Get Nice!
11. The Set-Up

Rating
Music:6
Performance: 7
Sound: 7
Light: - (daylight)
Total: 6.5 / 10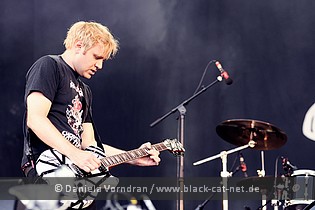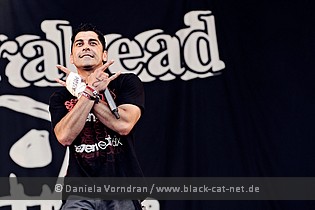 Feeder (Tent)

FEEDER started out in London around 1992. Following two EPs their debut 'Polythene' came out in 1997. The album met with critical acclaim like the follow-up 'Yesterday Went Too Soon'. By that time they'd reached an immensely high status that was followed by the deserved breakthrough with the third long-player, entitled 'Echo Park' released in 2001. That year an upward spiral started that wouldn't cease until the present day, despite line-up changes and unfortunately one band member committing suicide in 2002. Works for a new album are said to have been completed already and the release is planned for some time in September. FEEDER is Grant Nicholas (lead guitar, vocals, songwriter), Taka Hirose (bass), Dean Tidey (live guitar) and Karl Brazil (drums). http://www.feederweb.com/ / http://www.facebook.com/feederweb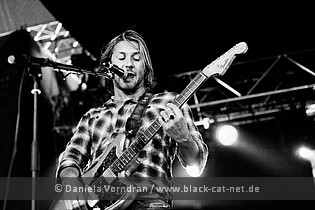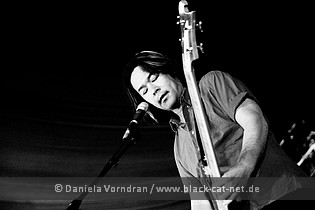 Music & Performance
FEEDER from London were one other band I was really looking forward to seeing live after hearing a few songs online before. The mixture of Brit Pop and Indie Rock to my ears was one of the best I've heard in years, starting with the 'Barking Dogs', a track that builds up slowly on field recordings, western like notes and eclectic sections before it literally explode t push the adrenaline to unforeseeable places which led to euphoric reactions on the audience that has gotten a little smaller. The following 'Insomnia' added a rather melancholic note with the vocals bound to a propelling rhythmic section before 'This Town' came along with a more rebellious and uncompromising structure, distorted guitars contrasting the softer vocals and a toe-tapping beat. 'Feeling A Moment' let everything calm down a little bit and incorporated acoustic flourishes into a mid-tempo composition with melancholy and a sing along chorus. I'd have loved to watch more but it was already high time to go to catch the next band's performance.

Setlist
01. Barking Dogs
02. Insomnia
03. This Town
04. White Lines
05. Feeling A Moment
06. Renegades
07. Just The Way I'm Feeling
08. Buck Rogers
09. Come Back Around
10. Home
11. Just a Day

Rating
Music: 8
Performance: 8
Sound: 8
Light: 6
Total: 7.7 / 10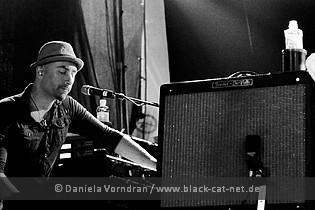 No Use For A Name (Main Stage)

The band was established at the end of the 1980s and had one thing they were very famous for: Line-up changes. Particularly on lead guitar. Almost every release of a new album back in the day was accompanied by a new lead guitarist, and they've released as much as 9 albums until 2008. Leche Con Varne', their fourth album released in 1995 was the one they were having their breakthrough with. The album gained lots of recognition and the band were supporting THE OFFSPRING on tour. Their last release was 'The Feel Good Record Of The Year' from 2008. NUFAN is Tony Sly (vocals, guitar), Matt Riddle (bass, vocals), Rory Koff (drums) and Chris Rest (guitar). http://www.nouseforanamemusic.com/ / http://www.facebook.com/pages/No-Use-for-a-Name/113629965314420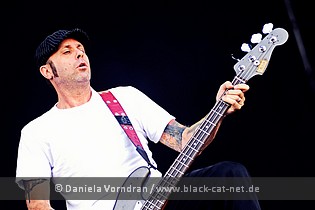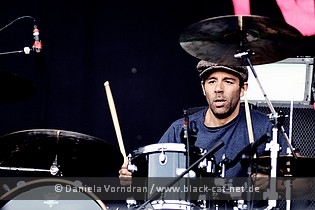 Music & Performance
That band's name was NO USE FOR A NAME and they were another part of the chain that represented this day's punk majority of bands on the festival. Their style belonged to the pop punk which seems to be very popular amongst festival attendees. The band gave it a kick-start with 'Biggest Lie' and kick-start is to be taken literally this time. From zero to hero they went with that upbeat thing of a track that would set the tone for the majority of the following setlist. After a while I wasn't even sure anymore when the break to a next track had occurred. I was growing tedious as time passed. That was not even due to a bad performance of the band's, it was the mere fact I had heard so much punk music of that tempo that day I could use a little break at the time.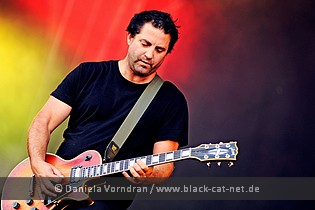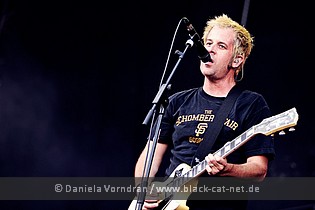 Setlist
01. Biggest Lie
02. Dumb Reminders
03. International You Day
04. Coming Too Close
05. Chasing Rainbows
06. Under The Garden
07. Soulmate
08. On The Outside
09. Slowly Fading Fast
10. Friends Of The Enemy
11. Any Number Can Play
12. I Want To Be Wrong
13. Invincible
14. Straight From The Jacket
15. Not Your Savior
16. Justified Black Eye

Rating
Music: 6
Performance: 6
Sound: 6
Light: - (daylight)
Total: 6 / 10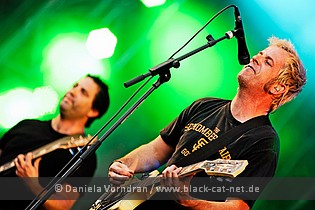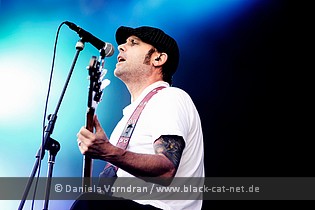 Rival Schools (Tent)

RIVAL SCHOOLS started back in 2001, named after a series of computer games. Soon after the inception, the band released their first 6-track EP 'Rival Schools United by Onelinedrawing'. The first album 'United By Fate' was released the same year. When member Ian Love left the band to focus on another project it was the start of their dissolution. Even though the mastering tapes for the second album were done, the record was not released before 2011 by the name 'Pedals' after the band's reunion. RIVAL SCHOOLS are Walter Schreifels, Ian Love, Cache Tolman and Sammy Siegler. http://www.facebook.com/RivalSchools / http://www.myspace.com/rivalschools / http://www.rivalschools.net/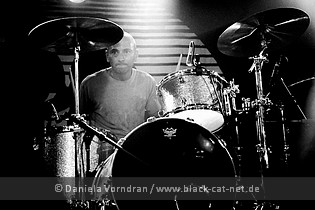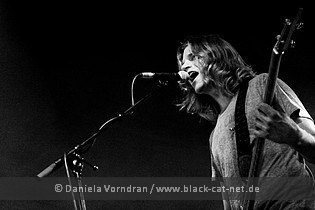 Music & Performance
Second track 'Eyes Wide Open' was just from that mentioned second record and made the upbeat start to the band's set before 'Everything Has Its Point' became a much quieter and more demanding experience. 'Wring It Out' had a mid-tempo tune in stock for the party willing people before they could run riot again on the following '69 Guns', and even more on 'Travel By Telephone'. 'Good Things' made everyone's heads nod while 'High Acetate' was the musical equivalent to a little bomb, bringing highly explosive, rocking entertainment to the crowd. Also the next 'Choose Your Adventure' a new song, went right into your legs. The hit 'Used for Glue' and 'Undercovers On' were closing up the band's setlist and a sweaty performance. Let's hope they won't disappear again to have everyone wait another eternity.

Setlist
01. A Parts For B Actors
02. Eyes Wide Open
03. Everything Has Its Point Today
04. Wring It Out
05. 69 Guns
06. Travel By Telephone
07. Good Things
08. High Acetate
09. Choose Your Adventure
10. Hooligans For Life
11. Used For Glue
12. Undercovers On

Rating
Music: 7
Performance: 7
Sound: 7
Light: 7
Total: 7 / 10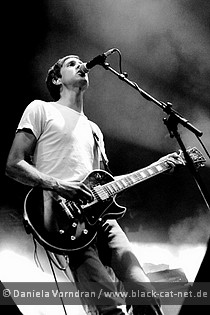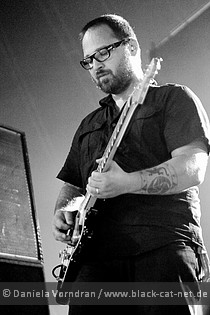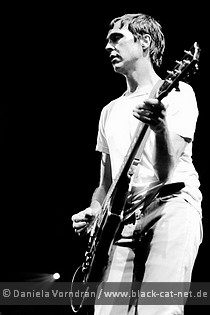 Panteon Rococo (Main Stage)

The Mexican band already started its career in 1995. The first album 'Toloache pa' mi Negra' was released in 1997 followed by 'A la Izquierda de la Tierra' in 1999. In their native Mexico they're stars and also in Europe, especially Germany, they're welcomed guests on various festivals and thus, the band is touring over here regularly. Meanwhile they've released a total of 8 albums with the self-titled being released in 2007 and latest one, 'Ejército de Paz', being out in 2010. PANTÉON ROCOCÓ is Dr. Shenka (vocals), Leonel Rosales (guitar), Dario Espinosa (bass), Felipe Bustamante (keys), Gorri (guitar), Missael (saxophone), Paco Barajes (Trombone), Pascal Montaño (trumpet), Tanis (percussion) and Hiram Paniagua (drums). http://www.panteonrococo.com/ / http://www.myspace.com/panteonrococooficial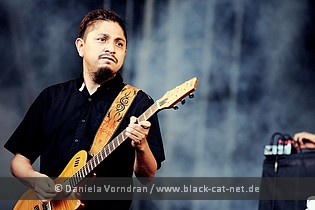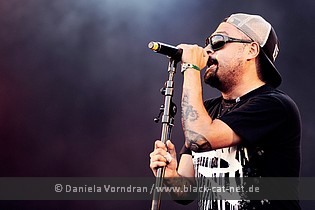 Music & Performance
Ska has always been a style to attract many people on festivals. There's always a party mood resonating within the notes, the tracks are richly orchestrated and the bands were doing everything in their power to connect to the people with the very first song played. So did PANTEON ROCOCO and brought a Spanish flavour with them. The band was one of the little examples on the festival that made the big main stage look small. If the songs they were playing weren't upbeat they at least had a Reggae groove to them so that the numerous people before the stage had no chance but moving. The chanting was a problem in the beginning but everyone grew into with time passing. The mood's peak was reached with the Mexicans coming up with 'Das Herz von St. Pauli' in German. Here the chanting was eventually working perfectly and the band got a good statement against racism and fascism over to the people.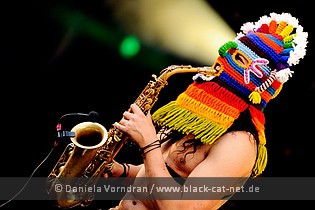 Setlist
01. Nada Paso
02. Esta Noche
03. Arreglame
04. Estrella Roja
05. Triste Realidade
06. La Maquinita / Si Ya Lo Sé
07. Sacude
08. Tu Recuerdo Y Yo
09. Das Herz von St. Pauli
10. La Carencia

Rating
Music: 5
Performance: 8
Sound: 8
Light: - (daylight)
Total: 6.6 / 10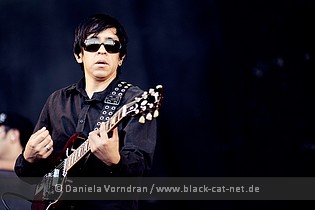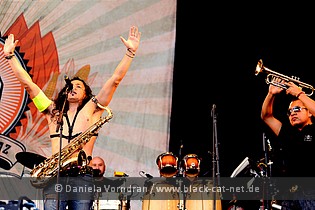 Friska Viljor (Tent)

Swedish FRISKA VILJOR started making music in 2005. Their first album 'Bravo!' came out in 2006 and earned some commercial success. The second album followed quite quickly with 'Tour De Hearts' in 2008 and is described by the band with 'Children's Music having adult lyrics". The following time they spent with touring festivals and clubs before they went back into the studio to record the next album. The latest record is called 'The Beginning Of The Beginning Of The End' and was released in 2011. FRISKA VILJOR is Daniel Johansson and Joakim Sveningsson. http://www.facebook.com/pages/Friska-Viljor/169021040655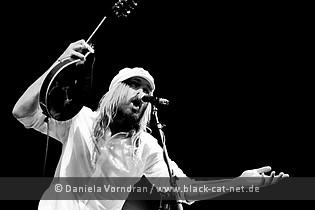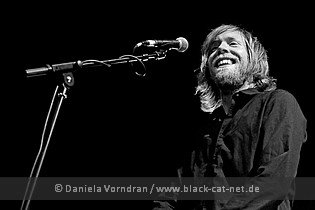 Music & Performance
Indeed the term "Children's Music" came to mind when hearing the first chords of the opening cut 'If I Die Now'. Also I felt myself heavily reminded of music from the 60s crossing over to the present. A sheer fascination took hold inside the tent that soon would be replaced by enthusiasm expressed in heavy dancing and clapping, while the guys, all dressed in white, continued their set with 'People Are Getting Old' and more rhythm-driven songs. For 'Gold' that had an irresistible groove, the stage was drenched in red, presenting both the protagonists as strangely glowing entities. 'Larionov' brought the melancholy to the stage and the audience with mid-tempo rhythms and reflective vocals, before 'What You Gonna Do' woke everyone up again with a stomping beat section. All in all, it's been a pretty enjoyable few minutes with that band, but I left before their show was over. There was another band waiting for me…

Setlist
01. If I Die Now
02. Gold
03. Wohlwill Strasse
04. Larionov
05. What You Gonna Do
06. On And On
07. Arpeggio
08. Oh Oh
09. Tell Me
10. Old Man
11. Shotgun Sister

Rating
Music: 7
Performance: 7
Sound:8
Light: 6
Total: 7 / 10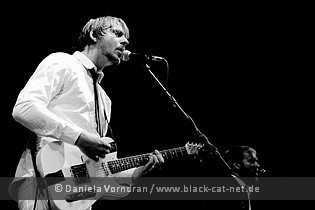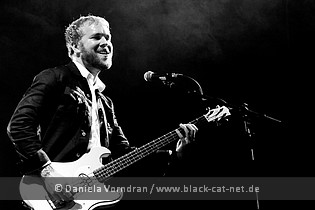 Deftones (Main Stage)

With the DEFTONES, a true legend entered the stage of the Area4. Chino Moreno (vocals, guitar), Stephen Carpenter (guitar), Chi Cheng (bass), Frank Delgado (keyboard, turntables) and Abe Cunningham (drums) were often hailed as one of the most unique and important bands in the Alternative Rock genre. Breaking down the barriers between different genres, DEFTONES combine heavy guitar riffs, screamed vocals with more atmospheric parts, music and emotional singing and also by introducing a DJ and turntables to Rock music. After 20 years of a great career, DEFTONES had to face the hardest blow of fate in late 2008. During the recording the sixth DEFTONES album, band member Chi Cheng had a tragic car accident and fell into a coma subsequently. Things were put on a total halt for the band, but they re-started touring at least with QUICKSAND bassist Sergio Vega filling in for Cheng. http://www.deftones.com/ / http://www.myspace.com/deftones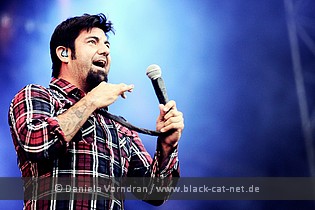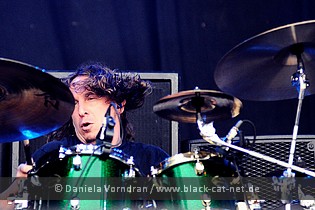 Music & Performance
… the band waiting were the DEFTONES. On stage everything already was prepared and soon the guys would walk up on stage. Not saying a word 'Diamond Eyes' opened their set with a blast. Instinctively I moved away from the front rows because the mixing was horrible. The only thing you heard was the bass drum, actually. So I tried focusing on Chino first who acted like the impersonation of the devil on stage, jumping around, swirling around seemingly having infinite energy resources. Rolling riffs announced the next song to be 'Rocket Skates' with Chino at some point just screaming his lungs out having that terrifying expression on his face. No rest for the wicked with the next song 'Engine No.9' and various screaming attacks. For 'My Own Summer' Chino almost whispered his words into the mic to spit them at the crowd afterwards. On 'You've Seen The Butcher' he went up close to the audience from inside the photo pit. The crowd were going absolutely crazy about that.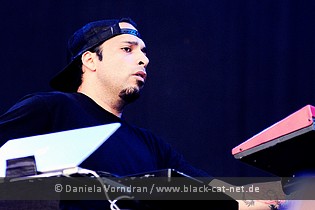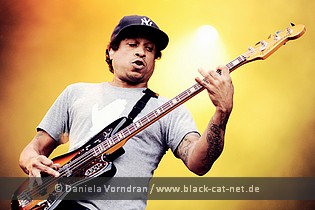 Those who were really craving for something calm got their fair share with 'Sextape'. 'Change (In The House Of Flies)' was insidiously creeping inside your ears with silent screams embedded in ambient melodies. To wrap the show up the band chose '7 Words'. Next time I wanna see that band on a head-liner's slot

Setlist
01. Diamond Eyes
02. Rocket Skates
03. Engine No. 9
04. Be Quiet and Drive (Far Away)
05. My Own Summer (Shove It)
06. Digital Bath
07. You've Seen The Butcher
08. Sextape
09. Elite
10. Change (In the House of Flies)
11. Passenger
12. Root
13. 7 Words

Rating
Music: 9
Performance: 9
Sound: 7
Light: - (daylight)
Total: 8.7 / 10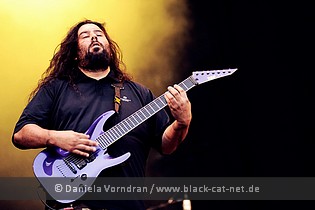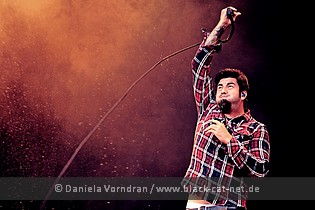 Thees Uhlmann & Band (Tent)

The name Thees Uhlmann should be familiar to all fans of TOMTE whom he's a founding member of. He recently has released his first, eponymous debut album, spawning one single named 'Zum Laichen und Sterben ziehen die Lachse den Fluss hinauf'. http://www.theesuhlmann.de / http://www.myspace.com/theesuhlmann

Music & Performance
Many, many people had come to see the front man of TOMTE and his band who started entertaining the people with a furious 'Die Toten auf dem Rücksitz'. The next tune 'Das Mädchen von Kasse 2' was dedicated to all who had to work on the festival. A lovely statement to all whose help is making the festival possible. For 'Die Nacht war kurz (ich steh früh auf)', Thees dropped his leather jacket. I wondered why he even brought that thing.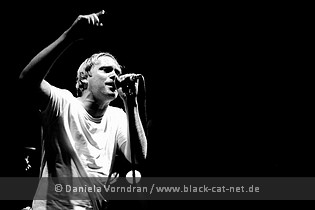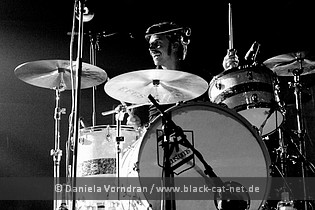 It was way too hot in the tent anyway. Afterwards he grabbed the harmonica to play a lovely melody to that song. The next track 'Hier komm ich her, hier bin ich geboren' was time travelling back to the past, particularly to Thees' youth. Indeed a wonderful song about pats memories that won't ever fade away. 'Vom Delta bis zur Quelle' was a song to participate with loud clapping and singing if you knew the lyrics which apparently some of those here did. For me it was already time to leave for the main stage where NOFS would soon start their show.

Setlist
01. Die Toten auf dem Rücksitz
02. Das Mädchen von Kasse 2
03. Die Nacht war kurz (ich steh früh auf)
04. Hier komm ich her, hier bin ich geboren
05. Vom Delta bis zur Quelle
06. Sommer in der Stadt
07. New York
08. Zum Laichen und Sterben ziehen die Lachse den Fluss hinauf
09. 17 Worte
10. Römer am Ende Roms
11. Und Jay-Z singt uns ein Lied

Rating
Music: 8
Performance: 8
Sound: 8
Light: 7
Total: 7.8 / 10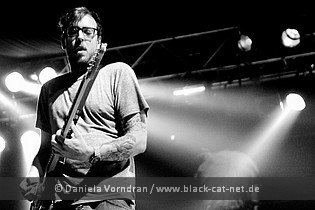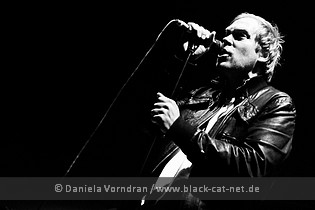 NoFX (Main Stage)

The roots of NOFX date back until 1983 when two punks decided to found a band. The name of the band was reminiscence to another punk band - NEGATIVE FX - and can stand for "No Effects" on one hand side and also for "NO Fucking straightXedge" on the other side. The first released hit the streets back in 1985. With 'White Trash, Two Heebs And A Bean' the band hat its breakthrough in 1992. Late 90s and the years until today are marked by political paroles especially against the US government. The latest album is called 'Coasters'. NOFX are Fat Mike (vocals, bass), El Hefe (guitar, vocals), Eric Melvin (guitar) and "Mel Yell" Erik Sandin (drums). http://www.nofxofficialwebsite.com/ / http://www.nofx.de/ / http://www.myspace.com/nofx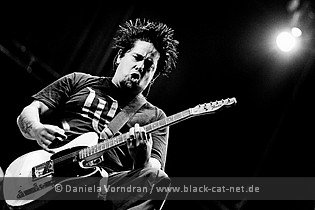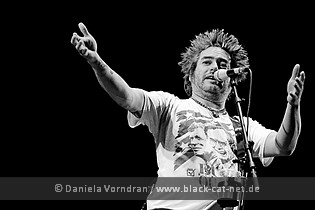 Music & Performance
The next punk band of the evening and one of the most popular it seemed, considering the amount of people in wait for the show to start, which soon happened with 'Dinosaurs Will Die' that gave a straight start to the band's performance, celebrated by their fans. 'Arming The Proletariat With Potato Guns' deviated from that straight style a little bit in incorporating ska elements, particularly wind instruments into their sound. Also, the song 'Radio' had a few of those elements in stock. But the horrible thing about the show wasn't the music, it was the humour. It might be not such a bad idea including humorous intermezzi in a performance, but at least they could be above child level. In along run those jokes really started to become unnerving. 'Don't Call Me White' brought forth another new element in the NOFX sound: A hint of Reggae in the groove section. The band wrapped the whole thing up with the anthemic ' Kill All The White Man'. If it weren't for the bad jokes that could've been a flawless performance.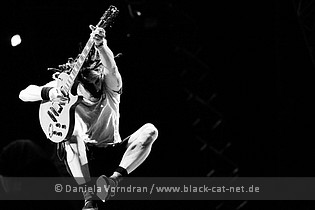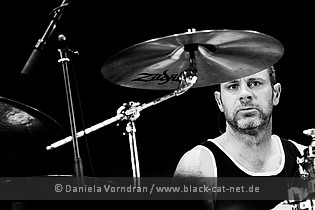 Setlist
01. Dinosaurs Will Die
02. Stickin' in My Eye
03. Leave It Alone
04. I'm Telling Tim
05. We Called It America
06. Mattersville
07. Eat the Meek
08. Herojuana
09. Murder the Government
10. Champs Elysées
11. Creeping Out Sara
12. Seeing Double at the Triple Rock
13. Arming the Proletariat With Potato Guns
14. Bob
15. The Malachi Crunch
16. Radio (Rancid cover)
17. The Separation of Church and Skate
18. There's No Fun in Fundamentalism
19. Don't Call Me White
20. Reeko
21. Leaving Jesusland
22. Fuck the Kids
23. Linoleum
24. Kill All The White Man

Rating
Music: 7
Performance: 6
Sound: 7
Light: - (daylight)
Total: 6.7 / 10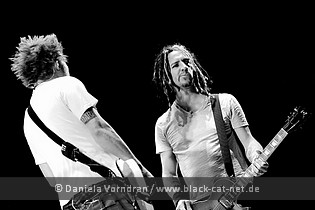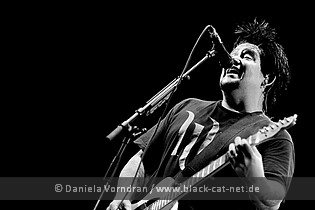 Blood Red Shoes (Tent)

Since its inception in 2005, the BLOOD RED SHOES have released 8 singles and played 300 live gigs, including shows at NME New Music Tour 2007 or at the Electric Gardens festival. According to vocalist and guitar player Laura-Mary Carter, the band's name was taken from a Ginger Rogers / Fred Astaire musical, in which Ginger Rogers had turned a pair of white dancing shoes red with blood because she had been practising dancing so much in them. 'Box of Secrets', the band's debut, saw the light of day in April 2008, hitting the UK Album Chart on position 47. 'Fire Like This' followed it up in 2010. BLOOD RED SHOES are Steven Ansell (vocals and drums) and Laura-Mary Carter (vocals and guitar). http://www.bloodredshoes.co.uk/ / http://www.myspace.com/bloodredshoes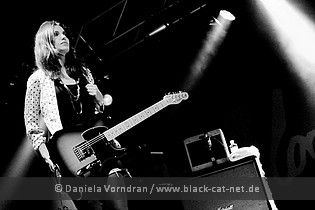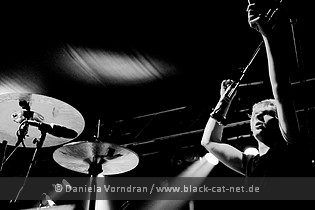 Music & Performance
When I first saw the duo live I was initially wondering how those two figures could unleash enough power for an alternative band. I guess I was not the only one back then. A short welcome and then the show already started with 'Keeping It Close' and 'It's Getting Boring By The Sea', two energy packed little songs that showcased what the two are capable of. I'm still amazed by how Steven Ansell handles drumming and vocal duties at the same time. 'Light It Up' started up real slow to kick it up a few notches in the following. 'Heartsink' was fired straight into the audience, carried by the captivating vocal duel of the two band members. The second captivating thing about it was the rhythm that made the people dance like crazy. 'Say Something, Say Anything' was up next and it's got a really diversified build with varying tempo, different time signatures and stuff that made you just love it. At this point it was time for me to go already to see this evening's headliner on Main Stage and so did many others.

Setlist
01. Keeping It Close
02. It's Getting Boring By The Sea
03. Light It Up
04. Heartsink
05. Say Something, Say Anything
06. It Is Happening Again
07. This Is Not For You
08. You Bring Me Down
09. Count Me Out
10. Doesn't Matter Much
11. I Wish I Was Someone Better
12. Don't Ask
13. Colours Fade

Rating
Music: 8
Performance: 9
Sound: 7
Light: 7
Total: 8 / 10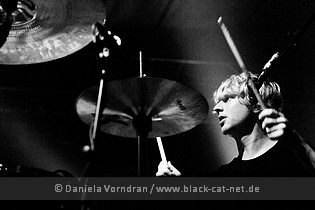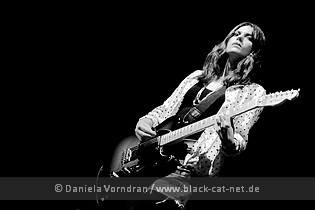 Dropkick Murphys (Main Stage)

The first DROPKICK MURPHYS album 'Do Or Die' followed up a large series of small releases in 1998 after the release of which the original lead singer left the band to become a fireman. The release of the second album was followed up by the departure of another member with guitarist Rick Barton. Overall, the band had a great number of line-up changes throughout the years, none of which would be changing the core spirit of the Murphy's that can still be felt in their music. In the meantime their catalogue encompasses nothing less than 9 albums, the latest one being 'Going Out In Style', released in this year's March. DROPKICK MURPHYS is Al Barr, Tim Brennan, Ken Casey, Jeff DaRosa, Matt Kelly, James Lynch and Scruffy Wallace. http://www.dropkickmurphys.com/ / http://www.facebook.com/DropkickMurphys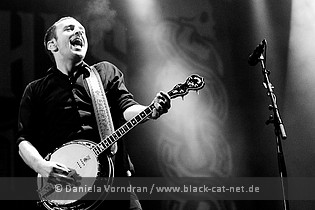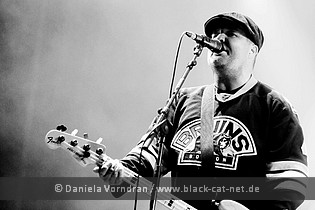 Music & Performance
The DROPKICK MURPHYS were eagerly awaited already as the huge crowd at the main stage suggested and it took longer than planned to get a decent place to watch the show properly. They didn't even have to say anything when entering the stage the people were already theirs with the first notes of the opener sounding from the stage. Carried on a galloping rhythm the band put up some highly energetic first minute. A similar rhythm was put under the second track 'The Fighting 69th' with the crowds reaction reaching a new peak as far as that could be seen in the dark. The 'Sunday Hardcore Matinee' eventually let even the last hesitations fall. Also green haired NOFX fronter entered the stage to party with the MURPHYS. Singer Al did not only impress with his smoky voice but also with his fantastic German. The mix of Punk, Irish Folk, Rock and Harcore Punk took care for a very good mood and along with 'Cruel' lots of waving arms could be seen. Of course, 'The Irish Power' could not be missed with its Tin Whistle and an accordion.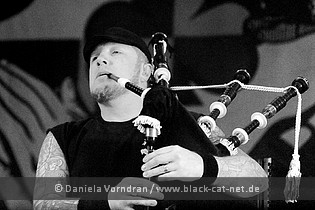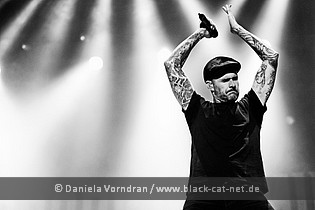 'I'm Shipping Up to Boston' should be known from the Martin Scorsese movie 'Departed'. Again, NOFX' Fat Mike entered the stage for the AC/DC cover 'TNT'. Frank Sinatra's 'I Did It My Way' ended the main set, followed by 'Kiss Me, I'm Shitfaced' and 'Boys on the Docks' for the final.

Setlist
01. Hang 'Em High
02. The Fighting 69th
03. Sunday Hardcore Matinee
04. The Gang's All Here
05. Time to Go
06. The State of Massachusetts
07. The Hardest Mile
08. Deeds Not Words
09. Take 'Em Down
10. Going Out In Style
11. Curse of a Fallen Soul
12. Bastards on Parade
13. Get Up
14. The Spicy McHaggis Jig
15. Cruel
16. The Irish Rover
17. Peg O' My Heart
18. Blood and Whiskey
19. Black Velvet Band
20. Broken Hymns
21. Barroom Hero
22. I'm Shipping Up to Boston
23. TNT (AC/DC cover)
24. I Did It My Way (Frank Sinatra cover)
---
25. Kiss Me, I'm Shitfaced
26. Boys on the Docks

Rating
Music:7
Performance: 7
Sound: 7
Light: 8
Total: 7.2 / 10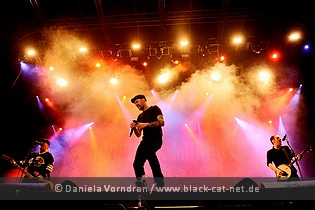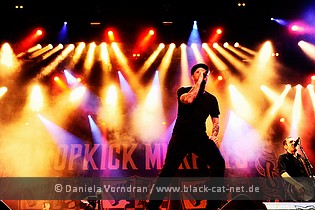 So, another long day found a great end… at least for us. Others decided do celebrate, either on the camp ground or in the party tent.

All pictures by Daniela Vorndran (http://www.vorndranphotography.com / http://www.black-cat-net.de/ / www.myspace.com/vorndranphotography / www.facebook.com/blackcatnet)

Written by Sebastian Huhn & Ulrike Meyer-Potthoff



See also (all categories):