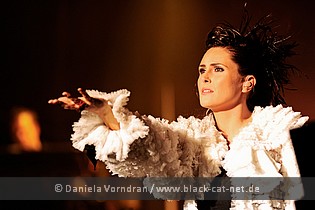 Airfield Drispenstedt, Hildesheim, Germany
13th - 14th August 2011
M'era Luna Festival 2011 Day 1 Main Stage: Within Temptation, ASP, Apocalyptica, Blutengel, Equilibrium, Mesh, Leaves Eyes, Qntal, Omnia, Ostfront, Winterspring

High summer for a certain part of the population has a different meaning, for this is the month when an airfield in Hildesheim, Germany was the scenery for the next incarnation of the renowned M'era Luna festival. In 2011 the tradition continued and oddly dressed dark people from almost every corner of Europe and beyond got packed and travelled long distances when the mentioned airfield was kind of rebuild to become the festival's home for two days. In fact, this year it were three days with the Friday evening presenting not only a party at the hanger to warm up but also readings of three famous writers, namely Markus Heitz, Christoph Hagebusch and Christian von Aster.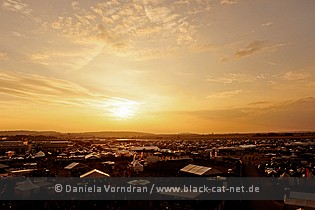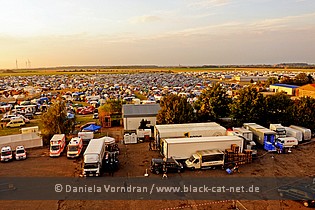 Within the following two days a spectacle second to none is happening, presenting live bands of a wide range of genres, from electronic to rock, medieval to pop and everything else that puts a smile of delight on the alternative people's hearts and faces. The Saturday at the main stage presented -except synth pop band MESH - mostly bands of the harder, guitar driven genres. We got WITHIN TEMPTATION, surely one of the performances people were looking forward to, including material from their recently released new album, ASP with a lot of pyrotechnics, Finnish cello metal heads of APOCALYPTICA and several more starting off with newcomer contest winners WINTERSPRING. That of course can be just a little breakdown of the festival's diversified program that apart from the musical has a shopping mile to offer or a fashion show and after-show parties every night.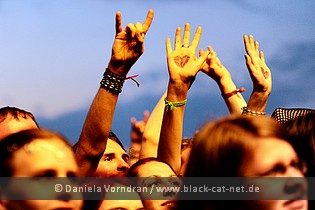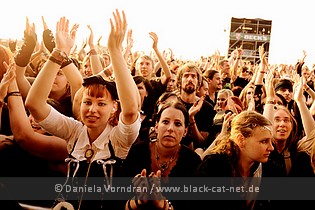 Winterspring (Daniela Vorndran)

Started as solo project of front man Rain Dusky in 2006, a full band developed in 2008 already playing several concerts. After several difficulties and a band split, WINTERSPRING returned and won the M'era Luna newcomer contest offering them the possibility to open this year's festival. WINTERSPRING is Rain Dusky (vocals / guitar), Dee Kay (guitar), Hanjo (drums) and Ric (background producer). http://www.myspace.com/mywinterspring / https://www.facebook.com/Winterspring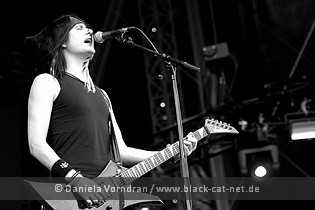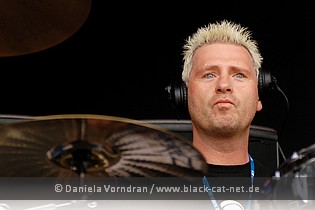 Music & Performance
The winner of the newcomer contest was opening the festival on Saturday noon. Due to the early hour – it was just 11:00 – only a few people gathered in front of the main stage. First, the guys from Magdeburg / Germany had an extended sound check and already at this time one thing was obvious: they were playing playback! Not the best reference for a young band. But maybe they just did not want to make any mistakes? When the show finally started, the guys were visibly nervous. It didn't help to calm down that the spark did not catch the audience. There were no real highlights in the music and no substance in Rain's voice. So, they earned just some polite applause and left the stage after presenting just four songs.

Setlist
01. Harm
02. Catch me
03. Revive me
04. I Fall

Rating
Music: 5
Performance: 4
Sound: 6
Light: - (daylight)
Total: 5 / 10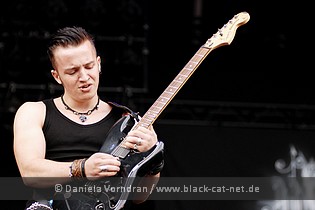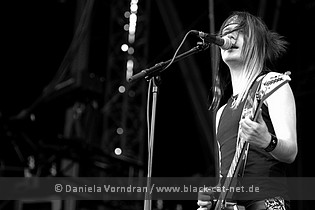 Ostfront (Ben Blaschke & Daniela Vorndran)

OSTFRONT is a new project of Patrick "Ostfront" Lange from SCHELMISH (guitar / background vocals) and AGONOIZE front man Chris L. (vocals), brought to life in 2009. According to the band, their music sounds like "Rob Zombie with an overdose of Sauerkraut", obviously meaning with Sauerkraut that there is a heavy "Neue Deutsche Härte" impact making all fans of bands such as RAMMSTEIN or EISBRECHER happy. The debut album is nearly ready and waiting for release. http://www.myspace.com/okusaberlin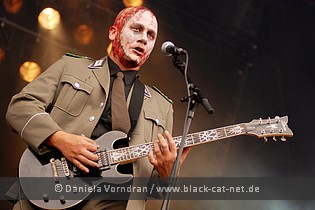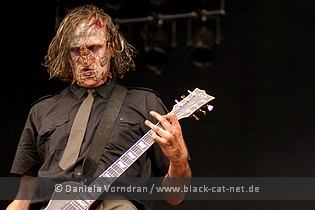 Music & Performance
After WINTERSPRING were opening the festival with some rockier tunes, we were moving now towards a harder musical style, when OSTFRONT entered the main stage as second band. Just with their martial outfit the band made it plain that they were here not for fun! The outfit was a mix of world war uniforms with blood and dirt and several different metallic constrictions in the band's faces whose function was quite unclear. Scratchy guitars, hammering basses and catchy melodies marked the sound of the band. Edgy voice of Chris L. was just completing the musical complete works. In times, there was a slight similarity to RAMMSTEIN obvious, but this was not a simply copying just a reference to this famous band. OSTFRONT was a coherent composition of music, style, outfit and stage performance; it was direct, provoking and merciless! Neue Deutsche Härte was coming like a stom over the audience. Really a successful appearance being awarded with storming applause.

Setlist
01. 911
02. Fleisch
03. Heimat Erde
04. Heimkind
05. Gang Bang
06. Ich liebe es

Rating
Music: 7
Performance: 8
Sound: 7
Light: - (daylight)
Total: 7.4 / 10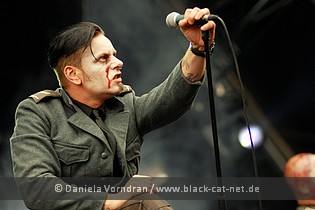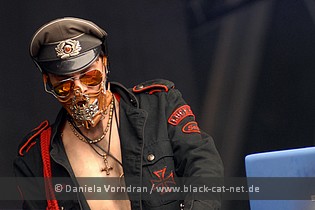 Omnia (Ben Blaschke & Daniela Vorndran)

Based in the Netherlands, OMNIA describes its style as neoceltic pagan folk so the band members play different kinds of instruments typical for folk and sing in English, Welsh, Breton, Latin, Hindi and some other languages. OMNIA is Steve 'Sic' Evans-van der Harten (vocals, various instruments), Jennifer Evans-van der Harten (vocals, neo Celtic harp, hurdy-gurdy, piano, bodhran, sansula), Maral DesertFlower (vocals, various instruments), Philip Steenbergen (guitar) and Daphyd 'Crow of War' Sens (Carbon-Fibre triple slide-didgeridoo). http://www.worldofomnia.com / https://www.facebook.com/worldofomnia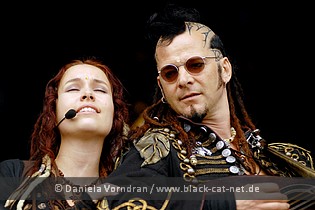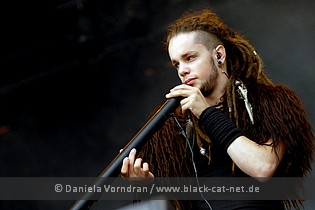 Music & Performance
After the hard sounds of OSTFRONT, now calmer sounds were on the schedule with the artist couple Jenny and Steve Evans-van-der-Harten, alias OMNIA. With their bewitching mixture of Pagan and Celtic Folk combined with modern elements of Rock or Rap, OMNIA is know for their deep spirituality and their connection to nature. All this was shown in lyrics and songs. Also, the clothing style combining leather and other materials with playful accessories and mystic tattoos, gives the impression of very authentic and honest music. The show started with 'Alive!' out off the latest album 'Wolf Love'. Lyrics and music were dark and melancholic, the audience was waving to the sounds. There was a lot of applause during the set and Steve included the audience totally into the show. A new album, 'Musick & Poëtree'. Will be released in September and with the second song, 'I don't speak human', we already got a glimpse of it telling a story of the non-working dialogue between human and animal. This new piece was harmonious into the very detail and was plucking the audience's heartstrings. During their show, OMNIA touched all possible emotional facets.

Setlist
01. Alive!
02. I don't speak human (from new album)
03. Toys in the Attic
04. Auta Luonto
05. Slidgeridoo-Solo Daphyd
06. Wytches' Brew
07. Saltatio
08. Dance until we die
09. Etrezomp-ni Kelted

Rating
Music: 7
Performance: 8
Sound: 7
Light: - (daylight)
Total: 7.4 / 10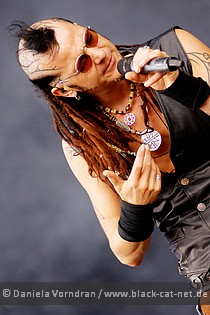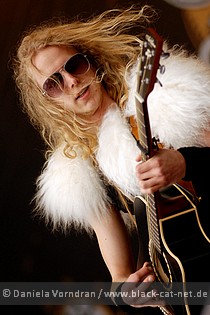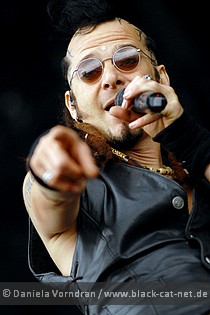 Qntal (Yvonne Schöneck, Lisa Young-In & Daniela Vorndran)

The initial line-up of QNTAL, formed in 1991, comprised Ernst Horn & Michael Popp who still was working as a live musician with Horn's main project DEINE LAKAIEN back then and is a founding member of ESTAMPIE. Just like Sigrid "Syrah" Hausen, later complementing QNTAL with her vocal abilities. Impressed and inspired by the strictly positive reception from the press to the debut 'Qntal I' (1992), the project continued its work with the result being 'Qntal II', that was released in 1995 and supported by a tour as support of DEINE LAKAIEN. In 1999, Ernst Horn and Michael Popp fell out with each other which led to Popp's departure from DEINE LAKAIEN and Horn leaving QNTAL. With Philipp Groth handling the keys from there on, they recorded and released 'Qntal 3 - Tristan und Isolde' in 2003. Meanwhile, the QNTAL saga has reached its sixth chapter with 'Translucida' being released in February 2008. With 'Purpurea', the band offers a Best-Of collection since October of the same year. QNTAL is Michael Popp (medieval instruments, composition), Sigrid "Syrah" Hausen (vocals), Philip Groth (keys), Mariko (live violin, backing vocals) Markus Köstner (live drums). http://www.qntal.de / http://www.myspace.com/qntal / https://www.facebook.com/qntalmusic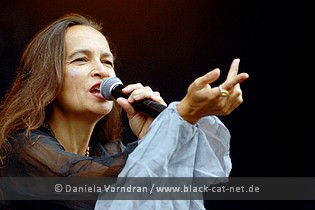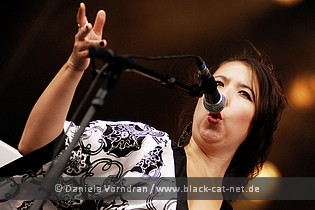 Music & Performance
Mystic and melancholic sounds were accompanying the audience also with the now following show of QNTAL. The well balanced mix of modern synth and medieval sounds found a lot of fans within the audience gathering in front of stage. Even though the partly very high notes of Mezzo-soprano Syrah were nothing for anyone's ears, QNTAL once more excited their fans and were taking them away into another, mystical dimension. People were dancing, chanting and of course clapping along. The mood within the audience as well as the band seemed to be great. Syrah mentioned, that QNTAL is usually a band where not much clapping can be noted, the more she was excited about the extensive applause. Even though there were lots of fans, other were not so excited by the performance. Others thought that the music sounded all but fully matured in their ears, and the frequently thrown in electronic and ambient influences might have had the effect to transform the song into more modern times but it just didn't really fit to the voice of singer Syrah.

Setlist
01. Palestinalied
02. Glacies
03. Entre Moi
04. Flamma
05. Ecce Gratum
05. Veni
06. Ad Mortem festinamus

Rating
Music: 7
Performance: 6
Sound: 7
Light: - (daylight)
Total: 6.7 / 10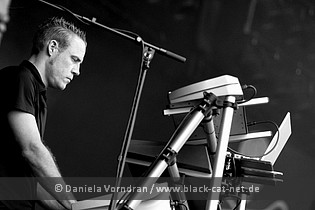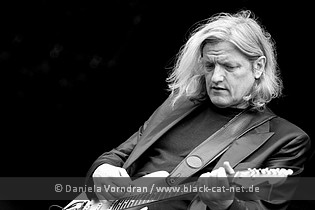 Leaves' Eyes (Ben Blaschke & Daniela Vorndran)

After her split with THEATRE OF TRAGEDY, Norwegian vocalist Liv Kristine formed her new band LEAVES' EYES together with member of ATROCITY and her husband Alexander Krull. To date, the band has released several studio albums, singles, EPs, and one live album and DVD. The latest album 'Meredead' was released in April 2011 in three different editions. Before LEAVES' EYES will go on headliner tour in autumn, the band opens up for TARJA right now in spring 2011. The current band line-up consists of Liv Kristine (vocals), Alexander Krull (vocals), Thorsten Bauer (guitars, bass), Sander van der Meer (guitars) and Roland Navratil (drums). http://www.leaveseyes.de / http://www.myspace.com/leaveseyespage / http://www.facebook.com/leaveseyesofficial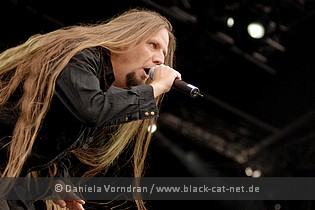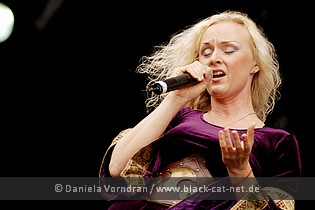 Music & Performance
After the gentle sounds of the previous band, the sound of the main stage was now turning again harder and louder. German-Norwegian Symphonic Metal band LEAVES' EYES are nowadays an inherent part of dark festivals. The mix of Liv Kristine's light, full voice and the dark, smoky shouts of her husband Alexander Krull create a fascinating contrast. Like it is used to for real metal heads, a lot of posing happened on stage. Krull was waving his long hair in his usual manner. Liv attracted in her velvet dress and pretty corsage. LEAVES' EYES opened their set with 'Veritas' followed by 'Velvet Heart'. For third song 'Take the Devil', Alexander Krull was storming the stage spicing up the song with his shouts. On of the bands biggest classics, 'My Destiny', should not be missed either. Also, the MAGGIE REILLY & MIKE OLDFIELD cover 'To France' was a big success being sung loudly by the audience. Successful show from the beginning to the end!

Setlist
01. Veritas
02. Velvet Heart
03. Take The Devil
04. My Destiny
05. Krakevisa
06. Melusine
07. To France
08. Froya's Theme
09. Mot Fjerne Land (Outro)

Rating
Music: 8
Performance: 8
Sound: 7
Light: - (daylight)
Total: 7.8 / 10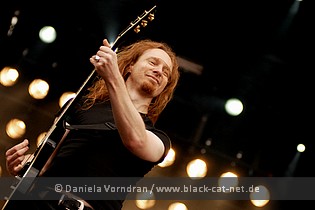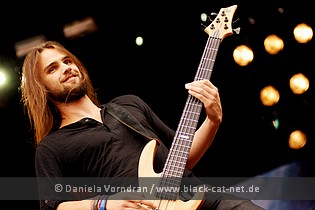 Mesh (Lisa Young-In)

Today their musical direction is referred to as Industrial Rock, but the roots MESH can be clearly targeted in the 80s Synth Pop, influenced by bands like DEPECHE MODE and the like, Neil Taylor, Rich Silverthorn und Mark Hockings formed MESH in 1992 after meeting each other at a concert and a brief conversation afterwards. Their debut, the 'Fragile EP' was self-released under the moniker of their own label Tolerance Records but re-issued in Europe early in 1996 on Memento Materia with some additional tracks. From there on you could almost see the popularity of the sympathetic British guys grow. If they played in small clubs at the beginning they could now fill bigger and bigger venues. Also the sound has very much developed through the years and those almost mandatory DEPECHE MODE comparisons are relics from the past by now. Their newest album 'A Perfect Solution' gives way more prominence to the guitar and incorporates an overall organic and much rawer sound. MESH is Mark Hockings (vocals, guitar), Richard Silverthorn (guitar, keyboard, backing vocals), Sean Suleman (live drums) and Geoff Pinckney (keyboards, backing vocals). http://www.mesh.co.uk/ / http://www.myspace.com/mesh_a_perfect_solution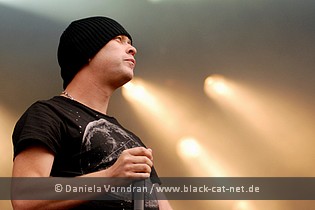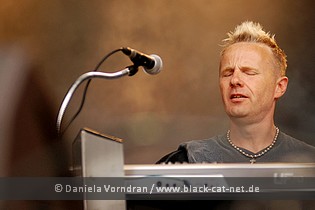 Music & Performance
As I had been watching JULIEN-K in the hangar stage, I unfortunately missed out on the major part of MESH's set. This was a real pity because I also really like that band and would have loved to finally see a full set by them - especially since I thought they would play several songs from the hit album 'A Perfect Solution' that is still on heavy rotation in my music player. When I hurried to the main stage, they were already performing 'You'll Never Understand' with guest singer Vic Anselmo. I really liked that song, and I liked the next song they did together even more because 'Who Says' is also one of my favourite songs off 'A Perfect Solution'. Unfortunately, it was the second to last song, and an extended version from 'Friends Like These' then closed a set that I'm sure must have been great. I especially would have loved to see 'Only Better' and 'Hold It Together'. And there was a small consolation: They didn't play my overall favourite song 'Is It So Hard?', so I did not miss out on this uber-hit and will get a new chance to hear it next time, which will hopefully see me catch their full performance and where they will also hopefully play a longer set.

Setlist
01. Hold It Together
02. Crash
03. Leave You Nothing
04. Only Better
05. Everything I Made
06. You'll Never Understand (with Vic Anselmo)
07. Who Says (with Vic Anselmo)
08. Friends Like These (extended)

Rating
Music: 8
Performance: 7
Sound: 8
Light: - (daylight)
Total: 7.7 / 10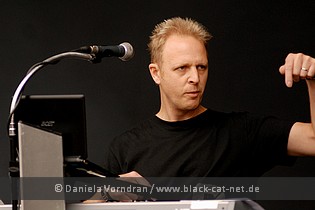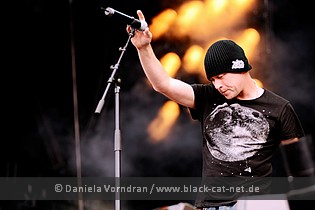 Equilibrium (Lisa Young-In)

German Epic Metal band EQUILIBRIUM played its very first gig in 2001, the first CD 'Demo 2003' was released, you guess right, in 2003. Intentionally planned as plain demo, it was considered to be full-length album by many in the scene. In Fall 2006, the band signed a record deal with Nuclear Blast releasing their second real album, 'Sagas', in 2008 and entering even German charts with it. In winter 2010 the new album 'Rekreatur' was recorded together with new vocalist Robse. EQUILIBRIUM is Robert "Robse" Dahn (vocals), René Berthiaume (guitar, keyboards), Andreas Völkl (guitar), Sandra Völkl (bass guitar) and Tuval "Hati" Refaeli (drums). http://www.equilibrium-metal.net / https://www.facebook.com/equilibrium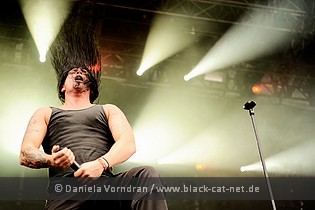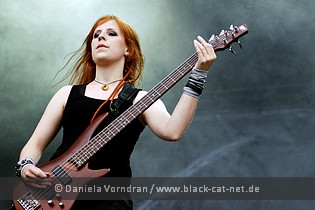 Music & Performance
Open the curtain for what might be the most uncommon band in today's line-up at the main stage: EQUILIBRIUM! Just like some of the previous bands playing that day, they have also included a lot of folk and pagan elements into their music, but in contrast to the other bands they have a real metal background and this can strongly be heard in the CDs that they have released until now. Their set is a typical metal set - energetic, dynamic, powerful, but also with melodies that motivate to move your body and that even led several of the gothic fans to move along. Robse's screaming vocals sounded as evil as usual and the other musicians also gave their best onstage. Songs like 'Blut im Auge', 'Wingthors Hammer', 'Der ewige Sieg' and especially the classic 'Met' made the band win over the audience and also proved that they can also be received well being the "absolute exotic band" on this day.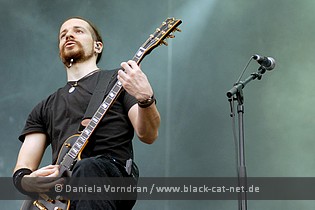 Speaking for myself, I must say that I've been over all that pagan / Viking / folk metal genre for some while, but of course I still knew most of the tracks in the set and I still think that this band is good if you want to just rock out and party and don't really want to deal with lyrics or any other deep things.

Setlist
01. In heiligen Hallen
02. Blut im Auge
03. Der ewige Sieg
04. Heimwärts
05. Verbrannte Erde
06. Met
07. Wingthors Hammer
08. Fahrtwind
09. Unbesiegt

Rating
Music: 6
Performance: 7
Sound: 7
Light: - (daylight)
Total: 6.7 / 10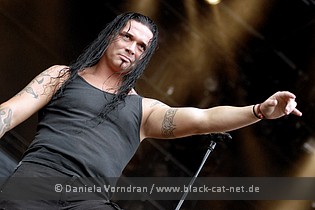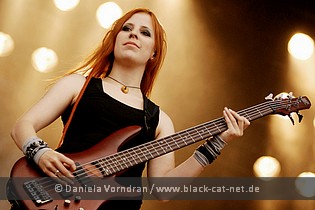 Blutengel (Lisa Young-In)

BLUTENGEL arose in 1998 from SEELENKRANK, the former band of initiator Chris Pohl who released with 'Child of Glass' its first album in 1999 and with that album began a matchless career in the Goth scene and beyond as with the kind of music BLUTENGEL creates the project had some considerable successes in the regular German album charts. BLUTENGEL released album after album and meanwhile have reached an ionic status in the scene. BLUTENGEL is Chris Pohl (songwriting, lyrics, vocals), Ulrike Goldmann (lyrics, vocals), Anja "Ayami" Milow (vocals, live concept), Jenny (performance, live concept) and Maria (performance, live concept). http://www.blutengel.de/ / www.myspace.com/officialblutengel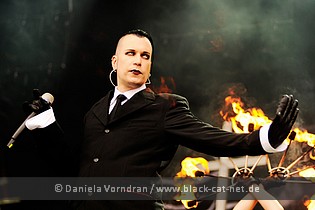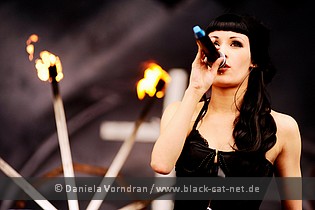 Music & Performance
BLUTENGEL... Uh, okay... While this band has obviously a more than presentable amount of fans coming from all corners from Germany just to see their shows, I had never really been able to deal with them - and now, after having watched the show, I can in fact say that I didn't miss out on anything. During the set of this popular project of the gothic scene's household name Chris Pohl, I often had the feeling that the band had put a lot of focus on certain entertaining show elements - maybe even more than on their music, because - I have to state it as it is - the songs they played simply equalled boredom for me. They were almost always composed in the same tempo, Chris' monotonous, harsh voice reminded of a lot of other vocalists from typical German Goth bands (which doesn't really make him stand out in any way) and the atmosphere and lyrics of the songs were just really gloomy and depressing and even caused my mood to really go down at some point, amplified by the rain that started pouring again.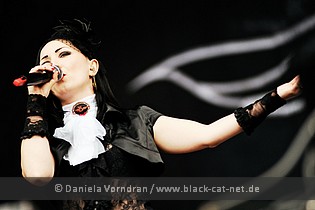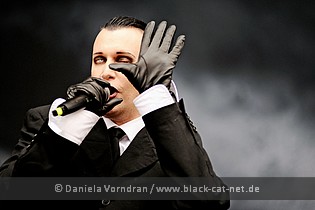 Yes, I had been a big fan of gothic (metal) bands when I was younger; but this was once again one of these moments where I just realized that I'd been drifting away from this kind of music in the last few years - and the German lyrics and the quickly replaceable voice of Chris Pohl made it even worse. I know that some people might want to kill me now for stating that but it just didn't struck me at all. However, the show elements such as some nice pyrotechnics and dancing girls in white dresses that were quivering like some sort of canvases were nice to look at and made the performance at least a bit more bearable. What must also be noted, though, is the fact that Pohl's announcements onstage belong to the most embarrassing ones that I've ever heard. This guy just celebrates his and his music and stage all the time and even demanded the audience to scream for an encore by himself, which I think is a complete no-go.

Rating
Music: 2
Performance: 6
Sound: 7
Light: 7
Total: 4.7 / 10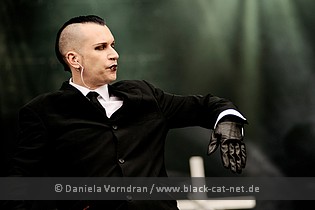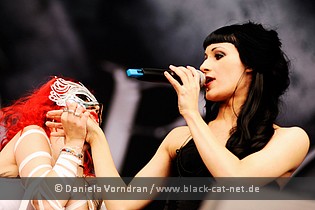 Apocalyptica (Lisa Young-In)

The four classically-trained cellists have rose to a major force in today's popular music. They attempted to fuse together the seemingly disparate worlds of classical music & hard rock and they were lucky. They created a style, blasting out every genre borders and which is commonly referred to as Cello Rock. The 1996 release of the debut 'Apocalyptica plays Metallica by four cellos' made a quick rise in the scene and the band became well-known over night so to speak. Some years - and also some line-up changes - later that band has toured half the world, received several major music awards, worked together with artists such as German "punk godmother" Nina Hagen or Corey Taylor (SLIPKNOT) on the prior single to their album 'Worlds Collide', released in September 2007. APOCALYPTICA's seventh full-length release is titled '7th Symphony' and has been put out in August. APOCALYPTICA is Eicca Toppinen (cello), Perttu Kivilaakso (cello), Paavo Lötjönen (cello), guest singer Tipe Johnson (vocals) and Mikko Sirén (drums). http://www.apocalyptica.com / http://www.myspace.com/apocalyptica / https://www.facebook.com/Apocalyptica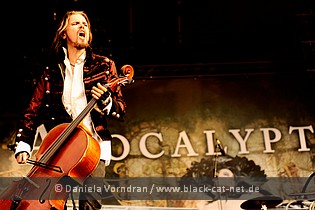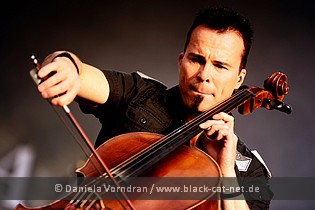 Music & Performance
After the gloomy and not very stirring performance of BLUTENGEL, it was time for the mad Finnish cellists APOCALYPTICA to enter the stage. I had already seen them at Wacken Open Air the week before and didn't really expect them to making changes to the setlist - and I was right. All in all, they played a good mixture of cover songs and own songs and their hasty fiddling even succeeded in making the clouds go away and letting the setting sun take over during the course of the set. The sunshine really contributed to the nice atmosphere of the concert, and as usual the guys delivered a solid, powerful performance, accompanied by the occasional appearances of guest singer Tipe Johnson, who did a good job in taking over the roles of Corey Taylor and Adam Gontier, but of course cannot surpass their outstanding vocal performances in 'I'm Not Jesus' and 'I Don't Care'. Nevertheless, the songs with vocals were the liveliest ones in my opinion (a good front man who really heats up the audience can really make a difference sometimes!), even though the METALLICA covers were also received well and undoubtedly sound good in the typical APOCALYPTICA style.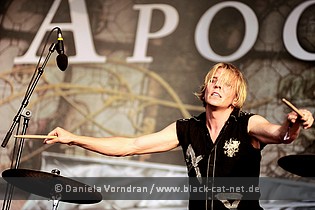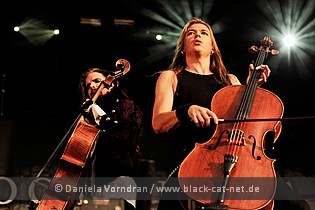 'Inquisition Symphony' also always shows the interesting turns a song may take in its life cycle, as it shifted from a death metal classic by SEPULTURA to an extremely melodic, cello-based piece. The renowned 'Hall Of The Mountain King' then was the final highlight that wrapped things up for good and left behind a cheering audience that had really started to come out of its shell as soon as the sun emerged.

Setlist
01. 2010
02. Master of Puppets (Metallica cover)
03. Grace
04. I'm Not Jesus (with Tipe Johnson)
05. Bring Them to Light (with Tipe Johnson)
06. Nothing Else Matters (Metallica cover)
07. Last Hope
08. Seek & Destroy (Metallica cover)
09. Inquisition Symphony (Sepultura cover)
10. I Don't Care (with Tipe Johnson)
11. Hall of the Mountain King

Rating
Music: 8
Performance: 7
Sound: 7
Light: 6
Total: 7 / 10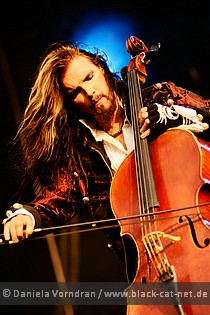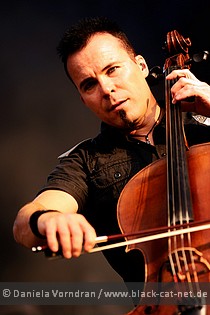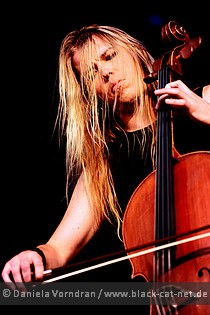 ASP (Ben Blaschke & Daniela Vorndran)

ASP is a rock band from Frankfurt am Main which was founded in 1999 and has their origin in the black scene. The band name is based on the nickname of the singer, Alexander "Asp" Spreng. The band above all was known by the fifth-hasty cycle around the 'Schwarzer Schmetterling'. Their most successful album up to now was the in 2008 published album 'Zaubererbruder - Der Krabat-Liederzyklus' which reached place 13 of the German album charts. In March 2011, a new album which will bear the name 'Fremd' was announced for 21st October 2011. Moreover, the split with guitarist and producer Matthias Ambré was announced. As M'era Luna showed, Lutz Demmler (UMBRA ET IMAGO) was replacing him. ASP is Alexander "Asp" Spreng (vocals), Andreas "Tossi" Gross (bass), Oliver "Himmi" Himmighoffen (drums) and Lutz Demmler (guitar). http://www.aspswelten.de/ / https://www.facebook.com/AspsWelten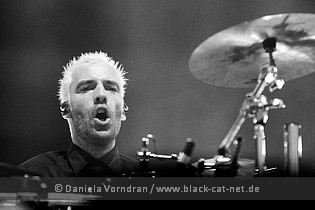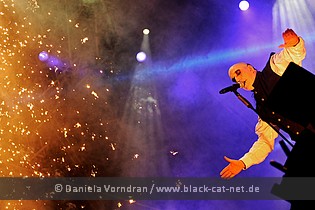 Music & Performance
After it remained silent around ASP for quite a while, they now were meeting their audience at the M'era Luna with a big stage show. People in front of the stage came closer and the mood within the audience was great from the very beginning. Alexander Spreng was also in good mood and so, there were no further obstacles to a big "ASP-Party". Besides a lot of well-known songs, ASP also played one or another new song. This good mixture was supported by a lot of pyrotechnics and lighting effects. When during 'Und wir tanzten (ungeschickte Liebesbriefe)' a rain of snow (consisting of confetti) was going down onto the audience, it was for sure that the ASP would be nearly perfect. Later on, Asp announced that the show now had a premiere in stock and the next song was never played live before and they now would need the support of the audience. Following SISTERS OF MERCY cover 'Temple of love' was taken surprised and excited by the fans. With a setlist of 13 well chosen songs in total, Asp made his audience astonished, dancing, sweating and singing. Absolutely successful show!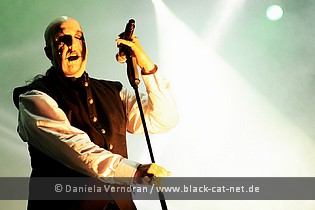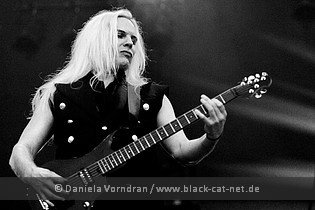 Setlist
01. Sanctuary
02. Schwarzes Blut
03. Kokon
04. Wechselbalg
05. Und wir tanzten (ungeschickte Liebesbriefe)
06. Sing Child
07. Schwarzer Schmetterling
08. Denn ich bin dein Meister
09. Temple Of Love (Sisters of Mercy Cover)
10. Satan
11. Werben
12. Biotopia
13. Ich will brennen

Rating
Music: 8
Performance: 8
Sound: 8
Light: 9
Total: 8.2 / 10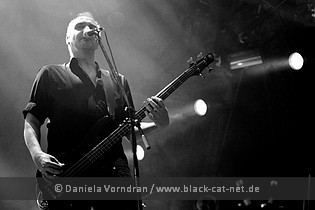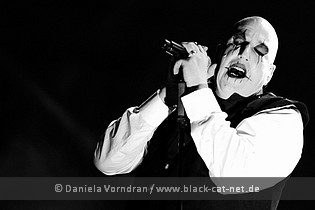 Within Temptation (Lisa Young-In)

WITHIN TEMPTATION is not a band that needs much introduction. The Dutch Symphonic rockers have wowed enough audiences out there already and it can be safely said that they are one of the representative bands of the genre. Founded 1997 in Dutch Utrecht, WITHIN TEMPTATION released the debut album 'Enter' already one year later. With their bombastic Goth Metal, the band immediately conquered the hearts of people all over Europe. This year they're adding 'The Unforgiving' to their achievements, being released in March 2011. A full headliner tour will follow towards the end of the year. WITHIN TEMPTATION is Sharon den Adel (vocals), Robert Westerholt (guitar), Ruud Jolie (guitar), Jeroen Van Veen (bass), Martijn Spierenburg (keyboards) and Mike Coolen (drums). http://www.within-temptation.com/ / https://www.facebook.com/wtofficial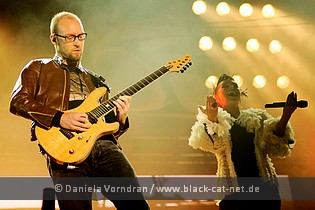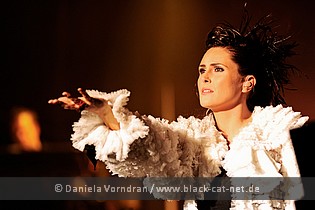 Music & Performance
After ASP had heated up the audience in that quite cold and windy night (also foreshadowing quite uncomfortable things for the next day), it was time for the lucky headliners to close up the first day of an eventful festival: WITHIN TEMPTATION! Actually one of the few bands in that female-fronted sector that I can listen to and where I even like some songs. It surprised me, but as soon as Sharon got on the microphone I immediately felt myself getting lured by her sometimes soft, sometimes powerful high voice. Songs like 'Faster', 'What Have You Done', 'Stand My Ground' (which is my personal favourite) and of course the classics 'Mother Earth' and 'Ice Queen' just sound decent live, and the light show gives everything a more bombastic note that really suits the band. What I also noticed is that the guitars and the instruments in general sound a lot heavier live than on the records, and that is definitely a good thing. Sharon sometimes had some problems with hitting some notes but overall she and her band didn't disappoint and also entertained the audience with a good combination of fragile ballads and thrilling power songs.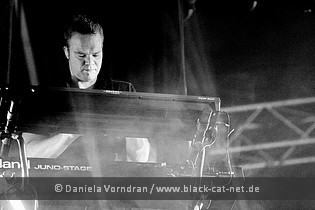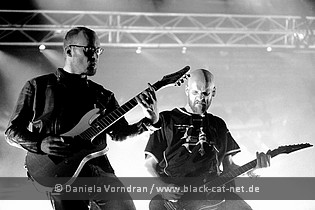 Along with cool pyrotechnics and a nice stage action (Sharon also changed her outfit during the set), they finished up the first festival day in a proper way. The only bitter pill: They didn't play some more favourites of mine such as the new, really catchy song 'Where Is The Edge?', the wonderful 'Memories' or their hit 'Jillian'... oh, and I also missed Keith (or should I say Mina) Caputo during the performance of 'What Have You Done'...

Setlist
01. Our Solemn Hour
02. Faster
03. Angels
04. In The Middle Of The Night
05. Stand My Ground
06. Fire And Ice
07. The Howling
08. What Have You Done
09. Iron
10. Shot In The Dark
11. Sinéad
12. Mother Earth
---
13. Deceiver Of Fools
14. Ice Queen

Rating
Music: 7
Performance: 7
Sound: 7
Light: 8
Total: 7.2 / 10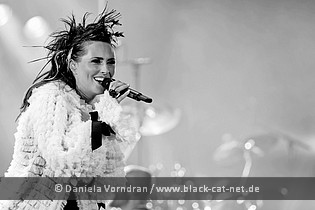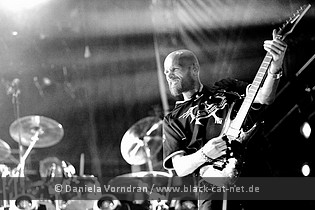 With a great show of the Dutch band, the first festival day ended, at least concert-wise. Lots of people were going on celebrating at the disco hanger, where renowned DJs were spinning records until the early morning hours.

All pictures by Daniela Vorndran (http://www.vorndranphotography.com / http://www.black-cat-net.de/ / www.myspace.com/vorndranphotography / www.facebook.com/blackcatnet)

Written in English by Daniela Vorndran (Intros & Common Parts, Winterspring) & Lisa Young-In (Qntal, Mesh, Equilibrium, Blutengel, Apocalyptica, Within Temptation) and in German by Ben Blaschke (Ostfront, Omnia, Leaves' Eyes, ASP) and Yvonne Schöneck (Qntal). Translations German to English by Daniela Vorndran



See also (all categories):