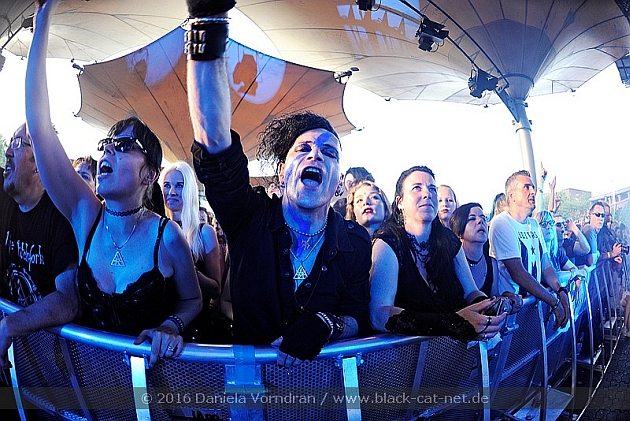 Tanzbrunnen, Cologne, Germany
23rd to 24th July 2016
Amphi Festival 2016 Day 2 with Beyond Obsession, Xotox, Tüsn, Mantus, Unzucht, The Beauty of Gemina, Songwriting Interactive C=64, Solar Fake, Ost+Front, Suicide Commando, The Devil & The Universe, Coppelius, Covenant, L'Âme Immortelle, Project Pitchfork, Moonspell, Editors, Joachim Witt, Spiritual Front

During the first day, heavy rain and thunder storms were forecasted and at the end we only had light rain. On the second festival day, summer welcomed us with hot and dry weather. Luckily, we had the beach back and so you found many people relaxing at the beach and having some drinks there. The line-up in the second day offered of course the well-known bands, but also had some barely known ones in stock.
Beyond Obsession - Main Stage (Janine)

BEYOND OBSESSION were the opener of the second festival day, in persona singer and mastermind Nils Upahl and his companion at the synths André Wylar. Unless 11 o'clock is mostly sleeping or getting-ready-time at festivals, the Tanzbrunnen was filled with interested and warm-hearted people already, awaiting the support act of the recent tours of SOLAR FAKE and CAMOUFLAGE. The men in white boots as their trade mark presented a cross section of their work with songs like 'Pieces Of Machinery', 'Song For The Dead', 'Tokio Underground' and of course the hit 'On My Way', which probably is the best-known one. On top they introduced 'Ghost On Pictures' as a live premiere. If you like harmonic melodies and danceable beats as well as lyrical ballads– BEYOND OBSESSION is the choice-to-make. Fronter Nils was flirting with his audience and he impressed everyone with his warm and clear voice. Wake up, Amphi! This was a very fine beginning of the day. //
http://www.beyondobsession.de
/
https://www.facebook.com/beyondobsessionofficial
// Setlist: 01. Intro / 02. Pieces Of Machinery / 03. Nothing Like That / 04. On My Way / 05. Unwinnable War (R.D.Mix) / 06. Song For The Dead / 07. Never Turn Your Back / 08. Ghost Pictures / 09. Tokio Underground // Rating: 9 / 10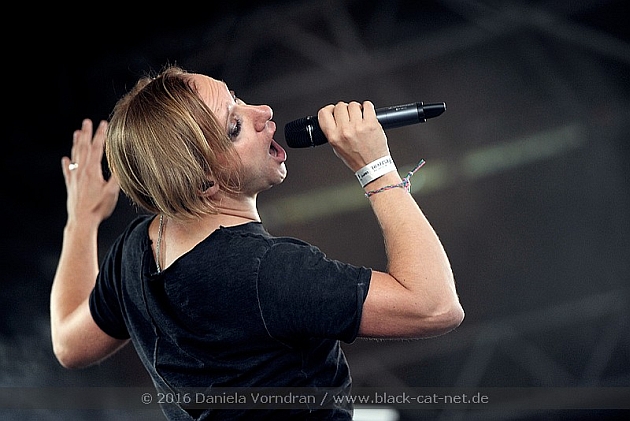 Xotox - Theater (Kira)

XOTOX is one of the first bands which comes into mind, when a person wants to get familiar with industrial music. They manage to keep the best traditions of the genre and stay in trend at the same time. And if you want somebody to destroy your world's visions, on the second day of Amphi Festival XOTOX introduced the best way to do it. The hot sunny Cologne morning was ripped up with cold electronic music in a dark venue with winter scenery in the background. So it took couple of minutes to realize what's going on and if you are still dreaming. The band played at 11:30 am, and guests of the festival appreciated the refreshing effect of this gig. Ice-crushing beats gave the listeners chills just like a morning shower. That was a good start of the day for the survivors of the previous day and after-party on the previous night. XOTOX did the best out of their gig: made people dance and obviously had a lot fun themselves. And there was a reason for it: with this show and the release of their best-of album the band celebrates almost twenty years of their musical hyperactivity. //
http://www.xotox.info
/
https://www.facebook.com/xotoxmusic
// Rating: 8 / 10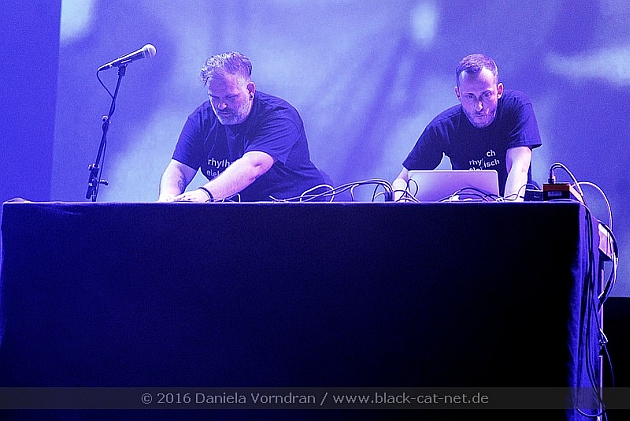 Tüsn - Main Stage (Kira)

TÜSN is a relatively young band, founded back in 2014. This year they released their debut album 'Schuld' which they presented at the festival. It was a lot of fun and pleasure to listen to the newcomers and to the music which differs from the rest of the line-up. TÜSN were pretty pop for the Gothic scene, but not pop enough to be blamed for doing commercial music. Main thing is the musicians have a big potential. Three of them on the stage was more than enough to please and shake up the listeners. Correctly calculated music in sense of satisfying sound plus nice live vocals, and at last but not the least a small theatrical play with minimal sparkling requisite to catch an eye. Very modest and just enough. Hearing live the songs which are already possible to call hits 'In schwarzen Gedanken' and 'Ewig allein' can really inspire to follow the band on social networks and visit their solo concert. //
http://www.tuesn.de
/
https://www.facebook.com/tuesn
// Rating: 10 / 10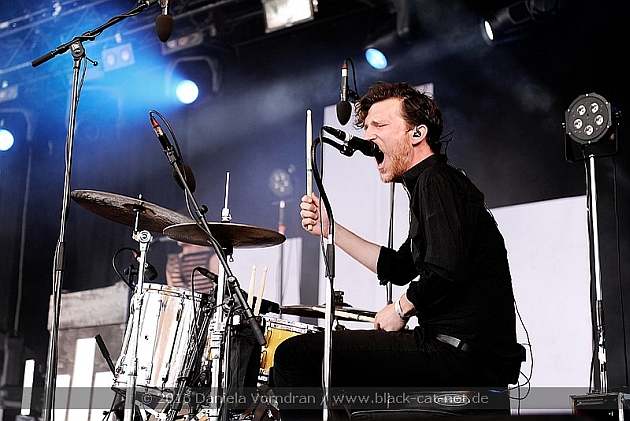 Mantus - Theater (Kira)

MANTUS is another band which is great to see and to listen to, if you're a sentimental Goth. Over the last ten years the band has regularly (even annually) released a new studio album. With the current one named 'Refugium' they entered the Amphi line-up. The atmosphere at the gig was quite calm though. Hypnotized by the dark chamber music the theatre visitors stood still. In spite of a big amount of the material, the band goes rarely on tour and occasionally enters festivals. So, on the one hand, to see MANTUS live equals luck. On the other hand, the only reason I don't want to call the show "boring" is respect to the musicians. work of sound technicians didn't complement the MANTUS gig. While Chiara's vocals were the highlight, Martin's voice was always fading out. MANTUS is rather about lyrics and mood and chairs were really missing this time. //
http://www.mantus.de
/
https://www.facebook.com/mantus.band
// Setlist: 01. Intro: Wir Warten auf den Tod / 02. Zwischen den Nächten / 03. Ein Schatten / 04. Untergang / 05. Hoffnungslos / 06. Still / 07. Traurig bin ich sowieso / 08. Kleiner Engel flügellos / 09. Gemeinsam in den Tod // Rating: 6 / 10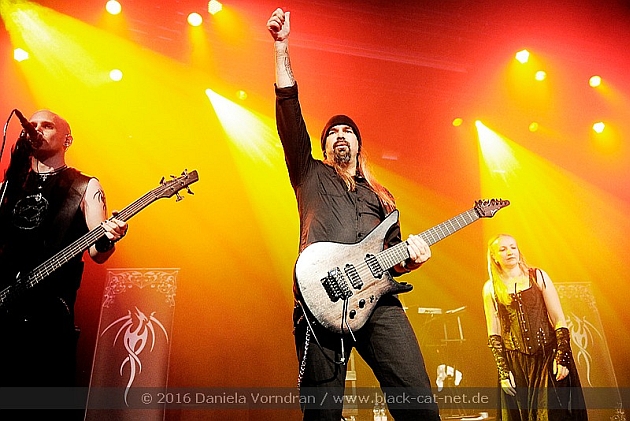 Unzucht - Main Stage (Layla)

A big crowd gathered in front of the Main Stage for it was time for some high-class German Dark Rock by UNZUCHT! Vocalist Daniel "Der Schulz" Schulz with a white cloth covered by bloody red stains hanging down from his mike stand, guitarist and growler Daniel De Clercq, drum-maniac Toby Fuhrmann and bassist Alex Blaschke were greeted with a hurricane of applause. They kicked off the party with the interplay of crushing guitars and wild drums next to calm piano parts of 'Unendlich' from their 'Venus Lucifer' album. After another smasher, 'Todsünde 8', the band presented the calmer 'Seelenblind' with its beautifully melodic chorus from their recent EP titled 'Schweigen / Seelenblind'. And after the familiar tune 'Deine Zeit läuft ab', it got as hard and heavy as it can get thanks to UNZUCHT's new single 'Kettenhund' - what a sledge hammer! Der Schulz seemed genuinely impressed by the crowd's enthusiasm and thanked the UNZUCHT crowd multiple times.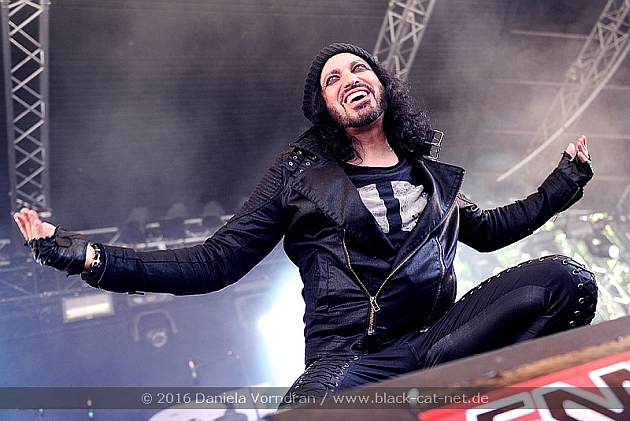 It was a damn hot show and the beanie wearing singer got rid of his black leather jacket. Next to me a father and his young daughter were dancing together the entire show with smiles on their faces. Not just the audience, but also the band had a blast: "We're coming right out of the studio. You don't know how nice it is to be back on stage," the singer told us. We can't wait to hear the results on the upcoming fourth record called 'Neuntöter' in September - but let's get back to the show of this amazing live band: The slower, melancholic piece 'Schweigen' was dedicated to "all those friends who were not with us" - such a wonderful ballad. And of course the classics 'Kleine geile Nonne', 'Nur die Ewigkeit' and 'Unzucht' had to be celebrated as well. Finally, before saying bye and taking a picture with their audience, the Dark Rockers played the killer song 'Engel der Vernichtung' during which Der Schulz did some crowd surfing – a perfect finale of another energetic UNZUCHT show. //
http://www.unzucht-music.com
/
https://www.facebook.com/Unzucht
// Setlist: 01. Unendlich / 02. Todsünde 8 / 03. Seelenblind / 04. Deine Zeit läuft ab / 05. Kettenhund / 06. Schweigen /07. Kleine geile Nonne / 08. Nur die Ewigkeit / 09. Unzucht / 10. Engel der Vernichtung // Rating: 10 / 10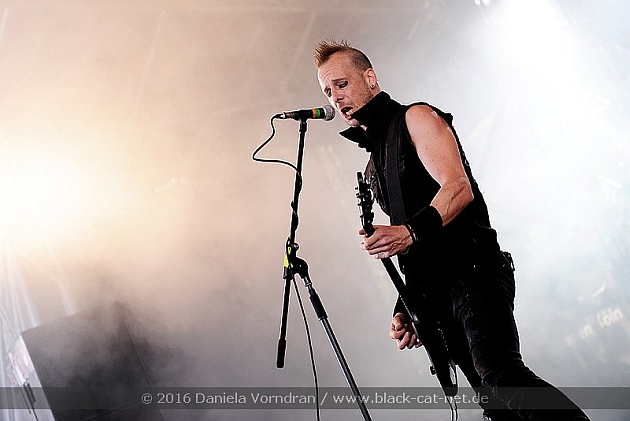 The Beauty of Gemina - Theater (Dani)

After the tour together with DIARY OF DREAMS last year now I was here again to see the Swiss band, releasing a new album very soon. Haunting melodies, urgent arrangements, deep messages, an engaging voice, and clear execution are the hallmarks of Swiss cult band THE BEAUTY OF GEMINA, and its mastermind Michael Sele. Their seventh studio album 'Minor Sun', features thirteen masterful new songs and will be out in September followed by a tour. Michael Sele (words & music, vocals, guitar, keyboards) Mac Vinzens (drums), Andi Zuber (bass) and Simon Ambühl (guitar) presented itself in their usual Rock outfit. Founded in 2006, THE BEAUTY OF GEMINA already caused a stir with their debut album 'Diary of a Lost'. Musically, the band combines elements from Synth and Dark Rock as well as Metal with electronic music, holding also influences from Goth Rock and Dark Wave. The theatre was very well filled when TBOG presented a set of nine songs, starting with 'Run Run Run' and ending with 'Suicide Landscape' and of course including their hit 'The Lonesome Death of a Goth DJ'. With a lot of joy in playing and a friendly attitude, they quickly reached the listeners' hearts. //
http://www.thebeautyofgemina.com
/
https://www.facebook.com/TheBeautyOfGemina
// Setlist: 01. Intro: Run Run Run / 02. All Those Days / 03. This Time / 04. Kings Men Come / 05. Kingdoms of Cancer / 06. Hunters / 07. The Lonesome Death of a Goth DJ / 08. Rumours / 09. Suicide Landscape // Rating: 9 / 10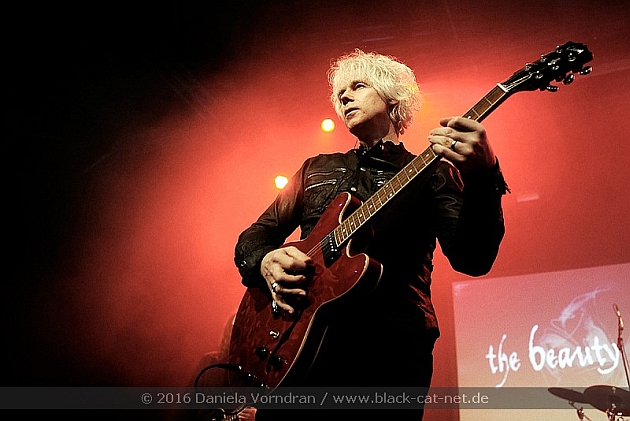 Songwriting Interactive C=64 feat. Honey (Welle:Erdball) - Orbit Stage (Kira)

Honey could be a face of Amphi as he is not only represents the bands on the main stage, but also is an interesting attraction-show himself. Big respect to him for providing such an experiment as "Songwriting Interactive". Who wouldn't like to see such a miracle as creating of the song online? This could be interesting not only to the fans of WELLE:ERDBALL, but for all, who knows that "C=64" is not just some code. The experiment itself was provided the night before, the entry was quite limited and required special tickets. However, the next day much more people were able to make their judgments about the brave new song. The "show" was pretty short, and without degrading the talent of Honey, a song needs more than one night to be done. 'Stirb (mir nicht weg)', such a title has the new track, didn't leave any memorable impression. The real magic surely happens much later after the brainstorm. Hopefully the mature version of 'Stirb (mir nicht weg)' will appear on the next studio album by WELLE:ERDBALL //
http://www.welle-erdball.de
/
https://www.facebook.com/WelleErdball
// Rating: 3 / 10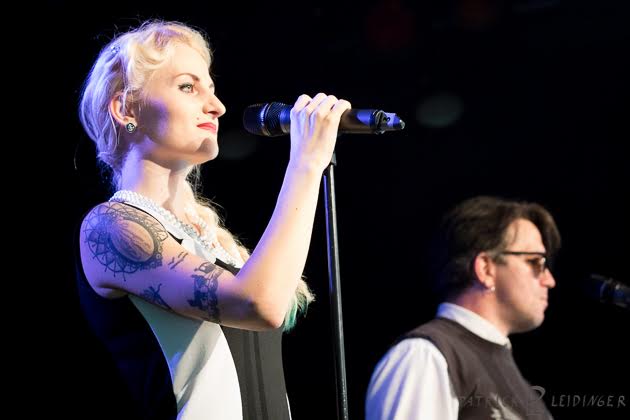 Solar Fake - Main Stage (Layla)

If you are into electro tunes that makes you dance like a maniac and at the same time go straight to the heart you have probably heard of SOLAR FAKE and enjoyed their four records and numerous live shows over the years. To those who have lived under a rock: SOLAR FAKE is the melodic electro project of mastermind and exceptional vocalist Sven Friedrich (DREADFUL SHADOWS, ZERAPHINE) who is accompanied by band mate and keyboardist André Feller (DREADFUL SHADOWS, HERZFEIND). The duo is well known for creating diverse floor filling club hits and melancholic anthems combining Electro, Synth Pop, EBM, Industrial and Wave sounds. To most of the Amphi crowd SOLAR FAKE were of course no news and it was for the first time that day, that the field in front of the Main Stage was already completely jammed with devoted fans waiting for SOLAR FAKE right after the previous band had finished – needless to say that some front row talents had been there even earlier.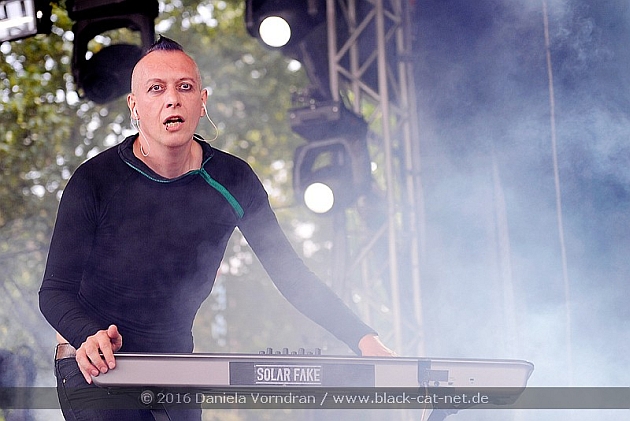 And finally, as usual, André was the first one to jump on stage and he greeted the audience with spread arms. There were cheers and a lot of smiling faces as the first sounds of 'Not What I Wanted' resounded. Soon after, Sven graced the stage holding up a small camera to film the Amphi crowd. More cheers. The "Manic Episodes Tour" presenting their latest masterpiece 'Another Manic Episode' (2015) was not so long ago and both gents did not only appear in perfect shape, but also quite good-humoured on the Amphi stage. André was pushing the keys while dancing frenetically and motivating the audience to make even more noise. Sven was jumping up and down with the crowd, ran around from one stage corner to the other and, at times, stared at us with eyes wide open in a dramatic manner during the more "manic" moments. As always, he did not only sing perfectly in tune but also quite expressively. Newer tracks, such as the driving beats of 'Under Control' and 'All the Things You Say', led to calmer moments of 'Where Are You' and more older, unbelievably beautiful melodies like 'Here I Stand'. When André could not immediately find the latter song on the laptop, Sven joked that he better not start playing any computer games. With these soulful pieces, taken from their debut album 'Broken Grid' (2008) and the follow-up 'Frontiers' (2011), the duo Friedrich & Feller delivered two favourite "episodes" of the calmer kind during their forceful show.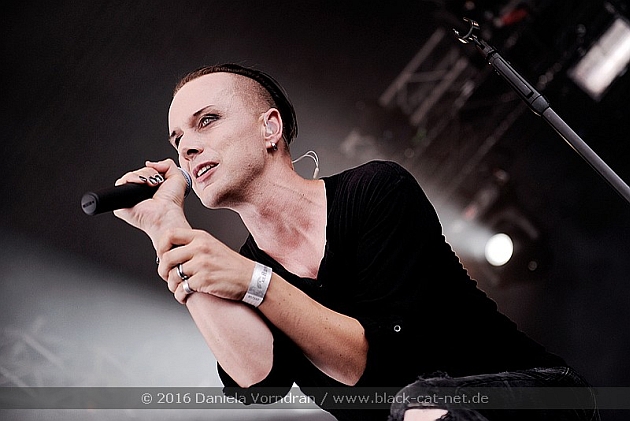 Overall, SOLAR FAKE's performance and the crowd's party mood were amazing. I was surrounded by German, Russian and Spanish fans, fellow music journalist and photographers and we were all jumping, dancing, clapping and singing along the from the first song to the last. However, it was real bummer that the sound did not seem right throughout the entire infield. While people in the middle had to perk up their ears to make out the synths that were superimposed by the loud booming of droning basses, people standing at the sides could enjoy a more balanced sound. Nevertheless, in the end everyone was stoked about SOLAR FAKE: One could hear comments like "This was a highlight!" and "This is what I came for!" as the crowd was dispersing after the show. Such a shame that the 50-minutes-long celebration of our beloved SOLAR FAKE smashers like, for example, the gritty in-your-face tune 'Parasites' and their get-out dance 'If I Were You', was all over too soon. Berlin, September 10 (secret Fan club gig) and Bremen, September 30 – save these dates, if you are in Germany and cannot wait to hear SOLAR FAKE again play a longer set. //
http://solarfake.de
/
https://www.facebook.com/SolarFake
// Setlist: 01. Not What I Wanted / 02. Under Control / 03. Here I Stand / 04. All the Things You Say / 05. Parasites / 06. More Than This / 07. I Don't Want You in Here / 08. Reset to Default / 09. Where are You / 10. If I Were You // Rating: 10 / 10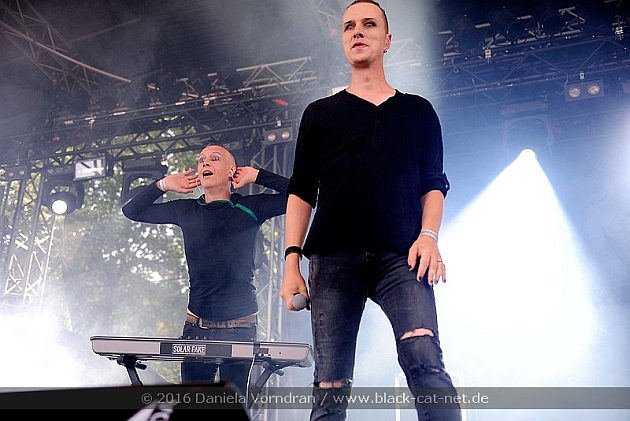 Ost+Front - Theater (Kira)

RAMMSTEIN a day, will take a headache of the festival-organisers away. The first day the Main Stage was conquered by RAMMSTEIN tribute band, the second day RAMMSTEIN mood took over the theatre. OST+FRONT did something what a lot of (not exceptionally German) bands were dreaming to do: they cracked the RAMMSTEIN's secret and learned to exploit the scheme of the legendary act. It would be a pure pleasure to see this formation, if the head wouldn't be exploding of the thoughts like "Rammstein already did it". Everything is good about OST+FRONT: lyrics, words' play, disturbing humour, music, THE show - the real entertainment. However, even a full-coloured copy is still just a copy. The public enjoys the show, and it is really one of the best bands at the festival, with one "but" which sometimes crosses out the greatest quality. If OST+FRONT really claims they have reached their "Ultra" (which means "exceptionally", "exceedingly"), it's really a shame. //
http://www.ostfront.tv
/
https://www.facebook.com/ostfrontberlin
// Setlist: 01. Sternenkinder / 02. Fleisch / 03. Fiesta De Sexo / 04. Freundschaft / 05. Liebeslied / 06. Sonne, Mond & Sterne / 07. Denkelied / 08. Mensch / 09. Bruderherz / 10. Gang Bang / 11. Ich Liebe Es / 12. 911 / 13. Moldau / 14. Ost+Front / 15. Bitte schlag mich // Rating: 10 / 10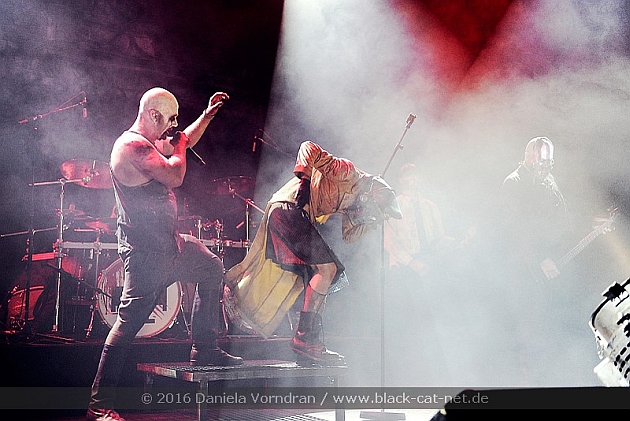 Suicide Commando - Main Stage (Kira)

By the time of this gig, the area around the Main Stage slowly turned to Hell. Not only was it nicely warmed up by the sun, the real hell fire was on the stage as SUICIDE COMMANDO entered it. This band is one of the classical electro / industrial bands and always long awaited and very appreciated guests at any festival. They know how to burn up any place. This year Johan Van Roy celebrates the thirtieth anniversary of his project. A massive re-release of his previous albums proves - none of the classical hits by SUICIDE COMMANDO are forgotten. Every time Van Roy manages to recreate the Hell-atmosphere at his live shows: crushing and destroying noises together with distorted shouting vocals - everything what we love about this music. Even if it is hard to get the lyrics, especially from the live show, there are die-hard fans who sing along. But mostly, people were simply killing their bodies on the dance-floor under the burning sun. //
http://www.suicidecommando.be
/
https://www.facebook.com/IIXIII
// Rating: 10 / 10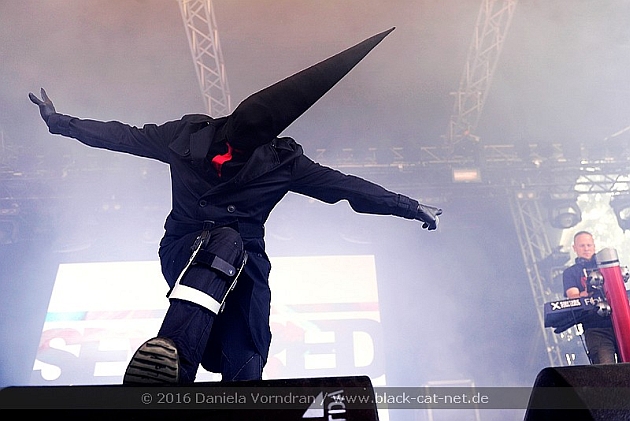 The Devil & The Universe - Orbit Stage (Layla)

How unfortunate that the performance of THE DEVIL & THE UNIVERSE had to be cancelled last year due to the severe weather. How fortunate that we could enjoy this truly unique Dark Ambient/ Death Trance band from Vienna at this year's Orbit Stage. Thank GOATness! What a hauntingly doomy and captivating show! The drumming and keys pushing Goat trio put everyone on board under their spell with their rich and moody synth scapes and, all in all, thirteen "magickal" compositions taken from their repertoire. What a ritual! At the same time it was impossible to stand still as their rhythm drove us to drum along to their beats. Quite a few of the sitting and standing audience held up imaginary drum sticks and hit the air trying to catch up with THE DEVIL & THE UNIVERSE. The instrumentalists Ashley Dayour (WHISPERS IN THE SHADOWS, NEAR EARTH ORBIT), David Pfister (NEIGUNGSGRUOOE SEX, GEWALT & GUTE LAUNE, BLACK MANNA) and Stefan Elsbacher hit the stage disguised as goats and then hid under their black cloaks and hoods.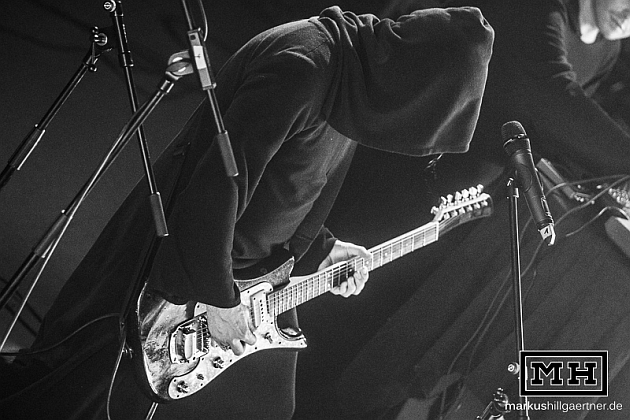 David even slowly disappeared under his keyboard while playing their evocative, score-like "Ghost Wave". What a sonic trip! On the screen in the back we could also watch their effective video clips that suit their sound just perfectly. Folks, if you missed the Goats at this year's Amphi again for whatever reasons and still have not heard their atmospheric tunes, do yourselves a favour and go check them out. Once you hear their captivating music you'll become a Goathead, trust me! //
http://www.thedevilandtheuniverse.com
/
https://www.facebook.com/TheDevilAndTheUniverse
// Setlist: 01. Hail! Mary / 02. Osculum Infame II / 03. Ora Pro Nobis Deum / 04. Stygian / 05. Nikopia / 06. It is our Will / 07. Danaus Plexippus / 08. Iblis / 09. Dei Genetrix / 10. Immaculata / 11. Haunted Summer / 12. What Time is Love (THE KLF Cover) / 13. Ascension // Rating: 10 / 10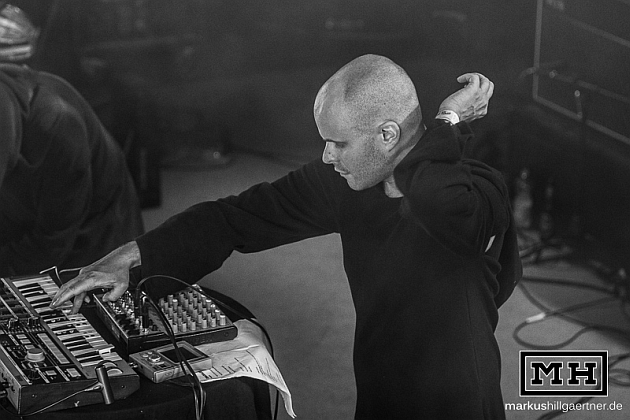 Coppelius - Theater (Janine)

It was extraordinarily hot in Cologne this day. Therefore the location change to the theatre, where no sun burned and the air condition cooled down the venue, was more than welcome. The gentlemen of COPPELIUS mentioned this circumstance by entering the stage "Oh, it's quite cool in here – changes soon!" And they were right. From the first notes of 'Bitten Danken Petitieren' the audience was in a dancing and cheering mood that heated up the hall. The band was on high speed from the very beginning, catching the crowd, making people laugh, sing, jump and dance. The Butler was a friendly presenter as usual, helping the people and the band through the programme with German or English songs like 'Luftschiffharpunist' (Air Ship Harpooner), 'Locked out' or 'Der Handschuh' (The Glove).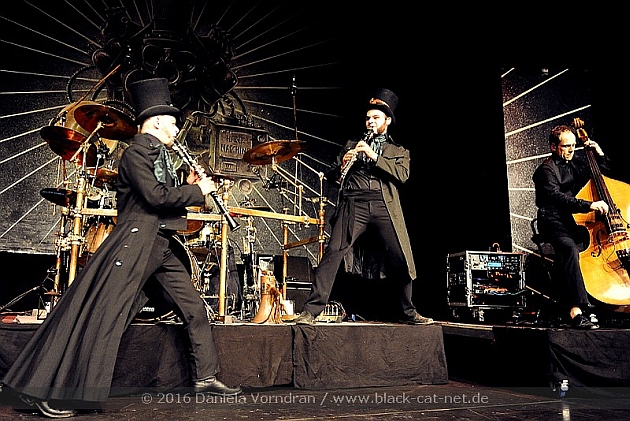 The air burned and any coolness was blown away with blissful hysteria! COPPELIUS plan a period of pausing and resting. They use the summer festivals and a club gig tour in autumn for saying "Goodbye" for a while. So watch out for the dates to come to have fun and celebrate with these very special gentlemen their "Bühnenabstinenzankündigungskonzertreise" (stage abstinence announcement tour). //
http://www.coppeliushilft.de
/
https://www.facebook.com/CoppeliusHilft
// Setlist: 01. Intro / 02. Bitten Danken Petitieren / 03. Der Luftschiffharpunist / 04. I Get Used To It / 05. Rightful King / 06. Locked Out / 07. Diener 5er Herren / 08. Phantom / 09. Reichtum / 10. Der Handschuh / 11. Risiko // Rating: 9 / 10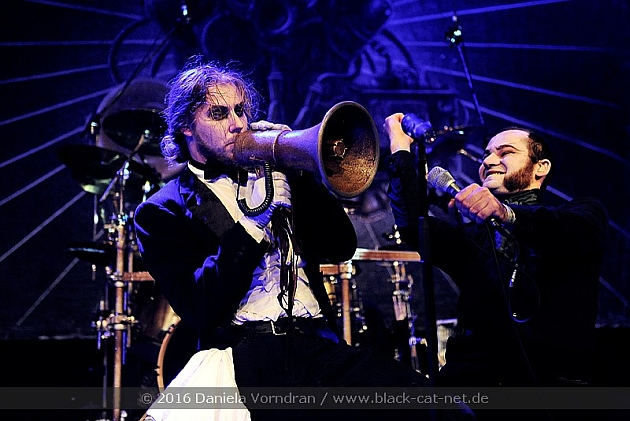 Covenant - Main Stage (Layla)

They have been around for 30 years, they are an influential electronic act from Sweden, their band name has biblical implications and their music is simply divine: COVENANT. I have to confess that I had been listening to their masterpieces 'Call the Ships to Port', 'We Stand Alone', 'Like Tears in Rain', 'Bullet', 'Dead Stars' - and I could go on and on, but will stop here - on constant repeat for a few weeks before their Amphi show. And I was not the only one anticipating COVENANT's appearance on the Main Stage: a big crowd came together waiting for the gents of COVENANT. Starting with 'Bullet', the audience danced along to the timeless Synth Pop/ EBM tunes presented by singer Eskil Simonsson and both Daniels on keyboards, Mr Jonasson (DUPONT) and Mr Myer (HAUJOBB, CLEANER, ARCHITECT, DESTROID,...). We gave them a big hand after every song, particularly after the captivating classic 'Call the Ships to Port'.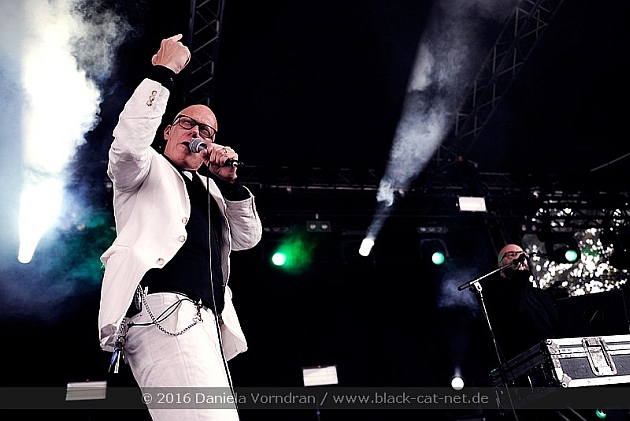 Eskil, who was dressed in black and radiant white, addressed the audience: "How does it feel to be here? Right now?" - Cheers from the crowd - "I'm loving every second of it!" Again, he was not the only one. The band had been working on their ninth record 'The Blinding Dark' and also gave us a taste of the new material playing their upcoming single 'Sound Mirrors' (out on August 26). The trio ended the Amphi set with their incredible club hit 'Dead Stars', which some might also had enjoyed at the after-show party the night before. So, boys and girls, don't miss COVENANT on "The Blinding Dark Tour" in November when they will be back in the clubs! //
http://www.covenant.se
/
https://www.facebook.com/Covenant-OFFICIAL-156626197713557
// Setlist: 01. Bullet / 02. Thy Kingdom Come / 03. Figurehead / 04. The Beauty and the Grace / 05. The Men / 06. Ritual Noise / 07. Lightbringer / 08. Sound Mirrors / 09. Call the Ships to Port / 10. Der Leiermann / 11. Dead Stars // Rating: 9 / 10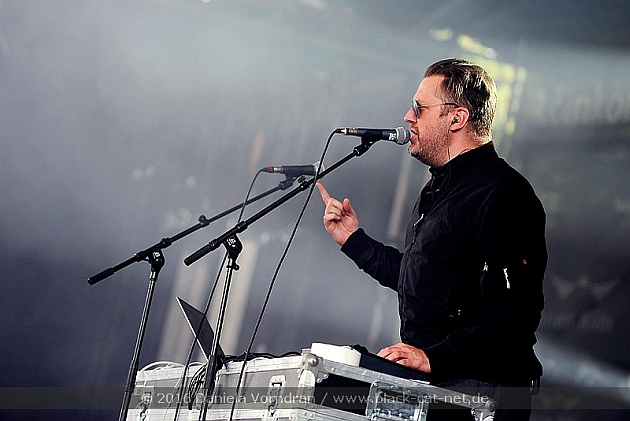 L'Âme Immortelle - Theater (Kira)

In spite of the rumours and worst awaiting, L'ÂME IMMORTELLE keeps on rolling, and those are the best news. Very emotional, very hot and very energetic show, probably one of the most interesting shows during the two days of the festival. The duo of Sonja Kraushofer and Thomas Rainer is the most magical project ever existed in the dark scene in my opinion. Those who got into the theatre at this time heard some of the most beautiful anthems of love and despair. '5 Jahre', 'Phönix', 'Aus den Ruinen', 'Fallen Angel' - every single time those songs will cause goose bumps, tears cramps, and throat spasms. Sonja Kraushofer, brilliant as always, reaches the deepest strings of the listener. Thomas Rainer balances the siren singing with his distorted aggressive shouts. Doesn't matter how many times will pass, those songs are alive. They live through L'ÂME IMMORTELLE, through the fans, and always find a way out. If you are broken-hearted, this is kind of music you need, and this is kind of concert you have to visit. //
http://www.lai-music.com
/
https://www.facebook.com/LAI.official
// Setlist: 01. Life Will Never Be The Same Again / 02. Phönix / 03. Bitterkeit / 04. Aus den Ruinen / 05. Fallen Angel / 06. Ich fang Dich auf / 07. Judgement / 08. Es tut mir leid / 09. 5 Jahre / 10. Requiem // Rating: 10 / 10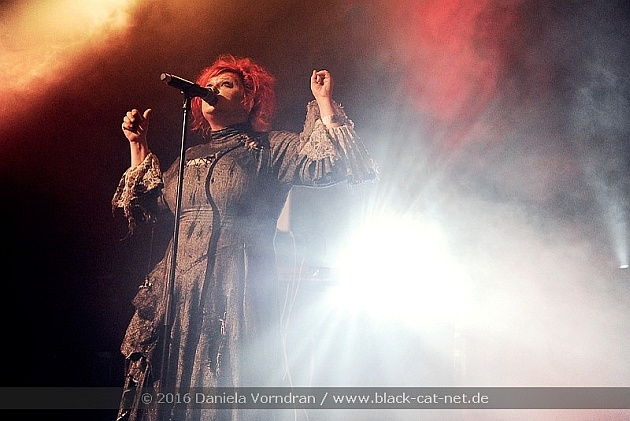 Project Pitchfork - Main Stage (Layla)

Some might have wondered: "Wait, why is Peter Spilles standing in the front row rather than on stage?!" A second glance cleared things up: It was of course a PITCHFORK die-hard looking like PROJECT PITCHFORK's frontman with his black attire, striking haircut and blue make-up across the face and neck. Once the real Mr Spilles and band mates Dirk "Scheubi" Scheuber (keys), Daniel Myer, who was replacing Jürgen Jansen on keys, and the drummers Achim Färber, Christian Leonhardt and Christoph "Nook" Michelfeit hit the Main Stage, it was time for a true Dark Electro party extraordinaire. Right after the first mid-tempo tune 'What Have We Done', the boys unleashed their timeless smasher and hit single 'Timekiller' on the Amphi crowd. And after some calmer moments during the atmospheric 'The Longing', 'God Wrote' blasted out of the speakers. The sound was mighty at all times and all three drummers contributed greatly.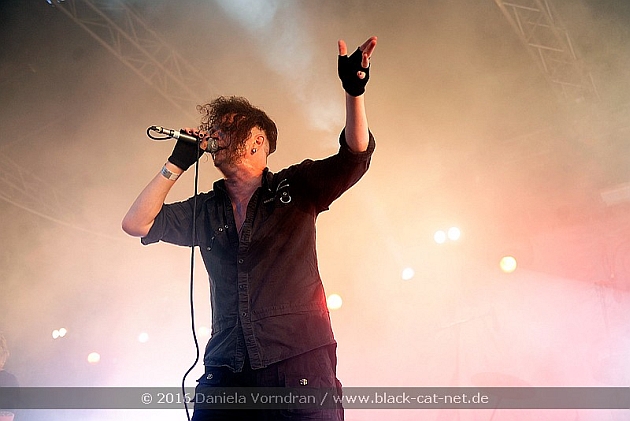 Then, Sven Friedrich (SOLAR FAKE) appeared for the fourth time on the Amphi programme. The unbelievably beautiful piece 'The Dividing Line' as a duet by these two gents, who harmonised just perfectly, is even more wonderful. This re-recorded and re-mastered version of the song from the 'Continuum Ride' album (2010) together with Sven was recently released on PITCHFORK's 'Second Anthology' (2016) and it was real treat to hear that one live. Good times! Before Sven left again, Peter pointed out that both of them wear black nail polish and jokingly added that anyone interested might ask them about the brand on Facebook. During the entire set of thirteen diverse songs, the crowd was euphoric and especially enjoyed the harsher and up-tempo songs which made them jump and dance wildly and scream along the lyrics at the top of their lungs.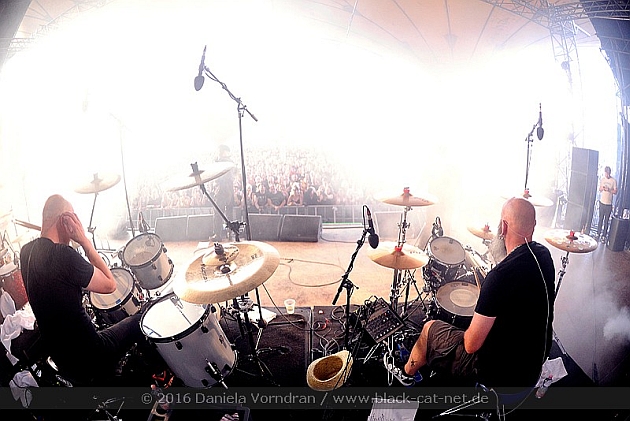 PROJECT PITCHFORK's one of a kind music was undeniably an electronic Industrial blast at Amphi which they ended with the amazingly moody 'Requiem' followed by 'Souls' and the final smasher 'Blood-Thirst'. - Wait, there was still another headliner to come?! One might have thought that PITCHFORK's performance would be a successful conclusion for the second and final festival day, but there was one more band lining up to get on the Main Stage. Fortunately, PROJECT PITCHFORK will be back soon for more gigs in Germany from September on. Go and check the dates! //
www.project-pitchfork.eu
/
https://www.facebook.com/Project-Pitchfork-Official-65663206412
// Setlist: 01. What Have We Done / 02. Timekiller / 03. The Longing / 04. God Wrote / 05. The Dividing Line / 06. Alpha Omega / 07. Blood-Stained - Give Me Your Body / 08. IO / 09. Conjure /10. I Am (A Thought in Slowmotion) / 11. Requiem / 12. Souls / 13. Blood-Thirst // Rating: 10 / 10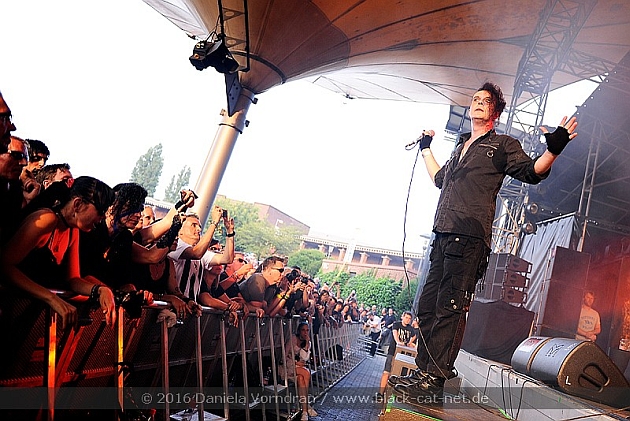 Moonspell - Theater (Kira)

With their current album 'Extinct', MOONSPELL play around Europe. The tour-plan is scheduled till the end of the year. So if you didn't have a chance to see the band at AMPHI try luck in another city, this band is worth it with no doubt. They prove again and again that Portugal has not only football, but at least one great metal band. The musicians surely know a spell to charm the public. They play not louder than the other bands, but they create a sound vacuum outside the venue, the listener is simply trapped in the musical canvas of MOONSPELL. As if their melodies would absorb everything around them. Time disappeared and it was hard to believe that the show was over that fast. The Portuguese metallers deserve more time to be heard. //
https://www.facebook.com/moonspellband
// Setlist: 01. Breath / 02. Extinct / 03. Night / 04. Opium / 05. Awake / 06. Last Of Us / 07. Nocturna / 08. Ruin / 09. Vamp / 10. Alma / 11. Fullmoon // Rating: 9 / 10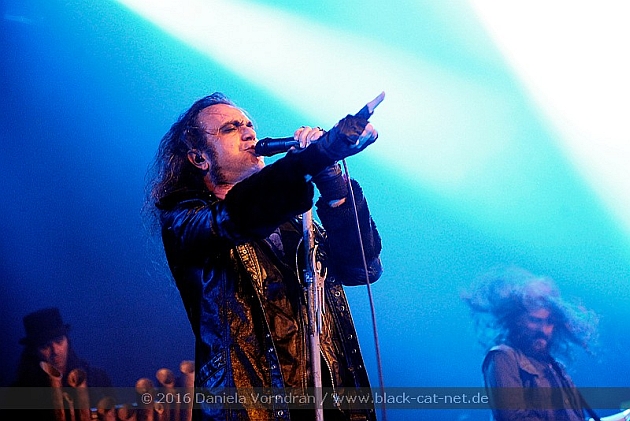 Editors - Main Stage (Layla)

With EDITORS, the headliners of the second day at Amphi, it was not a typical band of the dark scene that was about to raise the roof of the Main Stage for one last time. Nevertheless, the British Indie Rock heroes put on a grand show and their crowd was huge. Some EDITORS disciples who felt like the Amphi programme was not their cup of tea, got day tickets and appeared at the festival only shortly before Tom Smith & Co. hit the stage to see their favourite band. In addition to singing full of vigour and emotion, Tom also played guitar and piano when he was not dancing around all across the stage bending dramatically forward and backward. The frontman started with 'No Harm' together with Russell Leetch (bass, synths, backing vocals), Edward Lay (drums, backing vocals), Justin Lockey (lead guitar) and Elliott Williams (keys, synths, guitar, backing vocals). Their sound was rich, loud and clear and since it was getting dark the light show and stage fog also had a great effect. One fan in the front rows held up a stuffed animal on a stick and Tom dedicated one song "for my little pony!"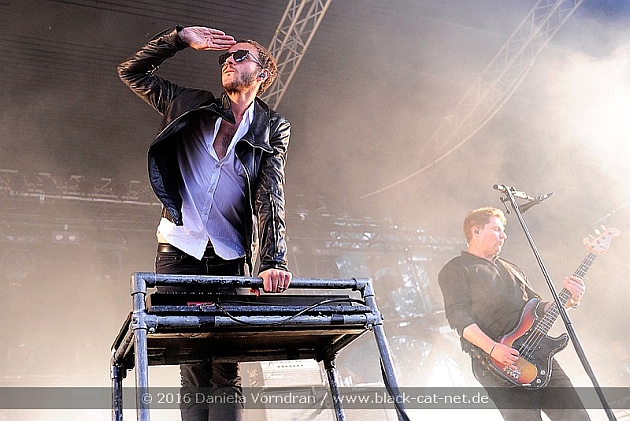 While the black-clad Goths and Electro heads around me checked out the band clearly for the first time in their lives listening attentively but not moving that much, other EDITORS diehards jumped like bouncy balls while the band played, all in all, thirteen catchy tunes from their repertoire of five albums. One highlight was definitely 'Papillon', their lead single from the third studio album 'In This Light and on This Evening' (2009). Even those who were not that familiar with the band enjoyed this tune a lot and everybody clapped along. The EDITORS gave everything and concluded with the atmospheric 'Marching Orders' from their latest record 'In Dream' (2015), and thus, with Tom's "Dankeschön, Amphi!", this year's festival was almost done. Over at the Theater Stage, the great JOACHIM WITT, who started his show slightly later than planned, was still rocking out with his fans playing a few encores. //
http://www.editorsofficial.com
/
https://www.facebook.com/editorsmusic
// Setlist: 01. No Harm / 02. Sugar / 03. Smokers Outside the Hospital Doors / 04. Life is a Fear / 05. The Racing Rats / 06. Forgiveness / 07. Eat Raw Meat = Blood Drool / 08. An End Has a Star / 09. Munich / 10. The Pulse / 11. A Ton of Love / 12. Papillon / 13. Marching Orders // Rating: 8 / 10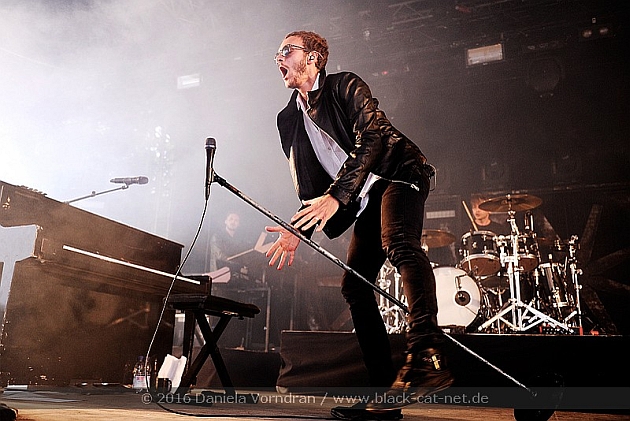 Joachim Witt - Theater (Dani)

JOACHIM WITT was scheduled parallel to EDITORS and SPIRITUAL FRONT. Really bad for people who like to see all three bands like me. But since I had the duty of a photographer, I only could enjoy a few songs of EDITORS. And then rushed over to WITT, who started his show with about 15 minutes delay. WITT had bad times lately. After his celebrated show at this year's WGT, short time later his house including his studio burned down. Currently, he had started a Pledge campaign to finance his upcoming album 'Thron' which will be accompanied by a tour early 2017. The WITT show at Amphi had all you could wish for. A perfect choice of songs right through the history of the artist, a great light show and good sound. Besides, WITT was really talkative and spoke a lot to the audience, thanked promoter Kai for inviting him to Amphi and thanked the audience for being here and made a lot of jokes. I think people who decided to see WITT instead of the other bands were not disappointed. //
http://www.joachimwitt.de
/
https://www.facebook.com/joachimwittmusik
// Setlist: 01. Intro: Dämmerung / 02. Über das Meer / 03. Jetzt und ehedem / 04. Es regnet in mir / 05. Zeit zu gehen / 06. Tag für Tag / 07. Gloria / 08. Olé / 09. Shut the Fuck Up / 10. Die Flut / 1st Encore: 11. Supergestört und superversaut / 12. Goldener Reiter / 2nd Encore: 13. Tri Tra Trullala (Herbergsvater) // Rating: 9 / 10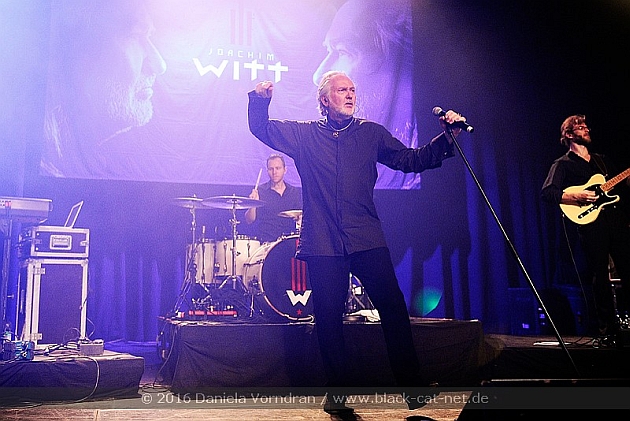 Spiritual Front - Orbit Stage (Kira)

SPIRITUAL FRONT always bring some of Italian sun in their pockets where ever they play. Even the RheinEnergie boat they managed to turn into a love boat, as they do with any venue they enter. The Italians can play for years the same songs, but every live gig is different. Every time there are new emotions and a very special mood. SPIRITUAL FRONT is able to create a chamber atmosphere everywhere, doesn't matter if they play in a small club, bigger venue or even at the huge stadium. The drifting music lovers had chance to sing along such classics of the band as 'Song for the Old Man' and 'Cold Love in a Cold Coffin', 'Jesus Died in Las Vegas' and 'Walking the Deadline', 'Slave' and of course 'Bastard Angel'.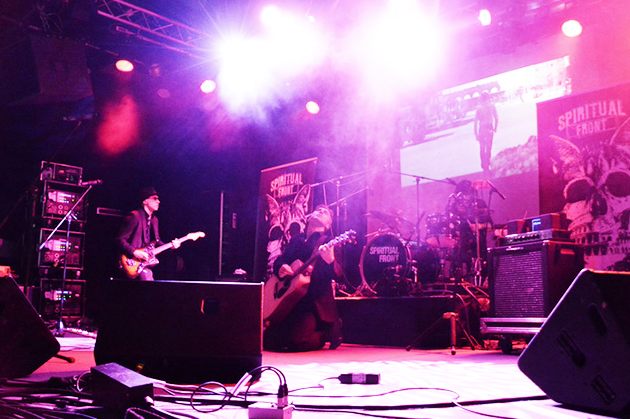 The latest tracks 'Disaffection' and 'Tenderness' tease the fans and promise the upcoming album 'Amour Baroque' to be written in the beloved manner of SPIRITUAL FRONT, but with a fresh breeze with the smell of Roman sea. The show was closed with the acoustic version of the new anthem of the band 'Dear Lucifer'. //
http://www.spiritualfront.com
/
https://www.facebook.com/spiritualfrontofficialpage
// Setlist: 01. Intro: Shining Circle / 02. Cold Love in a Cold Coffin / 03. Walk the Deadline / 04. Darkroom Friendship / 05. Song for the Old Man / 06. Hey Boy / 07. Tenderness / 08. Jesus Died in Las Vegas / 09. Slave / 10. Disaffection / 11. Vladimir Central / 12. Bastard Angel / 13. Dear Lucifer (acoustic) // Rating: 10 / 10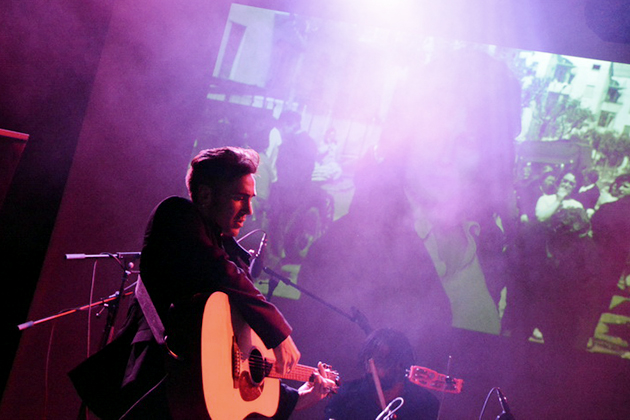 So, the Amphi Festival 2016 is already over. The festival next year will again take place at the Tanzbrunnen. Most people were really happy with the return to this venue, even though not anything went smooth and especially for some bands at the theatre, there was limited access and people were not getting in anymore. We are already looking forward the Amphi Festival 2017, taking place on 22nd and 23rd July.
All Pictures by Daniela Vorndran (
http://www.vorndranphotography.com
/
http://www.facebook.com/blackcatnet
) except SPIRITUAL FRONT by Daria Tessa, SONGWRITING INTERACTIVE by Patrick Leidinger and THE DEVIL & THE UNIVERSE by Markus Hillgärtner
See also (all categories):