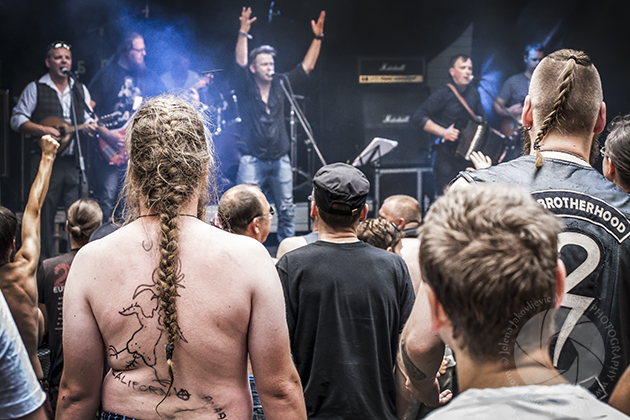 Vana Vigala, Estonia
1st to 2nd July 2016
Hard Rock Laager Festival Day 2: At The Gates (SWE), Batushka (POL), Pedigree, Cantilena, Nevesis, Freakangel, Rattler, Legacy ID (LAT), Statica, Devlsy (LIT), Catnap, Legshaker, Liblikas

The morning is starting with the hard rock aerobic in front of the main stage (for me, just in the schedule paper... I promise next year I'll be less lazy :) ). The heat in tents is rising, as sun is climbing up the sky, and pushing everyone to come outside. It is so hot that even tattoos are melting! :)
Luckily the river is here! While enjoying the shadow of trees, some thoughts drop on my mind how great it is to be at the festival of this size. People are more friendly and relaxed, bands are chilling after the concerts at the merch area, you can simply go and chat with them... and anyway, if you want to hear the full concerts you cannot hear more than one concert per hour, so the size of the festival in this case doesn't meter, especially if the line-up is great. And today's line-up is bringing AT THE GATES (SWE), BATUSHKA (POL), LEGACY ID (LAT), DEVLSY (LIT) and the best local Estonian bands! There might be some surprises if you read review till the end!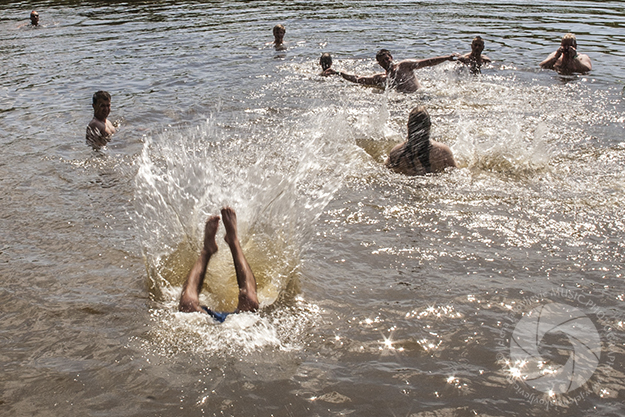 Liblikas

The first on the A stage and colourful as the name says (In a direct translation from the Estonian language LIBLIKAS means butterfly). LIBLIKAS is progressive psychedelic stoner rock band from Tallinn, who released in December 2014 their digital album 'Mothers' Finest'. Today we are listening a lot of brand new songs, thumbs up for the upcoming album! //
https://liblikas.bandcamp.com
/
https://www.facebook.com/liblikasest
// Setlist: 01. Into The Shrine / 02. Among The Leech / 03. untitled new song / 04. untitled new song / 05. untitled new song / 06. Spellbound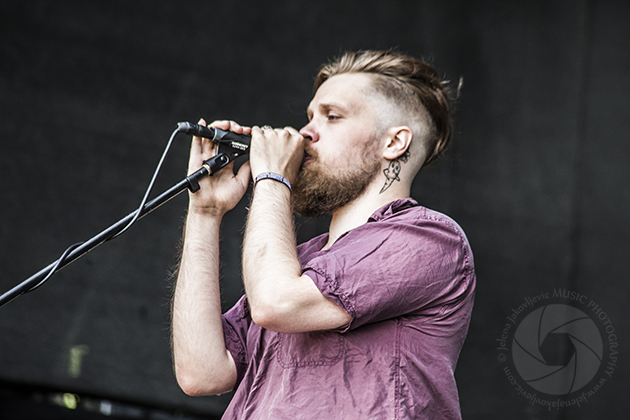 Legshaker

On the stage B opener of the second day is LEGSHAKER, folk-punk band from Parnu, and perfect choice for waking up hung-over heads. Today LEGSHAKER is definitely proving their reputation of a "kick-ass live band". Catchy melodies, Estonian lyrics, interesting crossover of genres, and "flying" singer seems like a winning combination. Tarmo Tamm is more levitating above the ground, than being with his feet down. And he is not the only one flying, pink underwear just dropped to the stage. //
https://www.facebook.com/Legshakermusic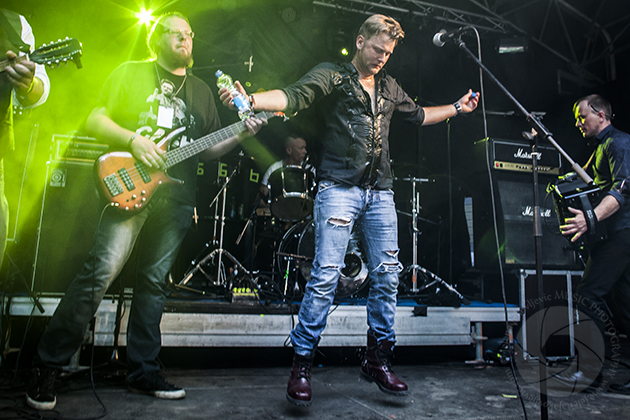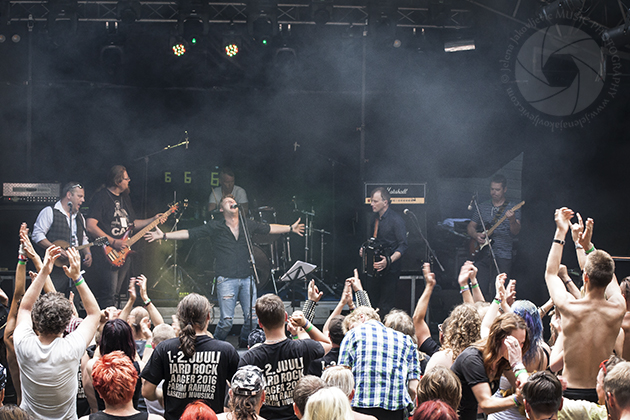 Catnap

I am back to the main stage now, CATNAP already started with the melodic heavy metal sounds and awesome guitar solos. It is one of the hottest days of this year and hiding under trees, in the river, or in the merch and food tents, which are forming the circle around the main stage area, is kind of obligatory to survive. While everyone is in the shadow, sun is burning stage and Björn Norralt's high vocals are breaking trough. I have to admit, I thought what a gentle boy, until he started to sing and blow me away! //
https://www.facebook.com/CatnapEST
/
http://www.catnapest.com
// Setlist: 01. Shadow from the past / 02. Red Moon / 03. Temptations of lust / 04. More / 05. Fire of love / 06. The king's dead / 07. Wake me / 08. Breaking out / 09. Wicked mind / 10. Joker / 11. Circle of witches / 12. Meet Mr Death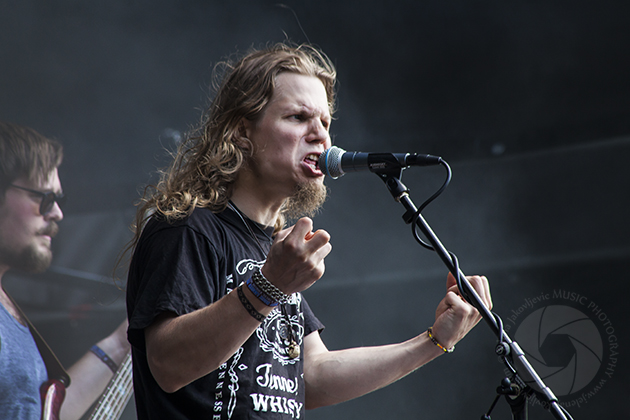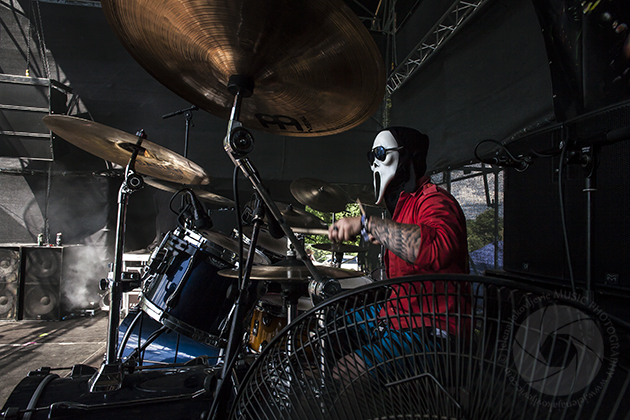 Devlsy (LIT)

DEVLSY is a post-black metal band from Vilnius. In 2013 their debut album 'A Parade of States' was released, giving an insight of distorted mind. While singing Vytautas is going through different states himself in a deep connection with lyrics. Check their songs at Bandcamp, but definitely go and see them live for the full experience! //
http://www.devlsy.com
/
https://devlsy.bandcamp.com
/
https://www.facebook.com/Devlsy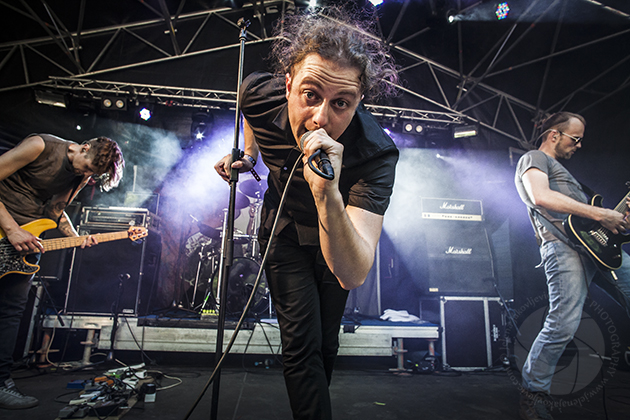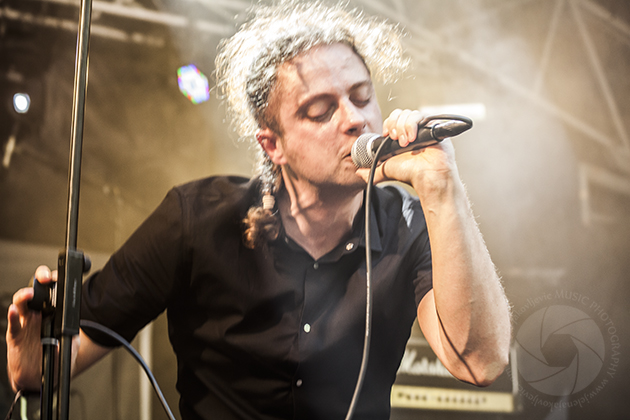 Statica

It seems, 2012 Bandcamp Battle is repeating, again there is STATICA and CATNAP on the same stage one after the other. Hard rock/ metal STATICA has been influenced by METALLICA, MEGADETH, SLAYER, IRON MAIDEN, neo- classical music, blues, Bay Area trash metal, groove metal, heavy metal & hard rock. If any of those rings in your ear nicely, for sure check STATICA songs at:
https://soundcloud.com/statica-official
/
http://statica.bandcamp.com
/
https://www.facebook.com/STATICAMUSIC
// Setlist: 01. Retaliation / 02. Bloodhounds / 03.This Is War On Us / 04. From The Cradle To The Grave / 05. Serpent Soul / 06. Fight / 07. Burn On / 08. System That Corrupts Democracy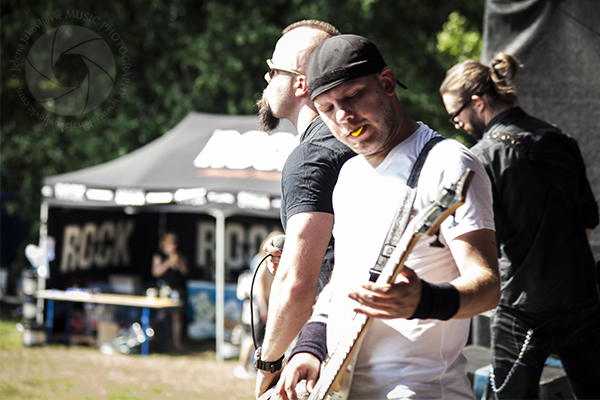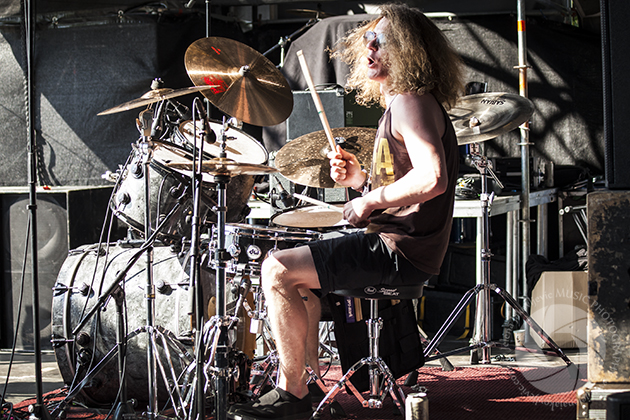 Legacy ID (LAT)

LEGACY ID, modern progressive metal band from Riga, surprised us with the very special reunited line-up today: Vitaly Ganya on bass and Andis Jekabsons on vocals. Andis Jekabsons is one of the most charismatic vocals of the festival with energy bubble which is grasping all attention! I'm not sure why, but there is funny thought in my head that Andis jumped out from 90's TV/ Film set :) I hope we will see them more often around. Definitely recommended listening, check their album 'Genesis'. //
https://legacyid.bandcamp.com
/
https://www.facebook.com/LegacyID
// Setlist: 01. Introspection / 02. Collateral damage / 03. Anger management / 04. In Your Face / 05. Grand Finale / 06. Razorblades / 07. Mentalist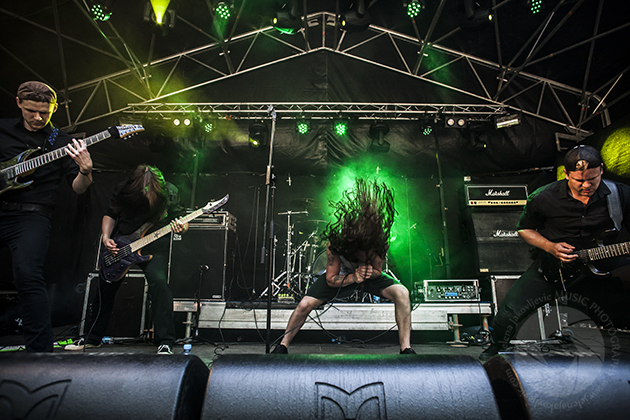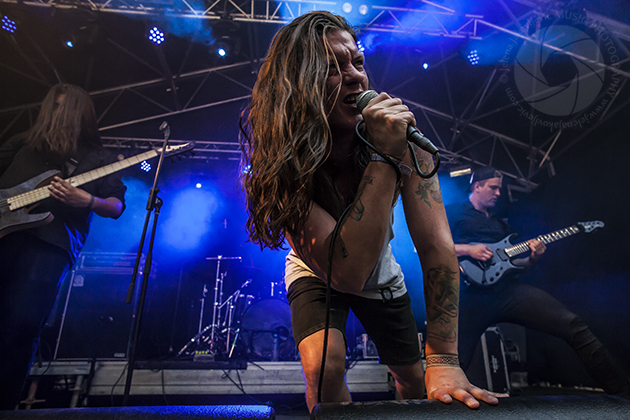 Rattler

The extreme death metal band RATTLER is preparing to come out to the main stage. I am curious about their professional and very detailed way made costumes and props, so I am visiting them in the backstage while they are dressing up. Really cool visuals! I like it a lot, and in the same time I am teasing them how they would nicely stuck together if too small stage (I guess it is not far from the truth with all the horns on them :). RATTLER is one of the eldest bands at the festival, with frequently changed lineu-ps - fingers crossed to stick together this time! Check their new album 'Warrior's Way' released in 2015. //
https://www.facebook.com/rattlernbm
// Setlist: 01. Warrior's Way / 02. Atta Aalana / 03. Rattler Shaman / 04. Death Challenger / 05. Tazha / 06. Toltec Chocmools / 07. Nagual / 08. Alien World Order / 09. Frankenstein A .D.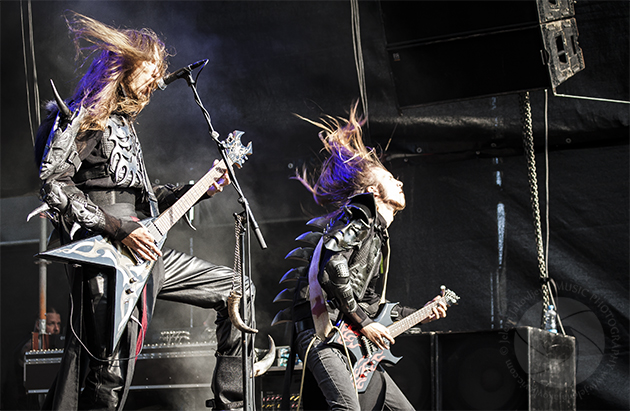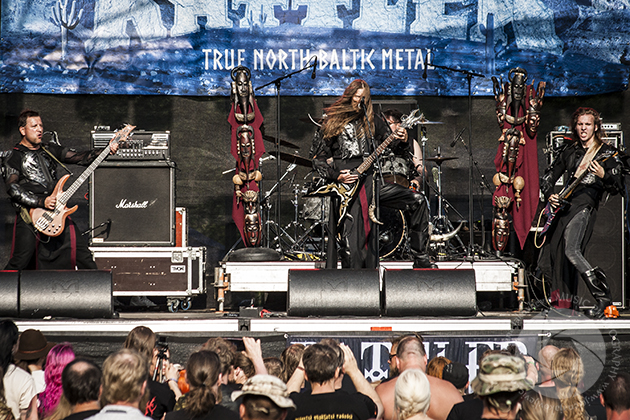 Freakangel

Back to B stage and shadows of trees... with FREAKANGEL and electronic-industrial-rock, the biggest wow of the festival by my opinion. Why do I think so? They are full package in the highest level. Acrobatic performance, great visuals, charismatic band members, awesome sounds, ideas nicely thought through and worked out by feelings, and all matched together in a perfect balance - FREAKANGEL is ready to fly extremely high! They are without a doubt getting my special star - book them/go for their concert NOW! In Switzerland, Finland, Russia, France, Belgium and United Kingdom you can see them before the end of this year. If you are not lucky to see their concert, good news is they are very active with recording of albums and videos.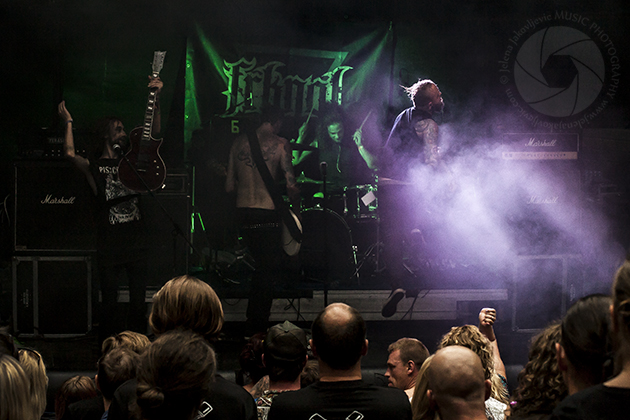 There are three albums: 2010 'The Faults of Humanity', 2012 'Let It All End', 2013 'The Ones to Fall'. And also there are three official music videos. FreakangelTV You Tube channel is something I am recommending to start with (online is as well uncensored version of 'The Ones To Fall') //
https://www.youtube.com/channel/UCdERThIhfFmQ8SRs9m0HU7g
/
http://www.freakangel.net
/
https://www.facebook.com/freakangelofficial
// Setlist: 01. Intro + Used / 02. The ones to fall / 03. A dozen new scars / 04. The last white dance / 05. Porcelain doll / 06. A product of hate / 07. The book of violence / 08. My darling bullet / 09. Parasite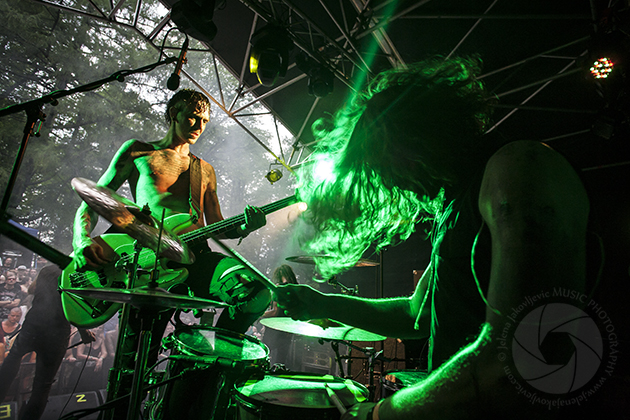 Cantilena

Trash-metal band CANTILENA is the one and the only band who is literally burning the main stage at this Hard Rock Laager 15th edition!! The area in front of the main stage is almost empty before starting... the first riff is here with the fire explosion, and in the next moment ground is full. That is called effective :) This is totally new, refreshed, and spiced CANTILENA with Asim Searah as a lead vocalist (starting with 2015). International roads are waiting! Official video and new single called 'Sentiments' are ready! With NERVOSA from Brazil CANTILENA will play on 20th October in Rockclub Tapper, come! //
https://www.facebook.com/Cantilenaofficial
/
http://cantilenaofficial.wordpress.com
/
https://myspace.com/cantilenaofficial
// Setlist: 01. Untouchables / 02. Sentiments / 03. Fuzzy / 04. Torn / 05. Metal Inn / 06. Struggle / 06. Far behind myself / 07. W.A.F. / 08. Black hound / 09. #One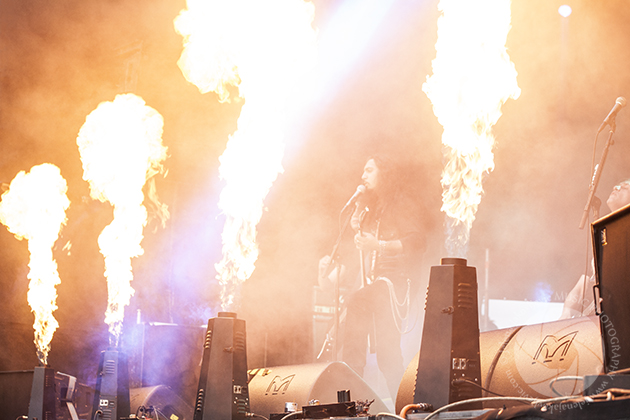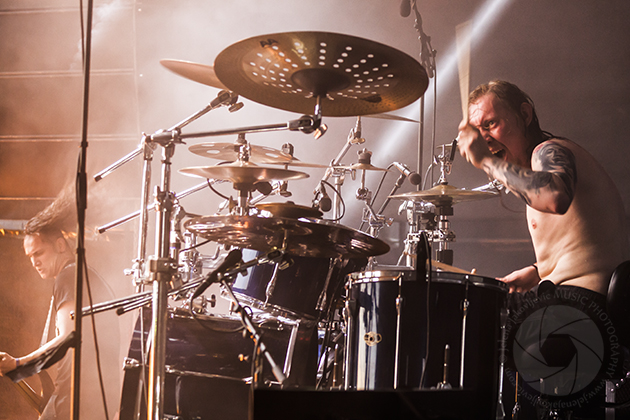 Nevesis
I am very late and running for the concert at the B stage, I didn't manage even to check who is playing next. There is huge smile on my face now when seeing NEVESIS is here! NEVESIS is psychedelic heavy speed rock band from Paide, formed by musicians from well-known Estonian music families. "The apple doesn't fall far from the tree" - so nothing less than awesomeness is expected, just this apple I would say will jump and fly even further :) Check their first single from the second album, 'Rock53' at You Tube. //
https://www.youtube.com/watch?v=NixDwP9qJOI
/
http://www.nevesis.ee
/
https://www.facebook.com/nevesisofficial
/
https://nevesis.bandcamp.com
// Setlist: 01. Before You Go Blind / 02. Lysergic Dreams / 03. Rock53 / 04. Invasion / 05.Abyss Baby / 06. 7 000 000 Years / 07. Mind Control / 08. Railgun Song / 09. Starfish Porn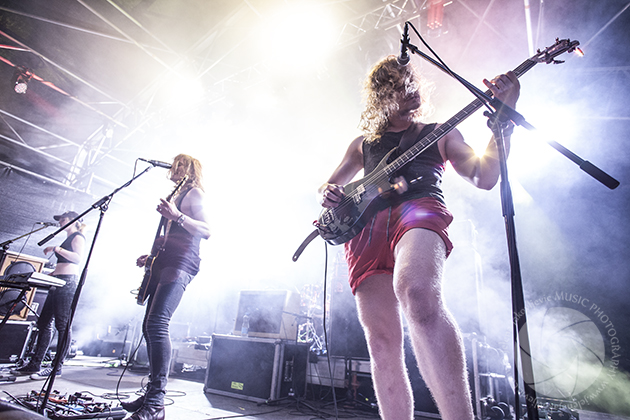 Batushka (POL)

Black-doom metal band BATUSHKA is already on the main stage, now the ground is properly packed. It is well known that being hidden is rising curiosity, being different is making you more interesting, and keeping it simple means you know what you are doing. BATUSHKA's eight members identity is unknown, but it is known that they are from well-known bands (at least they say so :). In extremely short time, starting with 2015 till now, the band got lot of attention, recognition on the metal scene, and many international acts. They keep it simple, always playing through their whole album 'Lithurgy' from the beginning till the end. //
http://batushkaofficial.com
/
https://www.facebook.com/Batushka-1004746209548365
// Setlist: Intro + Yektaniya I,II,III,IV,V,VI,VII,VIII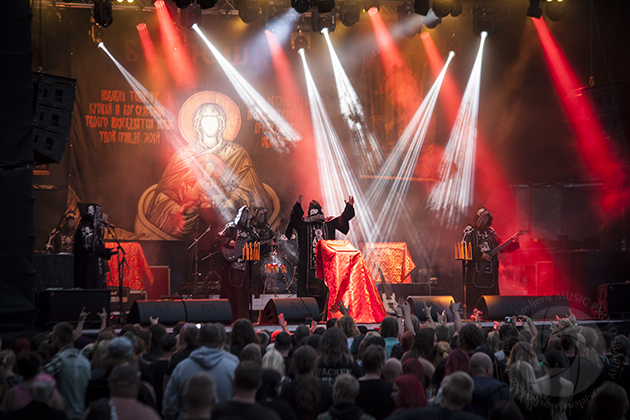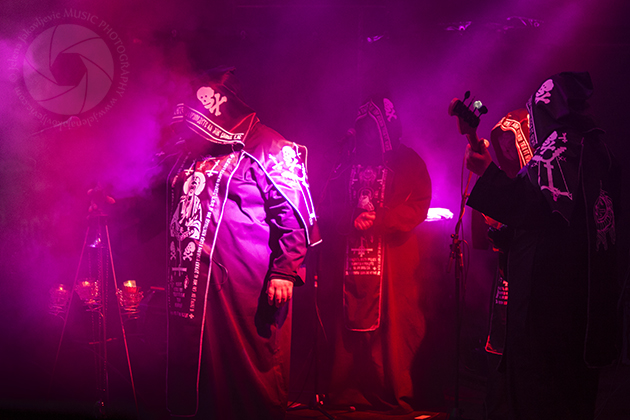 Pedigree

Stage B looks like a swimming pool with all the water spilled around, one after the other band. Finally the headliners are here, well known PEDIGREE, alternative industrial metal band with heavy post-metal/sludge/doom and electronic elements. From 1993 till now PEDIGREE released 10 studio and remix albums, and their album 'Satanic Disappointment' got the Estonian Music Award for the "Best Metal Album" in 2012. If you are fan of GODFLESH, THE YOUNG GODS, NEUROSIS, SWANS and MINISTRY you will become fan of PEDIGREE as well! //
https://www.youtube.com/watch?v=zoYSryw4GXg
/
https://www.facebook.com/officialpedigree
/
http://www.pedigree.bandcamp.com
// Setlist: 00. Intro: Arrival / 01. Deadlights / 02. Shrine / 03. Transform / 04. Things You Need / 05. The Gas Heart / 06. Angels of Shit / 07. Too Much Damage / 08. How Fucked / 09. March of the Blades / 10. Quarantine / 11. Refuse/ Resist (Sepultura cover)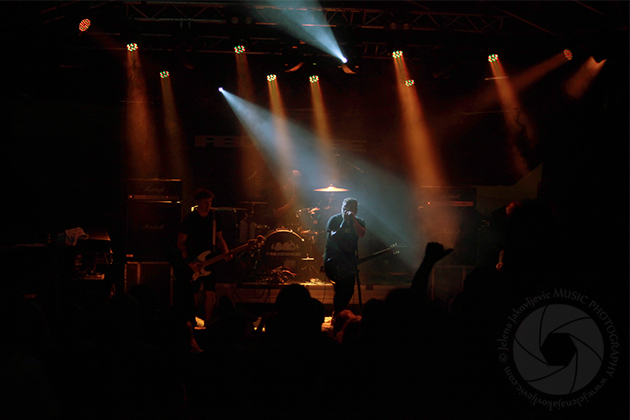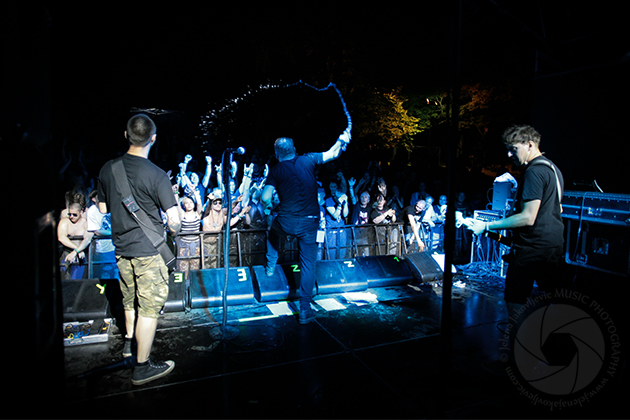 At The Gates (SWE)

Headliners of the Hard Rock Laager 2016 are here! The name says it all! AT THE GATES, legendary Swedish death metal band from Gothenburg is for the very first time playing in Estonia. Head bangers, mosh pit and fully packed ground - all elements are here for the very perfect concert and warm welcome! The biggest news after second reunion in 2010 is definitely the release of 'At War with Reality' in 2014, the first album in 19 years. 'At War with Reality' won the Swedish Grammy in February 2015, and the band was awarded with the Metal Hammer Golden Gods Inspiration Award in June 2015.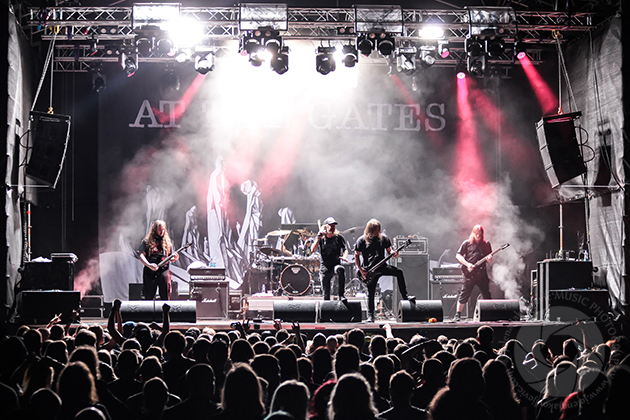 Now the concert is reaching its highest peak, but something happened with the bass drum beater. Technical support is quickly arriving and more of them are gathering around Adrian on their knees. I am exactly on the stage in the moment, and I am as well in the shock together with the band, I even forgot to go and shoot close up photos. After a while of trying different solutions, the other double drum pedal is coming to the stage and everything seems fine now. The concert is back, but then again... the new pedal is lying next to the bass drum.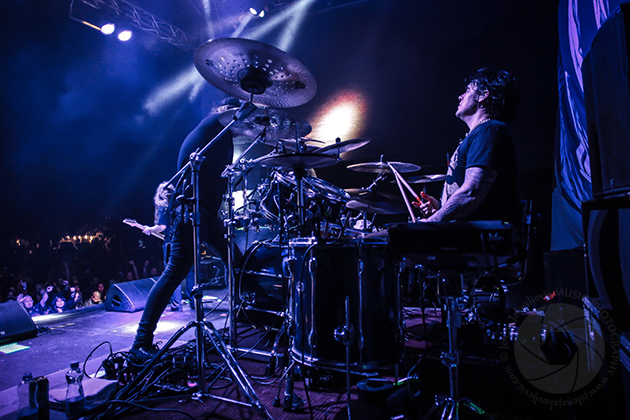 After the pedal adjusting trough few more songs, the concert is continuing smoothly. I am checking photos now, and what I didn't see while on the spot, is Adrian's deep cut and bleeding all over the gear. The biggest respect and huge thanks to Adrian Erlandsson for continuing concert and making the evening perfect! //
http://atthegates.se
/
https://et-ee.facebook.com/AtTheGatesOfficial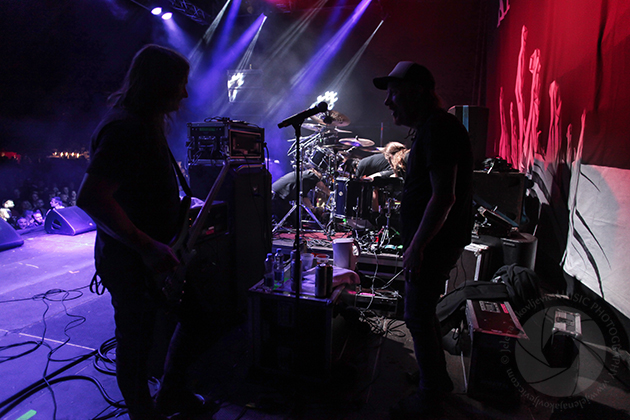 And specially for you Reflections of Darkness readers, directly from the backstage, Tomas Lindberg:
As a conclusion of the Hard Rock Laager Festival 2016, "Break the pedal!" from now on means luck for the next year festivals (
www.hardrocklaager.ee
)! See you there!
All photos by Jelena Jakovljevic, full galleries check at:
https://www.facebook.com/JelenaJakovljevicPhotography
/
http://www.jelenajakovljevic.com
See also (all categories):