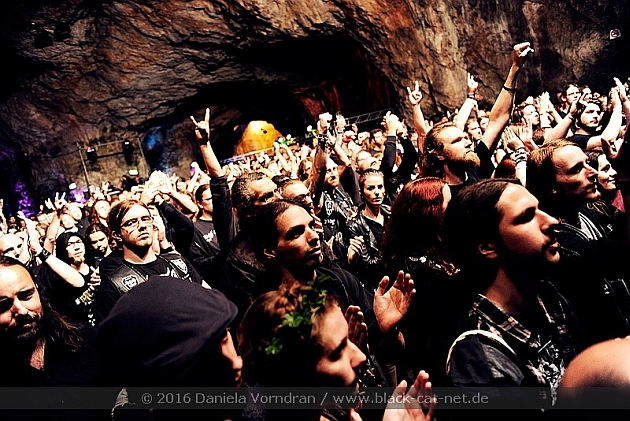 Balver Höhle (Cave Balve), Balve, Germany
29th to 30th July 2016
Prophecy Fest 2016 Day 1 with Hekate, Germ, Les Discrets, Iron Mountain, Secrets of the Moon and Helrunar

For the second time, Prophecy Fest was taking place in a natural cave from Old Stone Age - Balver Höhle. According to Germanic Saga, the blacksmith Wieland had his workshop in the cave. Balve, Germany, is situated between Dortmund, Cologne, Frankfurt and Hannover. The cave is Europe's biggest cultural cave. Last year, the festival was only one day long. This time, it was enlarged to a two-day event with a warm-up one day before.
The line-up was really something special. Besides true legends, also some very new bands were booked and some bands were coming from far away, meaning the flights were rather expensing, probably resulting in the rather high price for the festival (90 EUR plus camping and parking). But the festival was really worth paying more than usually. Besides the bands itself, you had the music theater "Van´t Liäwen un Stiäwen" by WÖLJAGER on the second day and besides, art director of the festival, Fursy Teyssier, had an exhibition at festival site. On the Thursday before the festival, a warm-up was taking place – the Trollmusic concert evening.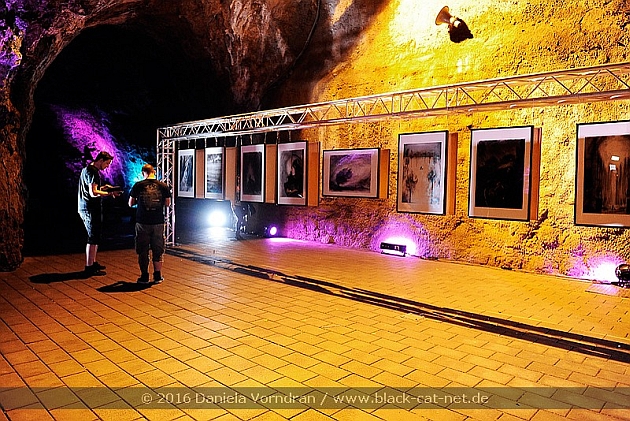 Also the running order was different to other festivals. Unlike other festivals, Prophecy Fest was not starting with the most "unknown" artist and ending with the "headliners". To the label, they were all headliners and were chosen because they expect an amazing performance from them. Therefore, all artists had the playing time they needed for their performance (no matter at what time they were playing), and the running order was reflecting what the label considered the optimum in terms of dramaturgy and suspension.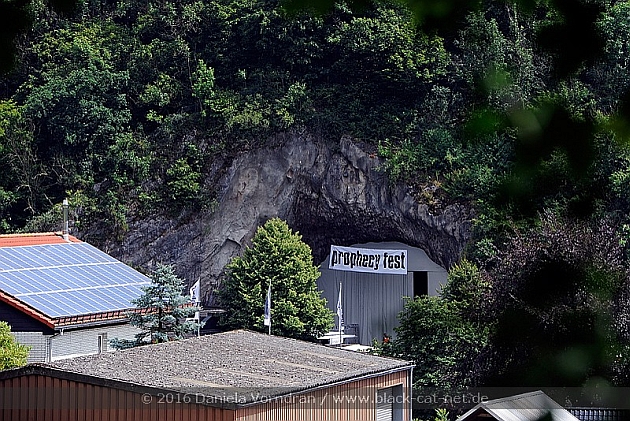 I must admit that I usually listen to different kind of music and visit other festivals. I knew only a few bands by name and music and had seen only one band live on stage before. So it was something very special for me to see something completely new. And I was overwhelmed. The musical quality of all bands was extraordinary, even though not all bands were my taste, the sound in the cave was nearly perfect and the light on stage as well as the illumination of the cave were great. The atmosphere was really familiar, anyone was friendly. The organisation was perfect, there was a good choice of food and beverages, there we a lot of benches to rest inside and outside the cave. You could buy your favourite music too even though the CDs of several bands were sold out during the fest. And last but not least, the security was extremely friendly. Ok, that's my overall impressions, now a short look at the bands… and remember, most of them were totally new to me ;)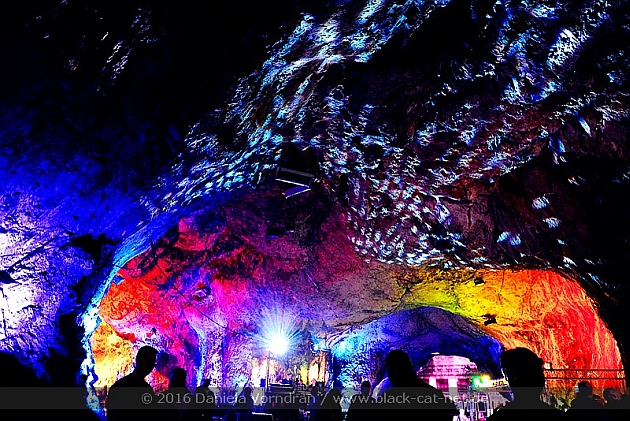 Hekate

I left work early to drive directly to Balve. Due to the usual Friday traffic jams, I missed the beginning of HEKATE, but luckily, it was only a few songs and so I could enjoy a wonderful first concert of the day. German band HEKATE was founded back in 1992 and over the years, they advanced to the position of one of the most important representatives of Germany's Neofolk scene. Thanks to their unique mixture of folk, singer/song-writer, classical, and mediaeval music with experimental, electronic sounds, HEKATE 's songs are highly original. The music contains historical and modern elements aimed towards a multi-facetted style of music. Archaic-sounding rhythms, trance-like and ritual elements serve to highlight the music's spiritual character as well as HEKATE's intention to pick up on the hidden wishes, yearnings, and dreams of their listeners. At Prophecy Fest, they presented the unique ceremony "Die Sonne im Geiste". I was especially impressed by the alternating chant of Axel Menz and Susanne Grosche. And I already look forward seeing the band once more in a few weeks at Nocturnal Culture Night festival. //
http://www.hekate.info
/
https://www.facebook.com/hekate.official
// Setlist: 01. Die Sonne im Geiste / 02. Ritualsong / 03. Dos Kelbl / 04. Fatherland / 05. Ascention Day / 06. Seelenreise / 07. Montsegúr / 08. Serpent Day / 09. Morituri Te Salutant / 10. House Of God / 11. Die Sonne im Geiste // Rating: 9 / 10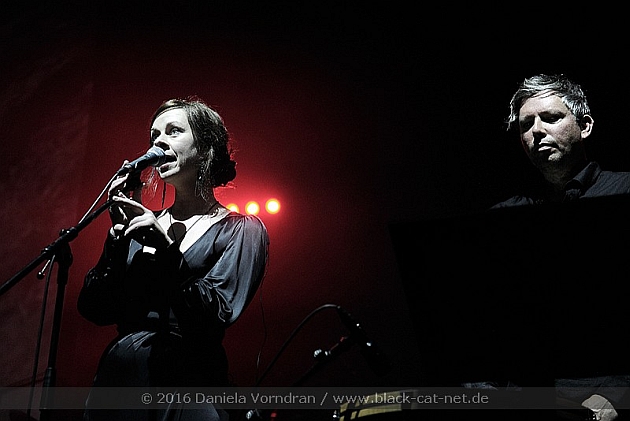 Germ

GERM is the band with the probably longest way to Balve. The band comes from Australia and emanates from the mind of musician Tim Yatras. Making a name for himself previously in bands such as Austere, Grey Waters and Woods of Desolation, GERM has now become Yatras' main focus. With this band, he combines Post-Black Metal with everything from Classical elements to Electronics, to Stadium Rock sized choruses. GERM is atmospheric, experimental, catchy and melancholic. Yatras managed to win the crowd immediately. Usually a one-man project, Yatras was accompanied on stage among others by David Conrad (HERETOIR) as well as from Audrey Sylvain on vocals for the first song 'Butterfly'. The cover version of the AUSTERE song 'Just For A Moment' got huge applause and the audience was excited. I was lucky to see the European premier of this band. //
https://www.facebook.com/germofficial
// Setlist: 01. Intro / 02. Butterfly (with Audrey Sylvain) / 03. The Stain of Past Regrets / 04. Asteroid of Sorrow / 05. I'll Give Myself to the Wind / 06. Flowers Bloom and Flowers Fall, but I'm Still Waiting for the Spring / 07. With the Death of a Blossoming Flower / 08. Withering in Hell / 09. Just for a Moment (Austere cover) // Rating: 8 / 10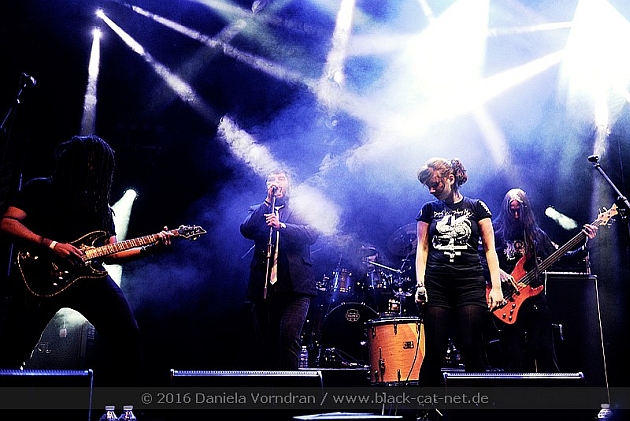 Les Discrets

LES DISCRETS (Engl. "Those who keep silent") were founded in 2003 by Fursy Teyssier, also known through his work with ALCEST and AMESOEURS as well as a visual artist. The concept of the band is described by him:
"The project's concept is pervaded by the perception of nature as well as my existential questions, especially about the feelings of love and death, as I always found a parallel between nature and human life and love."
I know several people who like this band a lot and so I was really curious what's coming up now. The music here sounds like beautifully orchestrated Black Metal but with the soft tones of Shoegaze, playful Post Rock, massive Doom Metal with some folkloristic details. The show at Prophecy Fest was the band's exclusive festival show 2016 where they premiered the 3rd album. I liked it and the audience was excited too. //
http://www.lesdiscrets.com
/
https://www.facebook.com/lesdiscrets
// Rating: 8 / 10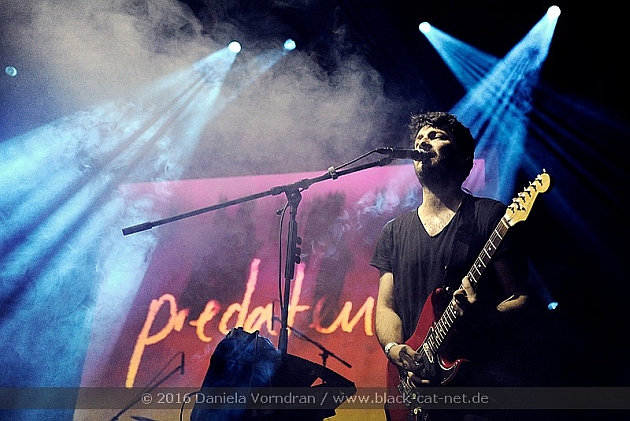 Iron Mountain

Next band on the schedule were IRON MOUNTAIN, who played their first concert in central Europe. The band from Limerick Ireland consists of Damien Mullane (guitar), Matt Bashford (Uilleann pipes / low whistle / native American flute), Ronan Ryan (transverse wooden flute / flute head), Stephen Hughes (bass) and Ray Murphy (drums / percussions). The presented music is kind of a wild mix where Psychedelic, Kraut and Post Rock are joined with Irish Folk to create colourful instrumental songs. The band members look back on years of artistic experience in different fields – from hit show "Riverdance" to being a band member of Canadian singer/songwriter Bruce Guthro (lead singer with Scottish Celtic Rockers RUNRIF) or live musician with many Irish folk artists, sought after composers of Irish traditional Flute music or even working on production in the Irish film industry. Based on the wild mix of instruments and musical styles you got kind of unique listening experience with IRON MOUNTAIN. The cave surely was the perfect place to this kind of music, spreading a special kind of magic. //
https://www.facebook.com/IronMountain.band
// Rating: 8 / 10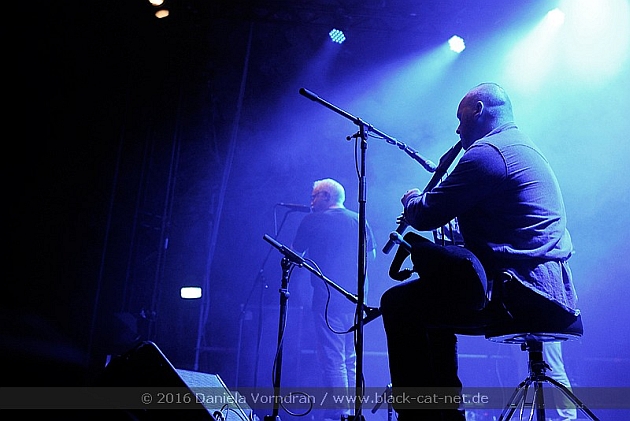 Secrets of the Moon

SECRETS OF THE MOON release records in an almost constant three-year-rhythm, play their occasional festival gig but never cause a big stir sadly, although they exist now for about 20 years and each record gained high ratings from the media and their fans. The band was founded back in 1995 and belongs to the longest-serving Black Metal bands in Germany. After various demos and a debut album 'Stronghold Of The Inviolables' (2001), the ground-breaking 'Carved In Stigmata Wounds' was released in 2004. 'Antithesis' (2006) saw SECRETS OF THE MOON mastering their very own musical form of expression, and they never realised this form in a more captivating and touching manner than on their fifth full-length release, 'Seven Bells' (2012). The material they play usually needs some time to unfold and develop in the ears of the listener. Luckily, like the other bands, they had more than one hour to get anyone in the right mood. As mentioned before, also with this band, the sound was close to perfect. The atmosphere they were creating with their music was there from the beginning but came to shine during the whole concert. It was a bit sad that the planned world premiere – an exclusive acoustic concert – did not happen and the band played in their usual setting. //
http://www.secretsofthemoon.de
/
https://www.facebook.com/sotm777
// Setlist: SUN / 01. No More Colours / 02. Dirty Black / 03. Man Behind the Sun / 04. Hole / 05. Here Lies the Sun / 06. I Took The Sky Away / 07. Mark of Cain // Rating: 8 / 10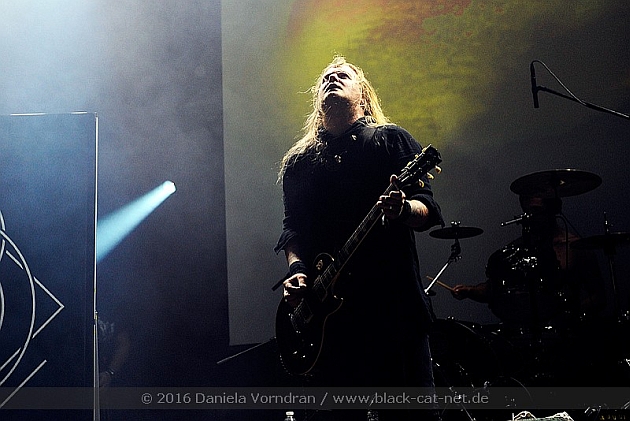 Helrunar

After the intense and rather calm show of SECRETS OF THE MOON, the festival day was closed with HELRUNAR in a darker, more aggressive way. The first release of the band, 'Grátr', dates back to 2004 and since then, HELRUNAR are the paragons of the reflected and spiritual side of Pagan Metal. Influences for them are early works of bands like ENSLAVED, ULVER or HELHEIM. The profound and ambiguous lyrics on their albums 'Frostnacht' (2005) or 'Baldr Ok Íss' (2008) raise a passionate storm against mindless materialism and draw on a mythological legacy that vocalist and lyricist Skald Draugir expresses in German, Norwegian, and Old-Norse dialects. In 2011, HELRUNAR released the double album 'Sól'. After three years of stage abstinence, HELRUNAR played their first and last show in 2016 at Prophecy Fest and you could be sure that people were really eager to see the band. The audience responded well from the very beginning and especially the people in the front rows were supporting and cheering the band a lot. //
https://www.facebook.com/helrunar
// Setlist: 01. Niederkunfft / 02. Unten und im Norden / 03. Devils Devils Everywhere / 04. Unter dem Gletscher / 05. Ich bin die Leere / 06. Magdeburg brennt / 07. Nebelspinne / 08. Wein für Polyphem / 09. Landsknecht // Rating: 8 / 10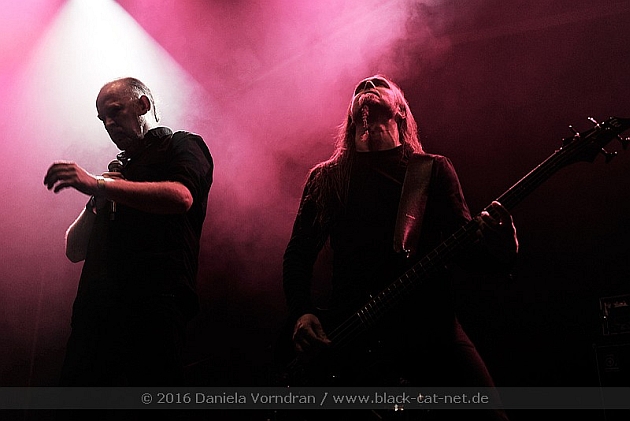 What is left to say after this first festival day? I had a lot of fun exploring new bands. And: there was not a single bad performance. All bands played extraordinary shows. Which one to like more was only a matter of personal taste.
All Pictures by Daniela Vorndran (
http://www.vorndranphotography.com
/
http://www.facebook.com/blackcatnet
)
See also (all categories):