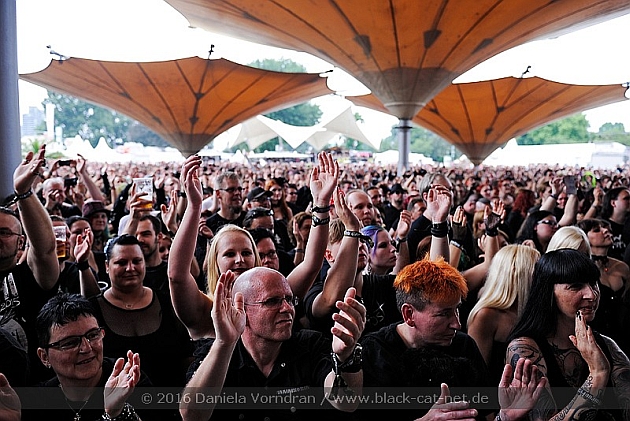 Tanzbrunnen, Cologne, Germany
23rd to 24th July 2016
Amphi Festival 2016 Day 1 with [X]-RX, Solitary Experiments, Angels & Agony, Megaherz, Dive, Bloodsucking Zombies From Outer Space, Stahlzeit, Ewigheim, Laura Carbone, Mono Inc., Spetsnaz, Tarja, Aesthetic Perfection, Peter Heppner, Neuroticfish, Blutengel, Front Line Assembly, Nosferatu

The Tanzbrunnen Cologne, which had gotten close to our hearts and characterized the Amphi Festival sustainably from 2006 till 2014, was available again in 2016. "Home is where the heart is", as the folks say. Therefore the festival returned to the place people love. With coziness and summer open air feeling, for example the fountain-lounge is back, as well as the popular beach club along with pure holiday feeling. Alongside the open air stage at Tanzbrunnen and the indoor stage at Theater am Tanzbrunnen promoters prepared another neat surprise, the new Orbit Stage.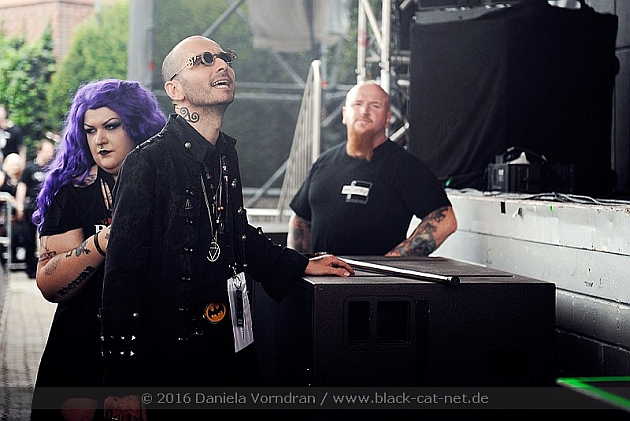 Last year´s Orbit Stage remains faithful to its name as it found a new home in 2016, rocking the MS RHEINENERGIE. Only for the Amphi Festival, Europe's unique event-catamaran landed and stayed at the boarding bridge in Cologne-Deutz, just a few hundred meters from the Tanzbrunnen. During the whole weekend you could see numerous live-shows there, relax on the ship's lavish sun-deck with a large number of seats or dance through the night, since there was an alternative second floor, in addition to the regular after-show party at the Theater. High-class setting meets festivals pleasures!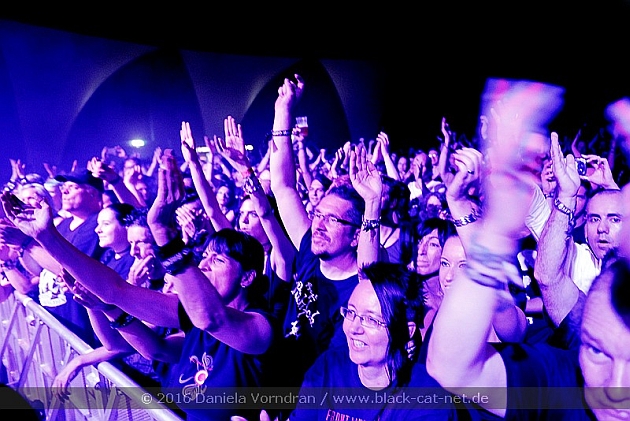 [X]-RX - Main Stage (Kira)

[X]-RX opened the festival and their gig quite academically - shouting "Welcome to the show". Honestly, sometimes it was difficult to understand if they still just shouting something or sing another song. Not everybody was able to enjoy the band, at least not at that time of the day. The others could not imagine a better start of the day. Well, it is easy to imagine hearing rave and techno in the morning... say at 6 am... but it would be rather the end of the previous day. At 11 am it is hard to accept it. The fans were really happy though. There were people, who were hard-core cyber-dancing, as if they were warming up while waiting for the doors were open. The dancers partly overtook the responsibility of the musicians and made the day the first day at Amphi. //
https://www.facebook.com/XRxmusic
// Rating: 5 / 10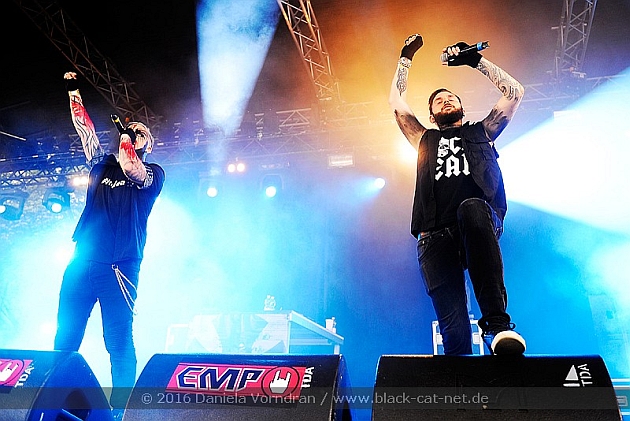 Solitary Experiments - Main Stage (Janine)

High noon with SOLITARY EXPERIMENTS on the Main Stage… Usually electronic music on open air stages is hard work convincing the audience, especially at lunch time. But what should I say – the catching hits like 'Delight', 'Rise and Fall', 'Epiphany' or 'Stars' by this Future Pop pearl were pure fun. Everyone in the crowd was in a good mood as well as the guys on stage around front man Dennis Schober in their red shirts and black ties. Even the drizzling rain could not dropout. The audience enjoyed the set a lot and proved that by cheering and dancing. //
http://www.solitaryexperiments.de
/
https://www.facebook.com/solitaryexperiments
// Setlist: 01. Trial and error / 02. Delight / 03. Point of view / 04. Immortal / 05. I Am (new song) / 06. Pale candle light / 07. Rise and fall / 08. Epiphany / 09. Stars // Rating: 8 / 10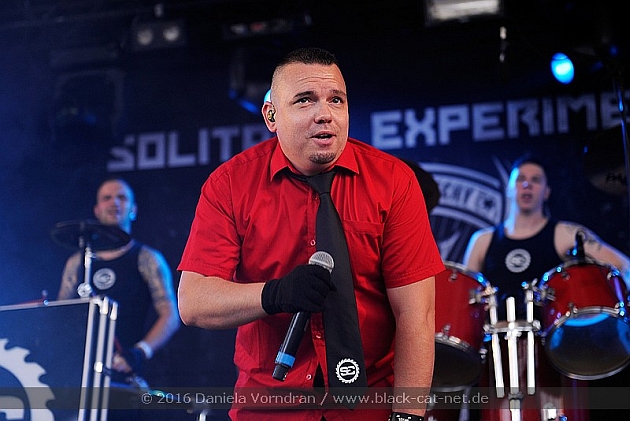 Angels & Agony - Theater (Dani)

Due to health reasons, ONE I CINEMA had to cancel their show at Amphi and so, ANGELS & AGONY were opening the program at the Theater Stage. ANGELS & AGONY are a Dutch Future Pop band consisting of vocalist Reinier Kahle, guitarist Erik Wierenga, DJ Marco van Belle on synthesizer and backing vocals and Fried Bruggink as sound engineer and drummer. At the Amphi festival though, we had John Fryer at guitar. The band formed in 1995 and produced two EPs before its first full album, 'Eternity' (2001). Angels & Agony made 4 full-length albums on the Out Of Line label. Metropolis Records describes the band's music thus: "Although the music can be dark and melancholic, but still danceable with pumping beats and sequences, the songs have a very positive message." The latest album, 'Monument', was released in 2015. The set at Amphi contained several older songs but of course also songs from the latest album, like its title track, 'Horizon' or 'shine'. ANGEL & AGONY's ingenious electro pop tunes went straight into the limbs and spread fun all around. The excited audience clapped and danced along to the songs. Definitely amongst the highlights was 'Forever' from the eponymous EP released in 2002. All in all, it was a refreshing, sympathetic performance and a great start of the day at the Theater Stage. //
http://www.go-music.nl
/
https://www.facebook.com/AngelsAndAgony
// Setlist: 01. Watchers / 02. Horizon / 03. Inside Sanity / 04. Stronghold / 05. Forever / 06. Shine / 07. Forward / 08. Monument // Rating: 8 / 10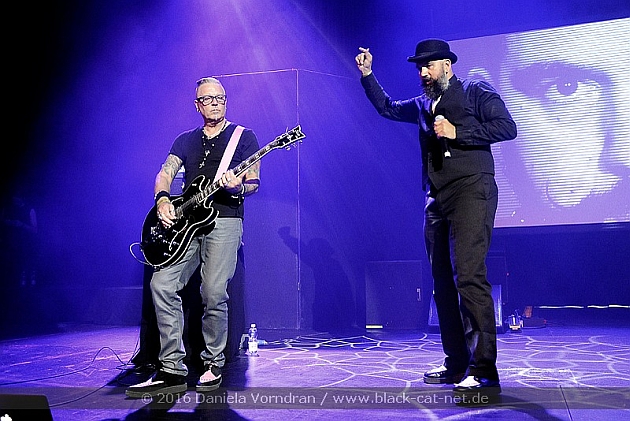 Megaherz - Main Stage (Layla)

Vocalist Alexander "Lex" Wohnhaas, guitarists Christian "X-ti" Bystron and Christoph "Chris" Klinke, bassist Werner "Wenz" Weninger and drummer Jürgen "Bam" Wiehler are MEGAHERZ. Founded back in 1993 they are one of the founders of a genre described as "new", "German", and "hard" (Neue Deutsche Härte). This year, the Industrial German Rockers from Munich played their very first Amphi gig. The five blokes with their black and white makeup and Lex with his baseball bat mike stand successfully rocked out on the Main Stage presenting their repertoire of old songs next to newer ones. They kick-started their bombastic show with the title track from 'Zombieland' (2014) followed by the smasher 'Fanatisch' from the same record. The Amphi crowd celebrated the band's latest album 'Erdwärts' (2015) by dancing wildly and singing along to 'Wer hat Angst vom Schwarzen Mann' and also enjoying some calmer moments with the hymn 'Glorreiche Zeiten' and the ballad 'Einsam'. Older classics like 'Miststück' from the 'Kopfschuss' record (1998), the title track of 'Heuchler' (2008) and 'Jagdzeit' from the 'Götterdämmerung' album (2012) led to a lot of head-banging and arms raised up in the air.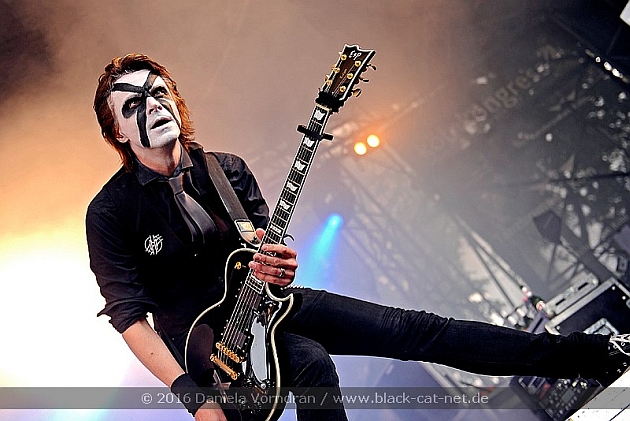 The audience was bawling the refrains while the musician's makeup started to melt away. MEGAHERZ ended their hard and heavy set with two further calmer tracks from 'Zombieland': after the beloved ballad 'Für immer', the powerfully melodic chorus of 'Himmelsstürmer' made everyone shake a leg one last time. All in all, Lex's vocals and the band's performance were just mega! And not only the sound was simply great, but also the atmosphere because of the black crowd's celebratory mood on that early afternoon at the Tanzbrunnen. After this summer festival season, the Industrial German Rock party will go on: The "hearties" will be back for a "Erdwärts Club-Tour" all across Germany starting in October. See you, then! //
http://www.megaherz.de
/
https://www.facebook.com/OfficialMegaherz
// Setlist: 01. Zombieland, 02. Fanatisch, 03. Glorreiche Zeiten, 04. Wer hat Angst vom Schwarzen Mann, 05. Miststück, 06. Jagdzeit, 07. Einsam, 08. Heuchler, 09. Für immer, 10. Himmelsstürmer // Rating: 9 / 10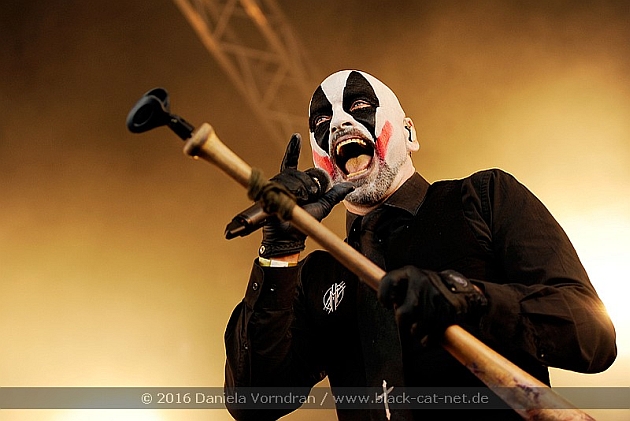 Dive - Theater (Janine)

The theatre was packed with people awaiting mastermind and Electro pioneer Dirk Ivens on stage. DIVE as one of his projects besides EBM legend THE KLINIK is always a guarantee for full dance floors in underground clubs. Hard, noisy sounds filled up the darkness in the venue. Fortunately the mainly old school EBM fans had not to stamp and shake their bodies in the brightness outside. So the brute basses and catchy hook lines could come to full evolvement by monotone wafting throughout the theatre. //
http://www.dirkivens.com
/
https://www.facebook.com/TheKlinikDiveSonarAbsoluteBodyControl
// Setlist: 01. Slipping away / 02. Take your Dreams away / 03. This is me / 04. Bloodmoney / 05. Broken Meat / 06. Lost inside you / 07. Machinegun Baby / 08. Power of Passion / 09. Lies in your Eyes / 10. Dreamhunter / 11. Rocket USA / Encore: 12. Blindness // Rating: 7 / 10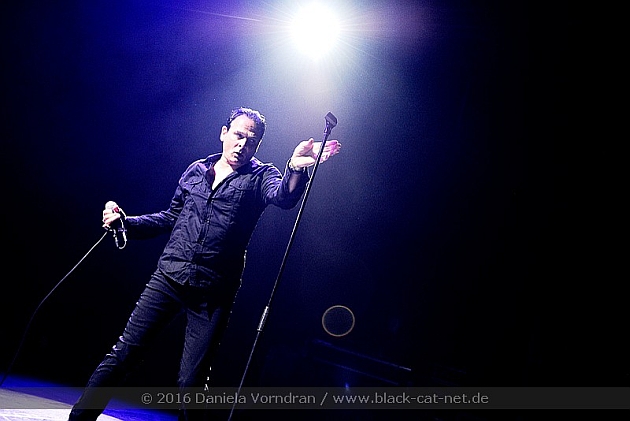 Bloodsucking Zombies From Outer Space - Orbit Stage (Kira)

Short before the show, the vocalist of BZFOS was sneaking to the rest room. At AMPHI you normally don't wonder if you meet a walking dead Indian dancing together with an alien and a girl in underwear - it's what the festival about. So it was not a big surprise as the zombie, which you just met at the men's, appeared on the stage. BZFOS was one of the brightest bands at the festival. There were no other band, which would be that outstanding in sense of music. Punk and Gothic rockabilly inspired by B-Movies deserves special attention. At first it is pretty funny and brings a lot of joy. To the end of the gig though the listener might get the feeling that it is too much of everything: punk, contrabass, singing drummer, pretty heavy electro guitar. Sooner or later the noise from the stage demands too much concentration to recognize the songs. //
http://www.zombies.at
/
https://www.facebook.com/BZFOS
// Rating: 7 / 10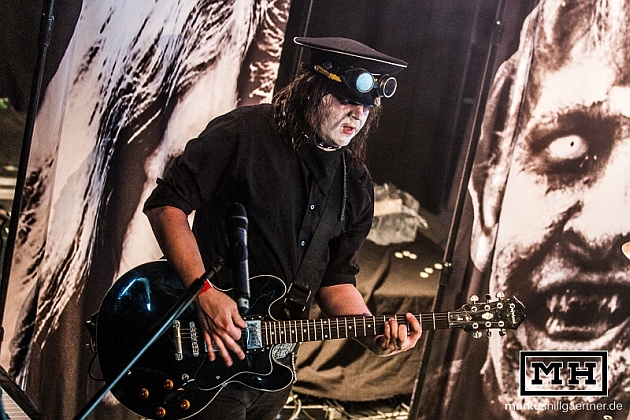 Stahlzeit - Main Stage (Layla)

Quite fittingly, the next act up on the Main Stage following the Industrial German Rockers MEGAHERZ was the "greatest RAMMSTEIN cover band" called STAHLZEIT. The moderator announced the band with quoting the musicians, "We have absolutely no clue about anything!", and commented that "this is not true at all". STAHLZEIT used their 50 minutes of playing time to prove this. And indeed, their sound was massive and their show fiery. The STAHLZEIT crowd at the Tranzbrunnen had a great time with frontman Heli Reissenweber, who really kind of resembles Till Lindeman, keyboardist Thilo Weber, guitarists Mike and Matthias Sitzmann, bass player Bora Öksüz, and drummer Thomas Buchberger-Voigt. While quite a few were amused by their performance including a ton of stage blood and theatrics and took a lot a pictures, others seemed like it was not really their cup of tea. Music-wise, however, there was no doubt that everyone in the audience loved singing and screaming along RAMMSTEIN hits such as 'Sonne', 'Feuer Frei!', 'Ich will', 'Du hast', and of course the classic 'Engel'. Every time STAHLZEIT started to play the next song there were cheers when folks recognised which RAMMSTEIN smasher was about to be played. Finally, vocalist Heli invited those who want to experience a "full show" of his tribute band, to join STAHLZEIT on their upcoming tour at the end of the year. //
http://www.stahlzeit.com
/
https://www.facebook.com/STAHLZEIT-die-RAMMSTEIN-TRIBUTE-SHOW-120111288019121
// Setlist: 01. Bück Dich, 02. Du riechst so gut, 03. Asche zu Asche, 04. Mein Teil, 05. Sonne, 06. Waidmanns Heil, 07. Feuer frei!, 08. Du hast, 09. Ich will, 10. Engel // Rating: 7 / 10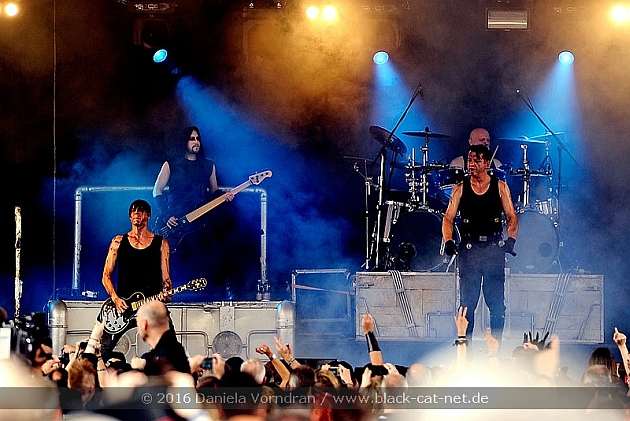 Ewigheim - Theater (Layla)

With 'Ein Nachruf', EWIGHEIM, a band formed by members of THE VISION BLEAK and EISREGEN, sounded the bell for their dark and atmospheric set. The metal heads of the Amphi crowd and everyone else who was craving for some heavy guitars and drums combined with diverse electronic tunes, gathered in the theatre. There, guitarists Ronny "Yantit" Fimmel and Ulf Theodor Schwadorf, drummer Dirk Törppe, and vocalist Allen B. Konstanz presented a perfect mix of doomy and yet danceable, melodic metal tunes. The quartet's performance was a real sonic treat as their audience enjoyed eleven well-crafted Goth Metal songs taken from their repertoire of 17 years of band history. With the old track 'Leiche zur See' from their debut album 'Mord nicht ohne Grund', the song 'Die Augen zu' as well as 'Schneemann' with their melodic choruses, the doomy 'Das Rad der Käfer' and, without any doubt, the smasher 'Tanz um dein Leben' one highlight followed the other.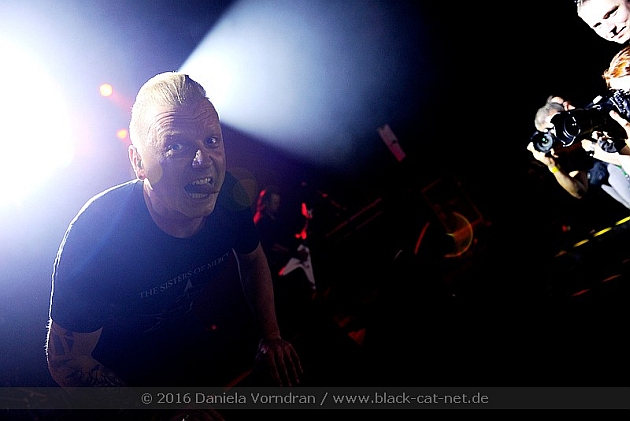 Finally, EWIGHEIM ended their set on a calmer note by playing the piano tune 'Heimweg'. In addition to their unique music and great sound, one cannot praise the band enough also for their creative lyrics sang in German. These are sinister in tone, however, always with a portion of irony. All who share EWIGHEIM's grim sense of humour, have a thing for the grotesque, and love their Metal tunes served in a dark way, had a wonderful, black celebration inside together with the band, while the sun was shining outside on that first Amphi day. //
http://www.ewigheim.de
/
https://www.facebook.com/ewigheim
// Setlist: 01. Ein Nachruf / 02. Flasches Herz / 03. Schatten / 04. Leiche zur See / 05. Die Augen zu / 06. Schneemann / 07. Der Tanz der Motten / 08. Morgenrot / 09. Das Rad der Käfer / 10. Tanz um dein Leben / 11. Heimweg // Rating: 10 / 10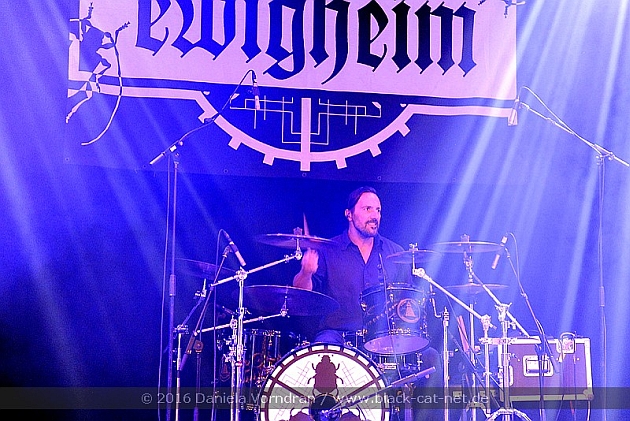 Laura Carbone - Orbit Stage (Janine)

After a five minutes' walk from Tanzbrunnen to the Orbit Stage aka the ship Rheinenergie you could have enjoyed live music on the river Rhine, which is still a quite special venue in the festival landscape. Protain placed the relatively unknown, but very special acts or secret hints there. LAURA CARBONE in a Leo printed dress and her band welcomed their audience with spherical sounds and Laura's warm voice. A front woman is always a welcomed variety, especially when she is such an outstanding beauty with black hair, red lips and pale skin just like Snow White. They performed their handmade New Wave sound with pure instrumentation of guitars and drums and sometimes a tambourine. Of course songs like 'Swans' or 'Exes' were not missed and the people in the stomach of the boat were pleased. //
http://lauracarbone.com
/
https://www.facebook.com/lauracarboneofficial
// Setlist: 01. Heavy Heavy / 02. Innocent / 03. Drive by Shooting / 04. Exes / 05. Stigmatized / 06. Swans / 07. Silky Road / 08. Blue Birds / 09. Favourite Disease / 10. Plan of Attack // Rating: 8 / 10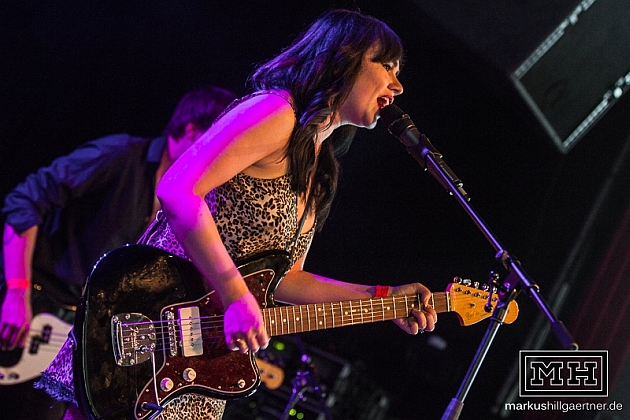 Mono Inc. - Main Stage (Layla)

MONO INC. are vocalist Martin Engler, bassist Manuel Antoni, guitarist Carl Fornia, and drum lady Katha Mia. The Alternative Dark Rockers from Hamburg are around since 2000 and have released eight records so far, their latest titled 'Terlingua' (2015). Their Amphi performance showed once again that MONO INC. are one of those bands where you immediately feel the great vibes and affection among the band members and also between the band on stage and their fans in front it. There were hugs on stage and Martin, who was wearing his black and gold tail coat, was running from the left stage corner to the right addressing the entire audience. No wonder that the crowd needed no invitation to clap their hands or start loud "Hey! Hey! Hey!" shouts as the band played their melodic and up-beat classic hits such as 'Revenge is Mine' or 'Arabia'. Before they played their SNOW PATROL cover, Martin expressed his love for the calm song 'Chasing Cars'.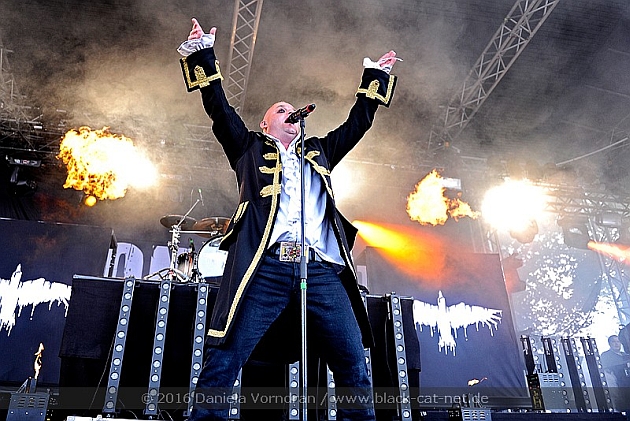 And of course a MONO INC. show would not be a MONO Inc. show without Katha's drum solo and the battle between the lady and the frontman! When Katha Mia asked whether she had won, a guy from the front rows shouted from the top of his lungs: "At all times!" During the show, all musicians joined Martin singing the backing vocals and, as always, Katha Mia's high-pitched singing while hitting the drums was particularly impressive. The band ended their set with the fan favourite 'Voices of Doom' which turned the crowd into an a capella choir singing the tune's chorus. There were many cheers when Martin finally waved the huge MONO INC. flag. And once the last sound was played the entire band pretended they had turned to stone. Their fan's immediate "Encore!" shouts freed them from petrification very soon and the band made their farewells. //
http://www.mono-inc.com
/
https://www.facebook.com/monoinc
// Setlist: 01. Arabia / 02. Symphony of Pain / 03. Gothic Queen / 04. Never-Ending Love Song / 05. Chasing Cars / 06. Get Some Sleep / 07. Drum Battle / 08. Revenge is Mine / 09. After The War / 10. Voices Of Doom // Rating: 10 / 10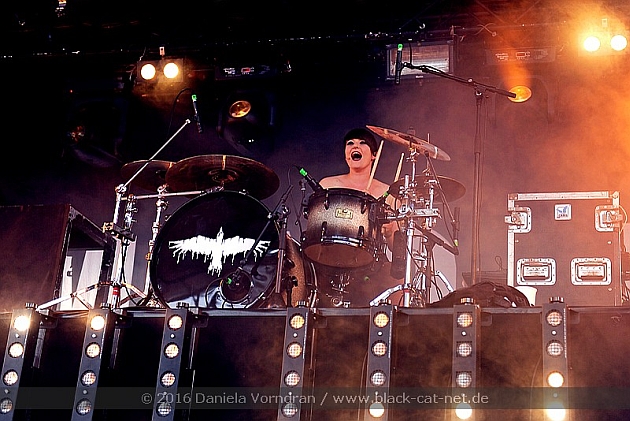 Spetsnaz - Theater (Kira)

SPETSNAZ was absolutely one of the most awaited gigs at the festival. To say that the Theater stage was full is to say nothing. Not only the fans had to complete a quest of the longest queue for entering the venue, to stay inside was also quite challenging. Although the climate at Theatre was unbearable, still the old-school Electro Body Music made the human heated bodies to move and dance. If people left the dance floor, than only to breath in fresh air in the lobby or outside to come back and keep moving along with the beats of Swedish classical EBM. //
https://www.facebook.com/SPETSNAZ-23395943282
// Setlist: 1. Nothing But Black / 2. Onwards / 3. Degenerate Ones / 4. Allegiance / 5. Free Fall / 6. Faustpakt / 7. Kindred / 8. ManGod / 9. Apathy / 10. Reign of Wolves / 11. That Perfect Body // Rating: 8 / 10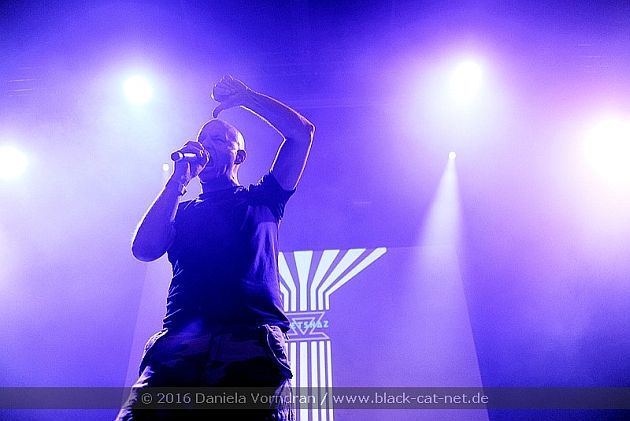 Tarja - Main Stage (Kira)

To see TARJA live might be on to-do-list not only of NIGHTWISH / TARJA fans, but any lover of the alternative scene, who has an idea of who it is. One of the most extraordinary phenomena of the modern music. Unfortunately her show at the festival was rather disappointing as exciting. It seemed like her appearance at the festival was surprising not only for the usual AMPHI-visitors but for herself as well. TARJA presented her own songs, and there is nothing phenomenal about them. And already in the middle of her show even her talent in singing doesn't save the boring situation. Musically it was so as if the musicians wasn't listening to each other. For those who heard TARJA for the first time this show would hardly be impressive and would inspire to discover more of her music, this show simply didn't left any memories at all. I sincerely tried to get a positive impression and find people who enjoy the show. And of course it would be totally unfair not to mention the first rows, who were dancing and even singing along. It would be also unfair to say that such a mood was only by TARJA's show. The festival public in general rarely showed enthusiasm about one or another band. //
http://www.tarjaturunen.com
/
https://www.facebook.com/tarjaofficial
// Setlist: 1. Intro / 2. No Bitter End / 3. Never Enough / 4. Demons in You / 5. Calling from the Wild / 6. Supremacy / 7. NW Medley / 8. Innocence / 9. Victim Of Ritual / 10. Die Alive / 11. Until My Last Breath // Rating: 6 / 10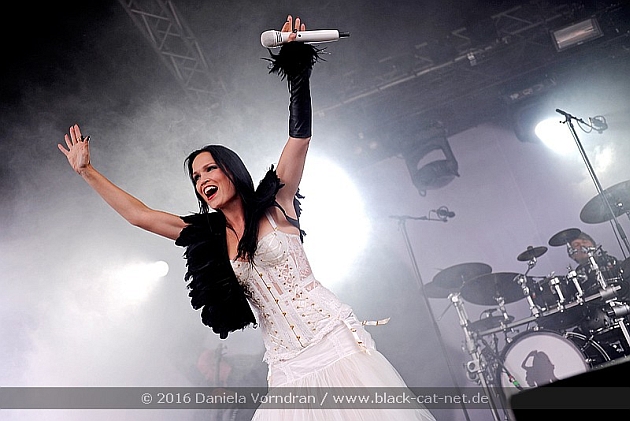 Aesthetic Perfection - Theater (Layla)

At around 6pm all electro heads tried to get into the theatre to see AESTHETIC PERFECTION from Los Angeles. Mastermind and vocalist Daniel Graves was about to raise the roof with his one of a kind Aggrotech. In the beginning of the show, which they kicked off with 'A Nice Place to Visit', it had been dark and super foggy on stage so that some of photographers started to take pictures of the enthusiastic audience instead. Once it cleared up a bit we could see Daniel smiling and laughing at his fans, jumping around or posing with an outstretched long tongue or spread arms like a slim, Greek statue. Elliott Berlin (TELEMARK) on synths and Tim Van Horn on drums accompanied the frontman and contributed greatly to the energetic show. While Tim kept on throwing his sticks in the air, Elliott climbed on his keyboard - athletic perfection! Hit singles and smashers like 'Inhuman', 'Antibody' and 'Big Bad Wolf' made the crowd party hard from the first minute to the last and it was getting hotter and hotter in the theatre. Next to the beautiful 'Vapor', my personal highlight was to hear one of my favourite AESTHETIC PERFECTION pieces live: 'Never Enough'!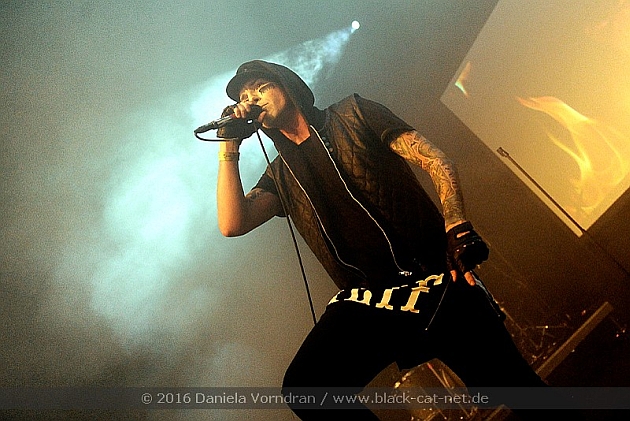 Just perfect that Sven Friedrich of SOLAR FAKE was also around at the festival and joined the band towards the end of the song. Daniel, Tim and Elliott also presented their new single 'LAX', which came out just one day before the Amphi gig. The crowd celebrated this new song also excessively and by now it's No. 1 on the German Alternative Charts. With "Spit it out – SCREAM! Spit it out – SCREAM!" everybody partied one last time before the trio had to hand over to NEUROTICFISH. I have to say that AESTHETIC PERFECTION were my personal headliners on the Theater Stage that day. As expected, the band nailed it, Mr Graves' clear as well as harsh vocals were A-one and the party atmosphere was simply unbelievable. The lucky Theater Stage audience also got the great news that AESTHETIC PERFECTION would be back in September touring with Synth Pop heroes MESH from the UK. Until then, we can enjoy Daniel's latest killer remix of the current MESH single titled 'Kill your Darlings'. Dear AESTHETIC PERFECTION, many thanks for the Amphi show, what a blast; see you guys in September! //
http://aesthetic-perfection.net
/
https://www.facebook.com/aestheticperfection
// Setlist: 01. A Nice Place to Visit / 02. Inhuman / 03. LAX / 04. Antibody / 05. Big Bad Wolf / 06. Vapor / 07. Never Enough / 08. The Ones / 09. The New Black / 10. Spit it Out // Rating: 10 / 10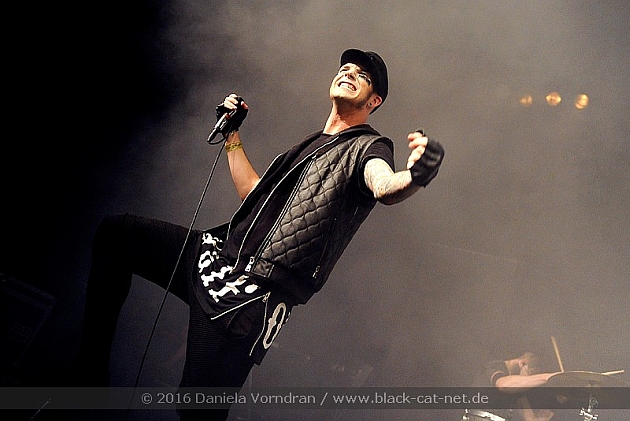 Peter Heppner - Main Stage (Kira)

PETER HEPPNER was a real highlight, and left the most positive impression not only from the first day but both days of the festival. And it couldn't be any different! Songs that he writes, the feelings that he puts in each and any of his shows, the bright personality that he has it is impossible to not enjoy and smile during his gig. The supporting musicians are brilliant and work together as if they were always playing those melodies. Doesn't matter, if an all-time classic 'Kein Zurück' or a song from after-WOLFSHEIM-period 'Wir sind wir' or a song from his current studio album 'I Won't Give Up' - they all sound great, they will always be appreciated by public. Even if Heppner's manner to sing is pretty calm, there are no explosive riffs or mad solos, his show was the most emotional at the festival. //
http://www.peter-heppner.com
/
http://www.facebook.com/peterheppneroffiziell
// 1. Intro / 2. I Won't Give Up / 3. Alleinesein / 4. Meine Welt / 5. Vielleicht? / 6. Being Me / 7. Once in a lifetime (Wolfsheim song) / 8. Künstliche Welten (Wolfsheim song) / 9. God Smoked / 10. The Sparrows And The Nightingales (Wolfsheim song) / 11. Leben... I Feel You / 12. Wir sind wir / 13. Kein Zurück (Wolfsheim song) / 14. Das Geht Vorbei // Rating: 10 / 10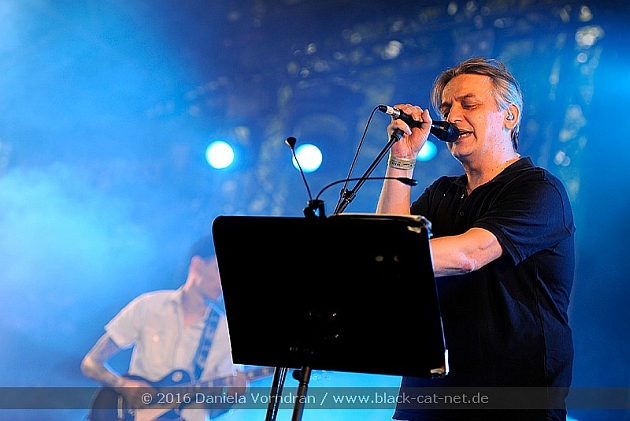 Neuroticfish - Theater (Janine)

Oh my… The entry situation of the theatre stage was quite disappointing for some attendees. They might have come too late for getting in – because of security and ambulance concerns the staff had to stop entrance to the venue. But nevertheless, the theatre was packed up with people waiting for NEUROTICFISH! What a concert blowing everyone inside away. Sascha Mario Klein (vocals, keys) and Henning Verlage (keys, production, who was not attending Amphi due to other business and was replaced by Christoph Aßmann) create as they call it in their own words "Music For A Paranormal Life" characterized by a clear and emotional vocal performance with naive pop melodies over harsh and technoid beats accompanied on stage by vintage film sequences on a video screen. The audience was excited: dancing, singing along and cheering. Sweat dropped to the floor and it was getting hot and hotter building the ground for tonight's headliner. //
http://www.neuroticfish.com
/
https://www.facebook.com/OfficialNeuroticfish
// Setlist: 01. Intro "Rose" / 02. Silence / 03. Former Me / 04. Bomb / 05. Behaviour / 06. Wake Me Up / 07. Suffocating Right / 08. Agony / 09. Is It Dead / 10. M.F.A.P.L. / 11. Velocity / 12. They're coming to take me // Rating: 10 / 10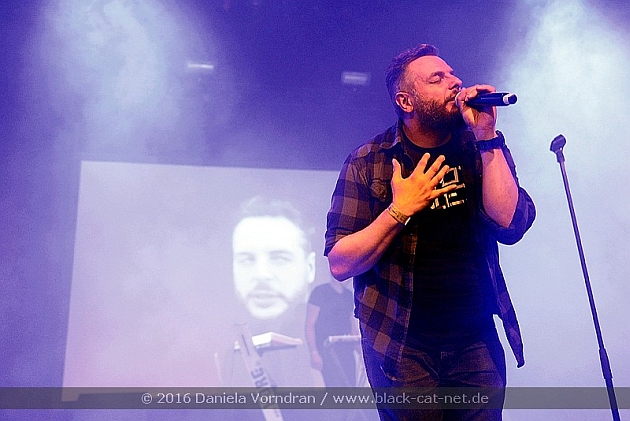 Blutengel - Main Stage (Layla)

For the vocalists Chris Pohl and Ulrike Goldmann, the band and the dancers of BLUTENGEL it was premier as headliners at Amphi. The Goth Pop icons from Berlin had the honour of gracing the Main Stage as the final act of the first festival day and began their set with 'Sing'. Then, Chris greeted and thanked the big audience: "We're very happy to be here as headliners for the first time. It's nice that so many of you came, thank you!" The BLUTENGEL crowd enjoyed an atmospheric and danceable show as both vocalists presented their songs in harmony switching between German and English lyrics. The dancers dressed as nuns and a display showing BLUTENGEL's video clips in the background contributed to the visual aspect of BLUTENGEL's performance. Chris joked about how "stupid it was to wear a suit coat in this heat" pretending to envy the girls who got rid of their costumes very soon dancing in white underwear. With 'Wir sind was wir sind' BLUTENGEL played a title that is pretty relevant and current "if you look what's going on in the world nowadays", as the frontman announced.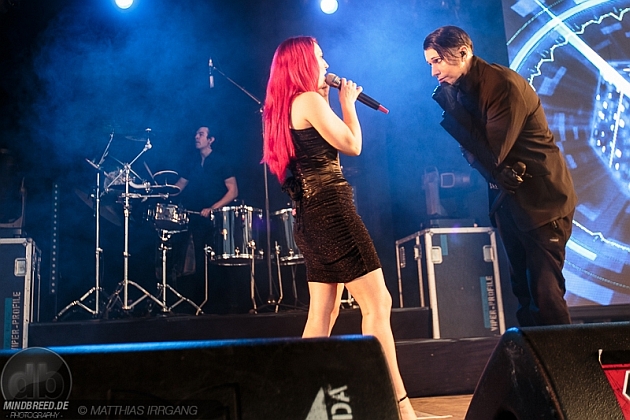 After this slower piece that also featured some acoustic guitar next to the piano sounds, the band played an older song that they had not played in a while: 'Save our Souls' from their 'Monument' album. Chris animated the crowd saying, "We're the last band tonight, so let's have some fun!" Even though the drums seemed slightly to loud and the guitar too low at times, the crowd had a great time, for example during the fiery song 'Krieger'. During 'Engelsblut' Chris made the crowd sing the chorus and of course the band had to play another old classic: their vampire tune 'Bloody Pleasures'. While Chris used his black towel he introduced the song 'Dein Gott' - "a piece that I think is beautiful" - and the BLUTENGEL fans at Amphi seemed to agree. In the end, Ms Goldmann presented 'Black Roses' for the cheering Amphi crowd that wanted one more song. //
http://blutengel.de
/
https://www.facebook.com/BlutengelOfficial
// Setlist (incomplete/not in order): Sing / The War between us / Save Us / Wir sind was wir sind / Save our Souls / Bloody Pleasures / Dein Gott / Kinder der Sterne / Lucifer / You Walk Away / Krieger / Engelsblut / Encore: Black Roses // Rating: 8 / 10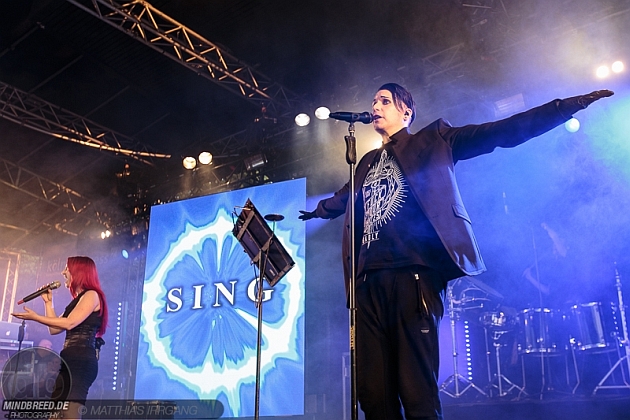 Front Line Assembly - Theater (Kira)

FRONT LINE ASSEMBLY are one of the most wanted bands. Even if it is easy enough to see the band at the festival or with a solo concert all over the world - it just never gets old. The excitement of the show always takes over the venue. This time was no exception, and the Theater was packed with electro heads. FLA is very powerful band, their music and live gigs is a special physical and emotional experience. On the other hand, this experience comes from the distance. Somehow even if the musicians are standing on the stage just few meters away from you, it feels like you're watching it in a cinema. Normal state of the people who let FLA music in themselves are acting as if they were in a deep trance. If you didn't catch this wave, you might get the feeling you see the concert through the looking glass and you're missing something. Also this time the FLA line-up was strictly reduced, and if not for Bill Leeb's presence, it wouldn't be any different from an ordinary electro-party. //
http://www.mindphaser.com
/
https://www.facebook.com/frontlineassembly
// Setlist: 1. The Chair (Intro) / 2. Neologic Spasm / 3. Killing Grounds / 4. Blood / 5. Resist / 6. Plasticity / 7. Deadened / 8. Exhale / 9. Shifting Through The Lens / 10. Mental Distortion / 11. Ghosts / 12. Mindphaser // Rating: 8 / 10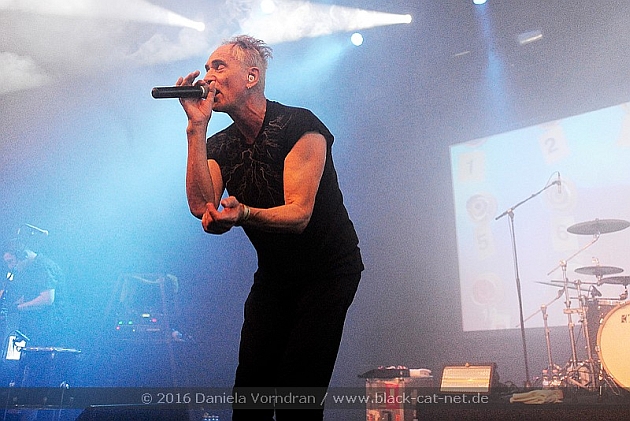 Nosferatu - Orbit Stage (Layla)

The Orbit Stage was the place to be, if you appreciate more alternative ear-candy and are into truly unique tunes of the dark kind. The Second Wave Goth Rock band NOSFERATU turned the MS Rheinenergie on the River Rhine into a genuine Goth ship and were without a shadow of a doubt one of the highlights at this year's Amphi festival. The cult Goth band from the UK was formed in the late 80's by lead guitarist Damien DeVille, who is now sharing the stage with vocalist Tim Vic, bass player Stefan Diablo and drummer Belle Star. Quite fittingly, they began their set with well-known 'Das Boot' tune. It was dusky and quite atmospheric inside and the black-clad crowd was enchanted by NOSFERATU's traditional sound and deep vocals from the start, either watching them as if mesmerized or dancing along. Next to various gloomy tracks form their vast repertoire consisting of eleven albums and intoxicating anthems such as 'Witching Hour' or 'Torturous', the headliners also played the new songs 'London Calling' and 'Within the Realm if a Dying Sun'.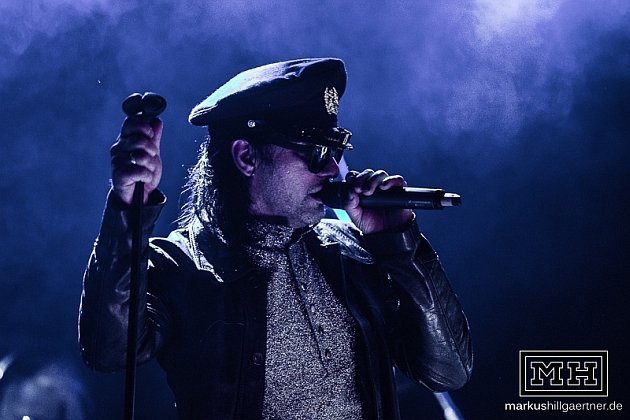 Both tracks will be on their 9th single that is going to be released in November. After the show Tim distributed some promo cards and shook hands with some of the fans who remained in front of the stage to thank him for their enigmatic and at the same truly rocking music. Now, after having enjoyed NOSFERATU's high-class performance at Amphi, old and new fans are waiting for their sixth studio album 'Grail Hunting' to be unleashed and hope to see the band again sometime very soon. //
http://officialnosferatu.co.uk
// Setlist: 01. Das Boot (Intro) / 02. Darkness Brings / 03. Shadowmaker / 04. Alone / 05. Keepers Call /, 06. Wicca Man / 07. Within the Realm if a Dying Sun / 08. Dark Angel / 09. Big Black Car / 10. London Calling / 11. Heat Seeker / 12. Witching Hour / 13. Torturous // Rating: 10 / 10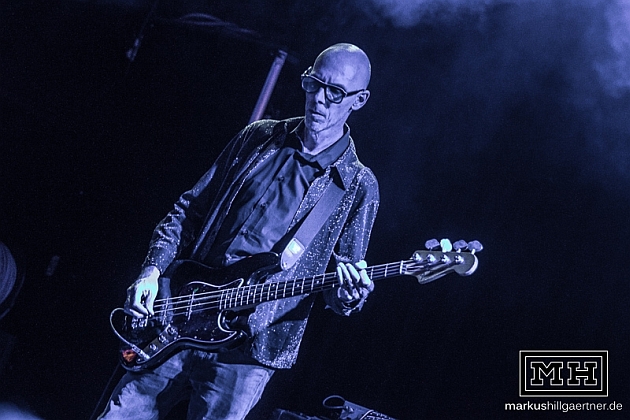 All Pictures by Daniela Vorndran (
http://www.vorndranphotography.com
/
http://www.facebook.com/blackcatnet
) except BLUTENGEL by Matthias Irrgang and BLOODSUCKING ZOMBIES FROM OUTER SPACE, LAURA CARBONE & NOSFERATU by Markus Hillgärtner
See also (all categories):