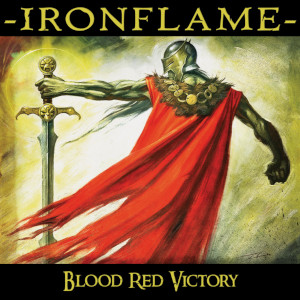 Artist: Ironflame
Title: Blood Red Victory
Genre: Traditional Heavy Metal
Release Date: 7th February 2020
Label: Divebomb Records
Review Flash

Fresh out of the Trve Metal crypt: Ohio's pride IRONFLAME! I heard and read an awful lot about this band and I am very happy to have the opportunity to finally take a shot at a review myself. IRONFLAME were founded by Multi-instrumentalist Andrew D'Cagna in late 2016 as a solo project but soon he assembled a kick-ass line-up to play live. D'Cagna is responsible for the lyrics, Quinn Lukas and Jesse Scott are on riffing duty, bassist James Babcock and drummer Noah Skiba form the rhythm fraction. 'Blood Red Victory' is IRONFLAME's third full-length output since 2016 and I can certify the hype is real and deserved.
The production is crisp and crystal clear, the compositions are melodic and catchy but nowhere near the mainstream. It is important to point out that not only is D'Cagna a versatile vocalist but the song material breathes old-school metal, this is more polished than most stuff I recently reviewed but still it kicks serious ass thanks to the high quality of both sound and material. Citing Encyclopedia Metallum (aka metal-archives.com) IRONFLAME can be compared to bands like: TWISTED TOWER DIRE, HOLY GRAIL or VISIGOTH (because of Jake Rogers voice this is to special, nothing sounds quite like VISIGOTH) while I rather draw comparisons to QUEENSRYCHE and IRONMAIDEN. So it is not an easy task to contextualize IRONFLAME's sound, the compositions are straightforward mostly with excellent riffs, rhythms and vocals although sometimes a bit playful.
Conclusion: IRONFLAME is great fun for the whole head-banging horde, wanna drink/ party/ relax? IRONFLAME!
Rating: 8.5 / 10