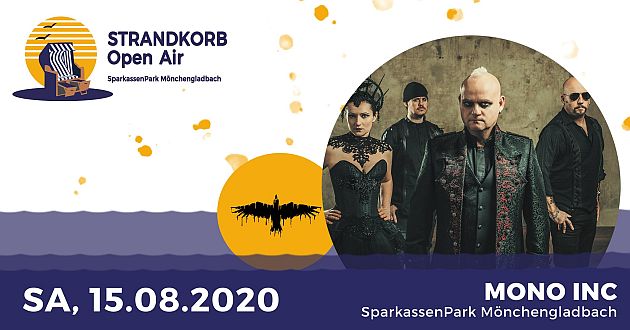 Sparkassenpark, Mönchengladbach, Germany
15th August 2020
Mono Inc. - Beach Chair Concert - "The Raven Flies Again" Tour 2020 - Support: Storm Seeker

The Dark Rock musicians MONO INC. FROM Hamburg will return for a special concert in Mönchengladbach / Germany. Instead of standing next to each other in a hall, now you can enjoy the concert comfortably in a beach basket. After a very successful tour and two cancelled sold-out shows, Martin Engler will be very happy to play again in the front of an audience.
Important information for all fans: due to the regulations (minimum distance, etc.) there is only a very small ticket quota. "But this will not stop us from having two emotional and unforgettable summer evenings together!", the singer continued. As support band MONO INC. invited the label colleague STORM SEEKER, who recently released their debut album 'Beneath in the Cold'.
From each ticket 1€ will be donated to "Corinna e.V." Mönchengladbach. Here you find more information: https://corinna-mg.de/
Additional concert info

Doors: 18:00
Start: 19:00
Tickets are available from 45.30 euros via
Eventim
Facebook Event: https://www.facebook.com/events/757218421484455/
FAQ: https://sparkassenpark.de/faq-strandkorb/
Special Info: When parking, please note the additional information on your ticket and the guidance systems.
More on
Mono Inc
. and
Storm Seeker
See also (all categories):