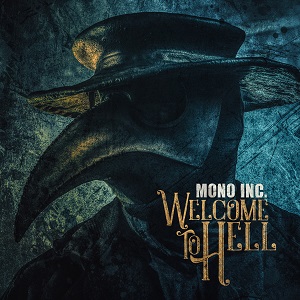 Artist: Mono Inc.
Title: Welcome To Hell
Genre: Dark Rock
Release Date: 26th July 2018
Label: NoCut
Album Review

In 2017, the Band MONO INC. published their own retrospection with their album 'Symphonies Of Pain - Hits And Rarities'. Now, one year later, the band looks forward to and presents its new album, 'Welcome to hell'. The double album consists of one CD in the known style of MONO INC.: electrifying Dark Rock. However this album is different from the previous ones. It is a double album inspired from the dark days of the dark ages.
As said before the CD has two CDs. The first one contains the well know Rock tracks. The second CD contains all tracks of the first one, but they were all re-interpreted in a slow kind. All tracks of this CD show the calm side of MONO INC. The tracks invite to dream. This concept album presents - like the previous album 'Together Till the End' - simple but efficient Dark Rock containing guitars in a possible new MONO INC. style. For a fan of the band form Hamburg definitely a must have!
Tracklist

CD1

01. The Heart Of The Raven
02. Welcome To Hell
03. Long Live Death
04. Risk It All
05. Flies
06. Under A Coal Black Sun
07. A Vagabond's Life (feat. Eric Fish)
08. Funeral Song
09. Reign Of Rats
10. Unconditionally
11. When The Raven Dies Tonight
CD2

12. The Heart Of The Raven (Classic Version)
13. Welcome To Hell (Classic Version)
14. Long Live Death (Classic Version)
15. Risk It All (Classic Version)
16. Flies (Classic Version)
17. Under A Coal Black Sun (Classic Version)
18. A Vagabond's Life (feat. Eric Fish) (Classic Version)
19. Funeral Song ( Classic Version)
20. Reign Of Rats (Classic Version)
21. When The Raven Dies Tonight (Classic Version)
Line-up

Martin Engler
Carl Fornia
Manuel Antoni
Katha Mia
Website

mono-inc.com / facebook.com/monoinc
Cover Picture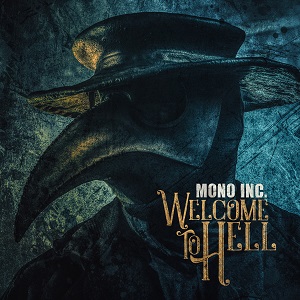 Rating

Music: 9
Sound: 9
Total: 9 / 10
See also (all categories):