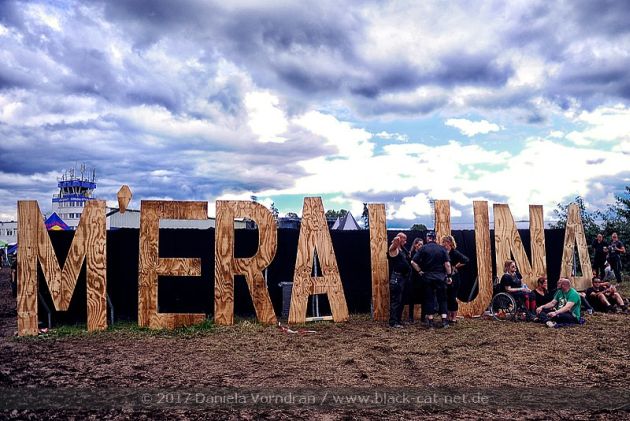 Airfield Drispenstedt, Hildesheim, Germany
12th & 13th August 2017
M'era Luna Festival with Johnny Deathshadow, Accessory, Schwarzer Engel, The Arch, Darkhaus, Tomas Tulpe, Absurd Minds, Versengold, Tyske Ludder, Megaherz, Leaether Strip, The Crüxshadows, Haujobb, Mono Inc., Front Line Assembly, Schandmaul, DAF, Blutengel, De/Vision, And One

For all music addicts roaming the dark realms of sound the airfield in Hildesheim was the most popular destination on the second weekend of August. Without the shadow of a doubt the mighty M'era Luna is not only one of the most visited alternative festivals in Germany, but also one the most magical ones.
After an atmospheric festival Friday and an impressive M'era Saturday, the day was dawning again and the Luna Sunday was calling all survivors of the rain and the mud out of their tents (or the decadent ones out of their hotel rooms), luring them to the open air stage and inside the Hangar venue with another set of diverse performances. Additionally, there was a secret gig on the campsite. Ready for round two?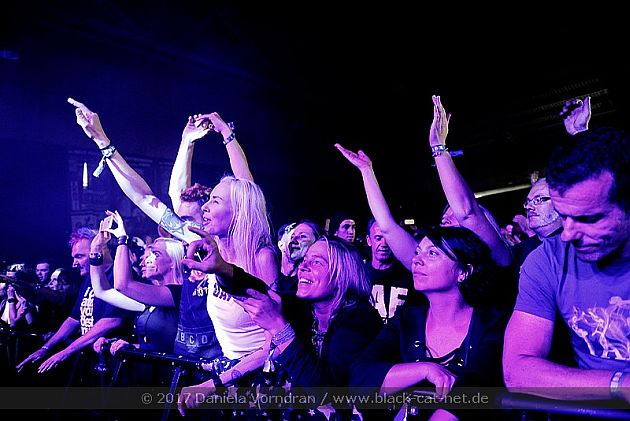 Johnny Deathshadow - Main Stage (LAy)

Straight at 11 am,
JOHNNY DEATHSHADOW
got the party started at the Main Stage. First of all, hats off to their professional skull make-up! For these four Industrial Goth Metal guys from Hamburg, Germany, it's always Día de los Muertos. They formed seven years ago and their debut album 'Bleed With Me' saw the light of day last year. Thereof, they played five tracks waking and shaking up the M'era Luna folk. With 'Shadow' and 'Bleed with Me' the band put the petal to the metal from the very beginning and their groovy and crushing guitar sound with a Horror Punk feel and the great interplay of harsher vocals and spoken words by Jonathan Schneider supported by clear backing vocals by "Jack Skellington" guitarist Eike Cramer made the audience grow with every song. Bassist Daniel Meyer and drummer Sascha Meier also played their part. May one call the melodic 'Sleeper' a ballad? In any case it made the audience clap their hands which the front man commented with "That I like!" nodding his head in approval. The whiplashing song 'Ghost', which is about cancer, JOHNNY DEATHSHADOW dedicated to all those "who had to deal with that shit". The last song 'Kill the Lights' went out for generous Shawn, who made their music video and the band offered the audience "a last chance to dance". What a bummer that their twenty minutes of playing time was over so soon, but the energetic skull act definitely made the best of it with their fast-paced and riff-y performance leaving behind a cheering crowd. // http://johnnydeathshadow.com / https://www.facebook.com/johnnydeathshadow / Setlist: 01. Shadow / 02. Bleed With Me / 03. Sleeper / 04. Ghost / 05. Kill The Lights // Rating: 8 / 10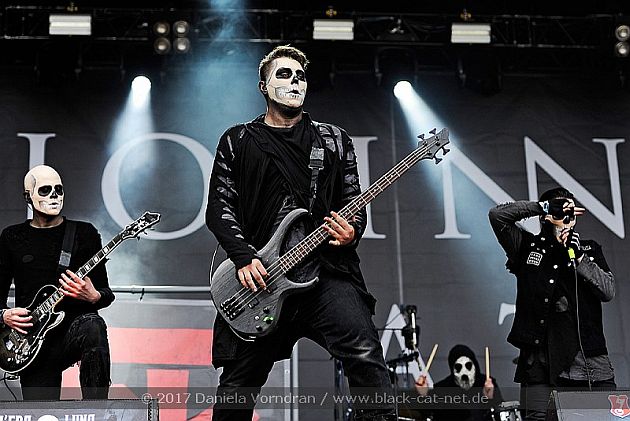 Accessory - Hangar (Niggels)

I was really looking forward to
DEAR STRANGE
, a French-German duo who produce modern, atmospheric Electro Pop and whose debut album 'Lonely Heroes' I can only recommend! Check out their single 'The Unicorn' on YouTube, for example. Unfortunately DEAR STRANGE had to cancel their gig at the M'era Luna on short notice, so German EBM band
ACCESSORY
stepped in to open the Sunday at the Hangar stage. Well, I can't say that ACCESSORRY were an adequate replacement, to be honest. Of course they are experienced musicians and performers after career spanning more than 20 years and their "uplifting electronic music", as they call it, is certainly well produced. On the other hand their sound feels a bit like EBM by numbers and silly lyrics about DJs playing FADERHEAD and COMBICHRIST and fucking girls in the club, as in 'Tanzrichtung Vorwärts', don't help either. Maybe it was just the wrong time of day for such lyrics and for this kind of the music. Their songs with English lyrics were admittedly a little better but after all I went to grab a coffee. After all, it was still too early for a beer! // http://www.accessorymusic.de / https://www.facebook.com/accessorymusic // Setlist: 01 Intro / 02 Tanzrichtung vorwärts / 03 Voran / 04 Outrun the Gun / 05 Shout it Out (Psyca Remix) // Rating: 5 / 10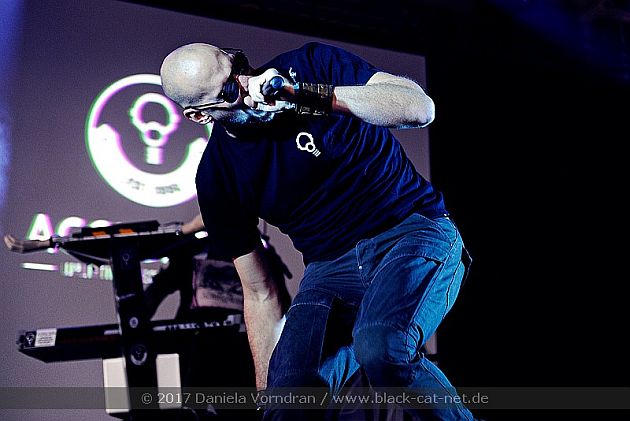 Schwarzer Engel - Main Stage (LAy)

Before the "blood angel" act BLUTENGEL would play later at the second day of the festival, it was first time for the "black angel" band
SCHWARZER ENGEL
to hit the Main Stage. As the previous band, they have been around for seven years by now and they too were on the mission to present their personal, modern version of Dark Metal. The German act around vocalist Dave Jason has already five records under their belt... or under their black wings... or golden knight's armour - and played eight songs for the M'era Luna crowd. The creaking sounds of doors being opened and crowing ravens introduced the opening track 'Es öffnen sich die Tore', the intro of their latest piece 'Imperium II: Titania'. Vincent Hübsch and Timo Joos on guitar, Bert Oeler at the bass and Carlo Schmidt on drums were already in action and the first vocal lines resounded from tape. Where was the vocalist? Finally, the hooded front man also appeared to sing the first verse of 'Schwarzkunst'. His various vocal styles from darkly operatic to shouts and growls, the live band, and the recorded orchestrations which contribute to SCHWARZER ENGEL's symphonic element, convinced their growing fan base. Especially the neck-breaker 'Pycho-Path' and the melodic hymns 'Schwarze Sonne' and 'Königin der Nacht' were welcomed by the audience. It was SCHWARZER ENGEL's third M'era Luna appearance and they delivered a half-hour long Metal show with Symphonic, Melodic Death and Neue Deutsche Härte influences. // https://www.schwarzerengel.info / https://www.facebook.com/schwarzerengelband // Setlist: 01. Es öffnen sich die Tore... / 02. Schwarzkunst / 03. Himmelwärts / 04. Geister und Dämonen / 05. Ritt der Toten / 06. Schwarze Sonne / 07. Psycho-Path / 08. Königin der Nacht // Rating: 7 / 10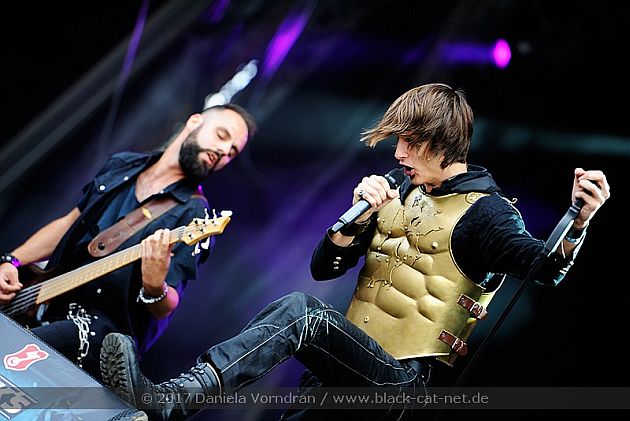 The Arch - Hangar (LAy)

THE ARCH
are from Belgium have been around for over thirty years and spread some nostalgic vibes inside the Hangar. I was under the impression that for a lot of M'era Luna visitors the Electronic New Wave act was a new discovery though. Vocalist CUVG waved the audience nearer encouraging the curious listeners to move nearer to the front of the stage and get closer together. Where were all the Goth rockers, I wondered. All those who didn't attend this gig definitely missed out on a fist-class show of diverse compositions for sure. Particularly 'Eyes Wide Open' from their last record 'Fate', which came out last year, and the older, distorted 'Ribdancer' from 'The Arch of Noise' (2009) called for a loud round of applause. On the whole, is was no difficulty for the hypnotising singer to engage their audience and the fantastic Wave guitars played soulfully were also impressive. No doubts that the authentic THE ARCH gained some new fans who finally got to experience the band at M'era Luna. // https://thearch.bandcamp.com / https://www.facebook.com/thearchband // Setlist: 01. Babsi ist Tot / 02. Wait / 03. Body 'n Angels / 04. Robot Sapiens / 05. Eyes Wide Open / 06. Ribdancer / 07. Revenge Revival // Rating: 10 / 10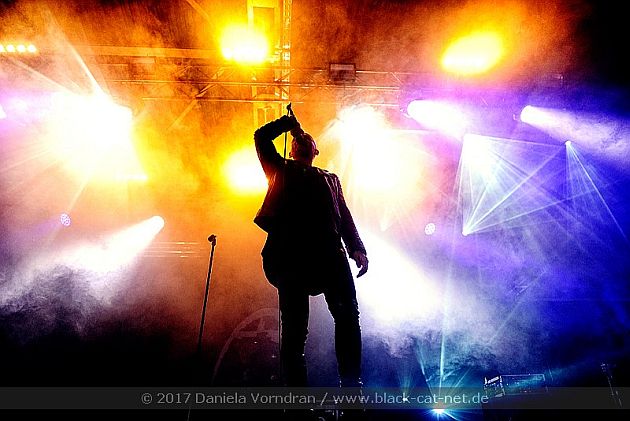 Darkhaus - Main Stage (LAy)

What a pleasure to hear Dark Rock quintet
DARKHAUS
sharing their "own unique brand of emotionally captivating dark-stained modern rock" at M'era Luna's Main Stage! For those who are still in the dark, the band is: Ken Hanlon (lead vocals), Rupert Keplinger (lead guitar), Marshall Stephens (guitar, vocals), Gary Meskil (bass, vocals) and Paul Keller (drums). With their heavy and yet hymnal 'All of Nothing' DARKHAUS kicked off their set. The international act blew away with eight killer and the same time melodic tracks with cool riffs that you can find on their debut 'My Only Shelter' (2013) and the follow-up album 'When Sparks Ignite' (2012). The rocking 'Grace Divine' made people shake a leg and then it was time for some head-banging as the gritty and still ear-catching single 'Providence' (2015) was up next.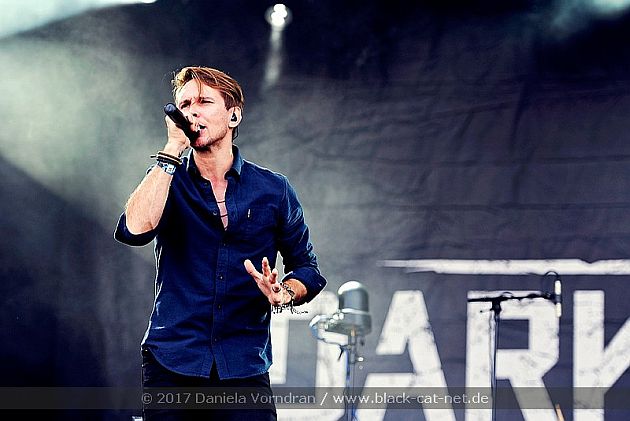 The beautiful single 'Ghost' made the infield sway their arms. After this calmer moment is was time to "get fucking crazy" with the anthem 'Hour of Need': "Red we bleed!" the audience screamed along. And also thanks to the final songs 'Live Worth Living' and 'Breaking the Silence' the M'era crowd had a splendid time with the band clapping their hands. No need for costumes, make-up, or theatrics - the powerful DARKHAUS let their energetic and driving music speak for itself and, as expected, the Scottish frontman amazed us with his pleasant voice and outstanding vocal performance. His parting words: "... absolute honour to be back! Hope it won't take us so long next time. Enjoy the rest of the day... Good afternoon, good evening, and good night!" // http://www.darkhausmusic.com / https://www.facebook.com/DarkhausOfficial // Setlist: 01. All Of Nothing / 02. After The Heartache / 03. Grace Divine / 04. Providence / 05. Ghost / 06. Hour Of Need / 07. Live Worth Living / 08. Breaking The Silence // Rating: 10 / 10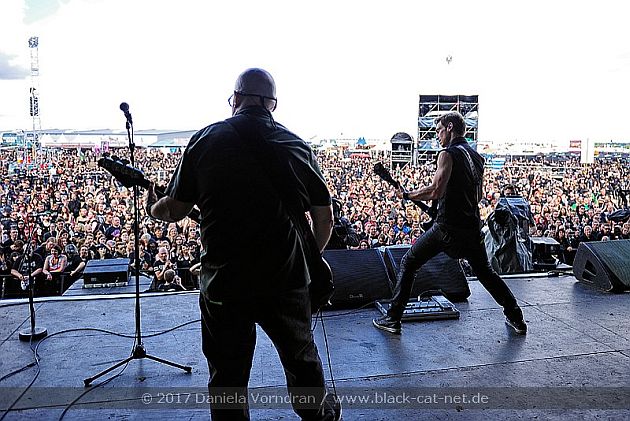 Tomas Tulpe - Camping Site (Niggels)

This was on so many levels the probably weirdest gig ever at the M'era Luna! It was some kind of guerrilla gig, something that wasn't part of the official M'era Luna schedule and organized by fans through a secret Facebook group and scene of action was a corner of the camping site rather than one of the official festival stages. But the weirdness starts with the performer himself,
TOMAS TULPE
, who is pretty gaga in his own right. And in this case this is not negative at all but rather the most hilarious and giggly thing ever - if you have a certain rather "special" kind of humour, that is. TOMAS TULPE, who describes himself as an electronic "Bühnenwurst" (stage sausage), combines dadaesque, often somewhat infantile lyrics with electronic pop and happy-go-lucky melodies. Monty Python meets early DEPECHE MODE, if you like. Some may raise an eyebrow at TOMAS TULPE but he also has a small but very loyal cult following, and this guerrilla gig organized by fans is probably the best prove for it. By nothing more than word of mouth and through social media about 120 fans gathered at 1 p.m. at the tent camp of the guys from Vox Noctem internet radio, who brought a full PA system with them. With a little delay the artist himself finally arrived, plugged his microphone and playback device into the PA and things went crazy within the blink of an eye.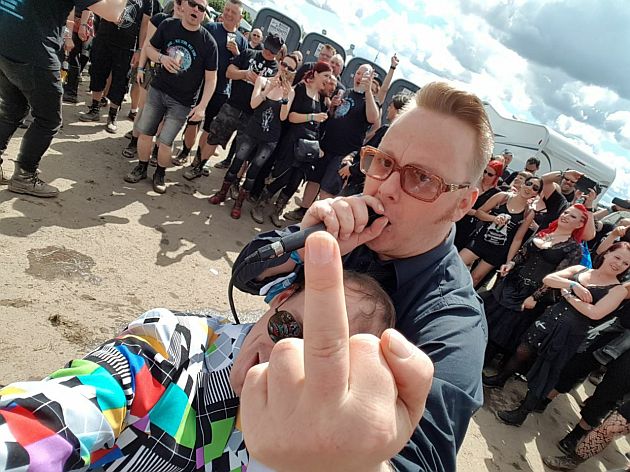 The attendant crowd certainly knew their shit and were singing along (shouting along that is) from the start. It took TOMAS TULPE only two songs until he was covered with mud as he thought wallowing on the ground would be a good idea and a quite Rock'n'Roll move. TULPE never prepares a set list and picks songs spontaneously or on request, and the fans got all they may have asked for. With his songs about urinal cakes, mustard, having a clinical thermometer up your arse or Mummy preparing sandwiches for you, TOMAS TULPE is probably the trashiest thing you could experience at such a festival but his songs are always extremely catchy and full of memorable hooks. And last but not least TOMAS TULPE is a brilliant entertainer, a pretty bizarre one, but this guy truly lives to entertain people. A few accidental passer-bys joined the fun, some others rather frowned upon the strange scenario and just walked a bit faster. But those who would give in to the experience surely had a blast and many a laughs. In my book it was actually the most fun-filled, most enjoyable gig of the whole weekend, to be honest. And after all, such an anarchic moment was more than welcome at the huge and strictly structured festival the M'era Luna is today. // http://www.tomastulpe.de / https://www.facebook.com/tomastulpe // Setlist: not available // Rating: 666 / 10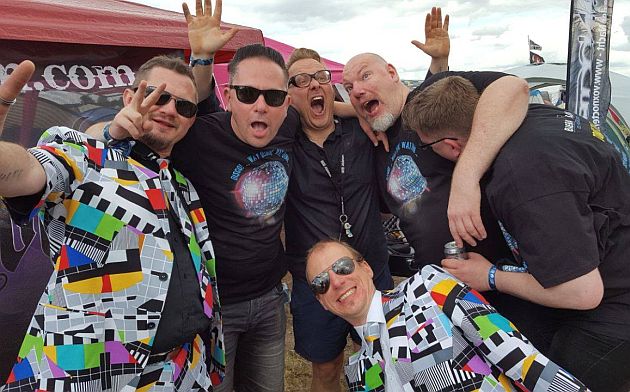 Absurd Minds - Hangar (LAy)

Back at the Hangar Stage, electronic sounds and driving beats were on the programme again.
ABSURD MINDS
from Dresden, Germany, delivered their mix of energetic Electro and melodic Pop tunes. They look back at 22 years of career. It was early noon, but the Hangar crowd was by not fully away and in the mood of dancing. Vocalist Stefan Großmann, Tilo Ladwig and Nick at the keys and percussionist Timo Fischer had a Future Pop blast with the dark scene disciples. From their recently released album 'Tempus Fugit', they brought along the tunes 'For Those Who Wait' and 'Kreuzfeuer'. When Stefan asked, if we were ready for a ballad the heavy, half-naked dude with a huge RAMMSTEIN tattoo on the back of his shoulders screamed in anticipation and of course he wasn't the only one swaying his hips along to 'Interconnectedness'. Of course it was also impossible to stand still when the stomper 'Dependence' resounded. And with the slightly harsher 'Serve to Suffer' ABSURD MINDS bowed their goodbyes. The Dresden guys did a fantastic job, the e-drums were right on clock, and the crowd had a ton of fun. // http://www.absurdminds.de / https://www.facebook.com/AbsurdMinds // Setlist: 01. Descent / 02. I'm Dying Alone / 03. For Those Who Love / 04. Kreuzfeuer / 05. Countdown / 06. Interconnectedness / 07. Dependence / 08. Serve or Suffer // Rating: 9 / 10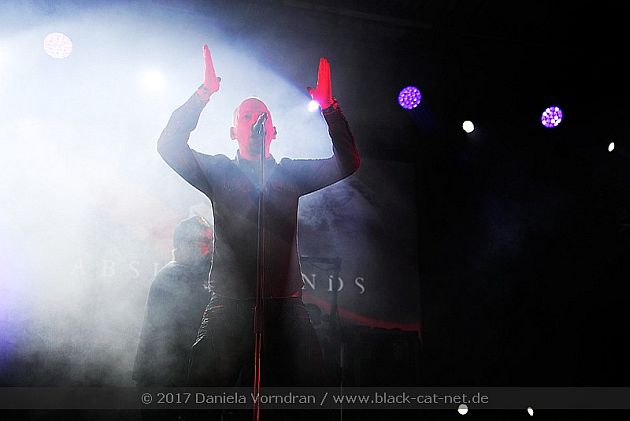 Versengold - Main Stage (LAy)

Meanwhile outside at the Main Stage: A quite different sound as the first medieval band of the day was up. The semi-acoustic combo
VERSENGOLD
, around since 2003, called for a folk party. Malte Hoyer (vocals, flute), Thomas "Pìnto" Heuer (bodhrán, bouzouki, percussion), Alexander Willms (violin, nyckelharpa, concertina), Florian Janoske (violin, mandoline), Daniel Gregory (guitar), Eike Otten (bass) and Sean Lang (drums, piano) were greeted by a cheering infield. Of course they brought along their new record titled 'Funkenflug', which had just been out earlier that month, starting their gig with the cheerful opener 'Niemals sang- und klanglos'. Next to the funny ode to Irish Folk titled 'Verliebt in eine Insel' (transl. 'In Love with an Isle') the band presented the marvellous 'Feuergeist', an atmospheric track with changes in tempo. Up next was another new tune, the "serious and personal" tune 'Haut mir kein' Stein' that "nevertheless invites you to celebrate".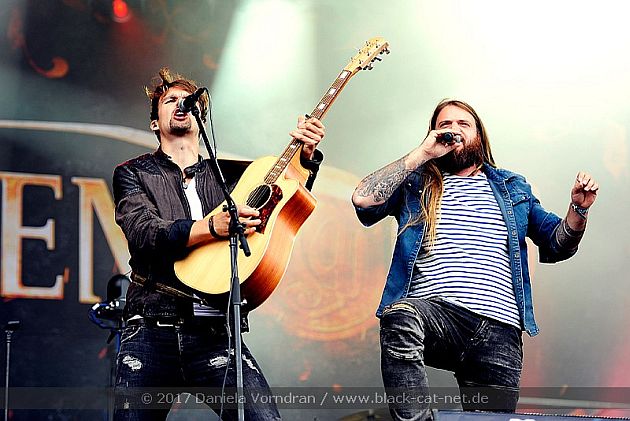 Thumbs up for the new stuff from 'Funkenflug'. The All Hollow's Eve track 'Samhain' was also accompanied by hand claps. For the end VERSENGOLD saved one of their classics, the song about the sale of indulgences: 'Paules Beichtgang'. The word-perfect and enthusiastic crowd sang the second chorus and went berserk towards its culmination. According to medieval Minnesang tradition, the seven came together for their a-capella abgesang to say farewell. All in all, great sound, virtuosic musicians who've mastered their instruments and good vibes on and in front of the stage from the very first song on. // http://www.versengold.com / https://www.facebook.com/Versengold // Setlist: 01. Niemals sang- und klanglos / 02. Verliebt in eine Insel / 03. Feuergeist / 04. Haut mir kein' Stein / 05. Spaß bei Saite / 06. Samhain / 07. Paules Beichtgang / 08. Abgesang // Rating: 9 / 10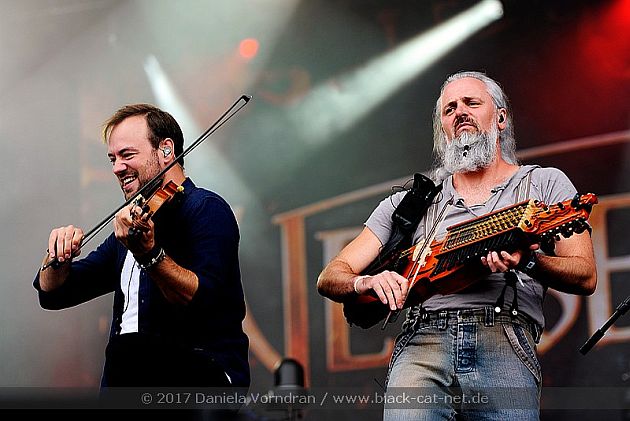 Tyske Ludder - Hangar (LAy)

Back inside the Hangar there was yet another totally different party on: Industrial heroes
TYSKE LUDDER
made the crowd lose it with the help of their infernal Electro. The EMB pioneers Ølåf Å. Reimers (machines) and Claus Ålbers (voices) plus currently Andreas Schmitz on drums, Soli Szabó-Hauer (formerly FEINDFLUG, JESUS AND THE GURUS) on percussions and an additional performer on stage, have been spreading their sound since 1990. And they are thriving as their violent storm raging inside the venue proved. Their JESUS AND THE GURUS cover of the 'Panzer' song was also not to be missed. "Hooray!" It was indeed a blast with tunes such as 'Bambule', 'Der Androgyne Held' and 'Zeichen der Zeit' and no wonder that the TYSKE LUDDER fans were screaming for an encore after the final track 'Meskalin'. // http://tyske-ludder.com / https://www.facebook.com/tyskeludder // Setlist: 01. Grelle Farben / 02. Bambule / 03. An vorderster Front / 04. Der Androgyne Held / 05. Zeichen der Zeit/ 06. Panzer / 07. Meskalin // Rating: 9 / 10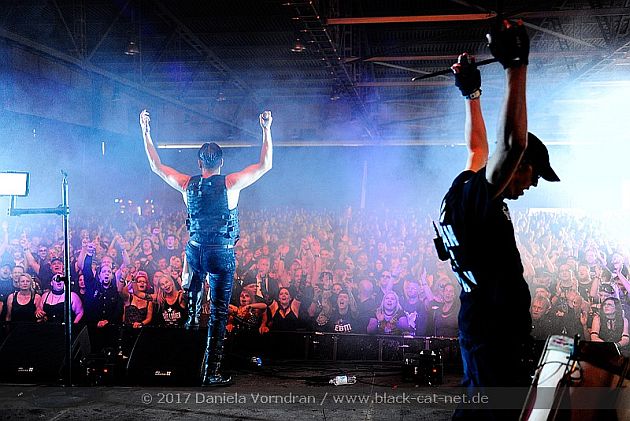 Megaherz - Main Stage (LAy)

The hearties
MEGAHERZ
were next and this meant Neue Deutsche Härte to the fullest! Vocalist Alexander "Lex" Wohnhaas, guitarists Christian "X-ti" Bystron and Christoph "Chris" Klinke, bassist Werner "Wenz" Weninger and drummer Jürgen "Bam" Wiehler are not only well known for being one of the pioneers of NDH, but also for their crazily rocking live shows. Their M'era Luna set was under the banner of their last record 'Zombieland' (2014) and so its wicked title track and the smashing 'Fanatisch' made for the perfect kick-start. Next to the calmer yet powerful hymn 'Glorreiche Zeiten', the mid-tempo 'Roter Mond' which features some piano, and the newer ballad 'Für immer' we also celebrated their classic head-banger and scream along hits such as 'Miststück' from their 2009 album 'Totgesagte Leben Länger' and 'Jagdzeit' from the 'Götterdämmerung' (2012) followed. The catchy 'Himmelsstürmer' marked the end of a bombastic hell of an Industrial German Rock show with heart. Mega! Lex thanked the audience and told us that MEGAHERZ also find M'era Luna to be "something very special, a wonderful, huge, black festival." The band will be back early next year touring with their next long-player which is currently in the works. // http://www.megaherz.de / https://www.facebook.com/OfficialMegaherz // Setlist: 01. Zombieland / 02. Fanatisch / 03. Glorreiche Zeiten / 04. Miststück / 05. Roter Mond / 06. Für immer / 07. Jagdzeit / 08. Himmelsstürmer // Rating: 10 / 10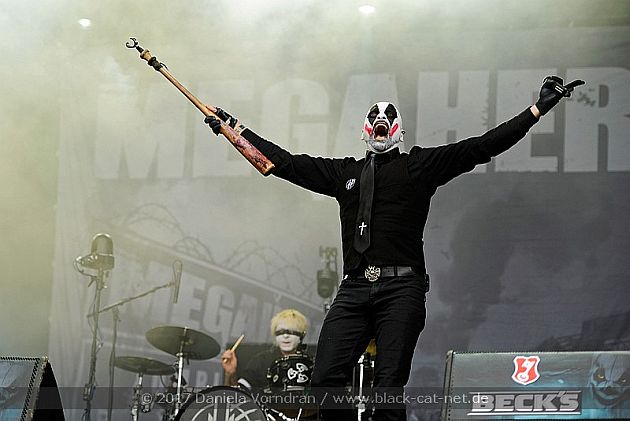 Leaether Strip - Hangar (LAy)

Legendary old-school EMB duo
LEAETHER STRIP
from Denmark were the next in line and from the first sounds of the opening track 'I am you conscience' people started to move. Claus Larsen, who brought the project to life in 1988, and his screaming vocals were greeted with cheers. Needless to say that their timeless club hits 'Evils Speaks', 'Adrenalin Rush' and 'Japanese Bodies', which they Claus and Kurt saved for last, were celebrated greatly - what a rush! My personal favourite of the show, before I had to head back to the Main Stage for the following act: the dark Electro 'Strap me down' with its melodic drive. Bummer that the wickedly good 'Don't Tame your Soul' wasn't on the setlist. On the whole, a successful gig showing all Industrial freaks yet again how much LEAETHER STRIP have inspired and influenced the "younger" acts we like to move our bodies to. // https://www.facebook.com/LeaetherStrip // Setlist: 01. I am you conscience / 02. Body Machine Body / 03. Nothing seen – Nothing done / 04. Black Gold / 05. Strap me down / 06. Evil Speaks / 07. Adrenalin Rush / 08. Japanese Bodies // Rating: 9 / 10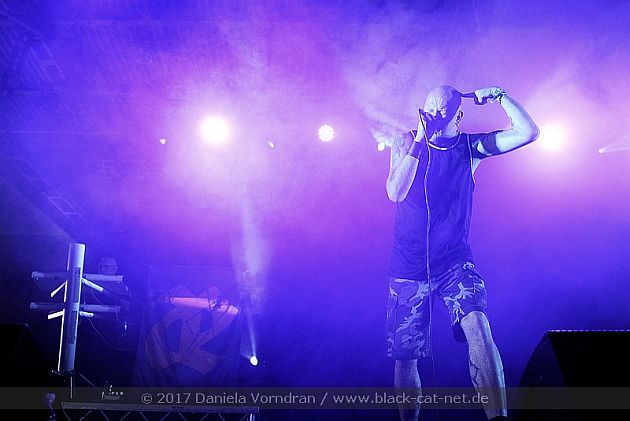 The Crüxshadows - Main Stage (LAy)

"live love be believe" is the motto of...?
THE CRÜXSHADOWS
of course! Hearing THE CRÜXSHADOWS' e-violin next to their guitar and synth sound that's in harmony with their beats and all this around Rogue's unique vocals kind of feels like Christmas back home! The Main Stage was in need of some seriously first-class Goth Synth Rock as offered by the American act - and there they were. Since 1993 mastermind Rogue and his crew have been sharing their melodies when the debut tape '...Night Crawls In' came out on their label Black Widow Music. The band has just released their seventh opus with the fancy title 'Astomythology' (out Sep 1) and so they came on stage with their new single 'Helios'. The tune was #1 on the German Alternative Charts for seven weeks. The festival visitors got a taste of three further new pieces: 'Singularities', the dance tune 'Of Angels' and the dramatic mid-tempo track 'Jupiter' that the vocalist announced in German. The CRÜX M'era gig was full of catchy anthems as they also played their well-known singles 'Birthday' from 2007 and 'Valkyrie' from 2011 and the older title 'Winter Born' from 'Frozen Ambers' (2003).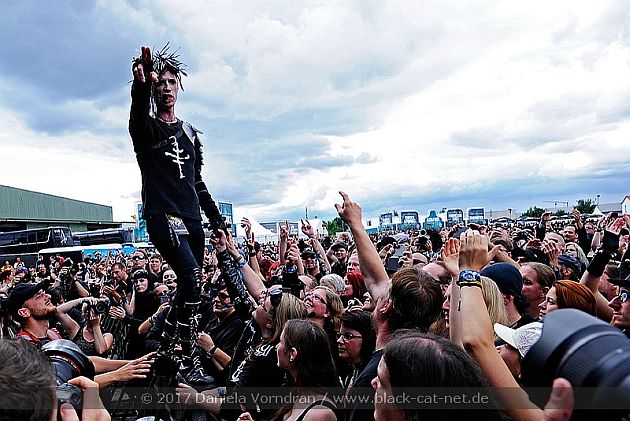 The musicians on stage mesmerised the audience and Rogue went and jumped all round the stage interacting with the crowd. In the midst of the beloved 'Birthday' the front man climbed up dangerously high the framework at the side of the stage and the musicians on stage and their fans were bouncing with the beat. Wearing a headset-mike Rogue had both hands free also to say personally hello, or rather goodbye, to most of the fans standing in the front rows during the last tune 'Marilyn, My Bitterness'. The 44 minutes with the band from sunny Florida flew by fast. If you couldn't get enough of THE CRÜXSHADOWS join them on their tour across Germany this month. 'Astromythology' is calling for you! // http://usa.cruxshadows.de / https://www.facebook.com/cruxshadows // Setlist: 01. Helios / 02. Singularities / 03. Valkyrie / 04. Jupiter / 05. Of Angels / 06. Winter Born (This Sacrifice) / 07. Birthday / 08. Marilyn, My Bitterness // Rating: 10 / 10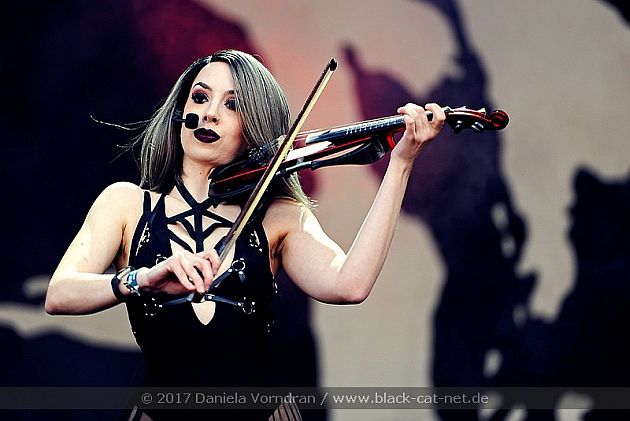 Haujobb - Hangar (LAy)

Since 1993 Daniel Myer and Dejan Samardzic of
HAUJOBB
, now extended on stage by Manuel G. Richter, have been creating music that covers a vast electronic music spectrum. Daniel Myer is well known in the world of music being responsible for a zillion projects like ARCHITECT and DSTR and it was only three weeks ago that he headlined the Amphi Festival with THE DANIEL MYER PROJECT. Now at the M'era Luna, HAUJOBB tore the Hangar apart with ten smashers starting with the atmospheric 'Machine Drum' and closing with the masterpiece 'Dead Market' - a fan favourite - both taken from the 2011 album 'New World March'. Grippingly evocative electronica from beautiful to bombastic and an in-your-face-drum 'n' base sound filled the venue and expanded our minds. Just remember "Follow the beat!" of 'Machine Drum' and think of the marvellous sound-space of 'Renegades of Noize'.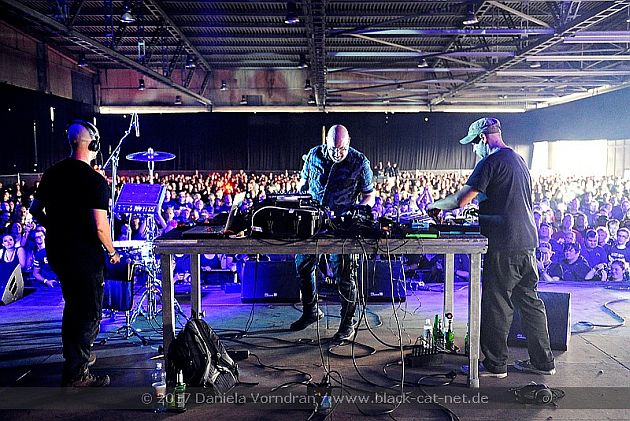 HAUJOBB's compositions were minimalist and at the same time multi-facetted and Myer's vocals also ranged from speech song and clear vocals to fierce screams - fantastic! Hyped up Mr. Myer passed on his energy to the audience. One could hear "Wow" comments after the songs while the crowd was giving the IDM act a big hand after every song. From the most recent 'Blendwerk' (2017) only 'Input Error' was played. Anyways, there was also room for older tracks such as the ambient 'Eye Over You' from 'Home & Gardens 2.0' (2009) and the sci-fi and yet tribal sounding electro beast titled 'Anti / Matter' from 'Solutions for a Small Planet' (1996). In a nutshell: the trio nailed it. // http://haujobb-music.com / https://www.facebook.com/haujobbmusic // Setlist: 01. Machine Drum / 02. Anti / Matter / 03. Renegades Of Noize / 04. Input Error / 05. Crossfire / 06. Let's Drop Bombs / 07. Eye Over You / 08. Dream Aid / 09. The Noise Institute / 10. Dead Market // Rating: 10 / 10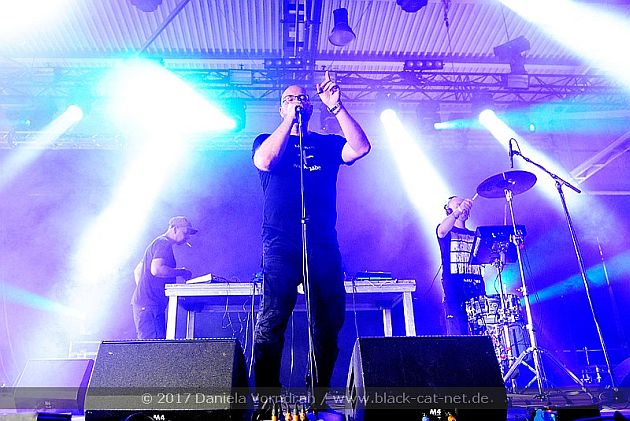 Mono Inc. - Main Stage (LAy)

Since their founding in 2000, the sound of the four alternative rockers from Hamburg has stood for ear-catching melodies with orchestrations and rock along rhythms. This mixture keeps on bringing their albums to the top ten of the German charts and their live audiences to have a blast. In 2016, vocalist Martin Engler, bassist Manuel Antoni, guitarist Carl Fornia, and drum lady Katha Mia presented their first live album titled 'Mono Inc. - Live'. Also their M'era gig proved yet again that their concerts are all about great vibes and good times. It was just impressive how they managed to carry their audience. All hands were up in the infield and "hey" shouts and sing-along "ohhhhs" filled the air. No wonder as their best-of set was made of melodic and up-beat classic hits such as 'Arabia', 'Gothic Queen', 'Children of the Dark' and 'Voices of Doom'.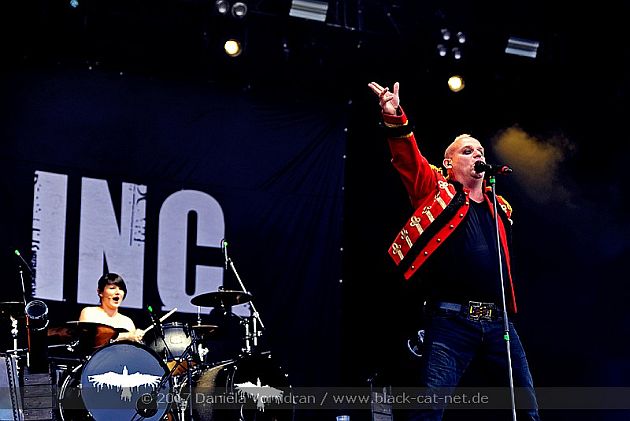 During the latter it was time for Martin to raise the black and white
MONO INC
. flag. He also addressed their fans and the festival's organisers: "Now I'm realising how much I've missed you! You are like my family - every two years. Thank you..." In between all the MONO fun, we got their familiar cover of 'After the War', originally by the Irish Blues and Hard Rock icon GARY MOORE, and the M'era crowd unitedly screamed "No!" to war. // http://www.mono-inc.com / https://www.facebook.com/monoinc // Setlist: 01. Together Till the End / 02. The Banks of Eden / 03. Arabia / 04. Symphony of Pain / 05. Gothic Queen / 06. Children of the Dark / 07. After the War (Gary Moore Cover) / 08. Voices of Doom / 09. Get Some Sleep // Rating: 8 / 10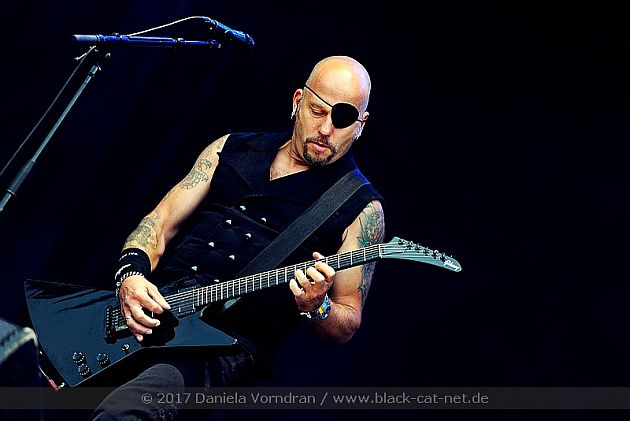 Front Line Assembly - Hangar (Niggels)

Bill Leeb is here again, and this time he brought his long-time collaborator Rhys Fulber with him. More than 30 years after its initiation,
FRONT LINE ASSEMBLY
is a busier touring company than ever before. For this summer's European tour, FLA hit the road with a smaller line-up, abandoning all guitars and presenting a few old tracks they haven't performed in quite a while. Yes, there were quite a few things to get excited about for long-time fans! In the late 1980s and early 1990s, FRONT LINE ASSEMBLY were one of the pivotal and pioneering acts of Industrial and EBM, next to fellow acts such as SKINNY PUPPY, THE KLINIK or FRONT 242, and unlike some other long-running bands FLA still produce quality music today and don't need to dwell on past glories. On the other hand there's nothing wrong to celebrate your own legacy every now and then, so revisiting the seminal albums 'Caustic Grip' (1990) and 'Tactical Neural Implant' (1992) a little more than usual for this tour was more than welcome. With no intro at all, FRONT LINE ASSEMBLY kick-started the show with 'Resist' from 'Caustic Grip' and made clear that they would take no prisoners. The only regret was that the guy at the mixing desk could have turned up the volume a bit louder but then sound problems, including loudness or the lack of it, are ongoing problems at the M'era Luna.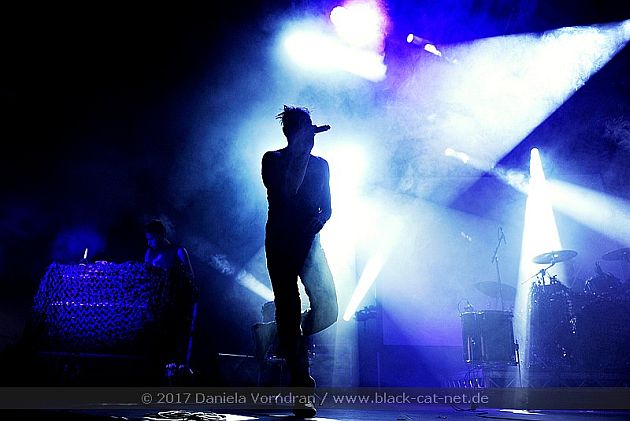 Anyway, FRONT LINE ASSEMBLY fired staples like the epic 'Plasticity' at the crowd, which was more than ready for some hammering Industrial beats. With their aggressive, robotic beats and eerie, unearthly sound layers FRONT LINE ASSEMBLY would be the perfect soundtrack for sinister, dystopian sci-fi game. Well, they actually are, as FLA produced the soundtracks for 'Quake III' and 'Air Mech'! At the M'era Luna FRONT LINE ASSEMBLY demonstrated with full force that they are still among the best live acts of the scene, as well. Unfortunately the shortened festival set meant that the band couldn't dig deeper in their back-catalogue but hearing 'Iceolate' live after all these years was quite a surprise and nothing but a blast. The trailblazing classic 'Mindphaser', arguably the band's biggest hit, finished the eight-song set and while I would have loved to hear stuff like 'Digital Tension Dementia', a single from 1988 which the audiences of the summer club shows got to hear, I still have to say that FRONT LINE ASSEMBLY were nevertheless among the highlights of the M'era Luna weekend. // http://www.mindphaser.com / https://www.facebook.com/frontlineassembly // Setlist: 01. Resist / 02. Neologic Spasm / 03. Plasticity / 04. Vanished / 05. Remorse / 06. Prophecy / 07. Iceolate / 08. Mindphaser // Rating: 9 / 10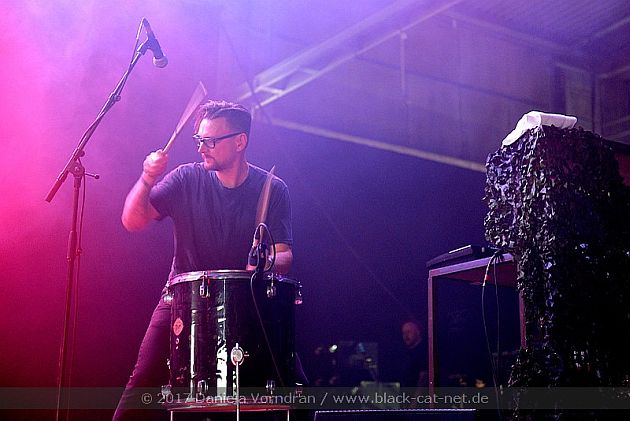 Schandmaul - Main Stage (LAy)

The next hour at the Main Stage was dedicated to life-affirming medieval Folk Rock with German lyrics.
SCHANDMAUL
from Munich got together in 1998 to tell magical stories and twelve pieces were chosen from the band's repertoire to entertain the M'era Luna crowd. Vocalist Thomas Lindner told the audience to "scream and chase away the clouds" as it started to pour again. For 'Der Pakt' the band made people dance in lines together and during 'Vogelfrei' Thomas animated the crowd to keep jumping: "It's wet and cold. You know what that means. We have to keep moving so that we won't catch a cold." Various flute instruments, violin, bagpipe and acoustic guitar played skilfully enriched their jolly Rock sound. "Hip, hip, hooray!" as it goes in their drinking song 'Der Teufel'. For the calm and peaceful final track 'Euch zum Geleit' the front man got behind a keyboard. Only Thomas himself seemed bugged that they needed a second attempt to start the beautiful tune. // http://www.schandmaul.de / https://www.facebook.com/Schandmaul // Setlist: 01. Vor der Schlacht / 02. Herren der Winde / 03. Lichtblick / 04. Der Pakt / 05. Bunt und nicht braun / 06. Vogelfrei / 07. Der Teufel... / 08. König / 09. Walpurgisnacht / 10. Drachentöter / 11. Krieger / 12. Euch zum Geleit // Rating: 7 / 10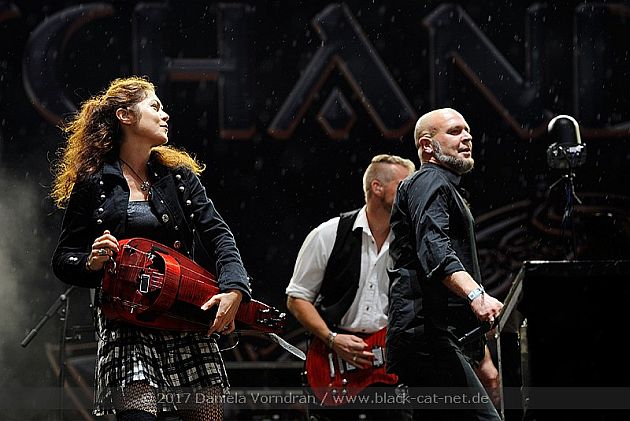 DAF - Hangar (Niggels)

Gabriel "Gabi" Delgado-López and Robert Görl aka
DEUTSCH-AMERIKANISCHE FREUNDSCHAFT
aka DAF hit the stage of the M'era Luna once again and the electro-punk pioneers were one of the bands not to be missed. Founded in 1978 as a five-piece avant-garde collective, the line-up and the sound of DAF were simultaneously reduced to a minimum soon. In 1980 the band was shrinked to the core duo Görl and Delgado-Lopez, and the music was likewise as minimal as it could get. Drums, a swirling synth sequence and chanted slogans were the recipe to make ground-breaking albums like 'Die Kleinen und die Bösen' (1980), 'Alles ist gut' (1981) and 'Für Immer' (1982) all a success and their single 'Der Mussolini' is an iconic song everyone with an interest in 1980s music and/ or electronic music should know. Quite fittingly for the godfathers of minimalism, the hangar stage looked pretty empty when DAF entered the scene. Just a drum kit in the back and a microphone stand at the front, that's all Görl and Delgado-Lopez need. To my delight DAF shook up their standard set list a little bit and started the performance with 'Greif nach den Sternen' and 'Muskel' before they hit the raging duo of 'Verschwende deine Jugend' and 'Der Mussolini'.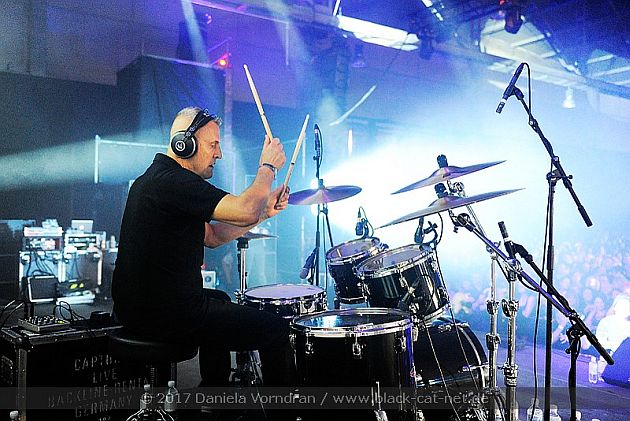 The set focussed on the prime years of the duo in the early 1980s with only two tracks from their last album 'Fünfzehn neue D.A.F.-Lieder', which is in fact already 14 years old, and their 2010 single 'Du bist DAF' also making the cut. But even when most of their songs are 35 years old, or even more, they still sound fresh and relevant. Minimalism prevents aging, apparently. And after all there's a plethora of young bands who follow DAF in their footsteps, especially when you look to Sweden and East Germany. The minimal, hypnotic, tribal and sequenced Electro sound is hip again and DAF's gig at the M'era Luna demonstrated who are the true masters and inventors of it! // http://www.facebook.com/dasistdaf // Setlist: 01. Greif nach den Sternen / 02. Muskel / 03. Verschwende deine Jugend / 04. Der Mussolini / 05. Ich und die Wirklichkeit / 06. Mein Herz macht Bum / 07. Ich will / 08. Osten währt am Längsten / 09. Sex unter Wasser / 10. Was ziehst du an heute Nacht / 11. Sato-Sato / 12. Du bist DAF / 13. Liebe auf den ersten Blick / 14. Der Sheriff (Remix) / 15. Die Lüge / 16. Alle gegen Alle / 17. Als wär's das letzte Mal // Rating: 9 / 10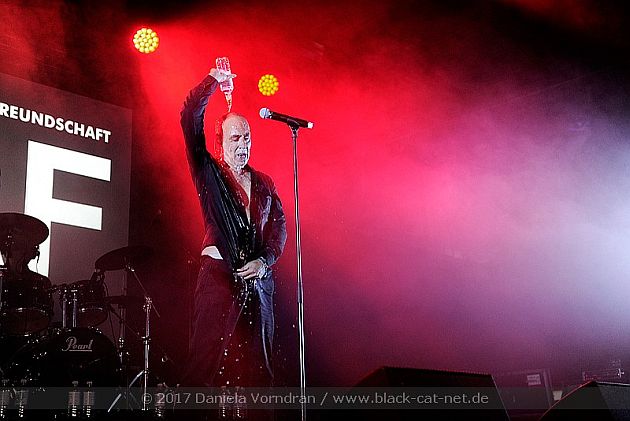 Blutengel - Main Stage (LAy)

Goth Pop act
BLUTENGEL
from Berlin got the spot right before the M'era Luna 2017 headliner. Their hard-core fans in the front rows enjoyed a one-hour-long dark pop show. As the show went on, the act also managed to convince the massive M'era crowd with their catchy "blood angel" tunes and their vamp appeal. As usual, the vocalists Chris Pohl and Ulrike Goldmann brought along their dance troupe to put on a show. Surprisingly, another cloaked guest on stage turned out to be Dr Doom of the CHAOS TEAM, forensic scientist Dr Mark Benecke. After taking off the hood he stoically held up two large burning torches during the opener 'Black' - musically, a pretty decent tune with its synths and the beat being even reminiscent of THE SISTERS OF MERCY. Same is true of 'Say Something', which they played later on, both taken from BLUTENGEL's latest piece 'Leitbild', which came out in February. But please excuse me for not being a big fan of BLUTENGEL singing in English. Personally, I find that sometimes the various accents of international acts that sing in English and aren't native speakers adds some exotic spice, individuality and even musicality to their sound - but other times, not so much, unfortunately. Thus, I favoured the songs sung in German, like 'Dein Gott' and 'Asche zu Asche', to the German-English pronounced 'The War Between Us', for example.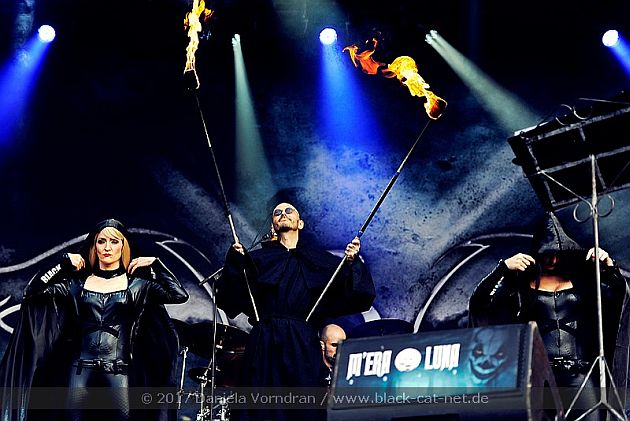 Another new track they also performed was 'Unser Weg' (transl. 'Our Way'), which represents the band very well, as Mr. Pohl explained, since they always go their own way not caring about what people think of it - a song on self-pride, about "black souls" and "hearts of gold". While the nunnery was undressing and dancing in the background or around the musicians, grinning Lukas at the keys had a hell of a time sharing his joy of playing live and also the drummer and the guitarist did a great job. During 'Engelsblut' the sun actually came out just as Chris had promised before; and so he jokingly added: "Maybe I should have become a weatherman..." Other classics, 'Lucifer' and 'Bloody Pleasures', were not to be missed and then there was of course the title track 'Leitbild'. Fits were raised in the air and people were screaming "Nein!" as loud as they could. BLUTENGEL warmed the crowd up and so their 'You Walk Away' towards the end made everyone clap their hands to the beat, even the last rows. "One more song and then you'll get rid of us," the good-humoured front man announced self-ironically. And so BLUTENGEL closed with 'Reich mir die Hand' making the audience cheer. // http://blutengel.de / https://www.facebook.com/BlutengelOfficial // Setlist: 01. Black / 02. The War Between Us / 03. Dein Gott / 04. Asche zu Asche / 05. Lucifer / 06. Engelsblut / 07. Say Something / 08. Bloody Pleasures / 09. Unser Weg / 10. You Walk Away / 11. Leitbild / 12. Reich mir die Hand // Rating: 8 / 10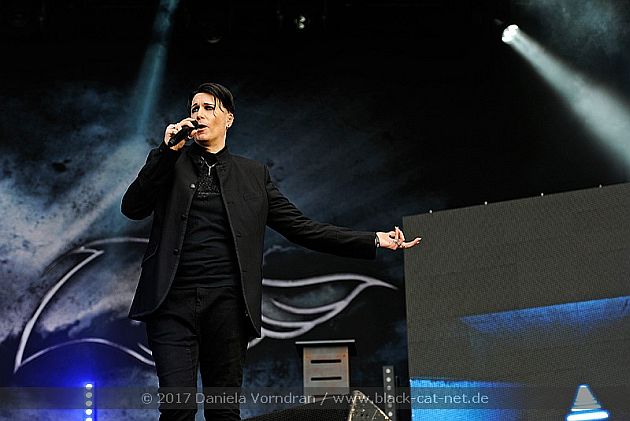 De/Vision - Hangar (LAy)

Unbelievable! Vocalist Steffen Keth and keyboardist Thomas Adam of the high-class Electro Pop act
DE/VISION
will celebrate their 30th anniversary next year! Headlining at the Hangar stage the catchy duo, supported by some live drums by Markus Koestner, effortlessly made all attendants dance off their socks starting with the newer, melodic mid-tempo tune 'Their World' and ending with the older, faster-pasted 'Flavour of the Week'. The gig was a journey taking us across four albums of DE/VISIONS vast discography: We danced, clapped and jumped along to tracks taken from '13' (2016), 'Strange Days' (2013), 'Popgefahr' (2010) and 'Noob' (2007). In the mid of it all DE/VISION's fans also got to enjoy the oldest track of the night, 'I regret' from 'Fairyland?' (1996) - wonderful. Needless to say that their 1993 hit single 'Try To Forget' was as well celebrated greatly inside the Hangar. Steffen animated the crowd to sing the chorus in turns and all had a great time. The marvellous and warm vocals, driving beats and huge melodies of DE/VISION and the audience's celebratory mood made for a perfect closure of the indoor M'era Luna. // http://www.devision-music.de / https://www.facebook.com/DEVISION-24741337633 // Setlist: 01. Their world / 02. mAndroids / 03. Who Am I / 04. Rage / 05. Synchronize / 06. Try to forget / 07. I regret / 08. Essence / 09. Where's the light? / 10. Time to be alive / 11. Your hands on my skin / 12. Flavour of the Week // Rating: 9 / 10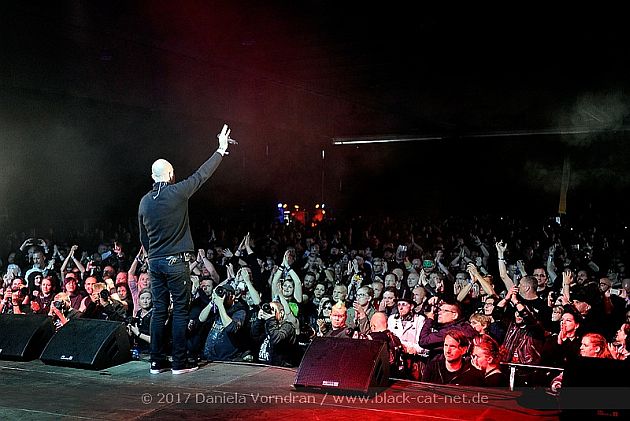 And One - Main Stage (Niggels)

AND ONE
, or "Steve Naghavi's Flying Ego Circus", as it was stated on a certain M'era Luna bootleg shirt, had the honour to finish the M'era Luna 2017. AND ONE are still big in Germany, even though their finest days are behind them to some, and as the final act at the main stage they certainly had a pretty impressive crowd in front of them. AND ONE played it safe and presented a best of set, starting with the classic 'Technoman' going straight to 'Timekiller', a PROJECT PITCHFORK cover but which is arguably more popular in AND ONE's version. The band was dressed all in black while the stage was covered all in white, including the drum pads and keyboard racks. Nice to see an actual stage design, last time I saw them headlining a festival they had nothing but a text-only ad for the next show in Comic Sans font as a backdrop. Steve Naghavi is known for being ironic and eloquent as much as being a little narcissistic and full of himself at times. This night the witty entertainer won over, even though he couldn't stop poking fun at his audience for spending an entire weekend in mud and rain, but you certainly have to give him credit that he's a born entertainer. All the joking and chaffing got a break when Naghavi presented his graver and more earnest side in 'Krieger', which also had a few lines from EURYTHMICS' 'Sweet Dreams' thrown in.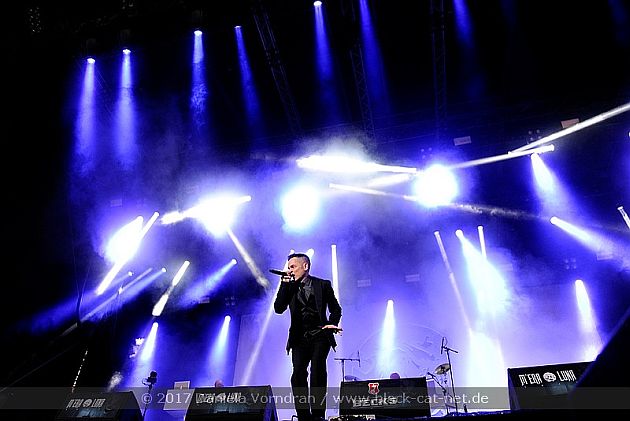 After this drummer Joke Jay took over the vocal duties to sing the 80s-infused, cheesy but epic ballad 'Most of the Tears' and his classic 'High'. Leaving the serious moments behind, AND ONE soon got back into party with a line of classic hits from 'Traumfrau' to 'Sometimes' and 'Second Voice', the first song AND ONE has ever written and which Naghavi introduced as "as shitty today as back then". The crowd reaction to this 28 year old classic proved him wrong, and after turning the crowd upside down an encore was inevitable, of course. So they returned for three more songs including their smasher 'Military Fashion Show'. After 'Shouts Of Joy' he bid farewell to the crowd and the M'era Luna 2017 by shouting laughingly "and now fuck off!" but his whispered "we love you" was probably the more honest, heartfelt statement. // http://www.andone.de / https://www.facebook.com/andoneoffiziell // Setlist: 01. Technoman / 02. Timekiller / 03. Get You closer / 04. Wasted / 05. Krieger / 06. Most of the Tears / 07. High / 08. Traumfrau / 09. Für / 10. Unter meiner Uniform / 11. Sometimes / 12. Second Voice / Encore: 13. Recover You / 14. Military Fashion Show / 15. Shouts of Joy // Rating: 7 / 10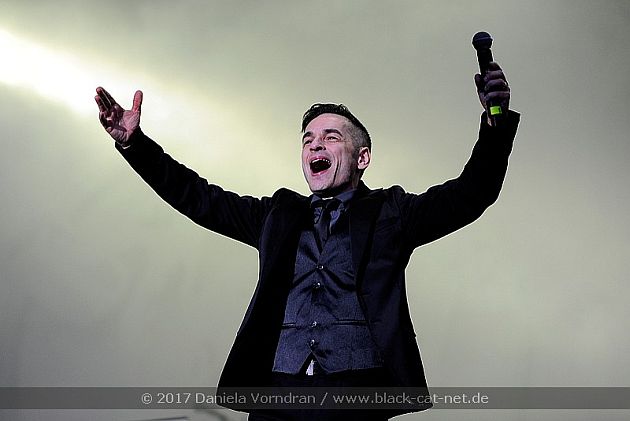 Conclusion

That's it, friends of the night, and this much is certain: The 17th edition of the M'era Luna will be engraved in our minds as yet another successful and peaceful black celebration full of awesome music and... mud. Less awesome the latter one, but we managed, didn't we? As Martin of MONO INC. jokingly suggested, all attendants may now print themselves a shirt with the lettering "WTF is W:O:A?!" standing for "What the fuck is Wacken? M'era Luna 2017 - I was there and survived it!" We give a shout-out to the organisers FKP Scorpio for all their efforts and hats off to all M'era Luna diehards for keeping the spirits up. As always, a quite diverse line-up of international acts made the festival enjoyable and unforgettable. Thanks to the artists there were plenty of memorable gigs for everybody, no matter whether you are a dark electro-head or a heavy guitars lover, a medieval folk fan, Goth rocker, Industrial dancer, or somehow all of the above.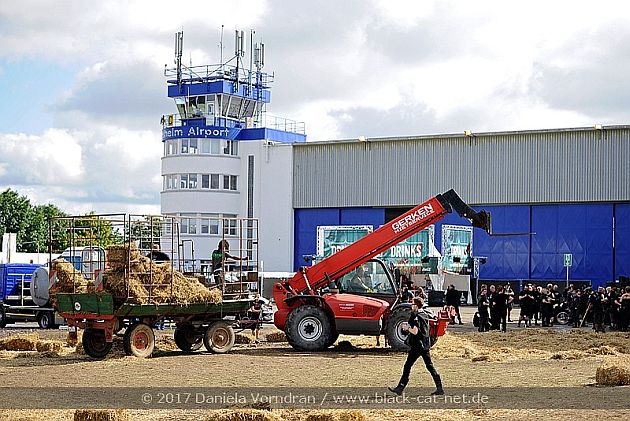 The festival stands for a great sound and also for a convincing programme in addition to all the music. People enjoyed the wonderful atmosphere and fancy foods at the medieval market. They grabbed the opportunity to do some extravagant Goth shopping and enhance their band merch collection and got inspired at the traditional fashion show for their next festival outfit. Moreover, one could take part in the new "M'era Luna Academy" by signing up for catwalk workshops with Anja Mensch or talks held by Mark Benecke and Gerald Axelrod to learn more about forensics and Transylvania. Those interested in literature listened to interesting and humoristic readings on the M'era Luna Friday and those into partying danced till dawn. The 18th edition of M'era Luna is already in the works and we can look forward to August 11th and 12th next year - save the dates!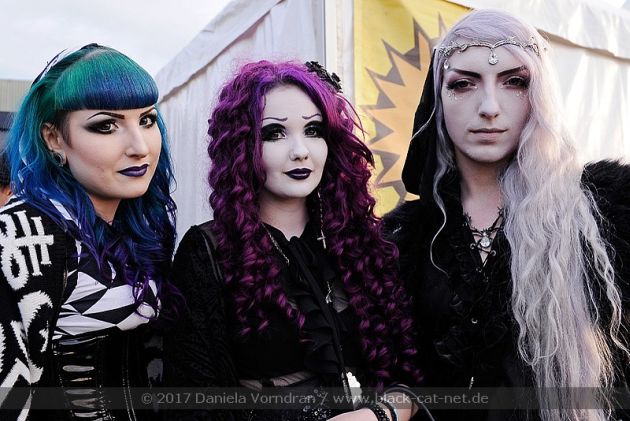 All pictures by Daniela Vorndran (
http://www.vorndranphotography.com
/
http://www.facebook.com/blackcatnet
) except Tomas Tulpe by Martin Foertsch
See also (all categories):