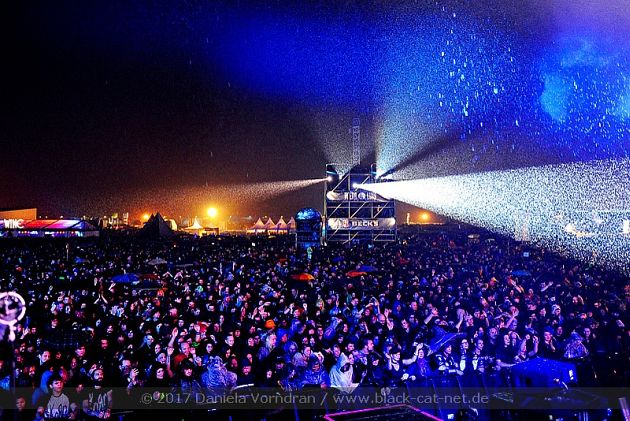 Airfield Drispenstedt, Hildesheim, Germany
12th & 13th August 2017
M'era Luna Festival with Markus Heitz, Alexander Wohnhaas, Christian von Aster, Circus of Fools, Leichtmatrose, Eden weint im Grab, Ambassador21, Unzucht, She Past Away, Ost+Front, .com/kill, Feuerschwanz, NamNamBulu, Mesh, Faderhead, White Lies, Ashbury Heights, Project Pitchfork, Solar Fake, Subway to Sally, KMFDM, ASP, Covenant, Korn

We're writing the year 2017 and it was for the 17th time that the long legendary M'era Luna festival has opened its gates for 25,000 dark music lovers and lunatics from all around. On the second weekend of August, the airfield in Hildesheim, Germany, has once again been transformed into our familiar festival celebrating beloved genres from Synth Pop, to Dark Wave and Industrial, over Medieval or Dark Rock, to Metal, and everything in between and beyond.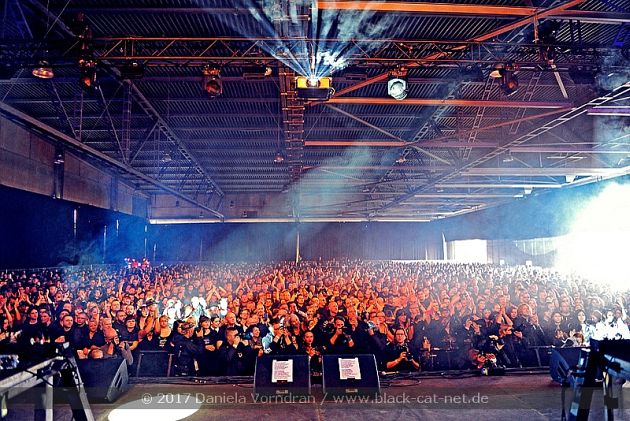 Not that familiar was the bad temper of the "weather Goths": On Friday, they poured over 45 litres/m² down on us causing difficulties to get on site by car and camper van. New parking spaces and additional shuttle buses have been organised and FKP Scorpio was feeding us with the latest updates via the festival's app. And so, this year's M'era had also a mud bath on its programme. No need to go to Wacken. Hildesheim was the place to be. Neither wet clothes nor leaky tents could chase away the visitors' celebratory mood. Luckily, friends of darkness like to wear combat boots or high platforms and then there're always trendy gum boots. Moreover, the promoters gave their best by mulching the site with some straw. The one or other child of nature was dancing the weekend away simply barefooted. "Muddy" Luna 17, we'll keep you in good memory!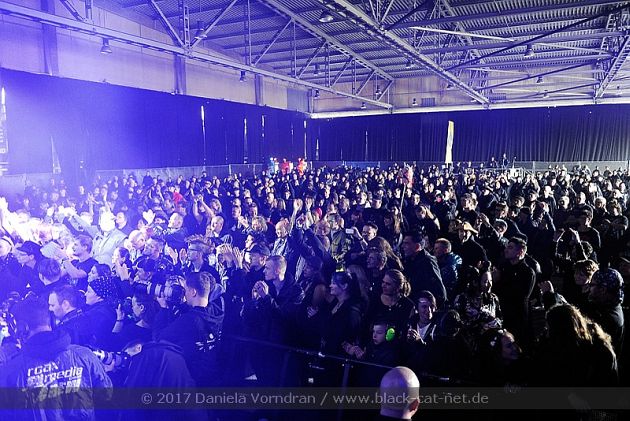 According to tradition, the festival was kicked off at 8pm on Friday inside the Disco Hangar. Attending these readings is always highly recommended. People took a seat on the benches or found a spot at the sides to stand closer to the stage. While it was in the beginning slightly noisy at the bar in the back, we gave an ear to the first German author: Markus Heitz presented his very first reading of the second part of his dessert opus titled 'Wédōra Teil 2 - Schatten und Tod' (tranls. 'Wédōra Part 2 - Shadow and Death'). Afterwards, the audience had the chance to purchase Heitz' new work way before the official release, August 21. Up next was MEGAHERZ vocalist Alexander Wohnhaas who almost forgot to mention the title of his book. After an intense reading of thrilling as well as socio-critical passages from the perspectives of a haunted ex-mercenary called Edgar Rabe, the lonely girl Lisa who wants to become a soccer star and a xenophobic guy, Wohnhaas left the stage mentioning: "By the way, the novel is called Blutzoll (transl. 'Blood Price')." And its subtitle is 'Der Tod riecht nach Diesel und Schwefel'; in English, 'Death smells like Diesel and Sulfur'.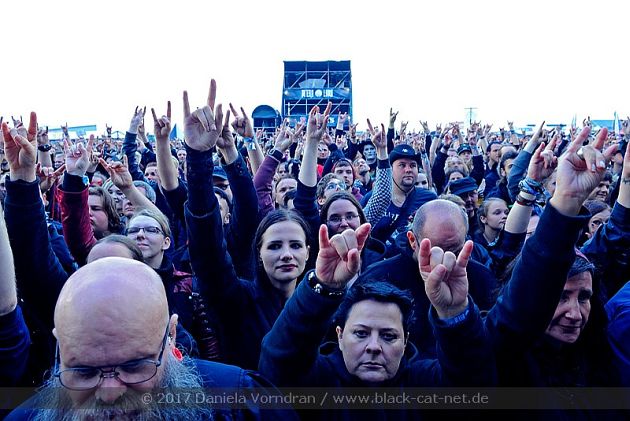 Lex Wohnhaas convinced the crowd reading from a gripping and authentic novel presenting his dark baritone, a squeaky voice, whispers and manic screams. Finally, it was once again Christian von Aster who had the "pleasure to be the last one". As always, the verbal acrobat made the audience laugh whole-heartedly and interrupt the author with rounds of applause for his witty rhymes, his definitions of "new words for a new age" from his project 'NeuDeutsch 2.0' and his satire about a secret jumping castle making a lot of Goths happy, or rather get rid of unwanted happiness, with the help of a therapeutic jumping session after midnight. "What happens inside the jumping castle, stays inside the jumping castle," the author announced. In the end, a far too serious Goth decided to kill all joy with his fangs. It couldn't get any more hilarious than with Christian von Aster.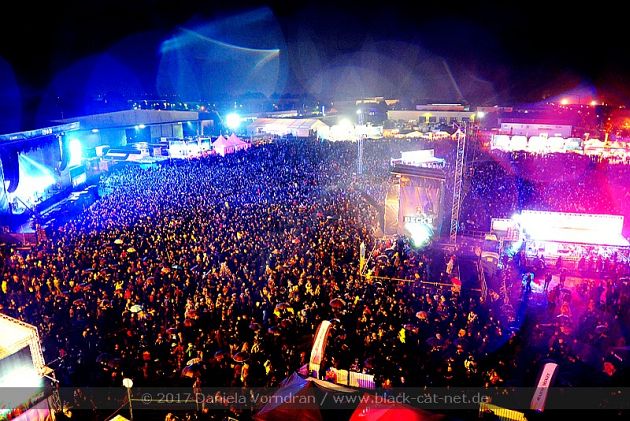 After a wet night we early entered the festival ground to start already with the first band on the bill, CIRCUS OF FOOLS, opening the main stage.
Circus of Fools - Main Stage (LAy)

CIRCUS OF FOOLS
, the talented winners of M'era Luna's newcomer contest, got the chance to open the festival at 11am and introduce four of their songs to the early risers. Even during their sound check one hour earlier, the first people were gathering in front of the Main Stage. Actually, the Melodeath band from Tübingen, Germany, has been around for five years by now and is a well-practiced live band consisting of Tim Strouken and Charlotte Lauel (vocals), Dominik Bolter and Julian Langer (guitars), Yannick Ninkov (bass), Coen Strouken (viola) and Nico Staller (drums). Their debut album 'Raise the Curtain' was released in 2015 being funded with the help of Startnext. On their Facebook page they promise an "elaborate post-apocalyptic vaudeville-inspired live show". One might say that the band's black costumes ruined by white colour, the crazy circus make-up and clown dolls decorating the mike stands were truly eye-catching and indeed quite enough extra next to their successful compositions.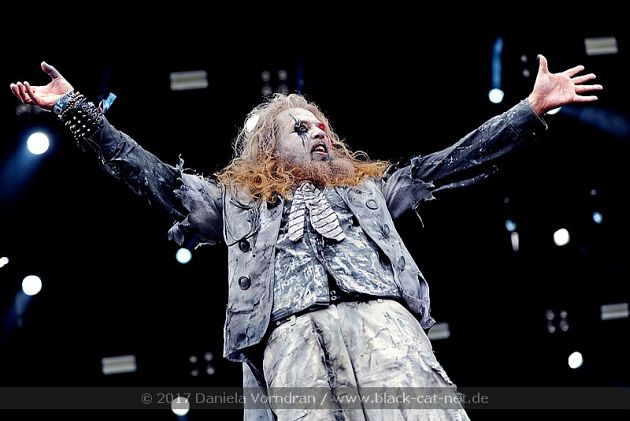 Without making any judgements about the dancing girls' acrobatic performance, who were hanging headlong from a spinning hoop or some ribbons, CIRCUS OF FOOLS could easily go without this kind of a variety show, which seemed only distracting if one paid attention at all, without losing any mad "circus" vibes. Their M'era gig was energetically heavy and thanks to the amazing viola played by Coen also catchy, folky and epic at the same time. Tim's harsh and dark vocals and Charlotte's higher register were also a great combo. After the great title 'Euphoria', the vocalist thanked the crowd for being there at that early hour and for voting for their winning song 'Another World Within', which they played next. In the middle of it, Tim made the audience kneel on the ground and then jump up to rock out. All in all, a damn good opening show - just twenty minutes long, but at full blast inviting to bang your head. Their fans are already looking forward to a second album to be out at the end of year. // http://www.circusoffools.de / https://www.facebook.com/theCOFofficial // Setlist: 01. Visions Fade / 02. Euphoria / 03. Another World Within / 04. Ikarus // Rating: 7 / 10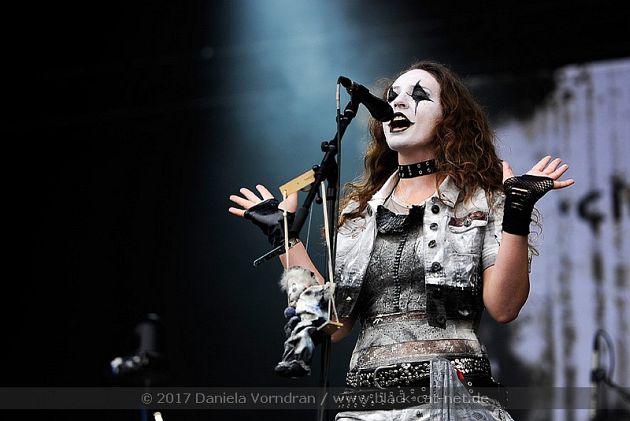 Leichtmatrose - Hangar (LAy)

How about some German Synth Chanson Pop to get things started at the Hangar? Of course we can only be talking of
LEICHTMATROSE
alias Andreas Stitz (vocals) supported by his crew-mates Thomas Fest (keys), Tom Günzel (drums) and Carsten Klatte (guitar). Being discovered by JOACHIM WITT it's been a decade by now that the front man has kept the project alive and thriving. Even though I have to confess that this of electro music is not really my cup of tea because of the kind of Schlager music feel and in-your-face rhymes such as "Jasmin... / Adrenalin" (in German a perfect rhyme), LEICHTMATROSE are nevertheless good at what they're doing. They managed to infect with their ode to 'Paris' and the serious 'Hier drüben im Graben' with its touching violins and piano, which Mr Stitz dedicated to his father at the end of their short show. Before that, the sailors made the audience dance along to their 'Jonny' song. Rarely have you seen the Hangar that crowded for the very first band playing there. Well done! // http://www.leichtmatrose.eu / https://www.facebook.com/derleichtmatrose // Setlist: 01. Dalai Lama / 02. Jasmin / 03. Wenn es Nacht wird in Paris / 04. Jonny fand bei den Sternen sein Glück (Anders sein) / 05. Hier drüben im Graben // Rating: 7 / 10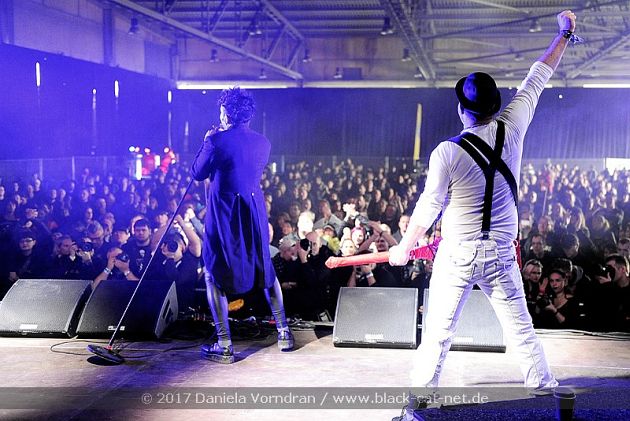 Eden weint im Grab - Main Stage (LAy)

The next half an hour outside at the Main Stage was dedicated to sinister sounding dark romantic Metal enriched by stringed instruments with poetic, story-telling lyrics in German.
EDEN WEINT IM GRAB
(EwiG) front man Alexander Paul Blake presented these in a growling manner while also playing bass. The band from Berlin opened their set with the superb 'TraumTod' that led seamlessly into 'Bon Voyage', both from the latest disc 'Na(c)htodreise' (2017). Cheers followed and the vocalist took the time to greet the crowd: "We hope that the rain didn't take a lot out of you, but you look healthy and fit. Thank you for making it here at this morning hour; you look magnificent." After this, Mr Blake - hats off to poet William Blake! -, lead guitarist Dr. Eckstein, rhythm guitarist Yvar Rabenfeder, drummer Zeus X. Machina, cellist Meyster M. Melicus and Kalila Karussell on violin played the wonderful mid-tempo tune 'Der ewige Bergmann' for us. Next, the band announced that they "brought along a technical device from the future which is invisible" inviting the M'era audience to "hop on it and join them on an air travel into the beyond" - of course this meant that it was time for the single 'Die Jenseitsflugmaschine' with the great, prominent bass line in the verses.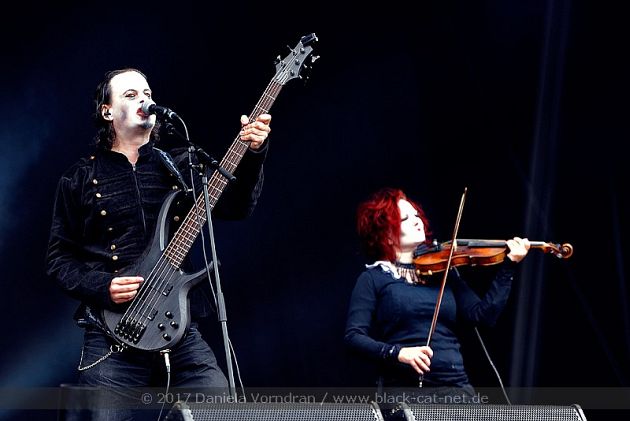 Then, EwiG celebrated the witching hour since it was 12 o'clock sharp with a song taken from their 'Geysterstunde I' album (transl. 'Witching Hour I') back from 2011: 'Moritat des Leierkastenmanns'. And with the fast-paced 'In der Toten-Taverne', the act ended their show with another new track. The front man encouraged the crowd to watch the recently released music video of this song à la danse macabre. Its postproduction took many months, as he told us, for it features elaborate paper cuttings. Mr Blake's parting words: "We were... and are... EDEN WEINT IM GRAB," he said with a snarl. The band's name in translation might be something like "Eden Crying in the Grave" or "Entombed Eden Weeping" - you get the idea. Now go and check out the artful vid, if you haven't done so already. // http://www.edenweintimgrab.de / https://www.facebook.com/edenweintimgrab // Setlist: 01. TraumTod / 02. Bon Voyage (Ein sonderbares Begräbnis) / 03. Der ewige Bergmann / 04. Die Jenseitsflugmaschine / 05. Moritat des Leierkastenmanns / 06. In der Toten-Taverne // Rating: 9 / 10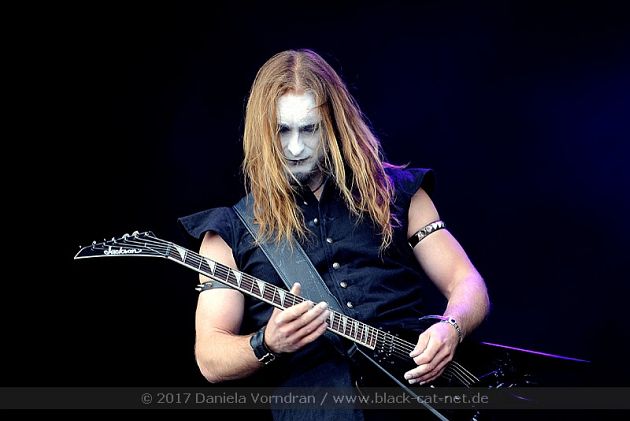 Ambassador21 - Hangar (LAy)

It was noontime and the Belarus act
AMBASSADOR21
were to hit the Hangar stage. Natasha A Twentyone and Alexey Protasov, who were involved in various punk bands in their youth and worked as radio DJs later, and their drummer had an Industrial Hardcore show for the M'era audience in mind. And so they blew up their rhythmic noise and harsh EBM sounds in our faces. On their black backdrop their message was written loud and clear in white capitals: "Fuck All Systems." Don't get misled by song titles such as 'Metal' - their fans and all cyber-dancers celebrated a digital industrial party with a political touch. // https://www.facebook.com/ambassador21 // Setlist: 01. Human Rage / 02. Revelation / 03. Fear Level Red / 04. In Love / 05. Metal / 06. Fuck All Systems /07. Black Dot // Rating: 6 / 10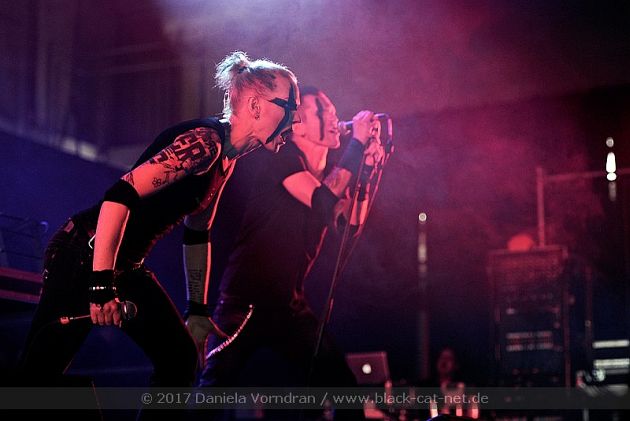 Unzucht - Main Stage (LAy)

UNZUCHT
is German Dark Rock at its finest, founded in 2009 and getting even better and better in time. Oh boy, how time flies - it's been almost a year that guitarist Daniel De Clercq, vocalist Der Schulz, bassist Alex Blaschke and drummer Toby Fuhrmann have unleashed their latest smasher of an album, the highly praised 'Neuntöter' (2016). And so their M'era gig was also under the banner of the "butcher bird". Just like the record, they kicked off their show with the perfectly dark and heavy opener 'Der dunkle See' followed by the neck-breaking tune 'Widerstand' and the melodically rocking 'Lava'. The latter one briefly turned into an instrumental when Der Schulz' mike died. During the older tune 'Deine Zeit läuft ab' the vocalist animated the audience to clap their hands "to chase away the clouds". At the end he added, "You can't imagine how amazing that feels!" and let us know about UNZUCHT's first live DVD to be out on September 1. Even though the band is long known for their powerful and fun shows, the musicians on stage seemed amazed by their fans' reaction and all the action going on at midday at the airfield.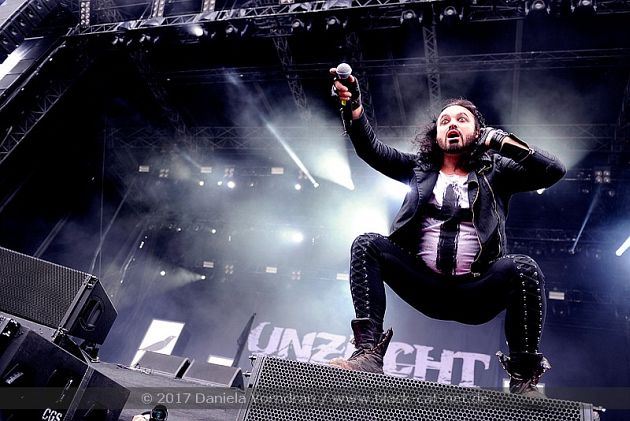 Der Schulz was grinning and shaking his head in disbelief about the celebrating M'era crowd. Of course the band had to throw in the title track 'Neuntöter', a masterful composition presented live masterfully. During the wonderful, calm C-part people in front of stage got together closer and carried the crowd-surfing and at the same time singing vocalist on their hands. In the end, we enjoyed the touching 'Nur die Ewigkeit' from the band's second EP (2012), which Der Schultz dedicated to "all our friends who left us too early," before making some noise one more time with 'Engel der Vernichtung' taken from their first EP (2009). In a nutshell: We got varied vocals, wicked bass lines, killer guitars and heavy drums supported by cool as well as beautiful electronics from tape - forty minutes UNZUCHT at full blast. In spite of some minor technical issues, as expected and almost needless to say: 10 outta 10! Cheers and horns up! // http://www.unzucht-music.com / https://www.facebook.com/Unzucht // Setlist: 01. Der dunkle See / 02. Widerstand / 03. Lava / 04. Unzucht / 05. Deine Zeit läuft ab / 06. Neuntöter / 07. Nur die Ewigkeit / 08. Engel der Vernichtung // Rating: 10 / 10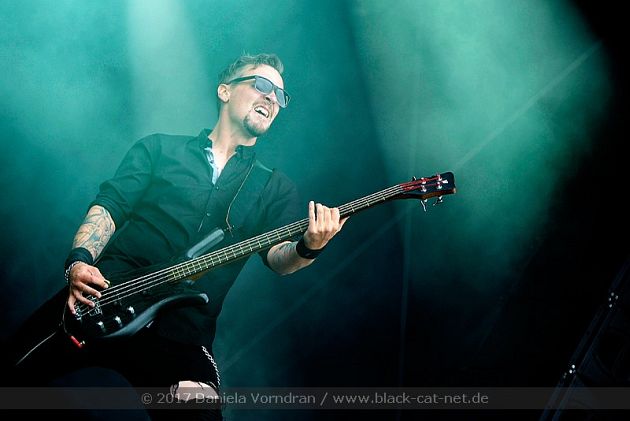 She Past Away - Hangar (Niggels)

At their first appearance at the M'era Luna,
SHE PAST AWAY
attracted quite a good crowd to the Hangar Stage. A clear sign for the rising popularity of the arguably only Gothic Rock band from Turkey. Of course the duo benefits from being rather exotic, especially as their lyrics are exclusively in Turkish language which has to be unique in the Goth & Dark Wave scene. But there's more to SHE PAST AWAY than being exotic, and their gig at this year's M'era Luna just proved that. If you love Gothic Rock, Batcave and Cold Wave, SHE PAST AWAY is simply one of the go-to bands at the moment. The live presentation of their music is, for that matter, just as minimalist as their sound: Singer and guitarist Volkan Caner stands on the left side of the stage, producer Doruk Öztürkcan is on the right hand behind his rack of synths and computers, and in the middle is, as a backdrop, a video screen with a rather simple slide-show of SHE PAST AWAY images. That's all the duo needs to create the right atmosphere, and apart from a few "thank you"s there was hardly any interaction with the crowd.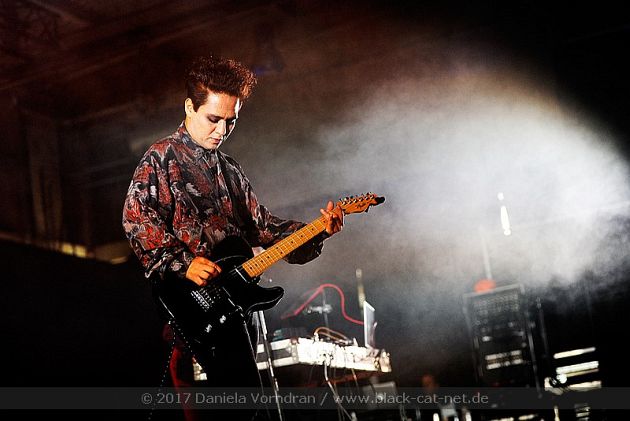 Well, "hey, let's party" would feel more than out of place, anyway, so SHE PAST AWAY left that to certain other bands of the weekend. Starting with 'Sanrı', the duo delivered a quick run-through of their most popular songs, with the popular Goth club hit 'Ritüel' coming surprisingly early. If there's one thing to complain about you might say that there's little variation in the mood of the music. It stays rather cold, distanced, introvert and mid-tempo for almost all of the 40 minutes they had at the M'era Luna, so 'Bozbulanık' with its almost Electro-Punk-ish feel was a welcome change before SHE PAST AWAY finished their set with 'İnsanlar'. A really good live band which spices their dark, withdrawn Goth Rock with memorable melodies and electronic grooves. If SHE PAST AWAY would diversify their sound a little more to create even more tension and suspense in their live set they would be even better - but that's really just a very minor gripe! // http://www.facebook.com/shepastaway // Setlist: 01. Sanrı / 02. Soluk / 03. Katarsis / 04. / Ritüel / 05. Ruh / 06. Kasvetli Kutlama / 07. Monoton / 08. Bozbulanık / 09. İnsanlar // Rating: 8.5 / 10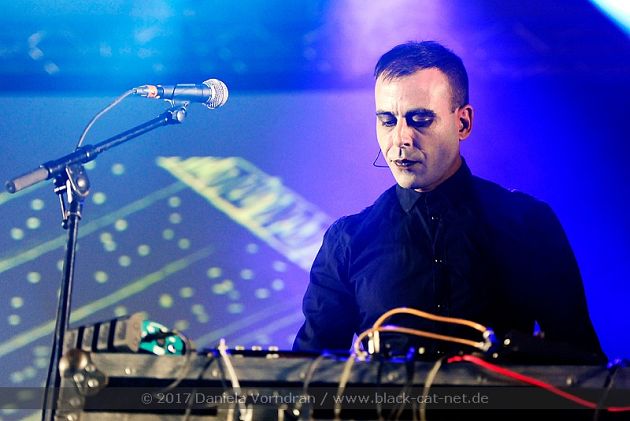 Ost+Front - Main Stage (LAy)

It was time for some good old Neue Deutsche Härte. The gory looking
OST+FRONT
from Berlin, who slightly sound like RAMMSTEIN and slightly look like SLIPKNOT and who name "meat" as their interest, brought on a "Fiesta de Sexo" on M'era Luna's main stage. This is also the title of the band's latest single sang in Spanish and their fans had the chance to get a shirt with the new design at the festival. During the fleshy tune 'Fleisch' a go-go dancer climbed into a large glass filled with disgustingly orange liquid. According to the applause, vocalist Herrmann Ostfront, the guitarists Siegfried Helm and Otto Schmalzmann, bassist Wilhelm Rotlauf, drummer Fritz Knacker and Eva Edelweiß at keys managed to convince the crowd with the doomy singsong 'Denkelied' from their debut 'Ave Maria' (2012) and the melodic 'Sternenkinder' from the recent 'Ultra' (2016) more easily. With the faster-paced 'Bruderherz' it more punky on stage and the audience clapped along to the beat. After 'Bitte Schlag Mich' and a lot black balloons raising into the air it was all over and Mr. Ostfront, who looked like a butcher, bowed and marched off stage like a soldier. // https://ostfront.de / https://www.facebook.com/ostfrontberlin // Setlist: 01. Fiesta de Sexo / 02. Fleisch / 03. Freundschaft / 03. Denkelied / 04. Sternenkinder / 05. Bruderherz / 06. Gang Bang / 07. Ich liebe es / 08. Mensch / 09. Bitte Schlag Mich // Rating: 6.5 / 10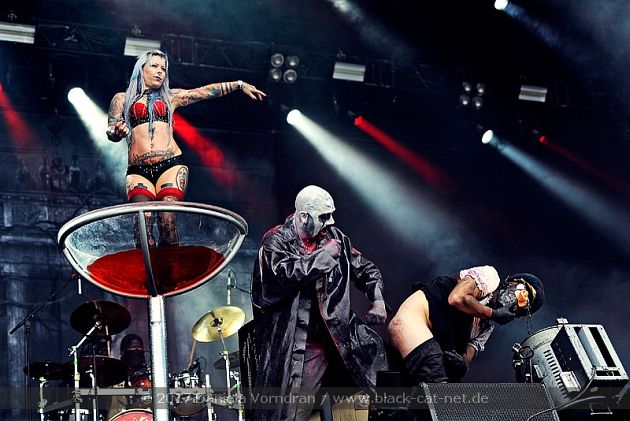 .com/kill - Hangar (LAy)

The magical M'era Luna had another highlight for us in stock: The wickedly wild and incomparable Dark Noise project brought to life by DIARY OF DREAMS maestro Adrian Hates was without any doubt a sonic delight at the Hangar. The vocalist was supported by DoD band mate Max on keys and for some backing vocals and by electro sound wizard Daniel Myer. Minimalistic, repetitive, in-you-face lyrics in German and English resounded fiercely, whiplashing beats hit to the bone, and darkly atmospheric electronica kept building up suspense and took us someplace else... or deep inside into our sinister selves. As promised, C/K also presented some new, mesmerizing material. Whether the second album is going be out this or next year remains yet unknown. In the beginning of the older track 'Freaks like us' Adrian jumped into the pit giving away a few CDs.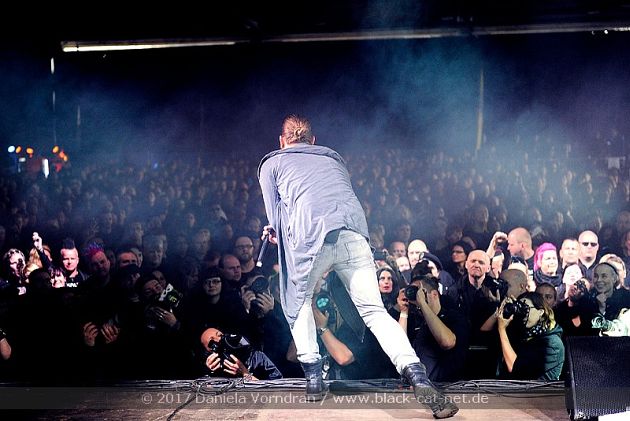 The fans in the front rows raised their arms enthusiastically and scrambled to get one of the much sought-after discs. On the whole, it was a stunningly unique concert experience for all senses that
.com/kill
delivered. The trio easily managed to captivate and enchant their listeners leaving behind an impressed audience of old and new fans. Truly brutal and stunning. Such a shame that time flew by in the blink of an eye. Good news is that .com/kill are on their coming back. The next date you should save is March 17, 2018, for their appearance at the E-tropolis festival in Oberhausen. // http://www.comkill.me / https://www.facebook.com/comkill // Setlist: 01. Trip (Intro) / 02. Still die Gier / 03. Freaks like us / 04. Revenge / 05. Control / 06. Deliverance / 07. Monster Divine / 08. Machines // Rating: 10 / 10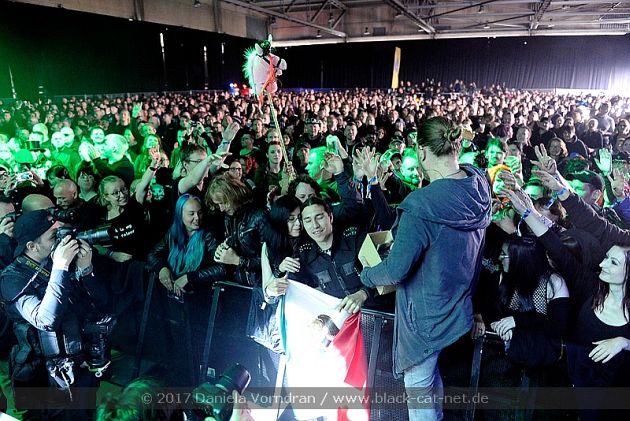 Feuerschwanz - Main Stage (LAy)

Those who are into Medieval Folk Comedy Rock and like to drink mead must have had a great time with the buffoonish combo
FEUERSCHWANZ
and their support on stage, two background dancers dressed as "kitties". The band can look back at a history of thirteen years and seven records. Their audience had fun singing along drinking songs and screaming "Blöde Frage, Saufgelage". For the next song, 'Morallisch (Höchst Verwerflich)', they picked two girls from the audience and put them into a beer bottle and a pizza costume representing two of their personal deadly sins - "morally highly reprehensible" stuff as they sang. 'Seemannsliebe' made the audience collectively sway and then jump to the music. Before closing with 'Krieger des Mets', "Prince Richard Hodenherz" of FEUERSCHWANZ shared a true confession making their fans laugh one more time: their bassist, who is called Felix Taugenix (transl. "Felix Good for Nothing") had actually forgotten to bring his bass. They thanked UNZUCHT for lending them the instrument. // http://feuerschwanz.de / https://www.facebook.com/feuerschwanz // Setlist: 01. Sex is Muss / 02. Blöde Frage, Saufgelage / 03. Morallisch (Höchst Verwerflich) / 04. Ketzerei / 05. Metnotstand im Märchenland / 06. Seemannsliebe / 07. Krieger des Mets // Rating: 6 / 10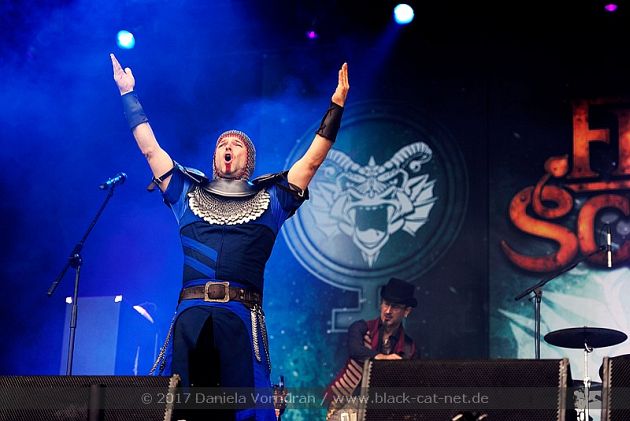 NamNamBulu - Hangar (LAy)

Next, the Hangar was up for more softer sounds. Synth Pop act
NAMNAMBULU
(NNB) from Zurich started their musical endeavours in 2002. The duo consists of Vasi Vallis, who is responsible for composing, arranging and producing the songs and also producing remixes for other bands in the name of NNB, and the vocalist, lyricist, artist and web and stage designer Henrik Iversen. This March, they brought out their disc 'Borders' and so they performed four tracks out of it: Their fans enjoyed 'Mind', 'Idol', 'Return', and 'One Breath' clapping along and celebrating NNB's very first M'era gig. NNB closed with their classic dance-floor hymn 'Memories' from 'Distances' (2005) and Henrik let the good-spirited and cheering audience sing some of the lines. All in all, a melodic show with catchy tunes, harmonic vocals and driving beats leading the Synth-heads perfectly into the MESH show, which had just began at the Main Stage. // http://www.namnambulu.com / https://www.facebook.com/namnambulu // Setlist: 01. Alone / 02. Mind / 03. Idol / 04. Return / 05. One Breath / 06. Now Or Never / 07. Memories // Rating: 7.5 /10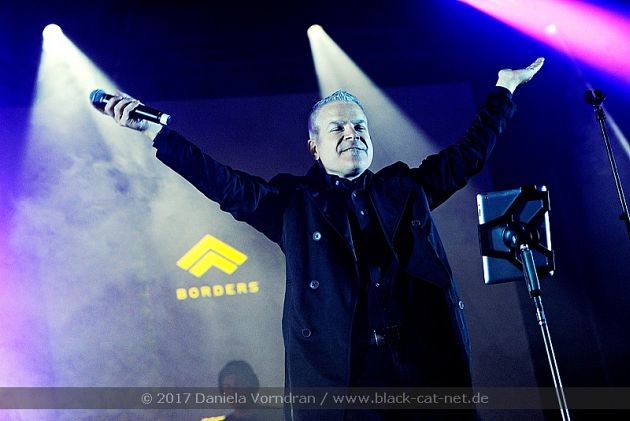 Mesh - Main Stage (Niggles)

I don't know how many times
MESH
have already performed at the M'era Luna but the British synth band is surely one of the more regular guests on the stages of this festival. Their last album, 'Looking Skyward' from last year, was quite a success and charted at #12 in the German sales chart. The following tour was also pretty successful and this year's festival gigs are some sort rolling forward of the tour. Fortunately MESH were able to bring their sophisticated video show featuring several rectangular LED screens spread over the stage, although the video show works a lot better in a dark letter than in more or less bright daylight. At least it wasn't raining cats and dogs, like the day before, but the German summer left a lot to ask for this August weekend. Starting with 'My Protector' from 'Looking Skyward', MESH continued with a great performance of 'I Fall Over', a 17-year-old song from the album 'The Point At Which It Falls Apart'. This was already the highlight for me, the rest was really good but kind of just another MESH gig, which might sound harsher than I actually mean it.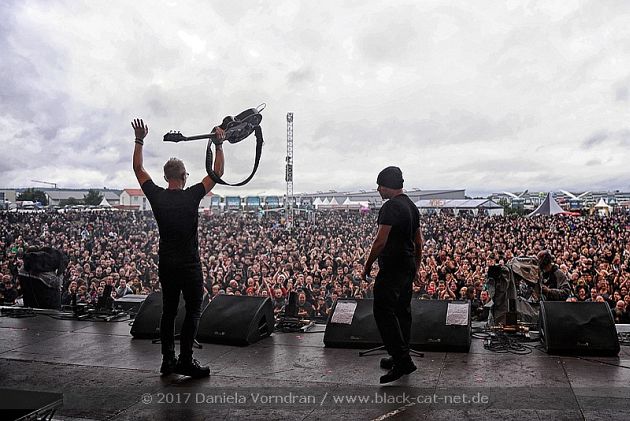 Other notable highlight was 'What I've Done', a LINKIN PARK cover dedicated to the late Chester Bennington, although singer Mark Hockings didn't mention him explicitly when introduced the song with the words "we've lost a couple of good guys in music this year, this is for one of them". Hockings mastered the vocals perfectly, in general his live singing is really astonishing which makes up for him not exactly having the most enthusing stage presence. 'Taken For Granted' finished the 40 minutes of the gig, which had two great highlights and a spot-on and very professional band performance. So nothing to complain about, really! // http://www.mesh.co.uk / http://www.facebook.com/meshtheband // Setlist: 01. My Protector / 02. I Fall Over / 03. The Last One Standing / 04. The Traps We Made / 05. Born to Lie / 06. What I've Done (Linkin Park cover) / 07. Taken for Granted // Rating: 8 / 10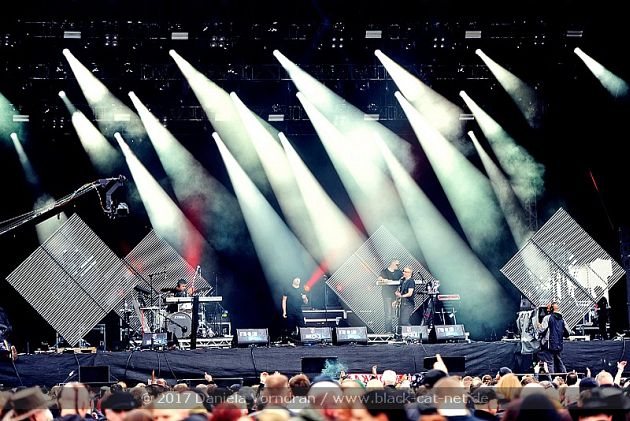 Faderhead - Hangar (Niggels)

Just when MESH finished their show at the main stage,
FADERHEAD
entered the stage at the Hangar while Electro fans rushed from one stage to the other. The Hangar ended up being packed to the roof with a crowd which was ready for some action. And FADERHEAD delivered! Beginning with 'Escape Gravity', one of their Synth Pop songs, was a rather mellow but nevertheless seductive start but FADERHEAD quickly speeded up the pace with 'Generation Black' and 'Know Your Darkness' and went from Electro Pop to techno beats and more EBM-ish tracks as 'Destroy Improve Rebuild'. The atmosphere in the crowd was really good and Sami Mark Yahya aka FADERHEAD and his live collaborators, Marco Visconti from XP8 and STRAFTANZ's Jörg Lütkemeier, apparently had a great time on stage, as well.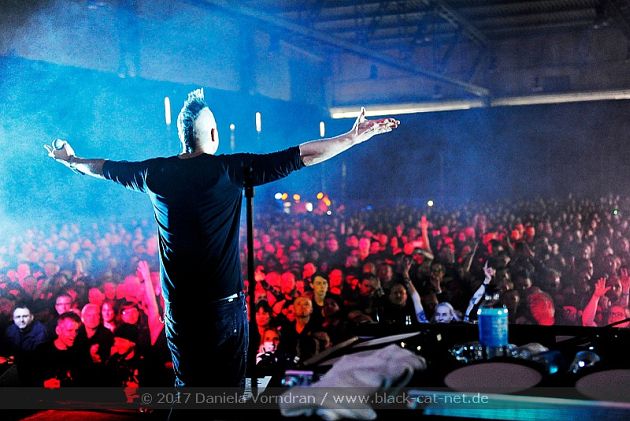 Unfortunately festivals with more than one stage mean that sometimes it might happen that two bands you really wanna see play at the same time, and so I left the FADERHEAD gig a little early to catch WHITE LIES on the Main Stage. So I missed the big finale with 'No Gods, No Flags, No Bullshit' and 'TZDV', the band's massive EBM club hit, but from a distance it seemed FADERHEAD turned the Hangar audience upside down. Not the most "Goth" band of the weekend but one of the most fun and most entertaining performers. // http://faderhead.com / https://www.facebook.com/faderhead // Setlist: 01. Escape Gravity / 02. Generation Black / 03. Know Your Darkness / 04. Every Hour Kills / 05. Destroy Improve Rebuild / 06. Dancers / 07. Vanish / 08. No Gods, No Flags, No Bullshit / 09. TZDV // Rating: 8.5 / 10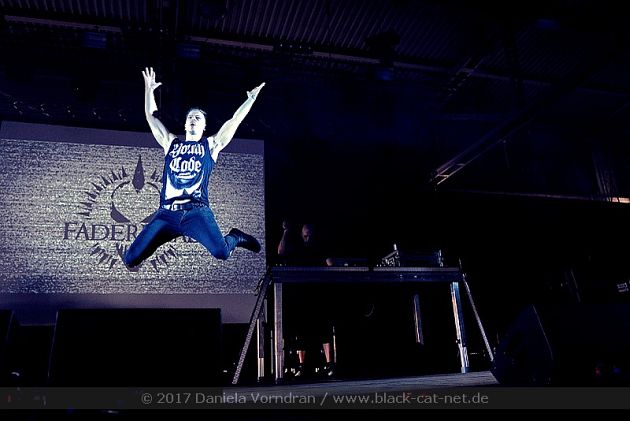 White Lies - Main Stage (Niggels)

London based Indie Rock band
WHITE LIES
are the odd one out at the M'era Luna, or rather a most welcome diversion from all the Goth and Industrial stuff which the rest of the line-up offers. WHITE LIES may be an Indie band with a Pop appeal but under the surface their music is pretty Goth-infused, in a way. Their lyrics muse about the darker and gloomier sides of life, and the music is a mix of the uplifting melodies of a band like THE KILLERS, the melancholy of EDITORS and the compelling Post-Punk morbidity of JOY DIVISION. Despite all the gloom and doom, singer Harry McVeigh displayed a big, happy grin from the start of the show, proving that he's actually rather one of the more cheerful dudes. He and his band mates didn't hide the fact that they were quite happy to perform at this festival, even though the place in front of the Main Stage was noticeably less crowded than during other late-afternoon acts. However, WHITE LIES have a solid and enthusiastic fan base and the fans were more than ready to celebrate the big melodies and big sing-along lines of WHITE LIES. Unfortunately I missed the first two songs as I just returned from the Hangar stage but at least I caught up with 'To Lose My Life', probably my favourite WHITE LIES song.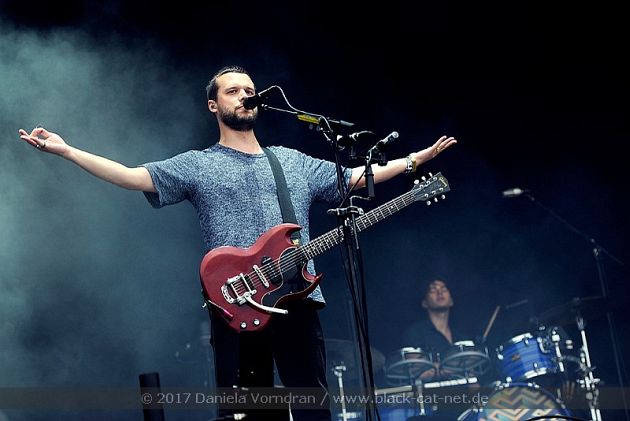 The set list was more or less a shortened version of the programme of their last club tour, focussing on singles and the more popular album tracks. The unpretentious presentation of the music was a nice contrast to the hymn-like choruses and anthemic hooks. Well, when you have songs such as 'Unfinished Business', 'Death' or 'Fairground' up your sleeves you need no poses and postures. Fittingly the final song, 'Bigger Than Us', summed up the overall impression of the gig both musically and lyrically and I'm just happy that the M'era Luna promoters think outside the black Goth box a little and book bands like WHITE LIES, as well. Surely one of my personal highlights of the weekend! // http://www.whitelies.com / http://www.facebook.com/WhiteLies // Setlist: 01. Take It Out On Me / 02. There Goes Our Love / 03. To Lose My Life / 04. Fairground / 05. Morning In LA / 06. Unfinished Business / 07. Swing / 08. Death / 09. Big TV / 10. Bigger Than Us // Rating: 9 / 10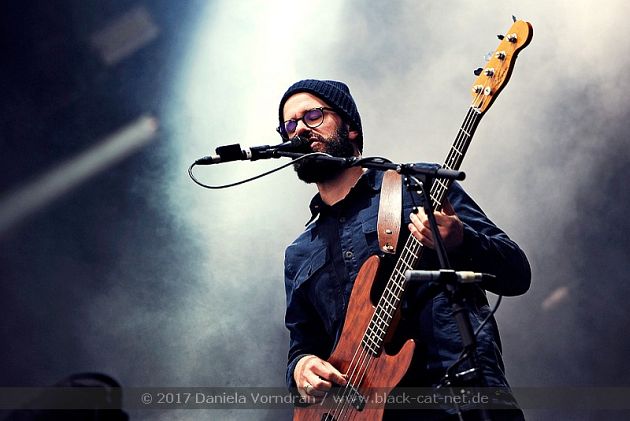 Ashbury Heights - Hangar (LAy)

ASHBURY HEIGHTS
is the songwriter and vocalist duo Anders Hagström and Tea F. Thimé. The "Victorian Wallflowers" from Sweden re-founded their Synth Pop project only two years ago and are signed with the Berlin label Out of Line. For their M'era Luna performance Elliott Berlin (TELEMARK, AESTHETIC PERFECTION, BURN THE WITCH) from Norway joined them to push the keys and play guitar. Amongst others, they presented the tune 'Masque' from their last album 'The Looking Glass Society' (2015) and somehow, no offence, its catchy chorus conjured up some Eurovision Song Contest vibes at the Goth fest. ASHBURY HEIGHTS know how to be melodic, sweet and poppy; unfortunately though, they seemed to be struggling with some tech issues. // http://ashburyheightsofficial.tumblr.com/ / https://www.facebook.com/ashbury.heights/ // Rating: 6 / 10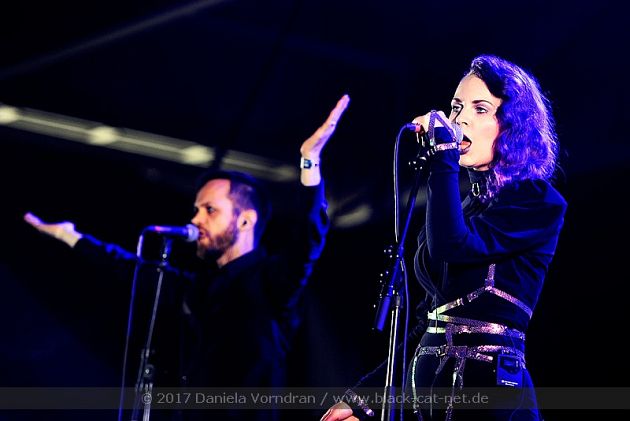 Project Pitchfork - Main Stage (LAy)

PROJECT freaking
PITCHFORK
! Do I need to say more? The unique Dark Electro project was founded back in 1990 in Hamburg and of course the masters Peter Spilles, Dirk Scheuber and Jürgen Jansen gathered quite a crowd outside. Their live drummers Achim Färber, Nook and Leo made sure of a massive drum sound bringing PITCHFORK's characteristic rhythm and drive to life and making one wish to be a percussionist as well. The audience was in for treat of twelve PITCHFORK smashers starting with 'Conjure' and their hit song 'Timekiller'. The newer tunes, the sinister stomper 'Titânes' and the melodic 'Volcano' from their recent 'Look up, I'm Down Here' (2016) were celebrated greatly next to all the older tunes such as 'Rain', 'Beholder', 'Blood-Loss (Sometimes)' and 'Acid Ocean', just to name a few, that have long turned into classics. In between the slower, ambient piece 'Souls' gave us the chance to take a breath. It was a bloody great show ending with the almighty "marching" tunes 'Onyx' and 'Blood-Thirst' and made all Pitchfork diehards at M'era blissfully happy. // http://www.project-pitchfork.eu / https://www.facebook.com/ProjectPitchfork // Setlist: 01. Conjure / 02. Timekiller / 03. Alpha Omega / 04. Rain / 05. Titânes / 06. Souls / 07. Beholder / 08. Blood-Loss (Sometimes) / 09. En Garde! / 10. Acid Ocean / 10. Volcano / 11. Onyx / 12. Blood-Thirst // Rating: 10 / 10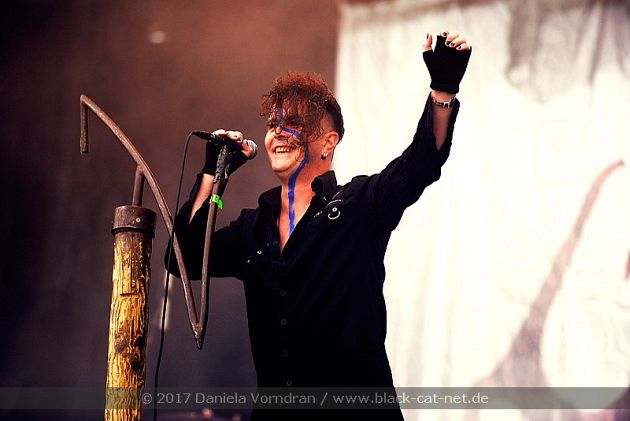 Solar Fake - Hangar (LAy)

Good times! Seeing
SOLAR FAKE
in the Hangar right after PROJECT PITCHFORK at the Main Stage felt kind of like DIORAMA after DIARY OF DREAMS at last year's M'era Luna. Pitchfork fans rushed to the other venue quickly to celebrate another electro feast with another one of their favourite electro acts. An already tightly packed Hangar was awaiting mastermind and outstanding vocalist Sven Friedrich (DREADFUL SHADOWS, ZERAPHINE) and his partner in crime André Feller (DREADFUL SHADOWS, HERZFEIND, THE SHINING BRIGHT) at the keys. The supporting SOLAR FAKE crowd seems to be growing from show to show and the well attuned act that has been around for decade by now, keeps on shining brightly. As known from their last tour, 'Not what I wanted' from their latest masterpiece 'Another Manic Episode' sounded the bell for a stellar show. In addition to three more smashers from the record, the fans also welcomed the older 'Reset to Default' from 'Reasons To Kill' (2013) next to the also moving 'More Than This' and the wicked stomper 'Parasites' from 'Frontiers' (2011).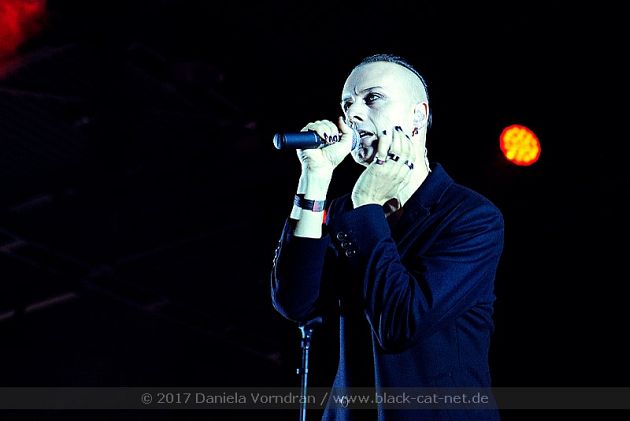 A fantastic contribution was thanks to the guest Benni "Cellini" Gerlach (LETZTE INSTANZ, LAND ÜBER). The head-banging e-cellist with his hollow body instrument enriched 'Parasites' greatly. SOLAR FAKE also decided to present a LINKIN PARK cover. Their long-known and killer version of 'One Step Closer', to be found on their 'Reasons To Kill' album (2013), raised the roof and something actually happened that had been expected for a while now: It was just a question of time when Mr. Feller's manically shaking keyboard would topple over for real. Luckily it all went well and to conclude the simply great party in a calmer way, SOLAR FAKE featuring Mr. Cellini shared the astoundingly beautiful ballad 'Where are you'. As we said above... Good times. // http://solarfake.de / https://www.facebook.com/SolarFake // Setlist: 01. Not What I Wanted / 02. Under Control / 03. Reset to Default / 04. All the Things You Say / 05. I don't Want You in Here / 06. Parasites / 07. More Than This / 08. One Step Closer (LINKIN PARK cover) / 09. Where are You // Rating: 10 / 10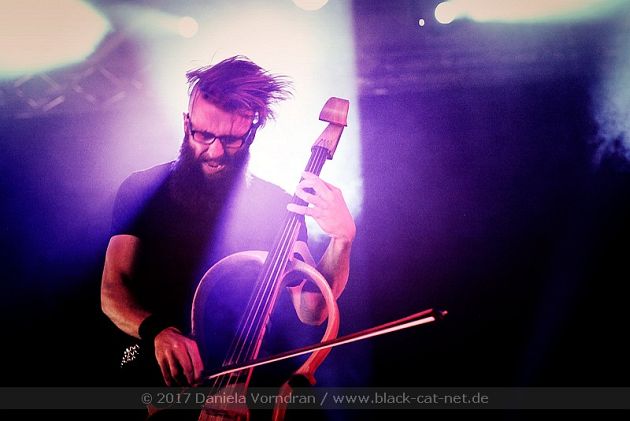 Subway to Sally - Main Stage (LAy)

Eric Fish, Bodenski, Simon, Ally Storch, Ingo Hampf, Sugar Ray & Simon Michael from
SUBWAY TO SALLY
started their medieval rock set with the mid-tempo track 'Grausame Schwester' making their audience sway their arms to and fro. Fitting the lyrics vocalist Eric Fish pointed to the violist's impressive blond mane, which reaches the back of her keens, and made the huge crowd of people scream in the end. During the classic 'Kleid aus Rosen MMXV' a fan threw a rose on stage and the M'era folk gladly took Eric's invitation to sing the chorus loudly and a-capella before moving on with the set. As the band's 'Hallelujah' song 'Falscher Heiland' resounded even the evening sun came through the clouds shining on us. For the folky 'Tanz auf dem Vulkan' the front man challenged the fans form a circle pit: "It that possible at M'era Luna? We would love to see that. There is the middle, make some room. Let's go, we don't have much time! Dance as if the earth underneath your feet were too hot," Eric said. And the people did. And the setting sun drowned the stage in golden light for the "spin-around-volcano-song". Then, Ally, who has recently joined the band, presented a virtuosic violin solo introducing the rocking 'Für Immer'.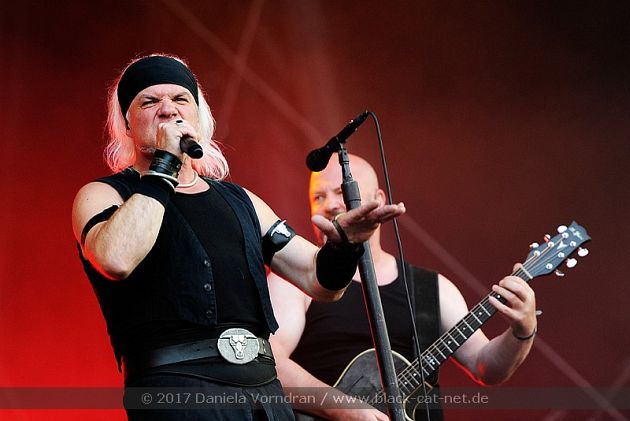 Towards the end of the show, Eric let us know that they "tell true stories no matter how imaginary and unbelievable they might sound" and invited to jump along. An easy thing to do with tracks such as 'Arme Ellen Schmitt', 'Sieben' and the band's throw out smasher 'Julia und die Räuber'. SUBWAY TO SALLY have been around since 1996 and always guarantee varied tunes thanks to various instruments - such as electric and acoustic guitars, flute and bagpipe, violin and wheel fiddle - interesting (by now mainly) German lyrics full of metaphors and stories, and a fun show to sing and dance along. Not only Eric Fish but also all SUBWAY TO SALLY disciples in front of the Main Stage perceived this M'era gig to be "an hour that one wished would never end." // http://subwaytosally.com / https://www.facebook.com/subwaytosally // Setlist: 01. Grausame Schwester / 02. Henkersbraut / 03. Kleid aus Rosen MMXV / 04. Unsterblich / 05. Falscher Heiland / 06. Tanz auf dem Vulkan / 07. Für immer / 08. Böses Erwachen / 09. Arme Ellen Schmitt / 10. Sieben / 11. Veitstanz MMXV / 12. Julia und die Räuber // Rating: 8 / 10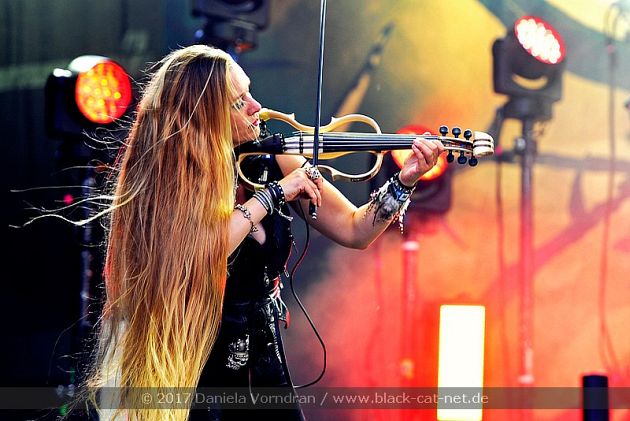 KMFDM - Hangar (LAy)

Fasten your seat belts, please. Industrial rockers
KMFDM
were up next to tear apart the Hangar - "Bloody hell yeah!" Founded back in 1984 they stand for "Ultra-Heavy Beat" music and are one of the pioneers combining electronic music with Heavy Metal. With its intro 'D.I.Y.' from their 1999 album 'Adios' was the perfect opener. Sascha "Käpt'n K" Konietzko and company (yeah, if you saw members of LORD OF THE LOST on stage you were right!) delivered a fantastic Hardcore show full of diverse tunes with damn good live drums and guitars turning the Hangar into a massive dance floor with their infectious hooks and hardness. Also vocally KMFDM ensure great variety and harmony thanks to Lucia Cifarelli and the captain - just remember the grooving hit single 'Amnesia'. KMFDM were about to release their recent record 'Hell Year' a few days after the M'era Luna (August 16) and delighted the M'era lunatics with five new pieces: Next to the title track, we got a taste of danceable 'Freak Flag', 'Total State Machine' with its heavy-hitting "your government hates you!" chorus, the gritty 'Glam Glitz Guts & Gore' (thumbs up for this superb alliteration in the title) and the more poppy 'Murder my Heart'. We had a blast! // https://kmfdm.net/ / https://www.facebook.com/officialkmfdm // Setlist: 01. D.I.Y. / 02. Hell Yeah / 03. Freak Flag / 04. Amnesia / 05. Rebels in Kontrol / 06. Total State Machine / 07. Bumaye / 08. Glam Glitz Guts & Gore / 09. Murder my Heart / 10. A Drug against War / 11. WWIII / 12. Hau Ruck / 13. Godlike // Rating: 9 / 10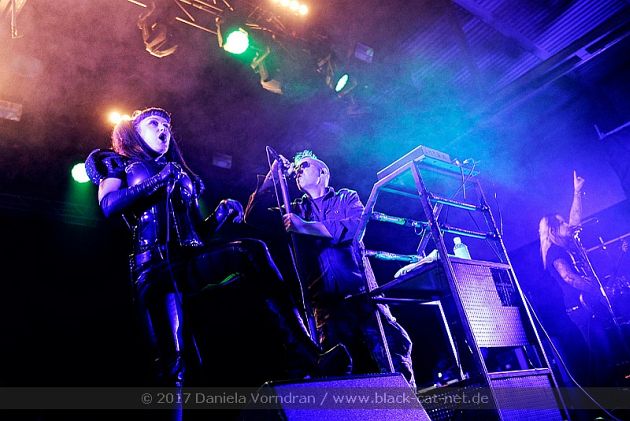 ASP - Main Stage (LAy)

German Gothic Novel Rock act
ASP
from Frankfurt am Main was formed in 1999. They have enthralled their following with ten studio records thus far and their new record titled 'Zutiefst' will be out on October 27. It had been only two years ago that they graced the M'era Luna stage. They came back to put another bombastic show and right after their moonlight intro ASP kicked off with 'Kokon'. With its final drumbeats and guitar chord it went silent and dark. Pretty soon we realised that this wasn't part of the show but a major power blackout. For the following 35 minutes there was no action going on at the Main Stage, but the M'era Luna visitors lost neither hope nor their cheerfulness and kept waiting in the rain chatting with their old buddies and new festival acquaintances. Once the power was back on again ASP front man Alexander Frank Spreng, bassist Tossi, guitarists Lutz and Sören and drummer Stefan made a second start and had a fiery blast with their fans not minding the wetness. It was touching moment for a few when SUBWAY TO SALLY vocalist Eric Fish joined ASP to perform the tune 'Zaubererbruder' from the 'Krabat' song cycle.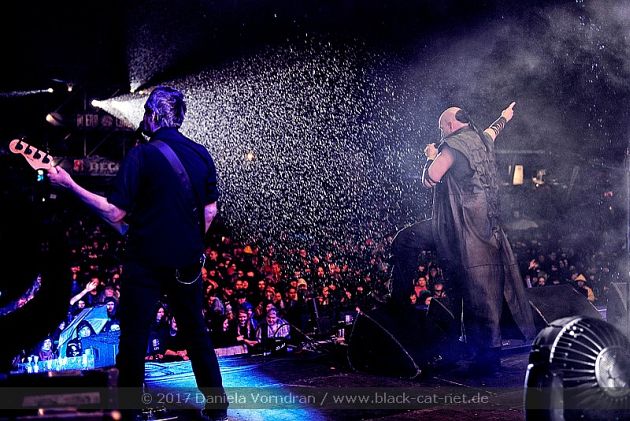 When seeing an ASP show you always know what you'll get. Lots of pyros and fire. And so, the show at the M'era Luna was no exception and we god CO2 fountains, fire and glitter on stage. After the power blackout, it was raining cats and dogs during the whole show, but the audience did not care at all. And since anyone in the audience was soaked with water, Asp thought it was a good idea to be soaked as well. And so, he poured two bottles of water over his head and body, much to the enjoyment of the audience. That's what I call true fan connection! Sadly, due to the power loss, the set was shortened by two songs. // http://www.aspswelten.de/ / https://www.facebook.com/AspsWelten/ // Setlist: 01. Mondschein Intro / 02. Kokon / 03. Wechselbalg / 04. Duett (Das Minnelied der Incubi) / 05. Schwarzes Blut / 06. 20.000 Meilen/ 07. Werben / 08. Zaubererbruder (feat. Eric Fish) / 09. Ich will brennen / 10. Umrissmann // Rating: 8 / 10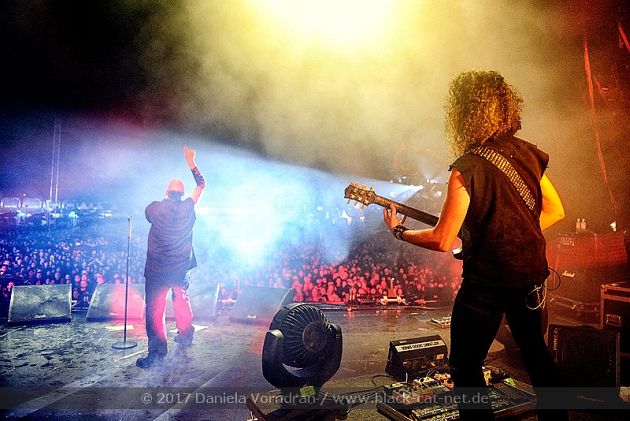 Covenant - Hangar (LAy)

Oh my Goth! Getting into the Hangar shortly after 10pm was almost impossible for there was a long line at the venue's entrance. People stuck outside grew grumpy or whiny or at least impatient not because they were trying to find shelter from the heavy rain, but because they wanted to be where electronic music at its finest was being played. It's no news that Swedish act
COVENANT
would be a worthy headliner at the Hangar at this year's M'era Luna. COVENANT, now consisting of Eskil Simonsson, Joakim Montelius, Daniel Myer, Andreas Catjar and Daniel Jonasson (on stage it was Eskil accompanied by both Daniels), has been filling the dance floors since 1994 and their discography boasts with eleven influential albums presenting unique tunes that sound like COVENANT and no one else. The incomparable 'Der Leiermann' and their hit 'Bullet' got things started and one could feel the excitement in the air. From the beginning on COVENANT's music took possession of the attendees' bodies, minds and souls. A crazy light show filled the deep darkness and the Hangar was pounding. Long forgotten were the rain-drenched and cold clothes.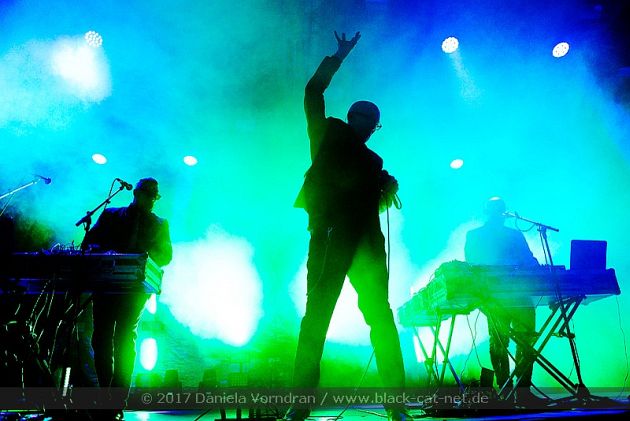 The new tune 'I Close My Eyes' from their latest piece 'The Blinding Dark' (2016) was spreading some reverend vibes and then the hymn 'Sound Mirrors' followed. Another of many highlights was the triumphantly melancholic 'We Stand Alone'. What a truly dark celebration we had, what a ritual... 'Dead Stars' and 'Call the Ships to Port', COVENANT's timeless dance-floor filling anthems and absolute favourites of all time, finally marked the fulminant end of a truly grandiose show. M'era Luna Saturday... culmination at the Hangar Stage... COVENANT! // http://www.covenant.se / https://www.facebook.com/Covenant-OFFICIAL-156626197713557 // Setlist: 01. Der Leiermann / 02. Bullet / 03. I Close My Eyes / 04. Sound Mirrors / 05. Figurehead / 06. Edge Of Dawn / 07. The Men / 08. We Stand Alone / 09. Go Film (Remix) / 10. Lightbringer /11. Dead Stars / 12. Call The Ships To Port // Rating: 10 / 10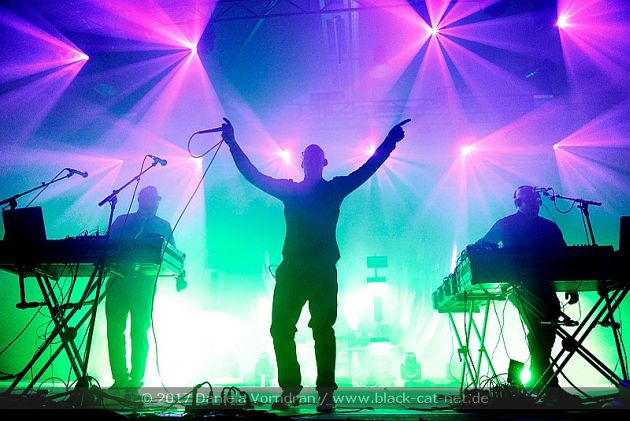 Korn - Main Stage (Niggels)

There was a lot of talk in internet forums and social media platforms what
KORN
would have to do with a Goth festival such as the M'era Luna. There were quite a few people who claimed KORN would have no right to be there, not to mention headlining the Saturday night. Pretty ridiculous points, if you ask me. All those moaners forget that it has even been some sort of tradition at the M'era Luna that one of the headliners is not from the Goth and Industrial scene, in the strict sense. PLACEBO played the M'era Luna more than once, PRODIGY aren't exactly Goth either and way back then, when the M'era Luna was still called Zillo, even SKUNK ANANSIE played the festival in Hildesheim. And after all there is indeed some crossover from KORN to the Goth scene, last but not least since they contributed to the soundtrack of the vampire movie "Queen Of the Damned" in 2002. Starting with 'Rotting In Vain' (isn't that a pretty Goth-ish title?) the Nu Metal band from California proved that they have every right to be there, and no matter what the sceptics might have said before the festival, KORN definitively got a lot of love from the M'era Luna crowd!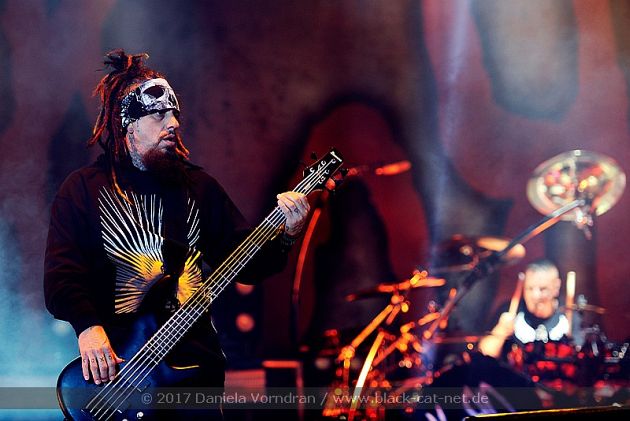 And it was a pretty huge crowd despite the fact that KORN had to start their show with quite some delay because of the technical issues earlier this evening. And after all, it's been a long day already and unfortunately the rain returned just once again. But the deep and rumbling riffs of KORN makes you forget any weariness and damp clothes and at the latest with the massive 'Here To Stay' singer Jonathan Davis had the crowd at the palm of his hand. It seemed that he really loved to be there, he appreciated playing on "such a different festival" and claimed, that he has never seen "so many German Industrial bands in one place". Well, I guess "German" might also include bands like COVENANT from Sweden and "Industrial" is probably anything dark with a synth to him. But anyway, his nice and commendatory words seemed to be very honest. KORN banged through their set, with the instruments tuned so much down that the bass and deep groves made your body reverberate to the pulse of their music. During an electronic interlude almost all of the band left the stage just to see Jonathan Davis returning soon to bring his bagpipes for a nice little solo which merged into the intro of 'Shoots And Ladders'.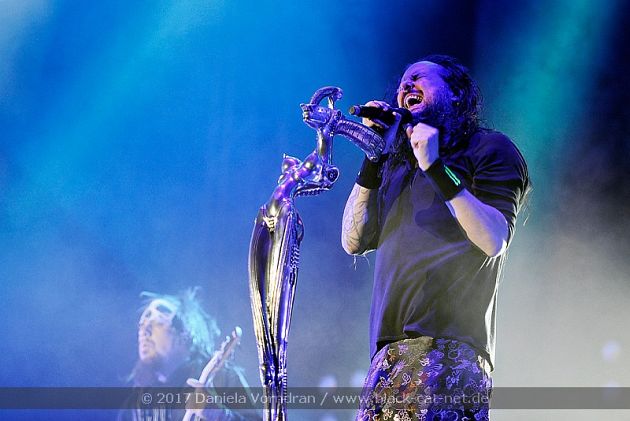 As a newbie to KORN live I was actually surprised to see Davis playing the bagpipes himself, I always thought they were sampled or something like that. And in a way it's an unexpected link to all the Medieval Rock bands such as IN EXTREMO, SALTATIO MORTIS or SUBWAY TO SALLY who are incredibly popular in Germany and frequently billed at the M'era Luna. Other highlights were 'Coming Undone' with a bit of QUEEN's 'We Will Rock You' thrown in and the double-punch of 'Insane' and 'Make Me Bad', which finished the main set. But KORN returned for a generous four songs strong encore and wrapped the night with the monolithic 'Freak On A Leash'. Quite a gig to remember, a performance like an earth quake and KORN proved to be a perfect addition to the M'era Luna line-up. May the moaners shut up forever! // http://www.korn.com / https://www.facebook.com/korn // Setlist: 01. Rotting in Vain / 02. Falling Away From Me / 03. Here to Stay / 04. Y'All Want a Single / 05. Black Is the Soul / 06. Shoots and Ladders / 07. Twist / 08. Got the Life / 09. Coming Undone (with Snippet of Queen's "We Will Rock You") / 10. Insane / 11. Make Me Bad / Encore: 12. 4 U / 13. Blind / 14. Somebody Someone / 15. Freak on a Leash // Rating: 10 / 10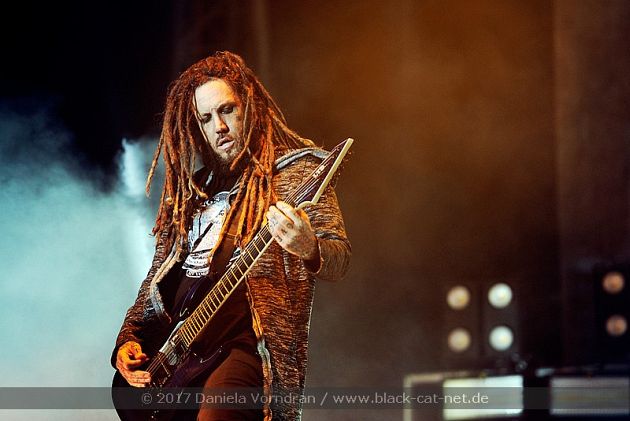 What a day ending with this show! There was rain, there was mud, and there was some sun and summer feeling. There were mixed emotions and there was of course the famous Hangar party after the concerts where people could dry their clothes by dancing. The night was short and the next day was coming soon!
All pictures by Daniela Vorndran (
http://www.vorndranphotography.com
/
http://www.facebook.com/blackcatnet
)
See also (all categories):