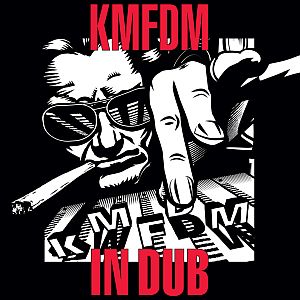 Artist: KMFDM
Title: IN DUB
Genre: Industrial / DUB
Release Date: 21st August 2020
Label: Metropolis Records
Review Flash

I must admit that I was tiptoeing around the record for more than a year, before I finally gave it a spin. Why? Because I was afraid that one of the most ground-breaking bands in the Industrial genre might have destroyed their legacy. Finally, curiosity won and on a rainy, grey November evening music that most people associated with sunshine and easy living floated through my office. During the first 15 seconds I thought something like "Sounds like the regular stuff just a bit slower", then the Reggae elements came into the mix and I must admit they immediately had me on their side and I'm usually not one for Reggae or Lounge music. It's really hard to describe the sound, but KMFDM managed to give all the songs a light and chillout-style touch, without destroying their original heaviness. KMFDM have a large back catalogue to choose from and they made sure, to select songs from various releases, many of them are kind of classics among the fans of the genre.
The band often took a radical approach, but always a classy one and Dub was often used on their early releases, but sometimes stood back behind the heaviness of the music as such. A real highlight of using the dub technique is 'Rebelz Dub', guitarist Andee Blacksugar is a fantastic shredder with a quite unique style that fit the bands electronic and synthies influences. For 'Rebelz Dub' he performed the guitar parts in an amazing Blues style, that are perfectly merged with the ice-cool synthies. Talking about the vocal parts, I can assure you, that spoken word parts are still alive and listening to 'K•M•F' is pure fun, because Andrew Lindsley performed the vocals perfectly to underline the Hip-Hop attitude. Fans of Lucia Chiarelli's melodic, intense vocals can rest assured that they are as powerful as ever and carefully blended with the new music and 'Amnesia Dub' shows that her voice can gain even more power through a remix.
In my books, 'Begaye' is one of the best songs the band ever released and I was curious how the remix would turnout. I will only reveal as much as, that only a band like KMFDM can give such a dark and heavy song a feelgood and playful style chorus in the remix, while the band's beat is hard as ever.
Conclusion: KMFDM gave some of their best and heaviest songs a new positive and almost feelgood touch 'IN DUB', while never loosing focus on the songs' original heaviness and hard beat. Fans from the band's early day's might be reminded of the past, those who joined the bands followed later, should definitely give it a full spin, before judging, what the band always did: Turning their anger about politics and society into ground-breaking music.
Rating: 8 / 10