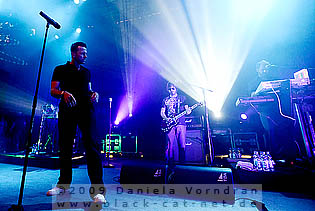 Tanzbrunnen, Cologne, Germany
18th & 19th July 2009
Amphi Festival 2009 Day 2 Theater: Camouflage, The Gathering, KMFDM, Henke, Qntal, Omnia, Jesus On Extasy, The Other, Rosa Crvx

Different than planned, the program of the second stage has been transferred to the Theater stage for the already known reasons. Luckily, entrance into the Theater went smooth, but very soon there was a big delay in the schedule not only caused by two musicians of QNTAL who were stuck into traffic jams. So, at the end, KMFDM and FRONT 242 were playing at the same time - different than planned - much to the dislike of many attendees. With the show of CAMOUFLAGE, the festival found a very good end anyway.
Rosa Crvx (Dajana Winkel)

ROSA CRUX is a French formation already founded in 1984. The band is known for their extraordinary shows which are rather an art performance than a mere gig. The first release of the group 'Livre 01: Eli-Elo' dates back to 1990 and their latest one, called 'Lvx in Tenebris Lvcet' came out in 2008.
http://www.rosacrux.org/
/
http://www.myspace.com/rosacrux
Music & Performance

I have to confess I never heard of ROSA CRVX before. Entering the Tanzbrunnen Theater, I was downright amazed by the sumptuous stage scenery. Wow! A huge bell mechanism to the left, next a very old piano, mechanical tambours around the stage and a timbale added by a three women's choir on the right. In the middle singer Oliver Tarabo stood playing guitars and singing, accompanied by a cellist and Claude Feeny for the piano and bells.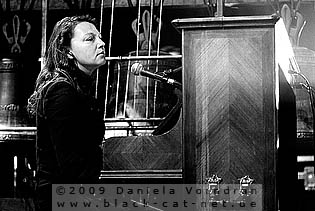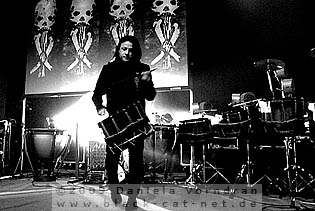 The music is mystical, downright mesmerizing, lyrics all sung in Latin. A huge screen behind with some visualization even amplified this unbelievable atmosphere. I was truly captivated, couldn't get enough of the music and scenery. I felt like pushed back ages in time, in a medieval France, where dark and sinister rituals fathom the depths of human spirits. Too bad that lights were so rare and time so short to take photos. I guess I have to catch them next time on a regular show ;) AWESOME! ROSA CRVX got a new fan here! ;)
Setlist

01. Adorasti
02. Invocation
03. Terribillis
04. In Tenebris
05. HelHel
06. AnteA
07. Omnes Qui Descendunt
08. Sursum Corda
09. Aglon
Rating

Music: 10
Performance: 10
Sound: 9
Light: 5
Total: 9.1 / 10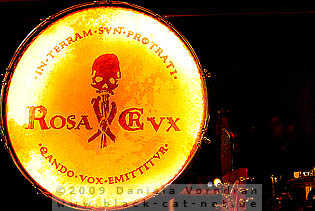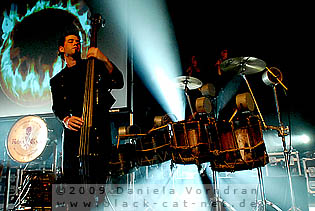 The Other (Dajana Winkel)

The band was founded in 2002. All the band members have been active musicians before. Since 1999, they have been touring around as THE MISFITS cover band GHOULS. They could quickly build up a reputation with their creepy outfits, inspired by old horror movies. Following their debut release 'They're Alive' in 2004 they went on tour with Misfits, Wednesday 13 or Balzac and in 2006, with the second album 'We are who we Eat' they strengthened their status. In 2007, the band toured the US for the first time and their first comic was published as well. In last year's May, the third album 'The Place to Bleed' has seen the light of day and proved to be a major improvement in the band's sound. THE OTHER is Rod Usher (vocals), Sarge von Rock (guitar), Migore Drake (bass) and Dr. Caligari (drums).
http://www.theother.de/
/
http://www.myspace.com/theother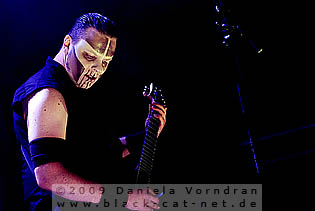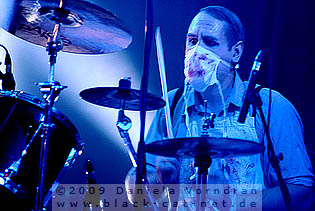 Music & Performance

The horror Punks are back in town! It took some time till the guys got their scary make-up ready but then they rocked da house. Dark blue and red lights in the background, white spots focused on the faces and some glowing gravestone imitations or whatever created a spooky Halloween atmosphere. Yep, perfect background for an entertaining and ass-kicking live show! Listening to THE OTHER on CD it is clear where from the guys got of the grid. Live however, musical leanings blur and THE OTHER develop much of an own identity. It's fun to watch them performing live. And now it's upon time for a new record. 'The Place to Bleed' dates back to May 2008 and already collects dust. Next time I wanna hear a new song!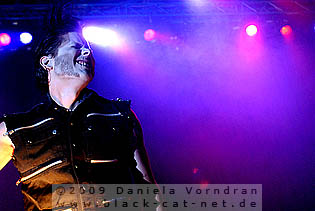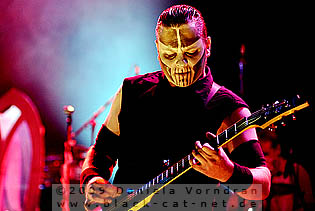 Setlist

01. Become Undead
02. The End of our Time
03. The last Man on Earth
04. Der Tod Steht Dir Gut
05. Bleed
06. Lover's Lane
07. Beware of Ghouls
08. In the Dead of Night
09. Hyde Inside
10. Tarantula
11. We Are the Other Ones
12. Black Angel
13. Ripley 8
14. 666 Ways to Die
15. Exit
Rating

Music: 7
Performance: 8
Sound: 7
Light: 4
Total: 6.9 / 10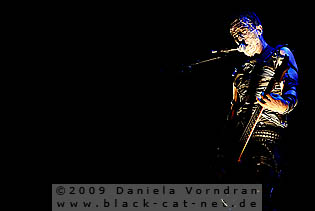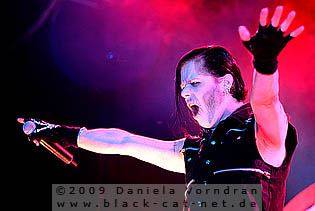 Jesus on Extasy (J. "Niggels" Uhlenbruch)

JESUS ON EXTASY emerged in 2005 with the intention to breathe new life into the "dead" industrial genre and with their first album 'Holy Beauty' they literally took off and quickly became a hype in the Goth scene; but as opposed to other bands who laid down quite a similar career those guys and the girl have talent and are real musicians. With the second album 'Beloved Enemy' coming out in May 2008 they definitely proved they're no flash in the pan and presented an evolved and matured sound. JESUS ON EXTASY is Dorian Deveraux (vocals, synths, samples) Chai Deveraux (guitar, synths, backing vocals, programming) Ophelia Dax (synths, keys), BJ (bass) and Dino (drums).
http://www.digital-dandies.com/
/
www.myspace.com/jesusonextasy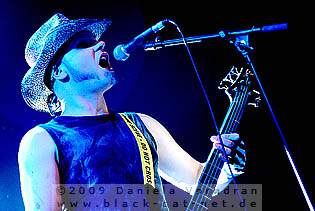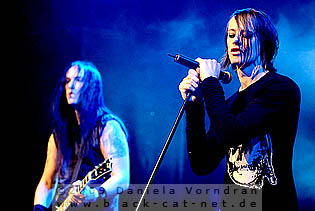 Music & Performance

Two years back, JESUS ON EXTASY was rated as the hottest newcomers of the dark music scene. Combining Industrial Metal, Pop and a good portion of Glam Rock, JESUS ON EXTASY has proved that they are not just fashion victims but actually pretty solid musicians who know what they are doing - and absolutely determined ones. Two years after their debut album the hype around this band has faded away a bit, and despite constant touring they are still candidates for the second stage of a festival. However, the touring earned them a die-hard following as a quick glance at the first few rows of the well attended theatre stage gave away. Young Goth girls, often with an obvious addiction to Manga style clothing, and long-haired guys who ere there for the *Rock* element of JESUS ON EXTASY packed the area in front of stage.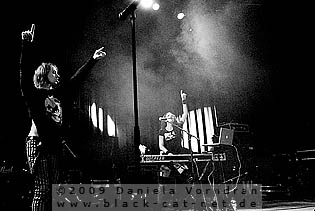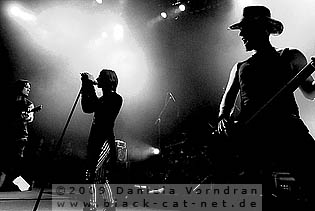 The gig opened with the club hit 'Beloved Enemy' and band and fans were into it from the start. The small stature of front man Dorian Deveraux is the focus of the show, and while he truly loves his Rock star poses he takes it with a pinch of salt. JESUS ON EXTASY loves the dark side of glamour, and while they are determined enough in regard to their music they know that especially at a live show you shouldn't take things too seriously. And they also know how to please their fans, as the last-minute inclusion of the fan fave 'Dead Presidents' proved. Add to the set their biggest hit 'Assassinate Me' and a storming cover version of the 80s classic 'Nowhere Girl' and you'll have a crowd with a lot of happy people.
Setlist
01. Beloved Enemy
02. Nuclear Bitch
03. Change the World
04. Direct Injection
05. Assassinate Me
06. Nowhere Girl
07. Dead Presidents
08. Alone
09. Neochrome
10. Church of Extasy
11. Lies
Rating

Music: 7
Performance: 8
Sound: 8
Light: 7
Total: 7.5 / 10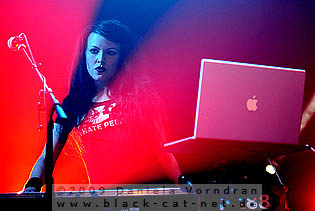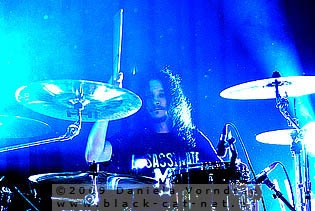 Omnia (J. "Niggels" Uhlenbruch)

OMNIA, which was formed in 1996, is a Dutch collective committed to reviving the North European and Romanian music of times long gone. In their early years most live shows are taking place in museums. In 2002, they've been re-formed and as I couldn't find any information suggesting they've disbanded for a while I think that means the change from their former historical concept to the Pagan Folk. OMNIA are releasing albums constantly since 2000. Their newest album, released in 2007, is called 'Alive'. OMNIA is Sic (flutes, bouzouki, percussion, vocals), Jenny (harp, hurdy-gurdy, bodhran, vocals), Luka (slide-didgeridoo, vocals), Joost (violin, guitar, mandolin, banjo) and Tom (drums).
http://worldofomnia.com/
/
http://www.myspace.com/omnianeocelt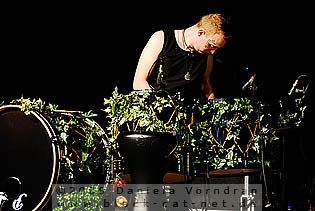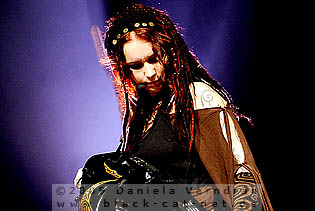 Music & Performance

The nice thing about festivals is when their line-ups are diverse. The Amphi did not only have a lot of EBM und Goth bands on its bill but also something more obscure like OMNIA with their neo-pagan Celtic folk music. Anyone who hears "Celtic folk" and thinks of ENYA couldn't be more wrong. OMNIA do not perform ethereal Pop but a much more authentic mix of ancient European styles with modern influences. The band transported this authenticity also with their stage clothing, with gowns made of leather, metal or furs, and their bodies and faces were body painted with in traditional Celtic symbols. Thus the music and appearance of OMNIA is much more genuine and historically correct, so to speak, as many other so-called "Medieaval Rock" bands who actually just offer Rock music with some bagpipes added on top of screeching guitars.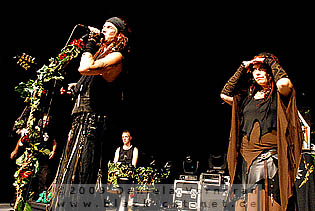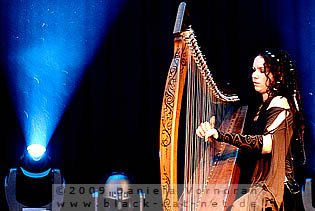 OMNIA present themselves with less party attitude and more graveness - and the result is pretty impressive! It took a while but then the audience was really into it, everyone was clapping and dancing to the music. 'Dance until we Die' as one of their songs is titled - ironically one of OMNIA's who is most evidently influenced by modern day music as some of the lyrics are actually rapped! A slight antagonism, to say the least, but it worked fine! Excellent performance which I loved because it was a bit out of the ordinary at the Amphi!
Setlist

01. Dulaman
02. Time Bealtine
03. Alive!
04. Richard Parker's Fancy
05. Dance until we Die
06. Saltatio
07. Dil Gaya
08. Auto Luonto
09. En Avant / Etrezomp-ni Kelted
10. Fide Ra Huri
Rating

Music: 9
Performance: 9
Sound: 8
Light: 8
Total: 8.7 / 10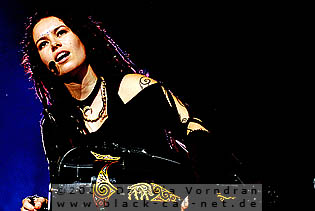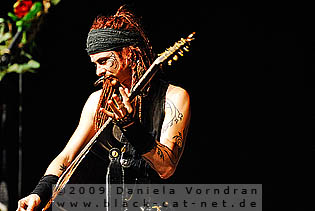 Qntal (Dajana Winkel)

The initial line-up of QNTAL, formed in 1991, comprised Ernst Horn & Michael Popp who still was working as a live musician with Horn's main project DEINE LAKAIEN back then and is a founding member of ESTAMPIE. Just like Sigrid 'Syrah' Hausen, later complementing QNTAL with her vocal abilities. Impressed and inspired by the strictly positive reception from the press to the debut 'Qntal I' (1992), the project continued its work with the result being 'Qntal II', that was released in 1995 and supported by a tour as support of DEINE LAKAIEN. In 1999, Ernst Horn and Michael Popp fell out with each other which led to Popp's departure from DEINE LAKAIEN and Horn leaving QNTAL. With Philipp Groth handling the keys from there on, they recorded and released 'Qntal 3 - Tristan und Isolde' in 2003. Meanwhile the QNTAL saga has reached its sixth chapter with 'Translucida' being released in February 2008. With 'Purpurea', the band offers a Best-Of collection since October of the same year. QNTAL is Michael Popp (medieval instruments, composition), Sigrid "Syrah" Hausen (vocals), Philip Groth (keys) and Markus Köstner (live drums).
http://www.qntal.de/
/
http://www.myspace.com/qntal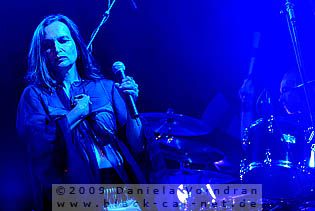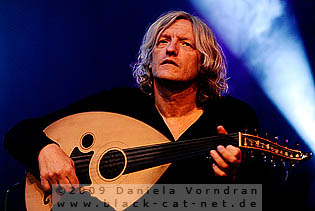 Music & Performance

QNTAL also taxed patience of both audience and organizers. Two Berlin-based live members got stuck in jams and didn't arrive on time, increasing the delay up to a three-quarter hour. Finally everything was ready, more or less, and with a short explanation and apology Syrah started with 'Palästinalied'. It was a hectic beginning with kind of a stressful atmosphere but already with the second song, things calmed down and Syrah found back to her special vibes celebrating the music of QNTAL in her very own way. Time was limited, the set shortened and Syrah did waste no words but when it came to 'Name der Rose' (Name of the Rose) she told a little bit about the poem that gave its name to the legendary book. A wonderful and dreamy performance! Too bad I had to leave short after for the main stage…
Setlist
01. Palästinalied
02. Departir
03. Name der Rose
04. Entre Moi
05. Maiden
Rating

Music: 8
Performance: 7
Sound: 7
Light: 5
Total: 7.1 / 10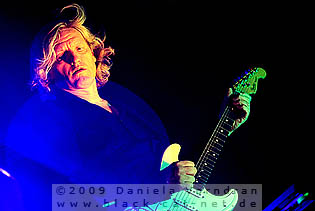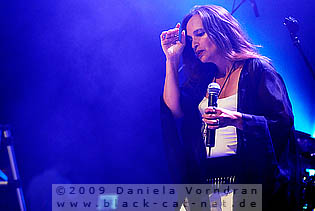 Henke (J. "Niggels" Uhlenbruch)

Henke, and here comes the big surprise, is the newest brainchild of Oswald Henke most people now very well from GOETHE'S ERBEN, ARTWORK and ERBLAST and HENKE is about these projects; about a fresh re-interpretation of well-known songs off these projects whilst retaining the roots. HENKE is also a clash of two generations with one half of the band comprising very young musicians around the age of 20 and the other one filled with seasoned artist of an older semester and together they will tour selected festivals in 2009 and as recently confirmed play shows in 2010 as well to present a fresh Best-Of set of these 3 bands. HENKE is Oswald Henke (vocals), René Gruhl (guitar), Tom Bola (bass and special fx coordinator), A:lex Popp (piano, keys), Hanna Løg (piano, keys, backing vocals) and Benjamin (drums).
http://www.oswald-henke.de/henke.html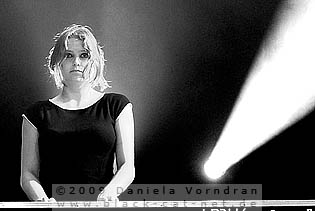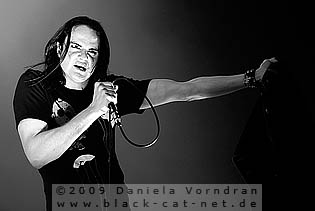 Music & Performance

So HENKE is Oswald Henke's latest project - his solo project so to speak although he gathered some experienced musicians around him to form his backing band. I have to admit that I've never been a huge fan of any of Henke's projects but I have to give him credit for pursuing his ambitions determinedly and putting a lot of effort in anything he does. The theatre was quite packed with fans of his former projects, most of all GOETHES ERBEN, to see the new HENKE band performing a best-of of his three past bands GOETHES ERBEN, ARTWORK and ERBLAST. The performance was as expected very theatrical, intense and surprisingly energetic, and the response from the audience was particularly well during old hits like 'Zinnsoldaten' or 'Die Brut'. The fans absolutely loved it, I was happy to hear at least one ARTWORK song too but I had to leave early, I'm afraid.
Rating

Music: 7
Performance: 7
Sound: 7
Light: 7
Total: 7 / 10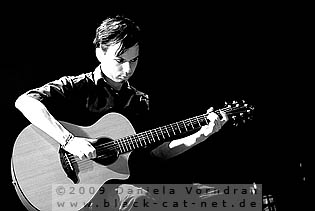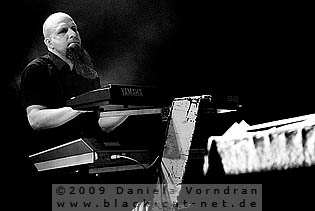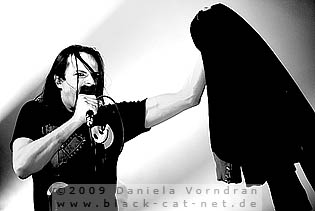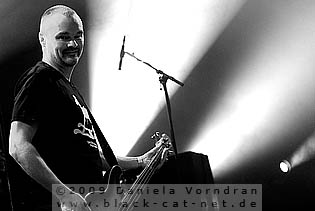 KMFDM (J. "Niggels" Uhlenbruch)

KMFDM's foundation can be traced back to 1984 for a performance at the opening of an exhibition of young European artists at the Grand Palais in Paris. Sometime later, Raymond Watts and EN ESH would complete the line-up and they release their first three albums solely on European labels before signing to the famous Wax Trax! brand and subsequently touring as support of THE MINISTRY and later as headliner in support of their sixth album 'Money' in 1992 due to the great feedback they received on the tour with THE MINISTRY.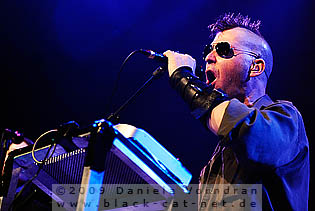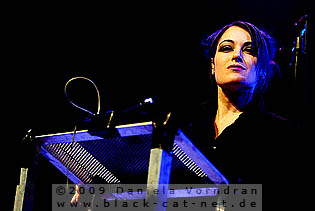 Another four quite successful albums will be released before KMFDM disband in 1999 and send an 'Adios' in the form of a farewell album of the same title. The break-up, however, only was a temporary affair and in 2002, KMFDM reformed with a line-up comprising part new and part former collaborators. The band's return was also marked with the release of a new album called 'Attak' in the same year. The most recent and sixteenth album 'Blitz' comes out in the year of the band's 25th anniversary in 2009. KMFDM is Sascha Konietzko (vocals, synths), Lucia Cifarelli (vocals, synths), Andy Selway (drums), Jules Hodgson (guitar) and Steve White (guitar).
http://www.kmfdm.com/
/
http://www.myspace.com/officialkmfdm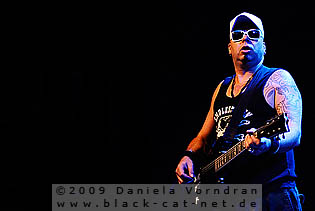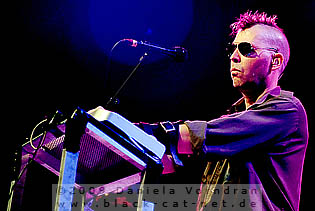 Music & Performance

KMFDM are doing it again! Sascha Konietzko's home country neglected KMFDM for a long time, so gigs by this band used to be a rare thing in GERMANY while KMFDM were stars of the Industrial Rock genre in the United States. Things have changed, fortunately, and KMFDM appear relatively often at European festivals, at least more often than they once used to. But still there's a sense of mystery and cult around their gigs, and KMFDM truly have a die-hard cult following. So, the theatre was pretty packed and sweaty when Konietzko & Co entered the stage. Due to the delay at the second stage KMFDM's gig was parallel to the headline gig of FRONT 242 at the main stage - quite a pity as both bands share some of their audiences but on the other hand forgivable as the organizers of the Amphi did their best to reschedule the bands of the second stage from the closed down Rheinparkhalle to the smaller Theater stage. However, many people opted for KMFDM and the first sounds from Konietzko, his wife Lucia Cifarelli and their band mates turned the audience into a bouncing mass. It got pretty wild in front of the stage so I was happy that I managed to get a safer spot at the side of the stage.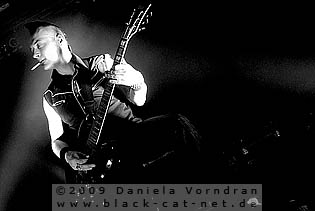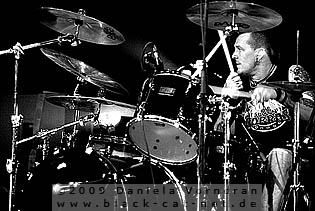 Unfortunately the sound was not optimal, and if I'm not mistaken, KMFDM had a couple of technical problems during the first few songs of their performance. Celebrating 25 years of KMFDM, the band started with their classic 'D.I.Y.' - a perfect opener, and not just because of its orchestral prelude. The title track of their latest album 'Tohuvabohu' followed and KMFDM continued to go back and forth through their vast back-catalogue of stomping Industrial Metal anthems. KMFDM do love weird German phrases as song titles like 'Hau Ruck', 'Saft & Kraft' and 'Potz Blitz' will show you. All songs were loud, powerful, and noisy, straight in your face with no mercy, and the fans just loved it this way. With the signature sounds of the sharp and groovy 'Megalomaniac', arguably KMFDM's biggest hit to date, the fans turned mental and more damageable people probably decided to hide for shelter. I left to catch a few bits of FRONT 242 - by this I missed a rare performance of 'Godlike', unfortunately. But I witnessed a mad and powerful show by KMFDM which couldn't be ruined at all by the less-than-optimal sound and the few technical glitches.
Rating

Music: 9
Performance: 9
Sound: 7
Light: 7
Total: 8.4 / 10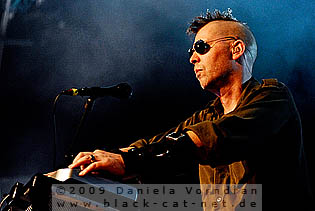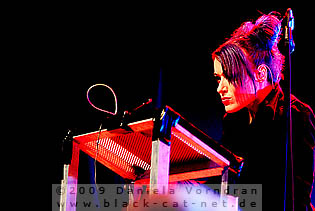 The Gathering (J. "Niggels" Uhlenbruch)

THE GATHERING formed in 1989 with brothers Hans and René Rutten and vocalist Bart Smits. It shouldn't take long until the line-up is completed with a bassist, a second guitarist and a keyboard. In 1990 the band recorded its first demo cassette 'An Imaginary Symphony' and even though keyboards in metal music were not as common as they are today, the reactions were overly positive. The band's first show followed in 1991 and a few months later they already play as support for bands like SAMAEL or MORBID ANGEL. The debut album 'Always' then came out in 1992 after signing to the label Foundation 2000. With Anneke van Giersbergen in 1994, the band finally found the perfect voice for their music following a series of failures.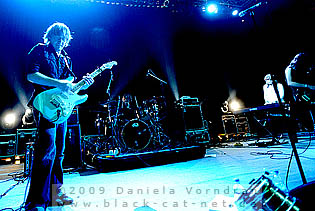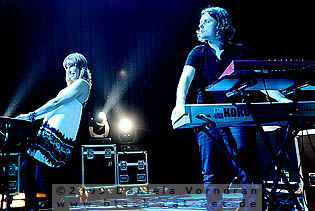 Anneke would accompany THE GATHERING for a very long time during which this band came to fame releasing albums such as the rather experimental 'How to Measure a Planet?' (1998) or 'if_then_else' (2000) and touring countries such as the US, Mexico or France. In August 2007, Anneke would leave the band after 15 years and the band eventually employs Silje Wergeland as new vocalist. The most recent studio album 'The West Pole' was released in May 2009. THE GATHERING is Silje Wergeland (vocals), René Rutten (guitars/flute), Frank Boeijen (keyboards), Marjolein Kooijman (bass) and Hans Rutten (drums).
http://www.gathering.nl/
/
http://www.myspace.com/gatheringofficial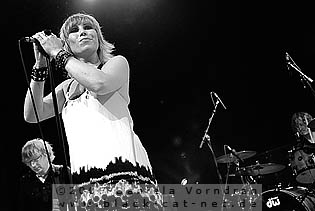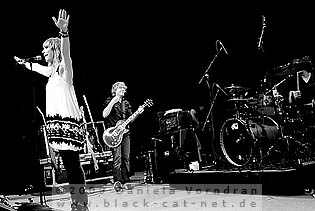 Music & Performance

Due to the delays and problems at the second stage, THE GATHERING started considerably late. The theatre was not as full as at some shows before but after a short sound check, THE GATHERING finally started their set with an instrumental track. Often labelled as Gothic Metal, THE GATHERING are musically and especially visually less "Gothic" than the bulk of other bands which performed at the Amphi. Their music has a Progressive Rock vibe, and the band members certainly prefer casual wear to fancy Goth fashion. Actually it was the first German show of THE GATHERING with their new vocalist Silje Wergeland, so for many fans it was a first to see and hear old THE GATHERING songs like 'Leaves' or 'Great Ocean Road' being performed with Wergeland at the microphone. And she did her job well! A little shy still, perhaps, but the range of her voice is quite stunning and her soft voice was a nice contrast to the Metal guitars of THE GATHERING. A late but pretty relaxed gig!
Rating

Music: 8
Performance: 8
Sound: 8
Light: 7
Total: 7.9 / 10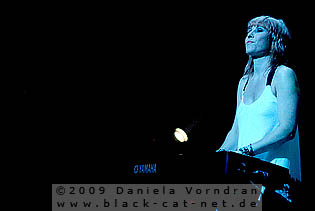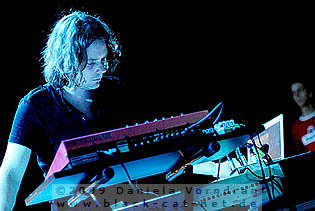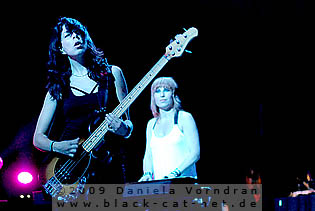 Camouflage (Carsten Leopold)

The band started as a four-piece with the name LIZENCED TECHNOLOGY in 1983. Soon founding member Martin Kähling already left the line-up and the band changes its name to CAMOUFLAGE. In 1985, the remaining members recorded two demo cassettes one of them reaching a radio station and winning a contest resulting in the recording of 'The Great Commandment', one of the band's all time hits just as 'Love is A Shield' , released in 1989. One year after the departure of band member Oliver Kreyssig, 'Meanwhile', a purely acoustic album, was released by the then-duo and spawned a single named 'Heaven (I Want You)' both not met with big commercial success.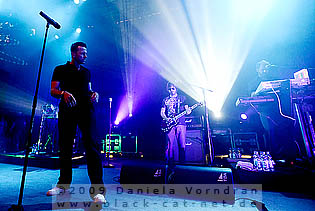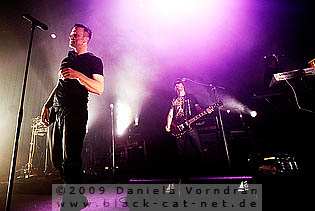 Unfortunately a state that sustained for many years and would reduce the sorely underrated album 'Spicecrackers' to just another mark in the CAMOUFLAGE timeline. First in 2003 another new album would see the light of day with 'Sensor' which could gather quite some success and animated them to do another record with 'Relocated' in 2006. It is also that year that, on the tour supporting the album's release, a live performance takes place that would be released nearly 3 years later as the band's first audio-visual live document, entitled 'Camouflage - Live in Dresden'. CAMOUFLAGE is Marcus Meyn (vocals), Heiko Maile (keys, synths) and Oliver Kreyssig (e-drums, backing vocals).
http://www.camouflage-music.com/
/
http://www.myspace.com/camouflagemusic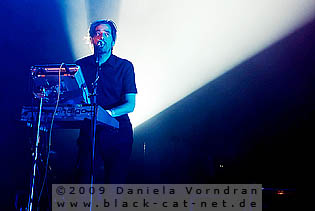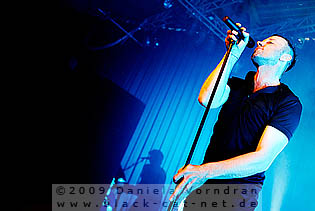 Music & Performance

Midnight special at the second stage! Delayed at 11:30 o'clock CAMOUFLAGE finally entered the indoor stage to close the festival. Maybe some people already were going home, but the Theater still was very well-filled and the crowd welcomed CAMOUFLAGE with cheers and celebrated a nice party together with them. The mood was great during the whole time but later in the set when they played their older and most successful songs like 'The Great Commandment', the temper exploded and the whole crowd was jumping and singing along. CAMOUFLAGE did a dedicated performance and satisfied the crowd with their soulful and rousing performance. The main set finished after about one hour with 'Suspicious Love' but of course the crowd requested an encore which was given with two more songs and after about 75 minutes the show and as well the "Amphi Festival 2009" finished finally with 'Love Is A Shield'.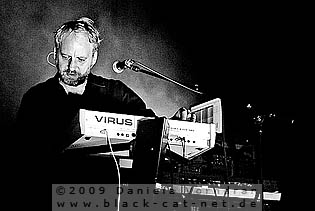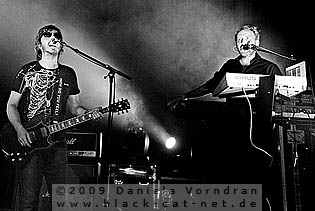 Altogether a great finish for a great festival… well, not totally yet because people still had the chance to celebrate at the after show party, what a lot of people of course did.
Setlist

01. Neighbours
02. Dreaming
03. I Can't Feel You
04. That Smiling Face
05. Confusion
06. We are Lovers
07. Me and You
08. Here She Comes
09. I'll follow behind
10. The Great Commandment
11. Conversation
12. Suspicious Love
---
13. Something Wrong
14. Love is a Shield
Rating

Music: 8
Performance: 8
Sound: 9
Light: 7
Total: 8 / 10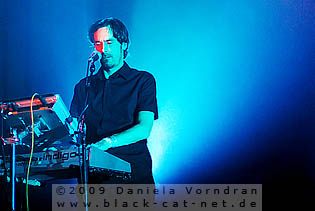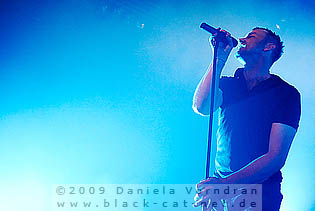 So, what's left to say after another edition of Amphi Festival is successfully finished? It was a bit chaotic due to the circumstances at the second stage. But no one of the organisation could really expect what was happening in the Rheinparkhalle. And one thing must be said, the whole crew did a great job to re-schedule things to the Theater stage. One big point of criticism every year are the food and beverage prices and diversity. Really much too expensive! Maybe also fewer bands should be invited with some more time for change over and less over-lapping of the show times. Always sad when you have to chose between two bands you really like to see but you only have the chance to see one of them… or little parts of each. Anyway, we'll be back at the 2010 edition of Amphi Festival!
All pictures by Daniela Vorndran (
http://www.vorndranphotography.com/
/
http://www.black-cat-net.de/
/
www.myspace.com/vorndranphotography
)
Written by Daniela Vorndran (common parts and overall editorial), J. "Niggels" Uhkenbruch, Carsten Leopold, Dajana Winkel (
http://www.norcurnal-hall.de/
) and Sebastian Huhn for all band intros
{jos_sb_discuss:18}
See also (all categories):