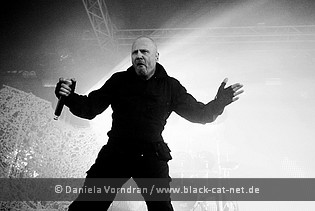 Tanzbrunnen, Cologne, Germany
26th to 27th July 2014
Amphi Festival Day 1: The Juggernauts, Phosgore, Markus Heitz, She Past Away, Centhron, Ecki Stieg, Clan of Xymox, The Neon Judgement, Der Tod, Lord Of The Lost, Zeromancer, Burn, Corvus Corax, Aesthetic Perfection, Vic Anselmo, Hocico, Nachtmahr, Janus, Blutengel & The Monument Ensemble, The Klinik, Front 242, Midge Ure, Camouflage, Project Pitchfork

This year was the 10th anniversary of the
Amphi Festival
. Thus the organisers offered a splendid line-up to celebrate this special date properly and 16,000 people came to this extraordinary and eventful weekend. Originally this festival took place at the Amphitheatre in Gelsenkirchen but soon it was bursting at the seams so that the festival moved to a bigger venue in Cologne with a main stage outside, another one inside (Staatenhaus) and a smaller one (Theatre). Additionally to the concerts, parties, readings, and other offers, they had a special festival opener as well as a finisher: a cruise on the Rhine with concerts and parties. But here and now we will report about the concerts and readings taking place at the Tanzbrunnen.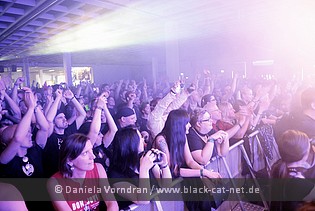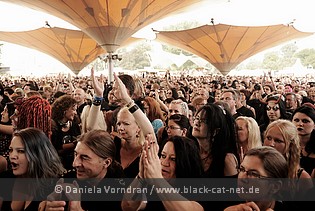 The Juggernauts - Main Stage [Nataly]

The honour to open the 10th Amphi festival was given to the Belgium EBM act THE JUGGERNAUTS. The duo formed in 2010 consists of BORG (vocals) and Glenn Keteleer (electronics). While the work on the debut album is still in process many fans of electronic music can enjoy the EP entitled 'Phoenix'. Well, actually such music usually doesn't leave much to talk about – good EBM and nothing to add. But at a big festival just to set the right mood for the whole event and to warm up gradually growing audience that sound was right to the point. So THE JUGGERNAUTS did their best. In general the performance turned out to be rather good even if I'm not deep into such music so closer to the end of the gig that sonic minimalism became a bit boring yet it's just a matter of taste. //
http://www.thejuggernauts.be
/
https://www.facebook.com/TheJuggernauts
// Rating: 6 / 10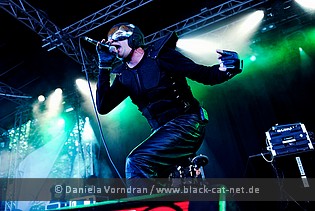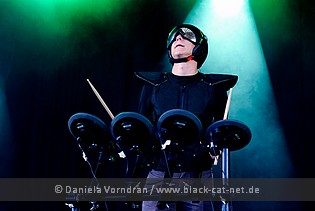 Phosgore - Staatenhaus [Nataly]

While the main stage was soon occupied with the Turkish formation SHE PAST AWAY, in Staatenhaus everything started with PHOSGORE, an industrial project from Germany which has already become quite popular among fans of the style and played numerous club shows. The band was founded in 2008 and by now their discography includes two full-length albums. Speaking about the music, it's powerful, dynamic, expressive and aggressive, definitely meant for clubs. And what we've got here was a 40-minutes show of really uncompromised sounds and wild energy, dark and heavy. Listening to such music you just can't stay still, if "listen" is the word because it's not just the sound one can enjoy and relax, mostly music for action so to say. But back to the show that was getting more powerful with every new song and the audience began appreciating it. //
http://www.phosgore.de
/
https://www.facebook.com/phosgore
// Rating: 7 / 10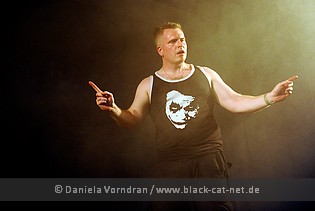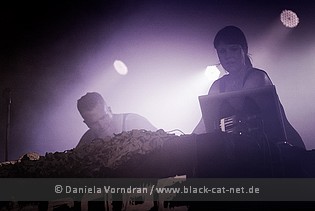 Markus Heitz - Theatre [Dani]

Apart from the concerts taking place at main stage and at the Staatenhaus, the theatre hosted some readings in the early hours of the festival. On both days, the readings were done by Markus Heitz, Ecki Stieg, followed by the comedy program of DER TOD. Today, Markus Heitz was opening the stage. The well-known German author was born 1971 and belongs nowadays to the most successful fantasy authors n Germany. Currently, he had released an new book of his 'Albae' Saga, 'Tobender Sturm', followed on 1st August by a new thriller called 'Exkarnation - Krieg der Alten Seelen'. At Amphi festival, he was reading passages from both books and once more, many people enjoyed the entertaining reading. Chilly start of the day, especially since it was already getting hot outside.
http://www.mahet.de
/
https://www.facebook.com/pages/Markus-Heitz/170607349688167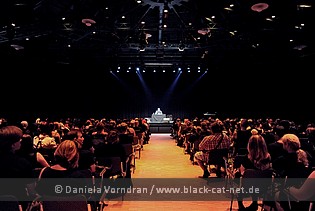 She Past Away - Main Stage [morTICIA]

It's not very common to find bands in the Gothic scene coming from Turkey and even more uncommon to hear that the lyrics are in their native tongue. Anyway the duo, consisting of Volkan Caner (guitar, vocals) and Idris Akbulut (bass), is dedicated to transport the sound of the eighties to today by giving it a fresh touch with lyrics that refer to actual topics. Thus it is no surprise that while listening to the band you hear the influence of THE CURE, SISTERS OF MERCY, THE MISSION and CLAN OF XYMOX and the like. The band was founded in 2006. Their second album will be launched in autumn 2014. The performance was quite nice for such an early start of the day but not really exciting. Actually I was thinking that having a real drum set, instead of the drum machine from the playback, would give the whole show more drive. Anyway the audience at the venue gave the band a big applause when they finished. //
https://www.facebook.com/shepastaway
// Rating: 6 / 10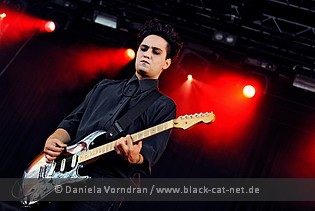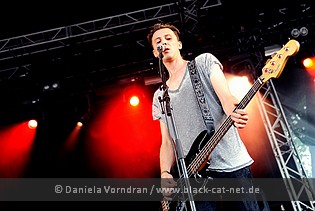 Centhron - Staatenhaus [Nataly]


This German formation described their music as Viking harsh electro. It's hard to say what is so "Viking" about it, maybe lyrics, but it's definitely electro and judging but the vocals quite harsh and I would say specific. The band's biography is quite long and impressive as it started in 2001 and by now a solid fan-base has been formed. CENTHRON's latest record entitled 'Asgard' (and here's the connection to Vikings in some way) came out in 2013. As I've never heard this band before it took some time to get used to the vocalist's manner of singing but the music was interesting and even tuneful and of course atmospheric like the performance itself. So the musicians made a great show for all fans of the genre, also that was a nice experience for those who just wanted to get to know the formation and in whole everything was rather good. //
http://www.centhron.de
/
https://www.facebook.com/pages/Centhron/186495284716678
// Rating: 7 / 10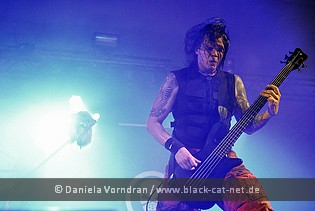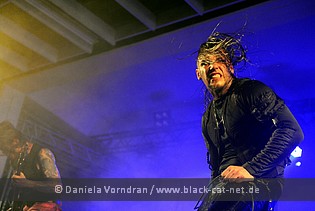 Ecki Stieg - Theatre [Dani]

Ecki Stieg was the second one to read at the theatre. He is best known as music journalist and host of legendary Grenzwellen radio show back in the 90s. He belongs to Germany´s most important supporters and critical observers of the dark music scene! This year, Stieg celebrates the return of his radio show, he also reads at Amphi to hold an entertainingly disarming mirror of razor-sharp essays against the scene and those who take themselves a hint too seriously. The title of his programme: "Das Sterben ist ästhetisch. Punkt. - Gift, Galle und ewig gültige Wahrheiten von und mit Ecki Stieg" (Dying is aesthetic. Full stop. - Poison, choler and ever-valid truth from and with Ecki Stieg). Even though I could not listen to the full program, I got a glimpse of the entertaining side. When he was reading from some Facebook chats he had with others, out love and end of it… and the pain afterwards. All in a very funny way and with his dry humour. If you aver have the chance to attend a reading of Stieg, go! //
https://www.facebook.com/ecki.stieg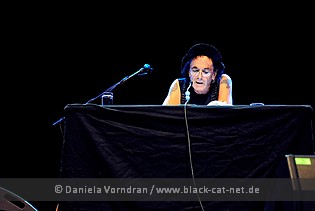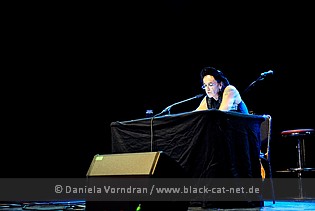 Clan of Xymox - Main Stage [morTICIA]


The third act on the main stage was an old stager. The band coming actually from the Netherlands could be interpreted as a THE CURE tribute band, especially because of the singing, the bass sound and if you look at Ronny, the singer, you might be slightly reminded of Robert Smith from the hairdo. But though there are surely some similarities in the musical style of Dark Wave sound, the band made it to develop their own style in their 30 years career. They released 15 albums, the latest one in January 2014, several re- releases, remix albums as well as live albums and (maxi) singles. There were already quite a lot of people gathered at the main stage who listened devotionally to the songs as their slow up to mid-tempo sounds don't really invite to move a lot. But by looking around you could clearly see that the audience enjoyed the performance quite a lot. //
http://www.clanofxymox.com
/
https://www.facebook.com/pages/clan-of-xymox/111769160178
// Setlist: 1. I close my eyes / 2. She is falling in love / 3. Love's on diet / 4. In love we trust / 5. Emily / 6. Louise / 7. A day // Rating: 7 / 10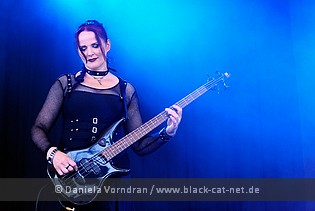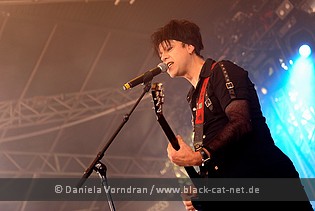 The Neon Judgement - Staatenhaus [Nataly]

After a storm of energy created by the previous acts, THE NEON JUDGEMENT with their more or less peaceful and dreamy new wave sound completely changed the atmosphere. The Belgian duo was formed in 1981 by Dirk Da Davo (keyboards, vocals) and TB Frank (guitar, vocals) who may be mentioned among the pioneers of EBM. So it's getting obvious why the musicians, when they appeared onstage, were warmly welcome by the audience. Musically the show was good enough but it would be strange to expect less from a band with such a history. As for the performance there was nothing special but I guess it's the case when music speaks for itself. Surprisingly I was even moved with a couple of songs and of course people at the venue were eager for the set to continue but suddenly it came to an end. //
http://www.theneonjudgement.com
/
https://www.facebook.com/pages/The-Neon-Judgement/172624919465385
// Setlist: 1. Too Cold to Breathe / 2. Miss Brown / 3. Chinese Black / 4. The Man / 5. Tomorrow in the Papers / 6. Factory Walk / 7. The Fashion Party / 8. TV Treated // Rating: 6.5 / 10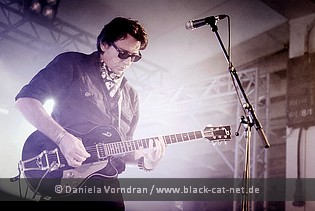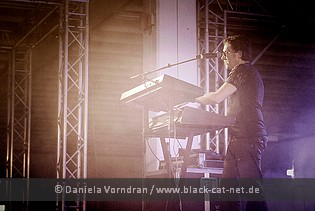 Der Tod - Theatre [Dani]

From the authors' readings to a special program point: the comedy program of DER TOD (The Death). It all started in 2011 when the death itself was speaking to the audience in his black cowl and likewise humour. Soon he received first cabaret awards. With his unusual image campaign he is touring through Germany, Austria and Switzerland, talks about neglected work like the glut of pensioners, reads from his dark diary and sings from his part-time job as holiday rep at Mallorca. Dying so far had a negative reputation. But it is time to end this! His program fills your eyes with tears of laughter where so far fear and scare were ruling. The program was really, really entertaining. At the first day, not so many people knew how good it is. But word spread fast and at second festival day, the theatre was so packed that people were not able to enter anymore and had to stay outside. Highly recommended! //
http://www.endlich-tod.de
/
https://www.facebook.com/DeathComedyShow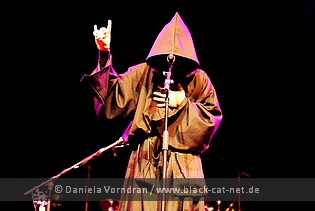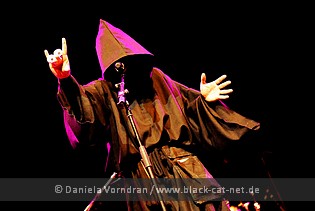 Lord Of The Lost - Main Stage [morTICIA]


The day started with Dark Wave sounds nice and slowly but with these guys entering the stage the relaxed atmosphere came to an end as now their Dark Rock sound woke up the last sleepy heads for sure. And right from the beginning the singer Chris Harms shouted his question into the audience if we are all motivated to rock. While Chris Harms' skin was painted in white and grey, his band mates were painted in black, which gave the whole scenery a native and martial appearance. Meanwhile the venue was crowded. The band, founded, formerly as a solo project, in 2007 by Chris Harms is surely a good example for successful promotion work. While some bands fight for more than ten years to get some recognition or performing frequently on the important Goth Rock festivals, this band made it with some really smart promotion, starting four years ago, to be now frequently at almost every festival, being supporting act for some great bands of the scene and having successful headliner tours. Besides they made it to launch an album every year. Surely the singer has his talents and with his band he is giving a solid Rock show but personally I am more annoyed about the hype about this band and even with seeing them several times live, they could not convince me to be an outstanding band.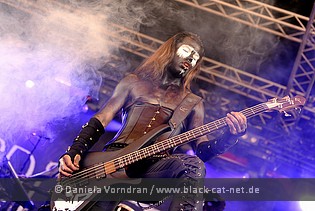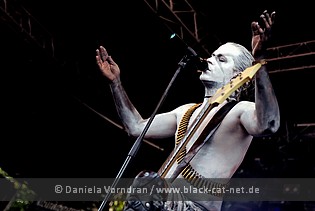 The most interesting part in this show for me was the guest appearance of Erk Aicrag (HOCICO and RABIA SORDA) for the song 'Marching into Sunset' where Erk had the high vocal part while Chris the growling part of this Crossover song. But the audience liked it for sure. Had they been a bit quiet at the beginning, they were cheering the band loudly later on. //
http://www.lordofthelost.de
/
https://www.facebook.com/lordofthelost
// Setlist: 1. Into The Fire / 2. Prologue / 3. Kill It With Fire / 4. Six Feet Underground / 5. Afterlife / 6. Dry the Rain 2014 / 7. Sex on Legs / 8. Bitch / 9. Black Lolita / 10. Die Tomorrow / 11. Marching Into Sunset / 12. La Bomba / 13. Credo // Ratings 7 / 10

Zeromancer - Staatenhaus [Nataly]

This five-piece industrial rock project from Norway was founded in 1999 and by now has released six studio albums including the latest creation 'Bye-bye Borderline'. The band's current line-up consists of Alex Møklebust (vocals), Dan Heide (guitars), Lorry Kristiansen (synth), Kim Ljung (bass, vocals) and Noralf Ronthi (drums). What to say about the show? That was rock even with all those electronic and industrial elements and at this point it was just great. Finally something I could enjoy to the full. The setlist consisted of the songs from almost all the albums so that was a good opportunity to get an idea what the band sounded like and to follow the development of the style and of course just to have a good time. I heard a couple of ZEROMANCER tracks before but at that time they didn't impress me much however to listen to the same tracks live supplemented with the performance - that produces a totally different impression and makes everything worth listening to. //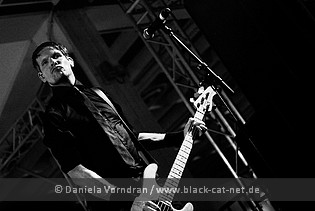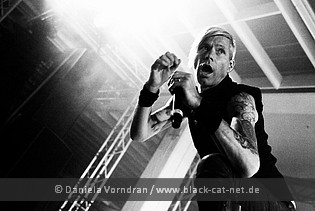 http://www.zeromancer.com
/
https://www.facebook.com/zeromancerzentral
// Setlist: 1. Sinners International / 2. Clone Your Lover / 3. Auf Wiedersehen Boy / 4. The Hate Alphabet / 5. Something for the Pain / 6. Need You like a Drug / 7. Fade to Black / 8. Doctor Online / 9. Photographic (Depeche Mode cover) // Rating: 8 / 10



Burn - Theatre [Dani]

Münster based Rock band BURN already exists for 18 years now and in this long time, there were many ups and downs. During the last few year, there were surely more ups than downs. Times of being just a regional act are over and BURN are a welcomed guest on stages of the big scene festivals like Blackfield Festival or the Wave Gotik Treffen. Besides, BURN were also touring with such bands like UNHEILIG or SCHANDMAUL. One year ago, the band played a farewell concert for all band members except mastermind Felix Friberg, who gathered afterwards new musicians around him. The new line-up consists of Felix Friberg, Christian Wischer, Markus Düring and Jens Meier. The show at the Amphi was something special. With the new line-up, the band already played several shows, but today, they were presenting an acoustic set, containing mainly songs from last two albums, putting them into a different dress. Of course, one of the older audience favourites, 'Bunny', could not be missed out either and people loudly sang along to the chorus. //
http://www.burnmusic.de
/
https://www.facebook.com/burnmusicdotde
// Rating: 9 / 10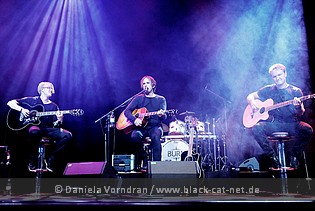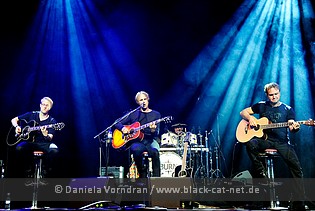 Corvus Corax - Main Stage [morTICIA]


The kings of the minstrels were the next to entertain the crowds. Since a quarter of a century the medieval band entertains the audience at its best. Quite interesting is that the founding members Castus and Venustus are building most of their instruments like bagpipes and wait-pipes. The band, consisting of now seven members, proved once more that they are able to rock the audience apart from the medieval festivals. Thus they didn't need to ask long for the audience to party with them. Their energetic show invited the crowd to move and dance. There were some problems with the microphone at the drums at the beginning but this was sorted out soon. It was definitely an enjoyable show. //
http://www.corvuscorax.de
/
https://www.facebook.com/corvus.corax.5
// Setlist: 1. Gimlie / 2. Urmawie / 3. Mazedonischer / 4. Fiach dubh / 5. Crenaid brain / 6. Mille anni passi sunt / 7. Venus, vina, musica / 8. In taberna / 9. Spielmannstanz / 10. Havfrue / 11. Platerspiel / 12. Chou Chou Sheng / 13. Sverker / 14 Pack // Rating: 8 / 10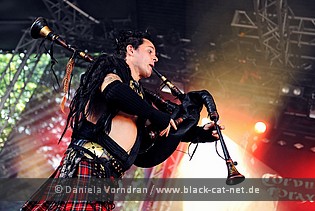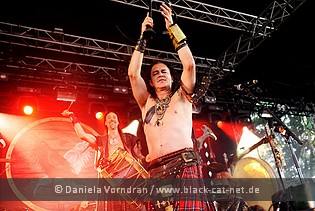 Aesthetic Perfection - Staatenhaus [Nataly]

This Electro Pop / EBM project from the US was founded in 2000 by Daniel Graves and during about 14 years of the existence it became quite well-known to fans of the American and European dark scene. The band's latest album, entitled 'Till Death', came out this winter. Actually I've heard a lot about the formation but never listened to their songs and of course never seen them live. So speaking about the performance the first word that comes to mind is "strange". In general it was ok for sure, but in the beginning it felt like the image of the singer didn't go with the music so it took me some time to get used to such style evoking strong associations with POETS OF THE FALL. Anyway the audience enjoyed the whole set from start to finish: good music, great emotions and an atmosphere of restricted power and dark romance. Pleasant show so far. //
http://www.aesthetic-perfection.net
/
https://www.facebook.com/aestheticperfection
// Rating: 7 / 10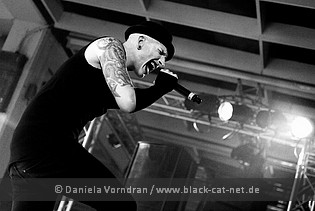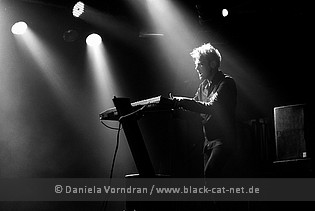 Vic Anselmo - Theatre [morTICIA]


On short notice the Latvian exceptional artist VIC ANSELMO filled in for DIE KAMMER who had to cancel their concert due to health problems. I would have loved to see DIE KAMMER again but with VIC ANSELMO they couldn't find a more worthy alternative. In the theatre, we were presented an acoustic set at the piano and her angelic voice charmed everyone in the venue, even those people who came for the following band JANUS to make sure to get in. But even if some of the people came actually early for the next band, the genre and quality fitted perfectly for them. VIC appeared in a light blue dress and once again with a floral headpiece that reminds you of the East European garbs. Not only the performance was wonderful but I could watch a very attentive listening audience. I have seen VIC ANSELMO perform quite a lot with her acoustic performances and I have experienced a few times when she was supporting act that the audience was not so silent. But here you could hear a pin drop.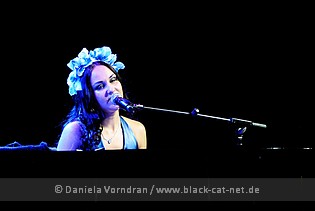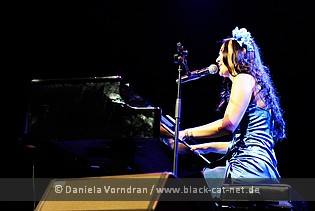 In any case the highly talented singer could convince the audience with her performance as some gave her already, after her wonderful interpretation of LOUIS ARMSTONG's 'Wonderful world', a standing ovation. And when she finished almost everybody stood up for a standing ovation. //
http://vicanselmo.com
/
https://www.facebook.com/vicanselmomusic
// Setlist: 1. Open wide / 2. Daylight / 3. Basilisk's eyes / 4. Bone's Blues / 5.Wellspring / 6. On the train / 7. Horizon / 8. Memories / 9. Wonderful world (LOUIS ARMSTRONG cover) / 10. Cody // Rating: 9 / 10

Hocico - Main Stage [Nataly]

One more formation that I've heard a lot about – Aggrotech /Dark Electro duo HOCICO from Mexico consisting of Erk Aicrag (vocals) and Racso Agroyam (programming). The project was founded over 20 years ago and obviously it has an impressive discography and many good shows played. This one hasn't become an exception especially judging by the first few rows where people were moving, jumping, clapping their hands as the music turned out to be one energetic stream. Listening to the songs for the first time I didn't even notice when one track ended and the other began. Aggrotech in general is not for everyone besides that somewhat aggressive delivery of the compositions produced an ambivalent impression. However technically the set was good and I guess that's quite enough.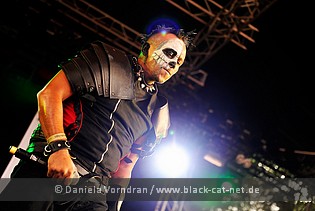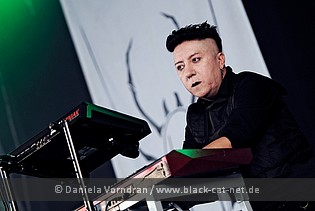 One special thing I have to mention about the Amphi show though: HOCICO brought an El Mariachi band with them playing two songs as intro and a final song in their very special way. //
http://www.hocico.com
/
https://www.facebook.com/hocicoofficial
// Setlist: 1. Canta y no llores (El Mariachi Version) / 2. Odio en el Alma (El Mariachi Version) / 3. Intro / 4. Dead Trust / 5. Untold Blasphemies / 6. Intruder / 7. Bite Me! / 8. T.O.S. of Reality / 9. Forgotten Tears / 10. Poltergeist / 11. Tiempos de Furia / 12. The Watched / 13. Tequila (El Mariachi Version) // Rating: 7.5 / 10


Nachtmahr - Staatenhaus [morTICIA]


Returning quickly to the Staatenhaus in order to grab a little of the NACHTMAHR performance. NACHTMAHR is a project of the Austrian artist Thomas Rainer who is also the mastermind of L'AME IMMORTELLE. Founded in 2007 the band could gather quickly a growing fan-base though the band is surely controversially discussed for their military/ uniformed appearance. Nevertheless NACHTMAHR stands for great dance tracks of the Aggrotech genre that are played frequently on the dance floors of the gothic clubs. The venue was packed when Thomas, Gregor (keyboards, backing vocals), Massimo (sampler) and the two female dancers appeared on stage after the intro, consisting of a video which was underlined by instrumental music. Right from the beginning they rocked the place and though it was almost filled up even more people came to see the band. Most of the time the ladies in their uniforms are standing on the stage as a kind of living statues, but for 'Tanzdiktator' they were marching around or for 'Die Fahnen unserer Väter' (The flags of our fathers) they were swinging the Austrian banner.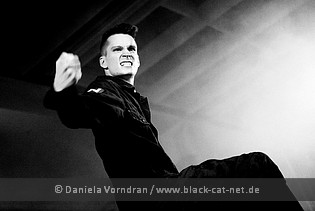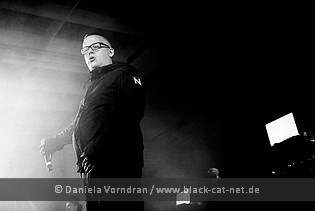 With 'Mädchen in Uniform' (Girls in uniform) the audience had their sing- along song. And as sex sells the audience was also presented a kind of bondage and later a lesbian performance. //
http://www.nachtmahr.at
/
https://www.facebook.com/nachtmahr.band
// Setlist: 1. The March of the Imperial Guard – Intro / 2. Tanzdiktator / 3. Feuer frei! / 4. Verräter an Gott / 5. Die Fahnen unserer Väter / 6. Kriegserklärung / 7. Boom Boom Boom / 8. Mädchen in Uniform / 9. Can you feel the beat? / 10. Weil ich's kann / 11. Liebst du mich / 12. I Hate Berlin (SECOND DECAY cover) // Rating: 7 / 10

Janus - Theatre [morTICIA]


Somehow I managed it to get back to the theatre as a friend of mine kept my seat clear and thus I had the chance to attend, for at least a couple of songs, a fantastic performance. Although the band was already founded in 1995 by Dirk Riegert (vocals) and Toby Hahn (piano), it was the first time for them to perform at the Amphi Festival. It's a bit hard to say in which genre their music fits as they create an amazing mixture between classical elements, put some tango influences in it as well as Rock elements of the Neue Deutsche Härte genre, underlining the pretentious lyrics in German. Their performance was divided in two different variations, one accompanied by a small orchestra with saxophone/ flute, xylophone/ percussions, bass, cello and drums and the other one with only Dirk singing accompanied by Toby at the piano. Dirk expressed his appreciation that so many came to see them perform with some humour with stating that it is nice that we came to watch old men sweat.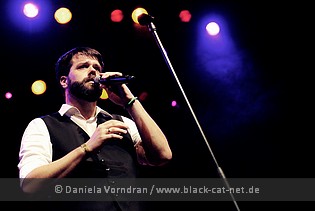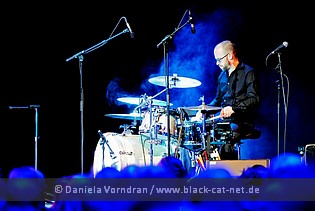 We experienced a wonderful performance of high quality and I have to say that I was not happy that I had to leave earlier to see the rest performance of another band. But as I was informed the band got standing ovations when they left the stage for good. //
http://www.knochenhaus.de
/
https://www.facebook.com/pages/Janus/343583049023020
// Setlist: 1st Department with Band: 1. Hotel Eden / 2. Gescheitert / 3. Reptil / 4. Wehrlos / 2nd Department without Band: 6. Dorinas Bild / 7. Isaak / 3rd Department with Band: 8. Kommt herunter / 9. Mein krankes Herz / 10. Die Ballade von Jean Weis / 11. Die letzte Tür / Encore 1: 12. Die Ruhe selbst / 13. Ich will seinen Kopf / Encore 2: 14. Exodus / 15. Anita spielt Cello / 16. Neunundachtzig // Rating: 10 / 10

Blutengel & The Monument Ensemble - Main Stage [morTICIA]


Emerging from SEELENKRANK, Chris Pohl founded in 1998 his new project BLUTENGEL. For the female vocal part there were quite often changes but since 2005 it is Ulrike Goldmann. The musical genre can be described as Future Pop/ Electro with lyrics mainly in English and a certain Goth influence. For their performance appropriate to this special occasion BLUTENGEL offered a special show with classical elements. Alone the stage setting was very sophisticated with candelabras, music stand and blood-red fabrics draped decoratively in the background as well as around the keyboard stand. The place was packed and the people listened attentively to the songs. I was late as I came from seeing JANUS. Thus I could only grab a bit of the performance. Well, maybe I am just too old for this, but all this pathos and gothic kitsch underlined with violins playing, the solemn singing of Chris and the almost whining vocals of Ulrike, is just not what I can bear for a long time.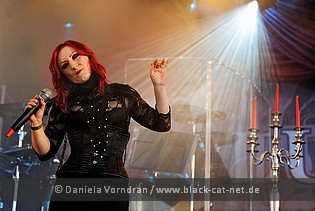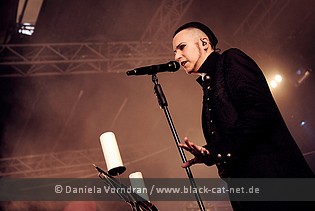 But I have to acknowledge that obviously lots of people liked the show and gave the band big applauses after each song. So it must have been good for them. //
http://www.blutengel.de
/
https://www.facebook.com/BlutengelOfficial
// Setlist: 1. Nachtbringer / 2. Soultaker / 3. Über den Horizont / 4. Die With You / 5. Deine Welt / 6. Behind the Mirror / 7. Ein Augenblick / 8. Krieger / 9. Kinder Dieser Stadt / 10. Monument / 11. Seelenschmerz / 12. You Walk Away / 13. Reich mir die Hand // Ratings: 6.5 / 10

The Klinik - Staatenhaus [Nataly]

Another representative of the Belgian electronic scene with a long and impressive biography, THE KLINIK, was founded about 30 years ago. After a successful period the band members concentrated on the other projects yet the formation reunited in 2003 to play some shows and in 2013 after almost 22 years of silence the band's new album 'Eat Your Heart Out' appeared. What to say about the performance? Electronic minimalism at its best and nothing more. The musicians both wearing masks and long black coats managed to establish a mutual contact with the audience yet sometimes it seemed that they played just for themselves lost in sounds and forgotten where they really were. In whole the set was good, people enjoyed, some more that others but anyway tastes differ. //
https://www.facebook.com/TheKlinikDiveSonarAbsoluteBodyControl
// Setlist: 1. Walking with Shadows / 2. Murder / 3. Bite Now Bite / 4. Quiet in the Room / 5. Black Leather/ 6. Hours and Hours / 7. Mindswitch / 8. In Your Room / 9. Pain and Pleasure / 10. Obsession / 11. Sick in Your Mind / 12. Moving Hands / 13. Memories / 14. Lies / 15 Go Back // Rating: 7.5 / 10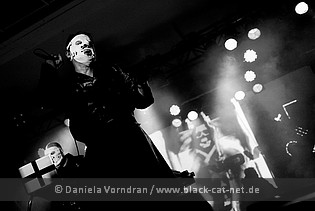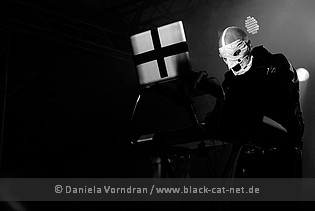 Front 242 - Main Stage [Nataly]

FRONT 242 can be called heroes of the modern electronic scene maybe not only in Belgium. Also the musicians are considered to be the pioneers of EBM. Numerous records, live shows even with DEPECHE MODE and MINISTRY, constants music experiments allow the project to attract more and more lovers of the genre. So when the musicians appeared on the main stage, the crowd was ready for a powerful show and it was supposed to go that way. But unfortunately due to some technical problems the band couldn't play a full set yet even the songs that were performed produced a great impression. And many people were really happy to their favourite band live. //
http://www.alfa-matrix.com
/
https://www.facebook.com/Front.242
// Setlist: 1. Happiness (partly instrumental due to technical problems) / 2. Im Rhythmus Bleiben (break down after massive technical problems) / 30-minute-break in order to replace the monitor system / 3. Body to Body / 4. Take One / 5. Headhunter / 6. Commando Mix / 7. 7Rain / 8. Welcome to Paradise / 9. Together // Rating: 7 / 10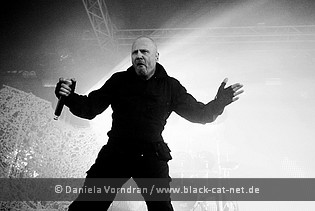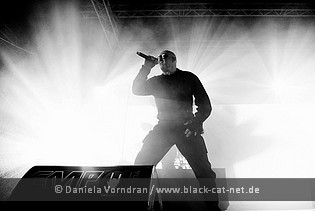 Midge Ure - Staatenhaus [morTICIA]


If you are of the generation where you have been a teenager in the eighties or you are even much younger but love the music of the eighties, there is no way to miss MIDGE URE, also known as one member of the legendary ULTRAVOX. During his long time career he was involved in diverse musical projects/ bands, wrote songs for other bands/ musicians that it would go beyond the scope of this review to numerate them all. On this day he proved once more how brilliant he is and convinced us with an outstanding performance. The venue (Staatenhaus) was almost packed so that there was no chance for me to come closer to the front of stage. This time MIDGE was supported by a band. Of course the audience haven't had to miss songs like 'Fade to grey', Vienna', If I was', 'Hymn' and 'Dancing with tears in my eyes' – evergreens where everybody sings a long from the first tunes on.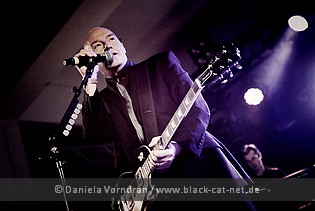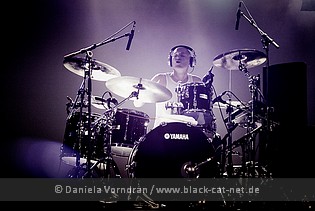 Especially after 'If I was' people kept singing the refrain although the song was already finished. A wonderful show for sure and I was more than annoyed that I couldn't see the whole show, but the air is incredible bad in this venue that I couldn't stand it for a longer time. //
http://www.midgeure.com
/
https://www.facebook.com/pages/Midge-Ure/275159919205373
// Setlist: 1. Passing strangers / 2. Fade to grey / 3. Live / 4. One small day / 5. New Europeans / 6. Brilliant / 7. If I was / 8. Flow / 9. Vienna / 10. Loves / Adventure / 11. Hymn / 12. Dancing with tears in my eyes // Rating: 10 / 10

Camouflage - Staatenhaus [morTICIA]


The German band was founded in 1983 and the Synth Pop / New Wave scene is unthinkable without them. Though they seemed to be very DEPECHE MODE-like in the beginning, they soon found their own style and established themselves in the scene during their 30 years career. No wonder that lots of people came to the Staatenhaus in order to pay tribute to the band and enjoy the show. Before the band appeared on stage a classical instrumental version of 'The great Commandment' was played. Then, the impatiently awaited, guys entered the stage and were greeted loudly by the audience. Right from the beginning the people were happily dancing and singing with the band. We learnt that this is now the 4th time that the band performs at the Amphi Festival. And the even better news was that they will launch a new album next year, which is really great to hear as the band has not produced so many albums and only released a 'Best of' album this year.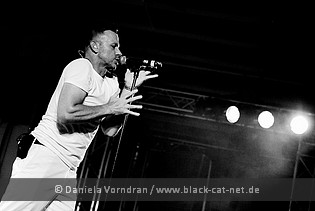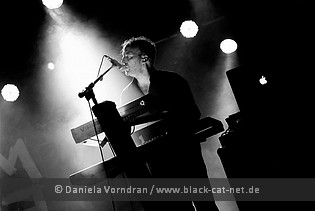 But just a little later the band had another surprise for us, as for 'That smiling face' PETER HEPPNER joined the band to sing with them. To my regret I didn't see this as I had to leave the venue again. The air condition there, you know…. //
http://www.camouflage-music.com
/
https://www.facebook.com/camouflagemusic
// Rating: 8 / 10

Project Pitchfork - Staatenhaus [Nataly]
PROJECT PITCHFORK was the final act of the first festival day. The band was formed in the beginning on 90s by Peter Spilles and Dirk Scheuber and for over 20 years of its existence it released numerous studio albums, EPs and singles. The new album 'Blood' will come out in September. When the band appeared it immediately created a unique, peculiar and deep atmosphere with the music and their performance as well. The charismatic vocalist tried to add different emotions and colour to compositions and to make a really Show. The time passed so fast that fans didn't even realize the set came to an end. Actually I saw PROJECT PITCHFORK several years ago in Moscow but don't really remember anything about that concert so at Amphi everything was like for the first time and that was just great. //
http://www.pitchfork.de
/
https://www.facebook.com/pages/Project-Pitchfork-Official/65663206412
//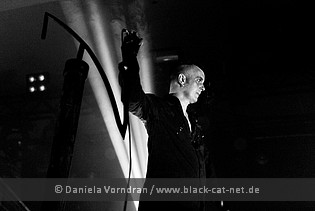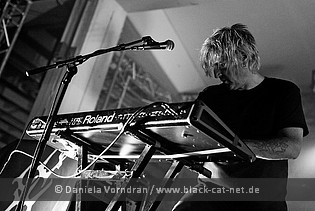 Setlist: 1. Pitch-Black / 2. IO / 3. An End / 4. The Queen of Time and Space / 5. Timekiller / 6. Acid Ocean / 7. Alpha Omega / 8. Endless Infinity / 9. The Longing / 10. Existence v4.1 / 11. Onyx / 12. Rain / 13. Midnight Moon Misery / 14. Souls / 15. Blood-Line (Never) / 16. Fire and Ice / Encore: 17. God Wrote / 18. Beholder / 19. Rescue // Rating: 8 / 10
With PROJECT PITCHFORK, a long concert day ended. But still, there were many people in party mood. For those, there was an after party at the theatre, where several DJs were spinning records and you could celebrate until the early morning hours.
All Pictures by Daniela Vorndran (
http://www.vorndranphotography.com
/
http://www.facebook.com/blackcatnet
)
See also (all categories):