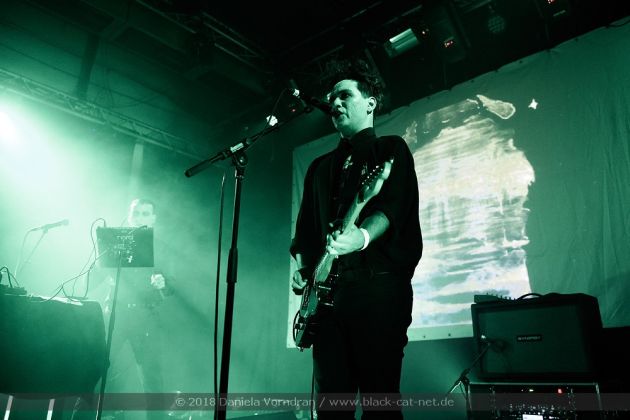 Gebäude 9, Cologne, Germany
23rd November 2018
She Past Away & Burn

Upon arrival at Gebäude 9, there was a manageable number of visitors in front of the door and even in the first minutes before stage time, the crowd was still very manageable. But that changed towards the beginning of the first concert and the visitors quickly started to warm up the room and to raise the mood. Later when SHE PAST AWAY entered the stage, the club was really crowded… But first, BURN from Münster opened the evening.
Burn

Münster based Rock band BURN already exists for a long time and there were many ups and downs. During the last few years, there were surely more ups than downs. Times of being just a regional act are over and BURN are a welcomed guest on stages of the big scene festivals like Blackfield Festival or the Wave Gotik Treffen. Besides, BURN were also touring with such bands like ASP or SCHANDMAUL. They have been around for almost 25 years and have gone through a few line-up changes. The current formation - Felix Friberg on guitar and vocals, Christian Wischer on guitar, Markus Düring on bass and Jörg Schwaer on drums - has been stable since 2013 and released the band's third album, 'Monument aus Gold' (Monument of Gold) in 2016. They recently released of their new album, 'Prophezeiung' (Prophecy). https://burnmusic.de / https://www.facebook.com/burnmusicdotde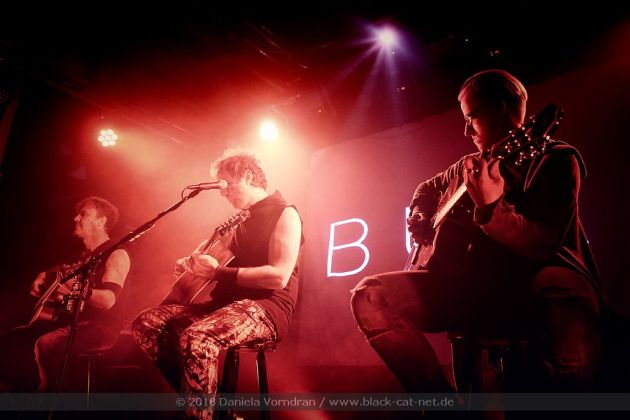 Music & Performance

BURN are only three on the stage this evening. Unfortunately, shortly before the concert the drummer Jörg Schwaer was hit by the flu and there was no time anymore to get a replacement. But the band did not want to cancel the whole show. Without further ado there was an unplugged program that the three had rehearsed for the first time only the night before. Big kudos for presenting the new songs in such a setting without big rehearsals! Felix Friberg, Christian Wischer and Markus Düring took their seats on three bar stools and were able to celebrate an extraordinary experience with us. Both, the older songs and the songs from the new album 'Prophezeiung', got a very different mood to their original setting. The audience was enthusiastic and clapped wildly.
Setlist

01. Rot
02. Absinth
03. Seelenfresser
04. Fieber (Routine, Ordnung, Symmetrie)
05. Inferno
06. Erleuchtet
07. Prophezeiung
08. Ghost
09. Fünf unter Null
10. Burn for you
Rating

Music: 8
Performance: 7
Sound: 7
Light: 6
Total: 7 / 10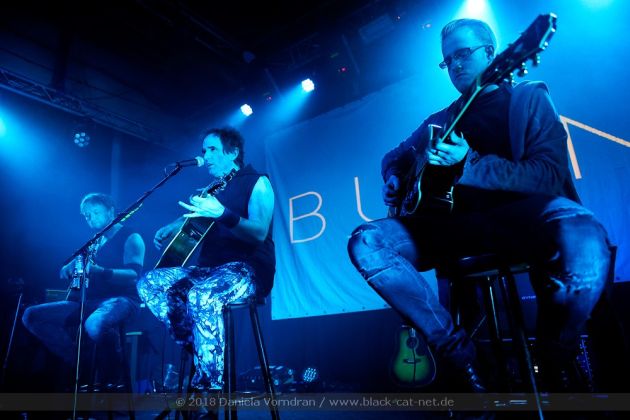 She Past Away

SHE PAST AWAY is a Darkwave band from Turkey. The music features elements of 80's Wave and Post-Punk, accompanied by retro drum machine beats and dark lyrics in Turkish sung in a unique style. The band was formed in 2006 and released their first digital EP, 'Kasvetli Kutlama', in 2010. Debut digital album, 'Belirdi Gece', was released in 2012. SHE PAST AWAY gained a lot of recognition in the last few years. Articles, reviews and listings about the band appeared in many magazines and blogs worldwide, some of which are Gothic Magazine, The Guardian, and Self-Titled. The band has performed at many venues and festivals in Turkey and abroad so far. The band seems to be constantly on tour and paid a visit to Cologne now. https://shepastaway.org / https://www.facebook.com/shepastaway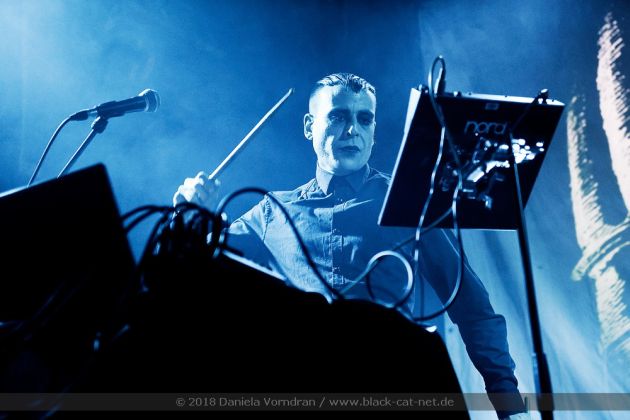 Music & Performance

Volkan Caner (vocals, guitar) and Doruk Öztürkcan (keyboard, synths, e-drums) came on stage and noticed that not all devices were connected. They tried in vain to correct the situation on the dark stage. Christian from the band BURN helped and the problem was luckily solved soon and the concert could start. The club was packed now and the crowd was eagerly awaiting the band. Noisy drums and hypnotic guitars make the sound of SHE PAST AWAY unique. Of course, most of those present do not understand the Turkish lyrics, which for many is the reason to dance without distraction. Every presented song was celebrated and the whole evening was a complete success for the band. SHE PAST AWAY even presented some songs of a new album yet to come and people loved it just as much as the old gems.
Rating

Music: 9
Performance: 9
Sound: 8
Light: 8
Total: 8.5 / 10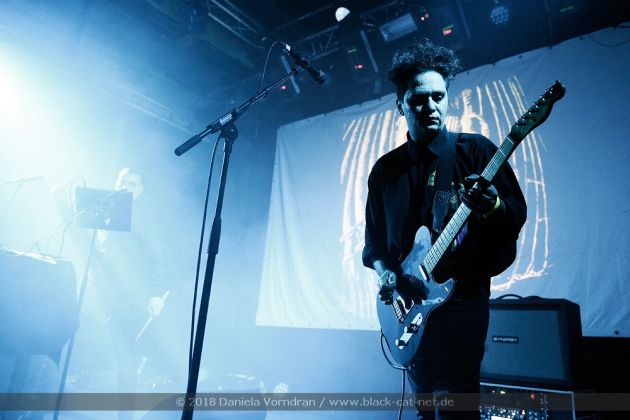 All pictures by Daniela Vorndran (
http://www.vorndranphotography.com
/
http://www.facebook.com/blackcatnet
)
See also (all categories):