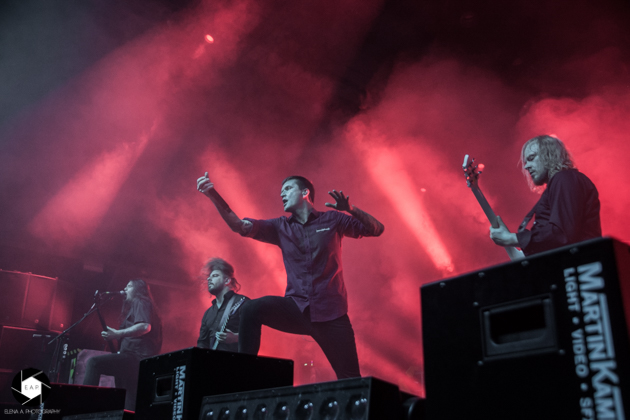 Palladium, Cologne, Germany
31st March 2018
The Final March Tour - Heaven Shall Burn, August Burns Red, Whitechapel, In Hearts Wake

"The Final March" is the last tour for HEAVEN SHALL BURN's latest album, 'Wanderer', which secured impressive positions in the international album charts such as #3 in Germany, #9 in Austria and #15 in Switzerland. Rounding off the bill with AUGUST BURNS RED, WHITECHAPEL and IN HEARTS WAKE who are some of the most popular live acts from the heavy metal scene, the fans had a very great evening!
In Hearts Wake

IN HEARTS WAKE
is an Australian Metalcore band from Bryon Bay, formed in 2006, currently consisting of vocalist Jake Taylor, bassist and singer Kyle Erich, lead guitarist Eaven Dall, drummer Conor Ward, and rhythm guitarist Ben Nairne. They have released three EPs and four full-length studio albums. The latest one is 'Ark'. The band's lyrical themes include environmentalism, environmental justice, climate change, conservation, and other social issues.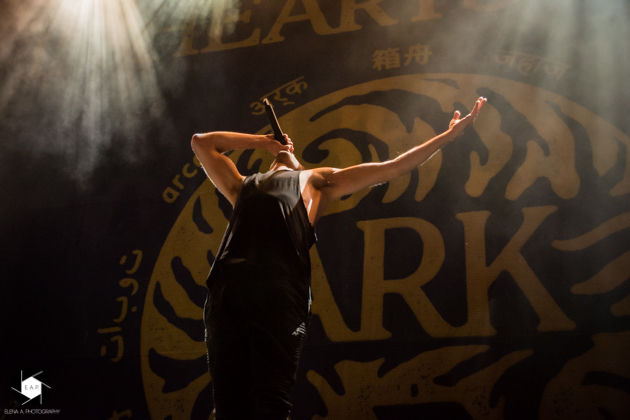 Music & Performance

At exactly 7pm, IN HEARTS WAKE showed up and it was remarkable that they were excited about their gig in Cologne therefore their performance was outstanding. Guitarist Eaven Dall felt really comfortable on stage. He jumped around and he made sure that the fun he had was transmitted to the audience. The atmosphere was great and the crowd really enjoyed their gig. IN HEARTS WAKE is known for surfing with inflatable pool toys amongst the crowd and it is always a spectacle. Vocalist Jake Taylor jumped into the boat with a huge flag and swam across the whole audience, front to back! The band liked Cologne and Cologne definitely also liked IN HEARTS WAKE.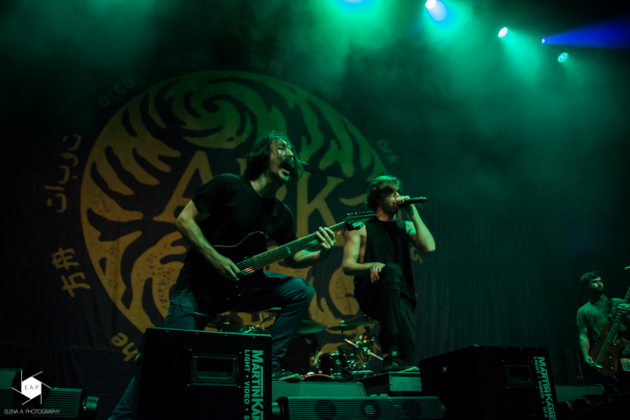 Setlist

01. Overthrow
02. Healer
03. Breakaway
04. Departure (Death)
05. Warcry
06. Earthwalker
07. Refuge
Rating

Music: 7
Performance: 8
Sound: 9
Light: 8
Total: 8 / 10
Whitechapel

WHITECHAPEL
is an American Deathcore band from Knoxville, Tennessee. The band is named after the Whitechapel district in East London, England, referencing the series of murders committed by Jack the Ripper. They already released six studio albums. Their first one, 'The Somatic Defilement' released in 2007, is based on Jack the Ripper, in which all of the songs are first-person narratives of the slaughter and rape of prostitutes. Their latest album 'Mark of the Blade', released in 2016, is the first WHITECHAPEL album to feature lead vocalist Phil Bozeman performing clean vocals on an album. According to their latest Instagram post, they are now heading home, after this successful tour, and start laying down album seven!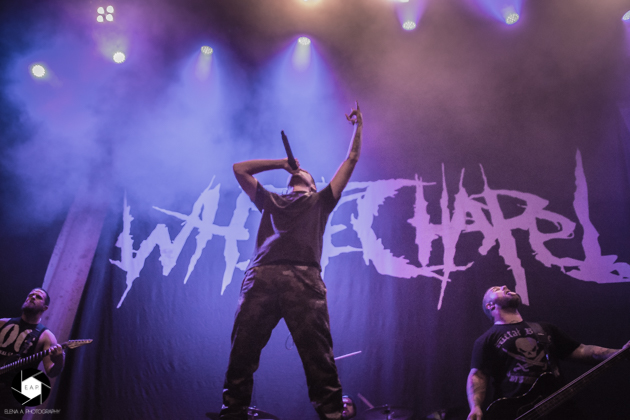 Music & Performance

After a quick change of the stage's set up and Rick Astley's song 'Never Gonna Give You Up', WHITECHAPEL entered the stage and as usual they immediately made their point clear: loud, quick and brutal. With their first song, 'I, Dementia', people instantly got the right power and mood for the rest of the evening. They had a really powerful presence on the stage and it wasn't remarkable that they already had a whole tour behind them. The setlist was well chosen. Even though they only played eight songs, the transitions were smooth and clean. That's why the people were active right from the beginning of their gig and cheered the band on. WHITECHAPEL was brutal and awesome at once. Time for a little break.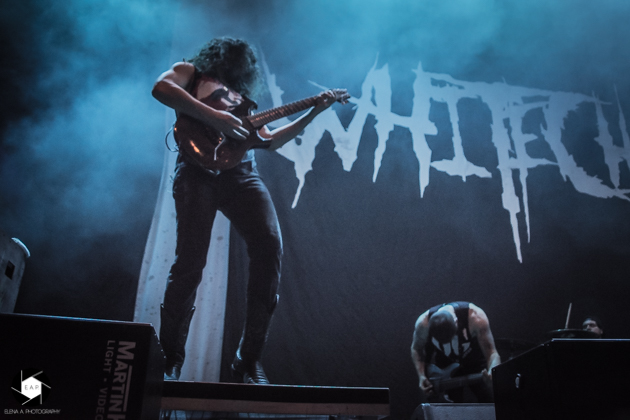 Setlist

01. I, Dementia
02. Faces
03. Elitist Ones
04. Let Me Burn
05. Mark of the Blade
06. Our Endless War
07. The Saw Is the Law
08. This Is Exile
Rating

Music: 10
Performance: 9
Sound: 9
Light: 7
Total: 8.8 / 10
August Burns Red

AUGUST BURNS RED
is an American Metalcore band from Lancaster, Pennsylvania formed in 2003. The band's current line-up consists of vocalist Jake Luhrs, rhythm guitarist Brent Rambler, lead guitarist John Benjamin "JB" Brubaker, bassist and keyboardist Dustin Davidson, and drummer Matt Greiner. The band was nominated for a Grammy Award in 2016 for "Best Metal Performance" for the song 'Identity' from its 2015 release 'Found in Far Away Places', and again in 2018 for 'Invisible Enemy' from their most recent studio album, 'Phantom Anthem' (2017). The members have been asked about the origin of their band name on many occasions and have given numerous different stories. The most popular story behind the name is an incident involving Jon Hershey, the band's original vocalist, when he dated a woman named August who burned his dog Redd alive in his dog house.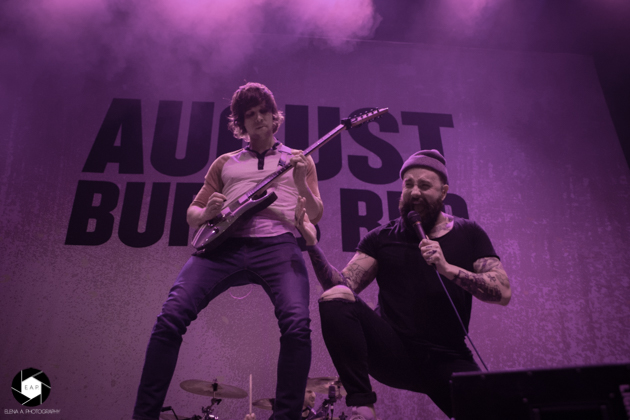 However, it was later revealed in a radio interview that this meaning (along with others) was simply a comical story created by the members and that there is no actual meaning behind the band name. Drummer Matt Greiner stated in the interview that "we just came up with the name to come up with a name."
Music & Performance

The crowd was already on fire. With SYSTEM OF A DOWN's song 'Chop Suey' and nearly over 4,000 people who sang along, it was clear that this will be a great gig. And in fact, co-headliner AUGUST BURNS RED set the Palladium on fire. Their performance was great, the guitarists changed their positions every few minutes and vocalist Jake Luhrs performed as usual extraordinary with lots of humour in his gestures. After this gig, everybody in the Palladium was ready for the headliner HEAVEN SHALL BURN!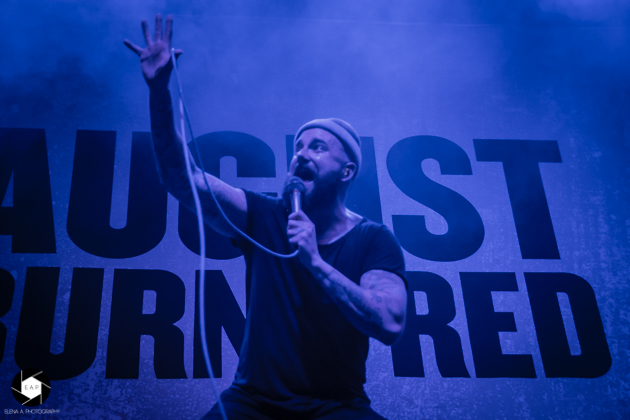 Setlist

01. King of Sorrow
02. Empire
03. The Forest
04. Spirit Breaker
05. Ghosts
06. Invisible Enemy
07. Dangerous
08. Composure
09. Float
10. White Washed
Rating

Music: 8
Performance: 8
Sound: 7
Light: 7
Total: 7.5 / 10
Heaven Shall Burn

HEAVEN SHALL BURN
are a German Metal band from Saalfeld, formed in 1996. The band consists of vocalist Marcus Bischoff, guitarists Maik Weichert and Alexander Dietz, bassist Eric Bischoff and drummer Christian Bass. They are currently signed to Century Media. They have released eight studio albums, as well as a number of other records. Their album 'Veto' entered the German Album Charts at #2 in 2013. HEAVEN SHALL BURN's musical style has been described as Metalcore, Melodic Death Metal and Deathcore. Their lyrics often express heavy support for anti-racism and anti-fascism. They also have lyrics about resistance, oppression and animal rights. All members are vegans or vegetarians and most follow or followed a "straight edge" lifestyle.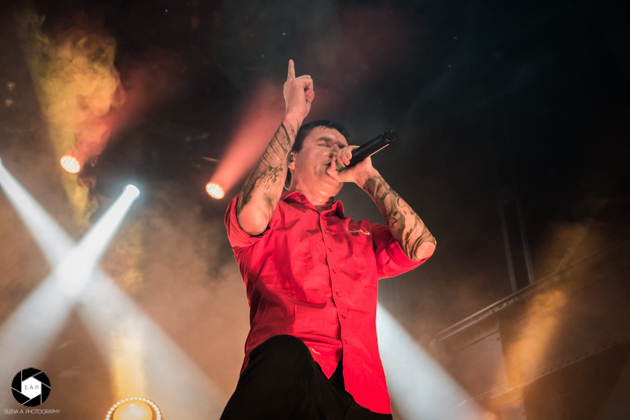 Music & Performance

While the roadies got the stage ready for the headliner, the fans could sing along to RAMMSTEIN's songs. What the roadies construct up there was enormous. The simple canvas of AUGUST BURNS RED disappeared and a giant curtain and turbines were viewable. After a little time, the light was dimmed and SCOOTER's song 'Always Hardcore' sounded through the Palladium. The crowd was out of control. After this little party, front man Marcus Bischoff appeared on stage and when the intro began the huge curtain in the background fell and the other band members joined Marcus. Their presence on stage was absolutely powerful. It was not noticeable to the band had already done a whole tour.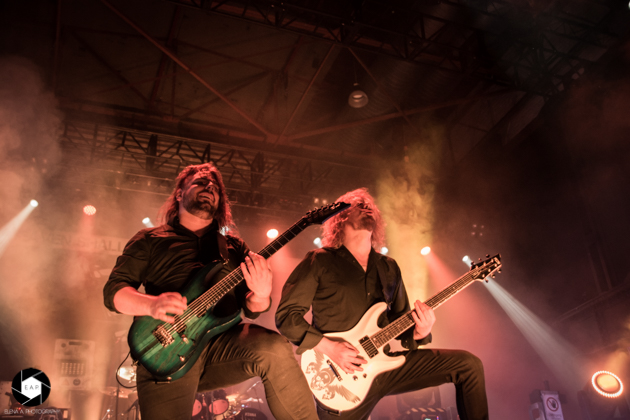 The audience was just as powerful too. One crowd surfer after the other arrived the pit and the audience created the biggest circle pit in the evening. You could immediately see that the band's entire passion flows into their music. Already with the opener 'Downshifter' all registers were pulled out. 'Hunters Will Be Hunted' completed the main part before the encores, 'Endzeit', 'Godiva' and BLIND GUARDIAN's 'Valhalla', gave the crowd the rest. The stunning light show such as pyrotechnics and a well-chosen setlist made their gig unforgettable. HEAVEN SHALL BURN left the second last stage of the tour bathed in sweat, clouds of smoke and red light. The crowd left the Palladium exhausted but also very satisfied.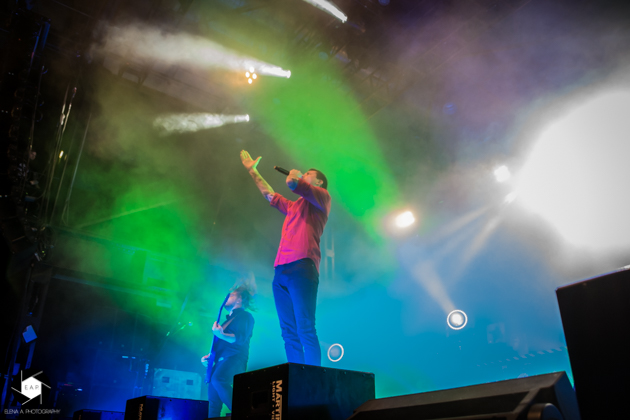 Setlist

00. Always Hardcore (Scooter song)
01. Downshifter
02. Bring the War Home
03. The Weapon They Fear
04. The Dream Is Dead
05. Land of the Upright Ones
06. Counterweight
07. Black Tears (Edge of Sanity cover)
08. Corium
09. The Final March
10. Passage of the Crane
11. Profane Believers
12. Combat
13. Voice of the Voiceless
14. Hunters Will Be Hunted
---
15. Awoken
16. Endzeit
17. Godiva
18. Valhalla (Blind Guardian cover)
Rating

Music: 9
Performance: 10
Sound: 9
Light: 10
Total: 9.5 / 10
All pictures by Elena Arens
See also (all categories):