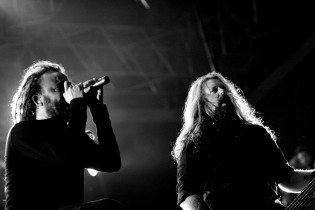 Roitzschjora, Delitzsch, Germany
Saturday, 5th July 2008
With Full Force Festival Day 2: Illdisposed, Job for a cowboy, Entombed, Heaven Shall Burn, Six Feet Under, In Flames


Since the first day was pretty rainy, we were all happy that this day was way better. The sun was shining, and everybody was running towards the lake close to the festival. After a short night of sleep the day started with some bands I didn't really know. So, the day held a lot of surprises for us!



Illdisposed

ILLDISPOSED is a Danish death metal band, currently signed to AFM Records. They were formed in 1991 by Bo Summer and released their debut album 'Four Depressive Seasons' in 1993. More releases followed, along with several tours in Denmark and Germany. In 1997, they featured in the documentary 'Headbang i hovedlandet' by Danish director Niels Arden Oplev.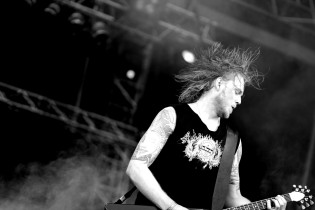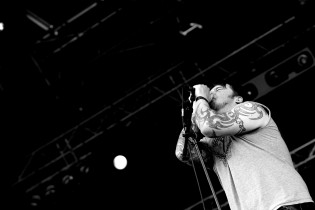 Music & Performance

They came on stage and immediately started being unfriendly and acted totally disrespectful. They talked down on the people and seemed to be drunk. I just don't know; they were just awful. And the music wasn't any better. His voice was terrible and the guitars… it was just horrible. One guy didn't seem to know what the other guy was doing. I just hated that band. And I was happy to leave the concert after a couple of songs. I hope, I will never see that band again and I will surely not intend to see a concert of them again in my life.
Rating

Music: 3
Performance: 2
Light: - (daylight)
Sound: 7
Total: 3.4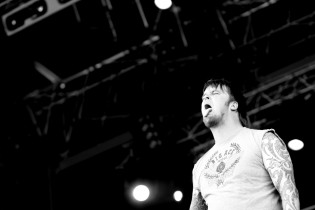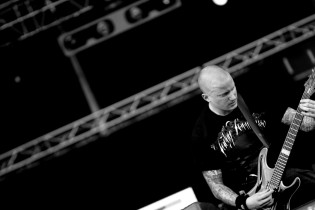 Job for a cowboy

JOBFOR A COWBOY is a death-core / death-metal band, based in Glendale, Arizona that formed in 2002. They started as a death-core group, but have eventually evolved into a predominantly death metal sound with their latest album.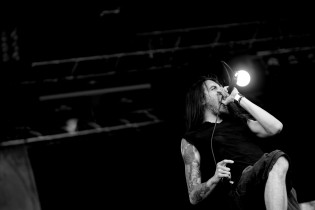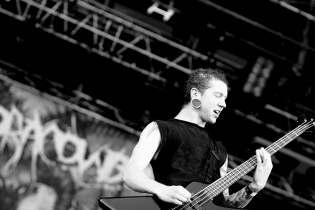 Music & Performance

After ILLDISPOSED I was happy to see a good band that day. I haven't heard anything about that band and so, I was excited to see what kind of music they we're gonna play. They started with a pretty hard sound which I really liked after the crappy show of the band before. The singer's voice was really strong and everybody had fun watching them perform. You could see that they had a lot fun being on stage and showing what they can do. I was surprised to see how good they were. And actually, I really started to like that band and we stayed for a couple of songs. They were really refreshing and after ILLDISPOSED, they were even better.
Rating

Music: 8
Performance: 8
Light: - (daylight)
Sound: 8
Total: 8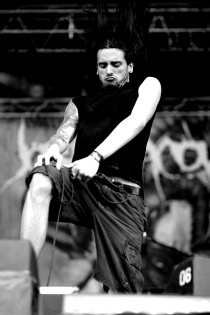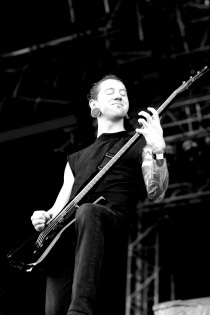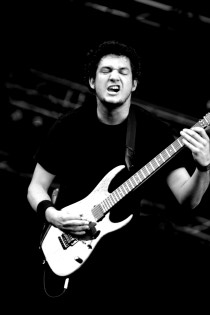 Entombed

ENTOMBED is a Swedish death metal band which formed in1987 under the name of NIHILIST. Though ENTOMBED began their career as an early pioneer of Scandinavian death metal, by the early 1990s their sound had broadened to include hardcore punk and other influences. This new style would eventually be described as death 'n' roll.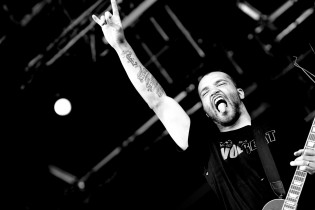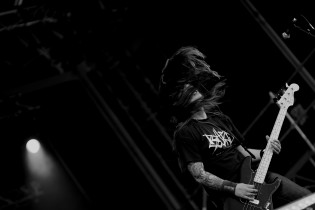 Music & Performance

When I read something about the band ENTOMBED, I decided not to go and see them perform, but then, I decided to give them a chance and I surely regretted this. The band was just awful. They entered the stage and began their show and I just thought "When is it gonna be over?" The songs were lame and his voice wasn't good either. After the first song, I put ear protection into my ears because I couldn't stand them any longer. After two songs, we finally left the concert and were happy not to see and hear them again.
Rating

Music: 2
Performance: 2
Lights: - (daylight)
Sound: 7
Total 2.9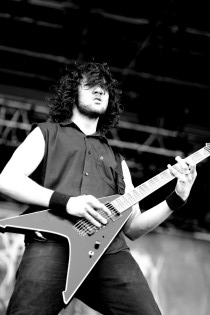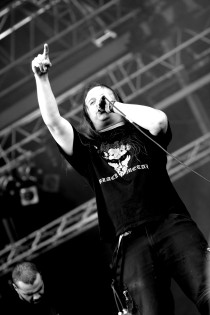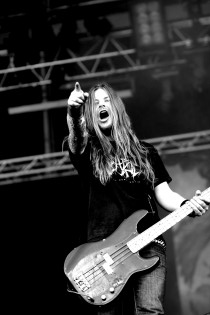 Heaven Shall Burn

HEAVENSHALL BURN is a metal-core band from Germany. They combine an aggressive metal sound with lyrics that show a militant support of anti-racism and fighting social injustice. All members are vegan. HEAVEN SHALL BURN was formed in autumn 1996, under the name CONSENSE. With the recording of their second demo in early 1997 the band changed their name to HEAVEN SHALL BURN. The name is taken from a MARDUK album titled 'Heaven Shall Burn…When We Are Gathered'.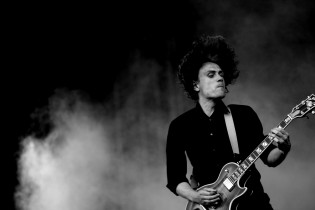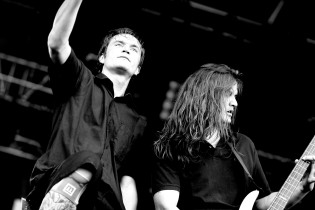 Music & Performance

Since a friend of mine is a huge fan of that band, I was really excited to see how they would perform. I already knew a couple of songs from the albums they released but I had never seen them perform. They entered the stage and were just as happy as somebody could be. They were really excited to play in front of a big crowd and so was the crowd to see them live. They started their songs and right from the beginning, you could hear how great they were. His voice was strong, the guitars were great and each song sounded differently which you don't always have in the genre of metal-core. And of course, their circle pit had to be there and so it was. The people were running like crazy but this time, only a couple of people went to the emergency tent. We stayed almost for the whole concert and the show didn't become lame or boring. They still hold the energy up to the last song. I just loved this concert!
Rating

Music: 9
Performance: 9
Lights: - (daylight)
Sound: 8
Total 8.8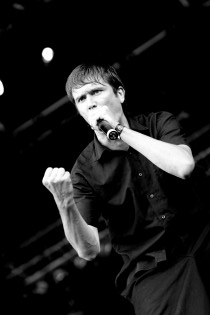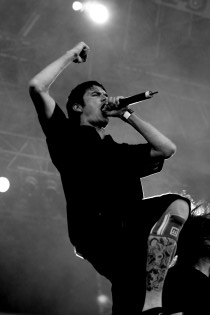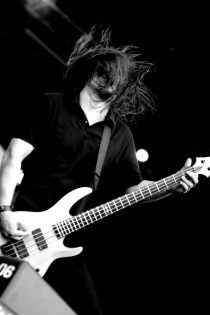 Six Feet Under

SIX FEET UNDER (often abbreviated SFU) is an American death-metal band, formed as a side project in 1992 by CANNIBAL CORPSE vocalist Chris Barnes and guitarist Allen West of OBITUARY. They were joined by bassist Terry Butler, (formerly of MASSACRE and DEATH) and drummer Greg Gall, who is Terry Butler's brother-in-law. SIX FEET UNDER have released nine albums, and are listed by Nielsen Sound Scan as the fourth best-selling death metal act, with album sales of 370,660.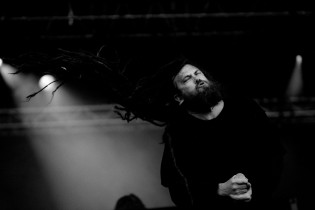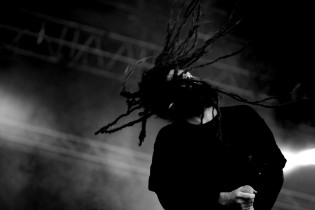 Music & Performance

Everybody knows SIX FEETUNDER, even people who usually don't listen to that kind of music. Since I usually do not listen to that band, I was excited to see how they would perform on stage. And, to be honest, I was really surprised. They had lots on energy and you could see that they had a lot of fun being on stage. They started out with some old songs and you kind of had the feeling that they were constantly getting better throughout the concert. Chris Barnes (vocals) seemed to be old telling from his face but his voice was still absolutely great.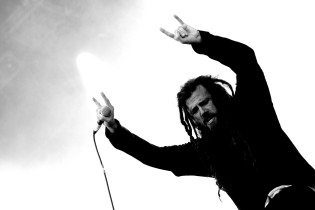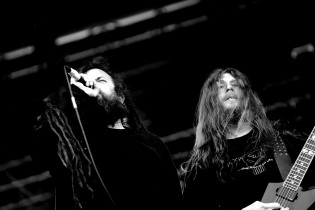 They talked to the audience and always tried to keep in touch with them. At the end of the concert, they played their cover of 'TNT', which was formerly played by AC/DC. With this song, they put a great ending to a great concert. SIX FEET UNDER had probably one of the best shows I have ever seen and I was so happy that I got to see this great band live in concert.
Rating

Music: 9
Performance: 9
Lights: 8
Sound: 8
Total: 8.7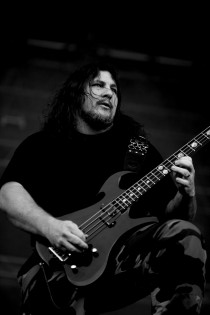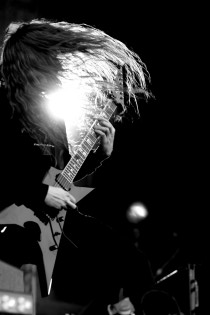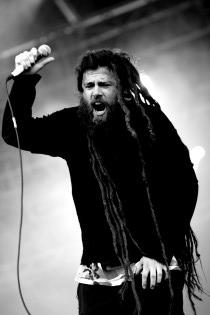 In Flames

IN FLAMES is a melodic death metal band from Gothenburg, Sweden founded in 1990. Along with DARK TRANQUILLITY and AT THE GATES, they pioneered what is now known as melodic death metal. The band was founded in 1990 as a side project of Jesper Strömblad who was at the time in a death metal band called CEREMONIAL OATH.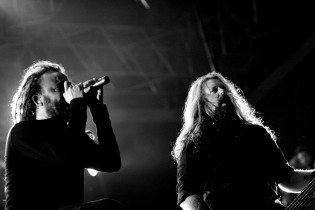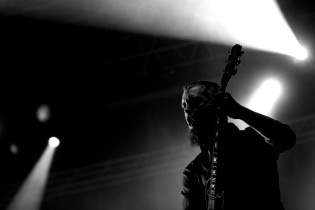 Music & Performance

I had already seen that band at the last years Wacken Open Air and so, I already knew how great they were on stage. Before the concert started, they had to put up some wires for their fire show and all that stuff. And this time, I was kind of worried that the concert may end horrible and that the name of the band would become true to the people "in flames" but nothing happened during the concert and so, I was willing to see them on stage. I love their first albums and I was happy when they performed songs of those albums. The new album is crap if you ask me but of course, they had to play some songs of this album, too, and shortly after those songs, we left the concert. IN FLAMES should go back to their roots and perform their old stuff more often.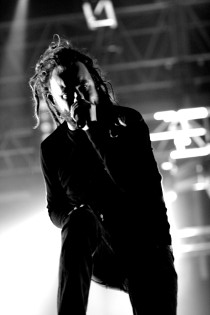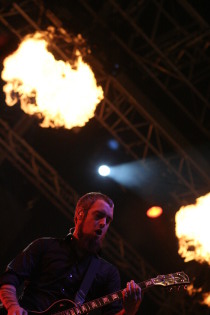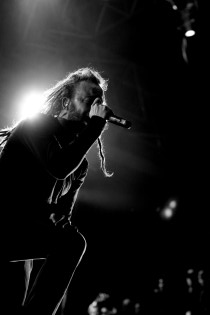 But besides the good music, the sound was pretty ok. It wasn't that great because they had some problems in the beginning again but during the concert, the sound became better. The lights were good, too and so, it was a real joy to watch them perform. Anders Fridén (vocals) was full of energy; he was jumping around the stage and smiling all the time. After all, I just loved this concert until they started playing some new stuff. Hopefully, they will come back to their old stuff.
Rating

Music: 9
Performance: 9
Lights: 8
Sound: 8
Total 8.7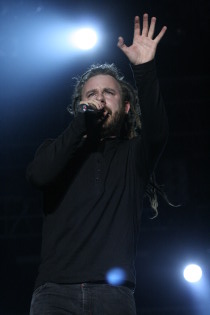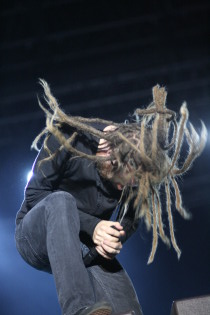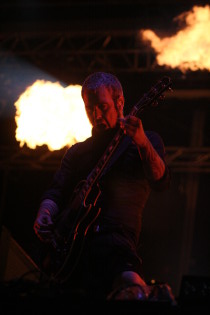 All pictures by Anne Kuhfuß
{jos_sb_discuss:18}
See also (all categories):