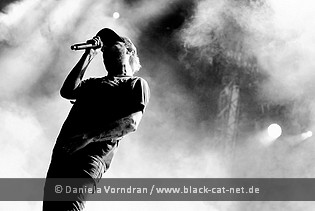 Turbinenhalle, Oberhausen, Germany
20th to 22nd July 2012
Devilside Festival Day 1: Tenside, Exit Ten, Cerebral Ballzy, Chthonic, D.R.I., Dog Eat Dog, Serim 114, Emil Bulls, Betontod, The Bones, The Sounds, Arch Enemy, Clawfinger, Doro, Danko Jones, In Flames

This year's edition of the Devilside Festival was the third one… on the third location. After the first edition was taking place at the Landschaftspark in Duisburg and the second one at the university campus in Essen, the third edition was taking place in Oberhausen at the open air area of the Turbinenhalle (first two days) and inside the hall on the third day.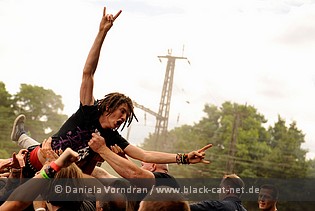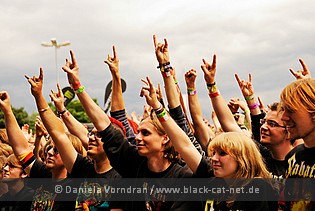 After the first two editions were taking place only on one day each, this year the promoters offered full three days of hard, rocking power. Just for the event, the parking area in front of the Tubinenhalle was straightened and two stages were built up. A big plus was, as known from the past issues, that there were no overlapping playing times at all. So you could enjoy all bands in full length, if you just wanted to. All in all, the Devilside Festival 2012 offered 46 bands, granting for a wide variety in musical styles, from softer to harder. They just had one thing in common: all bands rocked!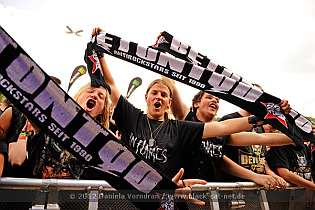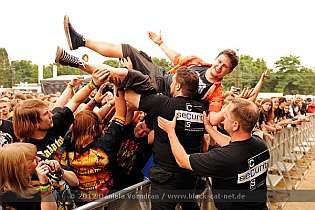 Besides the stages, the open air area offered a big variety of food and beverage stands. You could get Currywurst, fries, burgers, pizza or Thai food. There were soft drinks and beer offered as well as cocktails or coffee. And, if you wanted, you could enter the All-you-can-Slush booth, probably the right thing on those warm summer days. Besides food and drinks, there was of course some merchandising available. Monster Energy had a booth as well where some of the bands were holding autograph sessions. Accompanied by perfect warm and dry summer weather, the bands had best surrounding for their shows. Around 6,000 fans showed up to watch them play… a little less than expected since the festival ground was big enough for more than 10,000 people.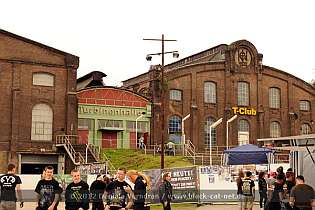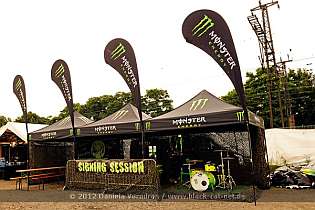 Friday as the first festival day was starting quite early and since this day was a "normal" working day, there were no big crowds queuing up at noon. So, you could get your wrist bands quite fast. The party started with TENSIDE from Munich/ Bavaria. The Metal band consisting of Daniel Kuhlemann(vocals, guitar), Michael Klingenberg (guitar), Martin Rupp (bass) and Florian Schönweitz (drums) was founded in 2004. Their latest album 'Chain Reaction' was released in 2011. When the band entered the Devil Stage, there was just a handful of people waiting in front of the stage and there was just a little reaction towards the band. // Rating 5 / 10 // http://www.tenside-music.de/ / www.myspace.com/tensideband / https://www.facebook.com/TENSIDE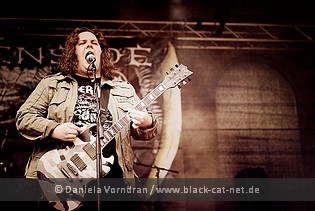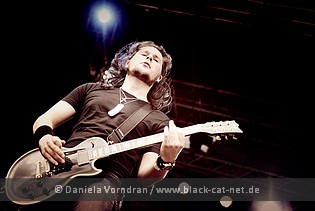 After a few songs, it was already time to change stages, meaning walk a few meters left or right, and welcome EXIT TEN as first band on the Hell Stage. The UK post-hardcore /alternative band with post metal influences comes from Reading. Formed in 2000 as a metal covers band, the current line-up came together in 2003. Their debut full-length album, 'Remember The Day', was released in 2008 followed by 'Give Me Infinity' in October 2011. Ryan Redman (vocals), Stuart Steele (guitar, backing vocals), Joe Ward (guitar), James Steele (bass) and Chris Steele (drums) were impressing with lot of fun in performing but still they seemed be looking for a real musical identity. // Rating: 6.5 / 10 // http://www.exitten.net / http://www.myspace.com/exitten / https://www.facebook.com/exittenofficial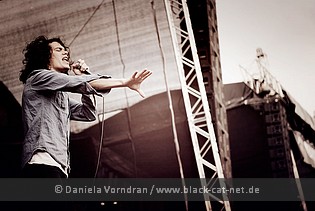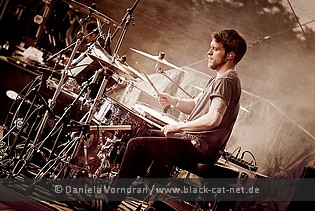 With CEREBRAL BALLZY followed one of the lows of the whole festival. This Brooklyn/ USA based Punk band was formed in 2008and released its self-titled debut in 2011. If you hear "Punk" you expect something energetic happening on stage, but what Honor Titus (lead vocals), Melvin Honore (bass), Mason (guitar), Jason Bannon (guitar) and Crazy Abe (drums) offered was just boring to death. Musically, the performance was totally uninspired, the guys just looked nerved and absent-minded. Spitting and yelling might be punk-ish, but it did not excite me at all. Not only me, also a lot of the other people in front of stage just were escaping from that show to have some beer or coffee instead. // Rating: 3 / 10 // http://cerebralballzy.com / http://www.myspace.com/cerebralballzy / https://www.facebook.com/cerebralballzy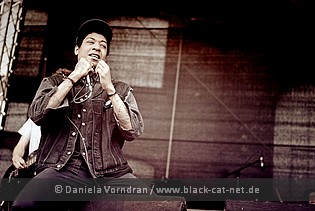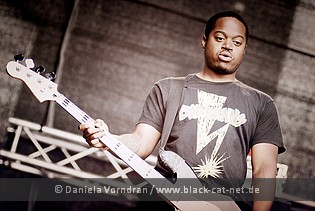 CHTHONIC from Taiwan were the real visual and musical exception on this festival. Visually, you had this band expected on a Goth festival. The band was already founded back in 1995 incorporating influences from traditional Taiwanese music including the classical Asian instrument erhu. So far, Freddy Lim (Left Face of Maradou - lead vocals, erhu), Doris Yeh (Thunder Tears - bass, backing vocals), Jesse Liu (The Infernal - guitars), Dani Wang (Azathothian Hands - drums) and CJ Kao (Dispersed Fingers - keyboards, synthesizer) have released six albums; the latest one, 'Takasago Army', was released in 2011. The Asian influenced Hardcore with the support of string instruments was really impressing. // Rating: 8 / 10 // http://www.chthonic.tw/ / http://www.myspace.com/chthonictw / https://www.facebook.com/chthonictw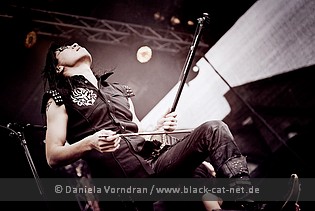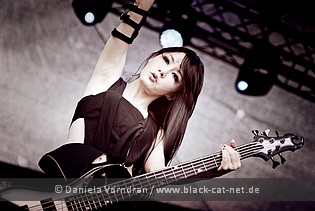 D.R.I. (or Dirty Rotten Imbeciles), the band with the longest setlist and the shortest songs of the whole festival, was rocking the Devil Stage afterwards. The thrash metal/ crossover thrash band from the United States that formed in Houston, in 1982. The band currently comprises founding members, vocalist Kurt Brecht and guitarist Spike Cassidy, as well as drummer Rob Rampy and bassist Harald Oimoen. With their Hardcore Punk roots and a lot of energy, they got the audience moving. // Setlist: 1. Who Am I / 2. Slumlord / 3. Dead in a Ditch / 4. Suit and Tie Guy / 5. The Application / 6. How to Act / 7. Commuter Man / 8. Thrashard / 9. Argument Then War / 10. Probation / 11. Wages of Sin / 12. Snap / 13. I'd Rather Be Sleeping / 14. Acid Rain / 15. I Don't Need Society / 16. Soup Kitchen / 17. A Coffin / 18. Nursing Home Blues / 19. All for Nothing / 20. Manifest Destiny / 21. Beneath the Wheel / 22. Abduction / 23. Violent Pacification / 24. The Five Year Plan // Rating: 7 / 10 // http://www.dirtyrottenimbeciles.com / http://www.myspace.com/dri2 / https://www.facebook.com/pages/DRI/137263955229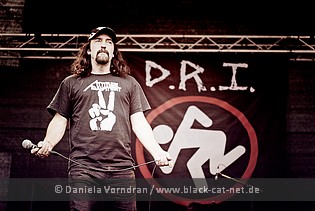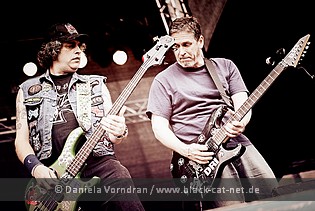 Entering now the Hell Stage was DOG EAT DOG, a band I personally was looking forward a lot. The American band originally from Bergen County, New Jersey, began in 1990 as part of the hardcore music scenes of New York City and New Jersey. The band was one of the first ones fusing hardcore and rap. DOG EAT DOG has achieved commercial success with singles such as 'No Fronts' or 'Expect The Unexpected' - all showcasing their blend of hardcore, rap and saxophone and of course being played later in the set. Since their first album, the band's sound has evolved to incorporate elements of funk, ska and hip hop. Currently, the band consists of John Paul Luke Connor (vocals), Roger Haemmerli (guitar), Dave Neabore (bass), Brandon Jay Finley (drums) and Tobias Vogelfänger (saxophone). The show was loud with lots of energy and movement. Singer John was jumping on stage or climbing the fence in front of the audience. The band did not lose any strength over the years. Their wild mix of Heavy Metal, Hardcore, Rock and Hip Hip was catching the audience getting close to the stage, celebrating, jumping or surfing the crowd. DOG EAT DOG were the "first heroes of the day"! // Rating: 9 / 10 // http://www.dogeatdog.nl/ / http://www.myspace.com/dogeatdogtheband / https://www.facebook.com/pages/Dog-Eat-Dog/43647538103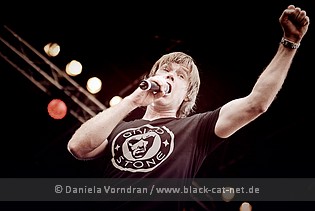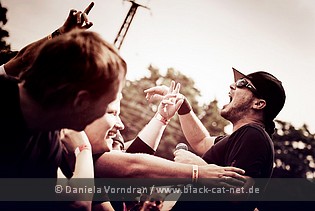 German band SERUM 114 from Frankfurt / Main was founded in 2006. Band members Esche (vocals/ guitar), Markus (bass), Nils (drums) and Thorsten (guitar) already played in several other bands before. The self-titled debut was released in 2008. Currently, the bands is working on a new album to be out hopefully in 2013. The likeably guys with their German tongued Punk Rock were really likeable. Singer Esche was coming down from stage, jumping into the audience and even climbing up the FOH playing his guitar standing on the roof. Their attitude and joy in standing on stage surely infected the audience. They scored with well-thought lyrics, catchy melodies and hard rhythms. I am sure they have some new fans after their show now. // Setlist: 1. Deine Stimme, Dein Gesicht / 2. Seid ihr bereit? / 3. Scherben / 4. Ich bin so / 5. Adrenalin / 6. Junge, Dein Leben / 7. Verlieren heißt / 8. Stadt die wir lieben / 9. Hängt sie höher / 10. Wenn wir Abschied nehmen // Rating 7.5 / 10 // http://www.serum114.de / http://www.myspace.com/serum114punkrock / https://www.facebook.com/pages/Offizielle-Serum-114-Seite/286079251107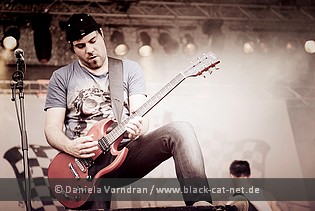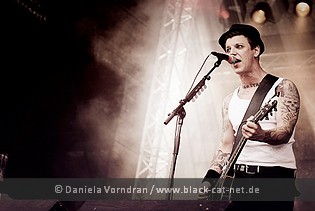 Munich Alternative Metal band EMIL BULLS was already founded back in 1995 and consists currently of Christoph v. Freydorf (vocals), Stephan "Moik" Karl (guitar/ backing vocals), James Richardson (bass/ backing vocals), Andy Bock (guitar/ backing vocals) and Klaus "Kanone" Kössinger (drums). With 'Oceanic', they released their latest album in 2011. EMIL BULLS especially impressed the younger ladies in the first rows, even though Christoph's voice missed some power every now and then. // Setlist: 1. Concubines of Debauchery / 2. Epiphany / 3. Battle Royal / 4. Here Comes the Fire / 5. The Most Evil Spell / 6. Jaws of Oblivion / 7. Wolfsstunde/ Ad Infinitum / 8. Between the Devil and the Deep Blue Sea / 9. Nothing In This World / 10. When God was Sleeping / 11. Worlds Apart // Rating: 7.5 / 10 // http://www.emilbulls.com / http://www.myspace.com/emilbulls / https://www.facebook.com/EmilBullsOfficial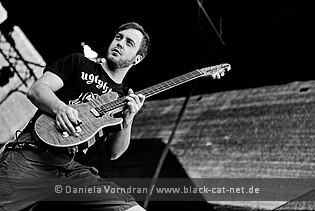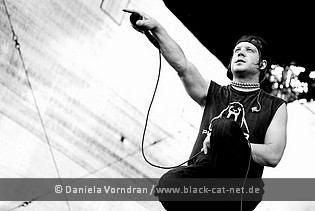 BETONTOD took over as next band on the Devil Stage, delivering solid German Rock / Punk reminding a bit of DIE TOTEN HOSEN. Being founded in the beginning of the 90s, the band consists of Oliver Meister "Meister" (vocals), Frank Vohwinkel "Eule" (guitar), Mario Schmelz (guitar), Adam Dera "Ado" (bass) and Maik Feldmann (drums). The lasts album 'Antirockstars' was released in 2011, End of August 2012, their new album will hit the stores. In times, the lyrics were a bit meaningless, but the audience sang along loudly, celebrating the band and enjoying themselves. // Setlist: 1. Auf eine gute Zeit / 2. Kinder des Zorns / 3. Nichts / 4. Schwarzes Blut / 5. Feier Frei / 6. Popsings / 7. Gasoline / 8. Sieben Schuss / 9. Viva Punk / 10. Glück auf / 11. Gloria / 12. Nebel / 13. Stich ins Herz / 14. Wind / 15. Ewigkeit / 16. Zweifel / 17. 20 Jahre // Rating: 6 / 10 // http://www.betontod.de / http://www.myspace.com/betontod / https://www.facebook.com/antirockstars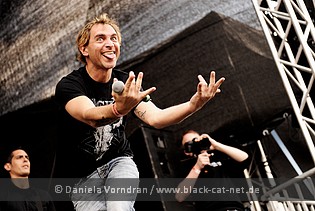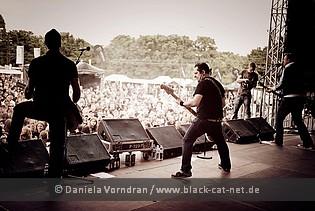 Swedish Punk 'n' Roll band THE BONES from Karlskrona was taking over now. The style of Spooky Fred (drums), Andi Nero (bass), Beef Bonanza (vocals, guitar) and Marcus "Boner" Petersson (vocals, lead-guitar) reminds a bit of SOCIAL DISTORTION or BACKYARD BABIES. Sadly, the band did not get the attention they deserved. They music was composed with mind and the sounds was moving your feet. The band offered lots of energy and attitude and will surely draw one or another attendee to a later club gig, where the band will probably have the better surrounding for their show. // Rating: 7.5 / 10 // http://www.bonesrocknroll.com / http://www.myspace.com/tothebones / https://www.facebook.com/thebonesswe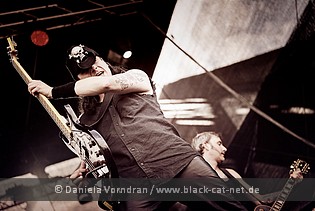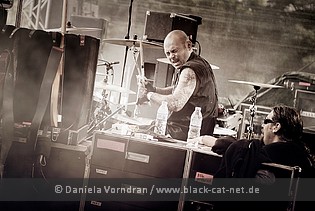 We stay in Sweden with Malmo/Helsingborg based THE SOUNDS, who surely were the exotic bird within the festival line-up, offering melodic Indie rock. The band consists of Maja Ivarsson (vocals), Felix Rodriguez (guitars/ vocals), Johan Bengtsson (bass), Jesper Anderberg (keys/ guitar/ vocals) and Fredrik Blond (drums). Especially blonde Maja in her red dress and with her extravagant attitude was an eye catcher. She was posing, spitting (not lady-like) or riding on a technician's back when he adjusted his microphone stand. I really like the band's sound, but it was surely too soft for all those metal heads in front of stage. You could see in Maja's face that she felt a bit out of place… // Setlist: 1. No One Sleeps When I'm Awake / 2. Living In America / 3. Painted By Numbers / 4. Song With A Mission / 5. Seven Days A Week / 8. Dorchester Hotel / 9. Rock 'n' Roll / 10. Something to Die For / 11. Tony The Beat / 12. Ego / 13. Encore: Hope You're Happy Now // Rating: 7 / 10 // http://the-sounds.com / http://www.myspace.com/thesounds / https://www.facebook.com/thesounds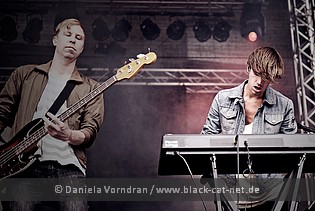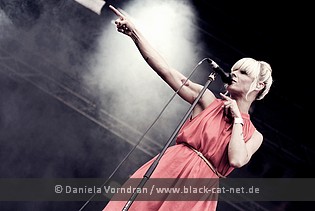 Also ARCH ANEMY had a front woman. The band Melodic Death Metal band consisting of Angela Gossow (vocals), Michael Amott (lead guitars), Nick Cordle (lead guitars), Sharlee D'Angelo (bass) and Daniel Erlandsson (drums) comes also from Sweden and was founded back in 1996. Their latest album 'Khaos Legions' was out in 2011. When ARCH ENEMY started, soon, the "Louder, Louder" screams in the audience became louder and Angela asked the technicians to turn up the volume since she is singing louder than some 80 decibel without a microphone. You need to know that short before the festival the city restricted the volume due to a law suit of some neighbours. So there was no chance for the promoters to rise the volume. I guess Angela must have known that, but she ranted the whole show about the volume level, offended even the promoters and asked the fans to demand their money back. Not very professional if you ask me and it really destroyed the show. // Setlist: 1. Intro (Khaos Overture) / 2. Yesterday is Dead and Gone / 3. Ravenous / 4. Bloodstained Cross / 5. Under Black Flags We March / 6. Dead Eyes See No Future / 7. Dead Bury Their Dead / 8. We Will Rise / 9. Nemesis / 10. Fields of Desolation (Outro) // Rating: 7 / 10 // http://www.archenemy.net/ / http://www.myspace.com/archenemy / https://www.facebook.com/archenemyofficial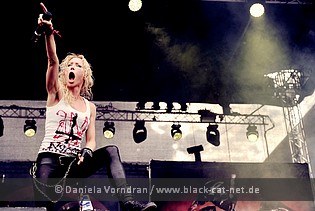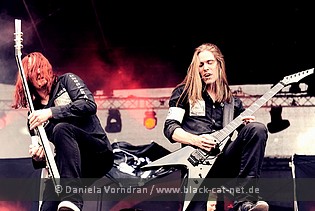 Swedish day of the festival! Also next one comes from Sweden, to be exact from Stockholm, and oh how I was looking forward the next band! CLAWFINGER were already my personal festival highlight when the line-up was announced and they did not disappoint at all. Conceived in 1990 and realized in 1993 with the album 'Deaf Dumb Blind', CLAWFINGER were surely one of the festival dinosaurs. 20 years and7 albums later, Zak Tell (vocals, lyrics), Jocke Skog (keyboards, vocals), Bård Torstensen (guitars), Andre' Skaug (bass) and Micke Dahlén (drums) still kick ass! Already during the first song 'Prisoners', Zak was climbing towards the stage roof, hanging on the pillars. He was posing and crowd surfing, his voice was always strong and powerful. With full use of physical strength he was spitting songs like 'Nigger', 'Two Sides' or 'Biggest & The Best' into the audience. This show was just perfect and afterwards I know why I was looking forward this band so much! // Setlist: 1. Prisoners / 2. Nothing Going On / 3. Rosegrove / 4. Nigger / 5. Zeros & Heroes / 6. Two Sides / 7. Recipe for Hate / 8. Biggest & the Best / 9. The Price We Pay / 10. The Truth / 11. Encore: Do What I Say // Rating: 10 / 10 // http://www.clawfinger.net / http://www.myspace.com/clawfinger / https://www.facebook.com/pages/CLAWFINGER/10868281573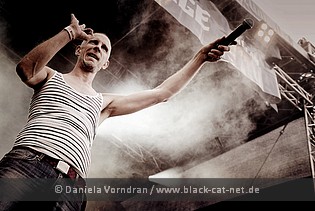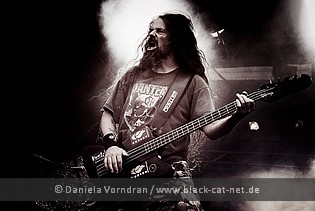 Authentic Heavy Metal, that's what you get offered when Düsseldorf based Doro Pesch (ex-Warlock, ex-Beast – vocals) and her band consisting of Johnny Dee (Britny Fox – drums), Luca Princiotta (ex-Blaze, ex-The Clairvoyants - guitar, keyboards), Nick Douglas (Blaze Bayley – bass) and Bas Maas (ex-After Forever, ex-Karma – guitars) enter the stage. The last album 'Fear No Evil' was released in 2009 but just recently, a best-of compilation was out. DORO got euphoric resonance from the audience… no wonder if you just watch her and the band performing songs like 'Burning the Witches', 'Metal Racer', 'Für Immer', 'Breaking the Law' or 'All we are'. It was also a pleasure to watch Bas playing the guitar…. With a plastered arm. Since he could not play anything, he was supported by a second guitarist. Since it was finally also getting dark, the light show came to full effect. // Rating: 8.5 / 10 // http://www.doro.de/ / http://www.myspace.com/DoroBand / https://www.facebook.com/DoroOfficial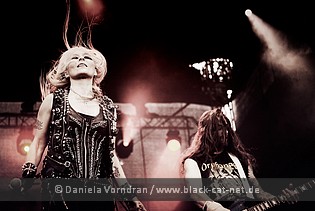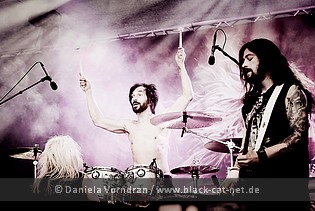 We're getting closer towards the end of the first day of Devilside Festival with a festival regular, almost. DANKO JONES played Devilside already in 2010 and according to Danko are planning on doing that in the following years. Just right in time for the show dark clouds were gathering above, so you could come to think you'd almost get to do a rain dance but except for a few drops nothing really came down on us but the music with loads of 'Sticky' Situation' and kisses on the 'First Date'. Just one moment, the flow got interrupted with Danko noticing people switching stages to actually watch the IN FLAMES sound check and punishment followed with a sarcastic comment just as we know him. Provided the danger of rain was gone, i'd been glad to listen to more than the few songs played . Well, I guess watching the sound check can be fun, too. // Setlist: 1. Intro / 2. Sticky Situation / 3. Forget My Name / 4. First Date / 5. I Think Bad Thoughts / 6. Lovercall / 7. Had Enough / 8. Cadillac / 9. Mountain // Rating: 8 / 10 // http://www.dankojones.com/ / http://www.myspace.com/dankojones / http://www.facebook.com/dankojones [Sebastian Huhn]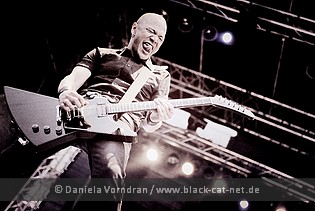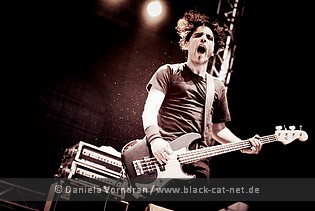 Turns out just watching the sound check sucked big time, but you can indulge in other activities just the same. Something like drinking and chatting. While that happened, the majority of the crowd had gathered in front of the other stage already until this evening's headliner IN FLAMES started their show with a literal bang that at least catered for a buzz in the ears of those right at the front, including the photographers. While it was getting darker by the minute now, the stage shined with multi-coloured lights , surrounding the band members who had their crowd sort of under control, despite them giving quite a lacklustre performance. The most action you'd get from Anders Friden. Is it a bad sign if a crowd is giving it more energy wit moshing and forming circle pits than the band? Anyway, I suppose those who were there were having a fun time and after all that's the important part! // Setlist: 1. Cloud Connected / 2. Trigger / 3. Colony / 4. Reroute to Remain / 5. Alias / 6. Crawl Through Knives / 7. Delight and Angers / 8. Fear Is the Weakness / 9. Only for the Weak / 10. The Chosen Pessimist / 11. The Mirror's Truth / 12. Where the Dead Ships Dwell / 13. System / 14. Deliver Us / 15. The Quiet Place / 16. Take This Life / 17. My Sweet Shadow // Rating 6 / 10 // http://www.inflames.com/ / http://www.myspace.com/inflames / http://www.facebook.com/inflames [Sebastian Huhn]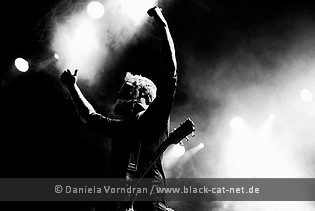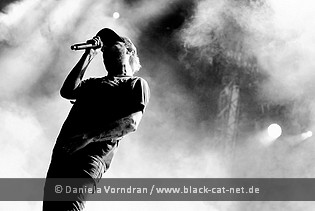 A busy day behind us we soon left the festival grounds to make our respective ways back home, for the next day was coming soon enough and it had a lot of stuff in stock for us.


Gallery Festival Impressions
Gallery Bands 1st Day
Gallery Bands 2nd Day
Gallery Bands 3rd Day


Written by Daniela Vorndran [Anything except Danko Jones and In Flames] and Sebastian Huhn
All pictures by Daniela Vorndran (http://www.vorndranphotography.com / http://www.black-cat-net.de/ / http://www.myspace.com/vorndranphotography / http://www.facebook.com/blackcatnet)
See also (all categories):