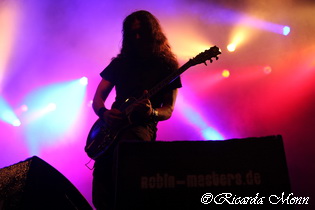 Dinkelsbühl, Germany
18th - 20th August, 2011
Summerbreeze Festival Day 1: Witchery, Marduk, Hackneyed, Decapitated, Arch Enemy, Kampfar, Vreid, Der Weg Einer Freiheit

On this day, the sun was shining constantly upon the mass of festival attendees. Many tried to gain one of the rather rare shadow spaces on the festival ground, whilst others simply stayed on the camp ground or refreshed themselves in the local swimming bath.



Der Weg einer Freiheit

Nikita Kamprad (Guitar, Bass, Drum-Computer) and Tobias Jaschinsky (Vocals) started this Black Metal band in 2009, whilst both were still active in the Deathcore band FUCK YOUR SHADOW FROM BEHIND. They recorded their self-titled debut, which was re-released on year later and has received lots of praise for their unique and pure style. http://www.derwegeinerfreiheit.de / http://www.myspace.com/derwegeinerfreiheit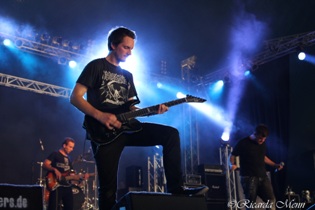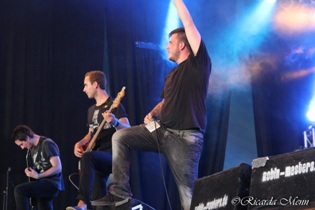 Music & Performance
On this afternoon, many people had gathered in the tent (the so-called Party Stage) to watch this unusual band. They were cheered and greeted enthusiastically and already after the first song, some people were demanding a Wall of Death. The performance of DER WEG EINER FREIHEIT was rather atypical for a Black Metal show, since they lacked of the (at times cliché-like) spikes and grotesque make-up. Yet, it was visible from their movements and behaviour that they earlier performed in a Deathcore band. Nevertheless, they put on a great atmosphere and one could easily close one's eyes and get absorbed in the intense and dark music. During their short set, they presented songs like 'Zum Abschied' or 'Der stille Fluss'.

Setlist
01. Ewigkeit
02. Ruhe
03. Neubeginn
04. Zum Abschied
05. Der stille Fluss

Rating
Music: 8
Performance: 7
Sound: 8
Light:7
Total: 7.5 /10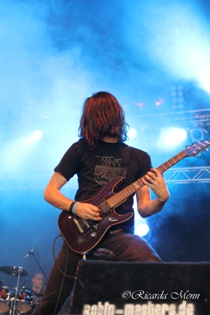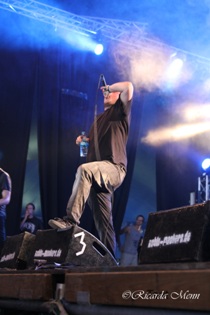 Vreid

After the break-up of the well-known Norwegian band WINDIR and the death of its founder, VREID formed themselves out of the ashes in 2004 to play Black Metal, combined with Rock 'n' Roll elements. So far, five studio records were put out, the latest one being entitled 'V' (2011). http://www.vreid.no / http://www.myspace.com/thepitchblackbrigade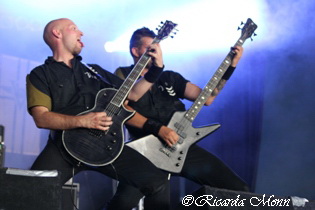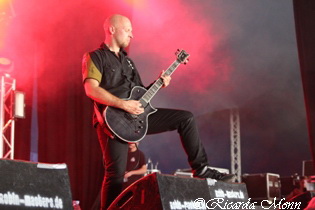 Music & Performance
After the rather tense, previous show, VREID entered the party stage and entertained the crowd with their catching Black 'n' Roll. Especially the bassist hogged the limelight and encouraged the audience to get going. VREID's combination of melodies and groove worked very well on stage and the 30 minutes of their show passed extremely quickly. Their second song 'Raped by Light' remarked a real highlight, and although the sound and light circumstances could have been far better, the guys were truly enjoying the show and the responses they received.

Setlist
01. Arche
02. Raped By Light
03. Speak Goddamnit
04. Wolverine Bastards
05. Jarnbyrd
06. Pitch Black

Rating
Music: 9
Performance:9
Sound: 7
Light: 7
Total: 8 / 10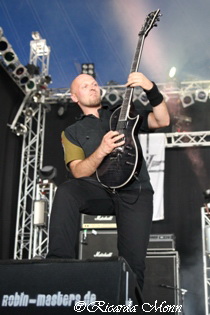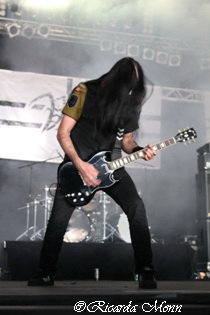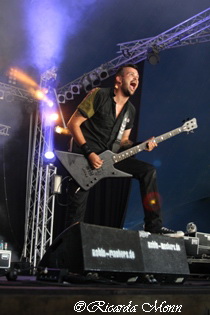 Kampfar

In 1994, the Norwegian Black / Folk Metal band KAMPFAR was formed and has ever since released seven studio records, the latest one in 2011 ('Mare', via Napalm Records). Their music and lyrics are inspired by nature, folklore and especially Norse Mythology. http://www.kampfar.com / http://www.myspace.com/norsepagans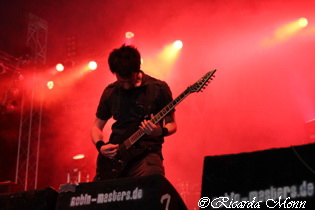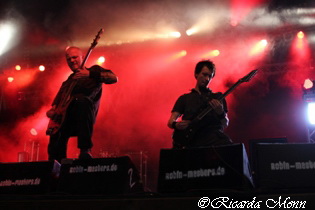 Music & Performance
As soon as KAMPFAR's front man entered the tent stage, it was clear that this performance should become one of the most entertaining and powerful ones on this day. The singer was topless, presenting his KAMPFAR tattoo (positioned on his stomach) and wearing a whole bunch of nails and studs. Whilst presenting an interesting setlist, consisting of older and newer (the opener 'Mare'), he was running all over the stage, taking different poses, climbing over the monitors in order to get closer to the crowd and encouraging the audience. The performance was really worth watching, and furthermore, the sound and light settings turned out to be quite sufficient.

Setlist
01. Mare
02. Inferno
03. Troll, Død Og Trolldom
04. Norse
05. Huldreland
06. Ravenheart

Rating
Music:9
Performance:9
Sound:8
Light:8
Total: 8.5 /10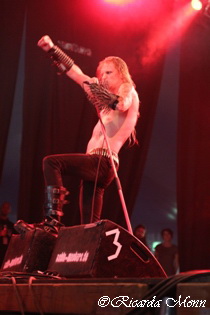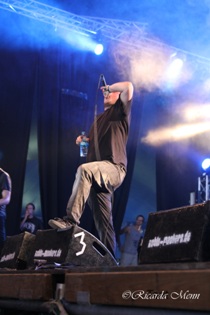 Arch Enemy

Formed in 1996, ARCH ENEMY have established themselves among the most successful acts in Melodic Death Metal. Many members were formerly active in influential bands such as CARCASS or MERCYFUL FATE. In 2000, Angela Gossow joined the Amott brothers as a vocalist. So far, nine albums were released, the most recent one 'Khaos Legions' in 2011, which differs quite significantly from the rather rough debut 'Black Earth' (1996). http://www.archenemy.net / http://www.myspace.com/archenemy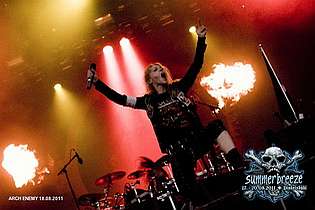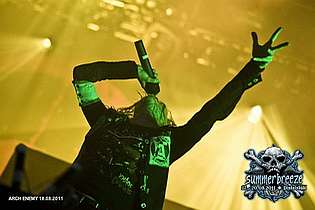 Music & Performance
For many people, ARCH ENEMY remarked the highlight of the festival, and consequently, the infield area turned out to be pretty packed with attendees. Consequently, the quintet was greeted and cheered extensively and they thanked their audience by putting on a good show, with an intense lightshow and fire-effects. The band especially played more recent songs, but obviously, classics like 'Nemesis' or 'We Will Rise' could not be missed, and fair enough, those songs were celebrated the most. As this was the third time I saw ARCH ENEMY perform on stage, I have to admit that Angela's voice was not quite in top form and I have attended better shows. Yet, all musicians put a lot of effort and energy into the performance.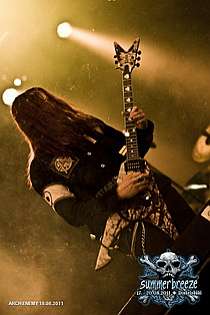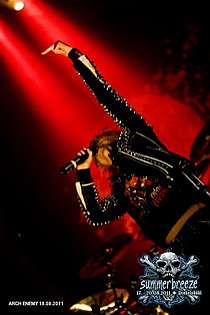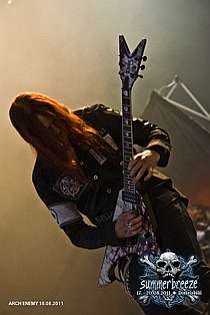 Setlist
01. Khaos Overture
02. Yesterday Is Dead And Gone
03. Revolution Begins
04. Ravenous
05. My Apocalypse
06. Bloodstained Cross
07. Dead Eyes See No Future
08. Dead Bury Their Dead
09. Under Black Flags We March
10. No Gods, No Masters
11. We Will Rise
12. Nemesis
13. Fields Of Desolation

Rating
Music: 7
Performance: 9
Sound: 8
Light: 9
Total: 8 / 10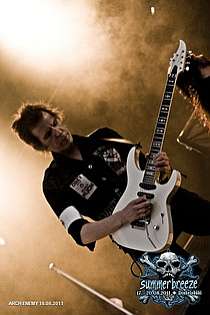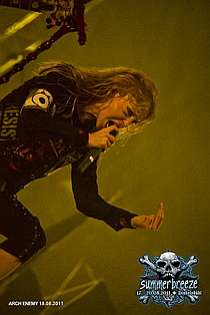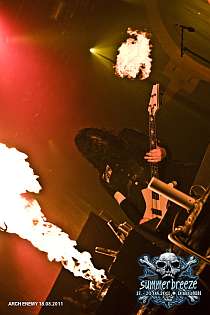 Decapitated

DECAPITATED is a Polish Technical Death Metal band, who formed in 1996, dissolved in 2007 after a terrible accident, due to which one band member died. They reunited in March 2008 and have so far released five studio albums, the latest one being entitled 'Carnival is Forever' (2011). http://www.decapitatedband.net / http://www.myspace.com/decapitated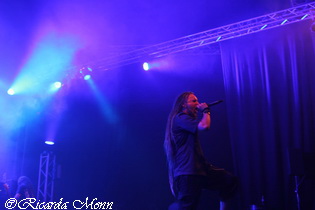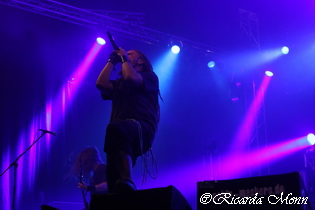 Music & Performance
By the time the musicians entered the Party stage, the tent was considerably filled and the front rows were packed with attendees, who wanted to be as close as possible. The polish Death Metal band served their audience what they expected - brutal music, without any compromises or melodies. Apart from some light effects, the band mostly concentrated on performing, this led to a pretty flawless show with lots of energy.

Setlist
01. Day 69
02. 404
03. United
04. Mother War
05. Winds Of Creation
06. Carnival Is Forever
07. Revelation Of Existence

Rating
Music: 8
Performance: 7
Sound: 7
Light: 7
Total: 7.3 / 10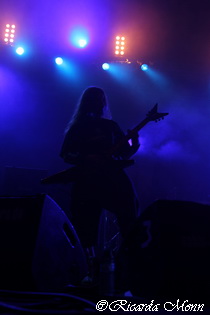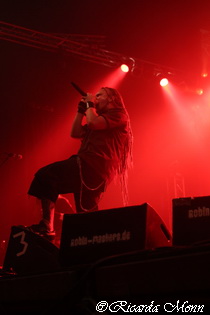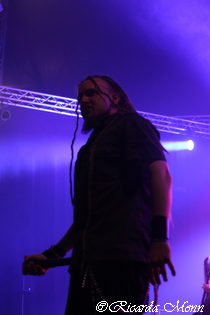 Hackneyed

Ever since the year of 2006, the German HACKNEYED have managed to establish themselves as one of the younger bands in the Extreme Metal sector. Back then, all members were underage and after a demo, the debut 'Death Prevails' was put out in 2008. The band signed a contract with Nuclear Blast and played several shows in order to spread their word. In 2009, 'Burn After Reaping' was released and the newest effort now hits the markets in August 2011. http://www.hackneyed.de / http://www.myspace.com/hackneyed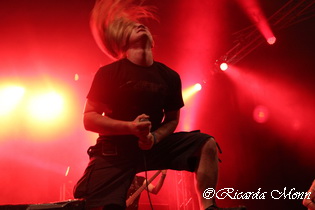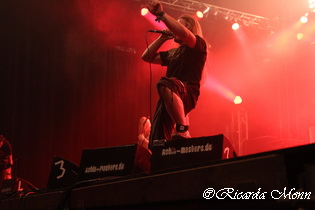 Music & Performance
By the time the young band had entered the stage, the tent had gotten even more packed and the mood was about to reach its highest point for the evening. In 2011, they performed on the Summerbreeze Festival for the third time, and they entitled it as a kind of home match. The audience responded well from the very beginning and also approved of the newer songs, which were included in the setlist. HACKNEYED presented several tracks from their most recent output, 'Carnival Cadavre', but also used the advantage of their very first songs, which worked out very well live. In general, it appeared to be rather difficult to take proper pictures, since all members were moving a lot on stage and seemed to be bubbling over with energy.

Setlist
01. Raze The Curtain
02. Bugging For Mercy
03. Worlds Collide
04. Axe Splatter
05. Damn (You're Dead Again)
06. Holy Slapstick
07. Maculate Conception
08. Deatholution
09. Extra Terroistical
10. Feed The Lions
11. Gut Candy

Rating
Music: 7
Performance: 8
Light: 7
Sound: 7
Total: 7.3 / 10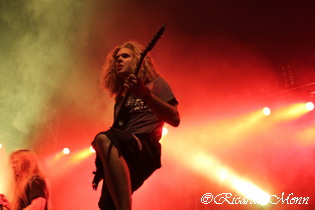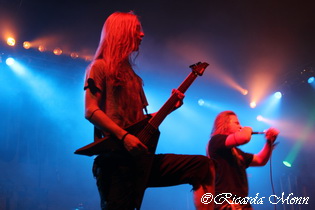 Marduk

MARDUK is a Swedish Black Metal band, which was established in 1990 and released their first output in 1991. From 1995 until 2003, Legion was responsible for the vocals and was followed by Mortuus. This change is also significant for the band's development, as their newer albums possess a certain lyrical demand. So far, eleven studio outputs were released as well as several Live recordings and compilations. http://www.marduk.nu / http://www.myspace.com/truemarduk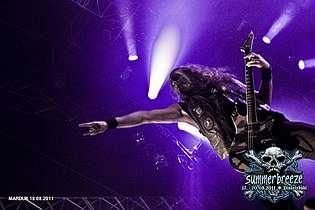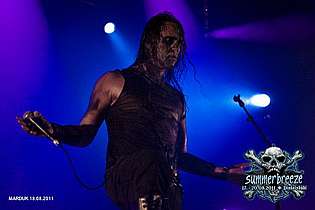 Music & Performance
A few minutes past midnight, the mighty MARDUK entered the stage and wrapped the PAIN stage in eternal blackness. Attendees not familiar with the harsh sound of Black Metal turned their backs to one of the heaviest and darkest bands of the festival. Although I prefer MARDUK's older singer, I have to admit that Mortuus' voice and his performance surprised me in a positive way. Especially older songs like 'Fistfucking Gods Planet' worked live very well and the legendary 'Panzer Division Marduk' got the crowd going for one. Even an encore was played. In general, one cannot really compare nowadays band to the early years, but still, it was nice seeing them live.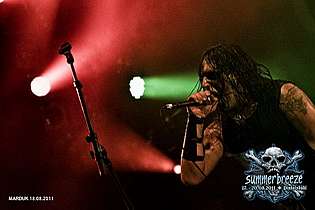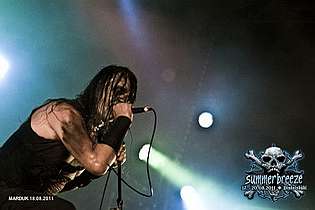 Setlist
01. Into Utter Madness
02. Here's No Peace
03. The Hangman Of Prague
04. Bleached Bones
05. Warschau 2: Headhunter Halfmoon
06. Burn My Coffin
07. Fistfucking God's Planet
08.Womb of Perishableness
09. Panzerdivision Marduk
10. Azrael

Rating
Music: 9
Performance: 8
Light: 9
Sound: 7
Total: 8.3/10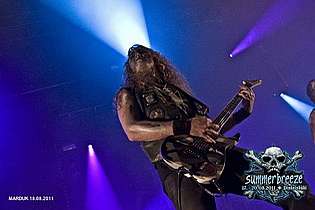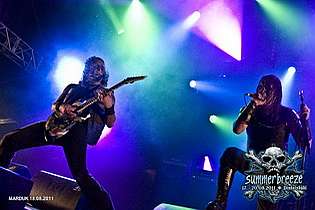 Witchery

WITCHERY is a Swedish Thrash / Speed Metal band, which was formed in 1997 and has so far released five studio albums. Many members were beforehand part of SATANIC SLAUGHTER. They are currently signed to Century Media Records. http://www.myspace.com/witcherytheband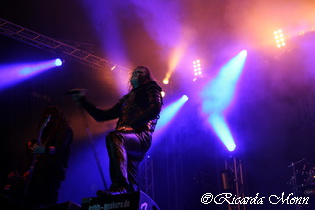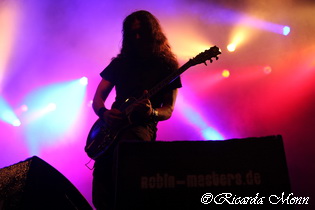 Music & Performance
At a quarter past one o' clock, the party stage was only filled by very few people, but those who had waited were really eager to watch WITCHERY live and on stage. The vocals were performed by the former DARK FUNERAL singer, whose outfit did not quite match the others. Yet, they put on an energetic show and apart from some technical issues, everything turned out to be pretty flawless. The band played and interesting setlist, combining older and newer songs and they really remarked a nice finish for the first festival day.

Setlist
01. Witchkrieg
02. The Conqueror
03. God That Fell
04. Restless And Dead
05. The Storm
06. The Reaper
07. House Of Raining Blood
08. A Paler Shade Of Death
09. Omens
10. Awaiting The Exorcist
11. The Reaver

Rating
Music: 9
Performance: 8
Sound: 7
Light: 8
Total: 8 / 10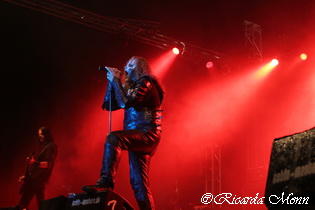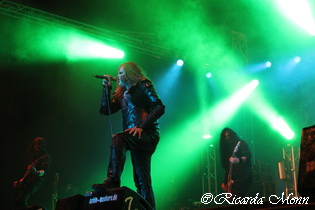 All pics by Ricarda Menn except pics of Arch Enemy and Marduk curtsey & copyright Summer Breeze Festival



See also (all categories):