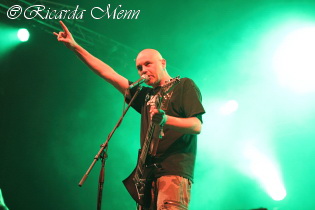 Dinkelsbühl, Germany
18th - 20th August, 2011
Summerbreeze Festival Day 3: God Dethroned, Sodom, The Ocean, Obscura, Demonical, Farmer Boys, Criminal, Grand Magus, Deadlock, Benighted

The last day of this festival evoked to be the hottest, and consequently shadow and refreshments were the headliners of the day for most people. Yet, there was no lack of enthusiasm among the attendees of the last concerts.



Benighted

BENIGHTED is a French band, whose style combines Death Metal and Grindcore. Ever since their foundation in 1998, six studio records and one re-release were put out. They are currently signed to 'Seasons of Mist' and have just finished their most recent work 'Asylum Cave'. http://www.myspace.com/brutalbenighted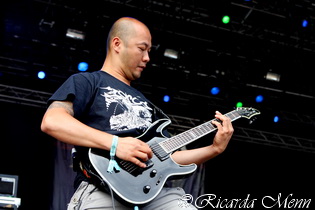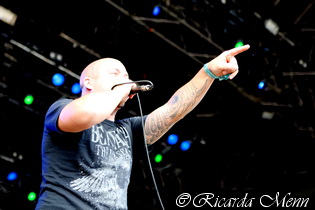 Music & Performance
Although they were only the second band performing on this day, they managed to establish quite an amount of people in front of the Main Stage. In the progress of their performance, the band made clear that harsh music can also work in combination with heat and a constantly shining sun – mosh pits and even two Wall of Deaths were formed by the enthusiastic audience. The guys surely enjoyed their show, the singer run around with bare feet and the bassist even got into the photo pit. After a brutal half of an hour, the audience sang the French national anthem to thank BENIGHTED for their great performance.

Setlist
01. Prey
02. Let The Blood Spill Between My Broken Teeth
03. Saw It All
04. Collapse
05. Lethal Merycism
06. Slut
07. Asylum Cave

Rating
Music: 7
Performance: 8
Sound: 7
Light: - (daylight)
Total: 7.3 /10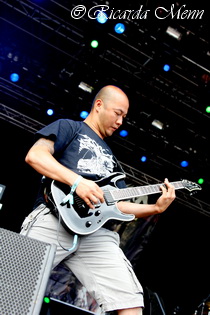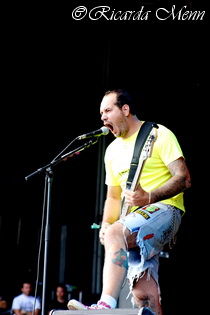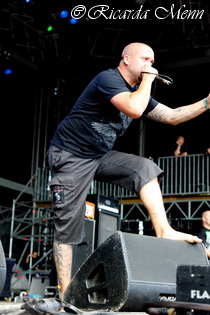 Deadlock

DEADLOCK are a German Melodic Death Metal sextet, formed in 1997. Their music is significant due to the antagonism of harsh, male vocals and clean, softly sung phrases by their female singer. Furthermore, Techno or other musical influences can be heard in intros or interludes. 'Bizarro World' was released in 2011 and received praise as well as criticism. http://www.xdeadlockx.com / http://www.myspace.com/xdeadlockx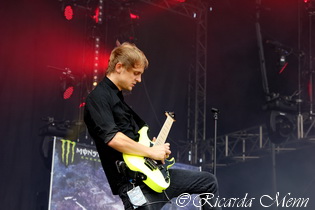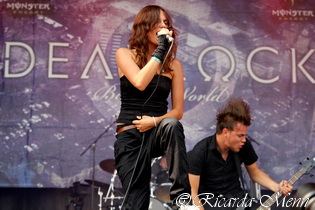 Music & Performance
The place in front of the Pain Stage was extremely filled and especially, the first rows were crowded with Deadlock-Fans. The band was cheered very enthusiastically and had the audience under their control from the very beginning - crowd-surfing could be witnessed as well as head banging and moshing. Yet, the intro did not really seem to fit to a Metal festival, as it sounded very electronic and techno-orientated. But this is probably a matter of taste, since most attendees seemed to enjoy the show and the different musical aspects a lot. The two singers encouraged the audience and were content with the response they received.

Setlist
01. Bizarro World (Intro)
02. Earthlings
03. The Brave / Agony Applause
04. Virus Jones
05. Code Of Honor
06. Brutal Romance
07. Renegade
08. Awakened By Sirens
09. End Begins

Rating
Music: 6
Performance: 8
Sound: 8
Light: 7
Total: 7 / 10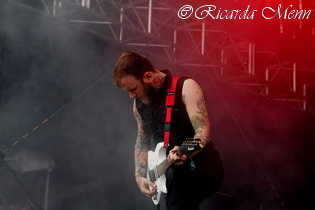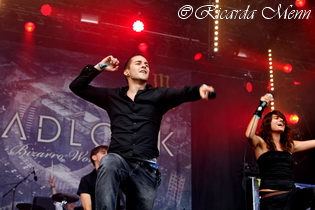 Grand Magus

GRAND MAGUS is a Swedish Heavy/Doom Metal band, formed in 1996. Stoner Rock influences can be heard as well as Swedish folklore interludes.Two demos, one split EP and five studio records depict the band's discography, up to date is 'Hammer of the North' (2010). http://www.grandmagus.com / http://www.myspace.com/grandmagusrocks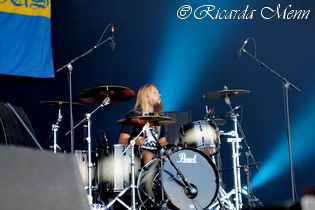 Music & Performance
After the modern and at times very melodic show of DEADLOCK, GRAND MAGUS continued in a more traditional way, and their mixture of Heavy and Doom Metal worked very well on the audience, although obviously not as much action could be seen as during other shows. GRAND MAGUS do not need a lot of speed or fast drums to convince, but the rather slow, sagging music created a good atmosphere, that offered unequalled opportunities. The band had a huge backdrop, a combination of the Swedish national flag and their own logo. Furthermore, the three musicians concentrated on playing their songs in a pretty flawless way.

Setlist
01. Kingslayer
02. Silver Into Steel
03. I, The Jury
04. Hammer Of The North
05. Ravens Guide Our Way
06. Iron Will
07. Wolf's Return
08. Nine
09. Ulvaskall
10. At Midnight

Rating
Music: 8
Performance: 8
Sound: 8
Light: - (daylight)
Total: 8 / 10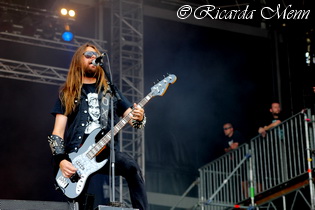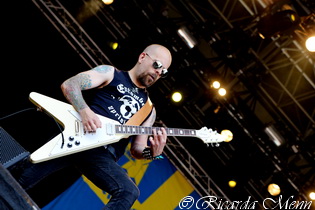 Criminal

CRIMINAL is a Chilean Metal band, nowadays situated in England, combining Death and Thrash Metal into their very own style. They were formed in the early nineties and already supported bands like KREATOR or SEPULTURA. In 2009, their up-to-now last record was finished, 'White Hell'. http://www.criminal1.com / http://www.myspace.com/criminal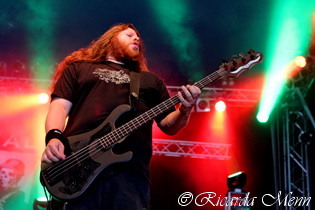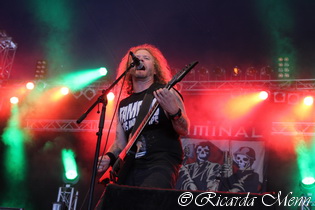 Music & Performance
CRIMINAL were the first band to play in the tent stage on this day. A manageable amount of people had gathered to watch this act. CRIMINAL were really encouraged and played in a very tight way, the front man appeared to be very ambitious about his lyrics. Those who attended the show were surely enjoying the straight-forward Thrash Metal, which really worked well on stage.

Setlist
01. 21st Century Paranoia
02. Resistance
03. Cancer
04. Akelarre
05. Self Destruction
06. Rise And Fall
07. Time Bomb
08. State Of Siege
09. El Azote

Rating
Music: 8
Performance: 7
Sound: 7
Light: 6
Total: 7 / 10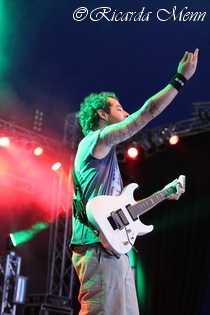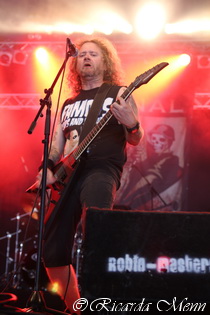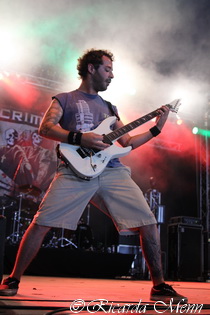 Farmer Boys

The FARMER BOYS are a German Heavy Metal band, founded in 1994. Their success rose with the release of their record 'The World Is Ours' in 2000, four years later their (until now) last record 'The Other Side' was released. Ever since 2007, the band members were occupied with other projects but did not officially dissolve the band. Consequently, their appearance at the Summerbreeze Festival was rather unusual. http://www.farmerboysmusic.com / http://www.myspace.com/farmerboysmusic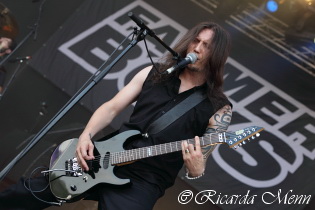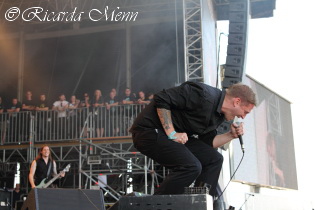 Music & Performance
Although the FARMER BOYS did not attract a lot of attention during the last years, their performance was still awaited and supported by lots of fans in front of the main stage. Their music convinced the people a lot, since melodious as well as powerful elements built up a nice symbiosis. Furthermore, an amusing incident occurred, as front man Matthias announced a song from their recent album. As he noticed the fact, that recent in this case meant seven years old, he had to laugh quite a lot.

Setlist
01. Intro
02. When Pigs Fly
03. Farm Sweet Farm
04. Like Jesus Wept
05. Once And For All
06. The Good Life
07. A New Breed Of Evil
08. Where The Sun Never Shines
09. We Sow The Storm
10. The Other Side
11. Barnburner
12. Never Let Me Down Again
13. Here Comes The Pain

Rating
Music: 7
Performance: 8
Sound: 8
Light: - (daylight)
Total: 7.6 / 10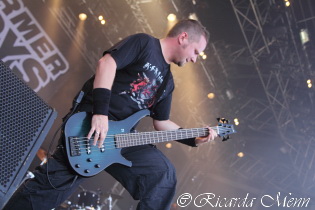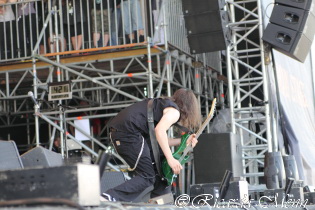 Demonical

DEMONICAL is a Swedish Death Metal band, formed in 2006. Shortly after their debut record 'Servants of the Unlight', they performed on a Split with the American band ABSU; their most recent work 'Death Infernal' was published in 2011. http://www.demonical.net / http://www.myspace.com/thedemonicalhorde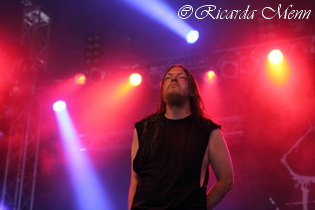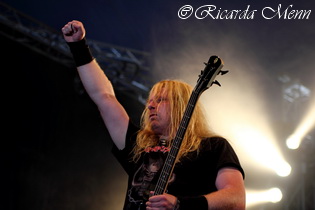 Music & Performance
The tent had emptied a bit after ADEPT, but still the front rows were relatively packed, when DEMONICAL entered the Party Stage. The evil growls and grunts were presented with lots of power, and in general, their music turned out to be very brutal and grooving. The band played very flawless and precise, no unnecessary melodies were included and the audience enjoyed it. In addition, the setlist appeared to be very well-chosen and the audience thanked the band by lots of cheering and celebrating the successful performance.

Setlist
01. The Arrival Of Armageddon
02. World Serpent
03. Ravenous
04. Götter des Nordens
05. All Will Perish (The Final Liberation)
06. Baptized In Fire
07. March For Victory
08. Death Metal Darkness

Rating
Music: 9
Performance: 8
Sound: 7
Light: 8
Total: 8 / 10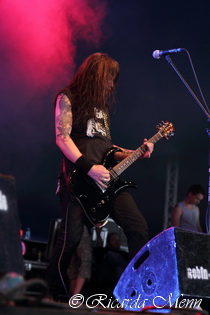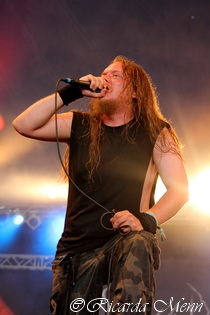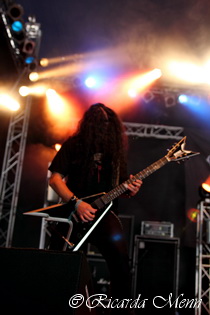 Obscura

OBSCURA is a German Technical Death Metal band, formed in 2002. Apart from their complex and technical demanding song structures, they are also known for unusual influences and profound lyrics. Their third and most recent work 'Omnivium' is part of a concept, which will include four albums. http://www.myspace.com/realmofobscura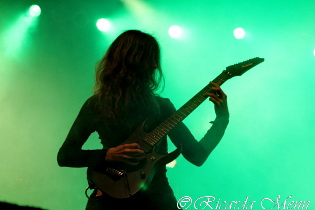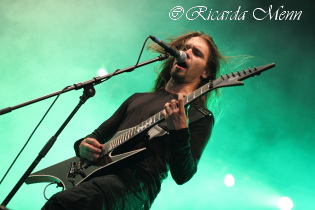 Music & Performance
Although the contrast to the Pirate Metal band SWASHBUCKLE (who played in the tent beforehand) was pretty immense, OBSCURA were still delighted to find more people than expected in front of the Party Stage. Personally, I was not familiar with any of OBSCURA's songs, but they fascinated me from the very moment they started to perform. Their music is surely not easily accessible, but the mixture of technical demanding guitar work, grounded lyrics and a certain speed made their show very energetic and absorbing. The audience cheered the band extensively and celebrated every song, whether dominated by shredding riffs or fast solos. Consequently, OBSCURA were encouraged to give their best and they fully enjoyed the show. OBSCURA were definitely my surprising discovery of the festival.

Setlist
01. Septuagint
02. Anticosmic Overload
03. Intoxicated
04. Vortex Omnivium
05. Ocean Gateways
06. Euclidean Elements
07. Centric Flow

Rating
Music: 10
Performance: 9
Sound: 8
Light: 9
Total: 9 / 10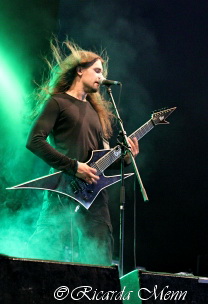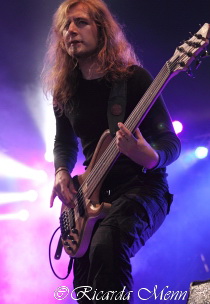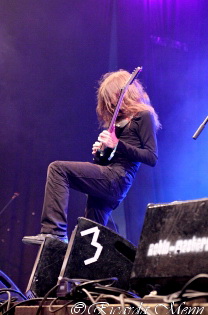 The Ocean

THE OCEAN is an experimental metal band from Berlin, Germany. Their work combines elements of progressive metal with classical music and electronic soundscapes to create their aggressive post-metal sound. The band often describes its sound as "ambient soundtrack doomrock". http://www.theoceancollective.com / http://www.myspace.com/theoceancollective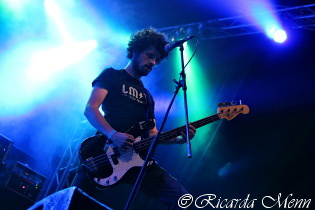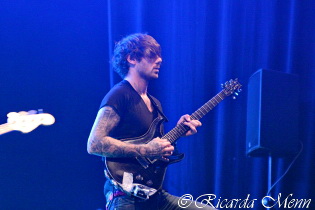 Music & Performance
Sometimes, a certain open-mindedness helps you to discover unusual and fascinating bands. Having this in mind, I decided to watch THE OCEAN's show, without any expectations. From a musical point of view, the band turned out definitely not to be my cup of tea - I simply could not get into the crossover mixture of progressive parts and hardcore elements. Yet, the performance was really worth watching - the band was shooting a DVD and consequently put on a lot of action - the musicians got into the photo pit, searched contact with the front rows, jumped all over the stage and were very enthusiastic and passionate about their performance. Furthermore, the audience was very ambitious; they cheered, moved and simply had a big party.

Setlist
01. Shamayim
02. Anthropocentric
03. The Grand Inquisitor I: Karamasov Baseness
04. The Grand Inquisitor II: Roots & Locusts
05. Ectasian / De Profundis
06. The Origin Of Species
07. The Origin Of God

Rating
Music: 5
Performance: 8
Sound: 7
Light: 7
Total: 6.8 /10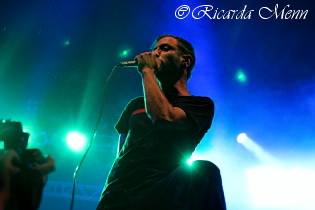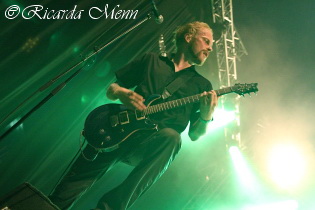 Sodom

SODOM is a German Thrash Metal band, who, along with KREATOR and DESTRUCTION, forms the 'Big Three' (of Teutonic Thrash Metal). Those three bands had and still have an immense impact on formations from all over the world. SODOM were formed in 1981 and their early works can be considered as influential for Black Metal. Tom Angelripper is the only founding member left. The most recent work 'In War and Pieces' can be seen as a return to their golden Thrash era. http://www.sodomized.info / http://www.myspace.com/sodom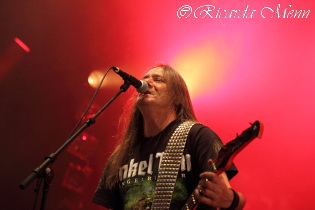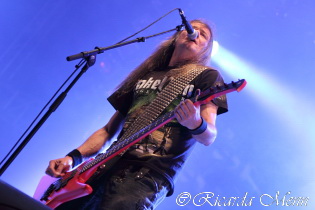 Music & Performance
This was already the second time I saw SODOM perform on a big festival, and this time, they definitely were in a good playing mood. Front man Tom talked to the audience a lot, and in general, the setlist left no wishes unfulfilled - songs from the beginning of their career like 'Blasphemer' our 'Outbreak of Evil' were as enjoyable as the new 'In War and Pieces'. Classics like 'Ausgebombt' or 'Agent Orange' could not be missed either, and although not every note was played correctly, the band enjoyed their performance and got the crowd going very well - the place in front of the Pain Stage was filled. The contrast between Tarja, who played beforehand, and SODOM could probably not have been bigger. SODOM also showed, that they still know how to kick ass even after thirty years. Their straight-in-the-face Thrash Metal show definitely remarked a personal highlight of the festival.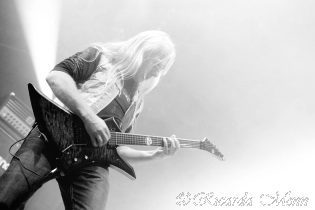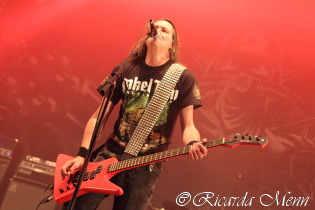 Setlist
01. In War and Pieces
02. The Vice Of Killing
03. Outbreak Of Evil
04. The Saw Is The Law
05. I Am The War
06. M16
07. The Art Of Killing Poetry
08. Agent Orange
09. Blasphemer
10. City Of God
11. Ausgebombt
12. Remember The Fallen
13. Bombenhagel

Rating
Music: 9
Performance: 9
Sound: 8
Light: 8
Total: 8.5 / 10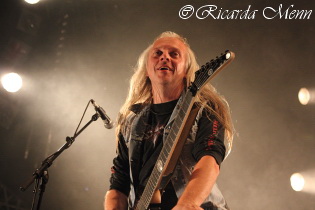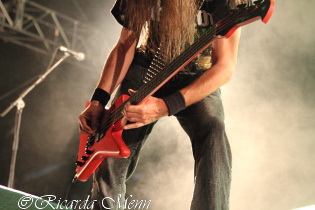 God Dethroned

GOD DETHRONED is a Dutch Death Metal band, who firstly formed in 1990 and then reunited in 1994. They released albums like 'The Lair of the White Worm' (2004), 'Passiondal' (2009) or their recent one 'Under the Sign of the Iron Cross' (2010). After the performance at Eindhoven Metal Meeting in December 2011, the band is going to split up. http://www.goddethroned.com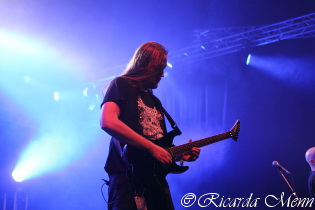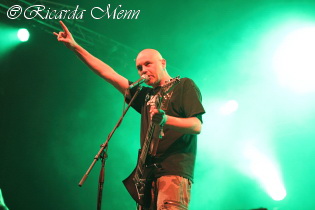 Music & Performance
Although I had been familiar with the music of GOD DETHRONED for a while, it was only when they announced that their performance on this year's edition of the Summerbreeze Festival would be the last German show ever, that I realized they were going to dissolve. This obviously made this concert a very special one, and the band surely gave their best to leave a lasting impression on the attendees. The setlist was very well chosen, combining slower with extremely fast songs. In addition, the atmosphere during the concert was incredible, since the fans gave the band the deserved attention and responses. I am very disappointed that the band is going to split, but I am glad that I still had the chance to watch them live. This performance remarked also a very suitable and special end of the festival for me.

Setlist
01. Intro: The Cross Of Sacrifice
02. Under A Darkening Sky
03. Serpent King
04. Nihilism
05. Boiling Blood
06. Poison Fog
07. Soul Capture
08. Storm Of Steel
09. Typhoid Mary
10. Villa Vampiria
11. Under The Sign Of The Iron Cross

Rating
Music: 9
Performance: 9
Sound: 8
Light: 8
Total: 8.5 / 10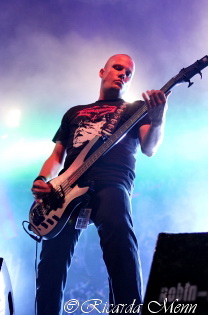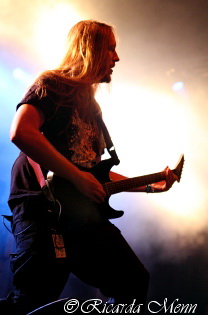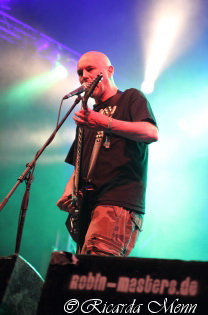 All pics by Ricarda Menn



See also (all categories):