Park Brakkenstein, Nijmegen, The Netherlands
2nd July 2011
Fortarock Festival Part I: Kvelertak, Valient Thorr, God dethroned, Agnostic Front, Gojira

After two previous successful editions, the third Fortarock festival was taking place at Park Brakkenstein in Nijmegen, The Netherlands. As every year, I'm surprised (and very pleased!) to see how the organisation managed to create a line-up of well-known names, both old and new. Fortarock treats its audience to a lot of different flavours in the big pool of metal and hard rock. All there was left to wish for was a day without rain and some quick feet to keep up with the tight schedule. Fortarock is a one-day festival with two stages, 14 bands (KVELERTAK – VALIENT THORR – GOD DETHRONED - AGNOSTIC FRONT – GOJIRA – PARKWAY DRIVE – GHOST – DARK TRANQUILITY - TRIPTYKON – CHANNEL ZERO – PARADISE LOST – SACRED REICH – IMMORTAL – ARCH ENEMY) and no break in between.



Kvelertak

KVELERTAK (Norwegian for choke hold) is a relatively young band producing speed-rock metal. With three guitar players and a singer known for his maniac Screamo voice, this six man band is sure capable of producing some noise. Most songs are in Norwegian, the band's native language, and about Norse mythology/Viking folklore. Their debut album with the same name was released in 2010 and since then, the band has built a live reputation in Norway as well as Europe.

Music & Performance
Unfortunately, because of traffic, road blocks and a line in front of the Fortarock entrance, I was unable to attend KVELERTAKs show. Their loudness and the audience's enthusiasm could however not be ignored from the entrance, so I feel confident to conclude that at least their performance was a success!


Valient Thorr

VALIENT THORR is an American Rock band from North Carolina, founded in 2001. According to their own biography, the band originates from Venus and has come to planet earth to guard rock 'n roll from total destruction. The band made a series of records full of catchy, energetic songs flavoured with hard rock ('n roll) and a serious dose of heavy metal. Over the years, their songs have also appeared in several video games such as Guitar Hero II, EA skate and Need for Speed. But most of all, these bearded men are famous for their crazy live shows, so let's check it out! www.valientthorr.com / www.facebook.com/valientthorr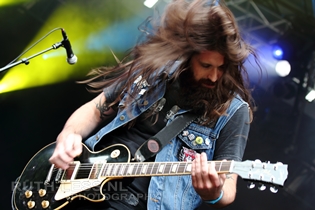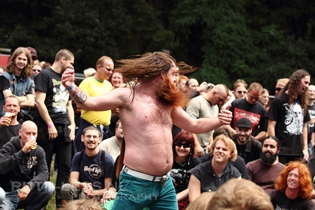 Music & Performance
Influenced by Motörhead, Thin Lizzy en AC/DC, I was totally prepared for some cheesy over the top Rock'n'Roll. And that was exactly what I got. I have to admit I don't have this kind of music in my CD collection for a reason, but after this show I'm thinking maybe I should. Surprised to find myself being unable to stand still, I really enjoyed VALIENT THORR's energetic performance with a big smile on my face. While sipping on a bottle of Jack Daniels, singer Valient Himself told the audience they had visited Amsterdam and had not slept the night before. This sure did not influence their show: bearded half naked men jumping, bouncing, screaming and even a sun dance in the middle of the audience made one crazy show. Those who did not already wake up at the KVELERTAK show are definitely wide awake now!

Rating
Music: 7
Performance: 8.5
Sound: 7
Light: Daylight
Total: 7.5 / 10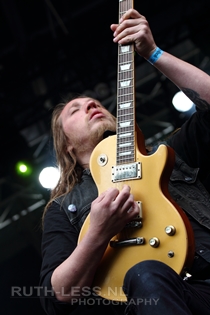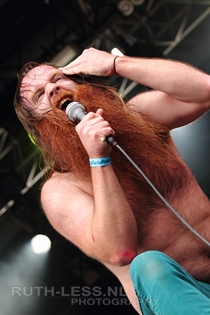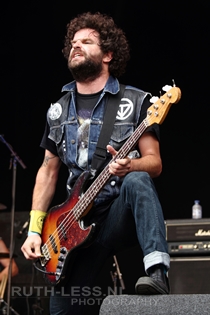 God Dethroned

Twenty years ago, GOD DETHRONED made their appearance in 1991 in the metal scene with the album The Christhunt. By now, with nine albums and tons of live shows, they can rightfully be called the founders of the Dutch (blackened) death metal scene. This year, they play their last set of shows and after December 17 this year, there will be no more GOD DETHRONED. This is not the only reason for inviting them to Fortarock though. Their last album 'Under The Sign Of the Iron Cross' is reviewed as one of the best. More than enough reason to show the audience once more what GOD DETHRONED is made of. www.goddethroned.com / www.facebook.com/goddethronedofficial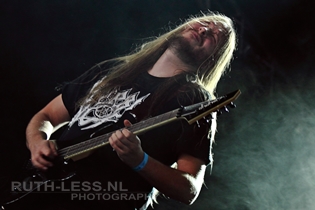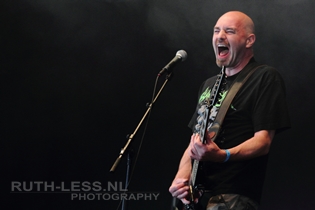 Music & Performance
After twenty years, it's clear that these guys have played many, many live shows. Front man Sattler and his band members put up a live performance like a well-oiled machine. The audience sure is familiar with their music. Sattler's announcement of some old songs brings out a loud grunt from the Fortarock visitors. Although the music is quite energetic, stage performance doesn't seem to be a top priority for this band. And since I'm not very familiar with 20 years of GOD DETHRONED songs, I decide to enjoy the rest of their show outside the tent stage with a cold beer :)

Setlist (source: setlist.fm)
00. Intro (The Cross of Sacrifice)
01. Under a Darkening Sky
02. Soul Sweeper
03. Nihilism
04. Villa Vampiria
05. Storm of Steel
06. Poison Fog
07. Under the Sign of the Iron Cross

Rating
Music: 7
Performance: 6
Sound: 7
Light: 5
Total: 6.5 / 10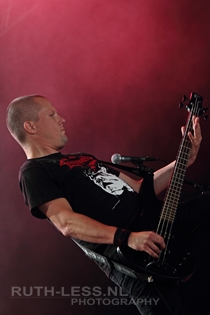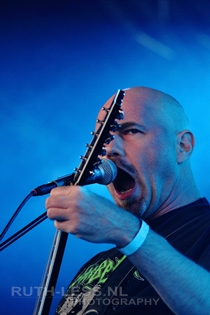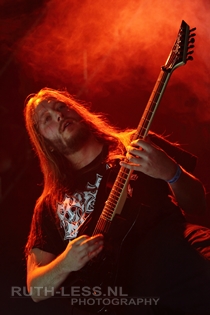 Agnostic Front

Founded when I was still wearing diapers, AGNOSTIC FRONT is one of, or maybe even THE founder of hardcore punk. Guitar player Vinnie Stigma and singer Roger Miret are the initiators and most constant factors of this old school band, which had lots of different band members over the years. Their album Cause For Alarm was a revelation in the hardcore-metal crossover genre. The last ANOSTIC FRONT album called 'My Life My Way' was released this year and proves that this band is still alive and kickin' and hopefully, so is their show. www.agnosticfront.com / www.facebook.com/agnosticfront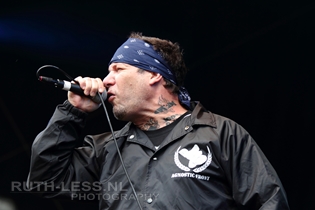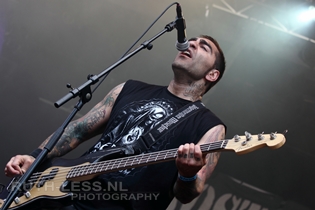 Music & Performance
The men of AGNOSTIC FRONT know their way around the stage and take off from the first song with a blast of energy. As well old as new songs seem to be no problem for the audience, singing along and joining the backing vocals. It's nice to see "old" people (let's say those who were teenagers when this band was found) as well as some very young (let's say those who just got used to the taste of beer) enjoying this band. I guess this proves that AGNOSTIC FRONT is still in the game!

Rating
Music: 6
Performance: 7
Sound: 7
Light: Daylight
Total: 7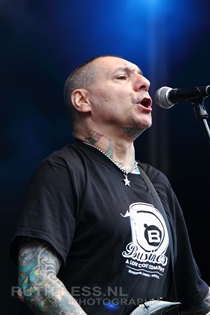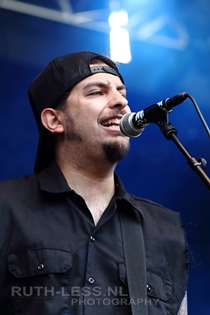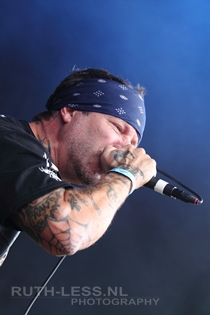 Gojira

GOJIRA is a French underground metal band on the rise. The last few years they have proven their status as a loud, angry, brutal but technical metal band with the albums 'From Mars To Sirius' and 'The Way Of All Flesh'. The fact that GOJIRA is being compared to Meshuggah, Mastodon and The Dillinger Escape plan, promises a loud and experimental mix in their live shows. www.gojira-music.com / www.facebook.com/GojiraMusic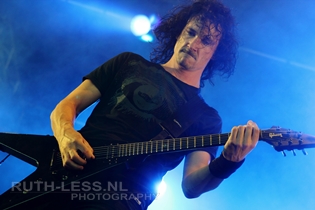 Music & Performance
And loud it is. Singer Joe Duplantier, his brother Mario Duplantier (drums), Christian Andreu (lead guitar) and Jean-Michel Labadie (bass) show no mercy as they kick off with their show. GOJIRA confirms their reputation as a band with a tight technical performance and a heavy sound. Listening to their environmentally-themed songs like toxic garbage island, I'm under the impression we're not doing very well. As far as the comparison with bands like Mastodon and DEP, in my opinion GOJIRA is more structured and organized in their songs. Since my earplugs are of little use against the overdose of bass-violence blasting from the speakers, I get annoyed by my organs being shuffled and decide to take a few steps back to enjoy the rest of this wicked angry show!

Setlist (source setlist.fm)
01. Ocean Planet
02. Backbone
03. Clone
04. Flying Whales
05. A Sight to Behold
06. The Heaviest Matter of the Universe
07. Toxic Garbage Island
08. Vacuity

Rating
Music: 8
Performance: 7
Sound: 7
Light: 6
Total: 7 / 10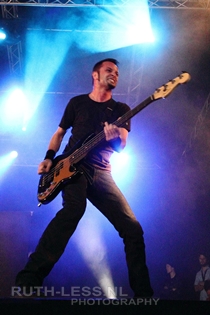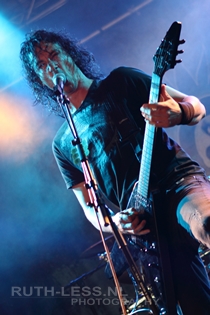 All pics by Ruth Mampuys (www.ruth-less.nl)



See also (all categories):