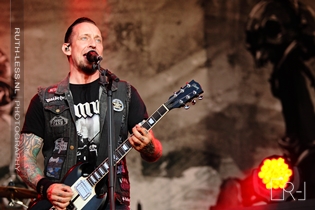 Goffertpark, Nijmegen, The Netherlands
4th to 5th June 2016
FortaRock Day 2: Volbeat, Disturbed, Megadeth, Amon Amarth, King Diamond, Suicidal Tendencies, Babymetal, Eluveitie, Architects, Obituary, Abbath, Dark Funeral, Fleshgod Apocalypse, Monster Truck, Swallow the Sun, Havok, Bombus, The Shrine
Ready for day two at FortaRock festival with more people, more sun, more bands and an extra stage. The main stage opened today and the other two stages run at the same time: choices, choices! FortaRock is well prepared for the rising temperatures with drinking water points, fire hoses and buckets of water & sponges at the front row. Let's RAWK!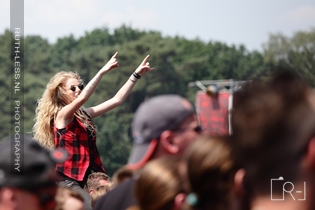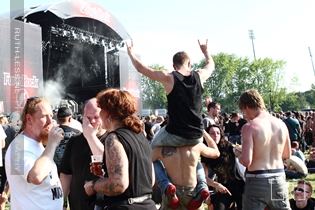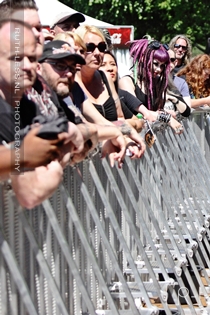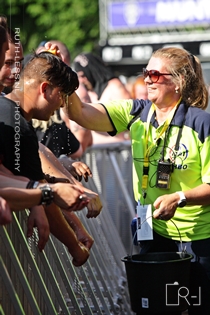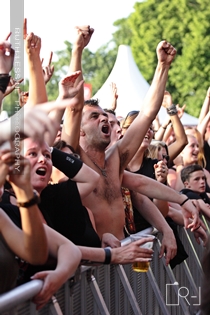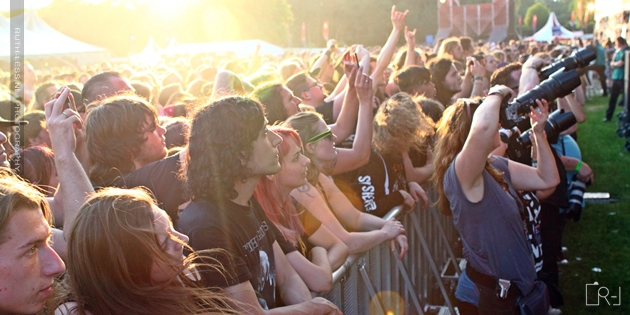 The Shrine

THE SHRINE is a psychedelic rock and roll band from California, US. They produce a blend of Punk, Trash and Hard Rock, all put together in their third album 'Rare Breed'. The band's already supported some of the big ones like MOTÖRHEAD, SLAYER and SUICIDAL TENDENCIES. THE SHRINE is Josh Landau (guitar/ vocals), Court Murphy (bass) and Jeff Murray (drums). With an intro of Ennio Morricone's 'The Good, The Bad and the Ugly', THE SHRINE takes their places on stage in the burning sun. It's time to wake up for the FortaRock audience and THE SHRINE provides just the right tunes for a little warming up; with 'Destroyers' and 'Death to Invaders' Josh, Court and Jeff guide us through their sleazy Hard Rock repertoire with visible ease. //
www.facebook.com/theshrinefuzz
/
www.theshrineband.com
// Setlist (incomplete): Il Buono, II Brutto, II Cattivo (Intro) / Destroyers / Death to Invaders / The Vulture / Dusted and Busted / Rare Breed / Savage skulls / Nomads / Nothing Forever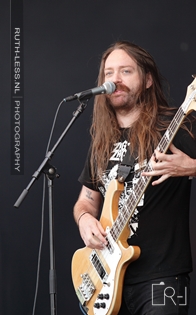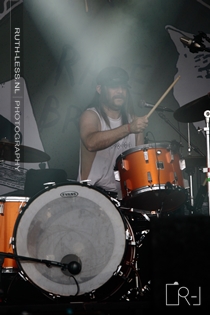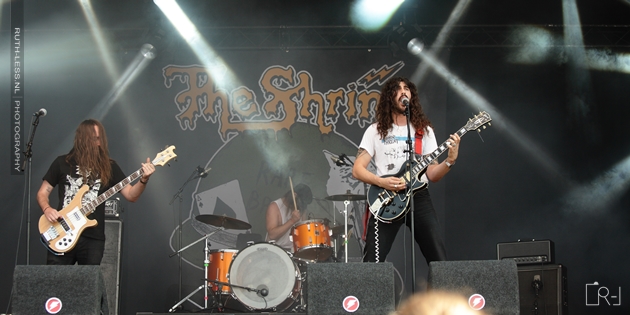 Havok

HAVOC is an American thrash metal band from Denver, Colorado. They have released three studio albums ('Burn' (2009), 'Time Is Up' (2011) and 'Unnatural Selection' (2013)) and there's a fourth coming up. HAVOK is David Sanchez (vocals/ guitars), Nick Schendzielos (bass), Pete Webber (drums), and Reece Scruggs (lead guitar). The men of HAVOK don't waste any time and those who are ready for some more action on a Sunday morning came to the right place; it doesn't take long for the first mosh pits to be formed. At the request of the band, we even get a little wall of death. Their trash metal sound nicely complemented by the vicious vocals of front man David Sanchez. //
http://HAVOKband.com
/
www.facebook.com/HavokOfficial
// Setlist: 01. Point of No Return / 02. No Amnesty / 03. From the Cradle to the Grave / 04. Claiming Certainty / 05. Unnatural Selection / 06. Fatal Intervention / 07. D.O.A. / 08. Give Me Liberty... or Give Me Death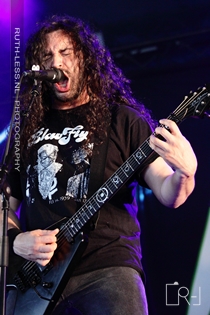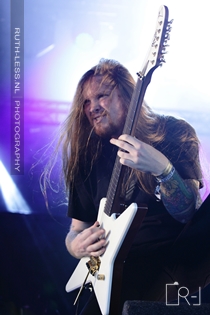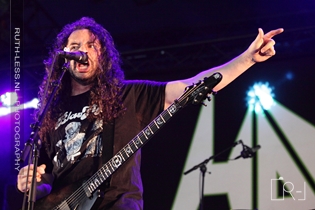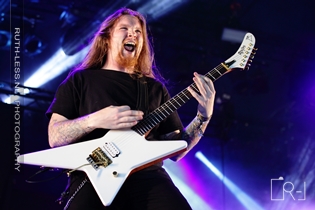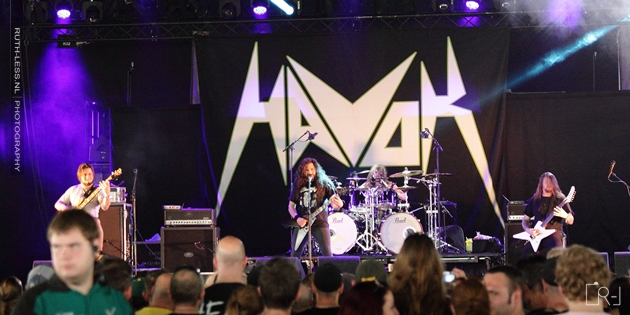 Architects

ARCHITECTS is a British Metalcore band from Brighton, England. They have released six studio albums and one split EP to date. Their latest album 'All our gods have abandoned us' was released in 2016. ARCHITECTS if formed by Sam Carter (vocals), Tom Searle (guitar/ keyboard), Dan Searle (drums), Alex Dean (bass) and Adam Christianson (guitar). ARCHITECTS have the honour of kicking it off at the main stage today. Despite the scorching heat, they enter the stage dressed in warm sweaters to show the audience some raging guitars, heavy breakdowns and brutal vocals. After 'Nihilist' from their latest release they take it back to 'Daybreaker' with 'These Colours don't run'.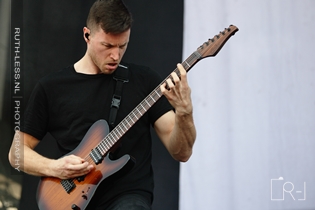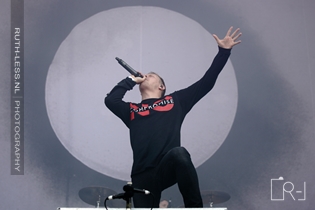 Sam and his men suffer somewhat from the early hour of the day and the wind carrying off with the details of their complex sound. Nevertheless, Architects get at it like there's no tomorrow and demand the audience to do the same. Sam encourages them to do better and the mosh pit expands visibly. Perhaps ARCHITECTS would've excelled more at one of the smaller stages, but they sure did warm up that main stage! Unfortunately, a couple of days later they had to cancel their European tour because of a family emergency. Let's hope things will be resolved so they can get back on the road again soon! //
www.architectsofficial.com
/
www.facebook.com/architectsuk
// Setlist (incomplete): Nihilist / These Colours Don't Run / Naysayer / Gone with the wind/ Broken Cross / Gravedigger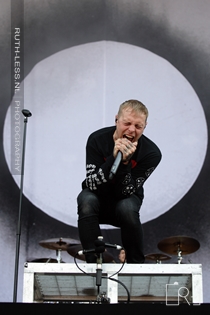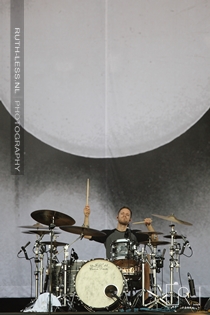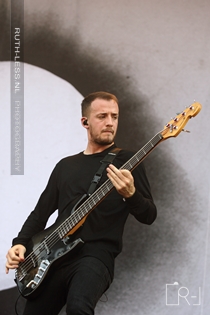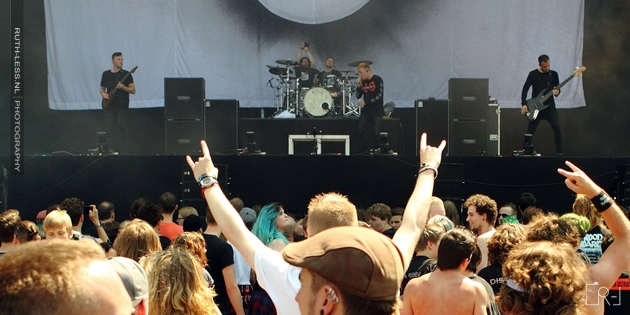 Monster Truck

MONSTER TRUCK are a Canadian rock band from Hamilton, Ontario. After the release of two EPs, their debut album 'Furiosity' was released in 2013. The band's second studio 'Sittin' Heavy' was released this year. MONSTER TRUCK is Jon (bass/ vocals), Brandon (keys/ vocals), Steve (drums/ vocals) and Jer (guitar/ vocals). On my way to FLESHGOD APOCALYPSE I caught a glimpse of MONSTER TRUCK and I almost didn't leave. The very sympathetic Canadians only took a split second to get the audience to sing and clap along with their contagious no nonsense rock music. But I had to go… Italian death metal was calling… //
www.ilovemonstertruck.com
/
www.facebook.com/ilovemonstertruck
// Setlist (incomplete): Don't Tell Me How to Live / Why Are You Not Rocking? / To the Flame / The Enforcer / Sweet Mountain River / The Lion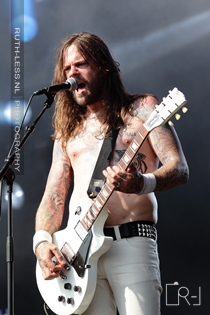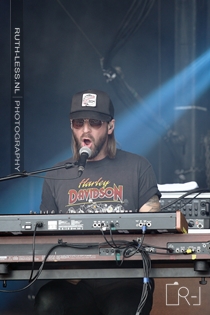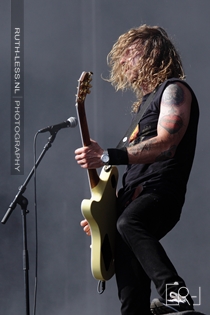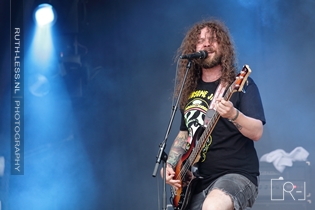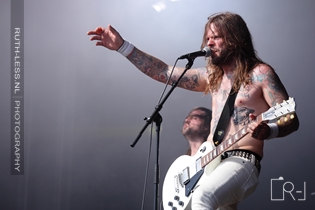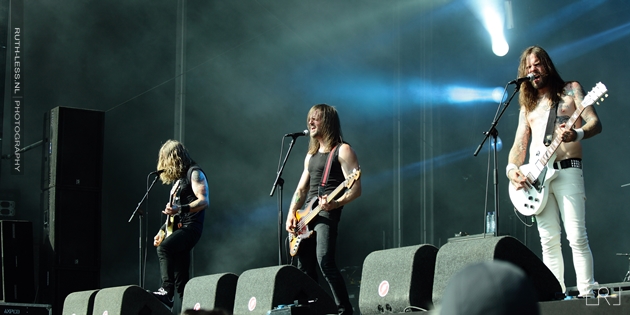 Fleshgod Apocalypse

FLESHGOD APOCALYPSE is an Italian Death metal band formed in 2007. They have released four full-length albums, most recently 'King' on February 5, 2016. FLESHGOD APOCALYPSE is Cristiano Trionfera (guitar, backing vocals), Paolo Rossi (bass, vocals), Francesco Paoli (drums, backing vocals), Tommaso Riccardi (vocals, guitar) and Francesco Ferrini (piano). Don't be mistaken by the gracious entrance of singer Veronica Bordacchini or the historical costumes of these Italian gentlemen; FLESHGOD APOCALYPSE mixes death metal with classical elements like piano, strings and opera vocals. They play some older work like 'The violation' from their 2011 album 'Agony' but the newest release also gets significant attention with 'The Fool' and 'Cold as Perfection'. FLESHGOD APOCALYPSE brings some mad, fast, loud and in-your-face death metal to FortaRock festival. //
www.fleshgodapocalypse.com
/
www.facebook.com/fleshgodapocalypse
// Setlist (incomplete): Marche Royale / In aeternum / The Violation / The Fool / Cold as Perfection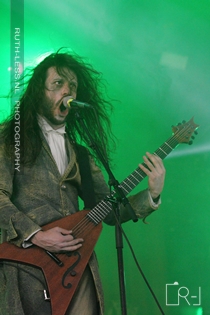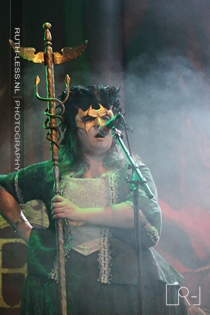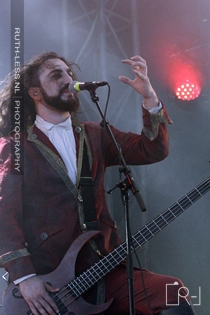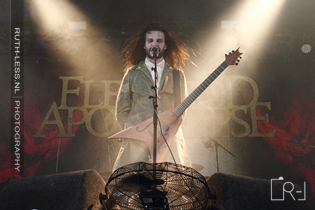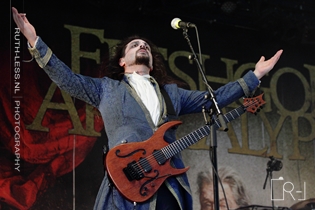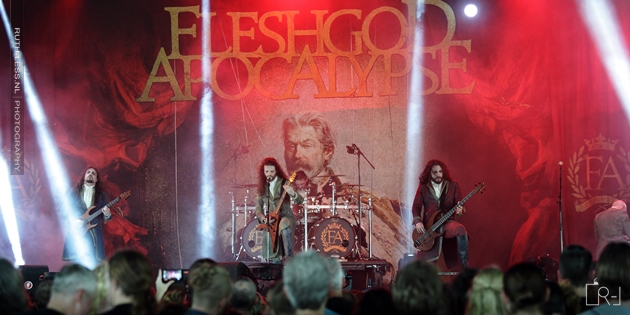 Suicidal Tendencies

SUICIDAL TENDENCIES is an American crossover thrash band formed in 1982 in Venice, California. Sometimes regarded as the progenitors of skate punk, they later incorporated significant heavy metal and thrash elements. They released 12 studio albums to date, the last one in 2013. SUICIDAL TENDENCIES is Mike Muir (vocals), Dean Pleasants (guitar), Jeff pogan (guitar), Ra DIaz (bass), and Dave Lombardo (drums). SUICIDAL TENDENCIES doesn't really need an introduction (their line-up perhaps does as they seem to have new members every time). I can't say I'm a fan of this band, but they sure know how set up a party and their energy is simply infinite.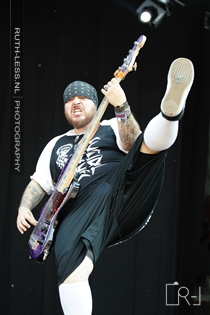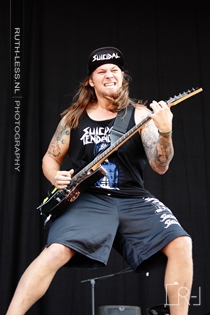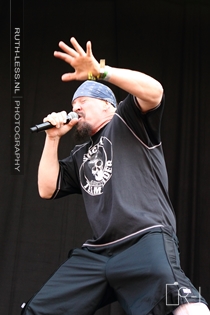 SUICIDAL TENDENCIES features ex SLAYER's Dave Lombardo on drums this summer so there's no need to worry about rhythm on stage. Cyco Miko talks too much and runs around on stage like a madman and his fellow band members simply copy; for today this is the best worst party we'll probably see so pull up those white socks and tighten your bandana! //
www.suicidaltendencies.com
/
www.facebook.com/suicidaltendencies
// Setlist: 01. You Can't Bring Me Down / 02. Go'n Breakdown / 03. Freedumb / 04. Trip at the Brain / 05. War Inside My Head / 06. Subliminal / 07. Possessed to Skate / 08. Cyco Vision / 09. Pledge Your Allegiance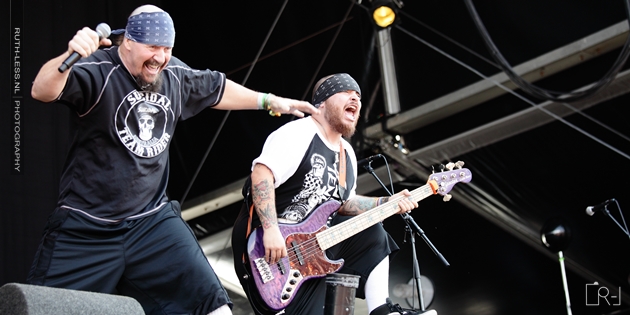 Dark Funeral

DARK FUNERAL is a Swedish black metal band from Stockholm, Sweden, founded in 1993. They emerged during the second wave of black metal. Their lyrical themes have traditionally pertained to Satanism and anti-Christianity. DARK FUNERAL has released six studio album thus far, the last one 'Where shadows forever reign' in 2016. DARK FUNERAL is Mikael Scanberg 'Lord Ahriman' (guitars) Bo Karlsson 'Chaq Mol' (guitars) Nils Fjellström 'Dominator' (drums), Andreas Vingback 'Heljarmadr' (vocals, bass) and Gustaf Hielm (bass). DARK FUNERAL brings some fast and furious classic black metal to FortaRock festival.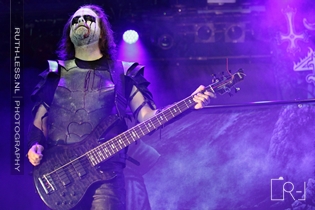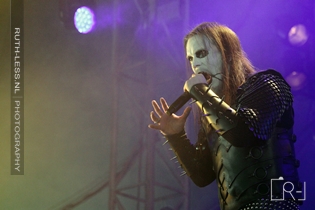 After an optimistic intro, Heljarmadr and his corpse painted fellows get at it with 'Unchain my Soul' from the new release and 'The arrival of Satan's Empire' from their 2001 album. DARK FUNERAL gets a warm welcome from the black metal fans in front of the stage and answers with a deafening wall of sound and high pitched screams… for about 50 minutes. //
http://www.darkfuneral.se
/
https://www.facebook.com/darkfuneral
// Setlist: 01. Intro (The Dark Age Has Arrived) / 02. Unchain My Soul / 03. The Arrival of Satan's Empire / 04. The Secrets of the Black Arts / 05. Atrum Regina / 06. Vobiscum Satanas / 07. Hail Murder / 08. As I Ascend / 09. Nail Them to the Cross / 10. My Funeral / 11. Where Shadows Forever Reign / 12. Outro (Chants)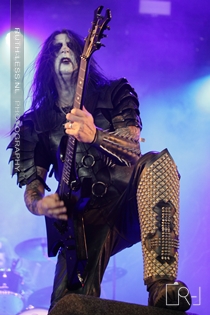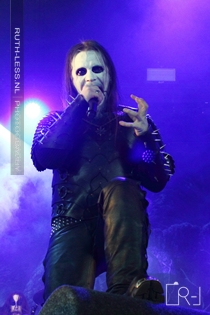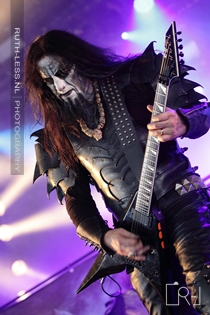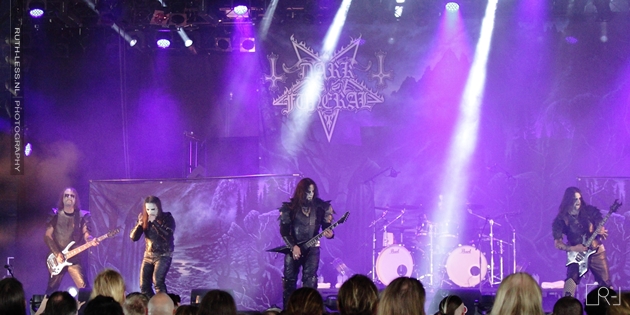 Swallow the Sun

SWALLOW THE SUN is a Finnish melodic death/ doom metal band formed in early 2000 by Juha Raivio, and Pasi Pasanen. Their first album 'The morning never came' was released in 2003. To date they have released six studio albums, the last one 'Songs from the north I, II & III in 2015. SWALLOW THE SUN is Mikko Kotamäki (vocals), Juha Raivio (guitars), Markus Jämsen (guitars), Aleksi Munter (keyboards), Matti Honkonen (bass) and Juuso Raatikainen (drums). Fortunately, we get a chance to slow down and reflect on all things with the Finnish band SWALLOW THE SUN (although that's certainly not the case from the heavy stage).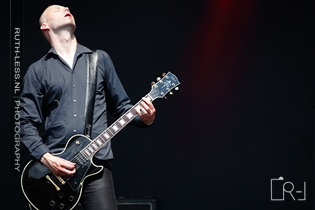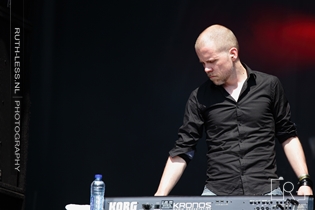 Their setlist is comprised predominantly by songs from their last album and very diverse. The changing pace, complex melodic elements and impressive vocals demand the audience's attention en manage to keep it during their set. //
www.swallowthesun.net
/
www.facebook.com/swallowthesun
// Setlist (incomplete): 10 Silver Bullets / Rooms and Shadows / Cathedral Walls / New Moon / The Womb of Winter / Swallow (Horror Pt. 1)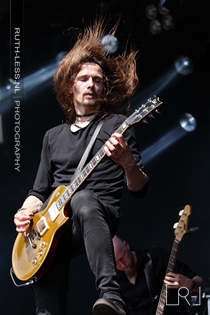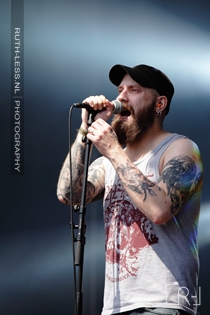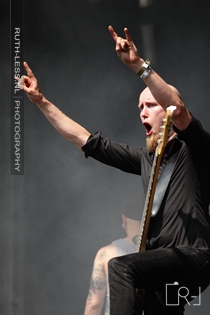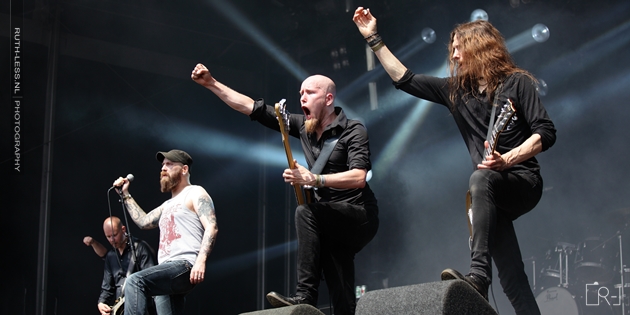 Amon Amarth

AMON AMARTH is a Swedish melodic death metal band from Tumba, formed in 1992. The band takes its name from the Sindarin name of Mount Doom, a volcano in J. R. R. Tolkien′s Middle-earth. The band's lyrics mostly deal with the Vikings, their mythology and their history, and thus AMON AMARTH is often considered one of the leading Viking metal bands. AMON AMARTH has released ten studio albums, one compilation album, one EP, one video album, and ten music videos. AMON AMARTH is Johan Hegg (vocals), Olavi Mikkonen (guitar), Johan Söderberg (guitar) Ted Lundström (bass) and Fredrik Andersson (drums). Viking metal with a capital V: AMON AMARTH owns the main stage with two enormous dragons and an impressive backdrop.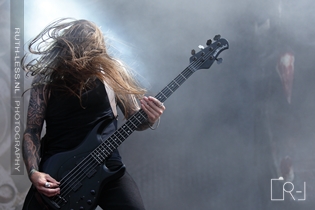 Whether you like this type of metal is irrelevant, as Mr. Hegg and his fellow Vikings provide a great show that is hard not to enjoy. Guitars rage, thunder rolls and Hegg is not taking any effort to hide his smile as he climbs one of the dragons to raise his drinking horn: he saw it was good at FortaRock festival! //
www.facebook.com/OfficialAmonAmarth
/
www.amonamarth.com
// Setlist: 01. The Pursuit of Vikings / 02. As Loke Falls / 03. First Kill / 04. Runes to My Memory / 05. Deceiver of the Gods / 06. Death in Fire / 07. War of the Gods / 08. Raise Your Horns / 09. Guardians of Asgaard / 10. Twilight of the Thunder God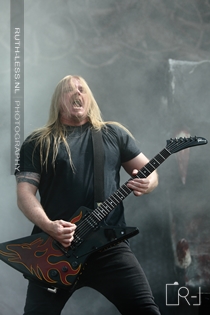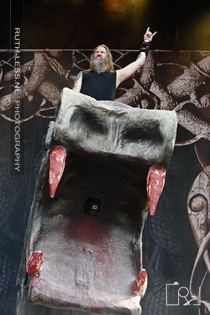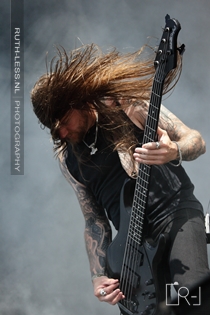 Abbath

ABBATH is a black metal band formed by Olve Eikemo (also known as Abbath Doom Occulta), former and founding member of black metal band IMMORTAL. Following his departure from Immortal in 2015, he announced that he will be forming a new band under the ABBATH name. The band released their self-titled album at the start of this year. Besides Mr Eikemo on vocals and guitars, the band has King on bass and Creature on drums. Mr ABBATH enters the stage with a big torch to spit some fire before taking off; not very needed but a nice warm-up for their show.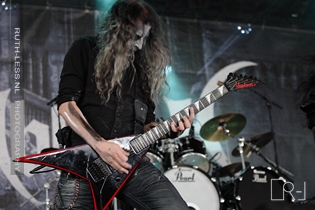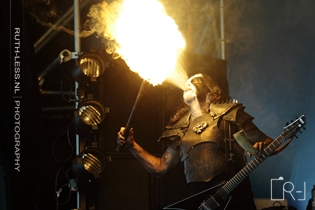 The rest of their gig doesn't run too smoothly due to some technical problems and this visibly enraged front man ABBATH. It's black metal with a very angry frontman and a lot of noise: perfectly fits the picture! //
www.abbath.net
/
www.facebook.com/abbathband
// Setlist: 01. To War! / 02. Winterbane / 03. Nebular Ravens Winter (Immortal cover) / 04. Warriors (I cover) / 05. Ashes Of The Dead / 06. Tyrants (Immortal cover) / 07. One by One (Immortal cover) / 08. In My Kingdom Cold (Immortal cover)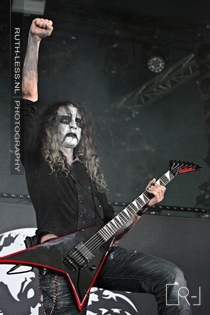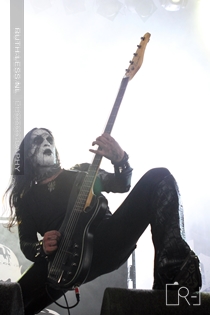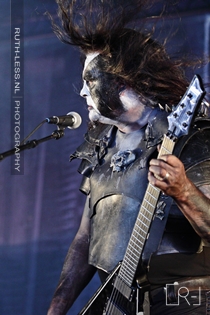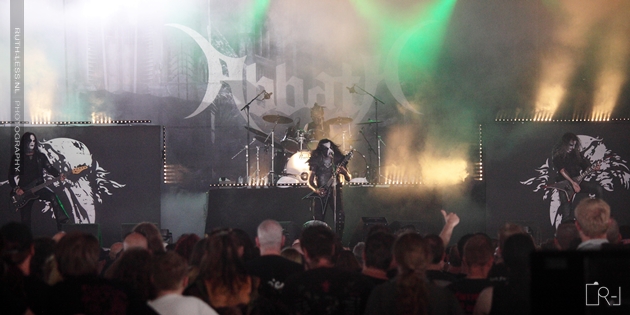 Megadeth

MEGADETH is an American thrash metal band from Los Angeles, California. The group was formed in 1983 by guitarist Dave Mustaine and bassist David Ellefson, shortly after Mustaine's dismissal from METALLICA. A pioneer of the American thrash metal scene, the band is credited as one of the genre's "big four" with ANTHRAX, METALLICA and SLAYER, responsible for thrash metal's development and popularization. MEGADETH plays in a technical style, featuring fast rhythm sections and complex arrangements. Themes of death, war, politics and religion are prominent in the group's lyrics. The band released 14 studio albums, three live albums, five compilation albums, two extended plays, 34 singles, 8 video albums and 32 music videos. MEGADETH is Dave Mustaine (lead vocals, guitar), David Ellefson (bass, backing vocals), Kiko Loureiro (guitar, backing vocals) and Chris Adler (drums).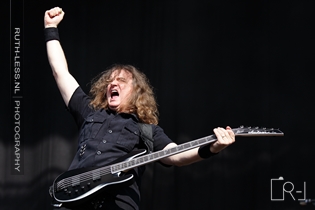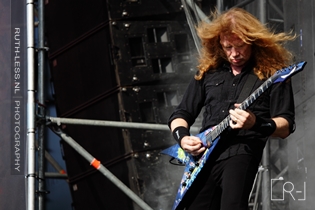 Let me start by admitting that I'm not a real MEGADETH connoisseur and that I've know them more as a name than an actual band (Yep, not that old ;-)). But that changed after today. Their politically loaded lyrics seep through with some songs from the latest album 'Dystopia': 'The Threat is real' and 'Post American World'. Dave seems quite nonchalant and uninterested but the audience enjoys every minute of their show and his colleagues make up for the lack of interaction. //
www.megadeth.com
/
www.facebook.com/Megadeth
// Setlist: 01. Intro: Prince of Darkness / 02. Hangar 18 / 03. The Threat Is Real / 04. Post American World / 05. She-Wolf / 06. Sweating Bullets / 07. Trust / 08. Dystopia / 09. Symphony of Destruction / 10. Peace Sells / 11. Holy Wars... The Punishment Due / 12. My Way (Sid Vicious song)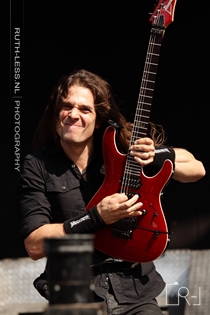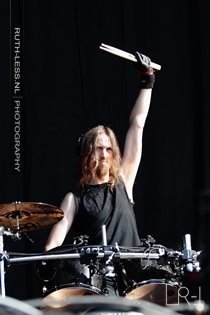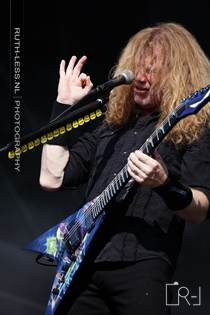 Babymetal

BABYMETAL is a Japanese metal idol band. Unfortunately no photographers were allowed at their show. As any story is worthless without pictures: no photos, no review. Maybe best for all #IsThisAJoke?
www.babymetal.jp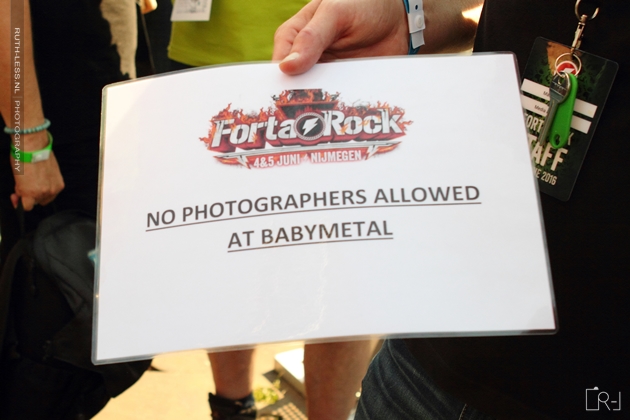 Disturbed

DISTURBED is an American heavy metal band from Chicago, Illinois. Formed in 1994 as BRAWL, the band was renamed DISTURBED in 1996 after Draiman was hired as the band's new vocalist. The band has released six studio albums. DISTURBED is David Draiman (vocals), John Moyer (bass), Dan Donegan (Guitars) and Mike Wengren (drums). Despite kicking it off with their hit 'Ten Thousand fists', DISTURBEDs David Draiman enters the stage with a certain lack of mojo. Fans have gathered in front of the stage and they play an impeccable show, but it just lacks the energy. Even a well performed medley of covers cannot bring the audience in the right spheres. NEXT!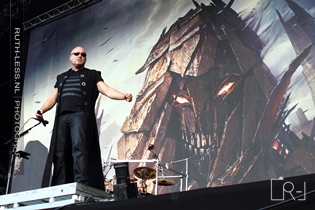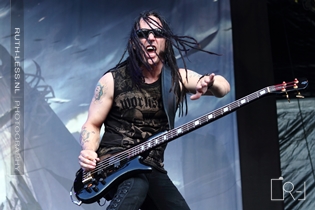 www.disturbed1.com
/
www.facebook.com/Disturbed
// Setlist: 01. Ten Thousand Fists / 02. The Game / 03. The Vengeful One / 04. Prayer / 05. Liberate / 06. Stupify 07. The Sound of Silence (Simon & Garfunkel cover) / 08. Inside the Fire / 09. The Light / 10. Medley: Closer / I Still Haven't Found What I'm Looking For / Baba O'Riley / Killing in the Name (Covers of Nine Inch Nails, U2,… more ) / 11. Indestructible / 12. Down With the Sickness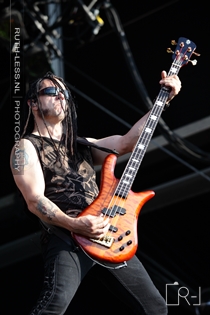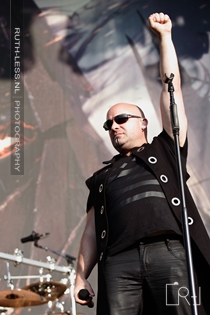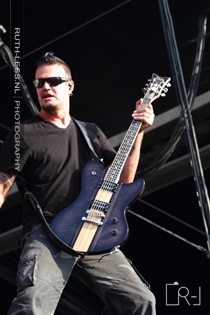 King Diamond

KING DIAMOND is a band around Kim Bendix Petersen from Denmark. As a vocalist, he is known for his extensive vocal range, in particular his usage of falsetto. He is also the lead vocalist for both MERCYFIL FATE. He released 12 studio albums, the last one in 2007 entitled 'Give me your soul… Please'. KING DIAMOND is Kim Bendix Petersen (vocals), Andy LaRocque (guitar), Mike Wead (guitar), Pontus Egberg (bass) and Matt Thompson (drums). There isn't much that can top the theatrical performance of KING DIAMOND at this festival: a full scenery with stairs, ravens, torches and everything has been built to set a dramatic stage for Mr KING DIAMOND himself. And we get what's on the label: a lot of theatre, incredible high pitched vocals and a big dose of drama!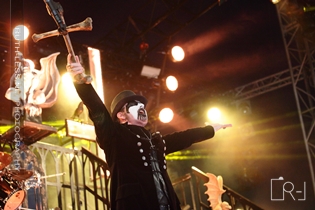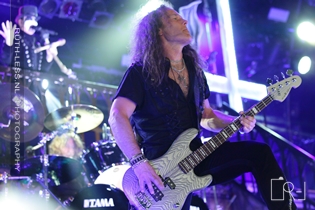 The audience gets the full concept album 'Abigail' with some extras as KING DIAMOND claimed a full 1,5 hours in the FortaRock program. Some MERCIFUL FATE classics also get their turn ('Melissa', 'Come to the Sabbath'). All in all not my personal favourite, but no one gets bored at a KING DIAMOND show! //
www.kingdiamondcoven.com
/
www.facebook.com/kingdiamondofficial
// Setlist: 01. Out from the Asylum / 02. Welcome Home / 03. Sleepless Nights / 04. Halloween / 05. Eye of the Witch / 06. Melissa (Mercyful Fate cover) / 07. Come to the Sabbath (Mercyful Fate cover) / 08. Funeral (King Diamond song) / 09. Arrival / 10. A Mansion in Darkness / 11. The Family Ghost / 12. The 7th Day of July 1777 / 13. Omens / 14. The Possession / 15. Abigail / 16. Black Horsemen / 17. Insanity (King Diamond song)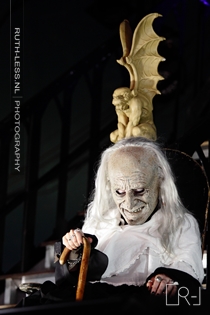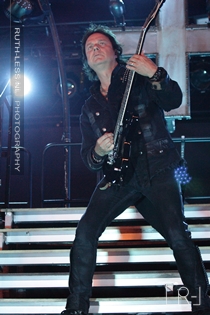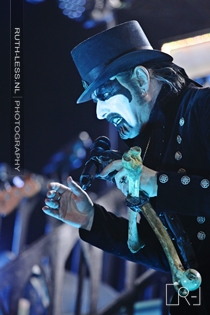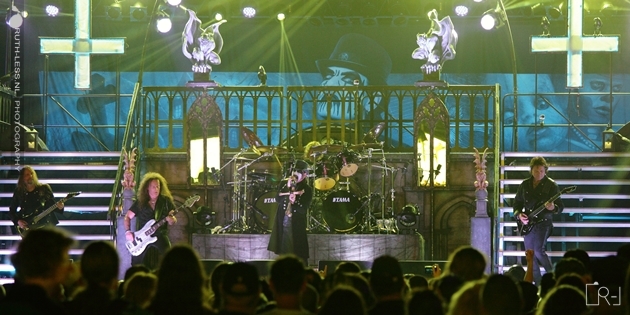 Eluveitie

ELUVEITIE is a Swiss folk metal band from Winterthur, Zurich, founded in 2002 by Chrigel Glanzmann. The band's style incorporates characteristics of melodic death metal combined with the melodies of traditional Celtic music. They use traditional European instruments, including the hurdy-gurdy and bagpipes, amidst guitars and both clean and harsh vocals. Their lyrics include references to Celtic mythology, particularly the Celtic Gaul village. ELUVEITIE is Merlin Sutter (drums), Chrigel Glanzmann (vocals, mandola & mandolin, tin & low whistles, bagpipes, bodhràn), Anna Murphy (hurdygurdy, vocals, flute), Ivo Henzi (guitars), Rafael Salzmann (guitars), Matteo Sisti (tin & low whistles, bagpipe), Kay Brem (Bass) and Shir-Ran Yinon (session fiddler).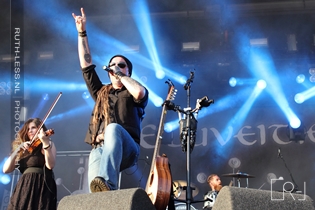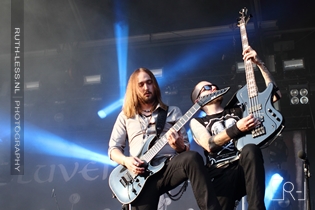 ELUVEITIE's performance carries the load of the announcement of the departure of some of their band members and it becomes clear why they will be missed. The band performs as a well-oiled machine and close family with an impressive amount of instruments and styles. //
www.eluveitie.ch
/
www.facebook.com/eluveitie
// Setlist: 01. King / 02. Nil / 03. Thousandfold / 04. AnDro / 05. Slanias Song / 06. De Ruef vo de Bärge / 07. From Darkness / 08. Kingdom Come Undone / 09. Tegernakô / 10. Siraxta / 11. Havoc / 12. Inis Mona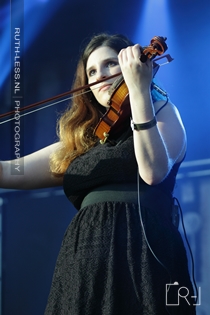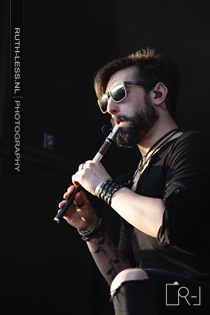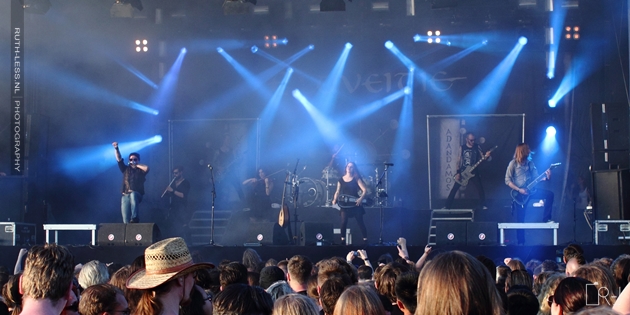 Volbeat

VOLBEAT are a Danish metal band which was formed in Copenhagen. They play a fusion of rock and roll, heavy metal and rockabilly. They are inspired by classic rock and roll artists such as Elvis Presley and Johnny Cash, as well as modern hard rock, thrash metal, heavy metal, alternative rock and Hardcore groups. The band has released five studio albums and one DVD. VOLBEAT is Michael Poulsen (guitar, vocals), Jon Larsen (drums) and Rob Caggiano (guitar). The big question is: are they able to pull it off? Headlining the FortaRock festival? That also depends on the atmosphere and the crowds experience of the entire festival so far…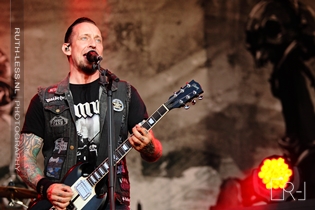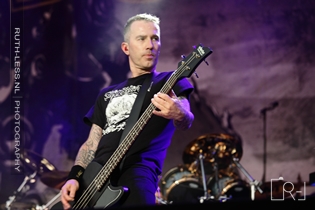 Fortunately, the mood is great… and some fireworks to kick it off only add to that. It's not IRON MAIDEN, it's not RAMMSTEIN and it's not SLIPKNOT, but the easy on the ears Rock n Roll metal of our Danish neighbours is hard not to like. With tired feet, sunburned cheeks and just enough beers (or a few more), the FortaRock audience cheers along with songs like 'Sad man's Tongue' and 'Hallelujah Goat'. Life is good! See you next year FortaRock! //
www.volbeat.dk
/
www.facebook.com/volbeat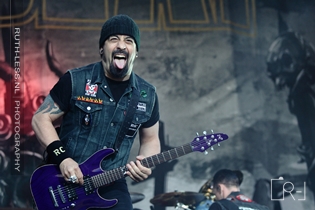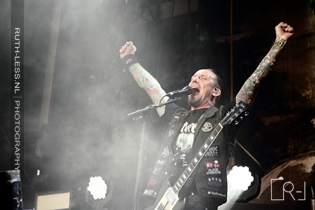 Setlist: 01. Intro: Born to Raise Hell (Motörhead song) / 02. The Devil's Bleeding Crown / 03. Heaven nor Hell / A Warrior's Call / I Only Want to Be with You / 04. Radio Girl / 05. Sad Man's Tongue / 06. Lola Montez / 07. Hallelujah Goat / 08. The Lonesome Rider / 09. For Evigt / 10. The Gates of Babylon / 11. Dead but Rising / 12. 16 Dollars / 13. Goodbye Forever (Dedicated to Muhammed Ali) / 14. Fallen / 15. Doc Holliday / Encores: 16. Still Counting / 17. Seal the Deal / 18. The Mirror and the Ripper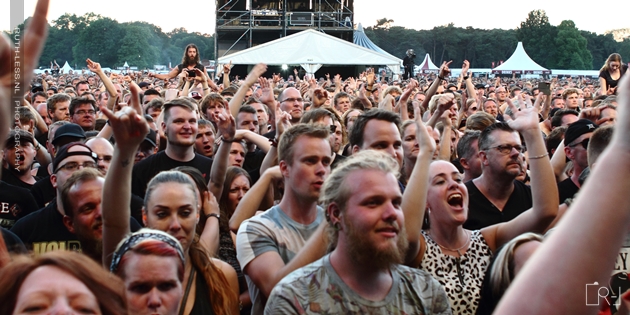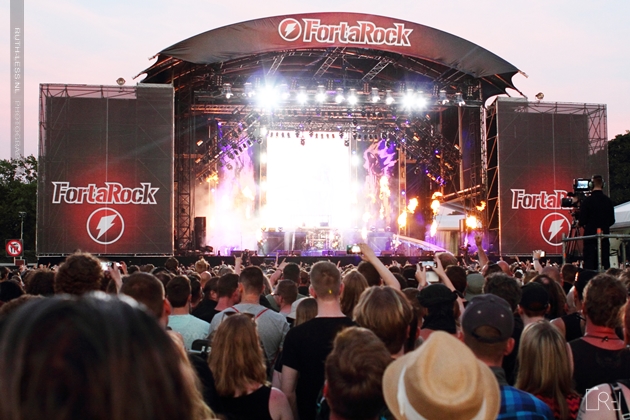 All pictures by Ruth Mampuys (
www.ruth-less.nl
)
See also (all categories):