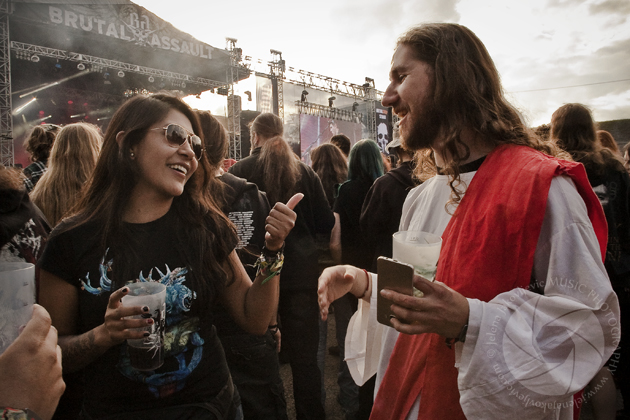 Fortress Josefov, Jaromer, Czech Republic
10th to 13th August 2016
Brutal Assault Festival Day 3: Jägermeister stage: Dark Funeral (SE), Moonspell (PT), Septicflesh (GR), Voivod (CA), Iron Reagan (US) / Metalshop stage: Satyricon (NO), Coroner (CH) , Raised Fist (SE) / Metalgate stage: Die Krupps (DE), Monarch (FR) / Oriental stage: Sigh (JP)
Everybody is here today, no matter of the colour of clothes! If you are not, than fix it and come next year to the Brutal Assault Festival! There is one place where bands and festival goers stop with the same thought of gratitude and respect, Ian Fraser "Lemmy" Kilmister memorial altar in the secret cavern. The life-size stained glass altar is lighted with candles all day and night long, being as proudly as sadly the light at the end of the tunnel inside fortress walls.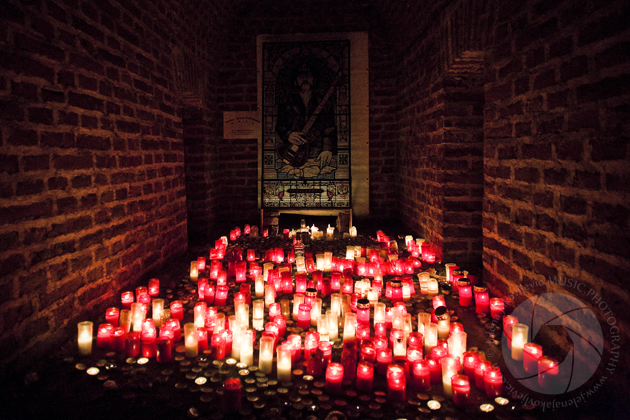 Nazguls are appearing if you look carefully towards the sky, on the top of the wall, standing and listening. I haven't seen them in the mosh pit having fun ;) I am visiting all four festival stages, variety of music styles, and travelling through different countries: Portugal, Greece, Japan, Germany, Switzerland, Canada, US, Norway, Sweden and France. What a privilege indeed, to have all those great bands at one place. Another privilege and special surprise is an interview with Jürgen Engler of legendary DIE KRUPPS. We are talking about this year Wacken Open Air and Brutal Assault Festival, crazy experiences while touring, Lee Altus, new materials and much more (interview will be published separately).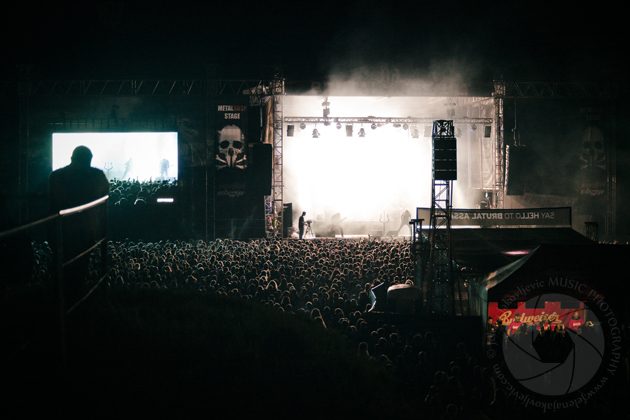 Iron Reagan (US)

If IRON MAIDEN and Ronald Reagan inspired the name IRON REAGAN, than what a creative super power to expect from the fact of uniting MUNICIPAL WASTE vocalist and guitarist, former A.N.S. guitarist, former DARKEST HOUR drummer and HELLBEAR bassist together? We will see soon on the Jägermeister stage. Tony Foresta, Land Phil, Mark Bronzino, Rob Skotis (since 2014) and Ryan Parrish, surprised us with over 50 songs in only four years, and new material is ready and coming out already in the beginning of 2017! Definitely a "Superband" as they call them, and in the same time "Band Whore Core" as they call themselves - each member is having fun with many other bands. Aggressive crossover is starting! 'Cycle of Violence' from the first full length 'Worse than Dead' (2013) is opening the stage for the well-known 'A Skull Full of Maggots' CANNIBAL CORPSE cover. And third step towards killer atmosphere...'Miserable Failure' from the latest full length 'The Tyranny of Will' (2014), whose video just hit 1 million views. The concert is continuing mostly with 'The Tyranny of Will' songs, the album which climbed to no. 22 on the Billboard 200. One funny thought just dropped to my mind, today Tony's shorts and energy are reminding me of Angus Young of AC/DC.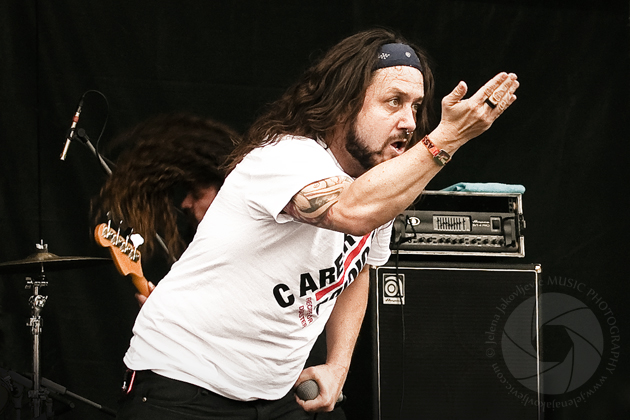 Killer energy, both on the stage and in the audience, is a strong recommendation to enjoy IRON REAGAN next shows while touring is continuing. From the end of September you can see IRON REAGAN with SKELETONWITCH in the course of the Dead US Tour. Check dates at:
https://www.facebook.com/IRONREAGAN
/
https://ironreagan.bandcamp.com
// Setlist: 01. Cycle of Violence / 02. A Skull Full of Maggots (Cannibal Corpse cover) / 03. Miserable Failure / 04. I Ripped That Testament a New Asshole / 05. Your Kid's an Asshole / 06. Mini Lights / 07. Four More Years / 08. Eyeball Gore
Voivod (CA)

"Piggy" is on the stage today! In the way how Denis Bélanger is looking towards "Chewy" on guitar, definitely he is. Canadian progressive sci-fi thrash metal band VOIVOD are shining while honouring Denis "Piggy" D'Amour (1959-2005) and his dissonant chords with today's setlist choice. August is time of remembrance. The concert is both starting and ending with songs from the oldest albums: 'Rrröööaaarrr' (1986), 'Dimension Hatröss' (1988), 'Killing Technology' (1987), 'War and Pain' (1984). Daniel "Chewy" Mongrain is bringing the passion of the biggest fan, and professional music approach, nicely balanced into new/ old "Piggy" sound. In the middle of the show we are listening two new songs, with recognizable VOIVOD hunger to bite boundaries with new materials: 'Target Earth' (2013) and 'Post Society' EP (2016). As the latest line-up changed, Dominique "Rocky" Laroche, Daniel's good friend, smoothly landed into VOIVOD line-up in 2014, and made even "Snake" to roll faster. After the summer, VOIVOD are back to Europe in October/ November to fire up the stage with ENTOMBED A.D. and LORD DYING.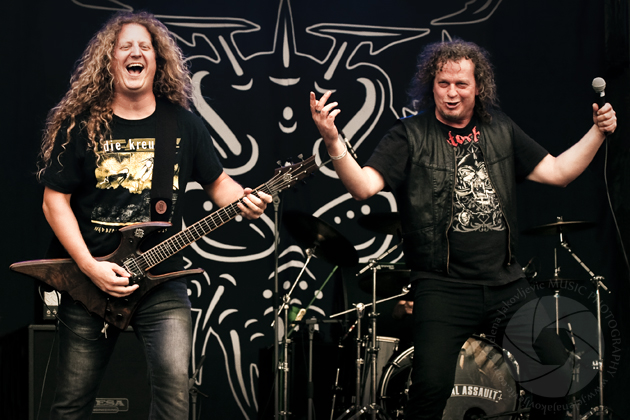 Every album is iconic and different, so what will new material bring this time? Follow:
https://www.facebook.com/Voivod
/
http://voivod.net
// Setlist: 01. Ripping Headaches / 02. Tribal Convictions / 03. Kluskap O'Kom / 04. Killing Technology / 05. Post Society / 06. Psychic Vacuum / 07. Voivod
Septicflesh (GR)

Three times, Philharmonic Orchestra of Prague was visiting SEPTICFLESH albums, even the Children Choir of Prague was in 'Titan', it is time to give the visit back! SEPTICFLESH#s symphonic death metal sound is conquering the Fortress Josefov in Jaromer right now! Songs from the latest albums 'Titan' (2014), 'The Great Mass' (2011) and 'Communion' (2008), are chosen to be played on the Jägermeister stage. From the very first moment of the concert there is unconditionally big support coming from fans. Though some might hope for one or two older songs, but not today. Last three albums are made after SEPTICFLESH's reunion in 2007, bringing full engagement of the band's past experience, professional knowledge, cinematic scent and disturbing visual concepts. 'Titan' is the best-selling SEPTICFLESH album till now, which also got a long waited music video for the song 'Prometheus', also being the last song for today's set. Great concert! Seth Siro Anton (bass & vocals) is also responsible for the artistic visualisation of SEPTICFLESH's ideas (cover paintings for bands like DECAPITATED, PARADISE LOST, NILE, SOILWORK, MOONSPELL, KAMELOT etc.).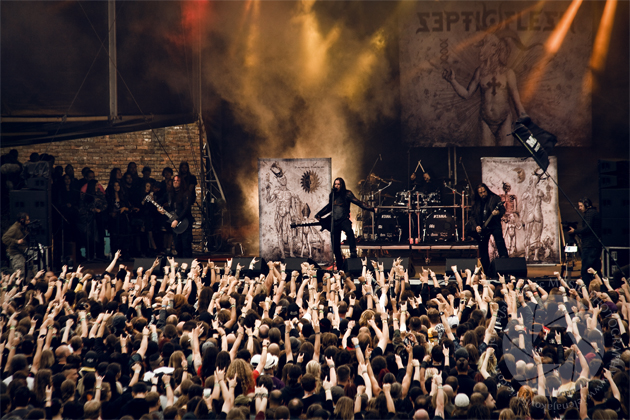 While his brother Christos Antoniou (guitars & orchestral), with his Master's degree in concert music, is responsible for the highly recognizable symphonic touch. I'm wondering how come that SEPTICFLESH songs are not already in any movie? New materials are getting ready soon, so we will see. //
http://www.septicflesh.com
/
https://www.facebook.com/septicfleshband
/
https://www.youtube.com/watch?v=7jB7OVYZUjs
// Setlist: 01. War in Heaven / 02. Communion / 03. Pyramid God / 04. Prototype / 05. The Vampire from Nazareth / 06. Lovecraft's Death / 07. Anubis / 08. Prometheus
Raised Fist (SE)

The craziest energetic live performance! RAISED FIST performing live is a definite must! It is giving the full perspective of RAISED FIST unique Hardcore punk style... and also explains muscles of Alexander "Alle" Hagman. Jumps are performed full time round, and the stage feels like bouncing as well, after a while. In front of the stage it is equally intense, everyone is having brutal fun, while fence is strong enough at the Brutal Assault. (Ones following RAISED FIST know what may happen with the riot fence, and also about what happened in Sundsvall, Sweden, 2010). The latest studio album 'From the North' (2015) peak position 6 in Swedish Charts, while the latest member who joined RAISED FIST, drummer Matte Modin (FIRESPAWN, SARCASM, SKINEATER, SPORTLOV, THE HIDDEN, USURPRESS, formerly of DARK FUNERAL) is enjoying to play Hardcore punk now. Follow band online at:
http://www.raisedfist.com
/
https://www.facebook.com/RaisedFistOfficial
// Setlist (*partial): 01. Chaos / 02. Man & Earth / 03. Until the End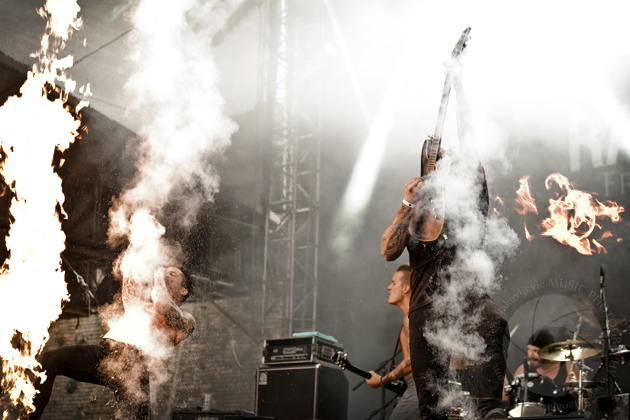 Coroner (CH)

Metal pioneers are back!! After 14 years of emptiness and 6 years of warming up, CORONER are starting with the full power recording of new materials. Actually it has been more than two decades from the last time CORONER have been in the studio, and now it is real, a new album is due for release in 2017! The new line-up is: Tommy Vetterli (guitar), Diego Rapacchietti (drums) and Ron Broder (bass/vocals). The audience changed as well, here is now a generation mix, from the ones who are seeing CORONER on the stage for the very first time, till the ones who got old by waiting the new line-up. 'Golden Cashmere Sleeper' is the first song tonight, from 'Coroner' (1995), next is 'Divine Step' (Conspectu Mortis) from 'Mental Vortex' (1991), while atmosphere is getting high with 'D.O.A.' from 'No More Color' (1989). The concert is continuing with songs from 'Grin' (1993), 'Punishment for Decadence' (1988) and 'R.I.P.' (1987).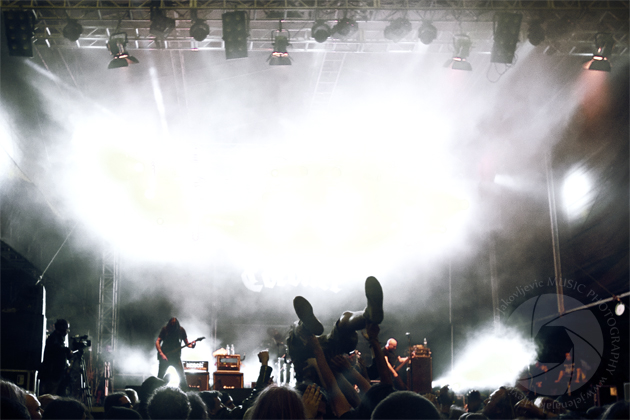 Mostly, bands are using festivals to promote their new materials, so it is very different, and it is a privilege to listen live to songs from the 80's and 90's cult technical thrash metal! While watching CORONER tonight and waiting curiously the new album, it is good to have in mind a specially sweet teaser which is available from the end of September - 'Autopsy' (3 x Blu-ray + LP or 3 x DVD + CD set limited collection in 3,000 signed copies, with live recordings, previously unseen interviews, a documentary movie of the band's history, and the best of compilation). What will be the direction in which CORONER will choose to go now? It is one of the most waited/ wanted albums so far... eh, no pressure at all CORONER boys ;) //
http://www.coroner-reunion.com
/
https://www.facebook.com/coronerband
// Setlist: 01. Golden Cashmere Sleeper, Part 1 / 02. Divine Step (Conspectu Mortis) / 03. D.O.A. / 04. Semtex Revolution / 05. Internal Conflicts / 06. Metamorphosis / 07. Masked Jackal / 08. Grin (Nails Hurt) / 09. Reborn Through Hate / 10. Die by My Hand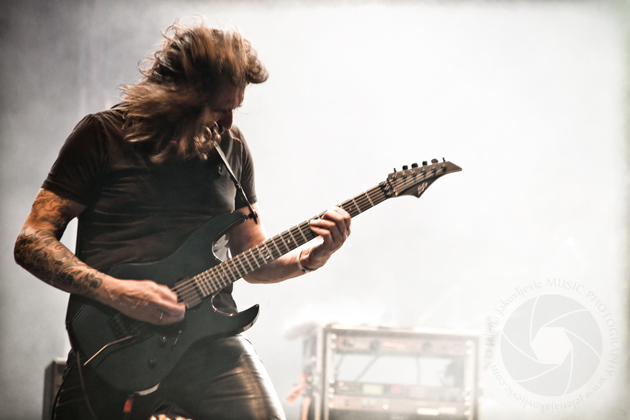 Moonspell (PT)

MOONSPELL!!! Portuguese gothic metal legends are here tonight! The festival ground is fully packed and melodic and catchy 'Breathe' (Until We Are No More), with unique oriental vibe, is the beginning of the atmospheric set with dark conceptual lyrics. New materials from the latest album 'Extinct' (2015), and one song from the 'Night Eternal' (2008) are on the list. Hands are in the air and fans are in the air as well, traveling towards the stage into the "gentle" arms of the guards. Than sudden a switch back to the 90's and a whole set of songs from the 'Irreligious' (1996), and all way back to the roots with the 'Wolfheart' (1995). MOONSPELL temperament is always again surprising, contrast between dark lyrics and music full of life in 'Extinct', and then another contrast with this jump from 2015 into 1996 sounds.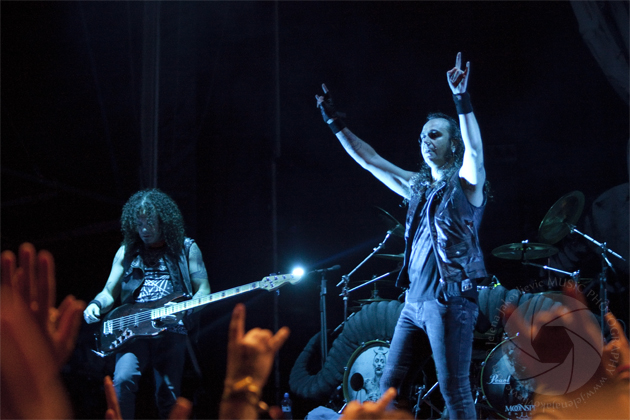 An awesome mix of Fernando's extreme vocals with deep gothic ones, in 20 years of dramatic metal darkness, is in front of us at Brutal Assault. Definitely check MOONSPELL's latest album 'Extinct' for which cover art was done by Seth Siro Anton from the SEPTICFLESH, we saw them earlier today on the same stage. Check online videos, and also catch them on the road. MOONSPELL is continuing Road to Extinction Tour 2016 through October and December, follow the latest news at:
https://www.facebook.com/moonspellband
/
http://www.moonspell.rastilho.com
// Setlist: 01. Breathe (Until We Are No More) / 02. Extinct / 03. Night Eternal / 04. Opium / 05. Awake! / 06. The Last of Us / 07. Ruin & Misery / 08. Mephisto / 09. Vampiria / 10. Ataegina / 11. Alma Mater / 12. Full Moon Madness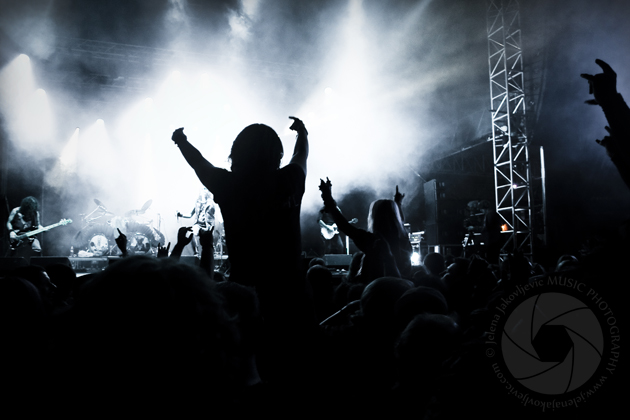 Satyricon (NO)

The exclusive SATYRICON double anniversary show, 20 years since the live debut as a band, and 20 years since the 'Nemesis Divina' release! Timeless seminal masterpiece 'Nemesis Divina' (1996) is entirely, for the first and the last time being performed at Brutal Assault festival! The fully remastered edition of 'Nemesis Divina' is released in May 2016. SATYRICON, as the main act of the third festival day, prepared a real spectacle tonight with no words to describe! It is one of the very few SATYRICON anniversary shows this summer, and fans are really enjoying the unique experience of this moment while celebrating with SATYRICON's 'Nemesis Divina' album. After all songs from 'Nemesis Divina', and a killer peak reached with cult song 'Mother North', the atmosphere is staying high while darkness is continuing with sounds from 'Volcano' (2002), 'Now, Diabolical' (2006) and 'The Age of Nero' (2008). Sigurd Wongraven (Satyr) and Kjetil-Vidar Haraldstad (Frost) are working hard on new materials, a new album should be released in the beginning of 2017.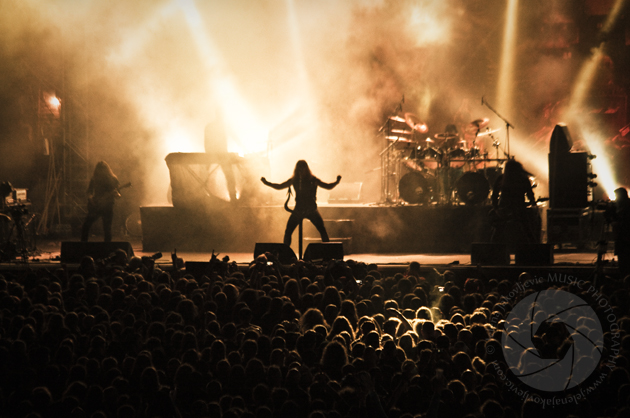 As well, there is the plan of a cover album. While waiting for new material, recommendation for the awesome autumn and intense Goosebumps is 'Live at the Opera' (2015), a collaborative DVD album with the National Opera Chorus at Den Norske Opera & Ballett in Oslo. //
http://www.satyricon.no
/
https://www.facebook.com/SatyriconOfficial
// Setlist: 01. The Dawn of a New Age / 02. Forhekset / 03. Du Som Hater Gud / 04. Transcendental Requiem Of Slaves / 05. Immortality Passion / 06. Nemesis Divina / 07. Mother North / 08. Black Crow on a Tombstone / 09. The Pentagram Burns / 10. Fuel for Hatred / 11. K.I.N.G.
Sigh (JP)

Oriental stage was kept the whole day for the SIGH concert. Hidden between fortress walls, the only stage which is making the spirit of the fortress being equal with the concert. It is the perfect place for the theatrical performance of SIGH. SIGH are together with IN THE WOODS... starting a short European tour with today's concert at Brutal Assault Festival. Dr. Mikannibal (Alto, Tenor, Baritone Saxophones, Vocals) and Mirai Kawashima (Vocals, Keyboards, Orchestrations) are partners as well in the personal life. The reason why SIGH was slowing down is the new family member. Inspired by the atmosphere of zombie movies, mid-paced to up-tempo songs, today's SIGH setlist is having unpredictable jumps between older and newer albums. Starting with 'Scorn Defeat' (1993), 'In Somniphobia' (2012), 'Ghastly Funeral Theatre' (1997) EP, 'Imaginary Sonicscape' (2001), 'Scenes from Hell' (2010), 'Graveward' (2015), and ending with fastest album 'Hangman's Hymn' (2007). We haven't heard much from the latest album 'Graveward' though.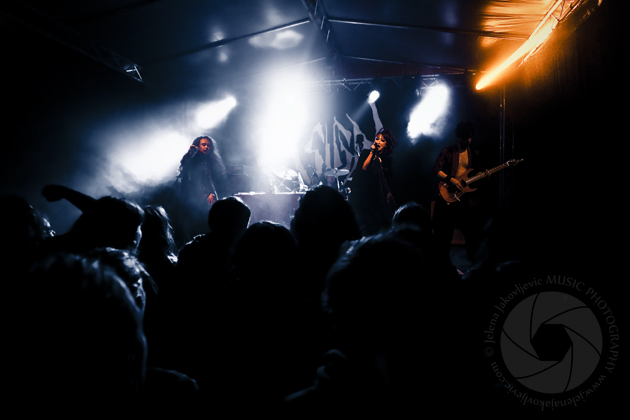 Next SIGH show is on October 1st, Phoenix, AZ. Check their page:
https://www.facebook.com/SIGH-official-page-227550909275
// Setlist: 01. A Victory of Dakini / 02. Purgatorium / 03. The Transfiguration Fear / 04. The Knell / 05. Shingontachikawa / 06. Corpsecry - Angelfall / 07. At My Funeral / 08. The Soul Grave / 09. The Forlorn / 10. Introitus/Kyrie / 11. Inked in Blood / 12. Me-Devil
Die Krupps (DE)

DIE KRUPPS machine is with the full power grasping ears of new and old fans on the Metalgate stage. Definitely no sign of any rust, but opposite, a lot of new parts are added. 'Alive in a Glass Cage', the new EP of CALIBAN / DIE KRUPPS, just came out. There is a new video of DIE KRUPPS & CALIBAN for this song as well. The summer is crowded with concerts and festivals like Wacken Open Air and here today the Brutal Assault Festival. With the latest full length, 'V - Metal Machine Music' (2015), DIE KRUPPS have powerful fuel for the long term running. DIE KRUPPS tonight are: Jürgen Engler (vocals, steel-o-phone), Ralf Doerper (samples, synthesizers), Marcel Zuercher (guitars), Nils Finkeisen (live guitar) and Hendrik Thiesbrummel (live drums). The opening song 'The Dawning of Doom' from 'I - Die Krupps' (1992) lighted the fire within a moment. The concert is starting with a deeper industrial sound enriched with the heavy metal music, than developing into more experimental with 'III - Odyssey of the Mind' (1995) and back into anger with 'II - The Final Option' (1993).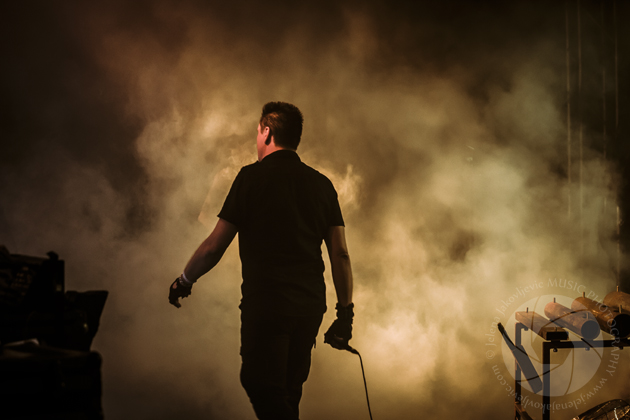 Jürgen just jumped over the stage on the speaker and gave his microphone to fans. I am always complaining about the Metalgate stage technical issues and size, but there is one good point. Usually big bands are on big stages, and here it is the opposite which is giving the great opportunity for fans to get closer to DIE KRUPPS and become part of the concert itself. 'Alive In A Glass Cage' from 'V - Metal Machine Music' (2015) is hitting the peak, DIE KRUPPS boys are having fun, and the audience even more. Than another surprise for me in today's setlist, 'Nazis Auf Speed' from the special edition of 'The Machinists of Joy' (2013). There is a great story how this song came to life, and how it all matched with the funny idea of "Ranzieh'n" riff, check the music video! The concert is ending with 'Bloodsuckers' and Jürgen standing on the steel-o-phone.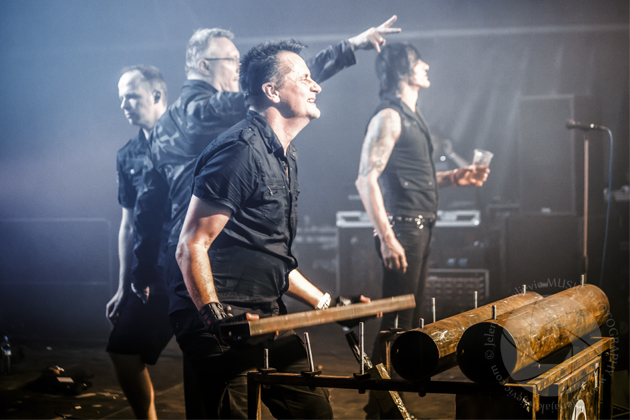 I though it is over when with a sudden bum, Marcel's guitar is smashed to the ground, pieces are flying around, the steel-o-phone is kicked away one by one, crazy night! A blend of hard electronics and dance beats is continuing with highly successful pioneers of electronic and industrial music on stages around Europe, and live in Japan in November. Highly recommended! Our interview with the band, we did at the festival, will be published later.
https://www.facebook.com/diekruppsofficial
/
http://www.diekrupps.com
/
http://diekrupps.bandcamp.com
/
http://www.youtube.com/diekruppsofficial
// Setlist: 01. The Dawning of Doom / 02. Isolation / 03. Scent / 04. To the Hilt / 05. Alive In A Glass Cage / 06. Metal Machine Music / 07. Nazis Auf Speed / 08. Fatherland / 09. Bloodsuckers
Dark Funeral (SE)

The blackest of the black, brutal DARK FUNERAL, with the new line-up and Heljarmadr (Andreas Vingbäck) on vocals, made sky to cry. But rain is not stopping metal heads united in front of the Jägermeister stage, who have been waiting this concert for the whole evening. The opening song, 'Unchain My Soul', is also the first track of the freshly baked album 'Where Shadows Forever Reign' (2016), which is evoking black metal of the 90's. DARK FUNERAL are going back to their roots? Actually, this year DARK FUNERAL are celebrating 20 years of 'The Secrets of the Black Arts' (1996), their first full length release. The setlist is well balanced between promotion of new materials and firing fans with old well known songs. In addition to the first and the last album, few songs are coming from 'Attera Totus Sanctus' (2005), 'Diabolis Interium' (2001) and 'Angelus Exuro pro Eternus' (2009).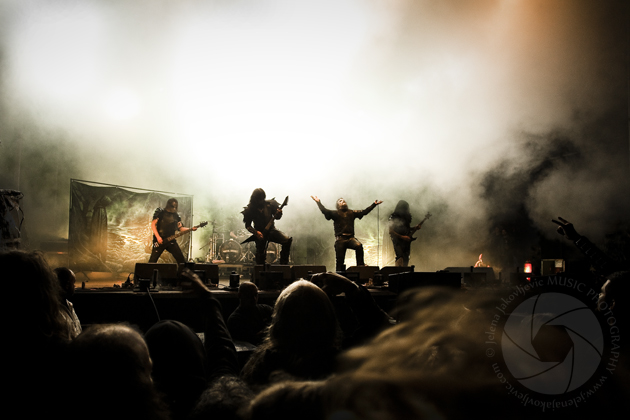 Shadows over Europe tour is continuing through the whole October and beginning of November, check dates at:
http://www.darkfuneral.se
/
https://www.facebook.com/darkfuneral
// Setlist: 01. Unchain My Soul / 02. The Arrival of Satan's Empire / 03. The Secrets of the Black Arts / 04. Atrum Regina / 05. Hail Murder / 06. As I Ascend / 07. Nail Them to the Cross / 08. My Funeral / 09. Where Shadows Forever Reign
Monarch! (FR)

Minimalistic and heavy doom/ sludge metal from France is a lullaby at the end of the third festival day. Emilie "Eurogirl" Bresson voice is breaking through the wall of smoke and red light. I am catching only the end of the act, but it is enough to get me in the floating mood. Opposite to the slowness of MONARCH's sound, they are very quick with production of new materials. Check their discography, every year there is something new. MONARCH stated on their Facebook page (18th of August): "We'll be hitting the studio next week to start recording our new album! More news soon...". While waiting, here is live video from the Brutal Assault Festival, with the new track which will be included in the album:
https://www.youtube.com/watch?v=Ltl9ksnDerw&feature=youtu.be
/
https://www.facebook.com/Monarch-121146434822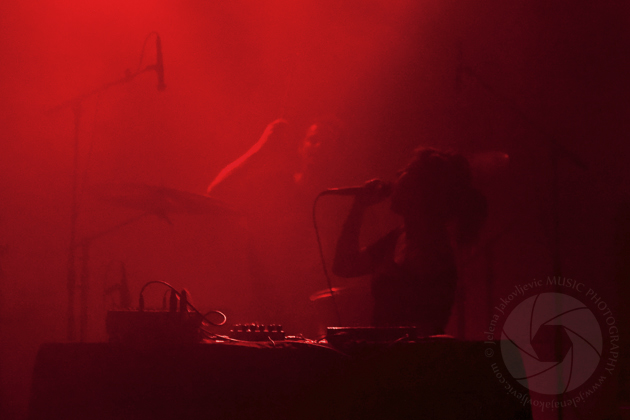 All photos by Jelena Jakovljevic, full galleries check at:
https://www.facebook.com/JelenaJakovljevicPhotography
/
http://www.jelenajakovljevic.com

See also (all categories):