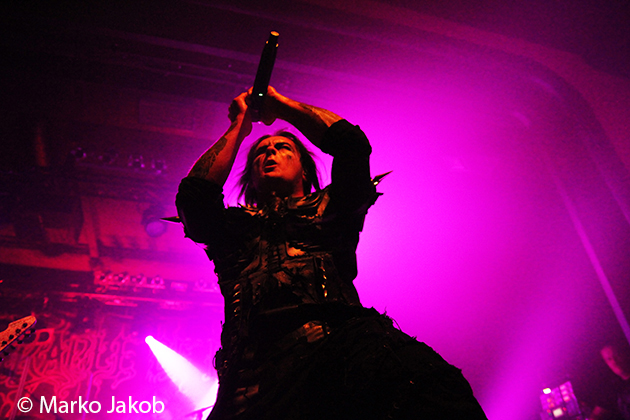 Columbia Theater, Berlin, Germany
28th January 2018
Cradle Of Filth & Moonspell

This evening was an absolute must for all metal fans. An extraordinary spectacle awaited the fans in Berlin's Columbia Theater as the British metal band CRADLE OF FILTH arrived on their "Cryptoriana World Tour" with none other than MOONSPELL as support. Two almost equally popular bands in one evening is an event that one does not get to see that often. Long before 7 o'clock the first fans were standing in front of the club, ready to claim their place at the front of the stage.
Moonspell

The support band this evening would probably rather be known as co-headliners. The chart success of the Portuguese metal band
MOONSPELL
speaks for itself. Their album '1755', released in November of last year, is exclusively sung in Portuguese. This combination of classical and choral elements, gives this album an exotic character. https://www.facebook.com/moonspellband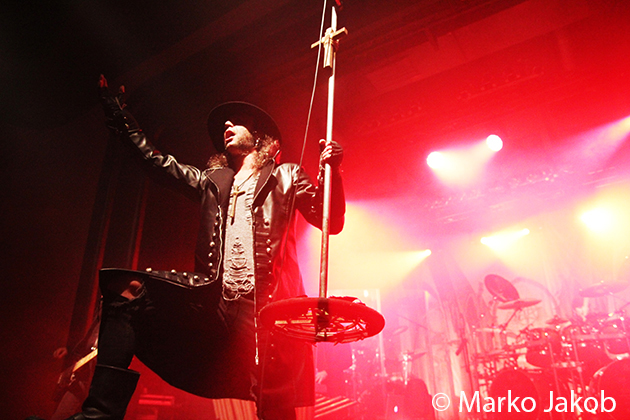 Music & Performance

At exactly 8 pm MOONSPELL entered the stage. In the dim light, Singer Fernando appeared. The glow from the beautiful red ancient lamp that he carried set the special atmosphere for the opener 'Em Nome Do Medo'. This continued with the title track of the current album '1755'. Fernando wore a beaked "plague mask" during this song. In the Middle Ages, these were filled with herbs and liquids, but I believe that rite was waived today! It was however a great sight and added to the unique mood. The Portugese sung part of the set was followed by 'Night Eternal' and one of the band's biggest hits, 'Opium'. After exactly one hour this terrific Metal show was concluded with 'Full Moon Madness' from the 1996 album 'Irreligious'. The whole performance, which was characterized by Fernando's deep and charismatic voice and the ingenious stage presence of the whole band, was appreciated loudly by the Berlin fans.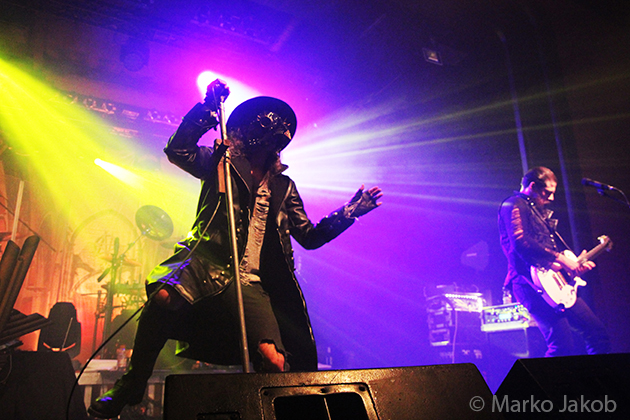 Setlist

01. Intro
02. Em Nome Do Medo
03. 1755
04. In Tremor Dei
05. Desastre
06. Night Eternal
07. Opium
08. Breathe (Until We Are No More)
09. Evento
10. Todos Os Santos
11. Alma Mater
12. Full Moon Madness
Rating

Music: 10
Performance: 9
Sound: 9
Light: 8
Total: 9 / 10
Cradle Of Filth

CRADLE OF FILTH
is a British metal band founded in 1991. A major trademark of the band is the distinctive, somewhat bizarre and highly recognisable vocals of lead singer Dani Filth. Their current album, which was released in September 2017, is called 'Cryptoriana - The Seductiveness of Decay'. It is the band's best album for many years. https://www.facebook.com/cradleoffilth/
Music & Performance

At 9.30 pm the stage was ready for CRADLE OF FILTH. A beautiful, large painted backdrop adorned the stage and for drummer Martin, an acrylic glass "cage" awaited. With the very fast song 'Gilded Cunt' it was right down to business from the beginning. As always with singer Dani, he appeared in a stunning and impressive outfit with giant gothic-metal boots and a jacket with huge killer rivets. A perfect outfit for this kind of music and completely fitting for the action on the stage. With maniacal head-banging guitarists and a wild running and jumping singer, the stage was actually a bit small for the 6 musicians. After an hour, the band said a premature goodbye to the Berlin audience. But with very loud "hey hey hey" calls from almost the whole crowd, the audience deserved and received an encore – and a very long one.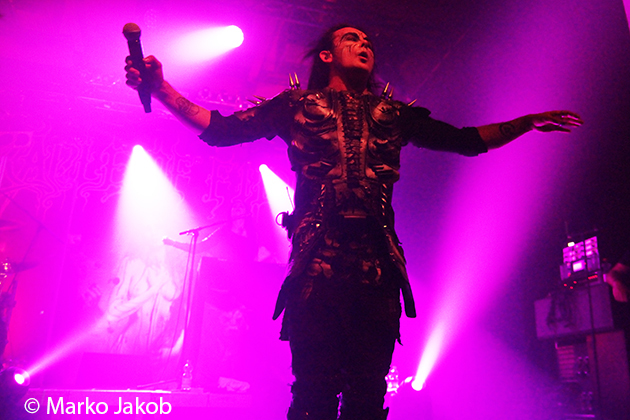 Vocalist Dani came back to the stage with a new jacket, which he removed after a few seconds. By now it had become really warm in the Columbia Theater for both band and audience. Again and again, several jets of steam rose up between the guitarists, a really great effect. During the encore, keyboarder Lindsey's stunning voice was heard more and more, especially in the megahit 'Nymphetamine'. It's a real pity she doesn't sing along in more songs. Now with the mood totally at its peak, the audience was extremely loud. Singer Dani commented to the audience: "You sound like you were 'Born in a Burial Gown'" and then continued on to thank everyone for the fantastic mood and of course to the great MOONSPELL. Shortly after 11 pm a terrific Metal evening in one of the best clubs in Berlin came to an end.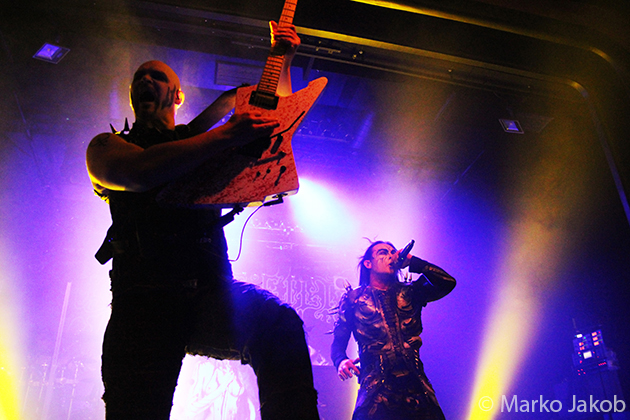 Setlist

01. Intro: Ave Satani
02. Gilded Cunt
03. Beneath The Howling Stars
04. Blackest Magick In Practice
05. Heartbreak And Séance
06. Bathory Aria
07. Dusk And Her Embrace
08. The Death Of Love
09. You Will Know The Lion By His Claw
---
10. A Bruise Upon The Silent Moon
11. The Promise Of Fever
12. Achingly Beautiful
13. Nymphetamine
14. Her Ghost In The Fog
15. Born In A Burial Gown
16. Outro: Blooding The Hounds Of Hell
Rating

Music: 9
Performance: 9
Sound: 9
Light: 9
Total: 9 / 10
All pictures by Marko Jakob
See also (all categories):