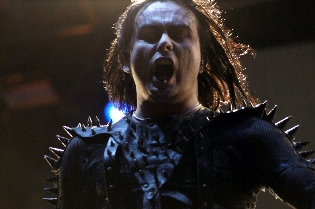 Catton Hall, Walton on Trent, Derbyshire, UK.
14th, 15th, 16th August 2009
Bloodstock Open Air Festival Day 2: Uncle Rotter, Battlelore, Wolf, The Haunted, Entombed, Candlemass, Enslaved, Kreator, Apocalyptica, Blind Guardian, Cradle of Filth

Also the second day had some very interesting bands to offer such as CRADLE OF FILTH or BLIND GUARDIAN. But the first band we were experiencing was UNCLE ROTTER.
Uncle Rotter (10.30 – 10.50)

Not really sure about this band. Dressed in a variety of Nazi-esque outfits they were actually more a disco/ thrash/ metal comedy turn than a true metal band, but they were to their credit damned entertaining and I found myself quite liking them despite myself. I felt the whole look was a cliché designed to shock, but musically they were okay, giving it their all for such an early slot and warming up the audience quite nicely.
http://www.unclerotter.co.uk/
/
www.myspace.com/unclerotter
Rating

Music: 7
Performance: 7
Sound: 7
Light: - (daylight)
Total: 7 / 10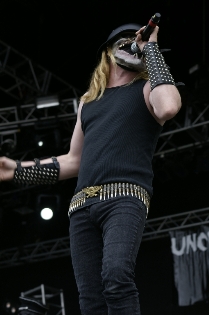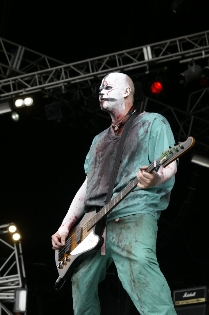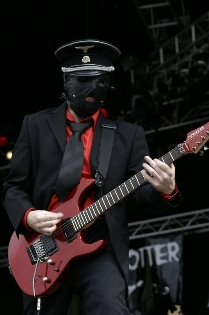 Battlelore (11.10 – 11.40)

Poor BATTLELORE do stuff I really like, but the Gods in charge of sound desks did not smile upon them and the first half of their set was spent with them looking very distressed as they struggled with whatever gremlins were infesting their sound which totally cancelled out the beautiful Sumatran born Kaisa Jouhki's vocals entirely. Then, ta-da!, someone pushed the right button, pulled the right switch and all was well. What a difference! The audience had stuck by them heroically and now they were rewarded with the remainder of the set being utterly excellent. This band has a great look, and a great sound and makes you want to run round dressed like a Lord of the Rings extra singing your head off. Despite early problems with their sound, they came to entertain, stuck to it and entertain they did. Job done, real professionals.
http://www.battlelore.net/
/
www.myspace.com/battleloremusic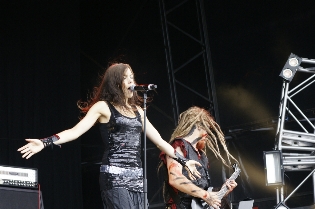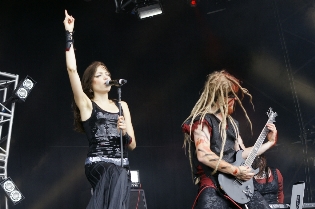 Setlist

01. Storm of Blades
02. Third Immortal
03. We Are the Legions
04. House of Heroes
05. The Great Gathering
06. Sons of Riddermark
07. Journey to Undying Lands
Rating

Music: 7
Performance: 8
Sound: 6
Light: - (daylight)
Total: 7.2 / 10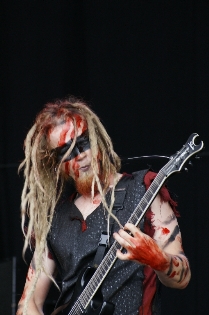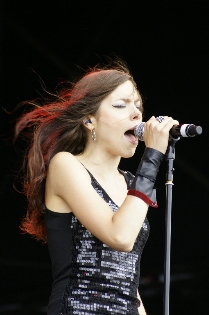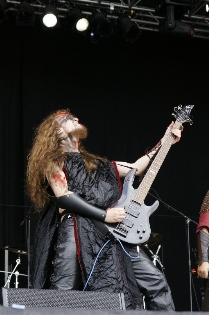 Wolf (12.00 – 12.30)

"Wolf – Real metal for true bastards" is their catch line, and I'd say that pretty much sums up these four guys from Sweden. Between them they have a wealth of experience but one thing is for sure they are hard and they are loud and they seem to really live their experiences through their music. They had good support in the crowd who really liked them and if you enjoy honest harsh metal at its best then these guys are well worth checking out.
http://www.wolf.nu/
/
www.myspace.com/wolfheavymetal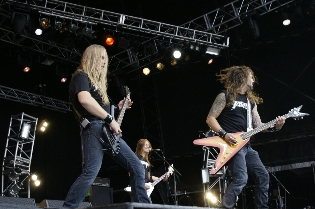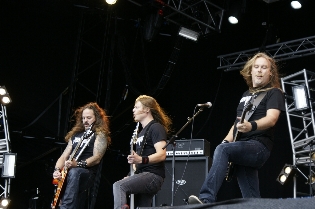 Setlist

01. Speed On
02. The Bite
03. Hail Caesar
04. Voodoo
05. Genocide
06. Evil Star
Rating

Music: 8
Performance: 8
Sound: 7
Light: - (daylight)
Total: 7.8 / 10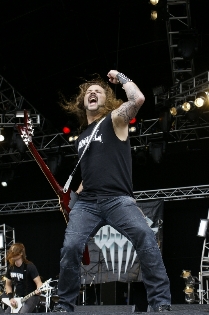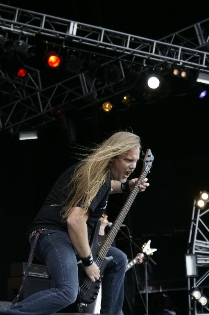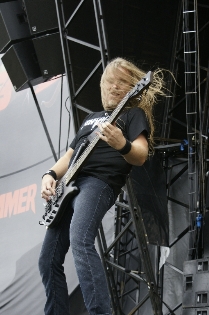 The Haunted (12.50 – 13.30)

Peter Dolving is a self confessed strange person. This man's voice can almost bring me to tears, such is the level of emotion he transmits when he sings and without a doubt THE HAUNTING is one of the most talented bands to grace the scene barring none. He has had an interesting life and it shows in his music and spoken word work, which makes for The Haunting being a band of unique and particular integrity. Of course any band is more than the sum of its lead singer and honourable mentions go to all of the rest giving this vocal artist a perfect canvass on which to paint his oratory talents. A lamentably short set for a band of this calibre, we were none the less treated to a musical journey which was as harsh and unequivocal as it was coaxing and thought provoking. Brilliant set!
http://www.the-haunted.com/
/
www.myspace.com/thehaunted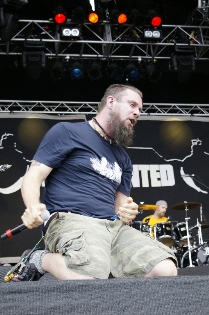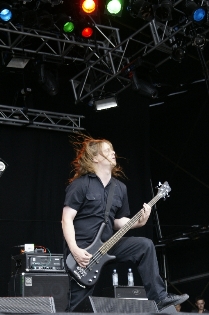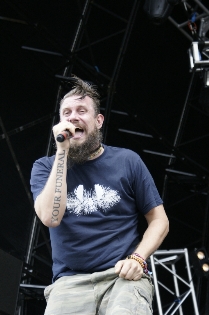 Setlist

01. Little Cage
02. The Drowning
03. Trespass
04. The Flood
05. The Medication
06. Moronic Colossus
07. 99
08. Trenches
09. Dark Int.
10. Bury Your Dead
Rating

Music: 8
Performance: 9
Sound: 8
Light: - (daylight)
Total: 8.4 / 10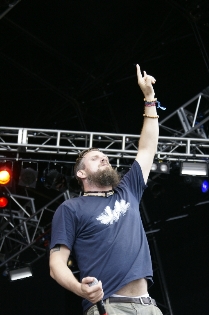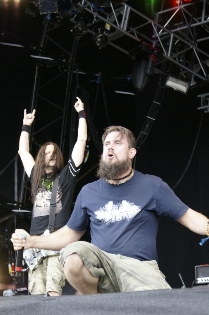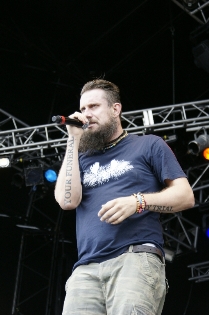 Entombed (13.55 – 14.35)

LG Petrov, front man, appeared looking a little the worse for wear. This turned out to be a very positive thing as it happens as he uninhibitedly raged his way through a very solid set. The audience seemed at once amused and enthused by his state of being and happily encouraged them through their 40 minute set to great applause. A good band, not afraid to walk a little on the wild side and one which I enjoyed thoroughly!
www.entombed.org/
/
www.myspace.com/serpentsaints
Rating

Music: 8
Performance: 8
Sound: 7
Light: - (daylight)
Total: 7.8 / 10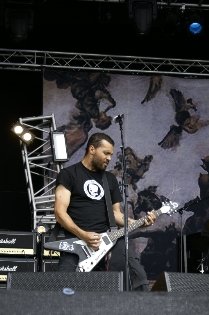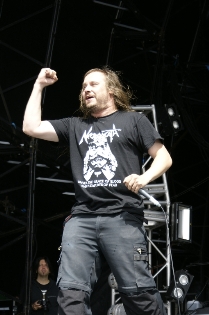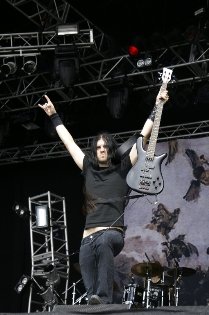 Candlemass (15.00 – 15.45)

A Swedish doom metal band with an American vocalist. This has to be interesting I thought, and sure enough it was. Lead man Robert Lowe is a contradiction. He doesn't look very metal, but he has a rich timbered voice that really reaches into you and a long and impressive pedigree of fronting good quality bands. For the rest of the band, relative newcomer Lowe (he only joined in 2007, replacing Messiah Marcolin) fits in very well with the overall flavour of the band which is dark and melancholic. A strangely hypnotic set, I found myself slightly sorry when they'd finished, despite not previously having been a fan. The crowd loved them, so it just shows what I've missed all these years.
http://www.candlemass.se/
/
www.myspace.com/candlemass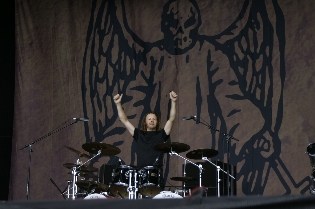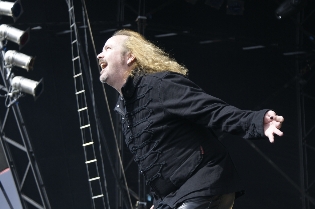 Setlist

01. Emperor of the Void
02. Samrathian
03. If I Ever Die
04. Hammer of Doom
05. At The Gallows End
06. Solitude
07. Kill the King
Rating
Music: 8
Performance: 9
Sound: 8
Light: - (daylight)
Total: 8.4 / 10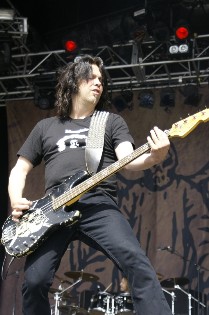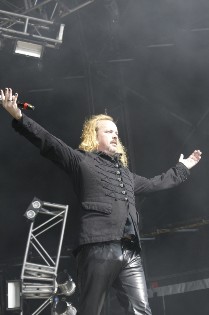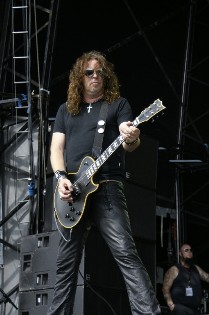 Enslaved (16.15 – 17.00)

Now it was time for some Norwegian mayhem in the shape of ENSLAVED. These long haired Norse beasties certainly know how to scream good hard lyrics. Although of late most of their songs have been in English, previously they have recorded in Old Norse, Icelandic and of course Norwegian. They're melodic and harsh and everything you could realistically want in a band, although on this occasion they failed to truly light my fire. They did nothing wrong, it was just a little lacklustre and could have been a little more fiery but overall a good entertaining set.
http://www.enslaved.no/
/
www.myspace.com/enslaved
Rating

Music: 7
Performance: 7
Sound: 7
Light: - (daylight)
Total: 7 / 10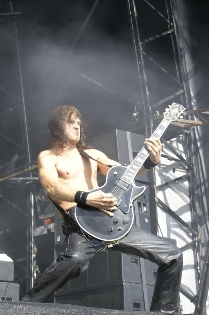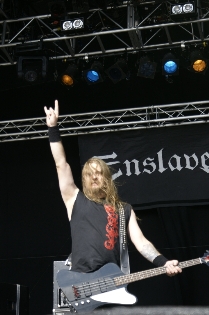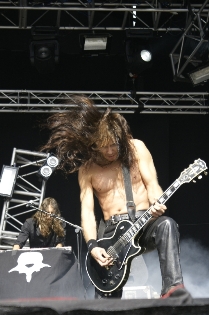 Kreator (17.30 – 18.15)

KREATOR always put a great big smile on my face for their sheer energy, enthusiasm and will to entertain. This festival performance was no exception and after a hugely elongated and amusing rant by Millie (they had problems and he was filling time like a true professional, entertaining and engaging the audience) they delivered a set worthy of any Festival stage in the world. To say that the crowd loves them is an understatement, the crowd adore them and there was some of the most brutal circle pits I've ever seen anywhere. "Yeah this is what I remember from the f*****g UK" approved Millie before launching into yet another stream of timeless thrash. In varying guises these guys have been playing for 27 years, and it showed with their outstanding performance. Genius!
http://www.kreator-terrorzone.de/
/
www.myspace.com/officialkreator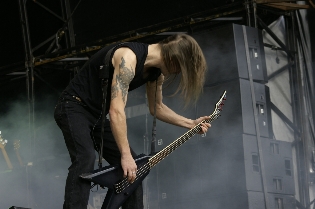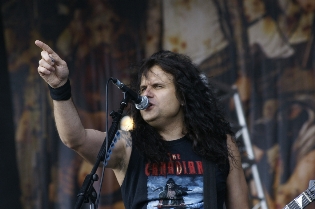 Setlist

01. Choir of the Damned (Intro)
02. Hordes of Chaos (A Necrologue For The Elite)
03. Phobia
04. Enemy of God
05. Pleasure to Kill
06. The Patriarch
07. Violent Revolution
08. Extreme Aggression
09. Coma of Souls
10. Flag of Hate / Tormentor
Rating

Music: 8
Performance: 10
Sound: 8
Light: 8
Total: 8.6 / 10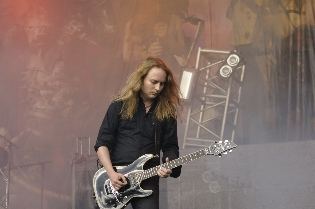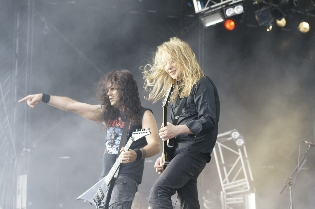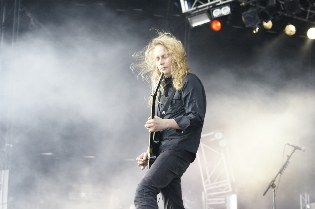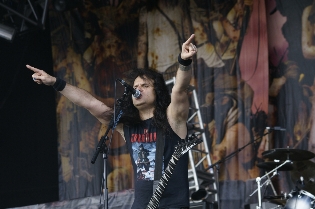 Apocalyptica (18.45 - 19.45)

Three nice looking Finnish guys playing cellos doing METALLICA covers... what more could a girl ask for? Well not a lot and everything actually. On one hand their light show was pure gorgeous, and they look great, giving their all to running round the stage playing heavy metal ...errr cellos. But that's it, it's something of a nice, interesting to look at novelty, which excellent though it is in itself, after the first half an hour loses its appeal slightly and you find you start making up lyrics in your head to bridge the gap left by the fact that they are solely instrumental. The crowd loved them, and they were great, but the hour long set was just a little stretch too far for me.
http://www.apocalyptica.com/
/
www.myspace.com/apocalyptica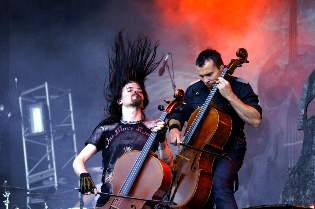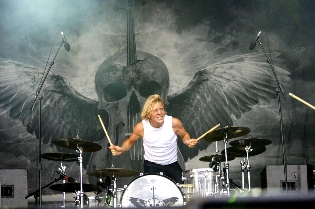 Setlist

01. Wherever I May Roam (Metallica cover)
02. Refuse / Resist (Sepultura cover)
03. Grace
04. Fight Fire with Fire (Metallica cover)
05. One (Metallica cover)
06. For Whom the Bell Tolls (Metallica cover)
07. Betrayal / Forgiveness
08. Bittersweet
09. Last Hope
10. Seek & Destroy (Metallica cover)
11. Inquisition Symphony (Sepultura cover)
12. Enter Sandman (Metallica cover)
13. Hall of the Mountain King (Edvard Grieg cover)
Rating

Music: 9
Performance: 8
Sound: 8
Light: 8
Total: 8.4 / 10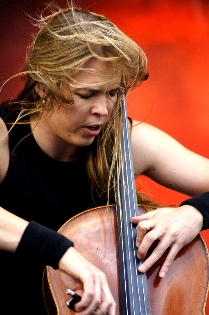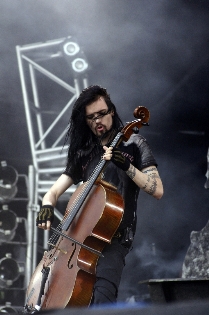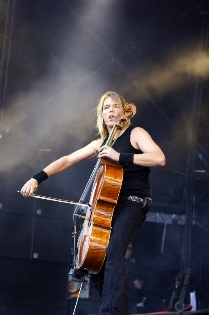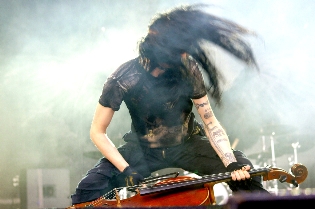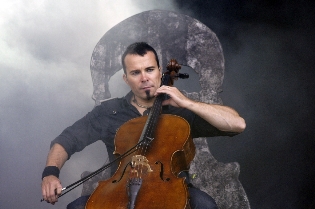 Blind Guardian (20.20 - 21.35)

Excuse me whilst I have a fan-girl moment, but BLIND GUARDIAN have always been one of my favourite bands and with a performance like this, which had to be THE performance of the day by anyone, then it's easy to see why. They have a truly epic sound both on disc and live and the audience cheered as every tale was told with heart warming power and humility by enigmatic front man Hansi. As the sun set they played their exit song and there wasn't a member of the crowd who wasn't rapturously celebrating that they had attended. The lighting was great and the sound positively symphonic.
http://www.blind-guardian.com/
/
www.myspace.com/blindguardian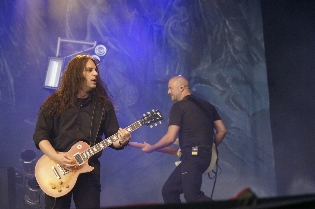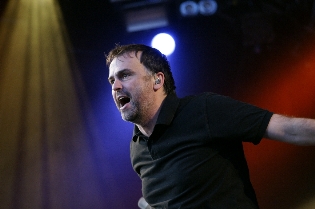 Setlist

01. War of Wrath Play Video
02. Time Stands Still (At the Iron Hill) Play Video
03. Another Holy War Play Video
04. Nightfall Play Video
05. The Script for My Requiem Play Video
06. Fly Play Video
07. The Quest for Tanelorn Play Video
08. Valhalla Play Video
09. Sacred Play Video
10. Lord of the Rings Play Video
11. Welcome to Dying Play Video
12. Imaginations from the Other Side Play Video
13. The Bard's Song - In the Forest Play Video
14. Mirror Mirror
Rating

Music: 10
Performance: 10
Sound: 9
Light: 9
Total: 9.7 / 10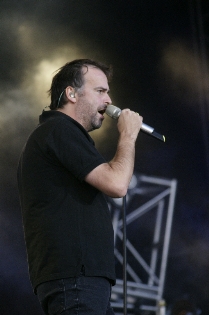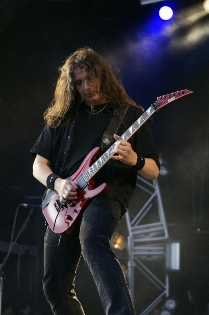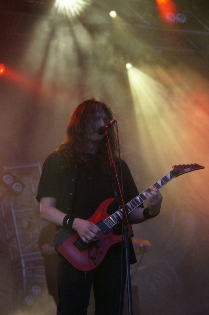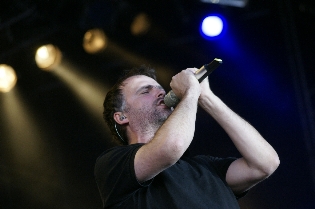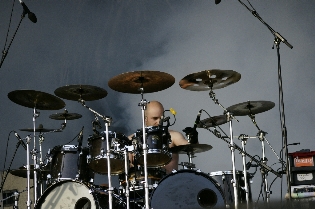 Cradle of Filth (20.10 - 21.25)

There's a lot I could write about what will doubtless lead to CRADLE's already infamous reputation becoming more so, but I will begin by saying that earlier in the day I had the pleasure of having a word with Paul Allender and found him to be a lovely guy and certainly not deserving of what went down during the later stages of their set. Bloodstock is probably one of the nicest festivals you could ever go to and I always feel absolutely safe there. This year was no exception. However during CRADLE OF FILTH's set, which granted was marred by some sound issues, some lunatic in the audience saw fit to launch what turned out to be giant gobstoppers, with a catapult, at the band. These pieces of giant hard candy weighed in excess of half a kilo and being fired by catapult, were travelling at huge speeds, when one of them struck Paul Allender in the back causing him to collapse and having to be taken to hospital on a stretcher.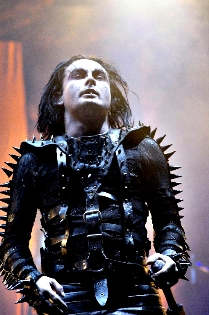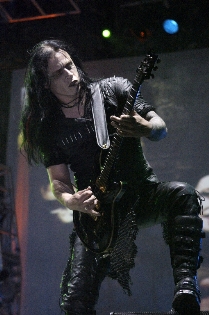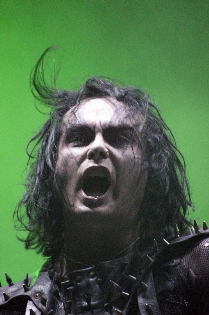 There was some fear for his long term health but as it turns out all is well, however that does not excuse the excruciatingly moronic imbecile who decided to do something that stupid, especially when the band had some children and handicapped fans clearly visible in the wings which the same projectiles nearly hit. As a result CRADLE OF FILTH was forced to finish their set early and a thoroughly good night was completely ruined, not to mention a really nice guy who was just doing his job got badly hurt. As for their performance, although I'm a great fan, I have seen them better. The sound wasn't great but the overall performance was fine and was being enjoyed by the vast majority of people present. Lighting was excellent and it was a shame it was all brought to a premature conclusion by one selfish idiot's actions.
http://www.cradleoffilth.com/
/
www.myspace.com/cradleoffilth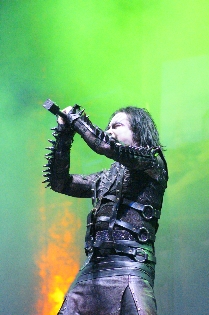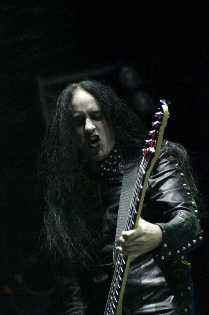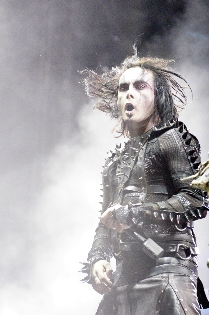 Setlist (which had to be cut short owing to injury of the band)

01. In Grandeur and Frankincense Devilment Stirs
02. Shat out of hell
03. Gilded Cunt
04. The Principle of Evil made Flesh
05. Dusk and her Embrace
06. Nymphetamine
07. Honey and Sulphur
08. Cruelty brought three Orchids
09. Her ghost in the fog
Rating

Music: 8
Performance: 8
Sound: 7
Light: 9
Total: 8 / 10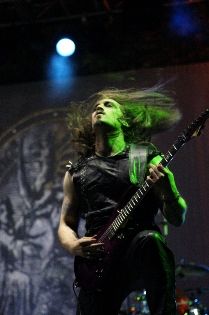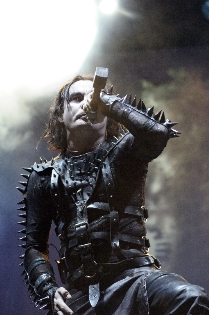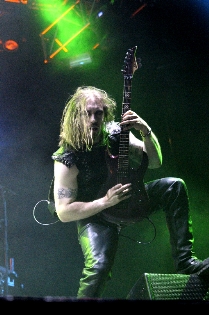 All pictures by Maddi Isaacs
{jos_sb_discuss:18}
See also (all categories):