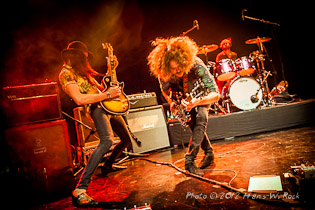 Capitol, Offenbach, Germany
4th July 2012
Wolfmother & Sun and the Wolf

There were only two club gigs in Germany during their WOLFMOTHER Europe 2012 Tour. So Offenbach's Capitol had to be prepared for WOLFMOTHER fans not just from the Rhine-Main area. And the venue got packed!



Sun and the Wolf

Having moved to Berlin they haven't made the step to a band making enough money from their music yet. They were "looking for a driver from Berlin to Offenbach (Frankfurt) and back" in their Facebook post the day before. …and they guaranteed good times! They obviously found someone. SUN AND THE WOLF are Brodie White (guitar/vox), Peter Mangan (guitar/vox), Mikey Tweed (drums) and Diesel Gollnick (xass). http://www.facebook.com/sunandthewolf / http://www.myspace.com/thesunandthewolf / http://sunandthewolf.bandcamp.com/ / http://reverbnation.com/sunandthewolf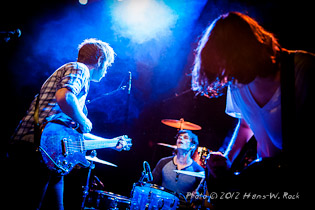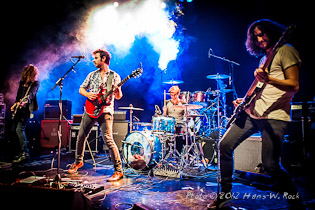 Music & Performance
SUN AND THE WOLF brought the "good times guaranteed" not only to their last minute-driver but to all visitors at the capitol. Playing several songs from their CD 'White Buffalo', they caught the audience with a sixties style psychedelic rock music. Not only the perfect match for a WOLFMOTHER opening act, but even more supported by a light show I did not expect.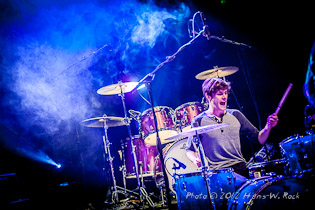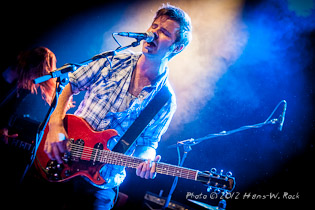 Setlist
01. Tomorrow
02. J. Billows
03. You
04. 13
05. Oh My Lord
06. European
07. Mountains
08. Crocodile

Rating
Music: 8
Performance: 8
Lights: 8
Sound: 8
Total: 8 / 10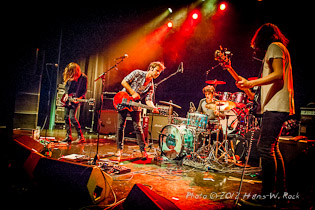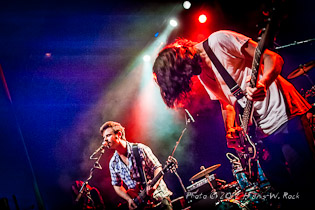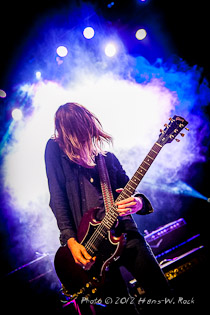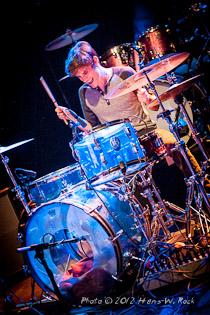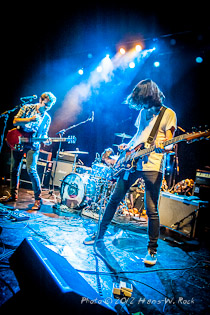 Wolfmother

Australian Stoner Rock band WOLFMOTHER entered the public interest in 2005 with the self-titled debut-album. Founder and front man Andrew Stockdale (guitar, vox) created a sound sometimes described as "Led Zeppelin Psychadelic" and the second CD 'Cosmic Egg' in 2009. In the summer of 2012, they came back to Europe to play on festivals like Hurricane and Southside and two club shows. WOLFMOTHER is Andrew Stockdale (vocals, guitar), Hamish Rosser (ex The Vines - drums), Ian Peres (bass, keyboard) and Aiden Nemeth (guitar) plus additional live musicians. http://www.wolfmother.com / https://www.facebook.com/wolfmother / www.myspace.com/wolfmother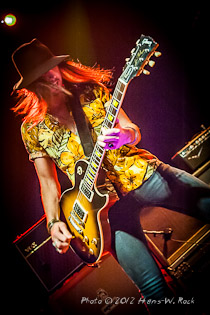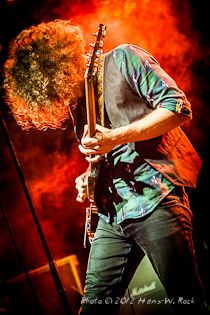 Music & Performance
Just seeing the band on stage, you know what to expect: energetic, dynamic and powerful rock music yet with a sound with a very high re-recognition factor. There was lots of long hair, there were crying guitars and there was some kind of synthesizer for adding this special tone to the WOLFMOTHER-sound. Starting with 'Woman', the band played all popular songs from their first two CDs plus a new one ('Keep Moving') which is expected on the next CD.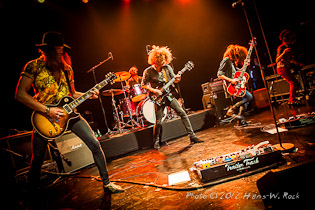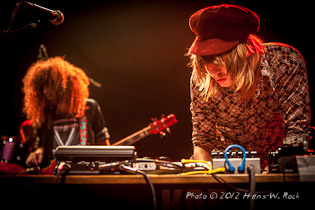 Not only representing characteristics of the hippies in sixties with their appearance and ecstatic behaviour they made the complete audience a highly connected singing and clapping unit. WOLFMOTHER live is even more impressive than on CD…. and I like their CDs! Note from me at the end: there was no WOLFMOTHER merch booth!? And the official WOLFMOTHER online store is not opened yet!? So where do the new WOLFMOTHER fans from the Captitol get their new WOLFMOTHER T-Shirts? ;-)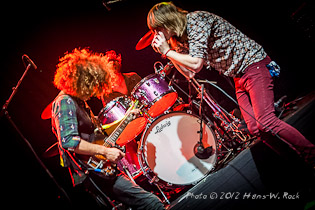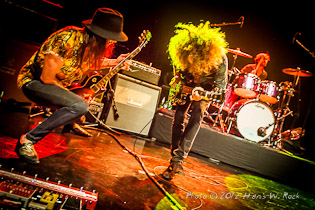 Setlist
01. Woman
02. California Queen
03. Dimension
04. New Moon Rising
05. White Unicorn
06. Keep Moving (*)
07. Cosmic Egg
08. Love Train
09. Apple Tree
10. Mind's Eye
11. Vagabond
12. In The Castle
---
13. Colossal
14. Joker & the Thief
(*) supposed to be on the oncoming new WOLFMOTHER CD

Rating
Music: 10
Performance: 10
Lights: 9
Sound: 9
Total: 9.5 / 10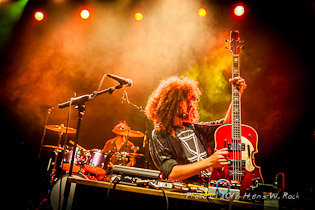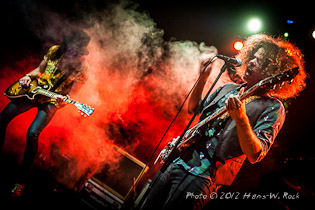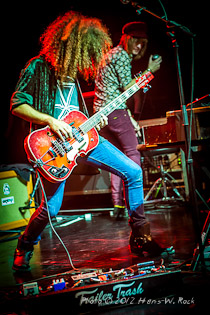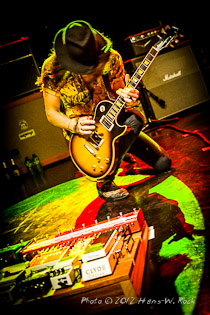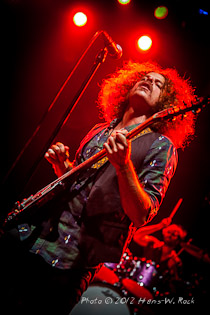 All pictures by Hans-W. Rock
See also (all categories):