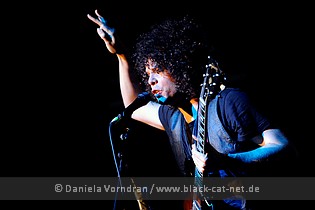 Palladium, Cologne, Germany
22nd April 2016
Wolfmother & Electric Citizen

Grammy winners WOLFMOTHER are back with their new album 'Victorious', which was released on February 19th. The tracks 'Victorious' and 'City Lights' were already circulating for a while and show into which direction the Australians are heading. Mastermind Andrew Stockdale has recorded all instruments for a demo all by himself as in the early days before going into the studio with the band to work together intensively on the arrangements. The record is wild, full of energy and simply made for hot clubs, full concert halls and huge festival stages at the same time. Now the band returned to German stages and played an energetic show on Cologne.
Electric Citizen

Cincinnati four-piece ELECTRIC CITIZEN released its debut album, 'Sateen', in 2014. The second album, 'Higher Time', will be out in May 2016 via Riding Easy. During the songs and on stage, vocalist Laura Dolan stands in the spotlight. With their second album, whereof some songs were presented during their support gig, the band is rising to a fuller, bigger sound where Laura's voice is meeting the memorable riffing of her husband and guitarist Ross Dolan. Laura is acting in pure rock star manner and the show is kind of refreshing. Besides, in the music there is a good bit of throwback/ vintage rock going on. ELECTRIC CITIZEN is Ross Dolan (guitar), Laura Dolan (vocals), Randy Proctor (bass) and Nate Wagner (drums).
http://electriccitizenband.com
/
https://www.facebook.com/ElectricCitizen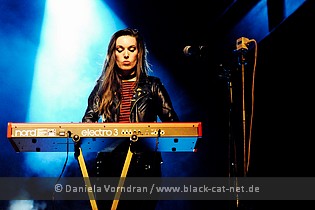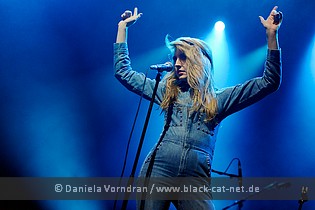 Setlist

01. Beggar's Need
02. Shallow Water
03. Magnetic Man
04. Golden Mean
05. Misery Keeper
06. Light Years Beyond
07. Evil
Rating

Music: 7
Performance: 7
Sound: 7
Light: 8
Total: 7.2 / 10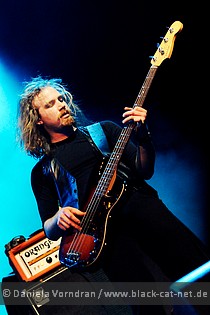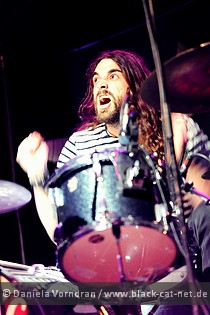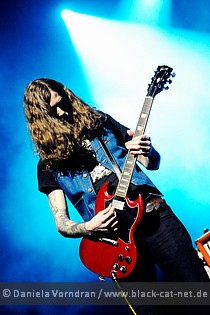 Wolfmother

Australian Stoner Rock band WOLFMOTHER entered the public interest in 2005 with the self-titled debut-album. Founder and front man Andrew Stockdale (guitar, vocals) created a sound sometimes described as "Led Zeppelin Psychedelic". The second CD, 'Cosmic Egg', was released in 2009. In the summer of 2012, they came back to Europe to play on festivals like Hurricane and Southside and two club shows. The third album, 'New Crown', was released without a prior announcement on 24 March 2014 as a digital download on Bandcamp. In November 2015, the group's fourth album was announced as 'Victorious', which was released in February 2016. WOLFMOTHER currently consists of Andrew Stockdale (vocals, guitar), Ian Peres (bass, keyboard) and Alex Carapetis (drums).
http://www.wolfmother.com
/
https://www.facebook.com/wolfmother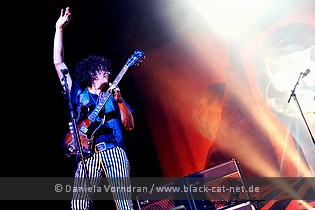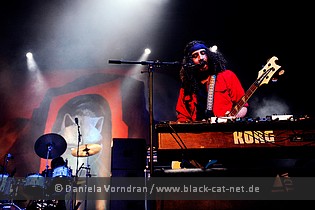 Music & Performance

It was sharp at nine when WOLFMOTHER entered the stage after the support act, ELECTRIC CITIZEN, had already warmed up the audience. Right as first song, the band started with the title track of the new album, 'Victorious', followed by other smashers like 'New Moon Rising' and 'Woman'. Anyone in the hall could be sure from that point that this won't be a common concert. The band is in best mood and the audience is freaking out, jumping or throwing their beer cans towards the stage. Front man Stockdale is full of power and passion while bassist and keyboarder Peres is crawling on the floor of jumps up into the air. Drummer Alex is carrying the audience away with his energetic play. The following set is a good mix of new songs from the latest album and old smashers. The Cologne audience is excited and celebrates the Australians hard. During 'California Queen', there is no holding back. The mosh pit is exceeding and the song invites for crowd surfing. The hall is boiling and singer Andrew thanks the audience: "Last time in Cologne was amazing, this time is more amazing".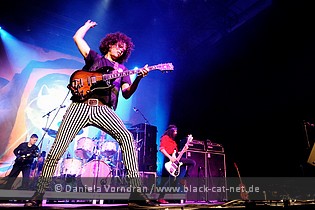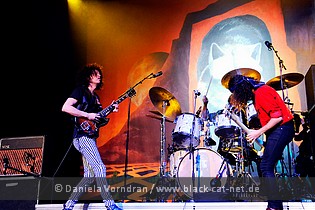 During the whole show, there is no time to take a breath. One song after the other invites for dancing or jumping. Another big mosh-pit is seen during 'Colossal' and the Palladium is turning into a hurricane carrying nearly any visitor away. Afterwards, the band left the stage just to return shortly afterwards for two more songs, 'Vagabond', a classic from the band's first album that was dedicated to PRINCE who just died, and 'Joker And The Thief' as very last song of the evening releasing the sweaty and happy audience into the night. For all those who could not attend or have not get a ticket: The band comes back in summer and will play some festivals.
Setlist

01. Victorious
02. New Moon Rising
03. Woman
04. Apple Tree
05. The Love That You Give
06. White Unicorn
07. White Feather
08. California Queen
09. How Many Times
10. Gypsy Caravan
11. Dimension
12. The Simple Life
13. City Lights
14. Pretty Peggy
15. Pyramid
16. Colossal
---
17. Vagabond (dedicated to Prince)
18. Joker & The Thief
Rating

Music: 8
Performance: 8
Sound: 7
Light: 8
Total: 7.8 / 10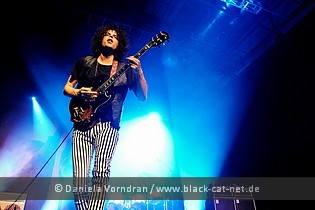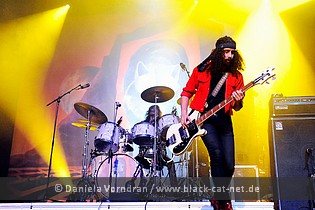 All pictures by Daniela Vorndran (
http://www.vorndranphotography.com
/
http://www.facebook.com/blackcatnet
)
See also (all categories):