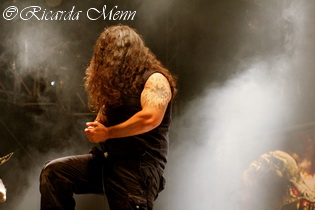 Dinkelsbühl, Germany
18th - 20th August, 2011
Summerbreeze Festival Day 2: Secrets of the Moon, Kataklysm, Neaera, Bolt Thrower, Helrunar, Enslaved, Interment, Rev 16:8, Skeletonwitch, Nervecell

This Friday began in a rather unpleasant way - at six o'clock in the morning (many people might just have gotten into their tents after a long night of partying), hell broke loose - an immense thunderstorm faced the festival area, tents got wet, awnings flew around the camp-ground and unfortunately, people got injured (still nothing compared with what happened at Pukkelpop the night before). By the time the first concerts started, the weather had calmed itself a bit, and luckily, the announced storm for the afternoon did not take place.



Nervecell

NERVECELL is a Death Metal band, hailing from Dubai, being formed in 2000 and started conquering the European continent in 2009. The latest release hit the stores in 2011, being entitled 'Psychogenocide'. http://www.nervecell.net/officialsite / http://www.myspace.com/nervecell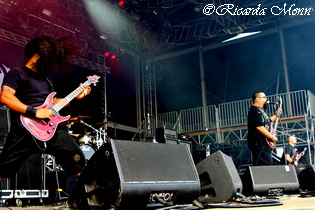 Music & Performance
It is always a tough task for a band to perform this early (around half past eleven), but still a couple of hundreds of people had gathered in front of the Main Stage and soon were convinced by the brutal and interesting Death Metal NERVECELL were providing.Even a Circle-Pit could be witnessed and the half of an hour passed very quickly, so that the band left a good mark. Definitely a good start for the day.

Setlist
01. Flesh & Memories
02. Vicious Circle Of Bloodshed
03. All Eyes On Them
04. Existence Ceased
05. Demean
06. Demolition

Rating
Music: 8
Performance: 7
Sound: 7
Light: - (Daylight)
Total: 7.3 / 10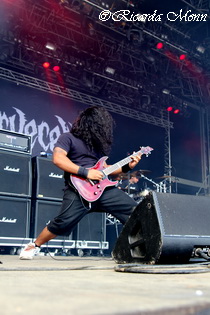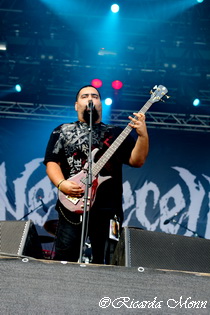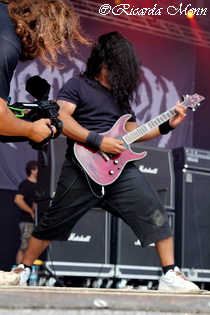 Skeletonwitch

SKELETONWITCH is an American extreme Metal band, combining Black and Thrash Metal. The band currently consists of drummer Dustin Boltjes, vocalist Chance Garnette, guitarists Nate Garnette, Scott Hedrick and bassist Evan Linger. 'Forever Abomination' (2011) is their fourth studio output and guides them on their extensive Festival touring during the summer. http://skeletonwitch.com / http://www.myspace.com/skeletonwitch

Music & Performance
It was already the third performance on a German Open Air Festival within three weeks, but still the SKELETONWITCH guys were full of energy when they hit the stage. Within the first songs, they had the audience on their side and in the next 40 minutes, one hit was followed by another fast, yet technical demanding Black/Thrash song. Moshing and excessive head banging could be witnessed and after some technical issues, everything worked out well and the whole band played very concerted.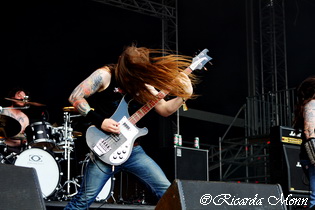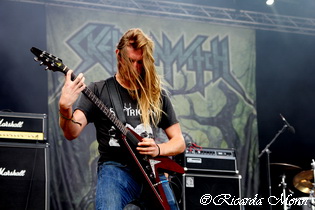 Setlist
01. Upon Wings Of Black
02. Submit To The Suffering
03. Crushed Beyond Dust
04. Reduced To The Failure Of Prayer
05. Beyond The Permafrost
06. Sacrifice For The Slaughtergod
07. Strangled By Unseen Hands
08. Infernal Resurrection
09. Fire From The Sky
10. Vengeance Will Be Mine
11. Choke Upon Betrayal
12. Within In My Blood

Rating
Music: 8
Performance: 8
Sound: 7
Light: - (Daylight)
Total: 7.6 / 10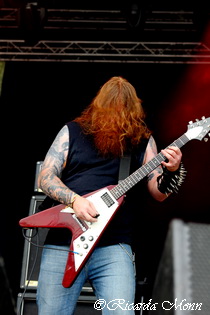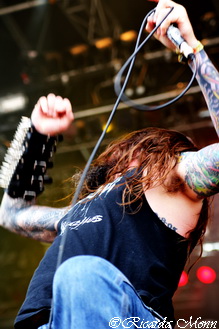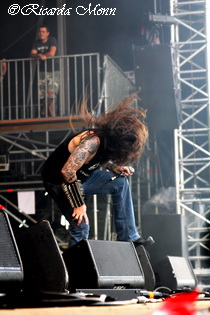 Rev 16:8

The Swedish band REV 16:8 were already formed in 1997, back then under the name 'Bloodshed'. They changed to their current name in 2008 and have just put out their second full-length record. http://www.myspace.com/rev168

Music & Performance
Playing as the first band in the tent, REV 16:8 had a tough job, and furthermore, it was the band's first festival performance ever. A considerable amount of people had gathered, which can also be related to the success of their most recent record 'Ashlands'. Yet, Black Metal shows whilst the sun is shining are always difficult, and somehow, they did not really ignite the spark, since some songs appeared not as energetic as on record. The singer used an interesting, studded microphone, but the bassist seemed to be hiding in the back of the stage all the time and looked rather bored. In general, the band did not put on a bad show, but that certain something was missing and I had surely expected more.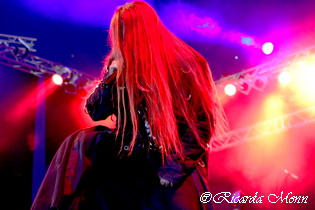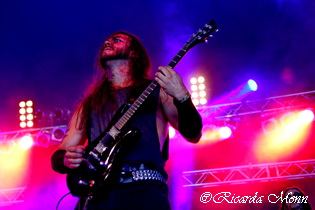 Setlist
01. Leave Me (Intro)
02. Ashlands
03. Blackline Sundown
04. Red Serpent Coil
05. The Chase
06. Placid In Pale (Intermission)
07. Flame Salvation
08. Coal Mirror
09. When Your Words Are Obsolete

Rating
Music: 8
Performance: 6
Sound: 7
Light: 6
Total: 6.8 / 10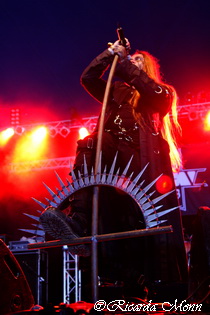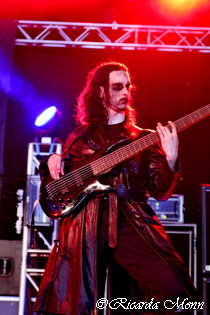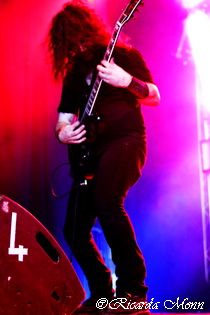 Interment

The Swedish Old School Death Metal formation Interment already started their career in 1988, but dissolved in 1993. They united in 2002, but their debut record 'Into the Crypts of Blasphemy' was primary released in 2010. Consequently, the band still possesses a certain rough and brutal style. http://www.interment.se / http://www.myspace.com/intermenttx

Music & Performance
By the time INTERMENT hit the Party Stage, the tent only gave place to around 100 or even less people. Nevertheless, the band appeared very motivated and gave their best to encourage the attendees. Apart from songs from their debut record, they also performed a very recent track, 'Morbid Death' and convinced by their straight and brutal Old School Death Metal. By the end of their gig, some more people had gathered to watch this compromising band.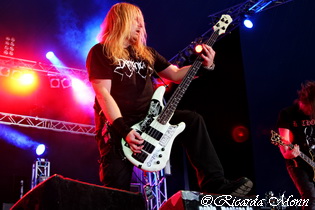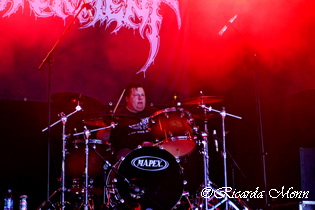 Setlist
01. Eternal Darkness
02. Torn From The Grave
03. Where Death Will Increase
04. Infernal Damnation
05. Night Of The Undead
06. Morbid Death
07. Torn Apart (da capo)

Rating
Music: 8
Performance: 7
Sound: 7
Light: 7
Total: 7.3 / 10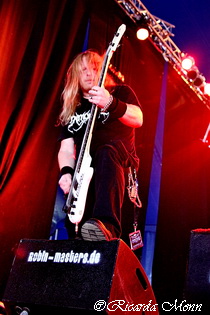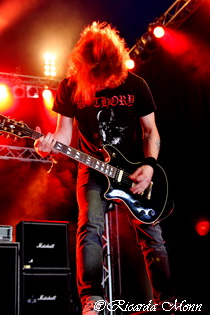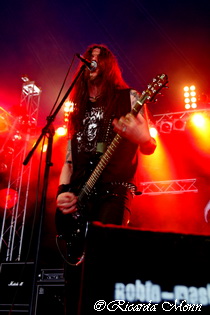 Enslaved

ENSLAVED is a Norwegian Viking/Progressive/Folk Metal band, which was established in 1991. So far, eleven studio records and three EPS were released. The band is known for their intense and atmospheric live performances. http://www.enslaved.no / http://www.myspace.com/enslaved

Music & Performance
Enslaved playing whilst the sun was shining was surely an experience, and still it did not affect their performance in a negative way, although their surely had been a darker atmosphere if they had played under moonlight conditions. Still, ENSLAVED are always worth seeing, and this time, they started with two very new songs. But also 'Allfádr Odinn', a song from their very first EP was presented. In general, the show was very enjoyable and especially longer, progressive and melodic parts invited to close one's eyes, indulge and get completely absorbed in the magic music.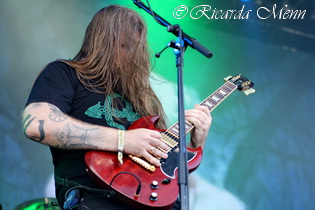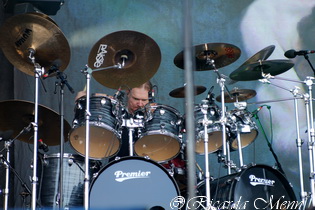 Setlist
01. Ethica odini
02. Raidho
03. Ground
04. Ruun
05. As Fire…
06. Allfádr Odinn
07. Isa

Rating
Music: 8
Performance: 8
Sound: 8
Light: - (daylight)
Total: 8 / 10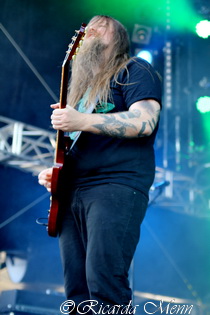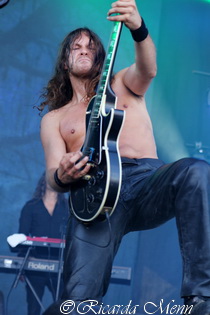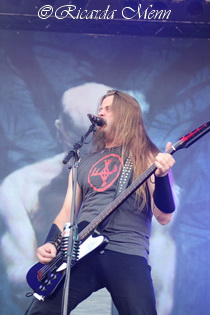 Helrunar

HELRUNAR is a German Pagan/Black Metal band, which was formed in 2001. They are known for their recondite lyrics, penned in German, Norwegian and Norse. The band consists of Skald Draugir (Vocals) and Alsvatr (Drums), who are supported by session musicians on live gigs. http://www.helrunar.com / http://www.myspace.com/helrunarhorde

Music & Performance
After the intense and rather calm show of ENSLAVED, HELRUNAR's performance enclosed in a darker, more aggressive way. During the first part of their rather short gig, they mainly focused on songs from their recent records 'Sol I' and 'Sol II', which depict a concept-work. The audience responded well from the very beginning and especially the people in the front rows were supporting and cheering the band a lot.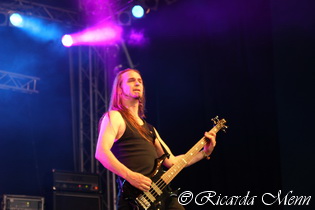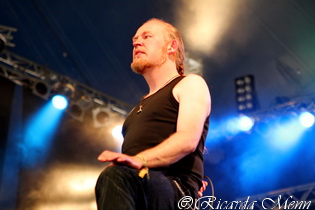 But the high peak of the performance was reached, when 'Älter als das Kreuz' was presented - the crowd sang along the refrain, and the band seemed very content with their show. Afterwards many attendees looked stunned at how quickly the time had passed.

Setlist
01. Kollapsar
02. Ich bin die Leere
03. Unter dem Gletscher
04. Nebelspinne
05. Älter als das Kreuz

Rating
Music: 8
Performance: 7
Sound: 7
Light: 7
Total: 7.3 / 10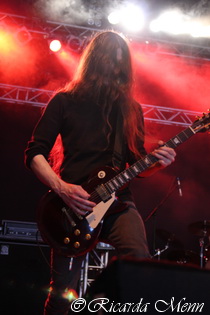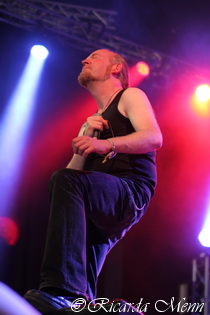 Bolt Thrower

BOLT THROWER are a British Death Metal band, formed in 1986. So far, eight studio albums were put out, for instance the debut 'In Battle There Is No Law' (1988), 'Mercenary' (1998) or the latest one 'Those Once Loyal' (2005). Since the band is not dependant on promotion agencies or merchandise labels, their merchandise as well as their tickets are quite affordable. Furthermore, since 2007, they only play one festival a year and apart from that only tour during January and February. http://www.boltthrower.com / http://www.myspace.com/boltthrower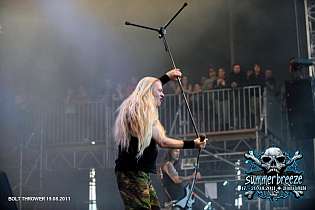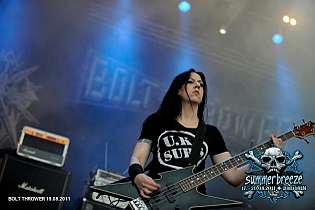 Music & Performance
Although I was not as familiar to BOLT THROWER, their show caught me from the very beginning. The band members exuded a certain dignity and appeared very congenial, and yet their show was very brutal, catching and absorbing. The audience thanked the band with a great response and a completely packed area in front of the Main Stage. BOLT THROWER showed that Old School Death Metal still has not lost any of its brutality, and although the band has not released a new record since the year of 2005, they still have a huge fan-base and are one of the most influential and important acts in this genre. Their show definitely remarked one of the highlights of this year's Summerbreeze Festival.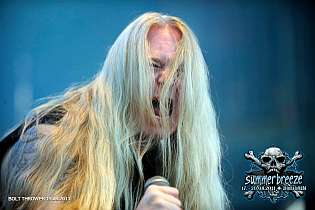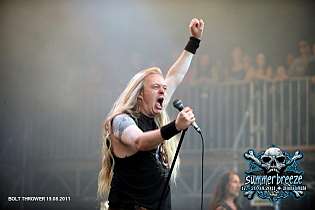 Setlist
01. Intro (Battle of Britain)
02. IVth Crusade
03. The Killchain
04. Powder Burns
05. When Glory Beckons
06. Mercenary
07. World Eater / Cenotaph
08. Anti-Tank
09. Where Next To Conquer
10. Silent Demise
11. Granite Wall
12. Salvo
13. For Victory
14. No Guts, No Glory
15. When Cannons Fade

Rating
Music: 9
Performance: 10
Sound: 9
Light: 10
Total: 9.5 / 10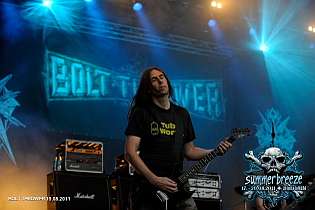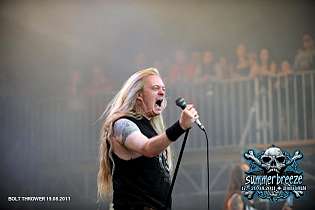 Neaera

NEAERA is a German Melodic Death Metal/Metalcore band, established in 2003. Their debut record 'The Rising Tide of Oblivion' was released in 2005, their most recent and fifth work 'Forging the Eclipse' was given birth in 2010. http://www.neaera.com / http://www.myspace.com/neaera

Music & Performance
Since NEAERA were among the very first bands I ever saw live over four years ago, I felt some sort of nostalgia when I headed for the party tent to watch their show. The tent was decently filled and especially the front rows were packed. As soon as the first song began, mosh-pits could be seen and an immense party began. NEAERA played a broad overview over their discography, and each and every song was celebrated enthusiastically. A wall of death was proclaimed after the first song already, and two circle-pits all over the tent were enabled.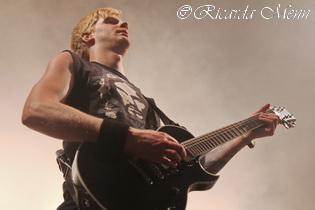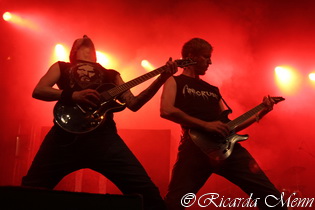 With this show NEAERA made clear that they are a formidable live act, encouraging the crowd immensely. Although their music is not exactly my cup of tea, it was lots of fun to watch this performance.

Setlist
01. Heaven's Descent
02. Let The Tempest Come
03. Armamentarium
04. Eight Thousand Sorrows Deep
05. The Wretched Of The Earth
06. Walls Instead Of Bridges
07. Spearheading The Spawn

Rating
Music: 7
Performance: 9
Sound: 7
Light: 8
Total: 7.5 / 10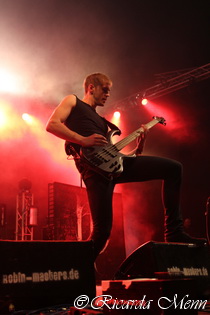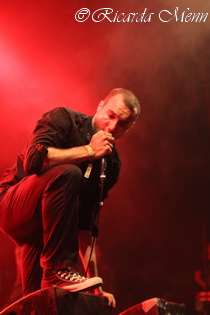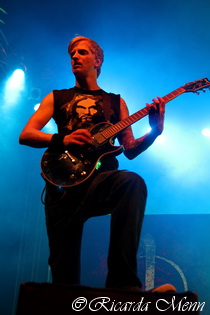 Kataklysm

KATAKLYSM were established 1991 in Québec, Canada and nowadays persists of Maurizio Iacono (Vocals), Jean-Francois Dagenais (Guitar), Stéphane Barbe (Bass) and Max Duhamel (Drums). Signed to Nuclear Blast since 1993, they have released nine studio records, amongst others 'Epic: The Poetry of War' (2001), 'Serenity in Fire' (2004) and the latest works 'Prevail' and 'Heaven's Venom' (2010). Stylistically, they describe themselves as 'Northern Hyperblast', due to their fast and aggressive drumming. http://www.kataklysm.swizcorp.com / http://www.myspace.com/kataklysm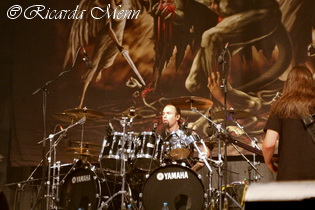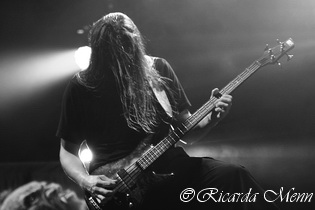 Music & Performance
On this evening, KATAKLYSM were celebrating their 20th anniversary, which led to a very special and unique performance of the band - accompanied by lots of pyrotechnic special effects such as little explosions and fireworks, the Canadians entered the stage. Due to this, the photographers were only allowed to enter the photo pit after the first pit and then had to pay attention not to get too close to the stage or to be confronted with one of the many crowd surfers. The mood of the show was intense and energetic from the very beginning and varied from other KATAKLYSM festival shows I attended this summer, since they did not include a usual routine but gave their best to make this evening a night to remember. The setlist turned out to be a brief overview over the band's entire discography; consequently, older songs from the beginning of their career were performed.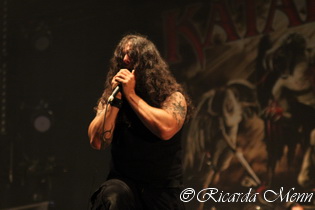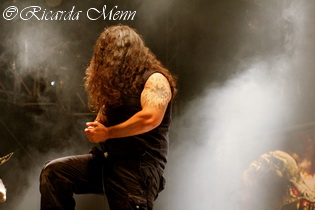 Although those were unfamiliar to many people, it was especially enjoyable for hardcore KATAKLYSM fans and posed a diversion from their typical setlist. Yet, also classics like 'As I slither', 'In Shadows and Dust' or 'Crippled and Broken' could not be missed. After more than an hour, a huge 20 out of red and white sparkles was illuminated and the band left the stage, escorted by huge applauses.

Setlist
01. Determined
02. Taking The World By Storm
03. The Awakener
04. To Reign Again
05. Manipulator Of Souls
06. As I Slither
07. At The Edge Of The World
08. As My World Burns
09. Drum Solo
10. Blood On The Swans
11. Astral Empire
12. Feeling The Neverworld (Chapter III, An Infinite Transmigration)
13. The Orb Of Uncreation
14. In Shadows And Dust
15. Crippled And Broken
16. Push The Venom

Rating
Music: 8
Performance: 10
Sound: 9
Light: 9
Total: 9 / 10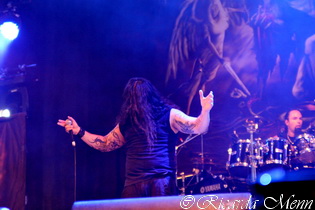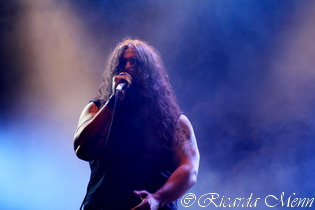 Secrets of the Moon

Formed in 1995, SECRETS OF THE MOON are one of the most interesting German Black Metal acts. So far, four records were released, evolving from a rather rough sound to an atmospheric, dark and at times grooving style. Apart from the two latest records 'Antithesis' (2006) and 'Privilegium' (2009), several splits (for instance with LUNAR AURORA ) were produced. http://www.secretsofthemoon.org / http://www.myspace.com/secretsofthemoon

Music & Performance
SECRETS OF THE MOON surprised and convinced me at the same time during their last gig I attended. Consequently, I was really looking forward to this concert and even though it was in the middle of the night after a hard day with almost no sleep, a few people were waiting at a few minutes past two o'clock.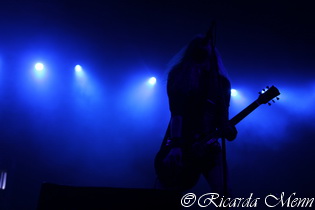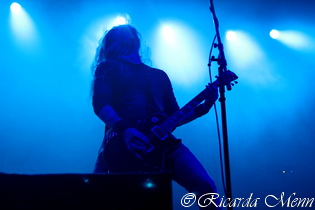 Unfortunately, the performance started a quarter of an hour late due to a prolonged sound check. Consequently, the band had to cut their setlist short and left the stage at 3 o'clock without ending the current song. Furthermore, the sound and light circumstances turned out to be the worst of the whole festival - although fog and darkness surely adds to the atmosphere, you could not get a proper view of the band, who were mostly playing with their back to the audience. The songs could hardly be recognized or differentiated, and so many people were disappointed by this performance.

Rating
Music: 8
Performance: 6
Light: 3
Sound: 6
Total: 6 / 10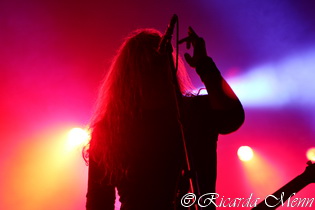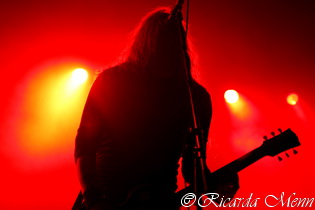 All pics by Ricarda Menn except pics of Bolt Thrower curtsey & copyright Summer Breeze Festival



See also (all categories):