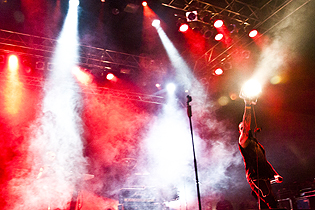 Leipzig, Germany
25th-28th May 2012
21. Wave-Gotik-Treffen Day 2: Galskap, Eden Weint Im Grab, Nachtblut, Dark Fortress, Aesthetic Perfection, Secrets Of The Moon, Funker Vogt, Amorphis and Combichrist

The second festival welcomed us once more with perfect festival weather. Today, we decided to watch some of the Metal bands at Kohlrabizirkus and compared to that, some of the harder Electro bands at the main festival area, at Agra hall.



Galskap - Kohlrabizirkus (Florian Schürmann)

GALSKAP is a black metal band form Bremen, Germany. They were founded in 2003 and have released 2 demos and 2 full-length Records so far. GALSKAP are Grimmschlag (vocals & lyrics), Fatal (composing, guitars, bass and keyboard) and Blastphemer (drums). Their latest record the title 'Kleriker des Wahnsinns' and was released December 31st, 2010. www.galskap.de / www.myspace.com/galskap / www.facebook.com/Galskap3331

Music & Performance
Since I enjoyed the band's latest record very much I looked forward to seeing GALSKAP perform that very black metal focused day. But that day turned out to be the day of "late fixes" as I would call it. In this case the first half of the 40 minute gig differed heavily form the second one. The sound they opened up with was anything else but beneficial since the guitars indistinguishably blended with each other very thinly while the vocals had the extra presence the guitars were lacking and turned out to be very loudly over-layering the music. The late fix came during song 4 when the sound slowly evolved into an enjoyable one. That particular one is normally entitled 'Gottverreckte Straßen Bremens' but for the special occasion the name of the city was changed, of course to Leipzig. After they had overcome that obstacle, GALSKAP played some remarkably good black metal you would not expect to hear from a festival's opening band.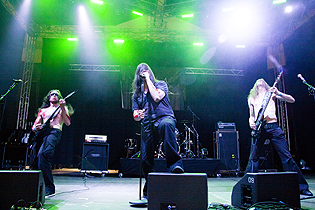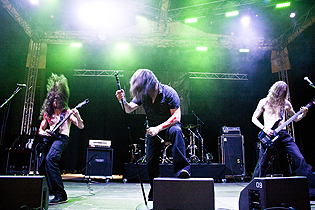 Since the guitars were much more different now, there were some really nice melodies and runs to discover. Especially 'Torrent of hatred' I found very enjoyable since it had a very grooving feel to it in contrast to the rather straight-forward attitude of the former tracks. One major issue I had with the band was the stage presence. Admittedly there often is not much going on with metal bands when it comes to terms of performance with which I'm totally fine. But GALSKAP had a vocalist who had no instrument to play that would restrict him, hence I would have expected a little more. I never saw a less energetic and bored singer than Grimmschlag, whose presence would have settled every mob. There obviously is some backlog demand on that as well as the band's choice of colour, since that what was spread across the member's limbs and face and supposed to resemble blood, looked nothing alike. However with all the issues aside, I would always recommend to risk an ear – on CD as well as live.

Setlist
01. Katharsis 3331
02. Forge the Throne
03. Es
04. Gottverreckte Straßen Leipzigs
05. Torrent of Hatred
06. 451°F
07. Fegefeuer
08. Zeugnis des Mondes

Rating
Music: 8
Performance: 5
Sound: 5
Light: 6
Total: 6 / 10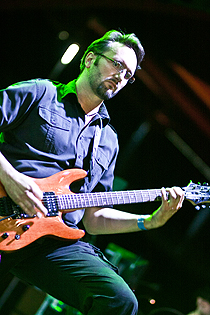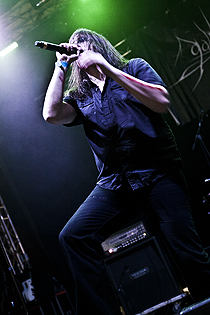 Eden Weint Im Grab - Kohlrabizirkus (Florian Schürmann & Anne Kuhfuß)

In the year 2000, EDEN WEINT IM GRAB's protagonist Alexander Paul Blake already recorded a first demo called 'A Celebration in Black' as DARK PRIDE RETALIATION. But due to the poor sound quality this demo was never released. The project was buried soon afterwards and it took long for it to resurge from the grave in 2004, this time with the promising name EDEN WEINT IM GRAB (German for "Eden is crying in the grave", the abbreviation "ewig" means "eternal") and with German lyrics. The official debut album 'Traumtrophäen Toter Trauertänzer' has been produced and performed by Alexander Paul Blake in his Winter Solitude Studio reclusively and only the bass guitar has been played by Sebastian Schult (Ex-Atrocity, Ex-From Thy Ashes). Subsequently EWIG chose an unconventional way on purpose and put the whole album and artwork online for free download to receive the broadest possible publicity and not to drown as a newcomer in the huge mass of new releases.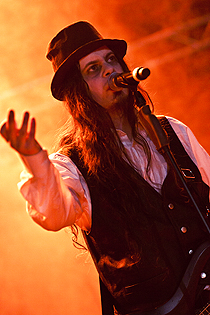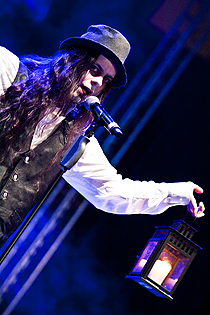 Motivated by the great responses and euphoric reactions Alexander Paul Blake returned to his studio in Berlin to create the successor 'Trauermarsch Nach Neotopia'. In the last years, the band also released 'Der Herbst des Einsamen' and 'Geysterstunde I - Ein poetisches Spektakel zu Mitternacht'. EWIG is Alexander Paul Blake (voice, keyboards, bass, songwriting), Michael Tamme (guitar), Marco Eckstein (guitar) and Zeus X. Machina (drums). http://www.edenweintimgrab.de / http://www.myspace.com/edenweintimgrab / https://www.facebook.com/edenweintimgrab

Music & Performance
After their appearance in 2009, EDEN WEINT IM GRAB (or EWIG for short) returned to the Kohlrabizirkus to play once more their style of music which indeed is hard to describe since it holds elements of gothic as well as black metal but adds a personal flavour of avant-garde storytelling circus music. This may sound odd but works out greatly which the performance proved. EWIG opened with 'Die Knochenmühle', a gloomy sparingly orchestrated piece over which bassist, vocalist and head of the band Alexander Paul Blake, who entered the stage first, narrated his eerie tale of the "bone mill" while holding a lantern which supported the mood. After that the band started with a few older songs like 'An die Nacht' and 'Blutquell' in whose course the guitars were finally more than a background static. They continued with the more black metal-ish track 'Waldkathedrale' from the front man's solo project which also carries his name, which unfortunately didn't quite built up the atmosphere which it needed.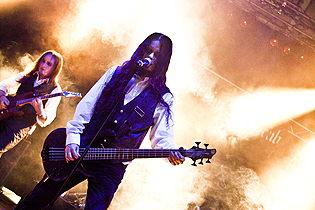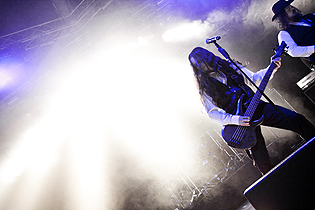 As much as I like his raspy extreme vocals, the moment where this band is able to shine is when the vocalist becomes a singer. That especially shows in songs as 'Friedhof der Sterne' or 'Tango Mortis'. The latter is presented on the record with guest vocals but in my opinion Alexander Paul Blake did the superior job here. In addition to that the song with its very title downright invites to shake a leg and a lot of people took the opportunity throughout the concert. In between songs, the front man proved that he is a good storyteller since he charmingly said some words about the band's history or suggested to watch the video clip of 'Moritat des Leierkastenmanns' on YouTube, a song which also underwent a live performance. At the end the cover-song 'Kindgott' by the German band DAS ICH was played, as an act of blasphemy, as it was called, but they did a very solid job doing so as well as with the rest of their show.

Setlist
01. Die Knochenmühle
02. Unter dem Eis
03. An die Nacht
04. Blutquell
05. Waldkathedrale
06. Tango Mortis
07. Herbstlaubreigen
08. Friedhof der Sterne
09. Moritat des Leierkastenmanns
10. Kindgott (DAS ICH-cover)
11. Krieg im Wunderland

Rating
Music: 8
Performance: 9
Sound: 6.5
Light: 8
Total: 7.9 / 10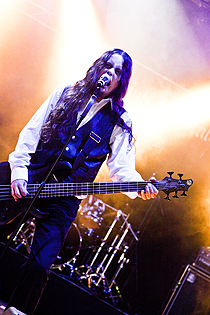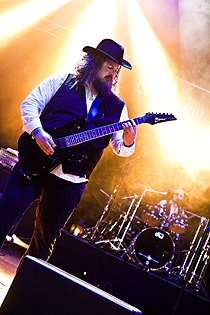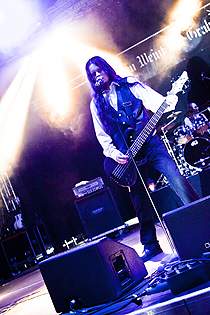 Nachtblut - Kohlrabizirkus (Florian Schürmann & Anne Kuhfuß)

NACHTBLUT was formed in 2005 by Askeroth (vocals). After writing the first couple of songs, he looked for some other people joining his band. One year later, he found those people and NACHTBLUT was complete. Now, the line-up consists of Askeroth, Sacerdos (e-bass), Skoll (drums), Lymania (Keyboard), Greif (guitar). Currently, Lymania is absent due to her pregnancy. With the thought of singing about problems of our society they recorded two CDs: 'Antik' and 'Das Erste Abendmahl'. 'Antik' was re-released in 2011 and then followed by their current album 'Dogma'. http://www.nachtblut.com / http://www.myspace.de/nachtblutgefluester

Music & Performance
NACHTBLUT is probably one of those bands that is hard to remain indifferent about, all the more different is it to form a definite opinion on them - at least for me. When it comes to terms of music they fall into the genre of dark metal, a vague intermediate form for those who perceive gothic metal as too soft but extreme metal as too hard. Since the guitar work often is very rhythmic there are also bonds to the genre of Neue Deutsche Härte but with a lot more keyboard pomp. That is fine with me. I find the song writing itself appealing since a lot of nice quasi-orchestral arrangements are written in. Unfortunately these tunes were delivered fully canned because keyboard-ess Lymania took some time off due to her pregnancy.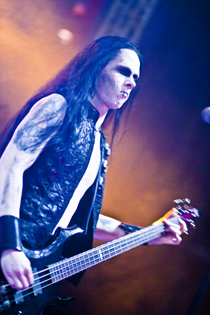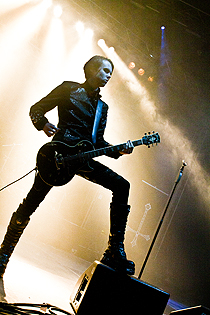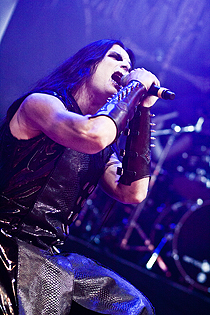 The songs were delivered nicely anyhow with a thick guitar and an assertive drum sound. The Kohlrabizirkus is not the easiest location for the FOH mixer but here the location took revenge with a very reverberant snare sound in every spot but that might not be the band's fault. Altogether I found the musical performance very professional - that is the good news. The bad news is that the rest of the performance is a matter of taste but not mine. When you take a look at the band's lyrics you'll figure out fast what NACHTBLUT are about: to coquet with the image of the bloodthirsty, murderous, always potent and willing vampire, which they carry to the stage in terms of appearance. As much as I find the lyrics dull and mediocre written, equally appealing is their stage presence in my eyes, as I perceive the act as overdone and overly evil. What suffers from that is the sympathy and when the audience asks you to undo your doing after you got halfway undressed, something certainly went wrong. I save my breath because the audience appeared to be pleased especially with songs like 'Antik' which evoked some reactions - in the end that is everything that matters.

Setlist
01. Intro
02. Ketzer
03. Blutgräfin
04. Ich trinke Blut
05. Antik
06. Kreuzigung
07. Eiskönigin
08. Alles nur geklaut
09. Mein Gebieter
10. Der Weg ist das Ziel
11. Macht
12. Kreuzritter

Rating
Music: 7
Performance: 8
Sound: 8
Light: 7
Total: 7.5 / 10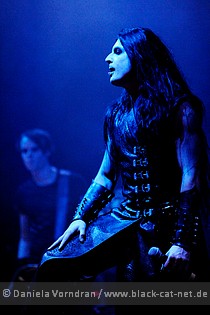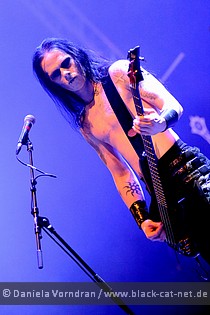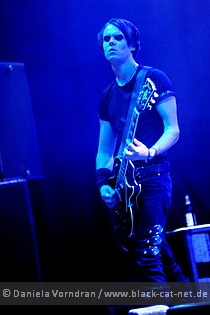 Dark Fortress - Kohlrabizirkus (Florian Schürmann & Anne Kuhfuß)

Formed in 1994, DARK FORTRESS have established themselves with their intense live shows and the pitch black full-length pieces that meet the standard set by northern Europe's prolific scenes. Their first musical sign of life was the 1996 released demo 'Rebirth Of The Dark Age'. In 1997, the original line-up consisting of band founder Asvargr (guitar), vocalist Azathoth, Njord on bass, and drummer Charon established the band's first live line-up with the addition of a second guitarist named Crom and keyboardist Thamuz. Line-up changes (Charon and Crom left due to conflicting musical interests) delayed further live and studio activities. However they later signed to US label Red Stream for two albums and hired Seraph and V.Santura as the new drummer and guitarist. With a stable line-up consisting of Azathoth (vocals), Asvargr (guitar), Santura (guitar), Draug (bass), Paymon (keyboards) and Seraph (drums) more live shows and even festival appearances ensued seeing DARK FORTRESS share stage with popular extreme metal acts like BEHEMOTH, IMPALED NAZARENE, PUNGENT STENCH, GOD DETHRONED as well as many underground acts.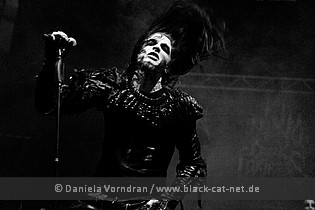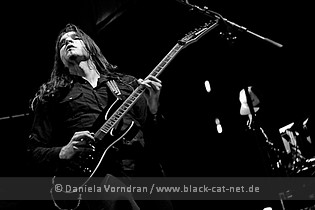 The hitherto musical peak of their career then hit the metal scene with the 2004 released 'Stab Wounds' (Black Attakk). Crowned by a gloomy artwork by well-known artist Travis Smith, 'Stab Wounds' was well received not only by the band's underground following but also mainstream metal press. Their new album contained melancholy melodies which combined with suicidal themes. On May 13, 2007, they fired their vocalist, Azathoth, due to various non-musical reasons. http://www.darkfortress.org / http://www.myspace.com/darkfortress / https://www.facebook.com/officialdarkfortress

Music & Performance
The fourth band of that day for us was DARK FORTRESS which I saw earlier that year on the Ragnarök Festival, hence I knew what to expect. When it comes to German black metal of high quality, DARK FORTESS is a name you should have on your list. That is applicable for their by now considerable back catalogue of records and of course for the live appearances. The band also entered the stage with everything that is associated with black metal, which would be of course corpse paint, spiked bands, extravagant outfits and a lot of attitude but in comparison with the previous band all that worked out beneficially for the performance since everything gave a consistent picture. The music that comes with that is no exception. DARK FORTRESS is probably the only band that day having great sound from the beginning 'til the end, letting the few bass dropouts slide.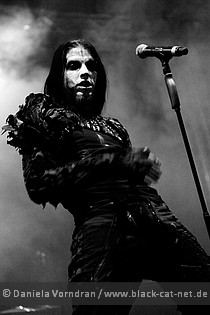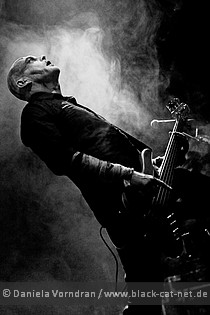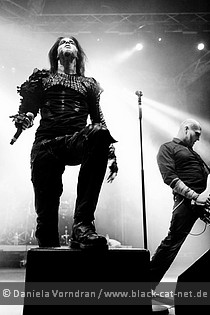 They performed two songs from each of the last 3 records including great pieces like 'Cohorror' or 'CataWomb' which invited the audience to bang their heads. In addition to that they once again presented the track 'Rite of phoenix' from the forthcoming record, which worked for me way better the second time hearing it. It is one of the songs that slowly builds to a climax which is quite different from the style they used to play and comes along very doom metal-ish. In any case it is one of the songs to check out once the record is out, which will take a while until 2013 according vocalist Azathoth. He also thanked the "distinguished and classy audience" for coming to their show on this "worst of all artificial holidays" and left a pleasant impression despite all the attitude shown. The band did a great job on stage letting the time fly by rapidly while performing a very enjoyable show. They left with 'Baphomet' and with no wishes unfulfilled, at least on my side.

Setlist
01. Osiris
02. Ghastly indoctrination
03. The valley
04. Cohorror
05. CataWomb
06. Rite of phoenix
07. Baphomet

Rating
Music: 9
Performance: 8.5
Sound: 9
Light: 8
Total: 8.6 / 10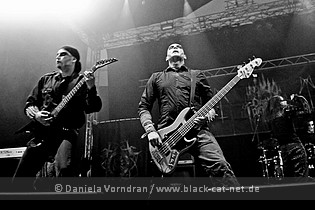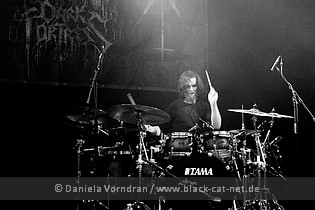 Aesthetic Perfection - Agra (Anne Kuhfuß)

AESTHETIC PERFECTION is an American electronic-industrial musical project created by Daniel Graves in 2000. As of Fall 2011, the band is signed directly to Metropolis Records in the USA and Out of Line Records in Europe. Additionally, the band is licensed to Gravitator Records in the Russian federation and Death Watch Asia in Japan. The band's third album 'All Beauty Destroyed', was released on 4th November 2011 in Europe and 8th November 2011 in the USA. AESTHETIC PERFECTION is Daniel Graves (all music, vocals and lyrics), David Dutton (live keyboards) and Tim Van Horn (live drums). http://www.aesthetic-perfection.net/ / http://www.myspace.com/closetohuman / https://www.facebook.com/aestheticperfection

Music & Performance
Opening the stage for big bands such as FUNKER VOGT and COMBICHRIST, the bars were set on a high level and the band definitely lived up to all the expectations. Never having listened to the band before, I was quite amazed by their power on stage. Also the appearance was quite nice. Daniel (vocals) wore a black silicon mask and heavy make-up which was nice to look at. The band immediately started with heavy electro sounds. The volume in the Agra was really high but did not disturb the sound quality whatsoever. Also, the bass (which is sometimes way too heavy for electro bands) was well-balanced.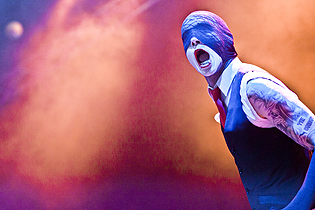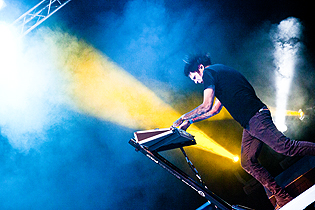 The stage was very purist, no banner, no slide or video show or even a logo could be seen. A microphone stand, an acoustic drum set as well as a keyboard were the only things to be found on stage. Any other redundant elements were not needed, the band spoke for itself. Daniel's stage presence was more than 100% and all others on stage were in no way inferior to that. The audience showed their love to the band by singing along to the songs which is not always easy with an electro band. Everyone seemed to enjoy the show. After about 30 minutes into the show, Mr. Graves removed his silicone masked and unveiled his face to everybody. Now, everyone knew that it was definitely him who managed to have a perfect change between clear vocals and screams. Summarizing, one can say that AESTHETIC PERFECTION did one of the best concerts on this year's WGT - and now, they are surely not only an insiders' tip anymore.

Setlist
01. All Beauty Destroyed
02. A nice Place to visit
03. The Devil's in the Details
04. Inhuman
05. One and Only
06. The little Death
07. Hit the Streets
08. The Siren
09. The Ones
10. Living the Wasted Life
11. The Great Depression
12. Spit it Out

Rating
Music: 9
Performance: 9
Sound: 9
Light: 7
Total: 8.5 / 10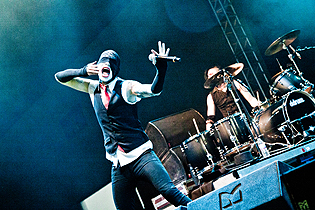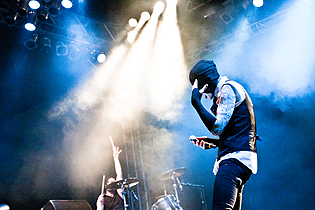 Secrets Of The Moon - Kohlrabizirkus (Florian Schürmann & Anne Kuhfuß)

The German black metal band SECRETS OF THE MOON was founded by Daevos, Schizo and Frazer in 1995. Their musical career started with their demos 'Unearthed Arcana' in 1995 as well as 'Vanitas' in 1997. Over the years, the band grew bigger and released several albums. The members changed in 2009 when a new bassist entered the band. The band is currently with Lupus Lounge, a division of Prophecy Productions. In February 2012, the band released a music video for their new song 'Nyx' which was followed by their current CD called 'Seven Bells'. http://www.secretsofthemoon.org/ / http://www.myspace.com/secretsofthemoon / https://www.facebook.com/sotm777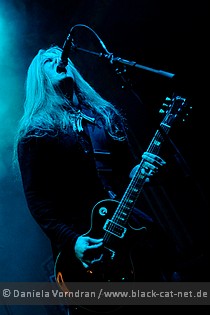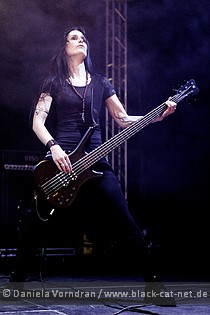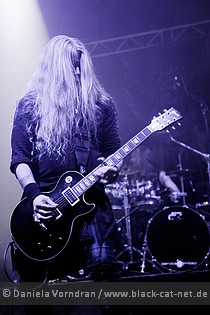 Music & Performance
SECRETS OF THE MOON is one of those bands that merely exist, which means they release records in an almost constant three-year-rhythm, play their occasional festival gig but never cause a stir, although they are by now in their 17th year of existence and each record gained high ratings from the media and their fans. That is how at least I conceive their position in the whole wide black metal territory. Admittedly the material they play is not that easy to grasp and needs some time to unfold and develop in the ears of the listener. Fortunately they had a full hour to get the listener in the right mood. That was not that easy since it is the day of "late fixes" when it comes to terms of sound. In my perception the bass guitar was way too present and overshadowed the other instruments in large parts of the first three and a half songs played, which was half of the set. However the atmosphere they were creating with their music was there from the beginning but came to shine when the sound had been levelled.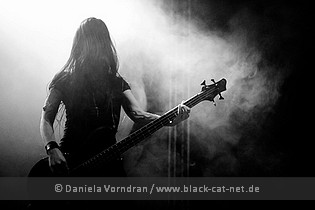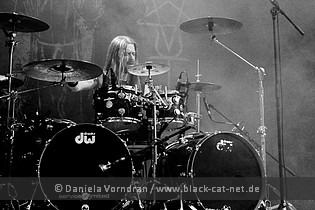 I somehow wished they would have set up seats in the auditorium since the music literally asks for something you sink into while listening to the majestic arrangements of song like the doomy 'Lucifer speaks' or the rousing 'I Maldoror'. You could see the songs were intonated with expertise and passion. Unfortunately the audience decreased by a noticeable number of people since DARK FORTRESS had finished, maybe for above-mentioned reasons. However who stayed was able to witness a sublime concert by a great band.

Setlist
01. Seven Bells
02. Ghost
03. Blood into wine
04. I Maldoror
05. Lucifer speaks
06. Nyx
07. Queen Among Rats

Rating
Music: 9
Performance: 8
Sound: 6.5
Light: 7.5
Total: 8 / 10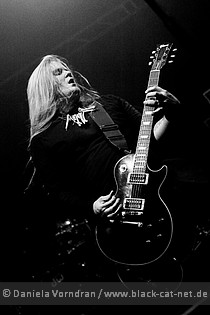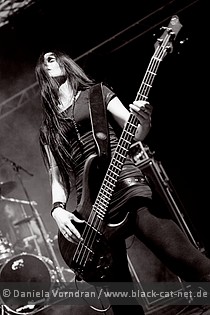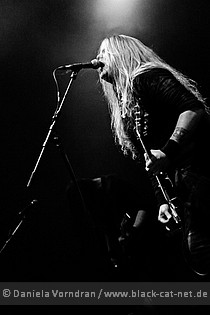 Funker Vogt - Agra (Anne Kuhfuß)

The band was founded in 1995 by band members Gerrit (Route X), Thomas and Jens Kästel. FUNKER VOGT was originally a side project to Gerrit's main project (at the time) RAVENOUS. Well, things didn't work out too well for RAVENOUS and FUNKER VOGT quickly became front stage for Gerrit and the rest of the group. The majority of the songs of FUNKER VOGT revolve around war and some involve politics and others deal with world problems. Although the band sings much about war, they are almost militantly opposed to it. FUNKER VOGT produced four full albums before introducing a fourth member to the band Björn Böttcher (who now also manages the band with Kai). More recently the band also brought Frank Schweigert on board. The last studio album was released in 2007, in 2009 they released a live album followed by the studio album 'Blutzoll' in October 2011. FUNKER VOGT is Gerrit Thomas (composition, production, backing vocals, keyboards) and Jens Kästel (lead vocals); live they were supported by Thomas Kroll (guitar). http://www.funkervogt.de/ / http://www.myspace.com/funkervogt / https://www.facebook.com/funkervogt.de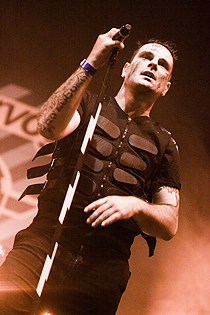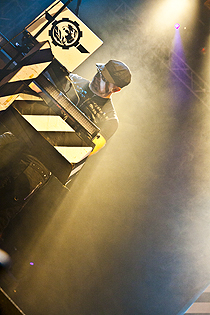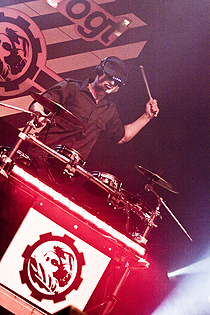 Music & Performance
After such a great concert of AESTHETIC PERFECTION the next ones to follow had a hard act to follow. FUNKER VOGT, however, managed to do that just fine. The band is part of the biggest representatives of their kind. The sound was quite different. The bass level was way higher but still matched the music on all levels. The beats are being hammered into the audiences' heads. This is combined with distinctive synth sounds. The Agra was filled completely by the time the band started their show and FUNKER VOGT really raised the roof. Since the band is really well-known among the gothic scene, they did not have to introduce themselves on a greater level but decided to play some old and new songs to please everyone in the audience. From what I could see, everyone was happy with this decision and showed that by dancing and singing along during the one hour concert. The band has 15 years of music history to look at and definitely used their experience to deliver a great show that was enjoyed by the audience as well as the band itself. Well done, FUNKER VOGT.

Setlist
01. Fire and Forget
02. Hard Way
03. White Trash
04. Fallen Hero
05. Child Soldier
06. Arising Hero
07. The State Within
08. City of Darkness
09. Genozid
10. Fabrik
11. Date of Expiration
12. Maschine Zeit
13. Gunman
14. Tragic Hero

Rating
Music: 8
Performance: 8
Sound: 8
Light: 7
Total: 7.8 / 10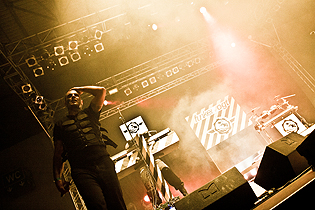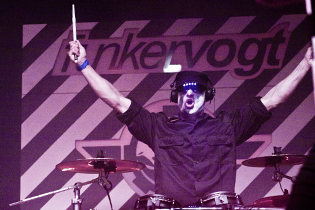 Amorphis - Kohlrabizirkus (Florian Schürmann & Anne Kuhfuß)

The Helsinki based metal formation AMORPHIS was founded in 1990 by Jan Rechberger (drums), Esa Holopainen (guitar) and Olli-Pekka Laine (bass). In 1992, the band released its debut album 'The Karelian Isthmus'. Over the years, there were some line-up changes resulting in the today's cast of Tomi Joutsen (vocals), Tomi Koivusaari (guitar), Esa Holopainen, Jan Rechberger, Niclas Etelävuori (bass) and Santeri Kallio (keys). At the beginning of their career, they played death metal that was enriched by progressive metal devices later on. Furthermore, the band added some Arab and Finnish folk elements. Not for nothing, guitarist Esa Holopainen suggested that suitable band name, as it was derived from "amorphous" which is another word for "shapeless". AMORPHIS can look back on all in all nine long-players such as 'Am Universum' or 'Eclipse' (2006). In May 2009, AMORPHIS released its ninth long-player 'Skyforger' that reached the top of the official Finnish charts. Last year, their current album called 'The beginning of times' was released. http://www.myspace.com/amorphis / http://www.amorphis.net/ / https://www.facebook.com/amorphis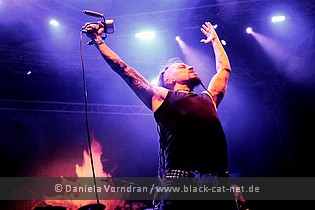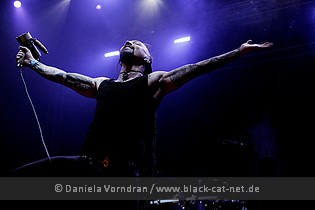 Music & Performance
With the headliner AMORPHIS a band was invited which also played on site before, namely in 2007. Back then they were more or less freshly re-staffed and renewed with new front man Tomi Joutsen, whose voice I liked from the beginning. Now, 5 years later it is nearly impossible to image the band without him. When you read the review of LACUNA COIL's show from the day before, you may remember that they totally abandoned their early records when it comes to choices of songs. In 2007 I was astound how many old songs (with former vocalist/guitarist Tomi Koivusaari) made it into the setlist but blamed it on the circumstance of having only one newer record to rely on. However, with this year's concert it was similar. Nearly half of the songs played were written before the singer joined the band and furthermore had a very different style. So fans from the earlier days of AMORPHIS were able to enjoy some fine more or less melodic death metal with classic song like 'Into Hiding', 'Against Widows' or 'My Kantele'.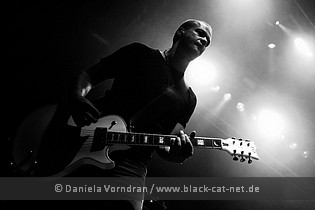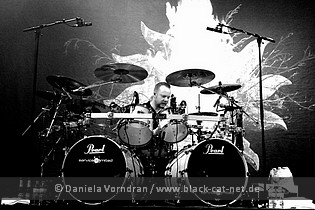 The fans of the newer stuff also got their money worth since the songs picked evenly sorted out from every record without laying the focus too heavily on the recently released 'The beginning of times'. The performance was superb on every side. Since keyboarders (alongside with drummers) often get the least attention, I think it is worth pointing out that Santeri Kallio did a terrific job on his instrument, especially during the complex melodies of 'Mermaid'. The growls as well as the clean vocals of Tomi Joutsen were in no way inferior to the ones on the record and the ability to flawlessly alternate between the two styles again earns by deep respect. The day of "late fixes" only brought slight improvements since the rhythm guitar could have been more present in the mix, which for me lacked a little power. The vocals contributed to that impression by having a very roomy sound. Anyhow the audience celebrated AMORPHIS with good reason since they played a great show which should have left no wished unfulfilled.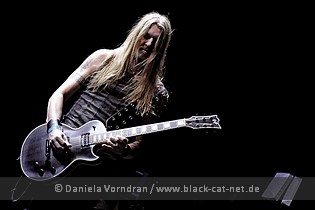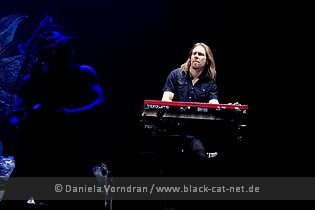 Setlist
01. Sky is mine
02. Towards and against
03. Against widows
04. Crack in a stone
05. You I need
06. Vulgar necrolatry
07. Into hiding
08. Majestic beast
09. Mermaid
10. Castaway
11. Alone
12. Silver bride
13. My Kantele
14. House of sleep

Rating
Music: 9.5
Performance: 9
Sound: 7.5
Light: 9
Total: 8.8 / 10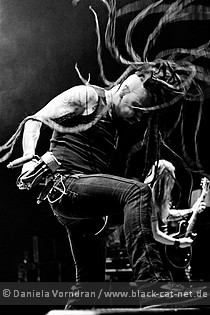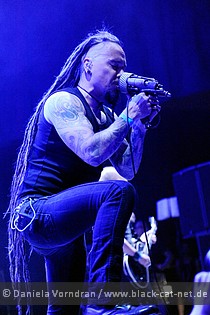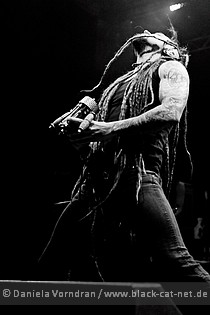 Combichrist - Agra (Anne Kuhfuß)

COMBICHRIST is an American Aggrotech band formed in 2003 by Norwegian Andy LaPlegua, who also founded the bands ICON OF COIL and PANZER AG. The band is based in Atlanta, Georgia. It consists of only Andy in the studio with Joe Letz, Z_Marr, Trevor Friedrich, and a revolving guitarist spot currently filled in by Abbey Nex for live performances. Releases by the band have been very successful in terms of sales and charted in top positions for dance and alternative charts worldwide, a few releases have even sold out completely. The lyrical content of COMBICHRIST typically varies from themes of misogyny, murder and suicide to BDSM and paramilitary themes, with some sampling of movies, phone calls, or interviews done throughout most songs. http://www.combichrist.com/ / http://www.myspace.com/combichrist / https://www.facebook.com/combichrist

Music & Performance
After watching a documentary, also called "Festival check", by a German TV station, it was quite nice to look back to the concert of COMBICHRIST at the 21st Wave Gotik Treffen. According to this short film, the band is one of the biggest stars (if not even THE star) among the Gothics and this definitely could be seen during their concert on this Saturday. The band opened with a strong start.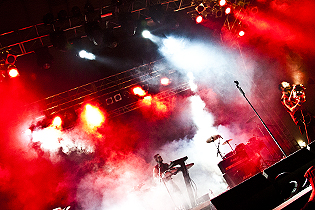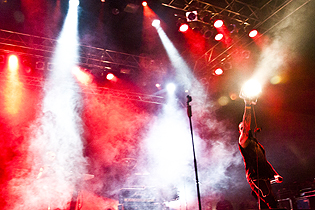 Andy (vocals) was using a spotlight to lighten up the first rows of the audience and sometimes even himself. He was quite good looking with his black/ white make-up. It was surprising that his make-up stayed on during the whole concert although he was moving around like a squirrel on drugs. With songs like 'This Shit Will Fuck You Up' and the well-known 'Get your body beat', COMBICHRIST got the last drop of sweat out of everybody's bodies. There were groups of dancing people all over the Agra. In my eyes, the sound was quite good although being way too loud. Also, the bass was on its maximum and left me with a little headache after the concert was over. COMBICHRIST surely put a great ending to the second day of the WGT 2012. Next time, just try to use a little less bass - but this is probably not possible for a band like that.

Setlist
01. Intro
02. Intruder Alert
03. Enjoy the Abuse
04. Like to Thank My Buddies
05. Are You Connected
06. This Shit Will Fuck You Up
07. Get Your Body Beat
08. All Pain Is Gone
09. Scarred
10. Just Like Me
11. Follow the Trail of Blood
12. Throat Full of Glass
13. They
14. Never Surrender
15. What the Fuck Is Wrong With You?

Rating
Music: 8
Performance: 8
Sound: 7
Light: 7
Total: 7.5 / 10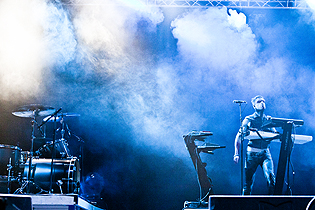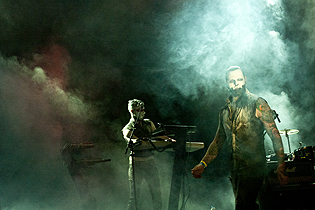 Pictures by Daniela Vorndran (Nachtblut, Dark Fortress, Secrets Of The Moon, Amorphis - http://www.vorndranphotography.com / http://www.black-cat-net.de/ / www.myspace.com/vorndranphotography / www.facebook.com/blackcatnet) and Anne Kuhfuß (Galskap, Eden Weint Im Grab, Nachtblut, Aesthetic Perfection, Funker Vogt, Combichrist)


See also (all categories):