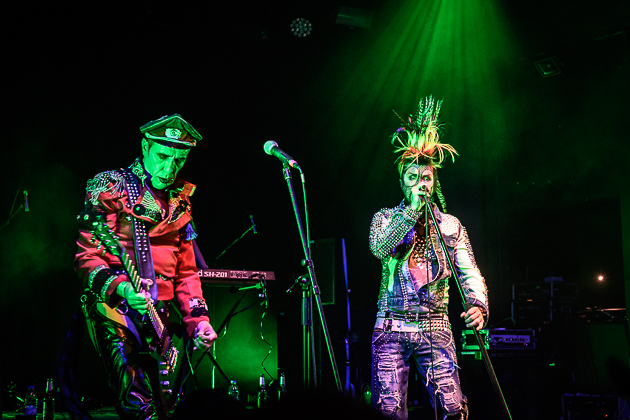 Leipzig, Germany
12th - 16th May 2016
Wave Gotik Treffen 2016 (Day 2): Diodati, Schwarzer Engel, Other Day, Joachim Witt, Sigue Sigue Sputnik, Christ vs. Warhol, Lene Lovich, Estampie, Rose McDowall, Obsession Bizarre

A lot of people already started moaning ahead of the festival: "The wheatear is going to be awful. Rainy and cold..." Bullshit! Yes, nights were cold and it was unstable, windy and at times rainy, but overall (as always) the wheatear throughout the WGT in Leipzig was good. Before our concert day started, we made a stop at Palmengarten for the Steampunk Picnic, organized by Goth United, Ruffles & Steam, Schwarzes Picknick Berlin, Schwarzes Picknick Hamburg and Clockworker.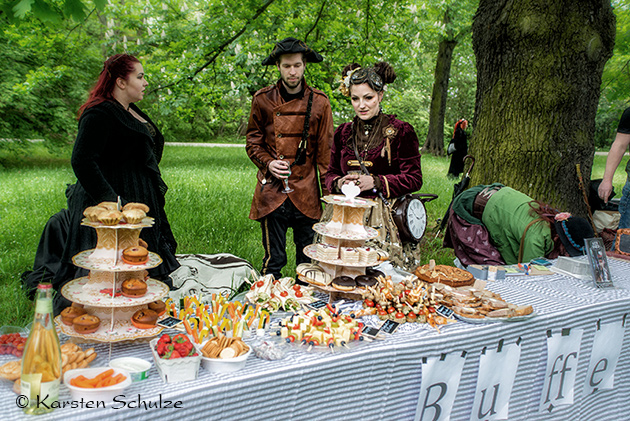 Other decided for some shopping before the concerts started. For the WGT, one big part of the Agra is turned into a big gothic mall which lets the black hearts of the dark shopping kings and queen go faster: outfits, toys, merch, CDs, you name it you get it. Besides, all Goth and Metal shops in the city centre were open all days as well, even Sunday and Monday. Some of the smaller ones (like queen of darkness) even had to let people take turns and wait outside. Leipzig´s fantastic second hand shops are a real good and cheap way to shop. There are several of them, one of them big as a supermarket, spread around the city. Finally, it was time for the concerts.
Diodati - Felsenkeller (Betty Schulze & Little Dead Boy)

DIODATI is a neoclassic band, founded in 2000, who proceeded the band WESTWERK. DIODATI is a family name. Its origin is Saint Deodatus of Nevers. Founder Gwydion, Svyati on cello, Dr. Elias and Coco Grace, vocals, are an exceptional band. Far from musical stereotypes their music dominated by classical instruments, they present deep melancholic sounds with profound lyrics. Male and female vocals, electronic, almost industrial passages, swing, jazz, a little cabaret, instrumental parts, modern classic and even singer/ songwriter... a neoclassical crossover meeting literature taking the audience on a authentic and fantastic journey through different moods that never ceases to surprise. Especially for the 25th WGT, co-founding member AjNa joint her old band on the piano to make the line-up perfect. We thank those great artist for a special evening. //
http://www.diodati.de
/
https://www.facebook.com/Diodati-official-133447476750851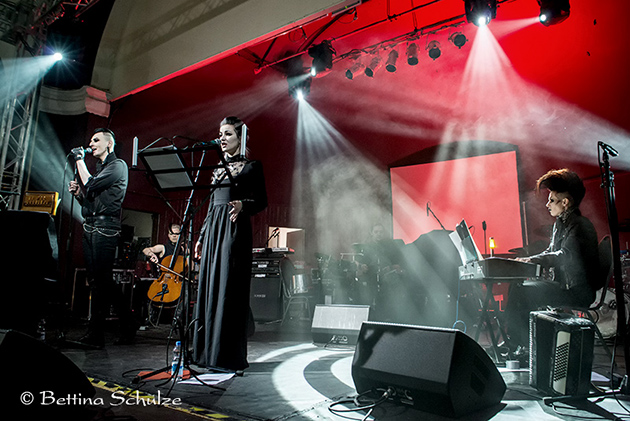 Meinhard - Felsenkeller (Betty Schulze & Little Dead Boy)

The hall fills up for the next act, MEINHARD, who moved to Munich in 2000. Originally working under the name Jeremias Meinhard, the artist changed the name of the project to MEINHARD in 2011. MEINHARD unites different genres of music, like avant-garde, classic, gothic, pop, folk and electro. I was reminded of "Alice in Wonderland". The musicians surely had fun, playing with the audience by welcoming them to a silly German TV show called "Fernsehgarten" instead of the WGT. Meinhard of Falkenberg, the gothic dandy, with fur-collar, big make up and big gestures made sure he entertained the crowd. //
http://www.meinhardmusic.com
/
https://www.facebook.com/meinhardmusic
// Setlist: 01. Mein kaltes Herz / 02. 667 - The Neighbor of the Beast / 03. humunculus:automaton / 04. G.O.D.//D.E.M.O.N. / 05. Alchemystery / 06. Nimmerwo / 07. Mad as a Hatter / 08. Why Do I...? / 09. At the Rite Site / 10. A Melody That Can't Be Found / 11. Falling! / 12. Pig & Pepper / 13. You Save and You Kill the World / 14. Blood + Love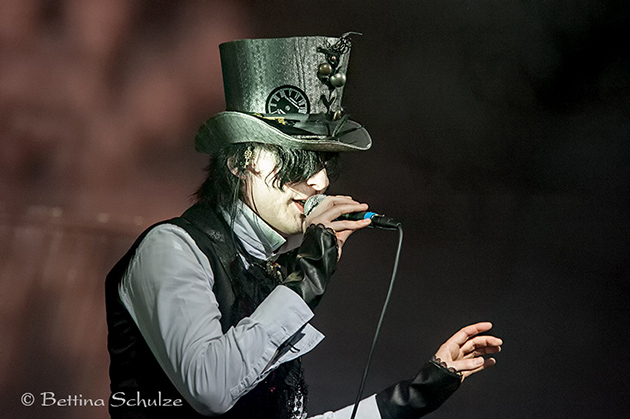 Schwarzer Engel - Felsenkeller (Betty Schulze & Little Dead Boy)

After a short change-over, SCHWARZER ENGEL (Black Angel) entered the stage. The German singer and musician Dave Jason formed this "modern dark metal" band in 2007, supposedly commanded by a threatening angel in his sleep. SCHWARZER ENGEL started as his solo project but was completed live by Jens Lindmaier (guitar) and Bert Oeler (bass). Jason entered the stage wearing a mask a golden armour. Two guitarists and a drummer created a truly dark sound. As you can see, the angel has a thing for god. A lot of songs have the word god or gods (Götter) in them. So among others, he played his version of 'Freude schöner Götterfunken' by Ludwig van Beethoven, which will have the old man spinning in his grave. //
https://www.schwarzerengel.info
/
https://www.facebook.com/schwarzerengelband
// Setlist: 01. Götterdämmerung / 02. Gott vs. Satan / 03. Halb-Gott / 04. Hymne für den Tod / 05. Der schwarze Engel / 06. Götterfunken / 07. Planet Hass / 08. Traum einer Nacht / 09. In brennenden Himmeln / 10. Meine Liebe / 11. Schwarze Sonne / 12. Geister und Dämonen / 13. Interlude / 14. Ritt der Toten / 15. Tanzende Schatten / 16. Pscho-Path / 17. Schwarzkunst / 18. Königin der Nacht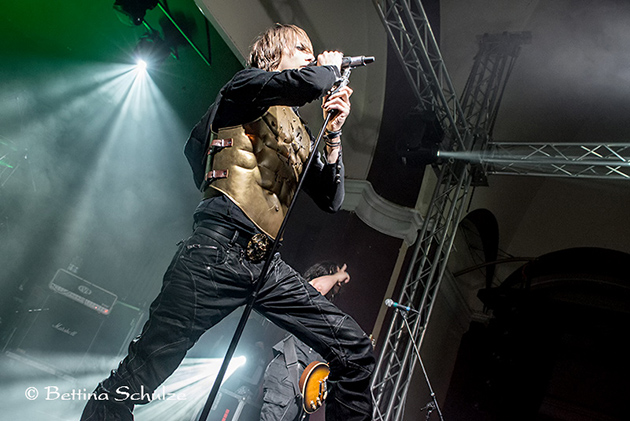 Other Day - Felsenkeller (Betty Schulze & Little Dead Boy)

Finally, after some technical difficulties, OTHER DAY appeared on stage. After splitting up with former projects in 1995, singer Sad and instrumentalist D'eep laid the foundation for what was to become OTHER DAY, completed by Mike B. on keys. Thinking differently, moving outside the mainstream, this is OTHER DAY. After several festival and club gigs, OTHER DAY celebrated their 20th anniversary on August, 21st. Sad and co. are well known for their opulent concerts and walk acts. The voice of "the sad man" and Niha-Céta´s cello lets you forget your everyday sorrows. Dreams become reality. Their album 'Atoria XX' was presented live in total at the show for the first time. It is the band's eleventh album and the wooden cased first edition was sold out within days. But the quiet, spherical concert featured more than songs from that album. Other Days set, accompanied by oriental dancers was an invitation to dream. The WGT, especially the Agra was flooded by OTHER DAY's flyers, promoting both their concert and their album. The picture on those flyers already showed their incredible costumes: all white, horns, pearls, created with care and love for detail. Their ambient sound outstanding and attractive. The audience was enchanted and demanded an encore and got two other songs. //
http://www.otherday.de
/
https://www.facebook.com/otherday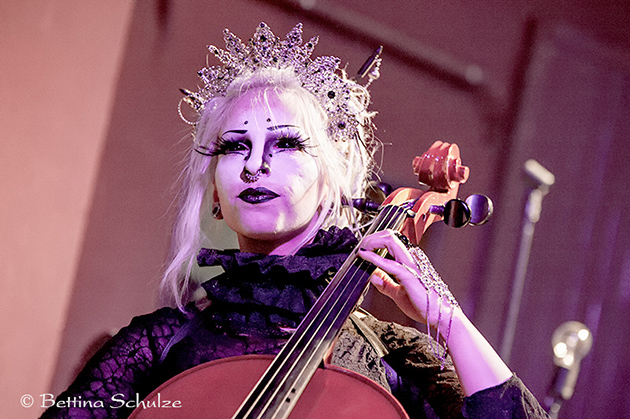 Joachim Witt - Felsenkeller (Betty Schulze & Little Dead Boy)

Finally it was time for JOACHIM WITT, one of my first WGT highlights and THE highlight so many others. JOACHIM WITT is a German musician and actor. His best known songs are probably 'Goldener Reiter'(Golden Rider) and 'Die Flut' (The tide). Witt is considered an inspirational and exceptional artist, even though his works are sometimes critically discussed. The video clip to 'Gloria' was considered provocative for example. But still, he is one of the "old heroes" to a lot of members of the dark alternative scene. He was delighted to play the WGT at the end of his tour. He let the audience participate in his thoughts and feelings, made jokes (like he read that this was his fare well tour). He intended to go on touring, playing and performing and will, when the time has come inform the world of his decision himself. It was a fun evening, partying with Joachim. Goose bumps! //
http://www.joachimwitt.de
/
https://www.facebook.com/joachimwittmusik
// Setlist: 01. Über das Meer / 02. Jetzt und ehedem / 03. Es regnet in mir / 04. Zeit zu gehen / 05. Tod oder Leben / 06. Tag für Tag / 07. Gloria / 08. Olé / 09. Shut the Fuck Up / 10. Die Flut / 11. Supergestört und superversaut / Encores: 12. Goldener Reiter / 13. Herbergsvater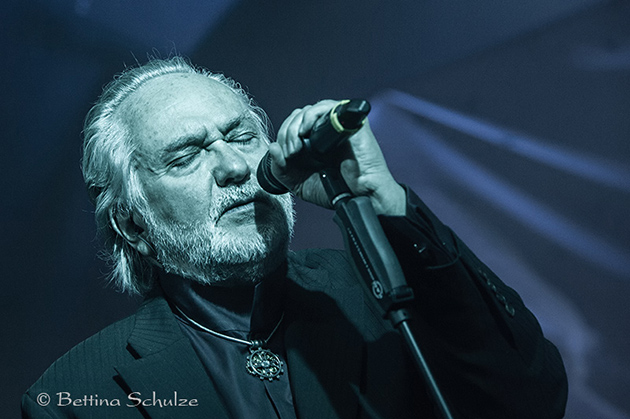 While some of the team watched the bands at Felsenkeller, others decided for the shows at Täubchenthal. This location was added to the vast number of venues at the WGT a couple of years ago and first hosted the horror punk day. The Täubchenthal looks a bit like a western saloon, especially the backyard is decorated in such a way. The shower in the backyard, that cooled people's heads and bodies back then, was not used this year, due to the fact, that is wasn't as hot. I personally wonder when in future somebody might use the interesting old industrial ruin opposite the Täubchenthal. A few pic of it can be found
HERE
!
Sigue Sigue Sputnik - Täubchenthal (Little Dead Boy)

The Täubchenthal was totally bursting, when 80s legends SIGUE SIGUE SPUTNIK played in the early hours of the afternoon. No place to breathe, no place to move, at least no one could fall over... The synth punk heroes started with 'Rockin' the U.S.A.', 'King of Rock'n'Roll', 'Sex Bomb Boogie', 'Dancerama' and 'Teenage Thunder'. To a lot of visitors, this concert was a must see, a time travel to the past and an examination of history. SIGUE SIGUE SPUTNIK didn't alter, no development, nothing new. Same old SPUTNIK.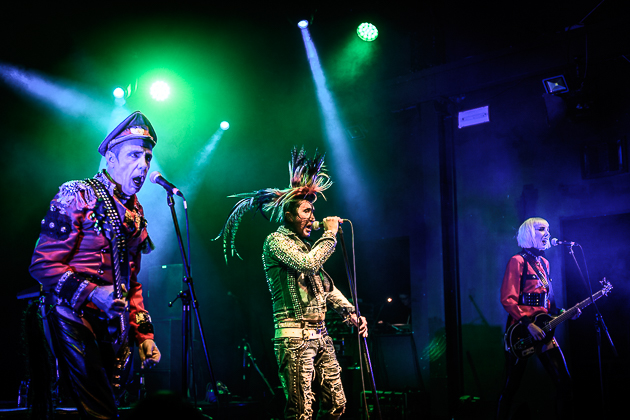 The guitarist and founder Tony James wore a red leather uniform with chains, the bassist a red dress with puff sleeves, singer and front man Martin Degville wore his well-known nylons in his face and feathers in his hair. 'Dancerama' felt like a soft drink for the ears and made one's head go all bubbly. Their 'Space Cowboy' was opened by the toccata D minor by Bach. All in all they sounded better than a couple of years ago, but their show was not really an "all killer, no filler" show. Of course their biggest hits, '21 Century Boy' and 'Love Missile F1-11' ("Shoot it up!"), caught everyone's attention. To me this date with the past was still rather boring and disappointing. //
http://www.sputnikworld.com
/
https://www.facebook.com/sputnikworld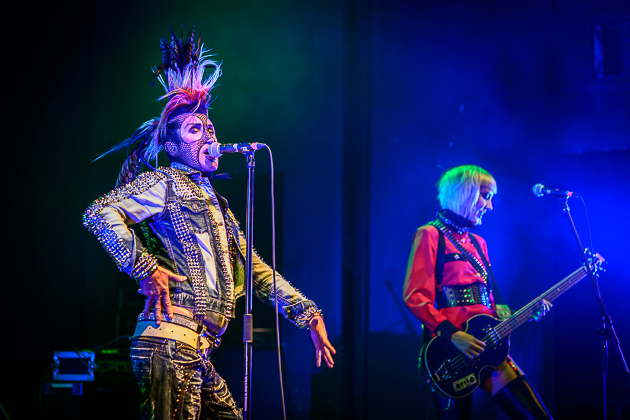 Christ vs. Warhol - Täubchenthal (Little Dead Boy)

The musical treat of the day. After an already very promising sound check, this band with its incredible singer and great drummer deliver an astonishing gig, just as they did in 2010, this time in the Täubchenthal, which is still more than full. Even upstairs it's packed, hot as hell and void of air. CHRIST VS. WARHOL play a modern mix of death rock and gothic punk. The band was formed in 2009 by former members of SCARLET'S REMAINS, THE DEADFLY ENSEMBLE and MEPHISTO WALZ. And if you know these bands, you know what you are getting, or as singer Eveghost said: "I was vocalist for Scarlet's Remains. Steve and Marzia (Rangel) were also in the final line-up of Scarlet's and in fact I wouldn't call it that much different. It's just that there are various reasons why we are no longer in Scarlet's Remains." Her voice reminds me at times not only of Siouxsie Sioux, but also of Hazel O´Connor (Breaking Glas) and Toya. //
http://www.christvswarhol.bigcartel.com
/
https://www.facebook.com/christvswarhol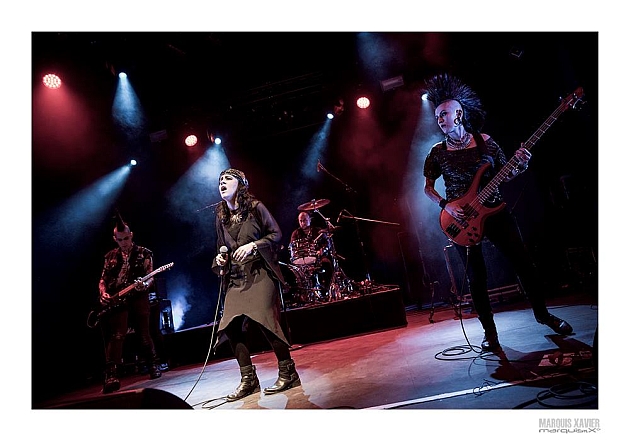 Lene Lovich - Täubchenthal (Little Dead Boy)

The grand dame is getting old. Her presence still undisputed, she finds it difficult at times to hold the high notes. A day filled with history at the Täubchenthal. Following SIGUE SIGUE SPUTNIK and CHRIST VS. WARHOL, Miss Lovich delivers the goods, including the bird song, of course. //
http://www.lenelovich.net
/
https://www.facebook.com/LeneLovichBand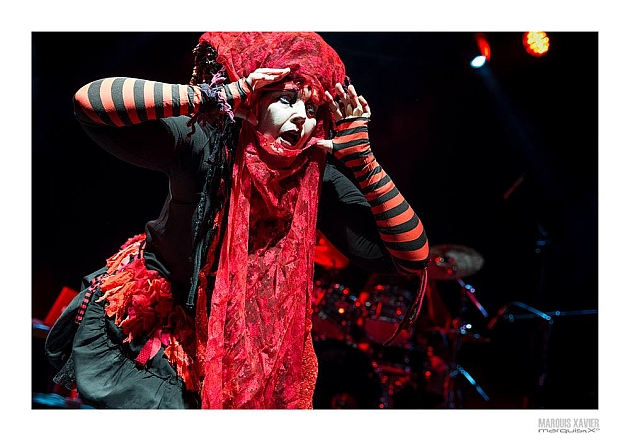 As every year, the Heidnische Dorf offered not only a medieval market with lots of hand craft, food and beverages, but also with many concerts.
Rose McDowall - Heidnisches Dorf (Daniela Vorndran)

The grande dame was performing twice at Wave Gotik Treffen, on Saturday and on Sunday. ROSE MCDOWALL is a Scottish musician being active in music business since 1978 in various bands and solo. 1978 she decided with her later husband to form the Punk band THE POEMS where she was playing drums. Following she worked in the Synth Pop band STRAWBERRY SWITCHBLADE. After both bands were disbanded, Rose was active in the London music scene in the eighties and nineties with guest appearances on albums and shows of various bands, like CURRENT 93 or NURSE WITH WOUND. In times, Rose i.e. was steady member in CURRENT 93, DEATH IN JUNE or ROSA MUNDI. Besides she was founding member of SPELL in 1993 together with Boyd Rice. Since 2004 she also releases music under her own name. Her show at Saturday was quite early at seven when it still was light, in my eyes she should better perform in the dark what would have fitted better to her music. She presented songs from various of her former projects being influential for today's music scene. It was a pleasure to have the Grande Dame of music as guest on WGT. //
https://www.facebook.com/rose.mcdowall.12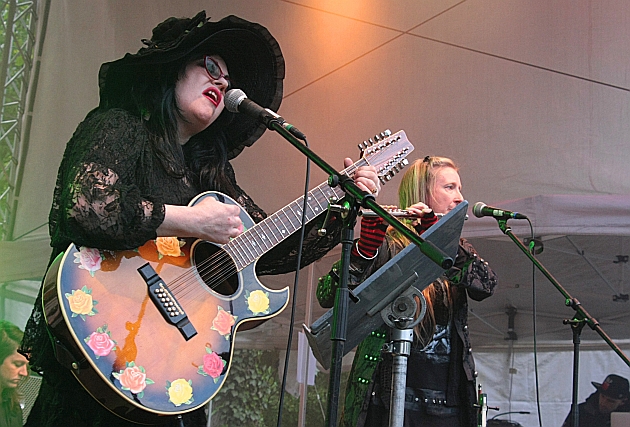 Setlist: 01. [cello intro] / 02. Deep Water (Strawberry Switchblade song) / 03. Ruby Tears (Sorrow song) / 04. Crystal Nights / 05. Trees and Flowers (Strawberry Switchblade song) / 06. Let There Be Thorns (Sorrow song) / 07. Soldier (Sorrow song) / 08. Since Yesterday (Strawberry Switchblade song) / 09. Cut with the Cake Knife / 10. April Skies (The Jesus and Mary Chain cover) / 11. To Drown a Rose (Death in June cover) / 12. Stone is Very, Very Cold (Priscilla Paris cover) / 13. Sunday Morning (The Velvet Underground cover) / 14. Epiphany (Sorrow song) / 15. Sleep Now Forever (Sorrow song)
Estampie - Heidnisches Dorf (Daniela Vorndran)

It was getting dark when ESTAMPIE entered the stage at the Pagan village (Heidnisches Dorf). The band is named after the medieval dance estampie and was founded in 1985 by Sigrid Hausen, Michael Popp and Ernst Schwindl. Musically, the band is classified as Medieval, but they use also modern influences like Pop, World Music or Minimal whereas ESTAMPIE mainly use medieval instruments. So far, ESTAMPIE released several studio albums, two of them as Al Andaluz Project, a musical project of Estampie, Spanish Folk band L'Ham de Foc and Amán Amán. 2015, works on a new album started together with Arabic guest musicians Iman Kandoussi and Aziz Samsaoui. 'Amor Lontano' was then released in 2016. At the WGT, the band performed in their usual line-up consisting of Members: Sigrid "Syrah" Hausen: (vocals, flute), Sarah M. "Mariko" Newman (vocals, violin), Michael Popp (saz, violin, oud, etc.), Ernst Schwindl (hurdy-gurdy), Alex Haas (bass) and Sascha Gotowtschikow (percussion). The songs they presented of course included material from their newest record, like 'Saltarello', but also older ones like 'Quantos me creveren', 'Trotto' or 'Harpans Kraft'. Even though it was not warm outside on this cold WGT, the ESTAMPI show was a success. //
http://www.estampie.de
/
https://www.facebook.com/estampiemusic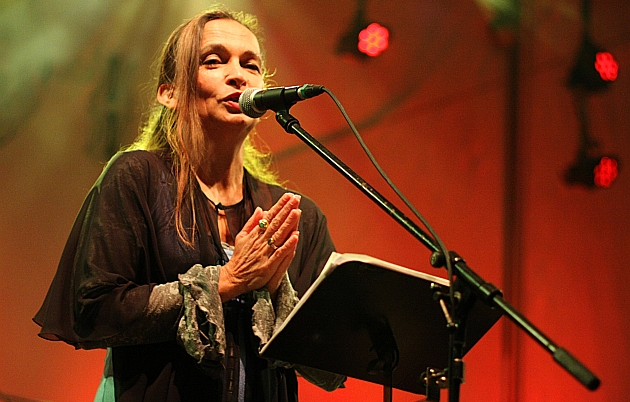 Parties (Little Dead Boy)

Of course, WGT is not only concerts, but also parties. If you have the chance, go and visit evenings featuring Bruno Kramm (Das Ich) at the Dark Flower. One of the few parties with no standard allowance as in other clubs. Bruno can play what he likes and he does. And you keep thinking: yes! There is a lot of good music out there, some of which has almost been forgotten. Whereas evenings with Thomas Rainer (from L'Âme Immortelle) can be difficult. This year Mr Rainer chose to distort most of the dance tracks he played and to turn them inside out.
On the night of the 14th an event takes place that is not only a highlight to many visitors, but the main reason, they choose to come in the first place. Apart from the great music the, Obsession Bizarre offers playrooms and shows and a perfect starter drug for newbies to the SM and fetish scene. This year, fortunately, was accident free -last year something went wrong during a bondage show and a poor girl landed flat on her face- and the shows were really, really good. A stripper, two pole dance shows and a bondage show. The world champion of pole dance, Anne Marie Kot, brought her own singer and was accompanied by music composed especially for her. Bella Holmes' dance group performed a vampire fairy tale, defied gravity and left the audience drooling in front of the stage. There was less latex this year, but all in all the party was a lot more kinky. As always the dress code changed throughout the evening, becoming less and less strict. A visitor was amazed: "I felt like in the last scene of 'The perfume'. Everyone making out. Even outside the playrooms."
Pictures by
Betty Schulze: Diodati, Meinhard, Schwarzer Engel, Other Day, Joachim Witt
Frank Güthoff: Sique Sique Sputnik
Xavier Marquis: Christ Vs. Warhol, Lene Lovich
Peter Heymann: Estampie, Rose McDowall
See also (all categories):