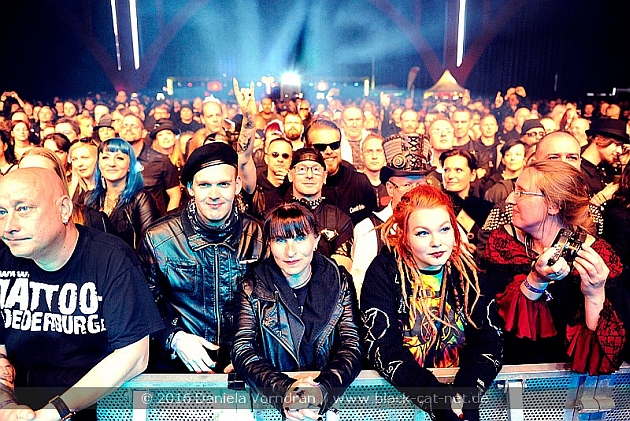 Leipzig, Germany
12th - 16th May 2016
Wave Gotik Treffen 2016 (Day 3): Pride and Fall, Legend, Solar Fake, Mesh, Welle:Erdball, Theremin Chamber Concerto, Winter Severity Index, Jessica 93, The Blue Angel Lounge, Drangsal, Rotersand, PIL (Public Image Limited), Lord of the Lost, Darkhaus, The Legendary Pink Dots

We started the day with a walk through Leipzig's wonderful city until we reached the Moritzbastei. As usually, many inhabitants of the city gathered there to watch the festival visitors and to take pictures of them. Sadly, heavy rain started and so we entered the Moritzbastei, like so many others, to have a drink instead. Today was Electro day for us and soon, we made our way to the Kohlrabizirkus, a wonderful building and old market hall, where already lots of people were waiting when we arrived at four.
Pride and Fall - Kohlrabizirkus (Betty Schulze & Daniela Vorndran)

After a short introduction by DJ Elvis, the Norwegians PRIDE AND FALL entered the stage. The Future Pop band comes from Stavanger in Norway and was founded in 2000 by Sigve Monsen and Svein Joar A. Johnsen. Already after the first song, the audience was excited. The mood raised up even more and songs like 'Elements of Silence' or 'Inside' were loudly sang-along. The trio Svein (guitar), Per (synth) und Sigve (vocals) had the audience in its hands and attracted a lot of people to the Kohlrabizirkus with their mix of electro, synth and future pop. A new album is already announced and during their WGT show, the band already presented two new songs. A cool video show underlined their show visually.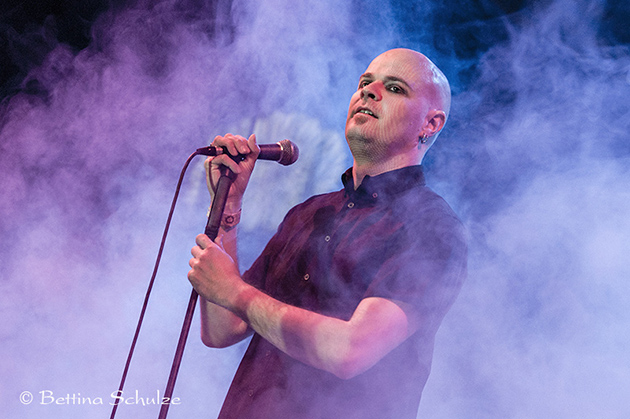 At the end of the show, the screen behind the band showed an internet link where the WGT visitors could download a remix of the song 'Broken Men'. //
http://www.prideandfall.com
/
https://www.facebook.com/Pride-and-Fall-102513029786316
// Setlist: 01. Turn the lights on / 02. Elements of Silence / 03. The angel at the pillar / 04. Epilogue / 05. I wither / 06. Hollow / 07. Construct / 08. Violence in me / 09. Inside
Legend - Kohlrabizirkus (Betty Schulze & Daniela Vorndran)

Next band on stage were LEGEND from Iceland who are experimenting with electronic music. The special thing here: they do it on a very high level that already their debut album 'Fearless' could convince international press and gained high ratings. Even though the band is quite new, front man Krummi Björgvinsson is no newcomer in music business. Before LEGEND, he was singer in the band MINUS, a Punk Rock band from Iceland with a deal at Victory Records. LEGEND's debut album was self-released but now, the band could sign a record deal and play finally at WGT. The set started with a spherical intro and Krummi thanked the audience for coming. In an earlier interview he said: "Shows are as important for us as the music itself. Performing is like kind of dancing with the gods, pure live energy. We are ecstatic and drift into other dimensions." And well, it was exactly like said. The singer totally bewitched the audience with his charisma. Another WGT highlight and more goose-bump feeling! You really felt how much the musicians were into the show with heart and soul.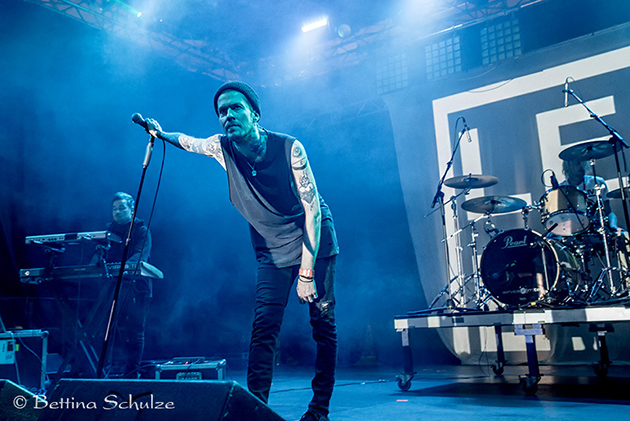 The partly gloomy mood of the songs reminded me of Iceland itself and its music. The set contained also two new songs from the upcoming album. After the show, fans were queuing up at the merch for a CD. Sadly, there was only a small carton with forty CD. Far not enough for all! But the band took a lot of time for their fans and signed everything. //
https://www.facebook.com/Legendband
// Setlist: 01. Amazon War / 02. Virgin / 03. Sister / 04. City / 05. Violence / 06. Midnight Champion / 07. Lust / 08. Fearless / 09. Runaway Train / 10. Adrift / 11. Benjamite Bloodline
Solar Fake - Kohlrabizirkus (Betty Schulze & Daniela Vorndran)

Now it was time for SOLAR FAKE to enter the stage, the electro project of Sven Friedrich. Friedrich is known for his other projects ZERAPHINE and DREADFUL SHADOWS. Starting in 2006, he concentrated more in writing electronic tracks leading to the foundation of SOLAR FAKE for whom he engaged Frank as like keyboarder. In 2008, the first album 'Broken Grid' was released, followed by several concerts and festival appearances. Now, Sven is accompanied by André Feller on stage and in February 2016 they stared a tour supporting the latest album 'Manic Episodes'. The mood at the Kohlrabizirkus was very good from the beginning and anyone danced and clapped. André animated the audience for constant dancing. The show presented songs from the whole band history…. And contained a big surprise: guest singers Daniel Graves from AESTHETIC PERFECTION and Peter Spilles from PROJECT PITCHFORK joined Sven on stage! Sure, anyone in the hall was excited! //
http://www.solarfake.de
/
https://www.facebook.com/SolarFake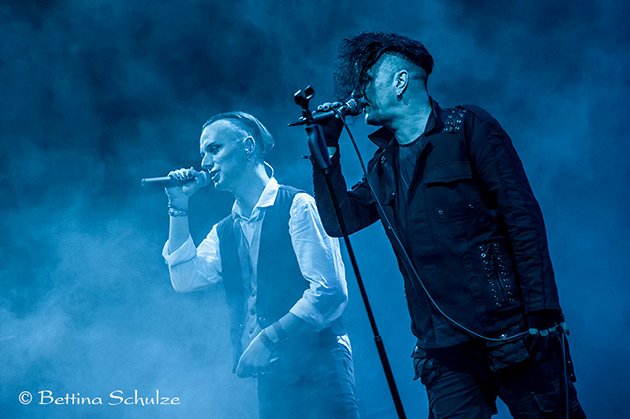 Mesh - Kohlrabizirkus (Betty Schulze & Daniela Vorndran)

It was nine o'clock when MESH entered the stage. The British Synth Pop band from Bristol was founded by keyboarders Neil Taylor and Rich Silverthorn and singer Mark Hockings. Taylor and Silverthorn already played together when they met Hockings on a concert in 1991 and from then on, they stared making music together as MESH. The roots of their music lay in the Synth Pop of the eighties, resulting in some similarities to bands like DEPECHE MODE. Catchy melodies, minimalist synth sounds and emotional vocals form the base of their songs. Today's setlist contained among the old favourites also new songs from the upcoming EP and album.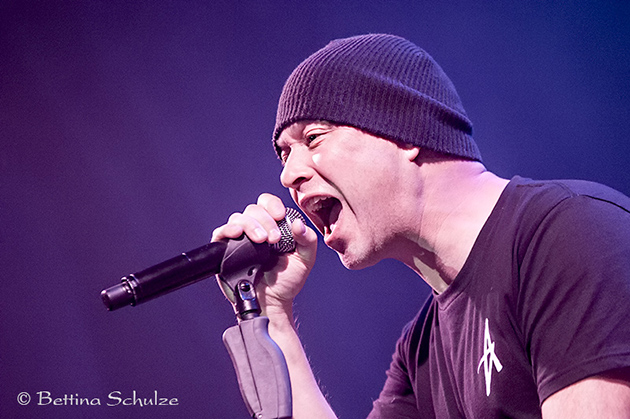 The audiences was included into the show and heavily danced and sang along. The mood in the hall was fantastic! During the last song, 'Friends like These', the Kohlrabizirkus turned into a boiling pot and the fans celebrated the band. //
http://www.mesh.co.uk
/
https://www.facebook.com/meshtheband
// Setlist: 01. Intro / 03. Petrified / 03. You didn´t want me / 04. What´s owed to you / 05. Last one standing / 06. Everything I made / 07. Crash / 08. Kill your darlings / 09. Just leave us alone / 10. Born to lie / 11. From this height / 12. Taken for granted / 13. Friends like these
Welle:Erdball - Kohlrabizirkus (Betty Schulze & Daniela Vorndran)

Short before the WGT started, WELLE_ERDBALL were announced as headliner for Sunday evening at the Kohlrabizirkus. Following right after MESH, the mood just remained on a very high level. Electronic musicians. Alf Behnsen ("A.L.F.") und Hannes Malecki ("Honey") from Stadthagen near Hanover formed the project HONIGMOND in 1990, renaming it later to FEINDSENDER 64.3. In 1993, the final name was found with WELLE:ERDBALL, named after the German radio play "Hallo! Hier Welle Erdball!" from 1928. The name is underlining the appearance of the band as imaginary radio station. Visually, the appearance of the band is leaned against the aesthetic of the fifties. For the opener of the show, '1000 Engel', Lady Lila appeared as a white angel on stage and slowly, her wings were spreading. With balloons flying though the hall, this was once more a legendary WELLE show. Pure party! //
http://www.welle-erdball.de
/
https://www.facebook.com/WelleErdball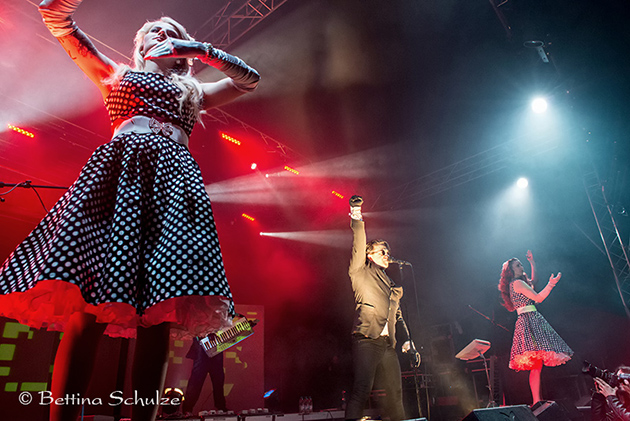 Setlist: 01. Intro / 02. 1000 Engel / 03. Wir wollen keine Menschen sein / 04. Nerdfaktor / 05. Hoch die Fahnen / 06. Des Wahnsinns fette Beute / 07. 23 / 08. Schweben, Fliegen und Fallen / 09. Der Telegraph / 10. Tanz eiskalt! / 11. Der Türspion / 12. VW Käfer / 13. Arbeit Adelt! / 14. Ein Mensch aus Glas / 15. Fanfanfanatisch / 16. Die Liebe der 3. Art / 17. Deine Augen / 18. Ich bin nicht von dieser Welt / 19. Starfighter F-104g / 20. Feuerwerk (Stephan Remmler cover) / Encores: 21. Monoton & Minimal / 22. Es Geht Voran (Fehlfarben cover)
Theremin Chamber Concerto - Alte Börse (Little Dead Boy)

As you know, the WGT always offers special classic concerts. One of them was on our program today. The Alte Börse is another beautiful old building-of which Leipzig and the WGT have plenty- hidden in Naschmarkt, a side street in the city centre. Visitors can take a look at the Flora Metaphorica, an exhibition of art made of dried and pressed flowers, while they are waiting for the chamber concerto. Today is the fifth chamber concert and it attracts so many visitors indeed, that more seats are brought into the hall and still another dozen has to stand in the back. "Please leave an emergency exit!" the audience is warned. Most visitors wear dresses and suits, fit for the occasion. The young composer Moritz Eggert introduces himself. He wears a black suit as well and his face is painted white like a pantomime. I can imagine that he and at least some of his fellow musicians know each other from their studies at university. Mr Eggert plays pieces of his 'Hammerklavier' series.
1. The first piece is difficult. No easy listening. Some parents brought their young ones here as a kind of "early musical education". A little child cries and thwarts the piano, played by the composer himself, beautifully.
2. The second piece is almost easy listening. It is 'Variations over themes of Brahms'.
3. 'Hammerklavier 5', a Song consisting of quintal frequency (fifth note interval speed variation). A chord "falls" faster and faster with every semiquaver. It sounds jazzy. I like it! Moritz starts shouting "Ah!" more and more often, trying to add a dramatic, theatrical note, till I thought he was about to give birth.
4. 'Hammerklavier 3', "One man band" Mr Eggert starts drumming on the grand piano, then his left hand starts playing it. Hitting the keys. Then the right hand joins in... more and more melody, less rhythm... in the end he even plays with his head.
5. 'Bird in Paradise', the first Song for Theremin on this beautiful, sunny Sunday (The weather seems indecisive, but is mostly nice). The sun shines through the windows of the Alte Börse. Lydia Kavina, the Theremin player, is introduced. Like all the other musicians today, her face is painted white. Moritz Eggert praises her unique technique on the Theremin. "Almost like a violinist", he describes her finger work. Most people, when thinking of the Theremin, will think of the spacy, futuristic Theremin sound used in the theme song of 'Space Ship Orion'. Lydia Kavina can play several octaves and makes the Theremin sing, indeed, like a bird. Then again making it sound like a bass, at times, only with more sustain.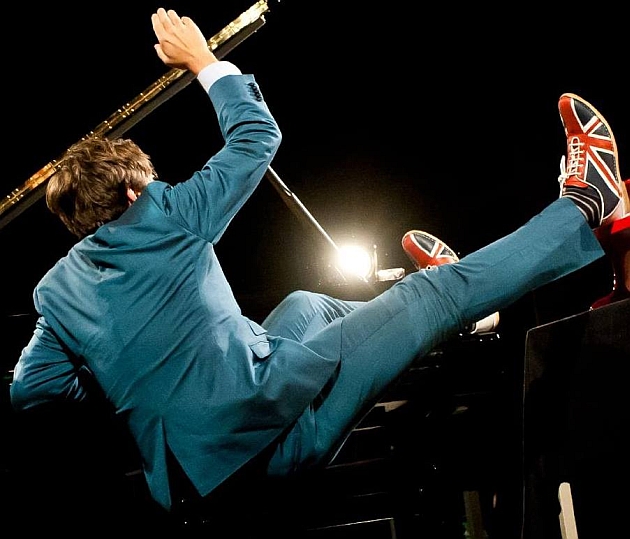 6. Kathrin Christians joins with her transverse flute. The piece she performs, 'Solfeggio', was written by Eggert in reminiscence of Friedrich the Great (who adored Goethe). So we have Friedrich the Great and Goethe on our mind and a children's game called "Schlangensätze"(Snake sentences). The piece is composed like one of those sentences. As if one person starts a sentence with just one phrase. Another repeats said phrase and adds another and so on and so forth...
7. Based on Wagner and composed for a theatrical play the next three pieces feature harmonium, Theremin and Lukas Dreyer on cello.
a) The harmonium Mr Moritz Eggert plays here is one of the few with "chord-keys", an early ancestor of the synth
b) Inspired by a quote from F. Nietsche, this sad piece features a walk act. A bride slowly walking through the aisle. Moving like a wind up figurine, floating through the room, rather than walking. The bride dressed up in a white bride´s dress has a scull as a face and never for one second opens her eyes.
c) Deep down river flow. Very well done. You can hear the river, the Theremin singing like a siren, luring the sailors. The performance artist walks through the rows. The river is carrying the audience away... the Theremin plays darker, sinister notes and plays questions and answers with the cello.
The audience is overwhelmed and gives standing ovations. Touched the artist play an encore. After this special concert I was heading to the Volkspalast with some special concerts today.
Winter Severity Index - Volkspalast Kuppelhalle (Little Dead Boy)

Another highlight! But before we get to enjoy this highlight, we get another lesson in patience. Just as on Thursday (waiting in line for the wristband, waiting in line for the rides at the amusement park...) we have to wait. First in front of the Volkspalast, the entrance is postponed for a little more than a quarter of an hour, then inside the Volkspalast, in front of the heavy red curtains that cover the entrance to the Volkspalast's main hall. At the time the concert is supposed to start, we still stand outside listening to the sound check. A promising sound check, already giving us goose bumps. At quarter past four we can finally go inside... and wait. The first song is an instrumental with lyrics on the screen in the background. Cool idea! The second song. Another video. I personally do not need constant visual stimuli. Yes, I smile to myself. I am old. The musicians are also the artist, that produce all those beautiful arty videos, which fit the songs to the very millisecond. Still, I could have listened to them in the dark or just enjoy seeing them play. Their music had me fall in love. So intense. I had seen them before on the "owls and bats" festival (a fantastic small festival with a unique location, by the way), without videos, with just music, and enjoyed that very much. The third video shows a 60ties beauty pageant, while one of the loudspeakers on stage turns on and off. I hate technical difficulties. Each time the loudspeaker turns off and on again, the first row is hit by a loud noise that hurts like being run over by a truck. It takes ages until some technician does something about it. The poor Keyboarder shakes in shock each time the loudspeaker malfunctions.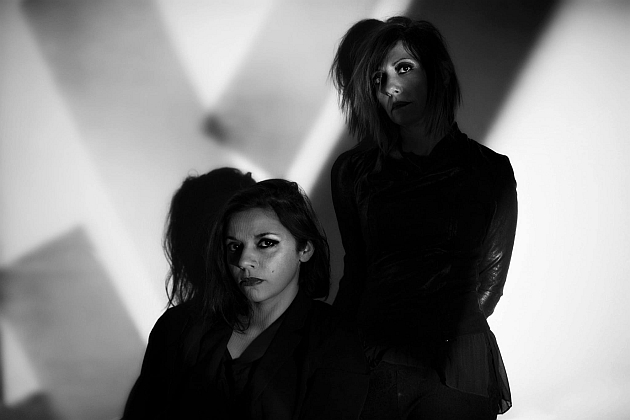 Live, WINTER SEVERITY INDEX are a trio, playing guitar, synts and bass (Giovanni Stax). Their music is gripping, their presence charismatic. Another video shows ballet dancers dancing across the screen. The box keeps interrupting. The videos are arty and intelligently done. There is a harmony and symmetry in the tight play of WINTER SEVERITY INDEX, that makes you fall for them. It's a rare experience to be "satisfied" and well saturated (the Germans have a word for no longer being hungry: satt) by music. I have this feeling listening to WINTER SEVERITY INDEX. I am filled with their music. I no longer long for more. I am full and satisfied. Only one other project ever had that effect on me: FINGER ON TALIM, a solo artist, singing and playing piano so beautifully that it gripped my guts. Then it happens: The first song, that doesn´t kick me and there is no video. After the concert the two woman (guitarist and vocalist Simona Ferrucci, also responsible for lyrics and arrangements, and Alessandra Romeo, synths and keyboards) stand in front of the Volkspalast, smoking, and I take the opportunity to give them some compliments on the current and past shows.
https://www.facebook.com/winterseverityindex
Jessica 93 - Volkspalast Kantine (Little Dead Boy)

The Kantine, the cafeteria at the Volkspalast, is the smaller venue within the Volkspalast. Its walls are covered in interesting artwork. Pictures of Goethe, Mozart and others in an adaptation of "the last supper". Oliver Hardy (of Laurel and Hardy) meets comic characters, the pictures consist of beige, brown and orange only, a wild figure seemingly eating some brickwork. The Kantine, as mentioned before, is small, but nice. As soon as the doors are opened, hundreds of visitors race inside. First band today are JESSICA 93. The boys from France are loud! Two guitars, bass and drum playback, which sounds like an authentic drum set. They sing in English and have a nice old school guitar sound. They move along to their music. If they just weren´t too fucking loud, they probably would have moved me. The sound is corrosive and awful, hurting my ears, even with protection. Blue and red spots flicker like at a student party. Probably because of the loudness, everything sounds the same. The sound is just a pulp. This band played the owls and bats festival as well. They had a much better sound there. You could distinguish the instruments and hear the bass snarl.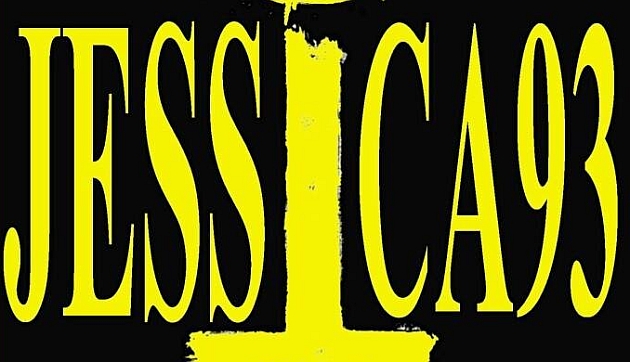 At the Kantine, the voice is just another track, part of the pulp. Disappearing. With a lot of imagination you can hear their nice new wave guitars and sometimes even understand a word or two. Despite the terrible sound they still manage to move the crowd. Retro sound is hip after all and their look is retro too, their bassist even daring to wear a beige jacket with white hoodie, seemingly fucking the gothic fashion cliché.
http://jessica93.com
/
https://www.facebook.com/thejessica93
The Blue Angel Lounge - Volkspalast Kuppelhalle (Little Dead Boy)

Back at the Kuppelhalle, the dome of the Volkspalast, I missed THE BLUE ANGEL LOUNGE's first song. The second one is some cover. The sound of the acoustic guitar is very comforting after the noise of JESSICA 93. When Nils Ottensmeyer bends the vowels, his voice sounds angelical in this fantastic hall. It is no surprise at all that THE BLUE ANGEL LOUNGE is named after the New York venue, where Nico from THE VELVET UNDERGROUND made her first appearance and the band's album is called 'Narcotica'. Their sound is slow, languid, sluggish, dragging along, like in a haze, morbid and dusky. The Volkspalast of course a must see venue. And THE BLUE ANGEL LOUNGE fill this splendid venue perfectly. The drumming is good and solid. The melodies hardy vary and the songs become more and more sterile. Comparing todays shows to a whisky tasting, I would need a musical equivalent to a glass of water in between acts. I decide to go outside, clear my head, get some fresh air. I enter again for the last song, in the middle of an incredible drum solo, which makes the Volkspalast go berserk. //
https://www.facebook.com/blueangellounge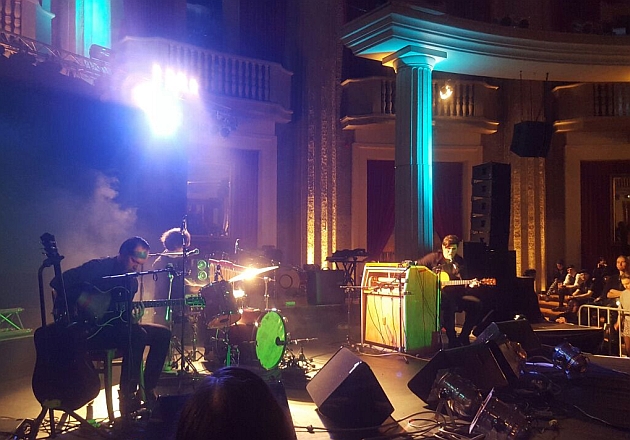 Anna von Hausswolff - Volkspalast Kuppelhalle (Daniela Vorndran)

Another special act was on schedule of the Kuppelhalle next, Swedish singer, pianist, organist and song writer ANNA VON HAUSSWOLFF with her band consisting of Filip Leyman (synths), Karl Vento (guitar), Joel Fabiansson (guitar), Ulrik Ording (drums) and Maria von Hausswolff (vocals). Once more, WGT promoters perfectly combined artist and venue. Anna started her project in 2010. The first single, 'Track of Time', was released in February of this year, followed by her debut album, 'Singing from the Grave', also released in 2010 and being positively accepted in her home country. Some critics compare her with Kate Bush and indeed, during her show she proved her vocal talent. Her voice was clear and piercing, no distortions, just going under your skin directly. Musically, the songs are spherical, sometimes using some neo-folk elements. Anna was sunk deeply into her music when performing, closing her eyes and walking towards the audience… barefoot. A touching show in a fantastic surrounding!
http://www.annavonhausswolff.org
/
https://www.facebook.com/annavonhausswolff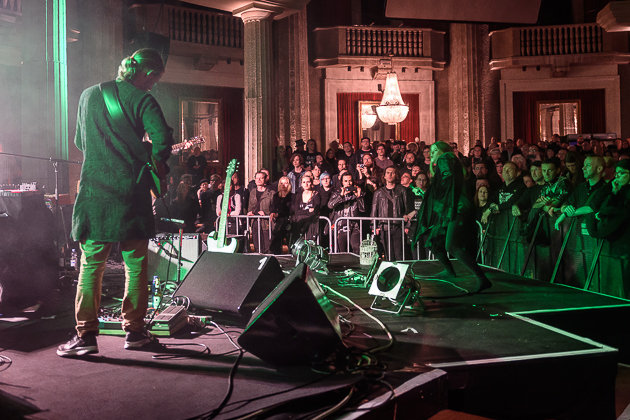 Rotersand - Nontox (Little Dead Boy & Daniela Vorndran)

A short visit to the Nontox before I was returning to the Volkspalast to see DRANGSAL. ROTERSAND were playing there, a concert worth a visit. Eight years ago, the Agra was full, when ROTERSAND played their set. This year there are less people and Rascal Nikov seems to have lost some of his charisma. The audience is divided. Some think the concert is great, others seem not so sure. Some feel that the past illness is still showing in Rascal. Anyway, Rascal was in good mood and had a bath in the audience twice. The sound is good as ever. The songs almost all known to people who visit clubs regularly. The show at the Nontox was shorter than planned since there was a delay at the start. Rascal joked that he would play until they stop him, just to be leaded away by a female police officer in handcuffs. //
http://www.rotersand.net
/
https://www.facebook.com/rotersand
Drangsal - Volkspalast Kantine (Little Dead Boy)

DRANGSAL is the new wave, post punk, indie-pop project of Max Gruber, who grew up in Herxheim, near Landau, Germany. He used to live in Leipzig and is currently residing in Berlin, Germany's capital and also the capital of culture. Gruber's love for MARILYN MANSON, THE CURE and DEPECHE MODE is shown in his own music. He started touring, promoting his debut 'Harieshaim', the ancient name of his birthplace, containing songs like 'Hinterkaifleck', a song about the murder of Gruber's ancestors, in April 2016. In Autumn he will tour Germany, Austria and Switzerland. DRANGSAL is one of the saddest words in the German language, meaning dragged down by deep sorrow. A burial company in his hometown was called DRANGSAL and Max Gruber adapted the name for his musical project. Although DRANGSAL is pretty new, this project is also very popular, hence the prime time set here at the Volkspalast. Gruber´s set is powerful and fascinating. Deep melancholy and profound lyrics have the audience almost hold their breath. //
https://www.facebook.com/frucadeodereierlikoer
// Setlist: 01. Der Ingrimm / 02. Moritzzwinger / 03. Do The Dominance / 04. Will Ich Nur Dich / 05. Love Me Or Leave Me Alone / 06. Und Du / 07. Hinterkaifeck / 08. Allan Align / 09. Wolpertinger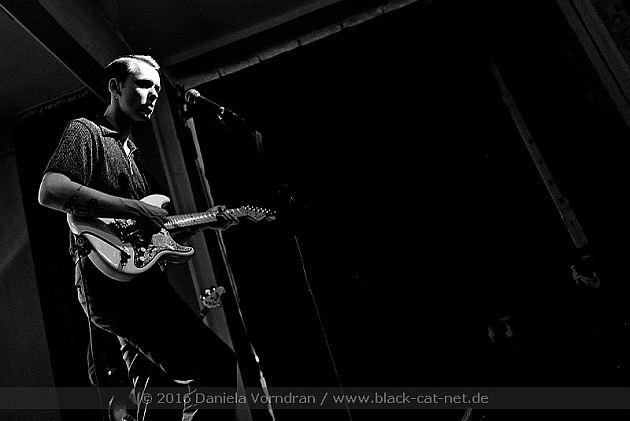 Lord of the Lost - Agra (Daniela Vorndran)

Today it was really hard to choose which band to see. So many exciting artists were playing parallel. At the Agra, the day was reserved for more guitar based Gothic music. LORD OF THE LOST were opening the day at Agra. Before starting his own band with LORD OF THE LOST in 2008, initiator Chris Harms has been involved in various musical activities already. He started as vocalist for PHILLIAE, played live guitar for BIG BOY and worked with THE PLEASURES as well. Nearly instantly after its inception, LORD OF THE LOST locked themselves up in the studio, spending most of 2008 working on their debut album. The album's called 'Fears' and has been released in February 2010, followed by the sophomore 'Antagony' in April 2011 via Out of Line.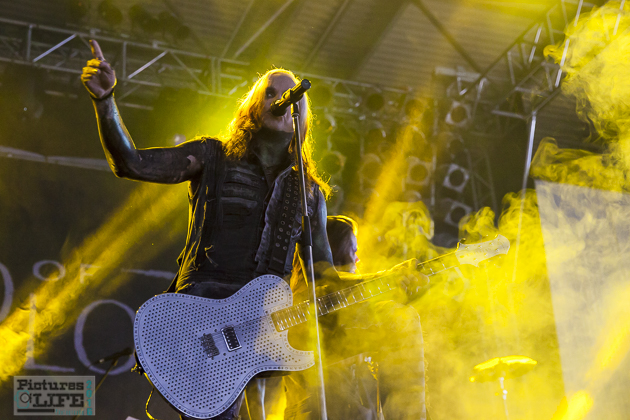 The latest release of Chris Harms (vocals, guitar, cello), Bo Six (guitar), Class Grenayde (bass), Gared Dirge (piano, synthesizer, percussion, guitar) and Tobias Mertens (drums) is the acoustic album 'Swan Songs' in 2015, followed by the single 'The Love Of God' in 2016. Like known from the band, they delivered a great show and opened the day with lots of power. //
http://www.lordofthelost.de
/
https://www.facebook.com/lordofthelost
// Setlist: 01. Six Feet Underground / 02. Blood For Blood / 03. The Love of God / 04. Fists Up In The Air / 05. We're All Created Evil / 06. Black Lolita / 07. Sex on Legs / 06. Prison / 07. Beyond Beautiful / 10. From Venus to Mars / 11. Afterlife / 12. Die Tomorrow / 13. Kill It With Fire / 14. Dry the Rain / 15. La Bomba / 16. Credo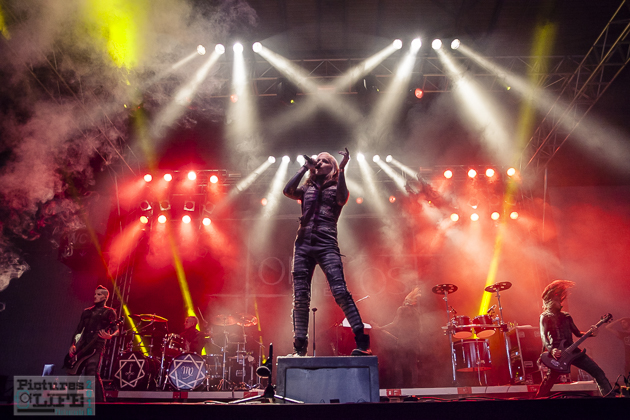 Darkhaus - Agra (Daniela Vorndran)

DARKHAUS were the second band today at the Agra schedule. I wondered a little why they were playing after LORD OF THE LOST. Usually it is the other way round. The multi-national band, consisting of five members from four countries, namely Ken Hanlon (vocals), Rupert Keplinger (guitars), Marshall Stephens (guitars), Gary Meskil (bass) and Paul Keller (drums), started in 2011 to delight the people all over the world with their excellent Synth Rock music. Head of the band is Rupert Keplinger, known not only for being a multi-platinum songwriter and composer for his collaboration with some known German musicians, but also as guitar player for EISBRECHER.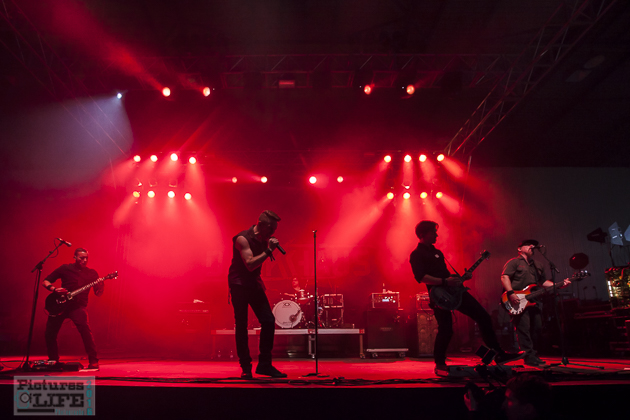 I have seen several DARKHAUS shows and they were always energetic and powerful. The WGT show was no exception here. Playing on the big Agra stage meant lots of room for the band to perform and the audience was excited. DARKHAUS proved once again that they are an excellent live band presenting excellent rock music. //
http://www.darkhausmusic.com
/
https://www.facebook.com/DarkhausOfficial
// Setlist: 01. Providence / 02. Drive / 03. Break Down The Walls / 04. Ghost / 05. Life Worth Living / 06. Son of a Gun / 07. Don't Close Your Eyes / 08. The Fire Within / 09. Hour Of Need / 10. Looks Like Rain / 11. Grace Divine / 12. Side Effect Of Love / 13. Breaking The Silence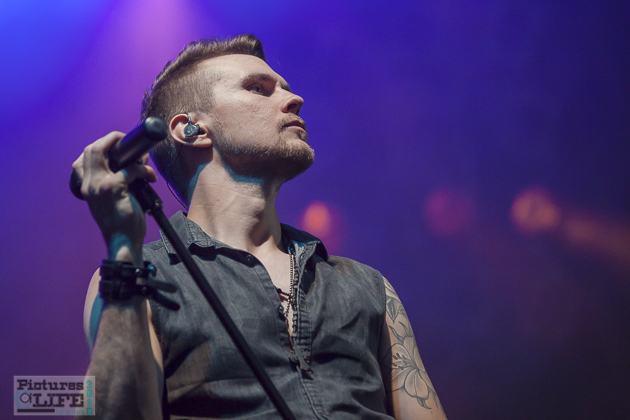 PIL (Public Image Limited) - Agra (Little Dead Boy)


John Lydon, better known as Johnny Rotten and famous former lead singer with THE SEX PISTOLS, founded P.I.L. as a company. Public Image Ltd. was supposed to become more than a band. One of the most well-known songs being 'This is not a love song'. Johnny and his band had recently visited the Ruhr area of Germany. Today, they played as midnight special at late hour at the Agra where mostly the older WGT goers were attending the show of John Lydon (vocal)s, Lu Edmonds (guitar), Scott Firth (bass) and Bruce Smith (drums). //
http://www.pilofficial.com
/
https://www.facebook.com/pilofficial
// Setlist: 01. Double Trouble / 02. Know Now / 03. This Is Not a Love Song / 04. Bettie Page / 05. Deeper Water / 06. Corporate / 07. Death Disco / 08. The One / 09. The Order of Death / 10. Tie Me to the Length of That / 11. The Body / 12. / Warrior / 13. Religion / 14. Rise / Encores: 15. I'm Not Satisfied / 16. Open Up / Shoom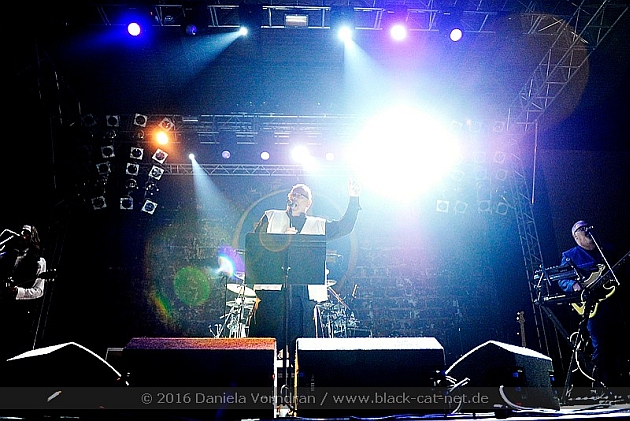 The Legendary Pink Dots - Schauspielhaus (Daniela Vorndran)

We already told you that there were so many great bands playing at the same time. One of them was the last band playing at the Schauspielhaus – the fantastic theatre with its red seats – THE LEGENDARY PINK DOTS from The Netherlands. THE LEGENDARY PINK DOTS released a great concept album, '10 to the Power of 9', in 2014 being a dark and exceptional trip into their warped and bizarre musical psyche. The band was already founded 1980 in London, moving to Amsterdam in 1984. Musically, LPD move between all kinds of Psychedelic Rock of the 60s and the Wave Music of the 80s. Bizarre and avant-gardist sound collages dominate the band's music. Even though the style of LPD varied over the years, they stayed overall unique. Very remarkable is also Ka-Spel's chant, being sometimes excessive and overexcited. Lyrics are presented sometimes preaching and sometimes screaming. Sure, this show was something special and people left with mixed feelings. But one thing is for sure: the show was an enrichment of the festival line-up. Especially I want to mention the light show being installed for their show at the Schauspielhaus. At the back of stage, there were LED elements presenting fantastic visuals. //
http://legendarypinkdots.org
/
https://www.facebook.com/pages/The-Legendary-Pink-Dots/293302137369774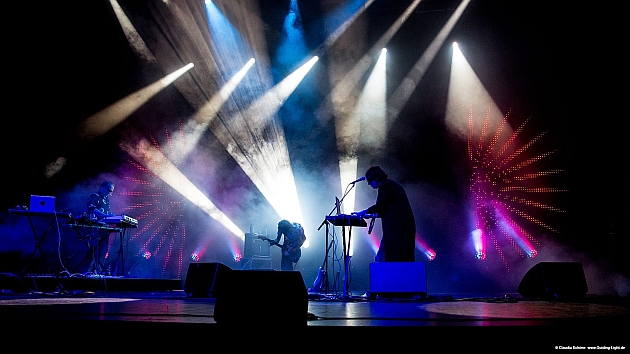 Pictures by
Daniela Vorndran (
http://www.vorndranphotography.com
/
http://www.facebook.com/blackcatnet
): Drangsal, PIL (Public Image Limited), Intro
Betty Schulze: Pride and Fall, Legend, Solar Fake, Mesh, Welle:Erdball
Xavier Marquis: Mesh Gallery
Holger Grimm: Rotersand
Frank Güthoff: Anna von Hausswolff
Mandy Privenau: Darkhaus; Lord of the lost
Claudia Schöne: Legendary Pink Dots
See also (all categories):