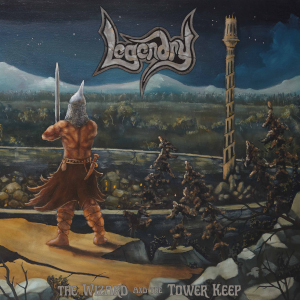 Artist: Legendry
Title: The Wizard And The Tower Keep
Genre: Classic Epic Metal
Release Date: 1st November 2019
Label: High Roller Records
Review Flash

The Epic Metal outfit LEGENDRY was formed in Pittsburgh, Pennsylvania in the year 2015 by Mastermind Vidarr (guitars, vocals, mellotron, mandolin - and swords!... yeah swords), Evil St. Clair (bass, backing vocals and of course battle axes) and Kicker (responsible for drums, percussion and the inevitable necromancy... the label told me so who am I to question them???). 'The Wizard And The Tower Keep' is LEGENDRY's third full album or better put it is their third strike of trueness incarnate...
The band plays raw and authentic Epic Metal that sounds very 80s demo-ish but in a good way as if it is intentional. It is indeed hard to compare LEGENDRY to specific bands, lot comes to mind from 70s classic Rock to epic stuff like MANILLA ROAD. The overall compositions are firmly anchored in the metal genre but lend something from other genres every now and then. The Metal Archives compare their sound to CIRITH UNGOL among many others like BROCAS HELM and ETERNAL CHAMPION.
Conclusion: This record is a nice little journey but I think LEGENDRY is best consumed at a live gig with lots of other people to sing along and have a good time.
Rating: 7 / 10