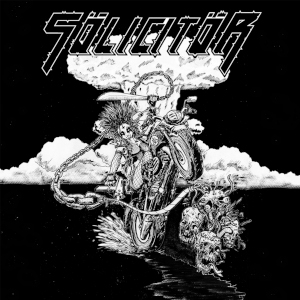 Artist: Sölicitör
Title: Sölicitör
Genre: Speed Metal / Thrash Metal
Release Date: 25th October 2019
Label: Cruz Del Sur Music
Review Flash

Seattle's SÖLICITÖR were formed in 2018 after the disbanding of SUBSTRATUM and HEXENGEIST. The freshly assembled band consisting of Amy Lee Carlson (vocals), Matt Vogan (guitar), Patrick Fry (guitar), Damon Clearry-Erickson (bass) and Johann Waymire (drums) had a big problem right away: they couldn't land on a proper name for their new outfit. In the end they decided to christen the baby SÖLICITÖR, because it is simple, catchy and makes you wonder who the fuck they are. After rarely a year into existence SÖLICITÖR had put out a demo and an EP (I am reviewing the reissue of mentioned EP).
SÖLICITÖR play a hysteric, in-your-face mix of Thrash and Power with interesting banshee-like vocals by ex-SUBSTRATUM vocalist Amy Lee Carlson. I shit you not if you don't know SUBSTRATUM (like me) you have a hard time identifying if the vocalist is a dude or abroad. You have to like the energetic, dramatic and aggressive vocals of Carlson. I think I will grow to like SÖLICITÖR because the sound is very fast, powerful and a 100 percent true. This is the underground through and through. The speed at which this is played is impressing and Amy's voice sometimes reminds me of Blackie Lawless on speed. Normally I rarely review thrash and speed metal (at the moment I am fascinated by doom metal) but this is fun actually, I will check out SUBSTRATUM's releases later on and so should you.
Conclusion: If you dig bands like CHASTAIN, LIEGE LORD, MERCYFUL FATE, EXCITER and 'Painkiller'-era JUDAS PRIEST you should give SÖLICITÖR a listen.
Rating: 7 / 10