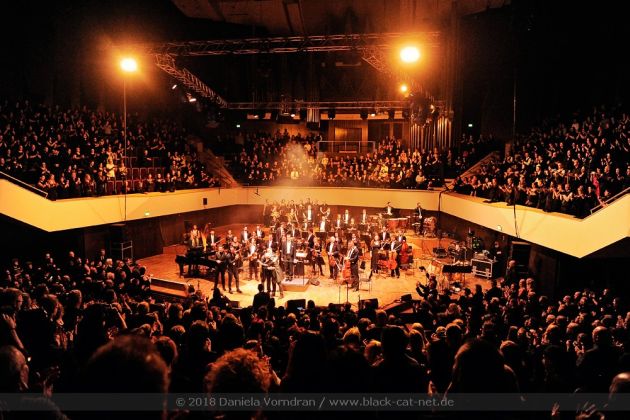 Gewandhaus, Leipzig, Germany
6th to 7th October 2018
Gothic Meets Klassik 2018 Day 2 with Joachim Witt, Diary Of Dreams and Unzucht

The first day at Haus Auensee already created a lot of excitement about the second and most special part of the event on Sunday. So the long awaited day had come and we were more than excited about the performances, arrangements and the selection of the songs in the Gewandhaus. First surprise was actually that not the symphony orchestra Zielona Gora was part of the show, but the Philharmonie Leipzig orchestra. After having attended the event for many years, I was kinda expecting to see some familiar faces. Obviously it didn't happen, but the quality of the performance was conceivable high and just amazing!
Unzucht

When Daniel Schulz from UNZUCHT came on stage, it was hard not to see the shine of joy in his eyes! It was so obvious, so we immediately got infected with his anticipation. And then Daniel Schulz started singing and I was blown away by the power and beauty of his voice. Together with the orchestra his voice came to its full development. What I really appreciate about the setlist, chosen for the unfortunately very short opener slot, is that Daniel was courageous enough to choose also harder and faster songs. That's when the "project" Gothic meets Orchestra becomes most interesting to me. 'Wir sind das Feuer' got much more dramatic elements and the strings made it so emotional and touching to me.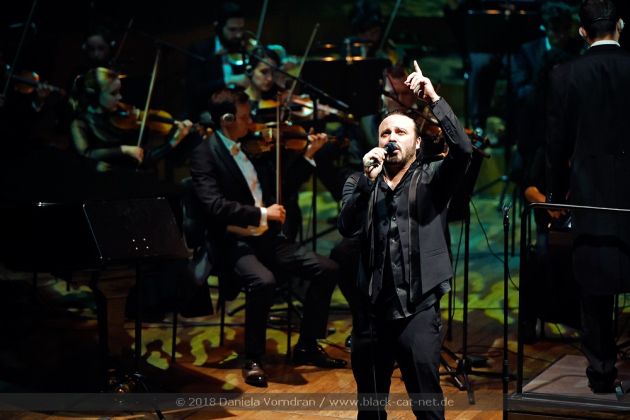 The most emotional and pure song of the setlist was 'Mein Grab' to me. More morbidity was hardly possible and I loved every second of it. Daniel Schulz didn't miss any chance to turn around to the orchestra, when he was not singing, and enjoy the beautiful arrangements of his songs. This must be a very special moment in a musician's life and I felt so honoured to be part of it. With one of the most popular songs, 'Engel der Vernichtung', the unfortunately very short, but also very positive and delightful slot came to an end. // http://www.unzucht-music.com / https://www.facebook.com/Unzucht // Setlist: 01. Wir sind das Feuer / 02. Widerstand / 03. Nur die Ewigkeit / 04. Mein Grab / 05. Engel der Vernichtung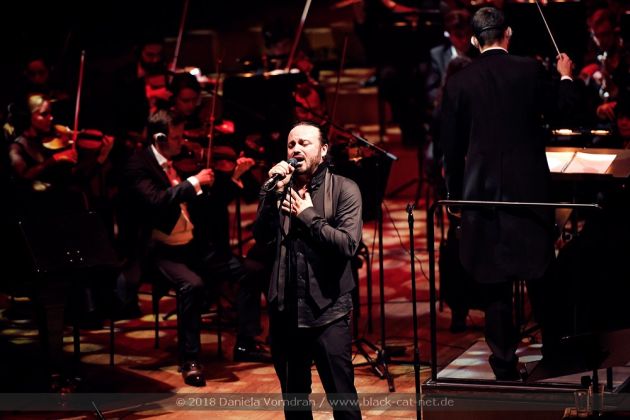 Diary Of Dreams

This was magical! I was looking forward to this appearance for almost a year now and was just as excited as I could be. Like Daniel Schulz, Adrian Hates was the only member of his band who came on stage to perform with the Philharmonie Leipzig orchestra. Adrian Hates dressed very elegant for this special occasion and as he already announced the night before at Haus Auensee, he was really looking forward to it and said that he was nervous about the show at Gewandhaus. He didn't seem too nervous though very focused. Also I was very excited about the new arrangements of well-known songs accompanied me for so many years. And most of all I was very curious about the song choice.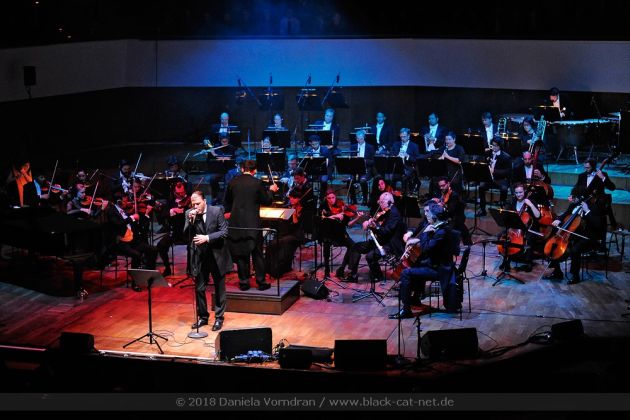 The first song of the setlist was 'Malum', a song from the 2014 release 'Elegies In Darkness'. The very dark song with German lyrics was a perfect choice for the orchestral arrangement. Once more Adrian Hates showed the tremendous power of his voice to cast a spell over the audience. As it was for 'Malum' we got also the chance to hear 'Butterfly:Dance!' twice this weekend: once in the original "rock" version, and tonight in the orchestral arrangement. 'Butterfly:Dance!' is for me personally a very important song, so I feel very grateful about the chance to hear it in this special version. The next two songs were taken from the latest release 'hell in Eden': the title song 'hell in Eden' and 'Hiding Rivers'. If you had asked me before which song is a must for this evening, I would have told you - it's 'Hiding Rivers'. The song has already in the original release version strings and all the beauty of a song that has it all: melancholy of the darkness and the classical elements that make its beauty so fragile. This song is to me pure perfection and to bring it to life with a real orchestra on this stage was everything one could wish for.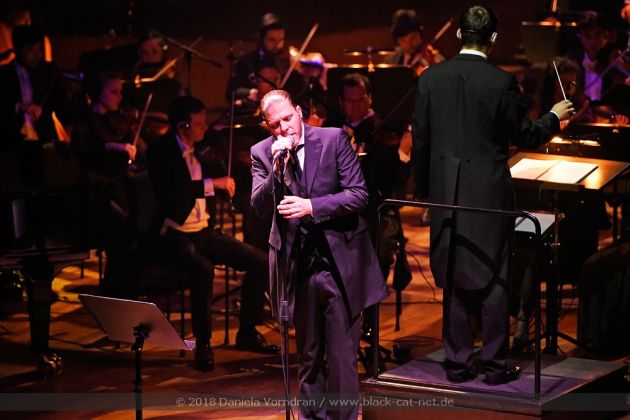 With the song 'Krank' we got a little bit back to the 2015 release 'Grau im Licht' to just go even more back for the last songs of the gig: the epic melancholy hymn 'The Colors Of Grey', the even darker, enchanting 'She And Her Darkness', to end this unforgettable set with anything less but 'Traumtänzer', the band's hymn for many years now. This time we didn't start a sing-along, but listened spellbound to every tone that the orchestra and Adrian Hates created in this moment. With the last tones I wished it could have last a little longer, but also a very special memory was born. // http://www.diaryofdreams.de / https://www.facebook.com/officialdiaryofdreams // Setlist: 01. Malum / 02. Butterfly:Dance! / 03. Hell in Eden / 04. Hiding Rivers / 05. Krank / 06. The Colors Of Grey / 07. She And Her Darkness / 08. Traumtänzer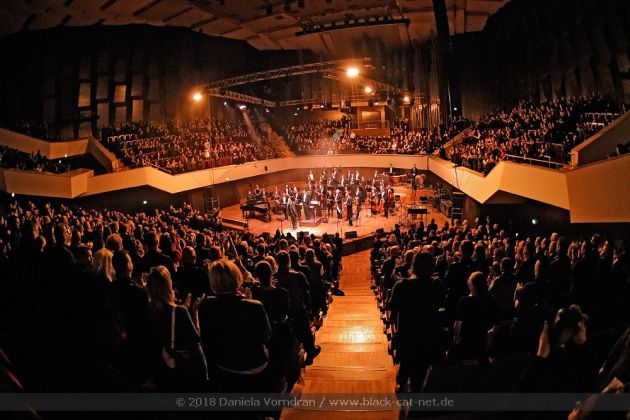 Joachim Witt

First things first: this setlist was huge! I remember the last Gothic Meets Klassik events with much shorter slots, even for the headlining artists. The second, the "classic" day was always passing by so quickly. But this time it seems, it was different. JOACHIM WITT performed a set of 15 songs in total with the orchestra and the STIMMGEWALT choir, including some very special surprises. The whole set was like a dark, majestic opera and once again and even more than the day before, I realised how great JOACHIM WITT is as singer and musician. His voice sounds like it was created to fill huge venues. Honestly, not being what is called "fan" before, I more than enjoyed every second of this performance.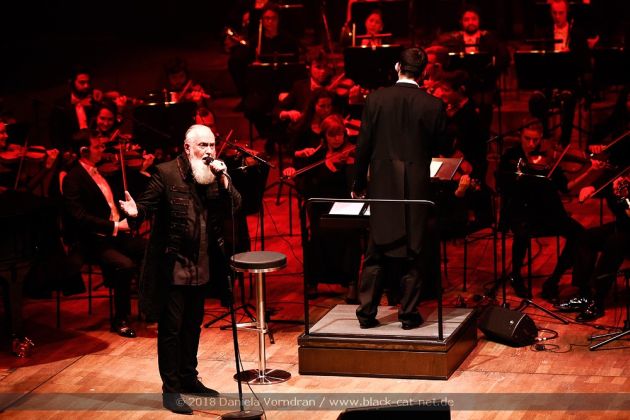 JOACHIM WITT showed some surprised reaction on how much the audience reacted to one song or another (like 'Eisenherz'). And even the already very dark 'Das geht tief' from the 'Bayreuth I' (1998) era got much more depth and darkness than it already had. 'Gloria', introduced like a song that is now playing at "every second funeral" got much epic and momentum in its orchestral arrangement. The decision to involve the STIMMGEWALT choir from Berlin also totally paid off as it enriched the whole performance with the powerful polyphonic vocals. The most wonderful surprise of the evening was the introduction of a very special guest singer: no one less than PETER HEPPNER joined JOACHIM WITT on stage for two songs.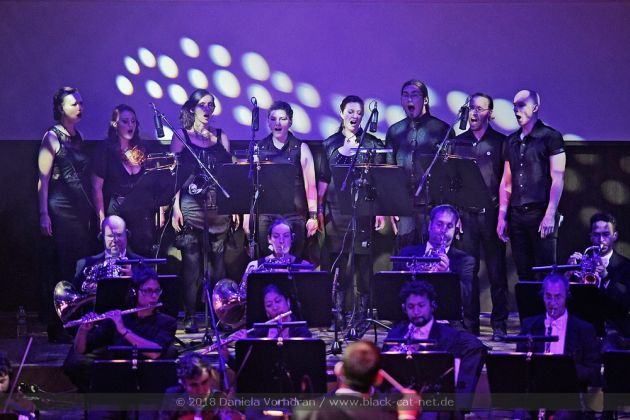 The first one, you might already have guessed right: the legendary 'Die Flut' with both original singers and the orchestra… Honestly: what could I have wished more for today? The other song performed together was 'Was bleibt', a song cooperation that was just currently released. Also the famous 'Der Goldene Reiter' made it into the new orchestral arrangement and was actually pretty good this way. // http://www.joachimwitt.de / https://www.facebook.com/joachimwittmusik // Setlist: 01. Jetzt und ehedem / 02. Dämon / 03. Goldrausch / 04. Das geht tief / 05. Wintermärz / 06. Eisenherz / 07. Ich will leben / 08. Wenn der Winter kommt / 09. Bis and Ende der Zeit / 10. Gloria / 11. Die Flut (with Peter Heppner) / 12. Was bleibt (with Peter Heppner) / 13. Mein Diamant / 14. Goldener Reiter / 15. Wieder bin ich nicht geflogen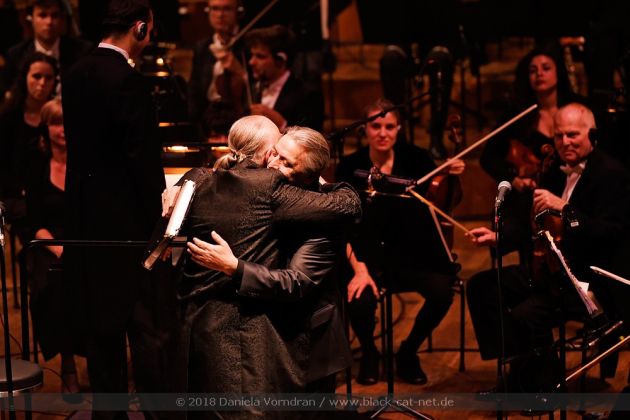 Conclusion

To sum up something that is not really possible to describe: for me it's been the 4th or 5th time at Gothic Meets Klassik. I've seen many great performances in the last years, also some amazing surprises, but this time was different because every singer on stage was at such a high level, so every single song was a great pleasure for mind and soul and it turned out to become just a whole night of perfection. What's left is to thank everyone on stage and especially behind it who has been making it possible for many years already to let us experience such one-time occasions!
All pictures by Daniela Vorndran (
http://www.vorndranphotography.com
/
http://www.facebook.com/blackcatnet
)
See also (all categories):