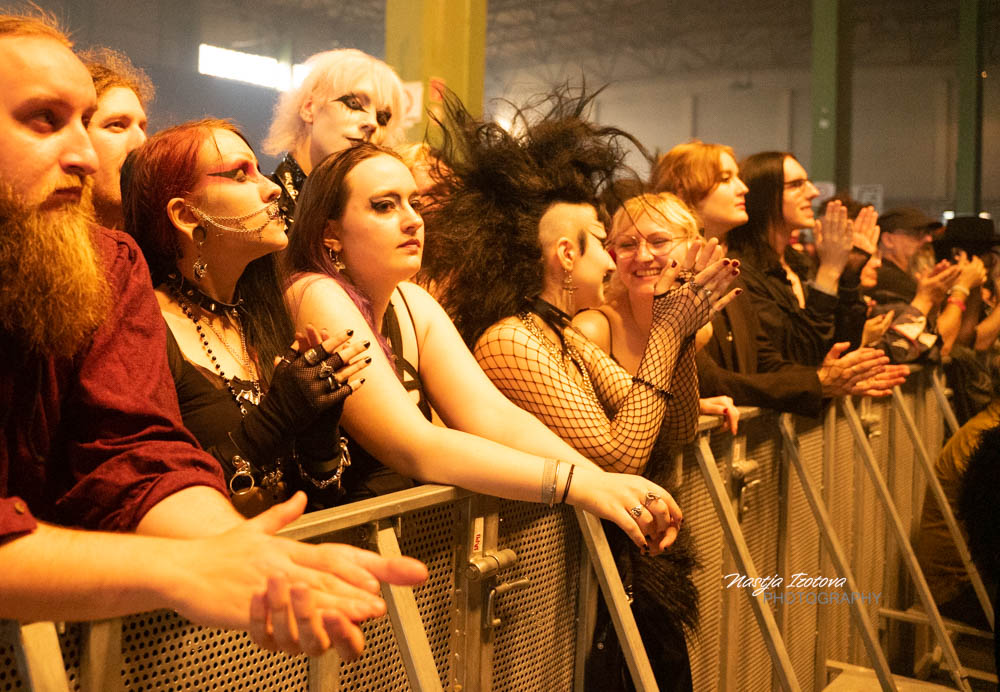 Leipzig, Germany
26th to 29th May 2023
Wave Gotik Treffen 2023 Day 3 with Traitrs, Vision Video, Lebanon Hanover, Diary of Dreams, Deine Lakaien, J:Dead, Empathy Test, Solitary Experiments, De/Vision

WGT Sunday started with a lovely Reflections of Darkness team breakfast at café Endless in the city centre of Leipzig. Highly recommend this spot also outside of WGT for cozy atmosphere, beautiful decorations and tasty (also) vegan food options. The night before was spent at the camp ground, sharing some wine and talking about life which is also an integral part of the festival experience. Such events as WGT are wonderful opportunities to catch up on old friends' lives, but also to meet and get to know more new people. The weather was again quite hot already in the morning, so hiding inside while enjoying good food and company was definitely the way to go on this Sunday morning.
Traitrs

My (Nastja) day started music-wise at Kuppelhalle Volkspalast - a bit outside of the usual crowds, but a nice, and very beautiful venue in general. The only downside there is the lack of snack and food options for those who decide to stay there for a couple of hours, especially when we talk about vegetarian or vegan options. I was here today only for TRAITRS (though the decision was not made easily as there were a couple of other great artists later on here as well), so that was fine. TRAITRS' Canadian Post Punk shows great quality which was confirmed by the venue being absolutely full for the first call at 15:30! Kuppelhalle was very fast as full as it also is for headliners, also considering how early it was - wow. TRAITRS did a great job and it was obvious that they enjoyed the audience's reactions and playing here. The audience meanwhile enjoyed the performance to the fullest and we for sure can say that those guys are going to be higher up in the line-up very, very soon. With songs like 'Thin Flesh' which are already considered classics, there is no doubt in it.
J:Dead
(Aileen) On Sunday in particular, a few acts played at the same time in different locations that I would have liked to see. But since four great bands were performing today in the Westbad, I decided not to change locations and to spend the afternoon and evening here. There was already a long line outside at 4:00 p.m. and they had to close the doors when we reached full capacity. Glad I got there early. In addition, I was able to get hold of one of the folding fans that SOLITARY EXPERIMENTS had brought with them, especially for the 30th WGT. But it kicked off at 4:30 pm with J:DEAD presenting an extremely energetic set. Of course, the current single 'Surrendering' couldn't be missing. And when Jay Taylor left the stage during 'Afraid' and half of the song pilgrimaged through the audience, the mood was at its peak. After this performance it was already clear that I had made the right decision for today.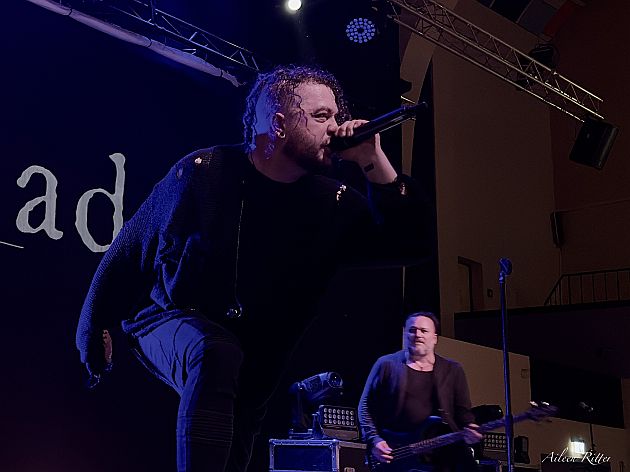 Empathy Test

EMPATHY TEST, who played next, confirmed that to me. Unfortunately, it was often quite dark on stage and the spotlights, which kept flashing from behind, were sometimes so dazzling that I couldn't see anything and had to look away. But then I simply enjoyed these moments with my eyes closed. Singer Isaac Howlett had the audience on his side from the very first moment. Already at the opening with 'Monsters' the mood was great. Despite my "light problem" a wonderful performance and one that is fondly remembered. After a detour to the merch, I took a supply break.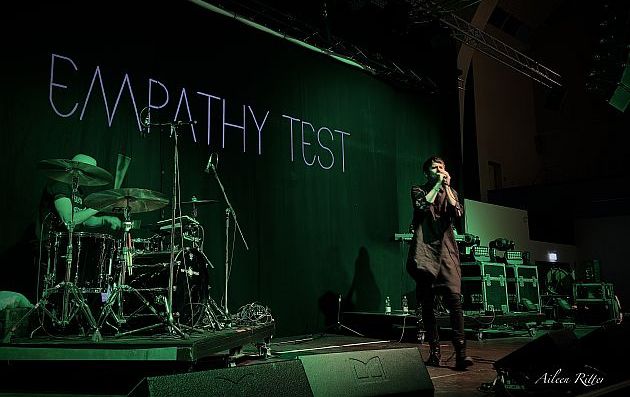 Solitary Experiments

For me it continued after PARADE GROUND with the guys from SOLITARY EXPERIMENTS. The five musicians also delivered a very energetic performance that never bored. On every SOLITARY EXPERIMENTS show you can feel how music connects. And today even "love is in the air". After 'Brace Yourself', singer Dennis comes on stage "armed" with a heart-shaped balloon, saying "Tom wants to say something to Megan". You may guess, a marriage proposal and Megan said "yes". The following song 'Delight' is dedicated to the newly engaged couple.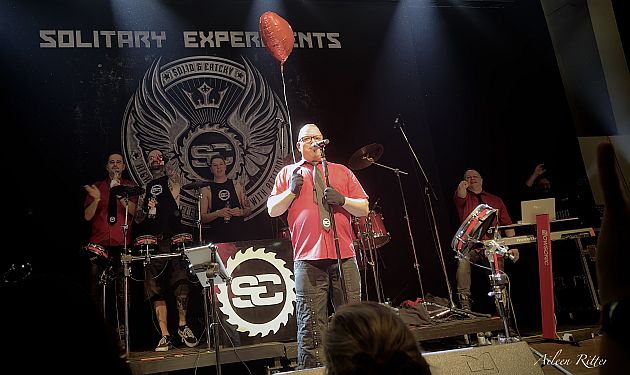 De/Vision

After the performance I went to the merch stand again, where I of course had the band sign the folding fan for me. Back in the hall, DE/VISION just started with their show. I was also particularly looking forward to this performance, since I hadn't seen the band live for a long time. The formation, founded in 1988, took us on a wonderful journey through the band's history. At the latest with classics like 'Strange Affection' or 'Regret' the whole hall sang and danced. After the two encores, 'Your Hands on My Skin' and 'The Firing Line', I made my way to the hotel happy and content.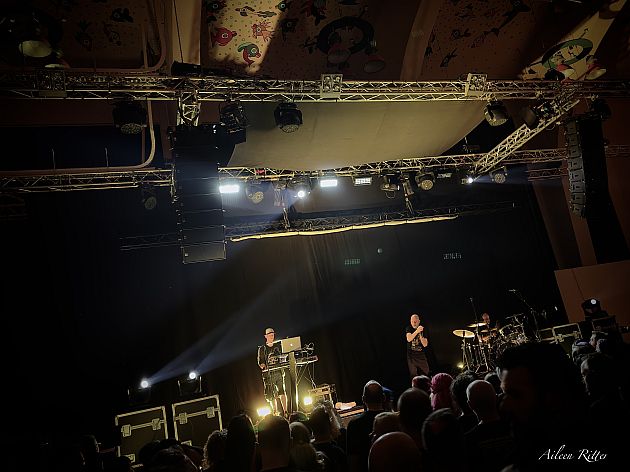 Vision Video

After seeing TRAITRS at Kuppelhalle, I (Nastja) decided to spend the rest of the day at Agra. A good friend of mine was absolutely hyped for VISION VIDEO while I had no clue about them. So, I decided to join her on the way to Agra and see what the hype is about. And I must confirm, these guys from US have been THE discovery of this year's WGT for me personally. The catchy Post Punk sound, eye-catcher outfits and great energy of the band members on stage made it a fun, yet also thoughtful experience. The front singer, also calling himself Goth Dad, made a couple of serious announcements and shared his thoughts on some urgent political and societal issues and I personally liked the way it was made. The mentions felt honest, and the messages felt important. It felt sometimes weird afterwards to follow the rhythm and dance in the crowd while thinking about the heavy messages of the songs. I highly recommend to catch those guys live as this is for sure a band which definitely just feels amazing on stage. Also check out their songs, such as 'Comfort In The Grave', 'Kandahar' or 'In My Side'.
Lebanon Hanover

The next band entering the Agra stage was LEBANON HANOVER. Not much is needed to be said here - with endless, often sold-out concerts literally worldwide, LEBANON HANOVER are bringing their "Sadness is Rebellion" theme to music lovers across the globe. The band is creating a unique atmosphere around them and during their shows, making it easy to just dive deep into the music for as long as they are playing. They were starting the show with 'Midnight Creature' and setting up for the mood. 'Die World II', 'Kiss Me Until My Lips Fall Off' and 'Babes of the 80s' - just to name a few songs being played that evening. Last but not least, of course there was also 'Gallowdance' which was for sure a highlight.
Diary of Dreams

On to one of the heart bands, DIARY OF DREAMS. Unfortunately, I was not able to attend any of the shows presenting the new, and I must say, incredibly good new album 'Melancholin', but therefore even more excited for the performance at WGT. And it was just so good! The only show I also was able to fully enjoy as attendee (thank you Dani!) and I loved every second. The new and older songs matched wonderfully and while I heard the new songs for the first time live, they already felt so familiar and precious. I loved the band's vibe and atmosphere on and in front of the stage. Adrian's and also the rest of the band's energy on stage was great and it transferred to the audience. The emotional rollercoaster between the songs like 'MenschFeind', 'Butterfly:Dance!', 'She And Her Darkness' to 'Viva La Bestia' or 'Epicon' is intense and makes therefore every show unique and special for everyone in their own way.
Deine Lakaien

Last, but not least, DEINE LAKAIEN were the headliners on Sunday at Agra and presented as a very special set the "Dark Star Spezial" with songs from around 1991! An outstanding show filled with so many beautiful, well-known songs! 'Love Me To The End', 'Down, Down, Down' or 'Dark Star' - we all probably connect a ton of memories with many of these songs, no matter whether we were already adults back then or just born. DEINE LAKAIEN are always a pleasure to experience live and it shows after all these years. WGT Sunday was successfully wrapped up with a wonderful mix from new discoveries to appreciated legends!
Pictures by Aileen Ritter, Nastja Iz and Daniela Vorndran
Written by Aileen Ritter (J:Dead, Empathy Test, Solitary Experiments and De/Vision) & Nastja Iz (Traitrs, Vision Video, Lebanon Hanover, Diary of Dreams, Deine Lakaien)
See also (all categories):